5 Best LearnDash Affiliate Plugins (Compared)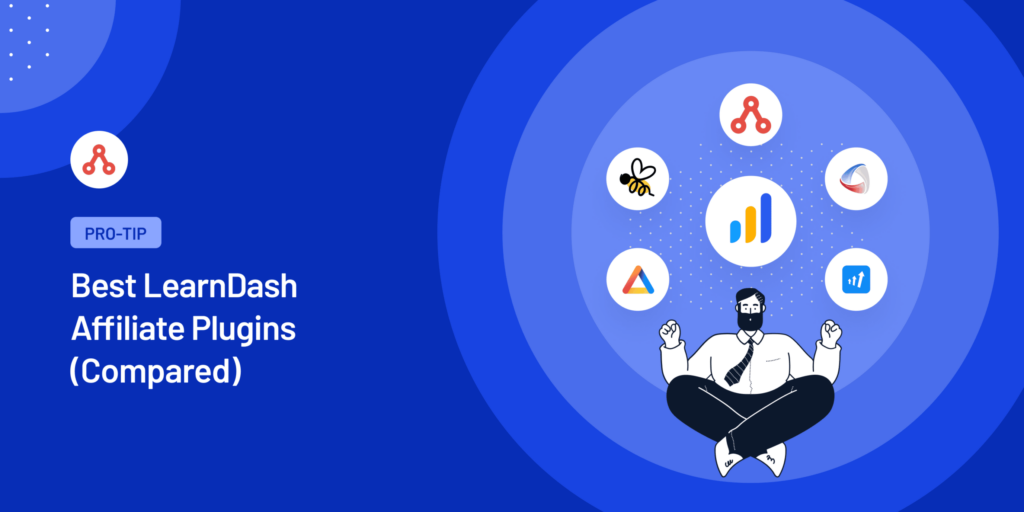 Looking for the best LearnDash affiliate plugins to track referrals on your course sales?
We've done the research to find you the leading software so you can leverage affiliate marketing to grow your business.
Here are the best LearnDash affiliate plugins.
Why Add Affiliate Marketing to Your LearnDash Courses?
Learning management systems and online courses are perfect for affiliate marketing!
While you're busy creating amazing course content, affiliates can be out there marketing it to the world. Whether that's former students or learners telling their friends and family how awesome your online learning courses are, or a big social media influencer showcasing your offerings to their audience, it's a big bonus for you.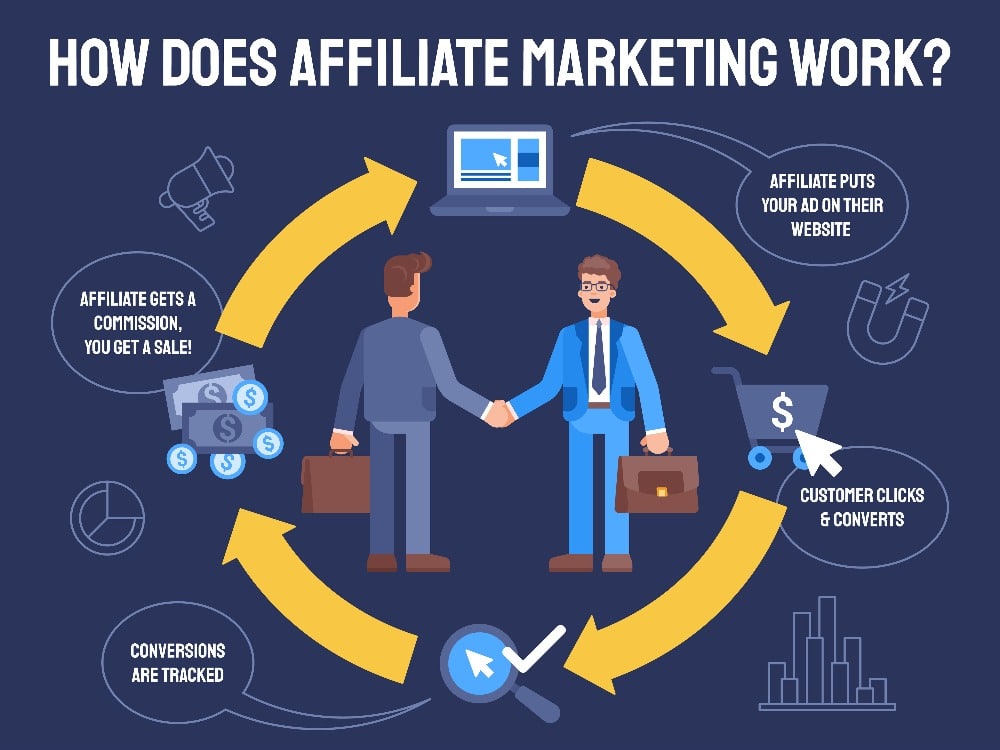 The other great thing with digital products like online courses is they tend to have a large margin built in. This means you can afford to offer an eye-catching commission that attracts top affiliates.
Oh, and one more big plus – it's relatively low risk.
Since you only pay affiliates when they create a referral, there are very limited upfront costs.
So, affiliate marketing is perfect for your LearnDash courses, but how can you get started?
We've made the first step easy for you by investigating the best LearnDash plugins available today.
5 Best Affiliate Plugins for LearnDash
We've looked at the best LearnDash WordPress LMS affiliate plugins to find out which ones are likely to help you grow your e-learning course sales.
After some extensive research, these are the 5 plugins we found to work best:
AffiliateWP
EasyAffiliate
iDevAffiliate
Solid Affiliate
Post Affiliate Pro
They all offer something slightly different, so read on to find out which is the best fit for your business.
Let's take a look at the best affiliate plugins for LearnDash.
1. AffiliateWP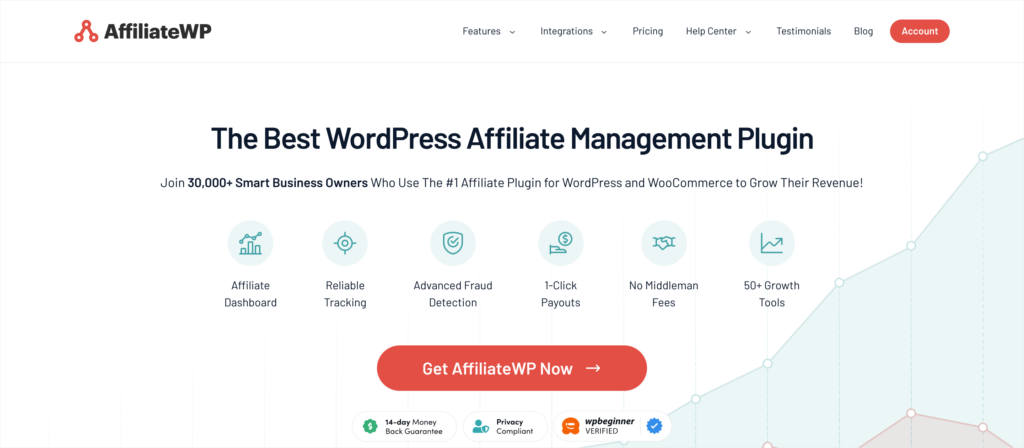 AffiliateWP is the best affiliate management plugin for WordPress.
This is a great start because if you're using LearnDash, then your site runs on WordPress.
However, AffiliateWP goes a step further than the other affiliate marketing plugins on this list because it offers a LearnDash-specific integration, whereas the others tend to integrate through your shopping cart.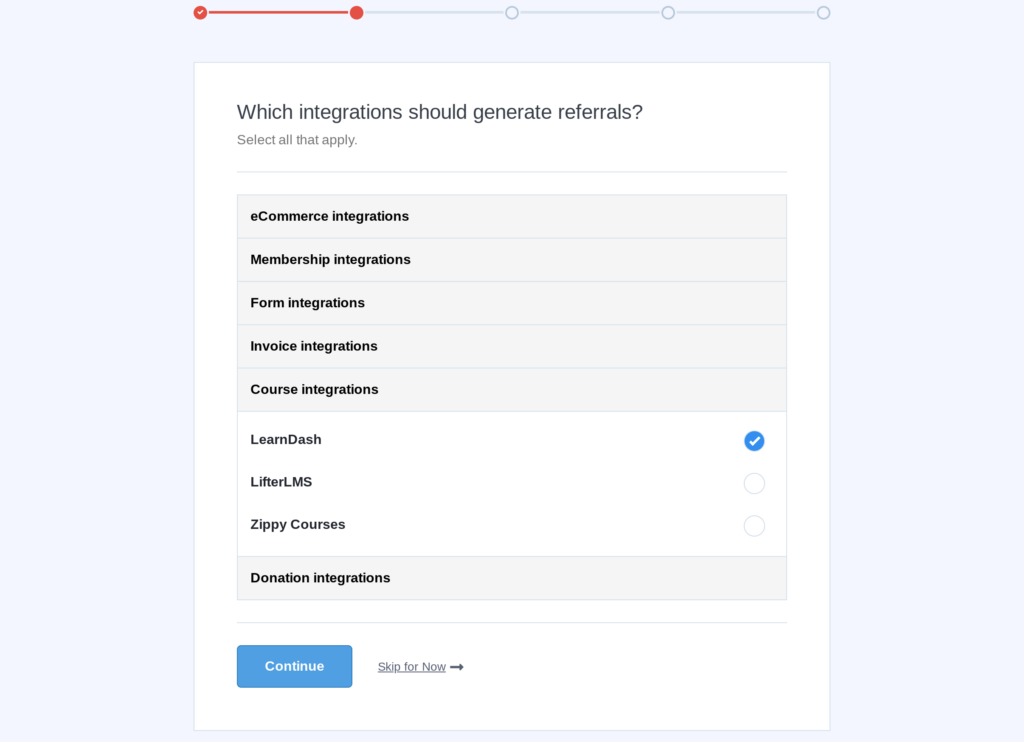 This means you get perfect compatibility with LearnDash, allowing you to make the most of both plugins' features (here's how you can set up your LearnDash affiliate program).
And when it comes to features, AffiliateWP is stacked.
Its one-click integration means you can get set up in under 10 minutes (no coding skills needed), and its affiliate management tools make your life easy:
Easy affiliate application filtering
Advanced fraud protection
Real-time analytics
Customizable affiliate dashboards
Recurring referrals on subscription payments
Unlimited automation options thanks to the Zapier addon
Integrated payouts service (as well as PayPal and Stripe payment options)
And much more…
You'll also benefit from awesome affiliate marketing features that empower your new affiliates to sell more courses.
All of this comes at a surprisingly reasonable yearly price that allows you to maximize your return on investment.
Check out AffiliateWP's pricing!
2. EasyAffiliate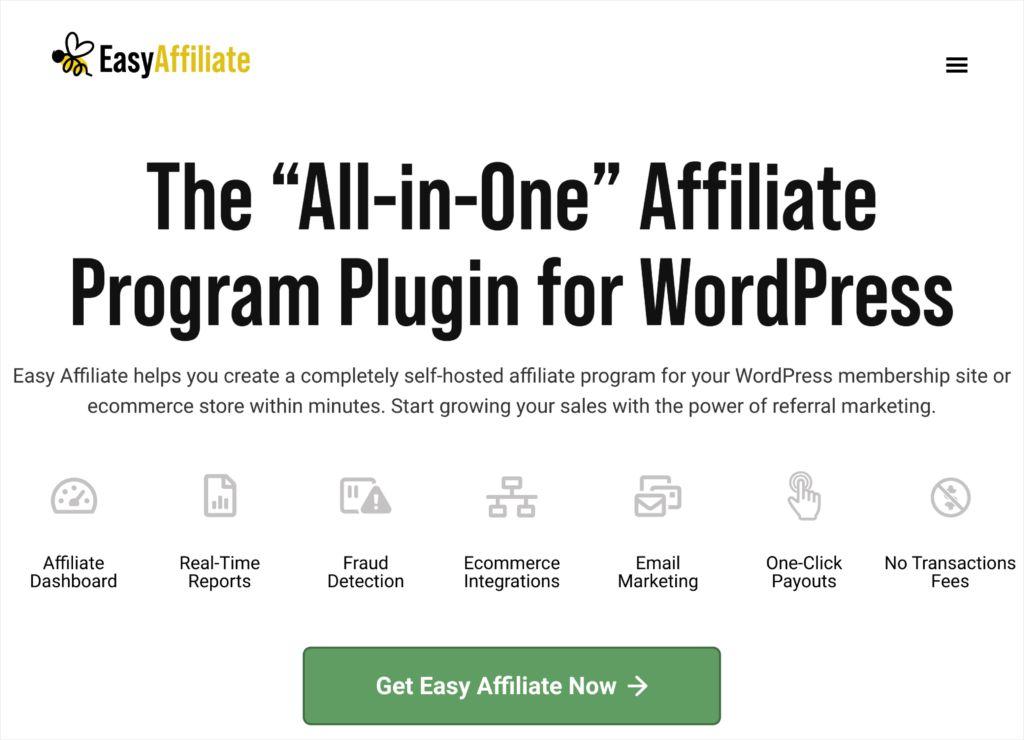 EasyAffiliate doesn't have a dedicated LearnDash integration like AffiliateWP, but it can still do a good job of tracking affiliate referrals.
Rather than integrating through LearnDash, it integrates through WooCommerce or Easy Digital Downloads, two of the e-commerce cart plugins LearnDash uses to facilitate sales.
This means you don't get quite the same level of integration, but it still works pretty well.
EasyAffiliate makes it simple (even for beginners) to set up your own affiliate program and can be relied upon for accurate referral tracking.
Check out EasyAffiliate's pricing!
3. iDevAffiliate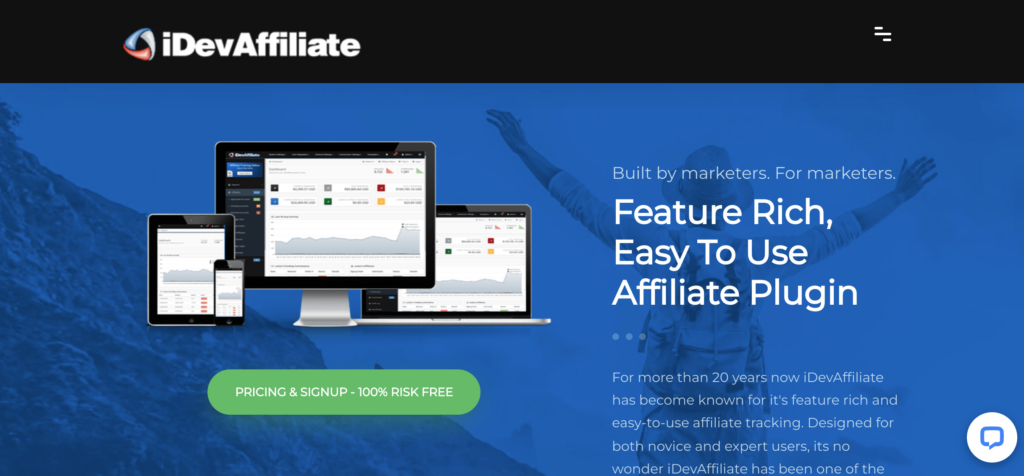 iDevAffiliate is another LearnDash affiliate plugin that offers a dedicated integration.
Again, this makes it nice and easy to get your affiliate marketing program set up so you can start making affiliate sales.
While iDevAffiliate does offer self-hosted options, most of their packages are cloud-based, which means your affiliate program will run outside of your WordPress site. This is in contrast to AffiliateWP where you can access all your affiliate and LearnDash data in one place.
We liked iDevAffiliate's customization options, although the interface does look slightly outdated now.
Check out iDevAffiliate's pricing!
4. Solid Affiliate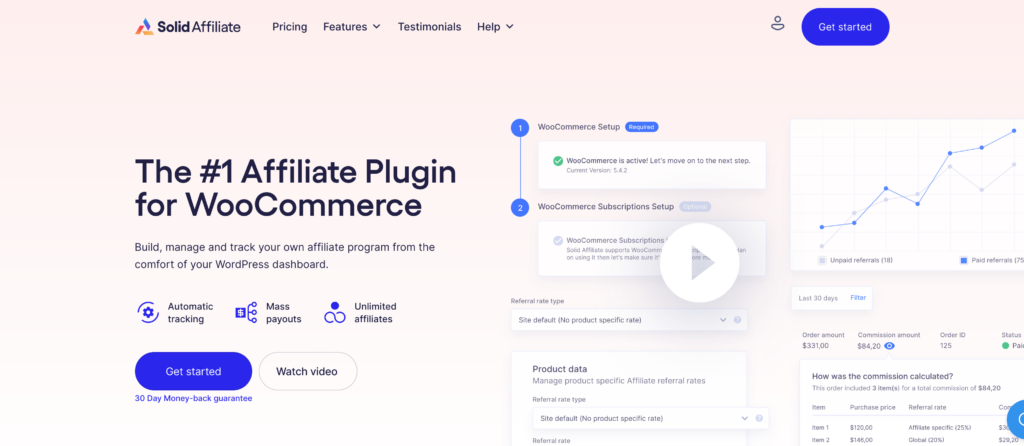 Solid Affiliate's main focus is providing affiliate link tracking for WooCommerce transactions, so if your LearnDash sales are processed by WooCommerce you're in luck.
This is a fairly simple affiliate marketing software, but it does all the basics well. It will allow you to quickly set up an affiliate program for LearnDash and sign up affiliates.
It doesn't have the advanced functionality of AffiliateWP, but it is very reasonably priced.
If you're looking to set up a very basic affiliate program, then it's a good option.
Check out Solid Affiliate's pricing!
5. Post Affiliate Pro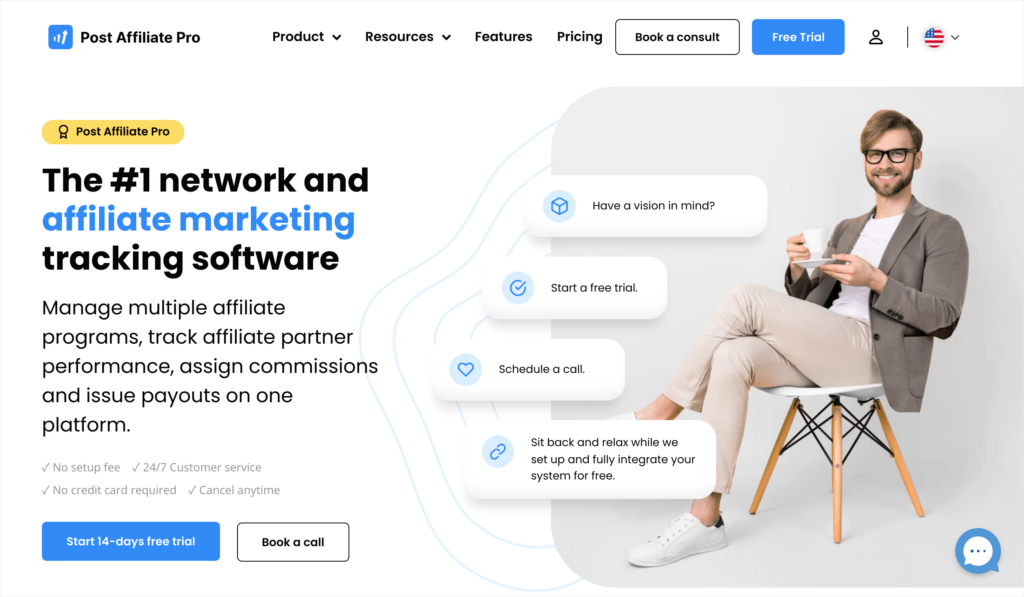 Post Affiliate Pro is a bit of the odd one out on this list.
Its pricing is much more expensive, meaning it's more of an option for larger businesses.
If you've got a big brand that's able to attract a lot of top affiliates, then this could be an option for you to sell your LearnDash courses, but it's not for everyone.
Like many of the LearnDash LMS affiliate plugins on this list, it integrates through either the WooCommerce integration or Easy Digital Downloads. With these integrations, you get a ton of features that can help you grow your program, but it really depends on whether you can make the pricing work for you.
At $129 a month for the cheapest plan, it's almost 12x more expensive than AffiliateWP.
Check out Post Affiliate Pro's pricing!
What's the Best LearnDash Affiliate Plugin?
The best LearnDash affiliate plugin is AffiliateWP.
It's got a dedicated 1-click LearnDash integration, easy affiliate management, and innovative growth tools. This means you can manage an affiliate program with minimal hassle and watch as affiliates help grow your course sales.
The pricing is specifically designed to help small and medium-sized businesses take off, and that's exactly what many LearnDash sellers have already achieved.
With a 14-day money-back guarantee you can't lose by giving AffiliateWP a try.
Now Grow Your LearnDash Sales with Affiliate Marketing
So you've found the perfect affiliate marketing plugin to create a LearnDash affiliate program, now what?
It's time to put AffiliateWP's best growth tools to use.
For instance, Affiliate QR codes can help your affiliates reach their target audience in the physical world as well as the digital one. There are so many different ways to promote your products, and AffiliateWP is committed to helping you unlock them all.
And, we've got some great step-by-step guides and tutorials to help your affiliate marketing program take off.
Now there's only one thing left to do.