How to Set Up Referral Tracking On WPForms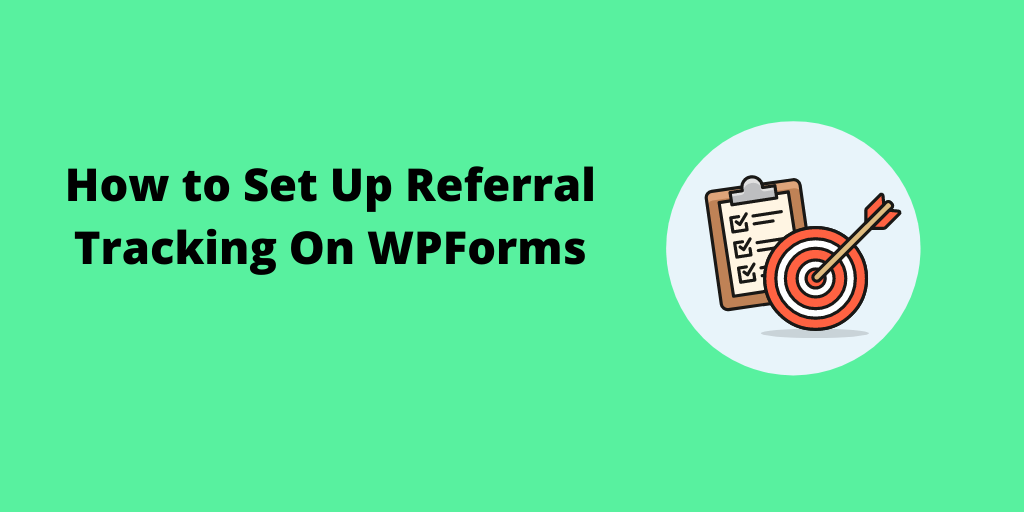 Reach more people with your most valuable forms with AffiliateWP affiliate marketing software for WPForms.
The information you collect from your website's forms is incredibly valuable, so how can you take this data collection to the next level? One option that's extremely effective is referral tracking on WPForms.
What is WPForms?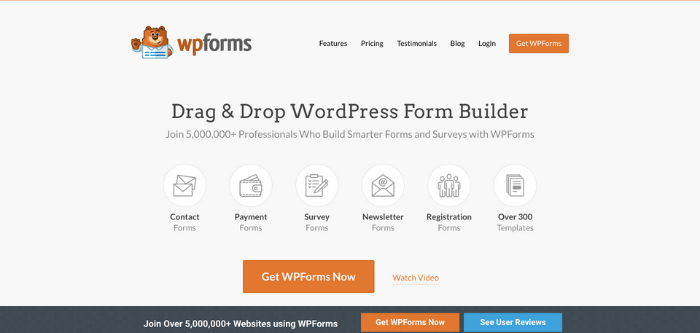 WPForms is a free WordPress plugin that helps websites build personalized forms. It does this with an easy-to-use drag and drop builder that seamlessly integrates with the WordPress platform.
Data is key to any modern business.
In e-commerce, few pieces of data are more important than those all-important contact details. A simple email address can allow you to unleash the power of your email marketing and bring someone into your sales funnel. From here, your chances of converting the customer are going to increase greatly (here's why your email list is so important).
As you probably know from personal experience though, people don't like handing out their contact (or payment) details to just anybody. They've got to be convinced there's benefit in it for them, and they've got to feel like their privacy will be respected.
A well-optimized form can make all the difference in this equation, and that's why WPForms is so popular. Over five million websites use WPForms to collect important data and grow their businesses, and with its powerful features, it can help you do the same.
This plugin couldn't be simpler to use, but what's less evident is how it fits in with affiliate marketing.
Affiliate Tracking Isn't Just for Sales
When we think of affiliate marketing, we tend to think of sales. An affiliate sends someone to your website, that person makes a purchase, and the affiliate gets paid a commission on the sale.
Affiliate marketing is broader than simply sales though. It can also be used to collect data and generate leads.
For instance, say you we're looking at completely redeveloping your main product: a lava lamp. You know you need to add a new feature to blow the competition out of the water, but what should that feature be?
Perhaps you decide that the customer knows best, so you create a survey on your website to find out what features people want to see. The problem is, people don't come to your site to fill out a survey; they come to buy a lava lamp, so you're not getting much feedback.
What you could do is incentivize affiliates to send traffic to your survey page. By using affiliate marketing software for WPForms, you can track each referral, offering a small commission for each form that's filled out.
Clearly, this is an example of a company that's very invested in R&D, but it goes to show that with referral tracking for WPForms, you can incentivize a wide range of conversion goals (this is what we call the referral).
This example can be just as relevant to lead generation, with affiliates getting paid for each lead they sign up.
What Types of Forms Work with Affiliate Tracking?
One of the great things about WPForms is that you can access a library of optimized form templates to boost your conversion rates. These templates are broken down into five categories, and with the help of AffiliateWP (the perfect affiliate marketing software for WPForms), you can use affiliate tracking with each of them.
This means the possibilities are endless when it comes to affiliate tracking with WPForms. Whatever information you want to collect, you're able to track it through the AffiliateWP plugin.
Contact Forms
One of the most common forms you'll find on the internet is the contact form. Virtually every website has one, and it's a way for visitors to get in touch with your business.
Your contact form might not be the most likely part of your affiliate program but picture this.
You're a private investigator, looking for tips. You offer a reward for information that leads to you solving the case, but you're struggling to get the word out to the right audience. What do you do?
You can create a "tips" contact form as normal, connect AffiliateWP to your WPForms, and spread the message through an affiliate program. If someone enters a helpful tip in your contact form, they'll receive the reward, and the affiliate that sent them to your site will receive a commission.
Payment Forms
Tracking referrals through WPForms payment forms is more what we picture when we think of affiliate marketing. When someone completes a payment through the form, a referral is created, and the affiliate receives a commission on the sale.
One of the benefits of using AffiliateWP as affiliate marketing software for WPForms is that they sync seamlessly. This means you can place any number of different forms around your site and automatically track the different referrals.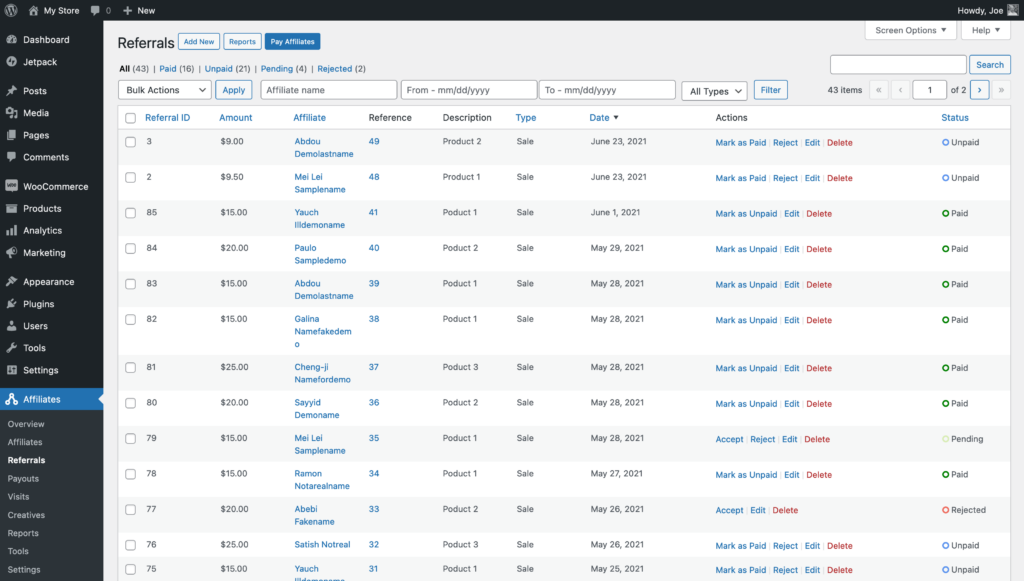 If we think back to the company that's looking to redevelop its lava lamp, one form might be tracking survey responses and another tracking payments on product sales. With AffiliateWP you can track both referrals, offering different commission structures for each, while still monitoring everything from one central affiliate platform.
Survey Forms
Understanding your customers' wants and needs is essential to success (at AffiliateWP, we're always focusing on what we call the success gap to make sure we're bringing out the new features our customers are looking for), but how do you get hold of that information?
The best way is to get it from your customers themselves. To do that, you've got to ask the right questions in the right format and give people a reason to give you that feedback.
WPForms' survey forms are excellent at providing you with the right format, and with referral tracking, you can add an extra incentive.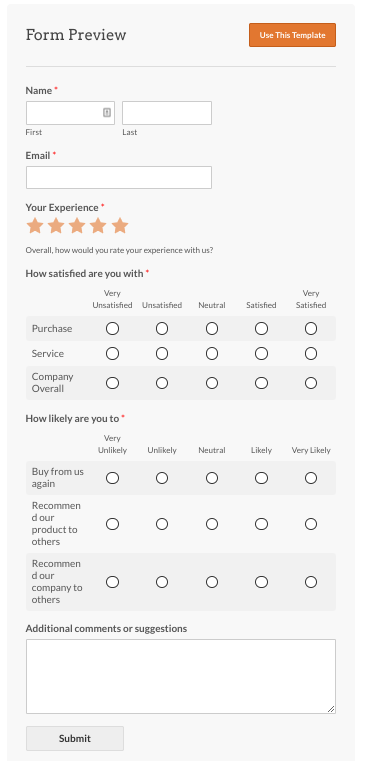 Sometimes you might not have the right audience to get the information you need, so you'll need to borrow someone else's audience. Affiliate marketing software for WPForms helps you do this.
Newsletter Forms
Building an email list is an important digital marketing tactic many websites use. When someone signs up for your email list, you've got an easy way to create touchpoints and build a relationship.
A good email list can be extremely valuable, so using optimized newsletter forms is a must. Still, is your email list valuable enough to warrant referral tracking?
The answer is, it depends on what you use your email list for, and how much you'd pay your affiliates for each signup.
Say you're an affiliate marketer whose main income comes from affiliate links contained within your email series. In this case, your email list is the key, so it might be worth your while to gain access to other people's audiences through an affiliate marketing program.
Registration Forms
Registration forms are another way to benefit from referral tracking with WPForms.
Even in the world of e-commerce, events play a big part in our marketing strategies. You may have a virtual pre-launch party, offer weekly webinars, or do live workshops. Every person who attends these events offers potential value to your business.
A good registration form is vital to maximizing conversions but how do you expand your marketing and reach a targeted audience?
Affiliate marketing is an excellent option, and with AffiliateWP you can track referrals through registration forms.
How to Set Up WPForms Referral Tracking with AffiliateWP
Keeping track of where each person who fills out your forms has come from must be complicated right?
Well, earlier we mentioned that AffiliateWP and WPForms sync perfectly, and here's the proof. Setting up referral tracking by integrating the two plugins couldn't be easier.
Step 1: Download the AffiliateWP Plugin
Download the AffiliateWP plugin and use the onboarding wizard to set up your affiliate program. This should only take a few minutes.
Step 2: Enable the WPForms Integration in Your AffiliateWP Dashboard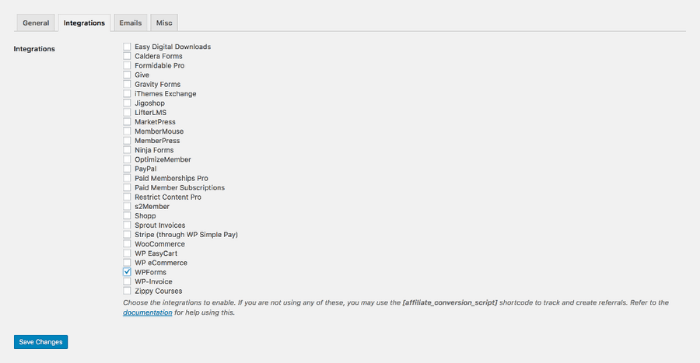 In AffiliateWP go to Affiliates → Settings → Integrations, and check the box next to WPForms before clicking Save Changes.
Step 3: Allow Referral Tracking on Your WPForms Form
Head to your WPForms plugin and select the form you want to use to track referrals. In the left-hand menu, select Settings, and in the side menu, go to General. At the bottom of this menu, you'll see a check box next to Allow Referrals, check this box to allow referral tracking for your form.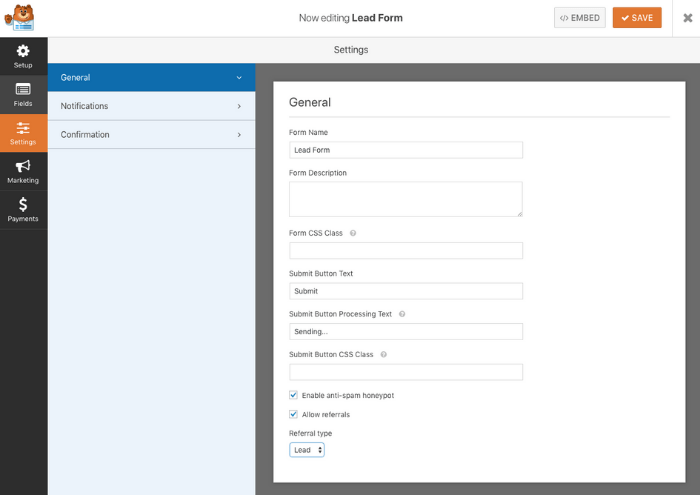 When tracking referrals for payment forms, the only thing to remember is that commission is paid on the total value of the sale, so make sure your form contains a field with the total value.
That's it, you're ready to track referrals through WPForms!
Conclusion: Affiliate Marketing Software for WPForms
Referral tracking is something of a hidden feature on WPForms, but it can be incredibly useful.
Data is one of the most important commodities a business has access to, and in some cases, it makes sense to incentivize its collection. If that's the case for your business, then the easiest way to do it is through the best affiliate marketing software for WPForms: AffiliateWP.
It's so easy to sync the two plugins that you can start tracking form referrals in minutes, helping you to build a successful affiliate marketing program.