How to Set Up Referral Tracking On WPForms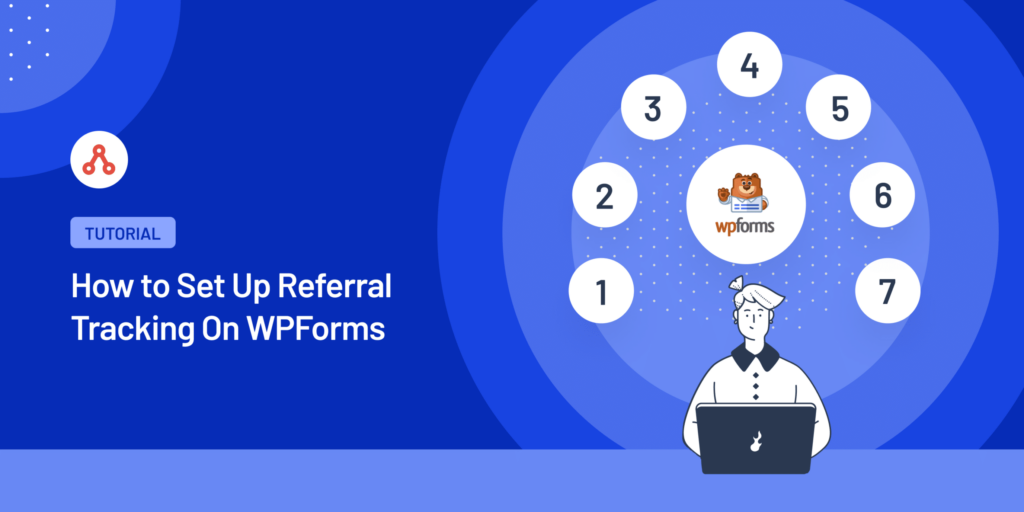 Want to know how to set up referral tracking for WPForms?
It's actually incredibly simple to set up affiliate marketing to promote your forms and we're going to show you how.
Here's your expert guide to setting up referral tracking for WPForms.
Referral Tracking Can Supercharge Your WPForms
If you use WPForms to create forms on your website, then you've got some incredible tools at your disposal. You're using the best WordPress form builder, but we want you to take things a step further still!
What if you get your high-converting forms in front of more people?
With no up-font costs and in double quick time?
It could make a big difference to your business.
Well, with affiliate marketing, this is absolutely possible. What's more, setting up referral tracking for WPForms is incredibly easy.
We're going to show you how to set up affiliate marketing for WPForms so you can track referrals. Then affiliates can promote your pages and forms to their audiences in return for a small commission on any sign-ups.
It's a low-risk way of growing your reach and it can result in a big boost for your sign-ups, lead generation, or whatever you're using WPForms for.
7 Steps to Set Up Referral Tracking on WPForms
We're going to show you how you can quickly set up an affiliate marketing program for WPForms and start tracking referrals.
It actually only takes 4 steps to get started, but we've thrown in a few extra tips to ensure you're perfectly set up for success.
Step 1: Install AffiliateWP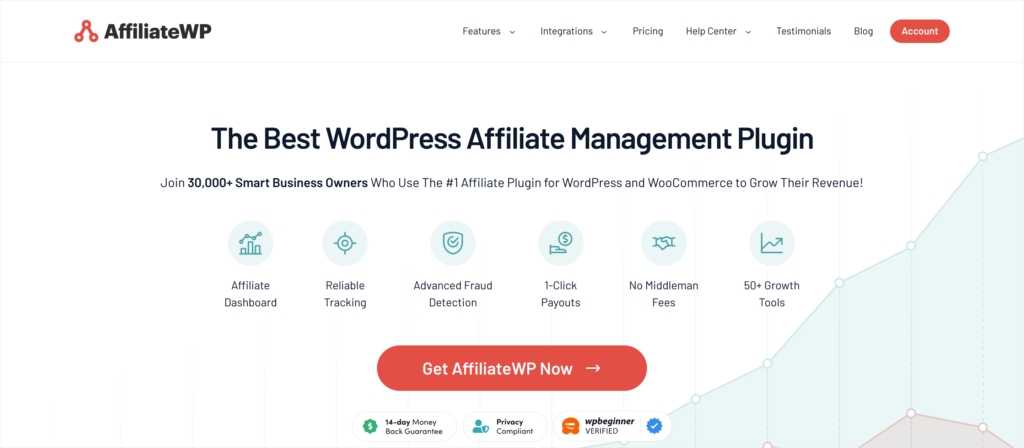 AffiliateWP is the best affiliate management plugin for WordPress.
Not only does it help you create an affiliate program in a matter of minutes, but it also offers the best WPForms integration of any affiliate plugin. AffiliateWP and WPForms are sister companies, so this is the perfect way to unleash all your WPForms tools in your affiliate marketing program.
In just a few minutes, AffiliateWP will automatically create everything you need to run your program:
Affiliate signup page
Customizable registration form (edit your form in WPForms)
Affiliate dashboard with URL generator, statistics, coupons, and more
Affiliate management tools
Analytics to track visits, referrals, campaigns, payouts, and more
Integrated payouts system
To get started, just head to the pricing page and choose the plan that best fits your needs. All our plans integrate seamlessly with WPForms, but it's worth exploring some of our pro features to find out if they can maximize your revenues.
Once you've completed your purchase, download the plugin following this handy guide, and then you're ready to get set up!
Step 2: Use the Setup Wizard to Integrate with WPForms
AffiliateWP's easy setup wizard will walk you through every step of the setup. Just go to your AffiliateWP Settings from the WordPress admin and click Launch Setup Wizard at the bottom of the page.
Enter your license key (you can find this in your AffiliateWP Account or purchase confirmation email) on the first page and then click Continue.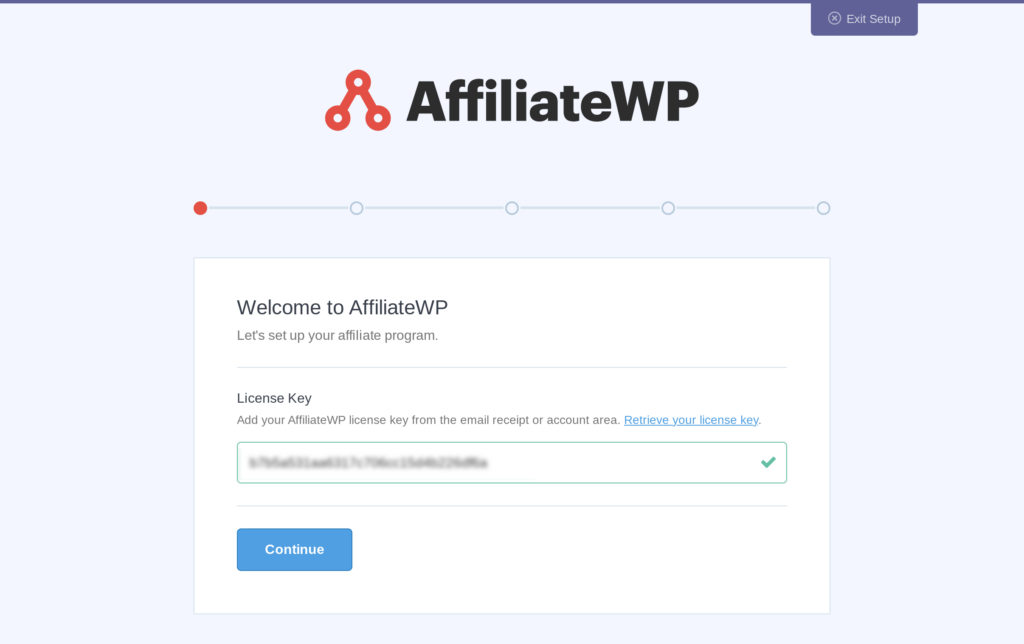 Now you can use AffiliateWP's 1-click integration to connect to your WPForms account. Click on Form Integrations and then check the box next to WPForms before clicking Continue.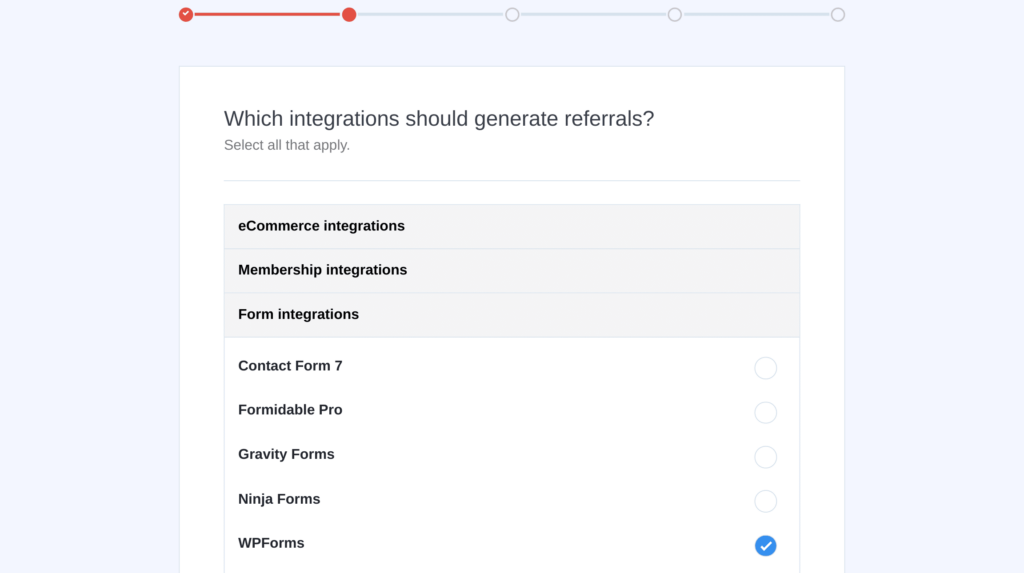 There are just a few simple steps left and then your affiliate program will go live.
Next, you need to choose your currency, commission type, and commission value. You can edit all these details later in your settings, but if you have any doubts, check out this guide to affiliate commissions.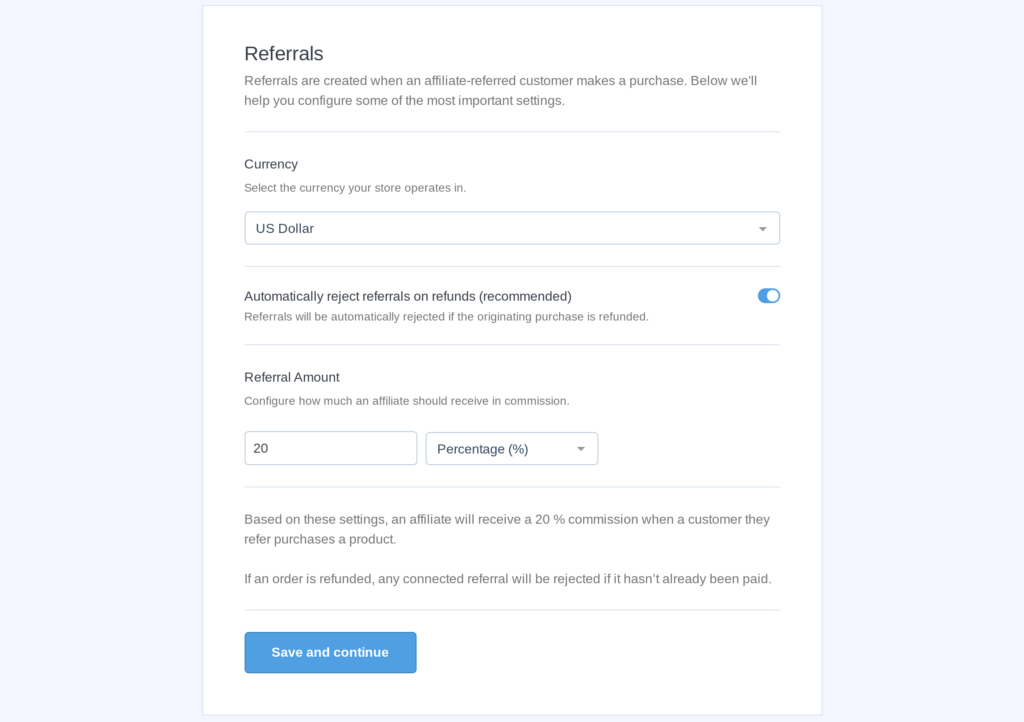 If you're using WPForms for lead generation, then you'll likely want to choose a Fixed Rate referral so affiliates receive a fixed amount for each sign-up they send you. Alternatively, if you're using WPForms to take payments, then you might want to offer a percentage of the total value of the sale.
Once you've decided your commission settings, click Save and Continue and then you can choose your cookie settings.
The cookie expiration is the time a cookie stays in a user's browser. If the user fills out a form within this time period, then the referring affiliate is entitled to a commission. However, if the cookie expires, then the affiliate wouldn't receive a commission. As with commissions, you can always edit these settings at a later date, and we've also got a great guide to help you out.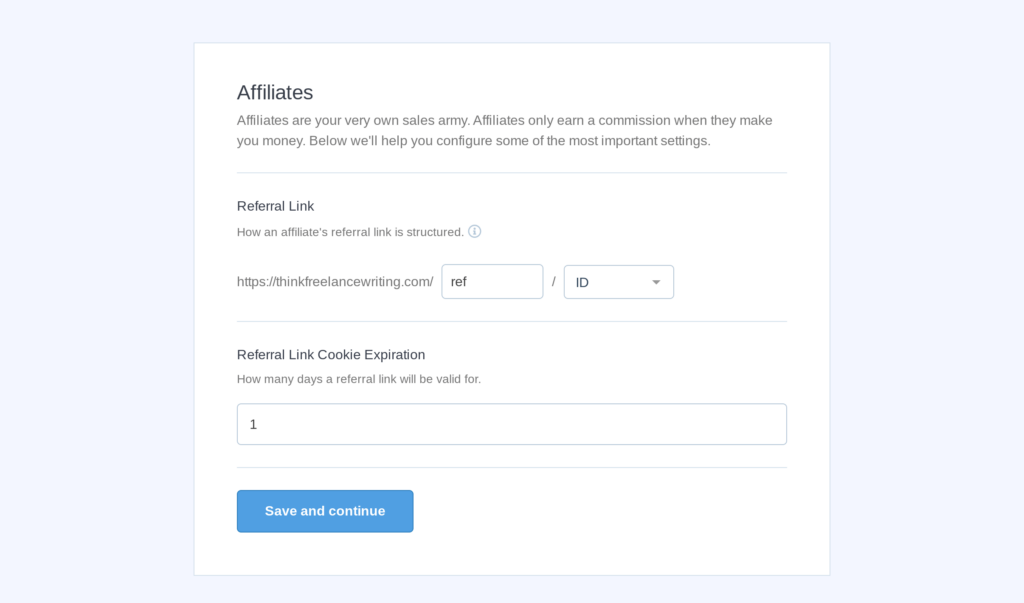 Click Save and Continue and Finish the Setup and Exit the Wizard.
That's it, you're all set up!
Step 3: Customize Your Affiliate Signup Page and Registration Form
This step isn't strictly necessary, but since you've got the best form builder on the market, you might as well use it to maximize your affiliate sign-ups!
When you install AffiliateWP, it will automatically create an affiliate signup/login page known as the Affiliate Area. You can easily edit this page by going to Pages and searching "Affiliate Area".
You'll see there's an auto-generated registration form, but you can easily create your own with WPForms.
Go to WPForms > Add New and click on Custom Templates. You'll see an affiliate registration template you can use as your base and easily edit it using WPForms tools.

Once you're done customizing your form, go to the form Settings and you'll see a new AffiliateWP tab. Here, you can enable your form for affiliate registrations and map your fields for maximum compatibility.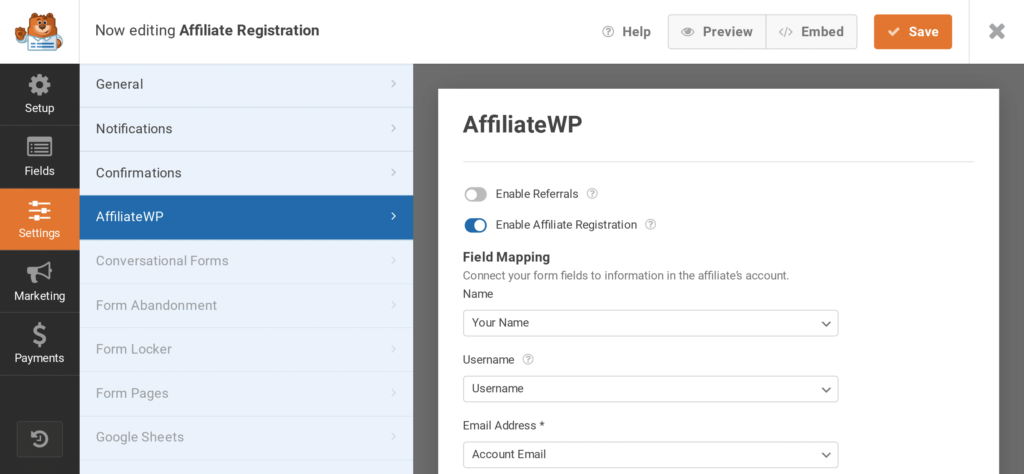 Then it's just a case of embedding your form on the affiliate signup page as you normally would with WPForms.
Potential affiliates will now be able to sign up for your affiliate program, but you'll want to screen them before they're accepted.
To approve or reject affiliates, go to Affiliates from your WordPress admin and click on Pending. You'll now see all your pending registrations and you can see more information on each affiliate by clicking their name. Then just use the approve and reject buttons to make your decisions.
Affiliates will automatically receive an email notifying them of your decision and approved affiliates can log in to their dashboards on the affiliate area page.
Step 4: Create and Customize Your Form
Now you've got your affiliate program set up, it's time to build your forms.
With WPForms, you can build any kind of form you wish, and now you have AffiliateWP, you can track referrals on all those forms.
Just follow the normal process to create a form by going to WPForms > Add New and use one of the templates as your starting point. You can then customize your form using WPForms tools and make sure it's conversion ready.
Step 5: Enable Referrals for Your Form
Once your form is ready, it's time to enable referral tracking for it, and this couldn't be easier.
Just click Settings in the sidebar of your form builder and then click on the AffiliateWP tab. You'll see a toggle button titled Enable Referrals and all you need to do is click this button.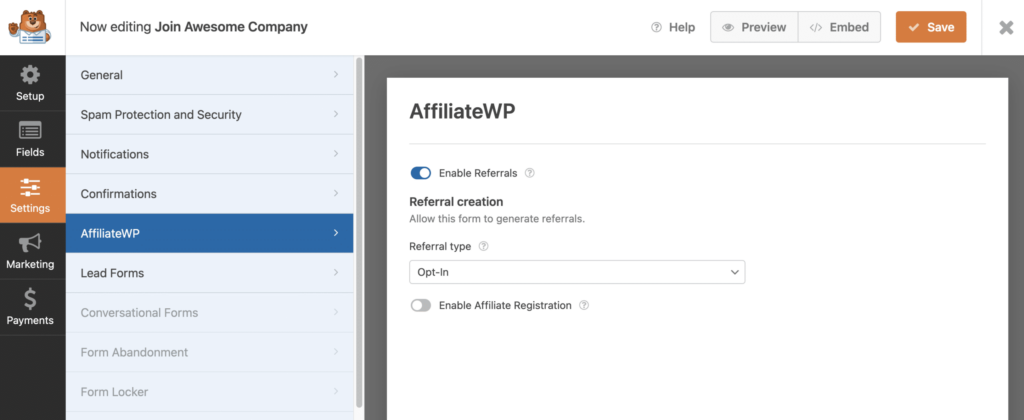 That's it!
AffiliateWP will now automatically track referrals for this form.
Whenever someone follows an affiliate link to your website and completes this form, it will now show as a referral on your Referrals page.
Step 6: Affiliates Generate Links to Your Pages/ Forms
To promote your forms, all your affiliates have to do is log into their affiliate area and use the URL generator to create affiliate links.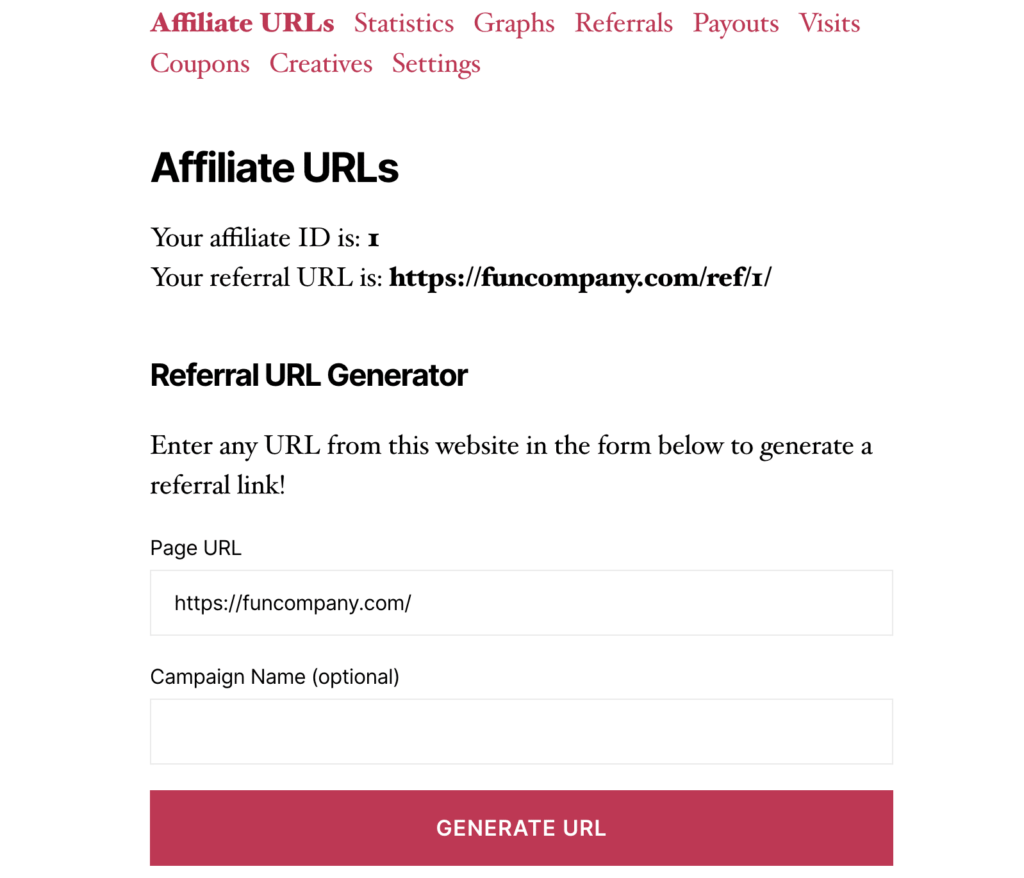 To do this, they copy the URL for the page they want to promote and paste it into the generator. They'll then receive a personalized affiliate link they can use in their content, social media posts, email marketing, and more.
When someone clicks on their affiliate link, this will create a visit that shows in the statistics tab of their affiliate dashboard. If that person completes your form, then it will create a referral and the affiliate will be entitled to a commission.
Step 7: Track Performance and Make Affiliate Payouts
Your referral tracking for WPForms is all set up.
All you need to do is check in on performance every once in a while, and authorize affiliate payouts. AffiliateWP makes this incredibly easy with its in-depth reports and integrated payouts service.
Navigate to the AffiliateWP Reports page and you can see detailed information on Referrals, Affiliates, Sales, Visits, and Campaigns. This will help you keep an eye on affiliate performance and spot opportunities for improvement.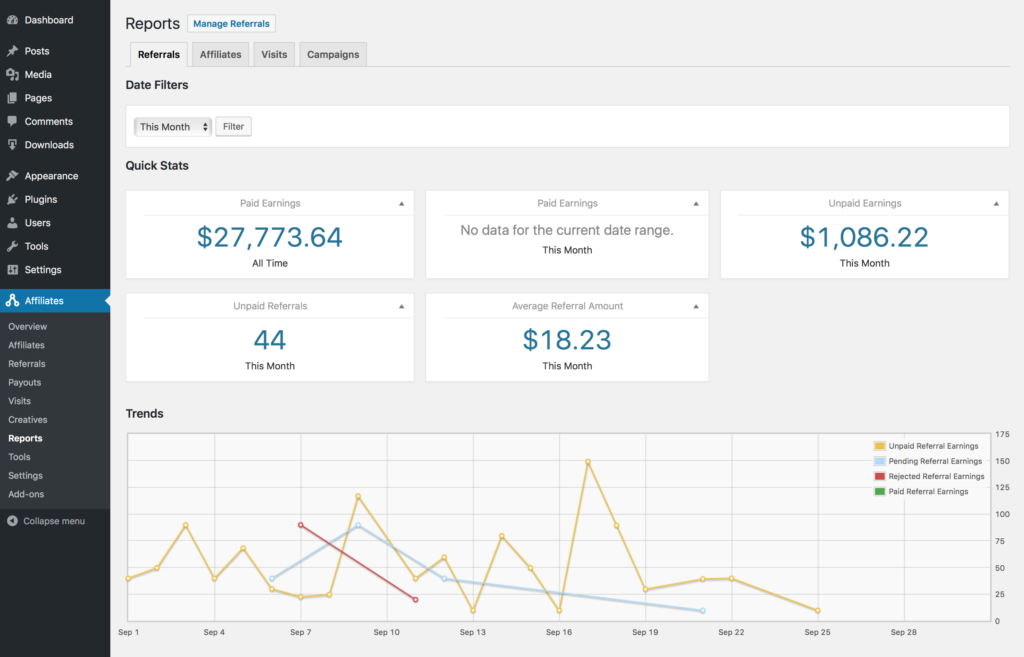 Then, the last step is to pay your affiliates.
Again, AffiliateWP makes this incredibly easy by offering you two built-in payment options.
The first is the Payouts Service which allows you to pay affiliates directly to their bank accounts without leaving your WordPress admin. Alternatively, you can use PayPal Payouts to pay affiliates via PayPal, again, without leaving your WordPress admin.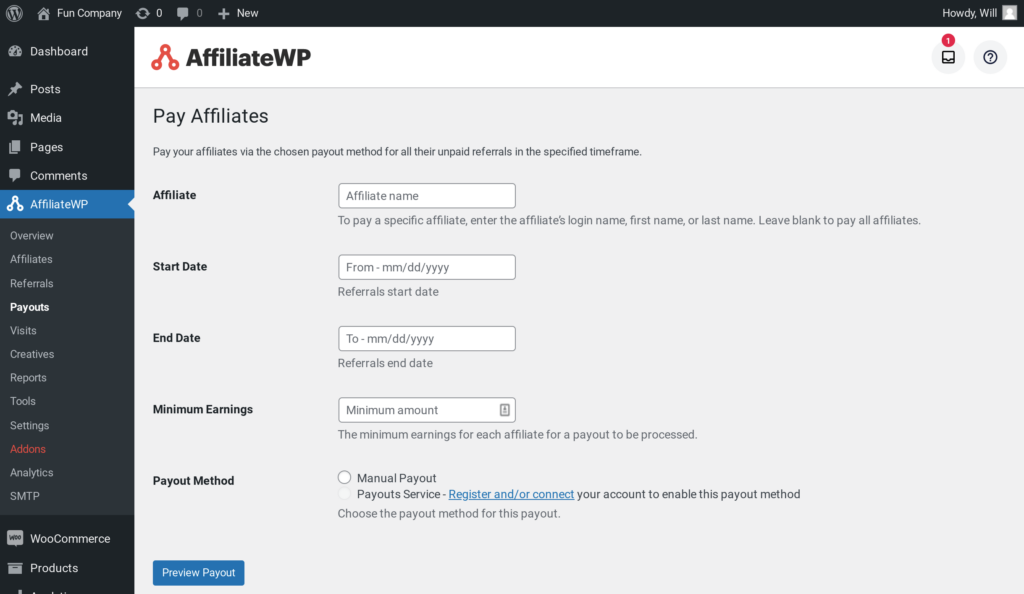 It takes just a few clicks to pay all your affiliates and keep them happy!
Now Try Out WPForms' Advanced Forms
We've built AffiliateWP to help you get the most out of all WPForms' best features, so try them out.
Regular forms are great, but have you experienced the increased conversion rates Lead Forms or Conversational Forms offer? These forms are specifically designed to ensure more people follow through and complete your form – and they do an amazing job.
Pair these forms with referral tracking from AffiliateWP and you've got a powerful recipe for success!
Grow Your Lead Generation with Referral Tracking for WPForms
You can give your lead generation an immediate boost by adding referral tracking to WPForms.
In less than 10 minutes, you'll have everything you need to run an affiliate program and drastically increase your form conversions. The best part is, it's virtually risk free because you don't pay affiliates until they bring you leads.
So, what else should you know about affiliate marketing?
Now there's only one thing left to do.
Get AffiliateWP and set up up referral tracking for WPForms!