How To Set Up An Affiliate Program For WooCommerce (Guide)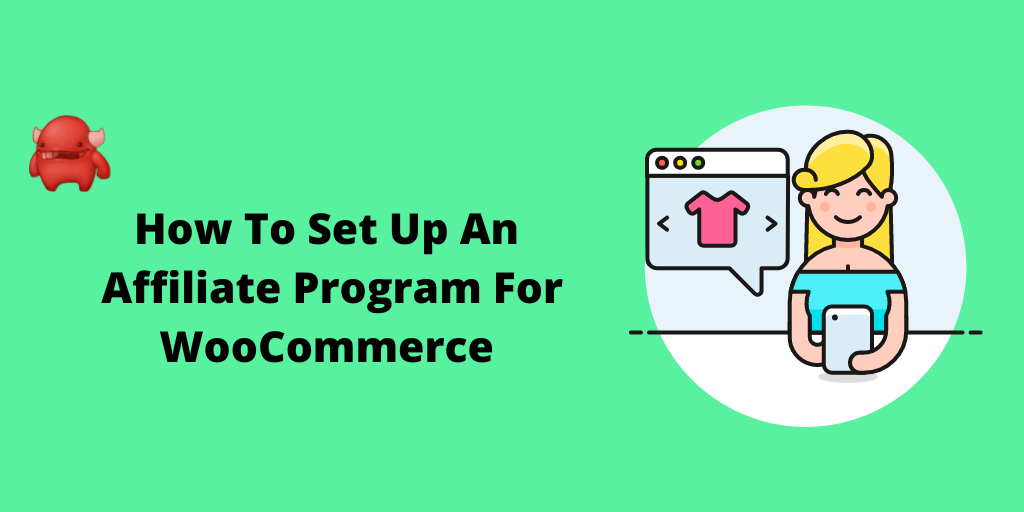 Want to set up an affiliate program for WooCommerce but don't know where to start?
An affiliate marketing program can unlock new revenue opportunities for your business, and it's much easier to set up than you might think.
Here's a simple guide to help you set up an affiliate program for WooCommerce.
Why is an Affiliate Program for WooCommerce Beneficial?
WooCommerce store owners need an affiliate program because otherwise, they're not maximizing their sales.
Adding an affiliate marketing program to WooCommerce allows you to attract marketing professionals to promote your product. The great thing is, you don't pay them until you make a sale.
This means you can greatly expand your audience while taking very little risk.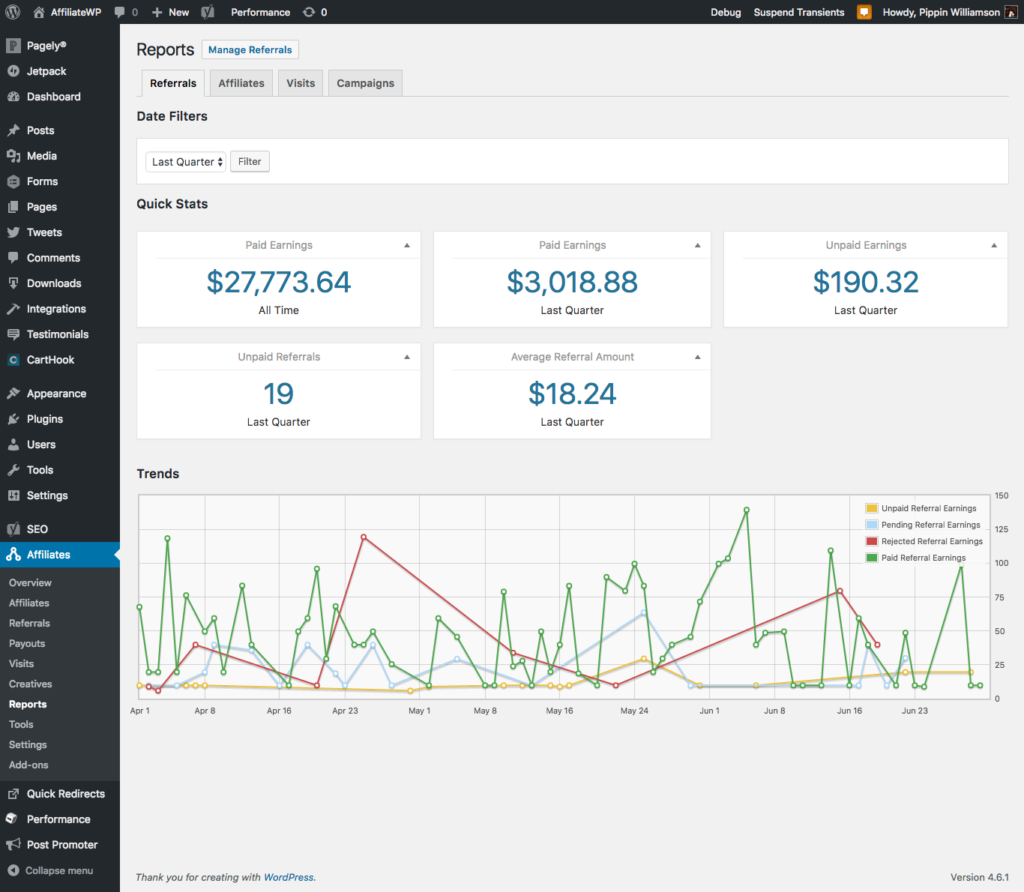 WooCommerce doesn't have built-in affiliate tracking capabilities, which means you need a plugin to build your affiliate marketing program. Luckily, with AffiliateWP, it's incredibly easy to set up an affiliate marketing program for WooCommerce.
How to Set Up an Affiliate Program For WooCommerce
Affiliate marketing can have an immediate impact on your business's success, so let's take a look at how you can start using it.
We're going to run you through every step you need to follow to set up an affiliate program for WooCommerce.
Here's a quick list of what we'll cover:
Install AffiliateWP
Complete the Setup Wizard
Promote Your Affiliate Program
Step 1: Install AffiliateWP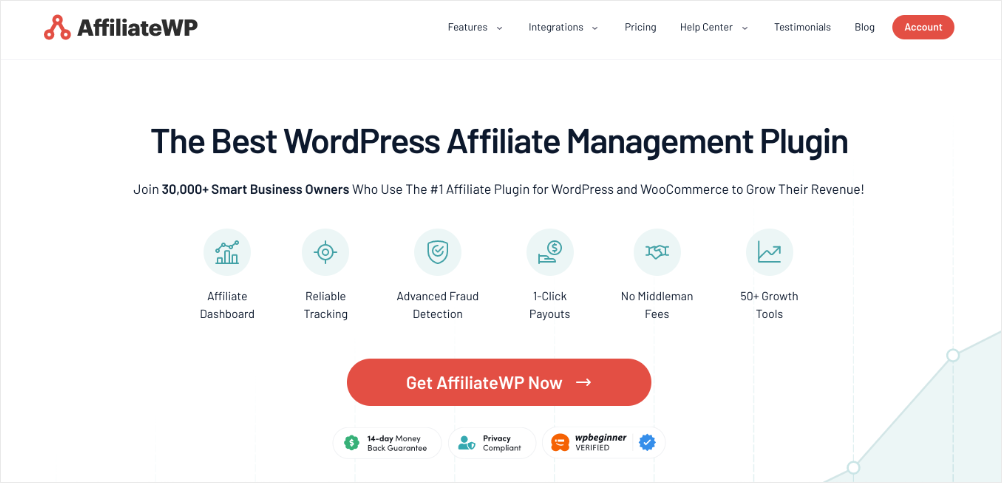 The best way to set up an affiliate program for WooCommerce is with AffiliateWP.
Not only does it sync WooCommerce products in a single click, but it also offers powerful features to help you grow your program.
All you've got to do is head to the pricing page and choose the package that best fits your needs. It's well worth looking at the Professional plan because its premium add-ons can supercharge your WooCommerce sales.
If you have any trouble installing the plugin, you can check out this step-by-step guide, and check out our documentation for other tutorials.
Step 2: Complete the AffiliateWP Setup Wizard
Once you've activated the AffiliateWP plugin, you can open the setup wizard by hovering over AffiliateWP in the left-hand sidebar of your WordPress dashboard and selecting Setup.
Near the bottom of the page, you'll see a Launch Setup Wizard button – click this button to set up your affiliate program for WooCommerce.
The first step is to enter your License Key, which you can find in your confirmation email or in your Account area on AffiliateWP.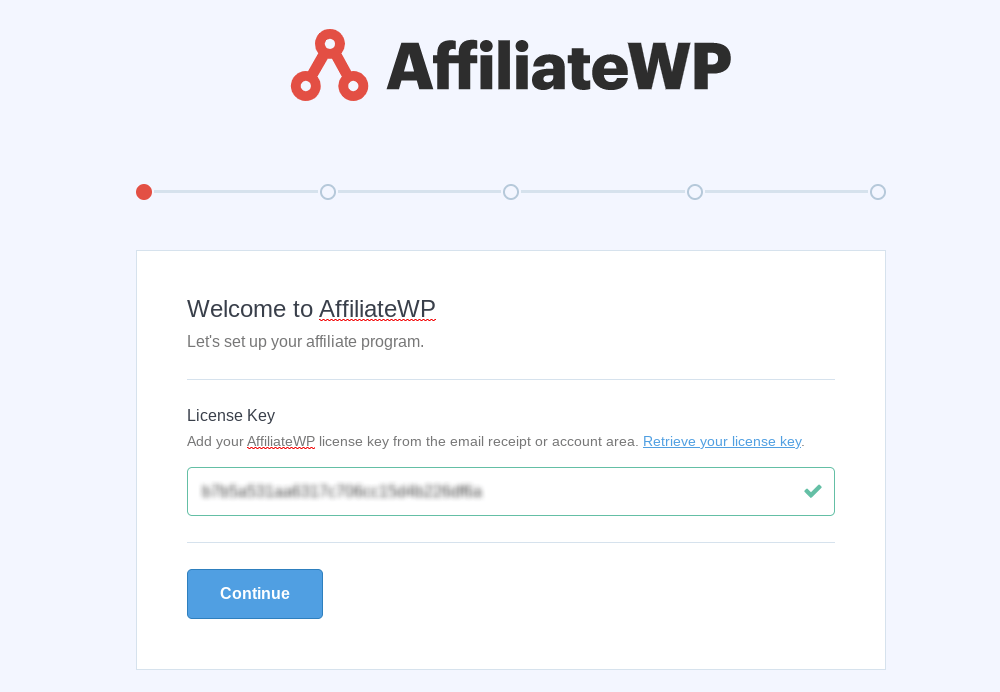 Enter your license key and click Continue.
On the next page mark the check box next to WooCommerce to integrate your store with AffiliateWP and click Continue. You'll also notice that it can plug directly into PayPal, Easy Digital Downloads, WPForms, Stripe, and many other WordPress plugins.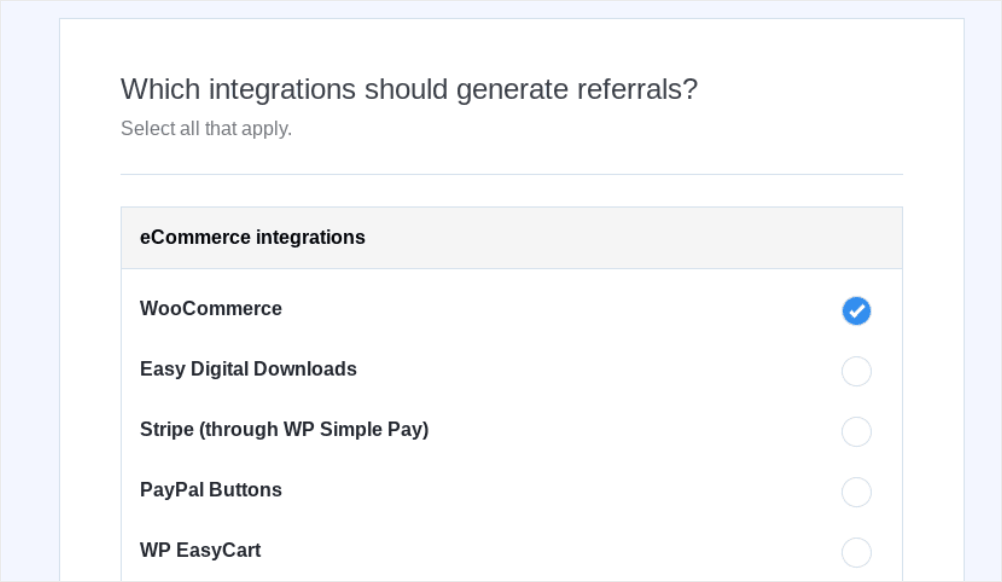 This will automatically sync your products to AffiliateWP, so now all you've got to do is choose your commission structure.
You can choose the currency you want to run your affiliate program in and your global referral rate on the next page. Choose between commission as a percentage of the total order value or a flat referral and set a value for each referral.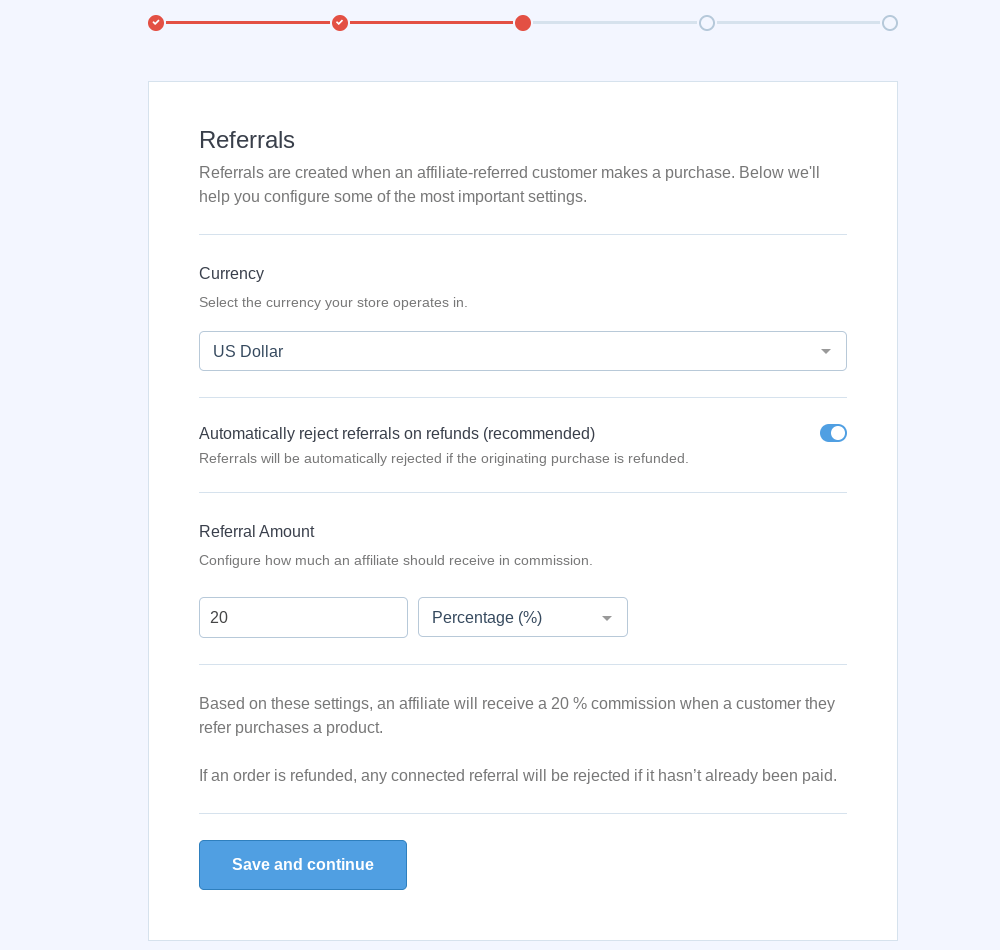 Don't worry, you can set different commission rates for specific affiliates and specific products at a later date by returning to the settings.
Once you've chosen your affiliate commission, the next page allows you to edit how long you want your cookies to last and what you want your referral URLs to look like.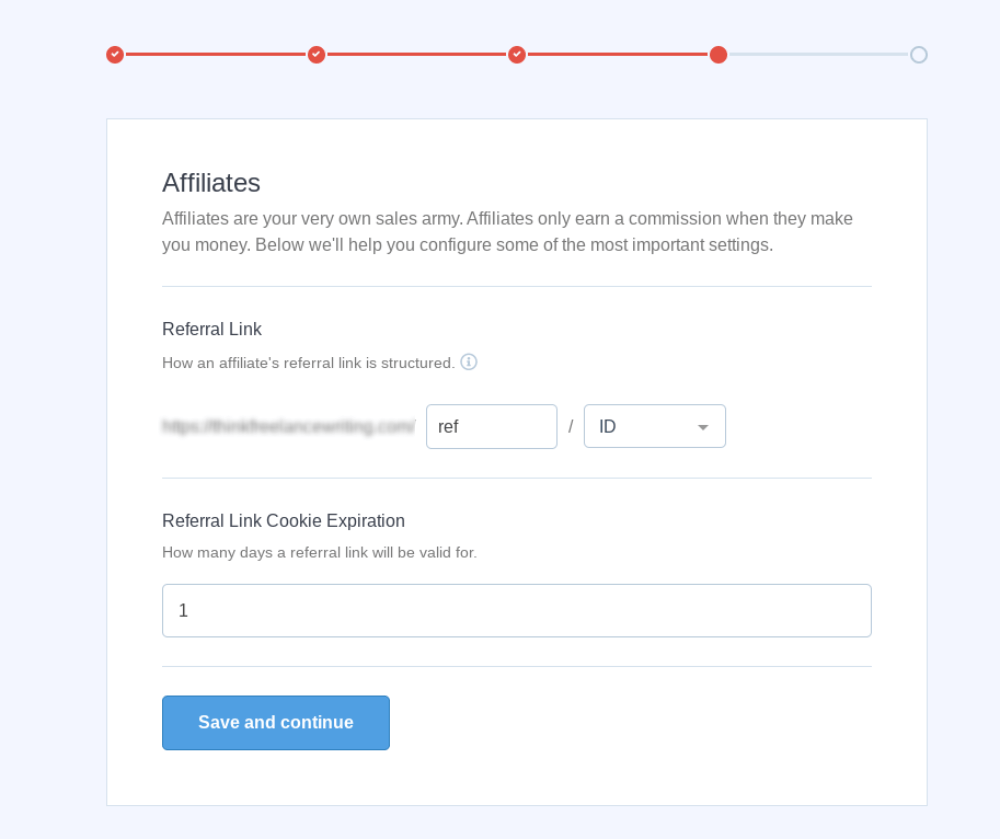 Then, all that's left to do is click Finish the Setup and Exit the Wizard and your affiliate program is ready to go.
Step 3: Promote Your Affiliate Program
As soon as you integrate WooCommerce with AffiliateWP the software will automatically start tracking referrals.
When AffiliateWP is installed it will create a page on your WordPress site titled Affiliate Area, which will be your affiliate registration and log-in page (you can select any page on your site to be the signup/ login page).
You can then edit this page in your theme builder and tailor it to fit your needs (we find the best software for this is SeedProd), and the registration form templates are also customizable.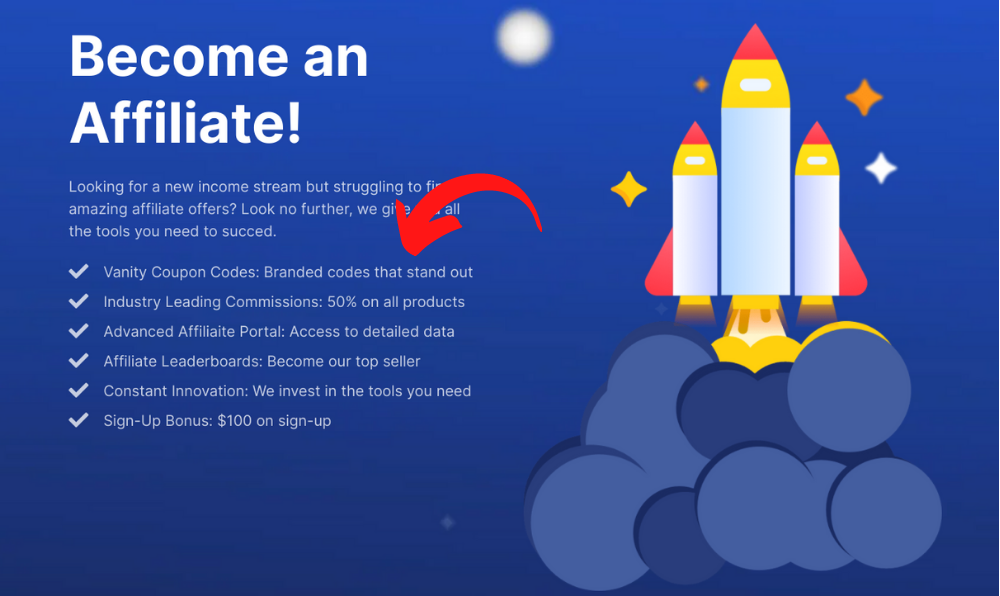 As soon as an affiliate signs up, you'll be able to see detailed information in the affiliate dashboard:
Approve or reject affiliates in the Affiliates tab (essential for affiliate management)
See traffic affiliates send to your website in the Visits tab
Track affiliate sales in the Referrals tab
Pay affiliates with one click from the Payouts tab (you get unlimited affiliates and payouts in AffiliateWP)
Everything is automatically set up for you and you'll get notifications whenever a new affiliate signs up, and when you make a referral. This means you can start growing your WooCommerce sales immediately.
Now Start Growing Your WooCommerce Affiliate Program
Affiliate marketing is about more than just referral links.
There are many ways for your affiliates to promote your products, and AffiliateWP enables you to benefit from them all. One particularly powerful tool for your WooCommerce affiliate program is Vanity Coupon Codes.
People love discounts, and they love personalized content!
Vanity Coupon Codes lets you make use of both of these things by enabling your affiliates to create their own personalized coupon codes.
You're in control of the discount and have final approval over the name, but it allows your affiliates to personalize their marketing. This can have a big impact on your e-commerce conversion rate and help your affiliate program stand out on crowded platforms like social media (bloggers and influencers love them.)
Check out Vanity Coupon Codes!
Bonus Tip: One of our favorite ways to motivate affiliates is by using leaderboards to create a rankings system. This gets your affiliates' competitive juices going in a bid to be your top seller!
FAQs: Set Up an Affiliate Program for WooCommerce
Can I sell affiliate products on WooCommerce? You can sell affiliate products on WooCommerce, but you need an external WordPress affiliate plugin. With AffiliateWP, you can sync your WooCommerce products to an affiliate program in minutes, start signing up successful affiliates and make affiliate sales.
How do I create an affiliate program on WordPress? The best way to create an affiliate program on WordPress is with AffiliateWP. With its easy setup wizard, you can create an affiliate system in minutes and integrate it with many of your favorite WordPress plugins.
How do I create an affiliate link program? If your website runs on WordPress, then you can create an affiliate link program with AffiliateWP. In just a few minutes you can start tracking affiliate links and making sales.
Which platform is best for affiliate marketing? The best platform for affiliate marketing, if you have a WordPress website, is AffiliateWP. You get unlimited affiliates, unlimited creatives, and you don't pay fees on your earnings
Set Up an Affiliate Program for WooCommerce the Easy Way
AffiliateWP is the best WooCommerce affiliate plugin for managing and growing your online store. Whether you're just starting your e-commerce store or are an established seller, it couldn't be easier to set up an affiliate program for WooCommerce.
It's going to take you very little time, but it will unlock some huge benefits.
Affiliate marketing can expand your audience very quickly, get experienced marketing professionals promoting your business, and bring in limitless sales, all with little risk.
Looking for ways to grow your sales through affiliate marketing?
We've got you covered:
Now there's only one thing left to do.