Want to set up an affiliate program for WooCommerce but don't know where to start?
Using affiliate marketing software to help promote your WooCommerce store and your products can boost your awareness and your sales, fast.
In this beginner's guide, we will share how to set up an affiliate program in WooCommerce, and why it's a MUST HAVE for every eCommerce store.
Here's a table of contents of what is in this article:
What is an Affiliate Program?
Why Affiliate Marketing is Important
How to Set Up An Affiliate Program for WooCommerce
Why is Affiliate Software for WooCommerce Important?
What is an Affiliate Program?
An affiliate program is where you allow your customers and other website visitors to refer your product and earn money. Other big companies like Amazon, eBay, and AliExpress use them to grow their sales super fast.
The people who promote your products are called affiliates. An affiliate refers new potential customers to your site. They then earn money if the person they referred buys something.
Why Affiliate Marketing is Important
Affiliate marketing is like having an army of salespeople who you only pay based on how they perform.
Affiliate marketing is low risk since you don't pay anything unless they refer a visitor to your site who then makes a purchase. And affiliate marketing is high value because people are more likely to buy something when someone they trust or like promotes it.
Affiliate marketing is a MUST HAVE if you have a WooCommerce store and you want to succeed!
How to Set Up Affiliate Software For WooCommerce
So, if you've been wondering, "How do I set up an affiliate program for WooCommerce?", the answer is: use AffiliateWP.
AffiliateWP is a WooCommerce affiliate marketing plugin for WordPress that makes it easy to set up and manage your affiliate program. You can get started fast with a simple setup, and add more features later if you want to take your affiliate program further.
​​Here's a quick list of what we'll cover:
Install and Activate AffiliateWP
Choose Your Currency
Choose Your Referral Rate Type and Referral Rate
Step 1: Install and Activate AffiliateWP
The first thing you'll need to do is purchase, install and activate the AffiliateWP plugin. AffiliateWP is a paid plugin so you will need to buy a license to install and use it.
If you have any trouble installing the plugin, you can check out this step-by-step guide on how to install a plugin in WordPress.
Once AffiliateWP is installed and activated, you're ready to connect it to your WooCommerce store.
To do that, head over to your WordPress dashboard and click Affiliates » Settings.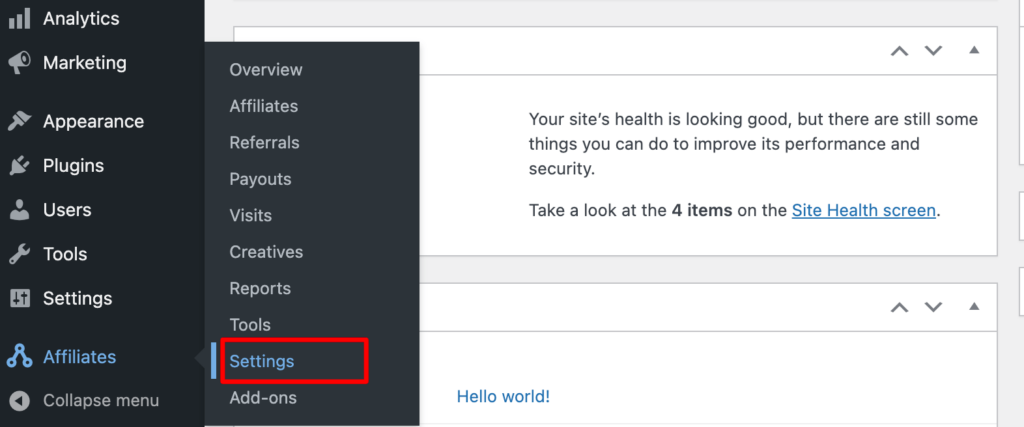 Now, you'll see a screen with tabs along the top. Click the Integrations tab.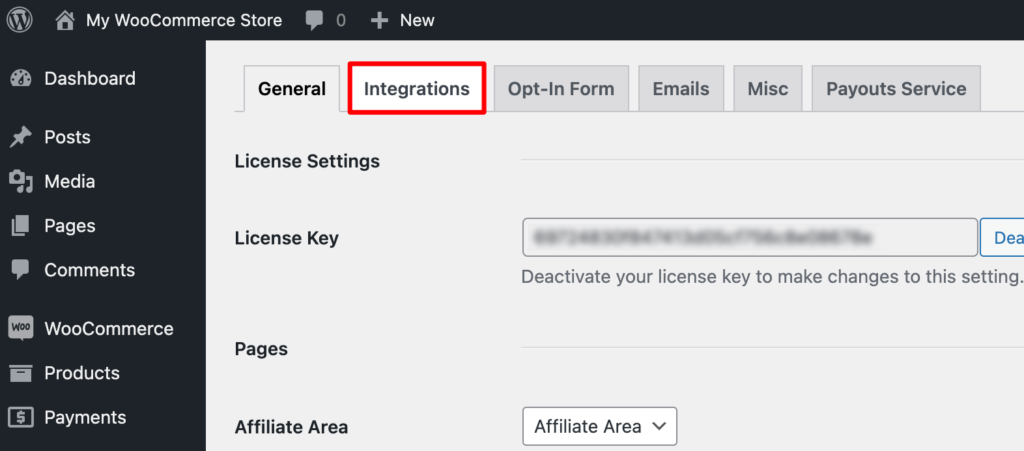 Here we'll select the checkbox next to WooCommerce.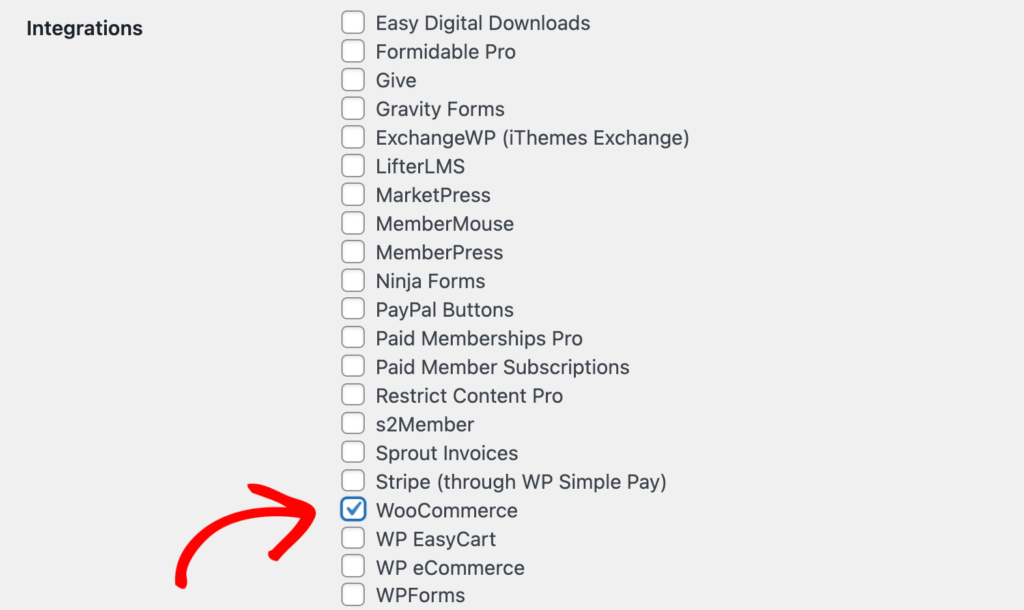 And remember to click the Save Changes button at the bottom of the page.
That's all done! At this point, AffiliateWP is ready to go and will work without doing anything else, but there are two more settings you may want to change: 1) your currency, and 2) your referral rate type and referral rate (commission amount).
Step 2: Choose Your Currency
The currency settings affect what currency your affiliates will see in their Affiliate Area.
Once installed and activated, AffiliateWP defaults to US Dollars, but you can choose the currency that you want to show your affiliates under Affiliates » Settings » General » Currency Settings.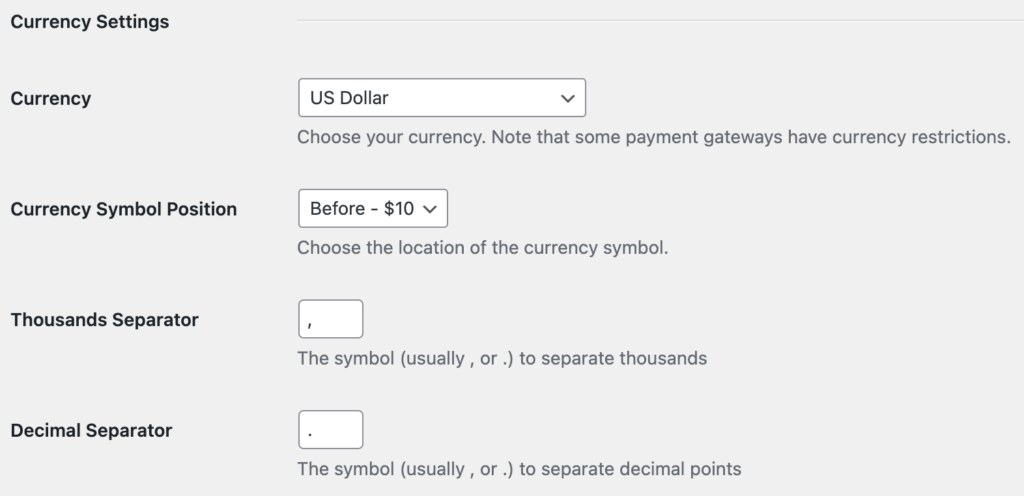 Here you can also change the Currency Symbol Position, Thousands Separator, and Decimal Separator settings.
Step 3: Choose Your Referral Rate Type and Referral Rate
As one of the most important settings in AffiliateWP, this option allows you to choose how much you will pay your affiliates. You can pay them a percentage of an order total, or a flat rate.
A percentage referral rate is based on a percentage of the total order amount, whereas a flat referral rate is an exact amount, such as $10.
AffiliateWP has a default referral rate type of Percentage and a default referral rate of 20.
Change your referral rate type and referral rate by following these 3 simple steps:
First, under Affiliates » Settings » General, scroll down until you see Referral Settings.
Then, select Percentage or Flat Rate.

If you selected Flat Rate, you can choose to calculate commission on the whole order total, or on a per product sold basis.
On a Per Product basis, this means that if a customer is referred by an affiliate and purchases multiple products in the same order, the affiliate is awarded once for every product sold.
On a Per Order basis, this means that if a customer is referred by an affiliate and purchases multiple products in the same order, the affiliate is awarded one referral for the whole order.
Go ahead and enter the exact dollar amount to pay your affiliates in the empty field next to Referral Rate.

If you selected Percentage, enter a whole number – for example, the number '35' for 35 percent.

Now, all affiliates will be paid based on the amount you have set when they refer a customer to your store.
And you're done! Now you know how to set up an affiliate program for WooCommerce!
Why is Affiliate Software For WooCommerce Important?
WooCommerce does not have a built-in affiliate management system. Adding an affiliate program to your WooCommerce store motivates your customers, followers, and marketers to promote your products in return for a commission.
It's important you choose the right affiliate software for WooCommerce. Here are the top things you need to look out for when making your decision:
Integrates with WooCommerce
Affiliate marketing software must integrate properly with WooCommerce. This means accurate and reliable referral tracking, correct figures and amounts, features that are specific to WooCommerce, and no issues.
Watch Out For Fees!
Many affiliate marketing software options have high start up fees, and ongoing high transaction fees. Avoid these by choosing a software that clearly explains all pricing to you. When you make a sale, you then have to pay your affiliate; you don't want to also be paying a lot in fees!
Pay Any Commission Amount to Affiliates
Your affiliate marketing software should not have a set minimum amount for sending money to your affiliates. You should be able to choose the minimum amount if you want to, or not.
A Great User Experience for You And Your Affiliates
Affiliate marketing software should be easy and painless to use. It should be easy to set up your affiliate program without relying heavily on customer support. It should not be hard to understand.
This goes for you and your affiliates. Outdated user interfaces can make managing your affiliate program hard work. Your affiliates should also enjoy their experience with an easy-to-use and attractive interface.
Affiliate Quality Control
Some affiliate marketing software options are full of coupon sites who do not do any work to promote your store. All they do is use your brand name in order to intercept your paid search traffic, and organic search traffic too.
Choose software that allows you to review people who apply as affiliates so you can recruit the right people.
Own Your Data
Some of the larger affiliate marketing companies own all of your affiliate data, including affiliate earnings and tracking information. They can use this data for their own marketing and growth.
They can also choose to promote other affiliate programs to affiliates who joined YOUR program; since the affiliate is technically signing up to their larger program.
When you own your data, you can do with it what you wish. It always belongs to you, and you can keep it completely private if you choose to so do.
Software That Innovates and Updates
If affiliate marketing software looks old, you have to wonder how long it will be around for. A few more months? Maybe a bit longer? Who really knows!
Software that is innovating and moving with the times is looking to the future. You can feel assured that software which is regularly updated is planning to stick around for a very long time.
Frequently Asked Questions
Question: What is a good affiliate?
A good affiliate is someone who is willing to put some time and effort into promoting your products.
If you are selling something that fits a particular topic, someone who already has a website about that subject could be the perfect affiliate for your site. For example, if you sell high-quality custom shoelaces for shoes, someone who has a website and writes a lot about the latest sneakers could do very well as an affiliate for your WooCommerce store.
The other type of person who makes an excellent affiliate is your own customers. They have already bought your product, and if they love it they may be happy or even excited to share it with people they know.
Question: What is a good commission rate?
A common figure is 20% which is AffiliateWP's default. A good rule is to not set your affiliate commission rate too high that you take too much away from your own profit on each sale. Anywhere between 5-50% is common. The higher the commission you offer, the more affiliates you may attract to your program.
Question: Can I set a referral rate per-affiliate or per-product?
Yes, AffiliateWP allows you to further customize referral rates on a per-affiliate, per-product, tiered, lifetime, or recurring basis.
Next: Launch Your Affiliate Program This Weekend
AffiliateWP is the best WooCommerce affiliate plugin for managing and growing your store, whether you are just getting started or if you are more experienced.
It's easy to set up an affiliate program for WooCommerce in just a few minutes, then you can start recruiting affiliates!
In fact, if you can spare a little time, you can get your program up and running this weekend!
Why wait any longer? Get started with the most powerful WordPress affiliate software for WooCommerce and start growing your business with AffiliateWP today.
If you like this article, then please follow us on Facebook and Twitter to see our latest news and tutorials.