Is Affiliate Marketing Worth It? (A Look at Earning Potential in 2023)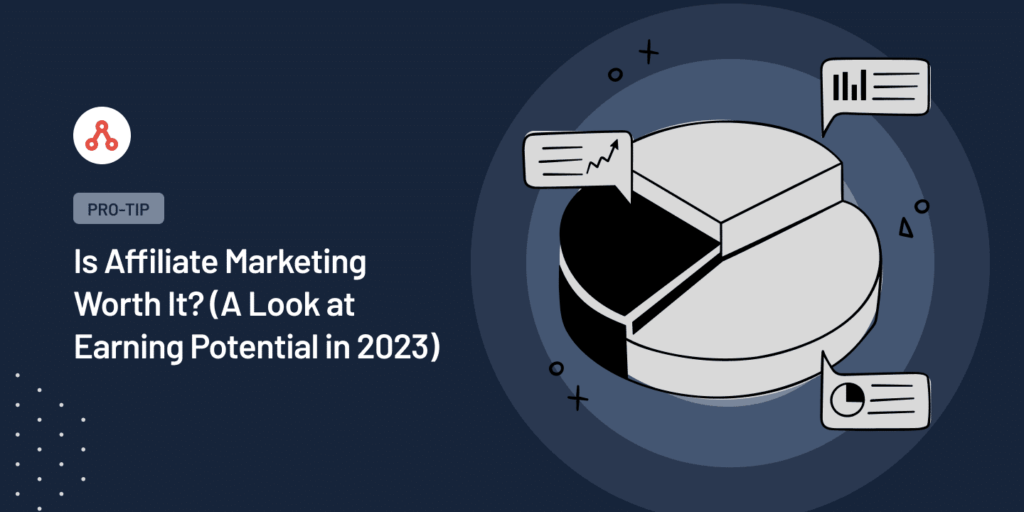 Is affiliate marketing worth it?
This is a question brands and affiliates around the world are asking.
As you would expect, the answer is nuanced, and many people are on both sides of the argument.
For affiliates and merchants, it's an important question to find an answer to because there's a lot of money on the table for both. So, let's find out if affiliate marketing is worth it and if you can make money with it.
What is Affiliate Marketing
Imagine you tell your friends about a great toy store you visited. They go to the store because of what you said and buy some toys. The store owner is so happy with your help that they give you a small gift or some money as a thank you.
Affiliate marketing works in a similar way.
In affiliate marketing, people, called affiliates, tell others about products from a company's website. When someone buys a product because of what the affiliate said, the company gives the affiliate a part of the money from the sale. It's like being rewarded for helping a company sell their things.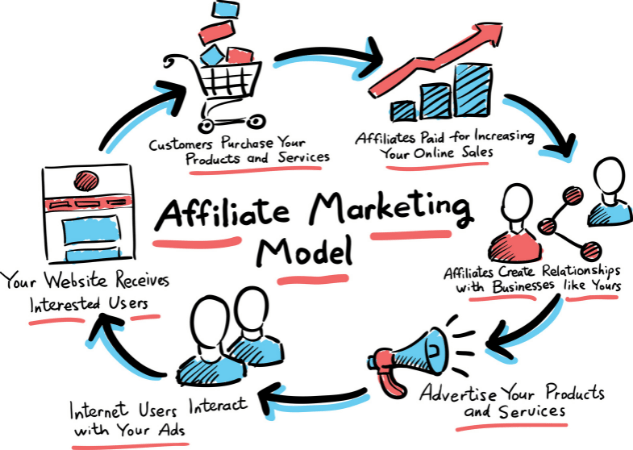 Here's how it works:
An affiliate talks about a product on their website or social media.
Someone clicks the special link the affiliate shares.
That person buys something from the company's website.
The company sees that the sale happened because of the affiliate.
The affiliate gets a part of the money from the sale.
It's a fun way for people to make extra money, and companies like it, too, because it helps them sell more things. Some people make a little money this way, and others make a lot.
You don't need to pay anything to start, and you can be an affiliate for many different kinds of things like toys, clothes, or games.
So now you know what affiliate marketing is, and maybe you're wondering if it's worth it.
Let's find out when affiliate marketing might be worth it and when it might not.
Keep reading to find out more!
Is Affiliate Marketing Worth It
Yes, affiliate marketing is worth it, and here's why.
According to our statistics, more than 80% of brands employ affiliate programs, and nearly 79% of marketers utilize affiliate marketing to engage with existing customers. It's no wonder that affiliate marketing is the preferred customer acquisition channel for 40% of US merchants.
Furthermore, with a growing annual expenditure of 27% on affiliate marketing, opportunities for affiliates are rapidly expanding.
One of the main reasons people have come to question the value of affiliate marketing is the widespread perception that it's an easy, highly passive income stream that anyone can tap into.
This misconception often leads to unrealistic expectations and disappointment, as success in affiliate marketing is far from effortless.
Nothing worthwhile comes that easily!
In reality, affiliate marketing success is most likely achieved by those who approach it with a genuine interest in and understanding of their chosen niche. The key is to create quality content that genuinely resonates with your audience and to promote products that align with their needs and interests.
It's not merely about pushing products but building trust, providing value, and fostering a connection with your audience.
More sales translate to more profits, but the pathway to those sales is through diligent research, strategic planning, and consistent effort.
Take the example of Easy Digital Downloads (EDD). By leveraging AffiliateWP, they onboarded 100+ active affiliates yearly, achieving a conversion rate between 0.75% and 1%.
Their strategic emphasis on reliability, ease of management, and affiliate relationships, combined with innovative tools like Direct Link Tracking and the Payouts Service, led to this remarkable success. Want to read the full study? Check out this post to find out how Easy Digital Downloads grew its sales in a year.
But the value of affiliate marketing doesn't end with EDD's success.
Many businesses across various niches have capitalized on affiliate marketing to enhance their revenue streams.
It requires dedication, understanding your target audience, and savvy use of tools and strategies to optimize results. Whether it's a two-year-old home & garden niche blog or an authority site in the software niche, countless success stories exist.
In the end, affiliate marketing is worth it, and it will be in the future too if it is approached with the right steps. It can be highly lucrative, offering significant rewards for those willing to invest the time, energy, and insight required to make it work.
When Affiliate Marketing is Not Worth It
Affiliate marketing can be a great opportunity, but it's not right for everyone. While some find success, others may face challenges that make it a less suitable option.
After exploring why affiliate marketing can work, let's take a closer look at when it might not be the best choice for some of you.
1. Expecting Overnight Success
If you're getting into affiliate marketing thinking you'll make a fortune overnight, you're setting yourself up for disappointment.
Building a successful affiliate marketing business takes time, effort, and patience. Success usually comes through careful planning, understanding your audience, and aligning with the right products—not through quick schemes.
2. Lack of Genuine Interest in Your Niche
Success in affiliate marketing often comes from promoting products you genuinely believe in.
You may struggle to connect with your audience if you pick a niche because it seems profitable but doesn't align with your interests or values.
Being passionate about your chosen niche helps you create content that resonates with your readers, and fosters trust.
3. Promoting Low-Quality Products for High Commissions
Chasing after the highest commissions by promoting low-quality or irrelevant products can quickly backfire.
Your audience relies on your recommendations, and if they feel misled, they'll lose trust in your judgment.
This can result in losing followers and long-term damage to your reputation.
4. Inability to Adapt to Market Changes
The affiliate marketing landscape changes frequently. Commission rates, products, and entire affiliate programs can shift without notice.
Your business may suffer if you cannot adapt and pivot when changes occur.
Successful affiliate marketers continually learn and stay updated with industry trends to navigate changes effectively.
5. Difficulty in Understanding and Utilizing Analytics
Data-driven decisions are crucial in affiliate marketing.
Analyzing data, understanding user behavior, tracking conversions, and optimizing campaigns require a level of comfort with various analytical tools.
It could become a significant barrier if this doesn't align with your skill set.
Can You Make Money With Affiliate Marketing
Affiliate marketing is more than just a buzzword; it's a viable pathway to financial success if handled carefully and strategically.
But is it as simple as putting up some links and watching the money roll in? Well, yes and no.
Yes, you can indeed make money from affiliate marketing, and the examples and statistics mentioned earlier only underline its potential.
The industry's growth, the versatile payment models, and the experiences of successful marketers like Jon Chow, who earned around $100,000 per month from affiliate marketing in a single month, all serve as solid proof. The opportunities are out there, with the average income of affiliate marketers around US$51,217 annually.
The sky seems to be the limit for the determined and savvy affiliate marketer.
But, here's the hard part.
The path to success in affiliate marketing isn't always smooth. It requires you to choose the right products, connect with the right audience, and constantly refresh your content to keep people coming.
You've got to invest in reliable tools like AffiliateWP and strategically incentivize your affiliates. Offering attractive rewards, providing high-quality marketing materials, and possibly partnering with social media influencers are all parts of a broader strategy you need to consider.
And don't forget, it's essential to be upfront with your readers about those affiliate links.
Affiliate marketing is not a 'get-rich-quick' scheme but a legitimate business model that has rewarded many who have approached it with diligence, integrity, and intelligence.
If you're willing to embrace both the appealing and the tough parts of this industry, affiliate marketing is the path for you.
So, do you want to make more money with affiliate marketing? Check out this guide.
FAQs: Is Affiliate Marketing Worth It?
Is Affiliate Marketing Dead?
The data certainly doesn't suggest affiliate marketing is going to die. Affiliate marketing revenue is only growing; new businesses are turning to it as a marketing tactic every day.
Is Affiliate Marketing Still Profitable?
Affiliate marketing can still be extremely profitable. On average, publishers make around $52,000 annually from affiliate marketing, but many make a lot more than this.
Why Do Affiliate Marketers Fail?
Affiliate marketing isn't easy. It takes skill and commitment. You've also got to learn your trade and constantly optimize your processes. Many affiliate marketers fail because they're not consistent enough and give up before they figure out the route to success.
Is Affiliate Marketing a Reliable Source of Income?
Affiliate marketing can be a reliable source of income for those who approach it with a well-thought-out strategy, commitment, and focus on providing value to the audience. However, like any business, it can be affected by market changes, competition, and other factors, so diversifying income streams is often advised.
The Key to Making Affiliate Marketing Worth It
So, you're probably wondering, "Is affiliate marketing really worth it?" From what we've seen, it sure can be, but it depends on the tools you use.
Imagine trying to build a house without a hammer and nails. It's pretty much the same with affiliate marketing – you need the right tools to make it work. That's where AffiliateWP comes in handy.
With AffiliateWP, you get all the essential tools you need, like affiliate portals, vanity coupon codes, unlimited creatives, and more to help your affiliates.
We might be a bit biased, but we honestly believe affiliate marketing can be worth it, especially if you try AffiliateWP.
Ready to see for yourself? Click here to get started with AffiliateWP today! You don't have to take our word for it – give it a go, and you might find that affiliate marketing is the perfect fit for you.