Introducing: Fraud Prevention Addon to Protect Your Affiliate Program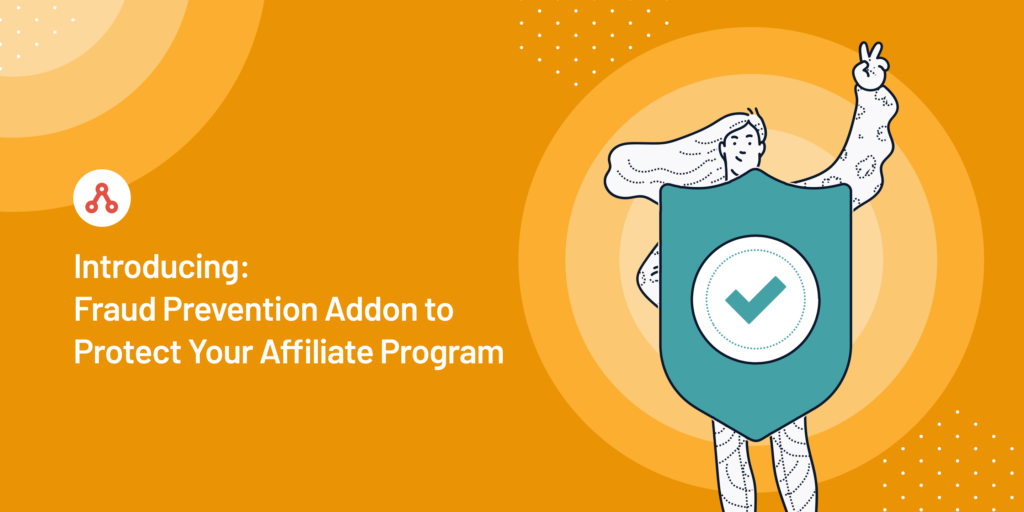 It's estimated that close to 2% of affiliate transactions are attributed to fraud.
If you're not protecting your program from affiliate fraud, then it's going to seriously hurt your profitability, which is why we're releasing our Fraud Prevention addon.
AffiliateWP already offers features to help protect you from fraud, but with the Fraud Prevention addon, we're kicking our safety features up a gear.
Fraudsters are continuously looking for easy targets, so we're giving our Pro users the ultimate arsenal of defenses to stop affiliate fraud in its tracks.
Read on to find out how you can protect your affiliate program from fraud!
A Dedicated Anti-Fraud Tab
When you download the AffiliateWP Fraud Prevention addon, we'll create a dedicated anti-fraud tab in your settings where you can manage program security.

This tab will bring together some existing features with powerful new settings you can use to boost your fraud protection.
We want to make it as difficult as possible for fraudulent affiliates to successfully infiltrate your program, which is why our Fraud Prevention addon is comprehensive, yet flexible.
You're in control, and you can easily manage your settings with the click of a button.
Manage Self-Referrals
Self-referrals can be misused by affiliates simply to get a discount on your products or services.
An affiliate might sign up for your program with no intention of promoting your products, just to get a discount (the commission value) on their purchases.
You've always been able to block self-referrals on AffiliateWP, but with the Fraud Prevention addon you can now approve, flag, or block them, all from your anti-fraud tab.

This makes it much easier to implement your policy on self-referrals and identify affiliates who are simply using your affiliate program as a discount coupon.
Limit Referrals to Approved Websites
When affiliates sign up for your program, you can ask them to list the websites they plan to use to promote your products.
With the AffiliateWP Fraud Prevention addon, you can now allow, flag, or reject referrals that come from websites other than the ones your affiliate listed when they registered.
This cuts down on affiliates placing links on questionable third-party websites and allows you to focus on affiliates who are creating great content on their own sites.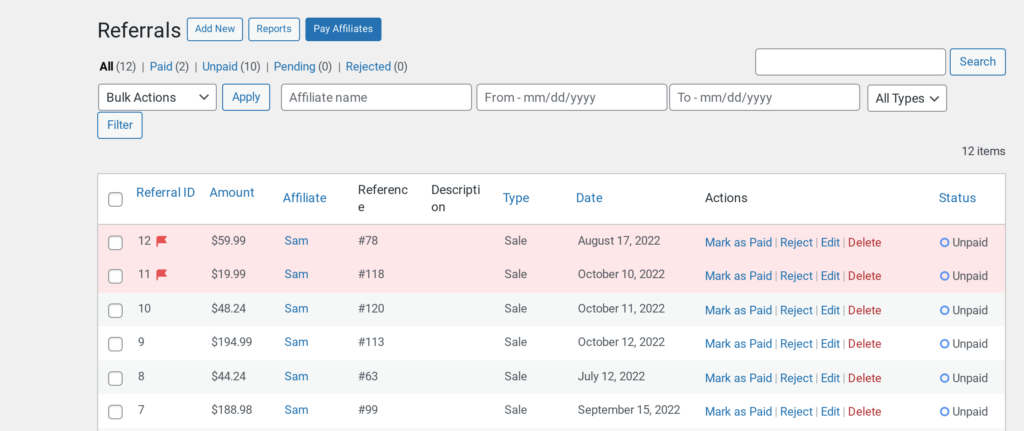 If you choose to flag referrals from non-approved websites, a flag will show next to the referral ID on the referrals page, giving you a good picture of how prevalent this practice is.
Flag Referrals and Visits from Affiliates with Suspicious Conversion Rates
Another powerful feature the new Fraud Prevention addon brings to AffiliateWP is the ability to flag referrals and visits from affiliates with suspicious conversion rates.

This helps flag fraud for 2 reasons:
Affiliates with extremely low conversion rates might be sending you spam traffic
Affiliates with extremely high conversion rates might be using fraudulent tactics like making purchases with stolen credit card data.
When activated, the conversion rate tracker will allow you to set your own minimum and maximum conversion rates and if affiliates exceed these, their visits and referrals will be flagged for your attention.
Tracking conversion rates is a great way to keep an eye on your program, and, in conjunction with AffiliateWP's other extensive fraud prevention features, gives you multiple lines of defense against affiliate fraud.
There's More to Come
We're constantly working to protect your business and help it grow through affiliate marketing.
Our Fraud Prevention addon is another safety feature that builds on our recently released terms of use generator to make it easy to set up and manage a secure affiliate marketing program.
These updates are just a small sample of what we've got planned for AffiliateWP.
We're constantly working on new features, integrations, and addons, so you're going to see AffiliateWP get even better in the near future.
If you want to use those features to the max, then it's time to upgrade to Pro.
We're already hard at work on our next update, so keep an eye on our blog and email announcements.
Not growing your business with affiliate marketing yet?