How to Manage Affiliates in WordPress (The Easy Way)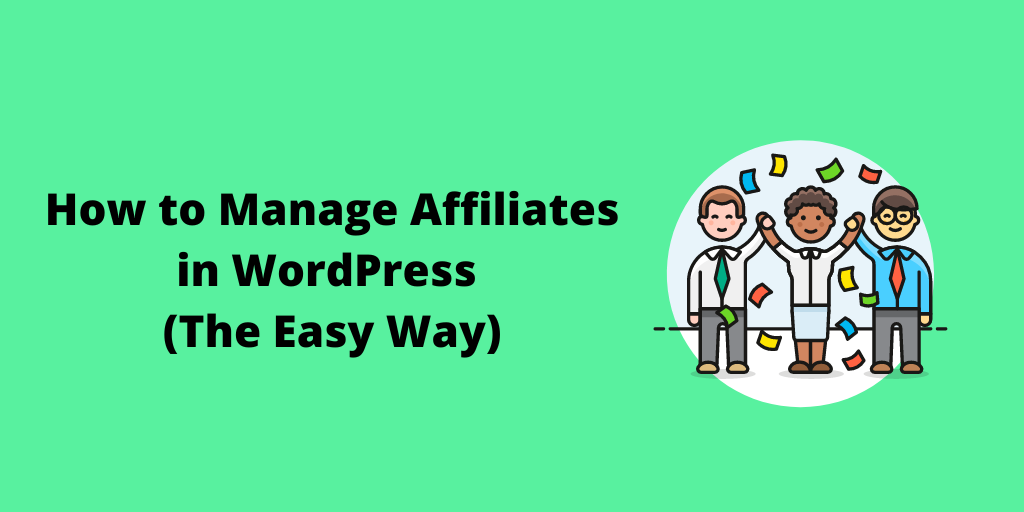 Want to know how to manage affiliates in WordPress?
It couldn't be easier to set up a powerful affiliate program on your site, and we're going to show you exactly how to do it.
Let's look at how to manage affiliates in WordPress.
Why Manage Affiliates in WordPress?
When you're thinking about setting up an affiliate program you'll find you have three main options:
Joining an affiliate network
Hosting your affiliate program externally (generally through SaaS)
Hosting your affiliate program on your own site
So, what are the benefits of hosting your program on your WordPress site?
Well, the main benefit of an in-house affiliate program is that you're in complete control.
You own the platform, you own your data, and you can manage everything in one place. By managing affiliates (there are lots of different types of affiliates: bloggers, influencers, SEO experts, and more) through your own website, you don't have to spend time learning to navigate a new interface, and you don't have to lose time constantly switching between applications.
This is a big bonus, so how can you manage affiliates in WordPress?
8 Steps to Efficiently Manage Affiliates in WordPress
You can actually start managing affiliates in WordPress in just 1 step, but we're going to show you exactly how to set everything up so that your program is ready for success.
Here are the steps we're going to look at:
Install AffiliateWP
Customize your affiliate registration
Automate communication
Create an affiliate onboarding
Set up affiliate fraud protection
Choose your commission structure
Track performance
Make affiliate payouts
We'll also add a bonus tip to make it even easier to manage affiliates in WordPress!
Step 1: Install AffiliateWP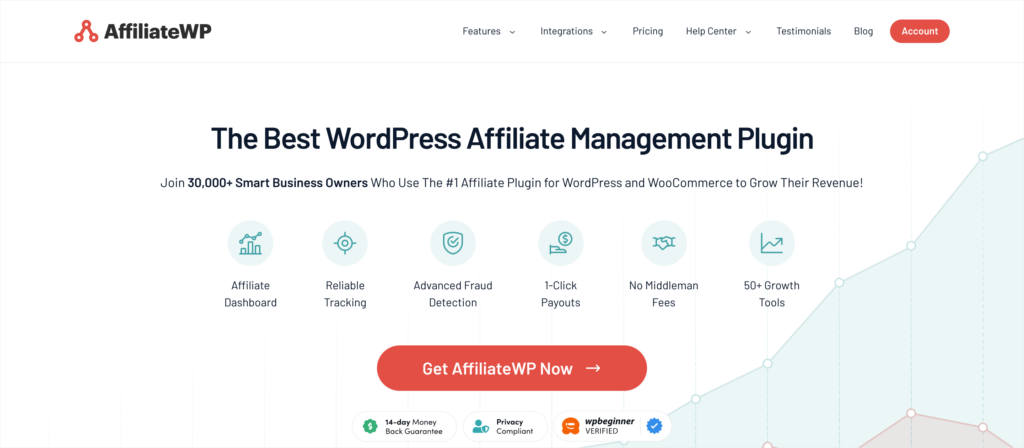 AffiliateWP is the best affiliate management plugin for WordPress.
It's incredibly easy to set up, makes affiliate management a doddle, and gives account managers the tools they need to grow their programs. Within 10 minutes, you can have your program up and running and start making affiliate sales.
Just go to the pricing page and choose the plan that best fits your needs.
Once you've installed the plugin (here's a quick guide), you can then open the setup wizard from the AffiliateWP settings page.
This will walk you through the steps you need to take to set up your program, allowing you to sync your products, courses, or forms with a click, and help you set a basic commission structure.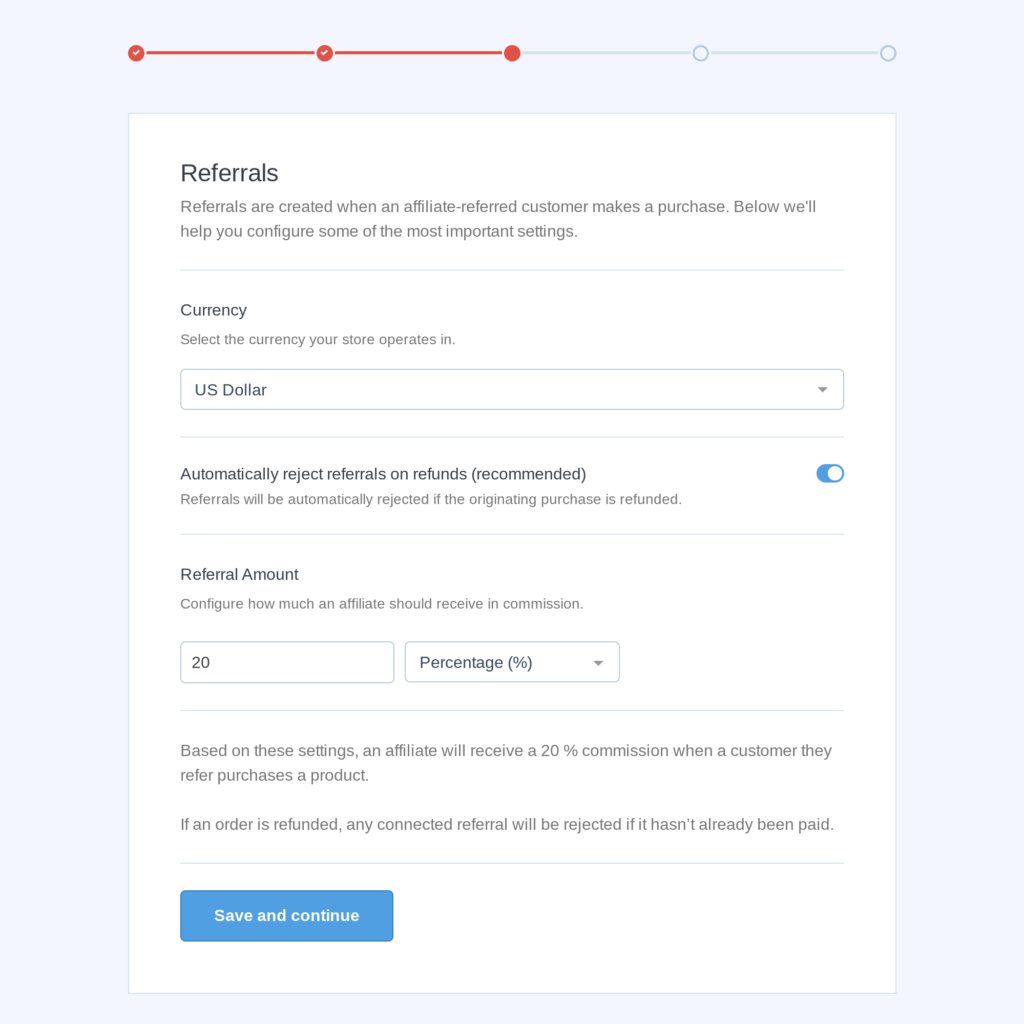 As soon as you complete the setup wizard, affiliate tracking will be active, and you're ready to manage affiliates in WordPress, but we're going to talk you through some more advanced steps to make sure you're absolutely ready to start growing your affiliate channels.
Note: If you're looking for affiliate software to help attract new customers on other e-commerce platforms, then check out this handy guide.
Step 2: Customize Your Affiliate Registration
Your signup page and affiliate registration are hugely important for your affiliate marketing program.
Signing the right affiliate is a bit like making a sale – you've got to convey the benefits of your program and convince the affiliate that it's the right option for them.
AffiliateWP does this by creating an Affiliate Area page and a customizable registration form for you.
To edit the Affiliate Area page simply search for it in your WordPress pages, and edit it as you would a normal page. We've got some great ideas on how to make the perfect affiliate sign-up page, so check them out.
If you want to make your own signup page or choose an existing one, you can also do this by going to AffiliateWP > Settings > Affiliate Area and choosing the page you want to use from the drop-down menu.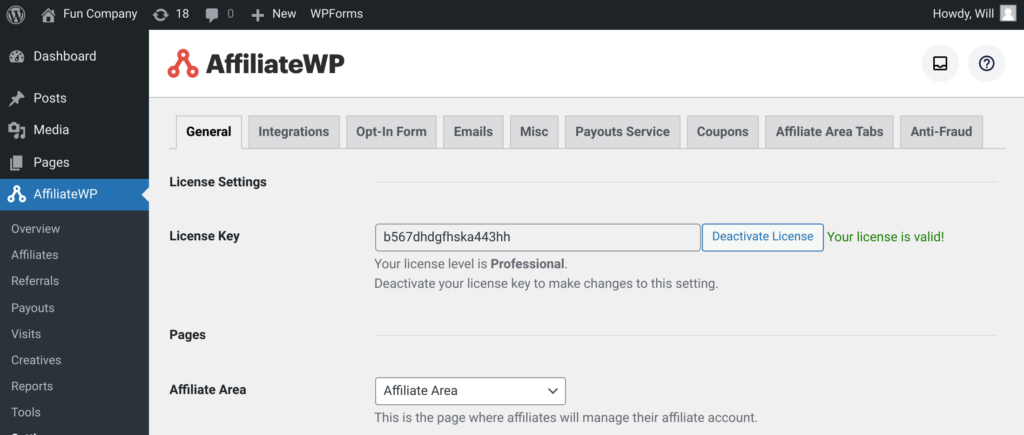 To customize the registration form, simply open your sign-up page and click on the registration form. You'll be able to edit the fields and design of your form and make sure you're collecting the affiliate information you need.
Step 3. Automate Communication
One of the most important aspects of any management is communication.
When you set up AffiliateWP, it will have automated notifications set up as standard.
These notifications will alert you via email whenever an affiliate signs up for your program or makes a referral. It will also alert the affiliate when their application has been accepted, and when they make a referral.
Another nice touch with AffiliateWP is that both you and your affiliates get monthly performance summaries. This allows you to see the overall performance of your program and gives affiliates a snapshot of their monthly results.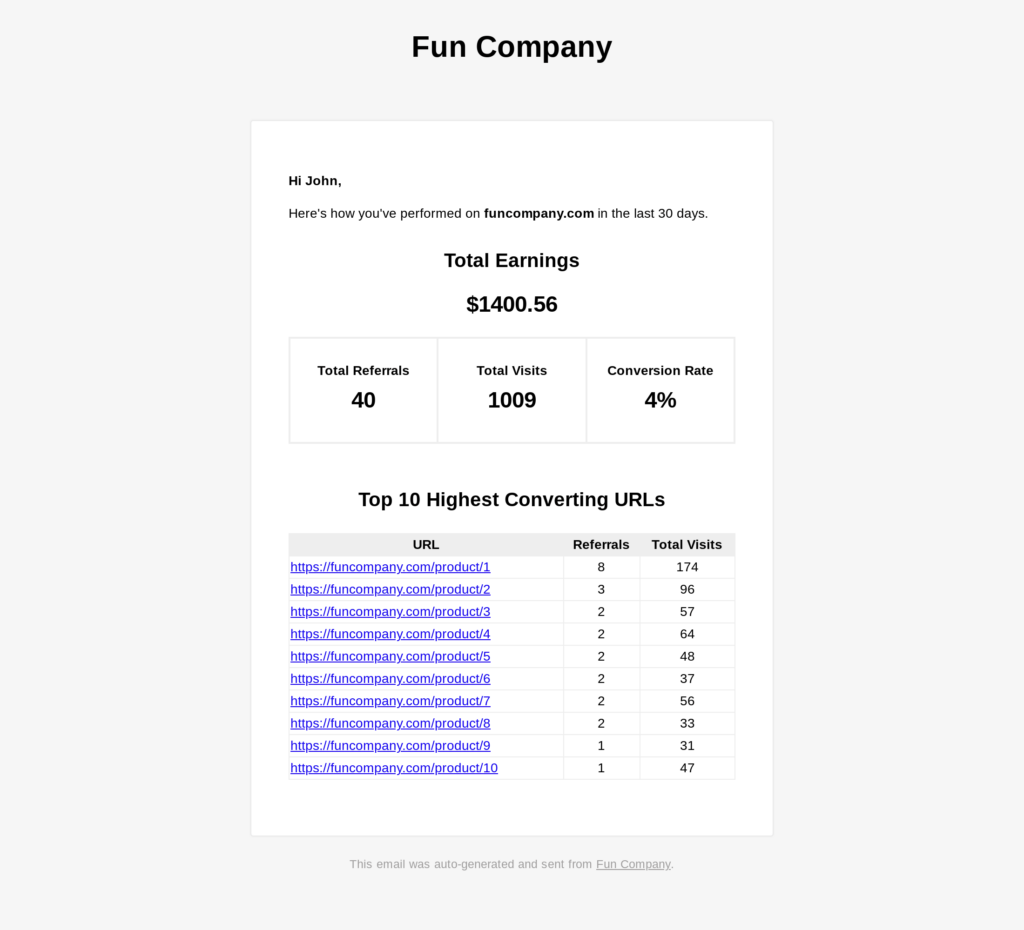 This automated communication makes your life much easier, but you can go a step further.
AffiliateWP gives you a number of different ways to add affiliates to your email marketing software. That might be through one of the form integrations, or through the direct integrations with MailChimp, ActiveCampaign, and ConvertKit.
Step 4. Create an Affiliate Onboarding
You want your affiliates to hit the ground running and the best way to do this is with affiliate onboarding.
Because AffiliateWP gives you a customizable affiliate dashboard, it's very easy to integrate your affiliate boarding. Affiliates can easily access important information from the dashboard tabs, helping them to learn about your new products and market them successfully.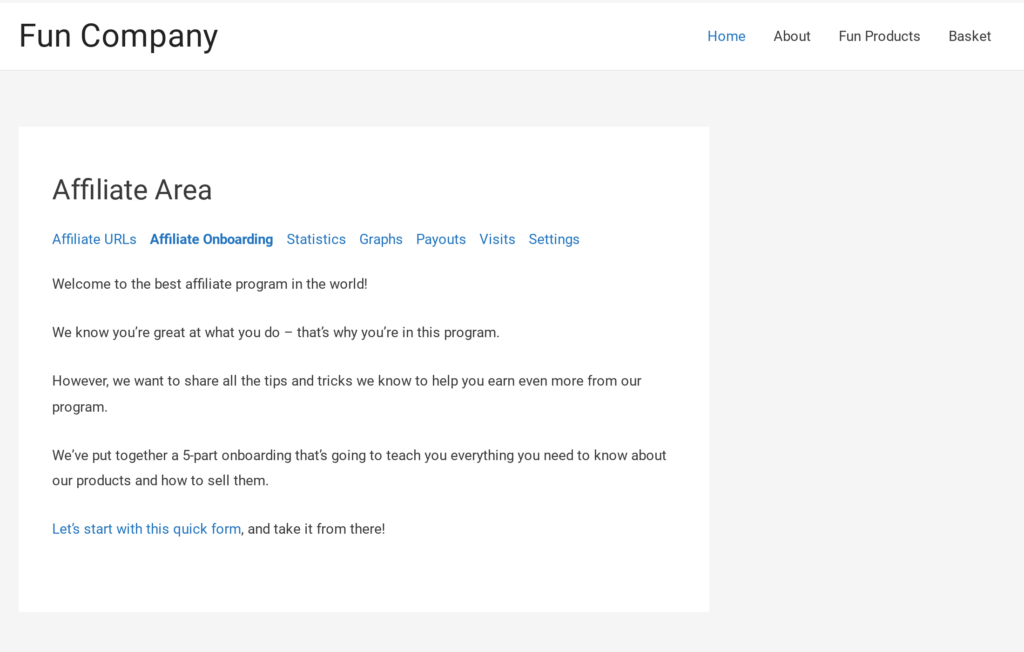 You can download the Affiliate Area Tabs addon from your AffiliateWP addons page, and quickly manage the tabs to incorporate your onboarding.
This will help affiliates to make their first affiliate sales more quickly, ensuring they stay engaged with your program and offer long-term value.
Step 5. Set Up Affiliate Fraud Protection
Most affiliate software is good at tracking referrals accurately.
What you really pay for with more advanced software is affiliate marketing management and growth tools. This is where you can maximize your return on investment and turn your affiliate/ referral marketing campaigns into one of your most profitable digital marketing channels.
However, there's one thing that can cut into these profits: affiliate fraud.
Some experts estimate that 2% of affiliate referrals are fraudulent, which is a big deal. If you don't have the right fraud protections in place, then this could be true for you.
AffiliateWP is constantly working in the background to protect you from affiliate fraud, but there are a couple of extra things you can do. The first is to make sure you're using your registration form to properly screen applications, and the second is to install AffiliateWP's Fraud Prevention Pro-Addon.
This is going to work in the background, screening referrals and flagging the ones that are suspicious.
It's a vital part of successful affiliate management, and it's an excellent reason to go with AffiliateWP's Professional plan.
Step 6: Choose Your Commission Structure
A big part of how to manage affiliate partnerships in WordPress is being able to customize your performance-based incentives (commission structure).
You can go with a one-size-fits-all commission, but it's generally not the most effective way to go. Instead, you want to have the flexibility to customize your offerings based on the e-commerce products you sell and the affiliates in your program.
For instance, if you sell subscriptions, it's likely you will want to offer a recurring referral, where the affiliate gets paid a commission each time the customer renews their subscription.
Or, you might want to reward your top affiliate partners with a higher commission rate. Better yet, you can create tiered commissions where the more sales an affiliate makes, the more they earn.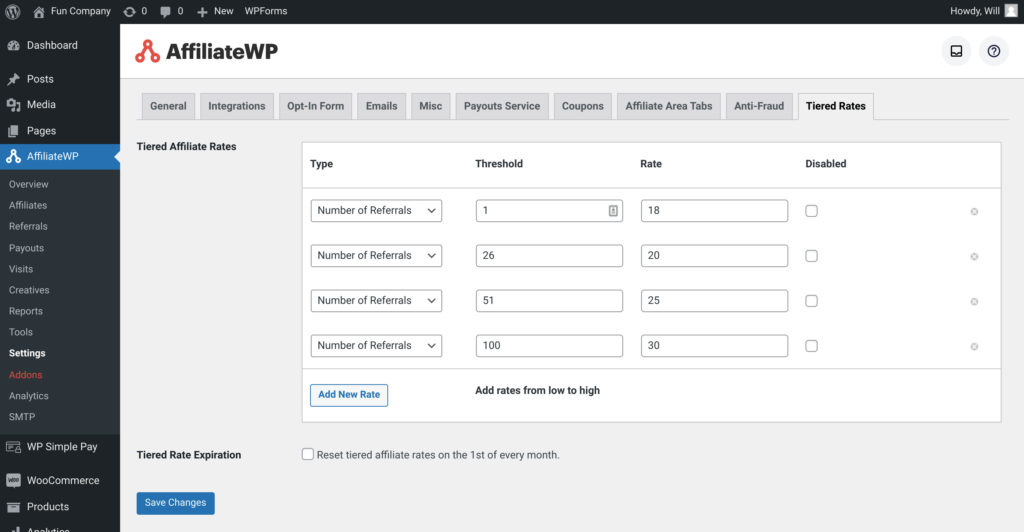 AffiliateWP gives you all of these options and more, so think about how you want to structure your affiliate commissions and maximize your rewards.
Step 7: Track Performance
Every affiliate is different and they each have unique needs.
Part of your job is finding a way to maximize the performance of your affiliates, but it's very difficult to do this if you can't see real-time analytics.
AffiliateWP allows you to filter your analytics by affiliate so you can take a deep dive into affiliate performance. This enables you to see performance on a per-affiliate basis and really dig into what works and what doesn't.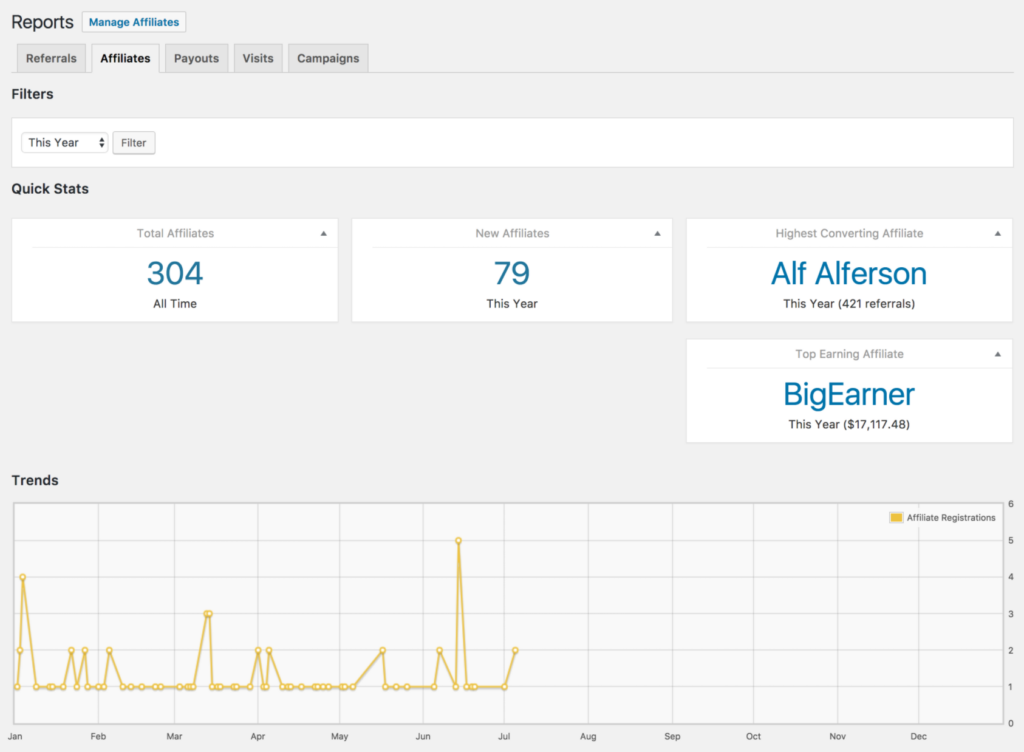 Seeing in-depth analytics will help you spot trends and even identify when a top affiliate might have stopped promoting your products – vital information if you're going to optimize your affiliate marketing efforts.
Step 8: Make Affiliate Payouts
A big bonus with AffiliateWP is that it has an integrated payouts service (we also offer PayPal payouts).
This means you can pay successful affiliates directly into their bank accounts or credit card without ever having to leave your WordPress admin.
All you have to do is authorize the payments – the rest is completely automated.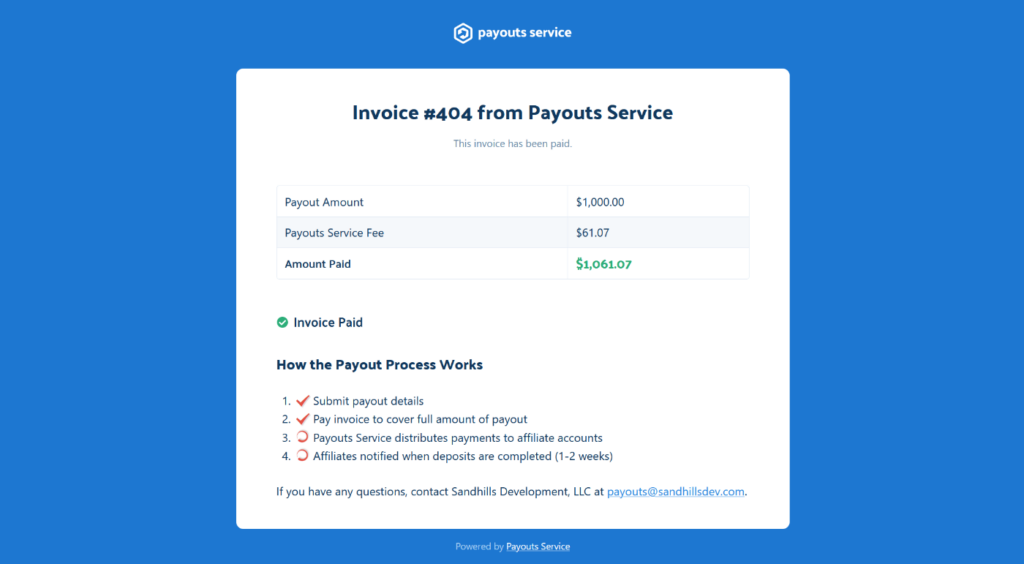 The integrated payouts service makes it simple to manage affiliates in WordPress and make sure they get paid for the work they do. AffiliateWP's highly accurate tracking means your affiliates receive attribution for all their referrals, and the payout system makes payments effortless.
Follow this simple guide to set up the integrated payouts service and take the hassle out of paying affiliates.
Bonus Step: Install the Zapier Pro Addon
AffiliateWP's Zapier pro addon allows you to connect AffiliateWP to thousands of external apps (social media platforms like LinkedIn, email marketing software providers, accounting software, and more).
This enables you to create integrated sequences that help you manage your affiliate program more efficiently. For instance, you might use it to sync an affiliate invoice to Xero accounting software or to send new affiliates sample products.
With the Zapier Pro Addon for AffiliateWP, there's no limit to the automations you can create, helping you to save time on affiliate program management while offering a better service for affiliates.
Now Improve Your Conversion Rate
Once you know how to manage affiliates in WordPress the main question is how you can improve the conversion rates for your affiliate campaigns.
Luckily, AffiliateWP has a ton of features to help you do this.
Check out this guide on How to Make Even More Sales with Your Affiliate Program and start utilizing some of AffiliateWP's best features.
Here are just a few of the conversion-focused features you can set up:
Vanity Coupon Codes: Enable your affiliates to create their own branded coupon codes.
Personalized Affiliate Landing Pages: Create dedicated leading pages for individual affiliates.
Affiliate Portal: Upgrade the affiliate experience with a sleek, mobile-friendly dashboard that boosts affiliate engagement.
Just a small change in your conversion rate can make a big difference to your revenue, so these features are well worth checking out.
The Best Way to Manage Affiliates in WordPress
AffiliateWP is the best way to manage affiliates in WordPress, and the best part is, it's wonderfully easy to set up.
You can start signing up affiliates and influencers and tracking referrals in under 10 minutes without the need for technical knowledge or coding skills. Once you're set up, it gives you powerful affiliate management tools to optimize your operations and grow your business.
Need some more resources to fine-tune your affiliate marketing strategy?
We've got you covered:
Now there's only one thing left to do.