How to Add an Affiliate Program to Your Website (WordPress)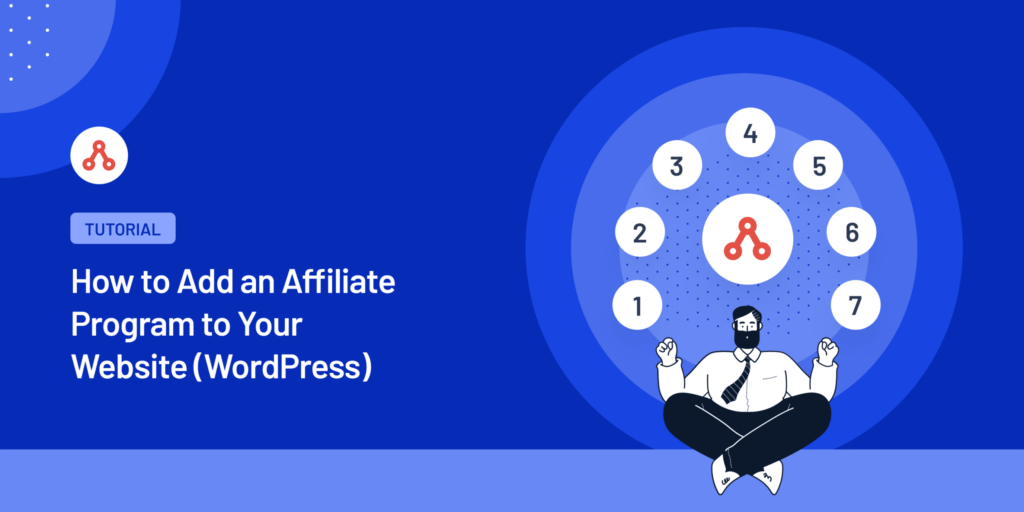 Want to know how to add an affiliate program to your website?
It could be the best step you take for your business, and we're going to show you exactly how to do it.
Here's how you can add an affiliate program to your website.
An Affiliate Program Can Skyrocket Your Website's Revenue
An affiliate program allows you to unleash the marketing expertise of affiliates around the world. With these expert marketers on your side, you can attract new customers and super charge your website's revenue.
Whether you run an e-commerce store, membership site, or simply do lead generation, affiliate marketing is an option for you.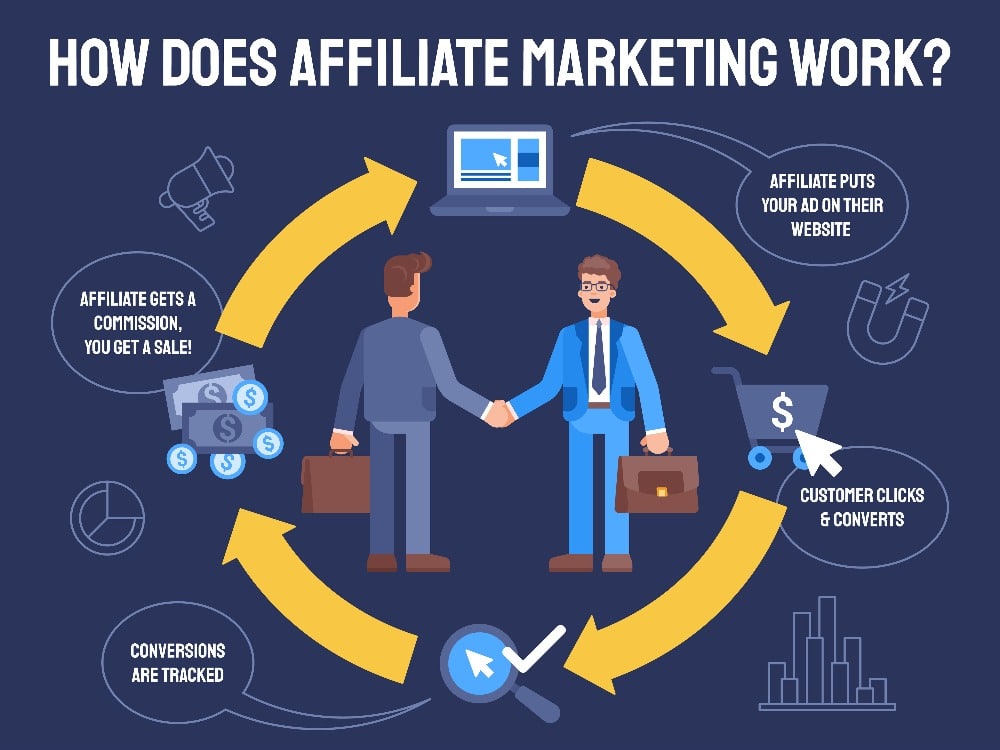 The right software will allow you to set up affiliate tracking, and then all your affiliates have to do is place affiliate links in their content and promote your products – it's that simple!
In fact, affiliate marketing is the top customer acquisition channel for over 40% of merchants in the US, so why aren't more websites using it?
Well, one reason is people think it's complicated to set up, but we're here to show you it's not. So, let's find out how to add an affiliate marketing program to your website.
7 Steps to Add an Affiliate Program to Your Website
If your website runs on WordPress, then it's incredibly easy to set up an affiliate marketing program.
While we've listed 7 steps, all you actually need is the first 2. The rest are bonus tips you can use to maximize performance.
Step 1: Install AffiliateWP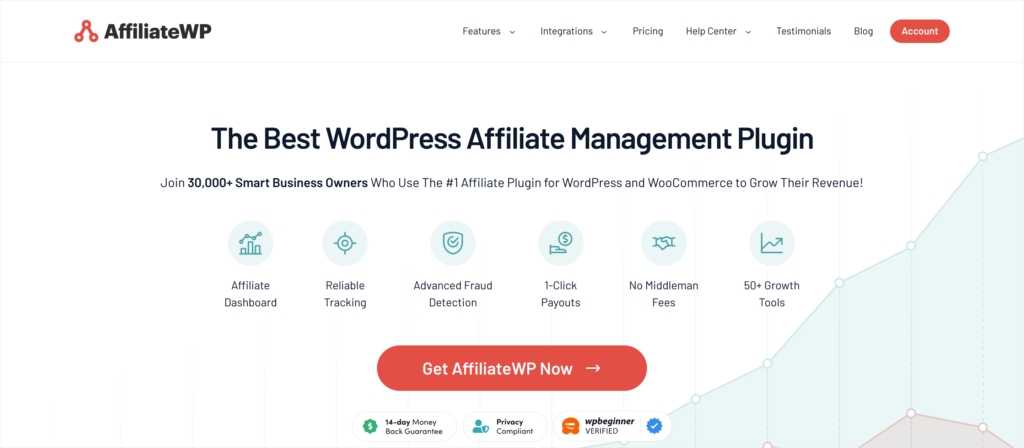 AffiliateWP is the best WordPress management plugin for WordPress.
In under 10 minutes, it's going to help you set up a professional-looking affiliate program with all the key features you'd expect:
Advanced affiliate tracking
Affiliate signup page
Affiliate management tools
Analytics
Affiliate dashboard
Fraud protection
Conversion-focused marketing features
We built AffiliateWP specifically for WordPress, so it has a whole host of 1-click integrations with many of the most popular plugins like WooCommerce, Easy Digital Downloads, MemberPress, PayPal, and Stripe. Check out the full list of integrations to make sure yours is on the list and then look at the pricing plans.
Once you've completed your purchase, you can quickly install the plugin using this handy guide, and then you're ready to go!
AffiliateWP is going to save you a ton of time, and most importantly, there's absolutely no technical knowledge needed to add your affiliate program to your website.
Step 2: Complete the Setup Wizard
Now you're ready to set up your affiliate program, and the setup wizard is going to walk you through every step.
Go to your AffiliateWP Settings page and click the Launch Setup Wizard button at the bottom to get started.
Enter your license key, which you can find in your AffiliateWP Account. Just copy and paste the license key into the box and then click Continue.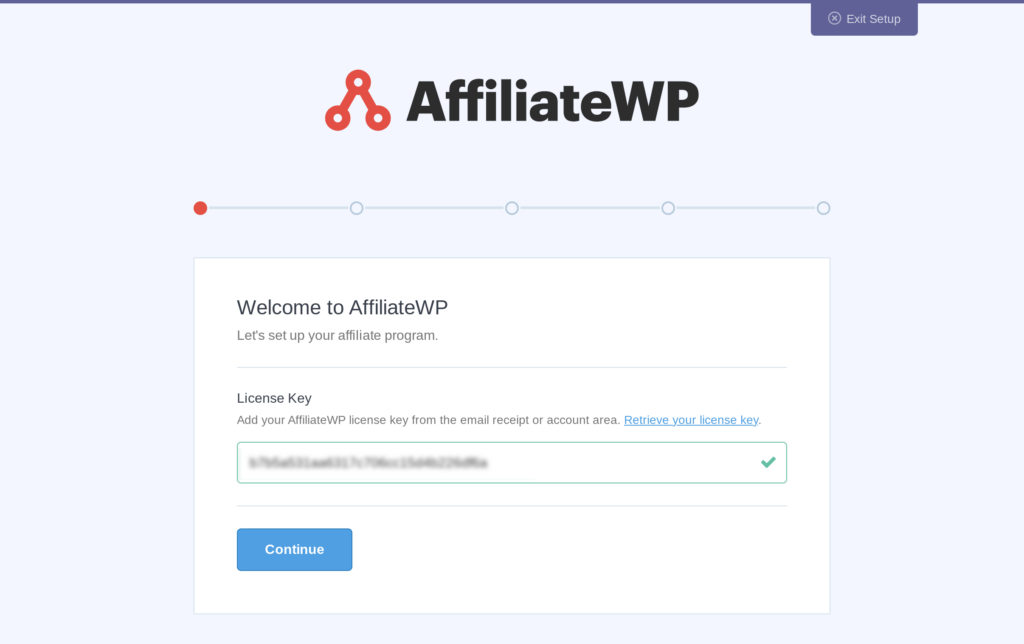 Now you've reached the integrations page where you'll connect AffiliateWP to your existing WordPress plugins. Just check the checkbox next to the plugin for which you want to track referrals and click Continue.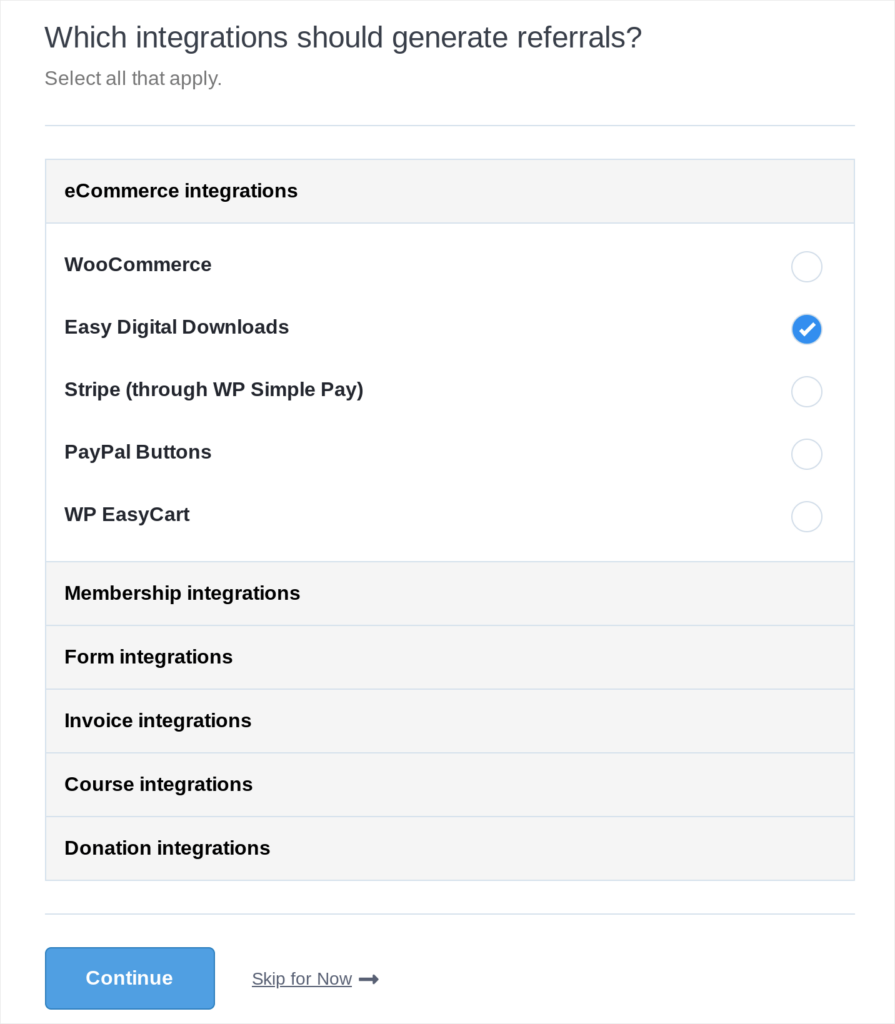 You're almost done with the setup already, but there are a few quick decisions you will need to make first.
Next, you'll need to choose your commission structure.
Select your currency, decide if you want to offer a flat rate or percentage commission, and then type in your commission rate. If you're not sure how much commission to offer affiliates, then check out this great guide on commissions.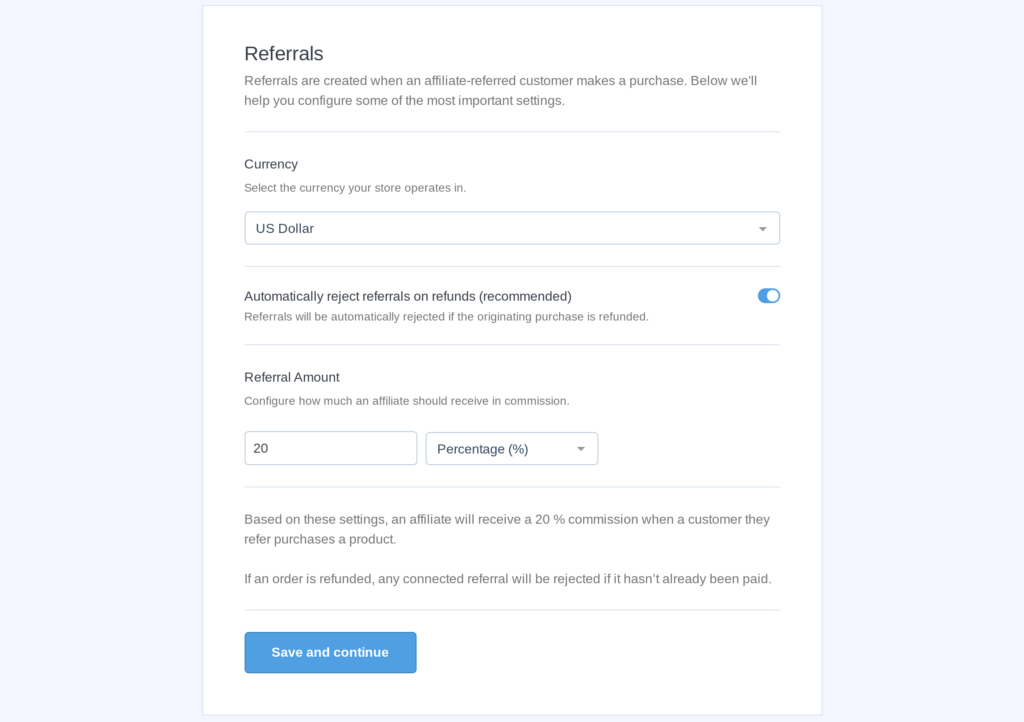 Remember, you can always edit these settings at a later date on the AffiliateWP Settings page.
Lastly, you'll want to set your cookie expiration. This is the time affiliate cookies last in the users' browser – the longer they last, the more time the affiliate has to complete the sale. Again, if you're not sure, we've got an in-depth guide you can check out.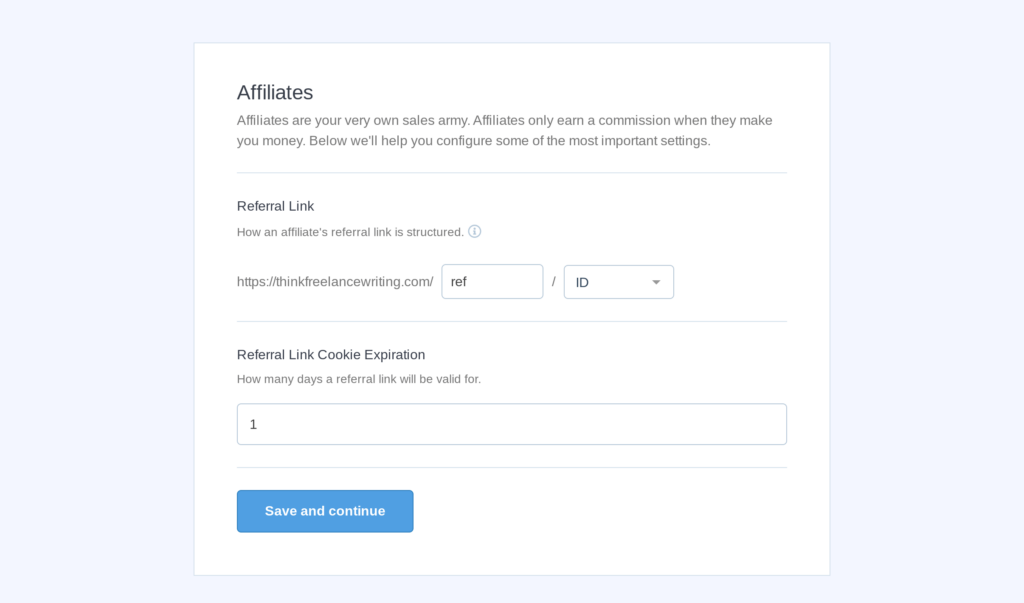 If you're happy with your settings, then click Save and Continue and you'll arrive at a final confirmation page where you can click Finish the Setup and Exit the Wizard.
AffiliateWP is now live and ready to track affiliate referrals.
Step 3: Customize Your Signup Page and Affiliate Registration Form
When you install AffiliateWP, it will automatically create an Affiliate Area page that serves as your sign-up page.
This page is highly customizable and you can edit it by going to Pages and searching "affiliate area." You'll see that this page automatically takes on your branding and WordPress theme, but you can make any changes you like to it using WordPress blocks or your page builder.
The most important element is the affiliate registration form, so you want to take a little extra time to customize it. To make sure you're collecting all the relevant information on potential affiliates and maximizing sign-ups, AffiliateWP gives you 4 different ways to customize your registration forms:
WordPress blocks
WPForms integration
Gravity Forms integration (Plus and Professional plans)
Ninja Forms integration (Plus and Professional plans)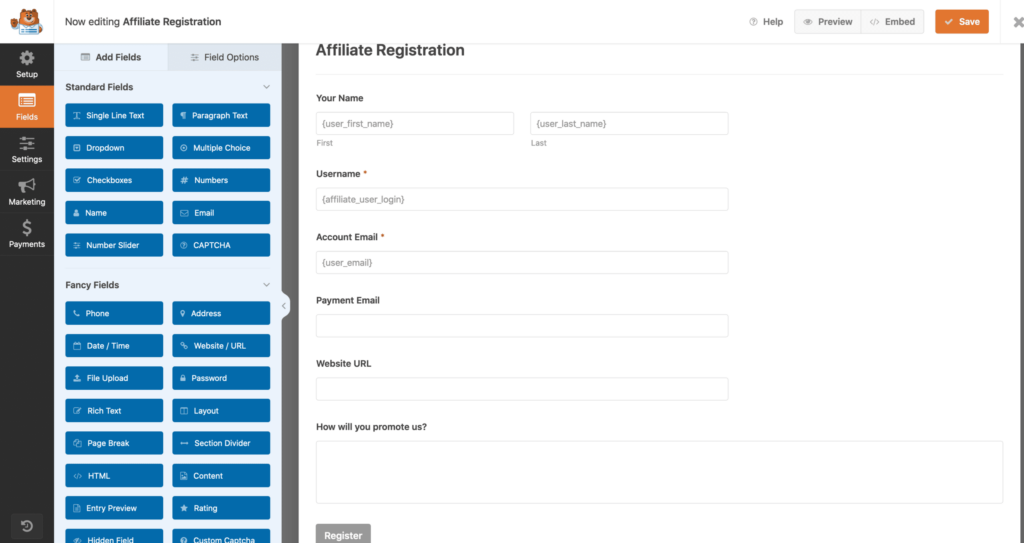 This step takes a little extra time, but it's well worth it because it will help you sign up top affiliates who can make a difference to your program.
Step 4: Approve/ Reject Affiliate Applications
Affiliates will sign up for your affiliate program from the Affiliate Area, but you don't want just anybody to join.
It's much more effective to approve affiliates manually, which is why AffiliateWP makes this process incredibly easy.
Go to your AffiliateWP Affiliates screen and click the Pending tab at the top to show all your pending applications. You can click on the affiliate's name to see more details on their application, and then use the accept and reject buttons to make your decision.
Affiliates will receive an email notification with your decision and approved affiliates can sign in to their dashboards from the same page they signed up on.
Step 5: Affiliates Create Affiliate Links from their Dashboards
Once you approve an affiliate, they'll be able to access their affiliate dashboard where they can generate URLs, access coupon codes, see analytics, and much more.
This is the primary hub of your affiliate program, where you can interact with your affiliates.
Again, AffiliateWP gives you plenty of customization options in this area. You can activate Affiliate Area Tabs from the addons screen and this allows you to add new tabs in the affiliate dashboard.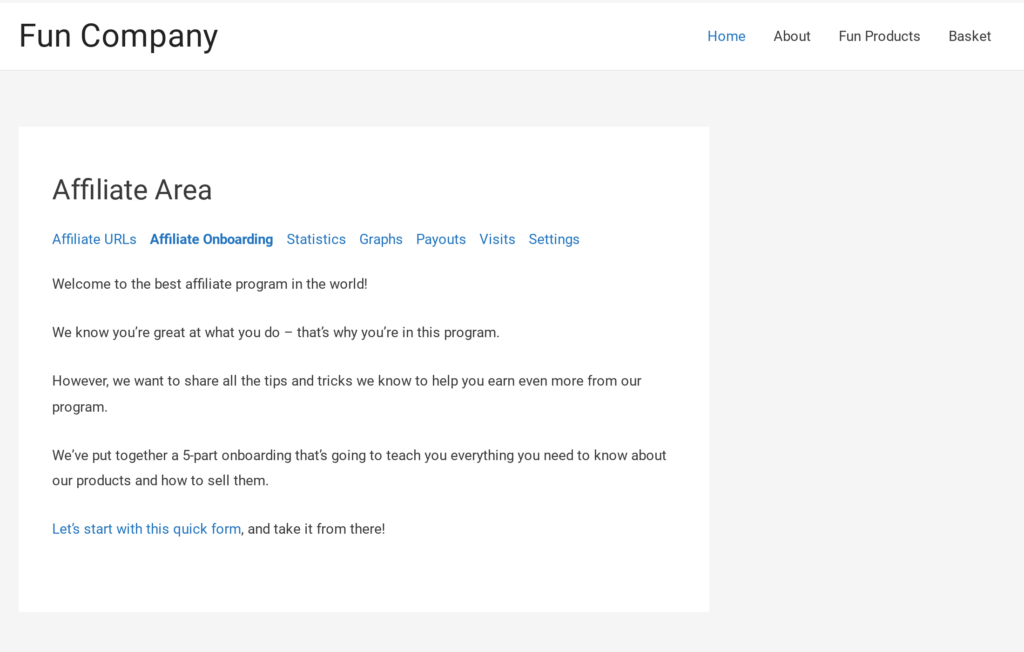 Just create a WordPress page with whatever information you want to add to the dashboard (onboarding, product specs, etc), and then select it from AffiliateWP > Settings > Affiliate Area Tabs.
Once your affiliate has generated a URL, they can then share it in their blog content, on social media, in email marketing, and anywhere else they choose.
Step 6: Track Performance with Affiliate Reports
If you're going to invest in adding an affiliate program to your website, then you want to make sure you see a return on investment.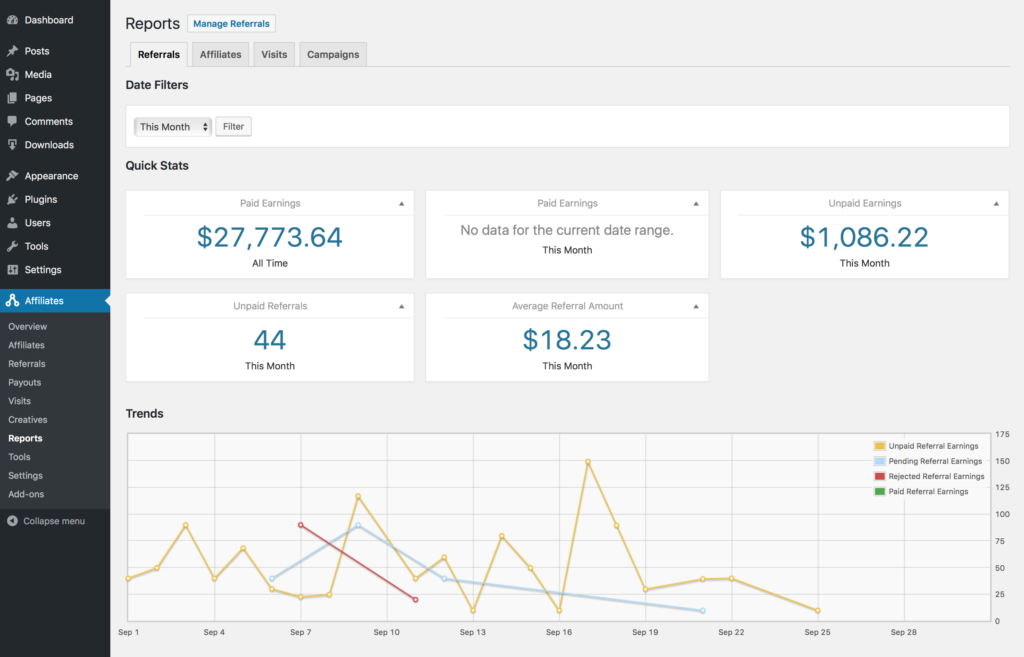 With AffiliateWP, that's super easy to do thanks to detailed reports that show you key metrics on affiliates, referrals, campaigns, and payouts. These reports will give you an immediate snapshot of performance and allow you to dig deeper for more in-depth insights.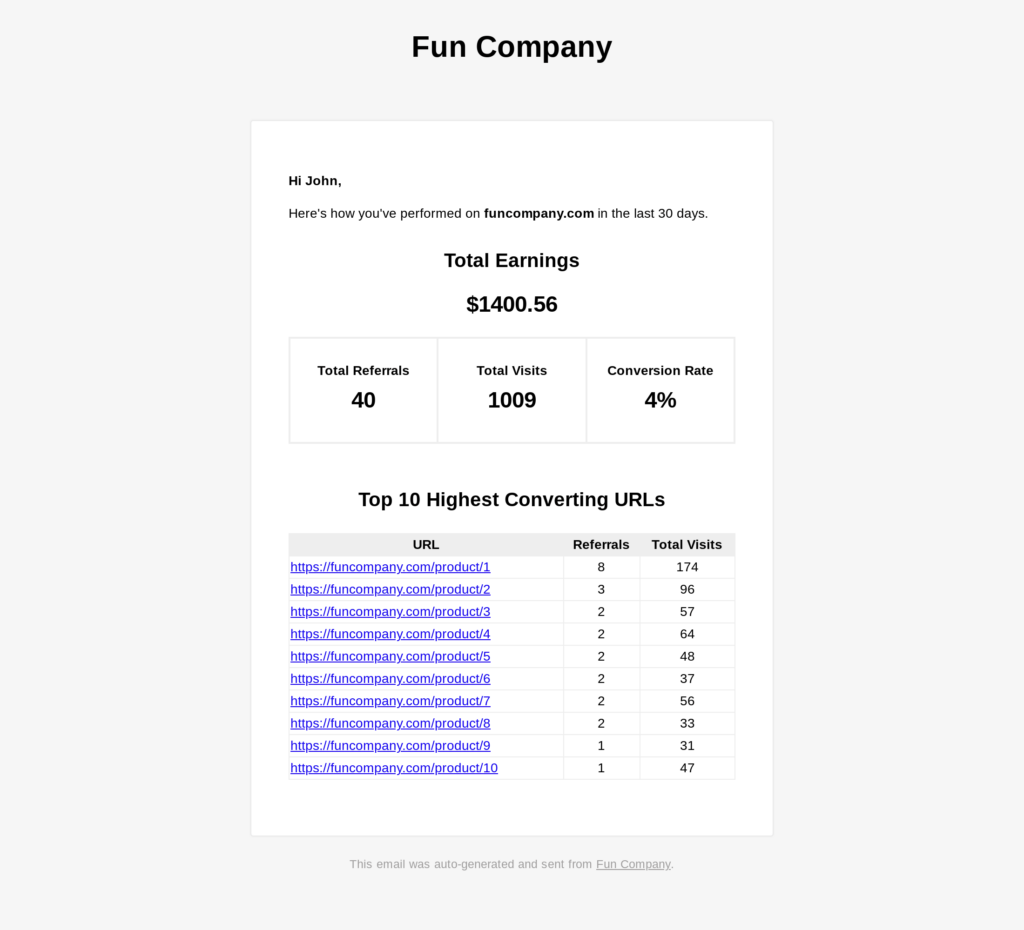 Another excellent feature with AffiliateWP is the automatic performance reports you can set up. These reports send monthly emails to your affiliates, giving them a snapshot of how they've performed over the past month. It's a great way to keep people engaged with your program and give them added motivation to make sales.
7. Set Up Affiliate Payouts
AffiliateWP will automatically take care of all your tracking. All you need to do is to initiate the payments.
Again, AffiliateWP gives you lots of options for this.
If you want to use PayPal for easy payments to your affiliates around the world, then activate the PayPal Payouts addon. This will effortlessly connect AffiliateWP to your PayPal account and allow you to pay affiliates with a click.
Want to take things even further?
Sign up for AffiliateWP's Integrated Payouts service and you can send payments directly to your affiliates' bank accounts. It's easy to set up, and like the PayPal Payouts addon, syncs perfectly with AffiliateWP's tracking.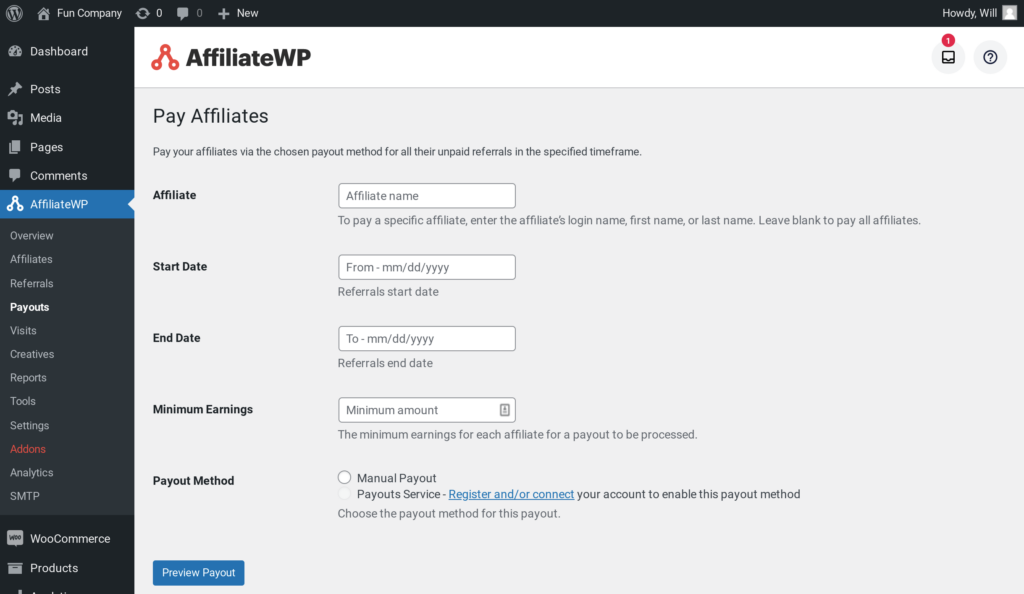 You'll now be able to make payouts on individual referrals, or make mass payouts based on specific criteria.
Now Work on Signing Affiliates Who Can Make a Difference
You can add an outstanding affiliate program to your website, but without great affiliates, it won't succeed.
The best thing to do here is to get ahead of the game!
Don't hope that good affiliates will magically sign up for your program; get out there and make it happen. Find the people with access to your target audience and then reach out to them. You've got something valuable to offer affiliates, so they'll be happy to engage with you.
By building personal relationships, you create stronger connections that lead to better results.
It's Easier than You Think to Add an Affiliate Program to Your Website
As you can see from this article, it's actually straightforward to add an affiliate program to your website.
What's more, you can build a professional program that converts in under 10 minutes. That's an excellent investment of time!
So, what else should you know?
We've got some more resources to help you out.
Now there's only one thing left to do.
Get AffiliateWP today and add an affiliate program to your website!