How to Reach Your Target Audience Using Affiliate Marketing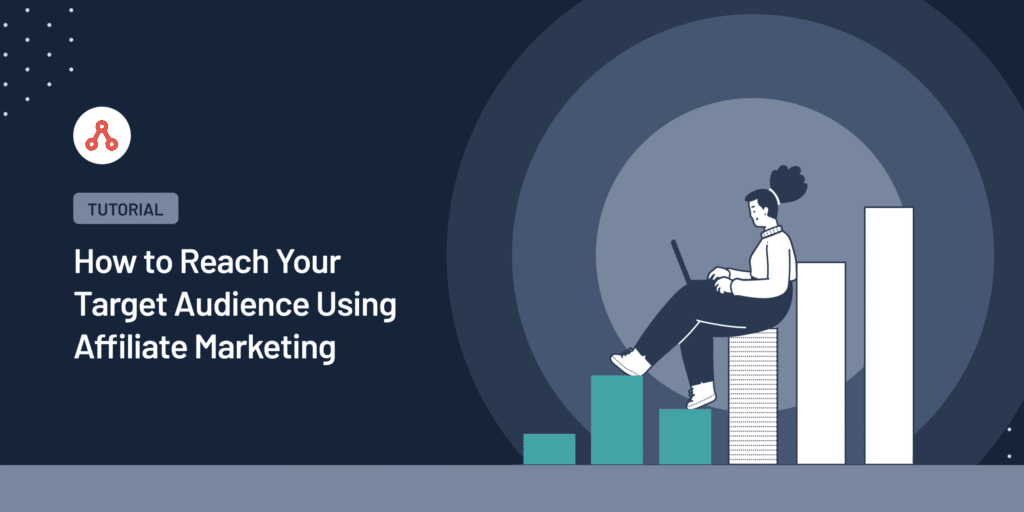 Want to know how to reach your target audience using affiliate marketing?
We're going to talk you through the secrets top affiliate marketing programs use to engage their target audience and grow sales.
Here's what we're going to look at:
Let's get started!
Your Affiliate Marketing Program Needs to Be Targeted
Lots of brands try affiliate marketing and get frustrated when they don't see quick results. It's the same story with content marketing, email marketing, and most other forms of digital marketing, though.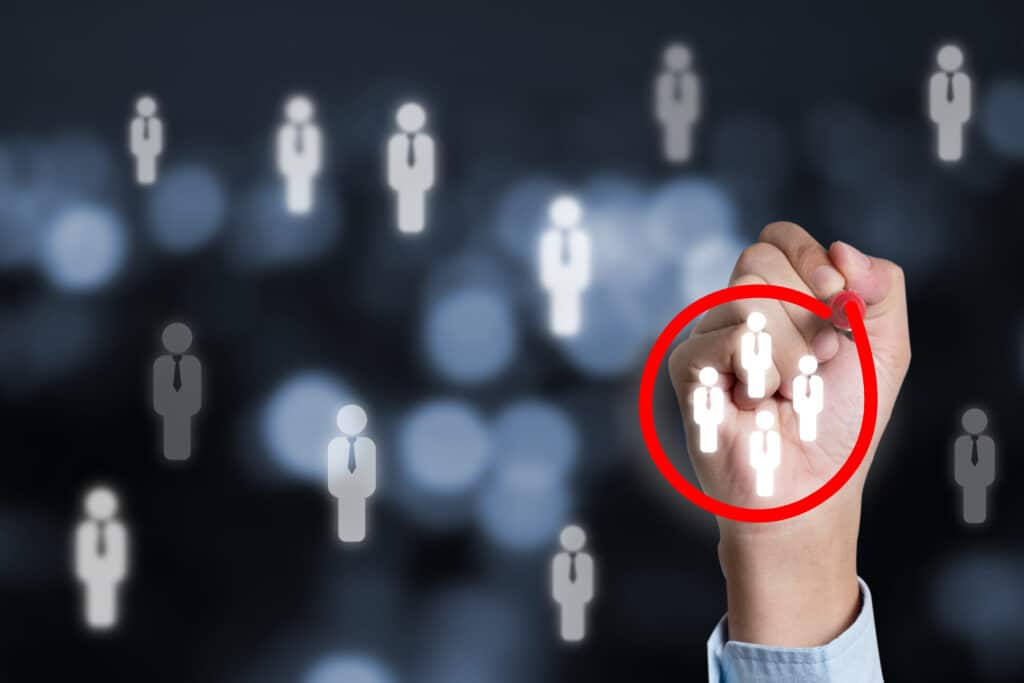 If you're not targeted with what you do, then you won't see success.
You can sign up all the affiliates you want, but if they're not reaching your target audience, then it won't result in sales. There might be hundreds of thousands of affiliates on the affiliate networks, but in most cases, it takes a more precise approach.
So, how do you ensure you're reaching your target audience with affiliate marketing?
9 Strategies to Reach Your Target Audience with Affiliate Marketing
You can just put an affiliate signup page on your website and hope the right affiliates sign up for your program. Ultimately, this is probably going to leave you disappointed, though.
Instead, you've got to be deliberate and targeted when running your affiliate marketing program, and these strategies are going to help you do just that.
1. Define Your Target Audience
This might be an obvious point, but it's one that easily gets forgotten – first you need to define your target audience.
What does your ideal customer look like?
If you don't have a clear picture of this, then it's unlikely your affiliates will either.
Luckily, you should have lots of useful data to call upon to find out what your target audience looks like. Hidden in your analytics, you'll find detailed information on the demographics of your target audience, their location, the devices they use, and how they come to your website.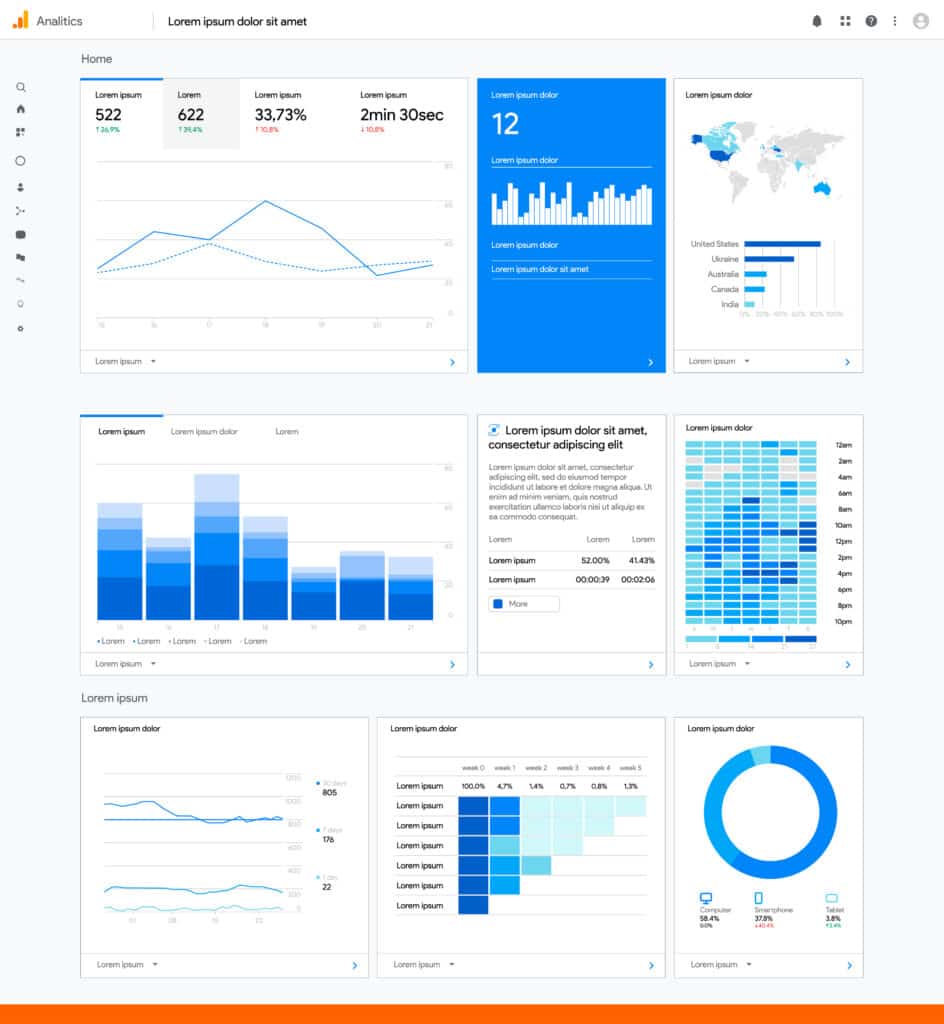 This is gold dust, so make sure you're using it to create a detailed picture of what your target audience looks like.
If you don't have a lot of data yet, then you can always ask people!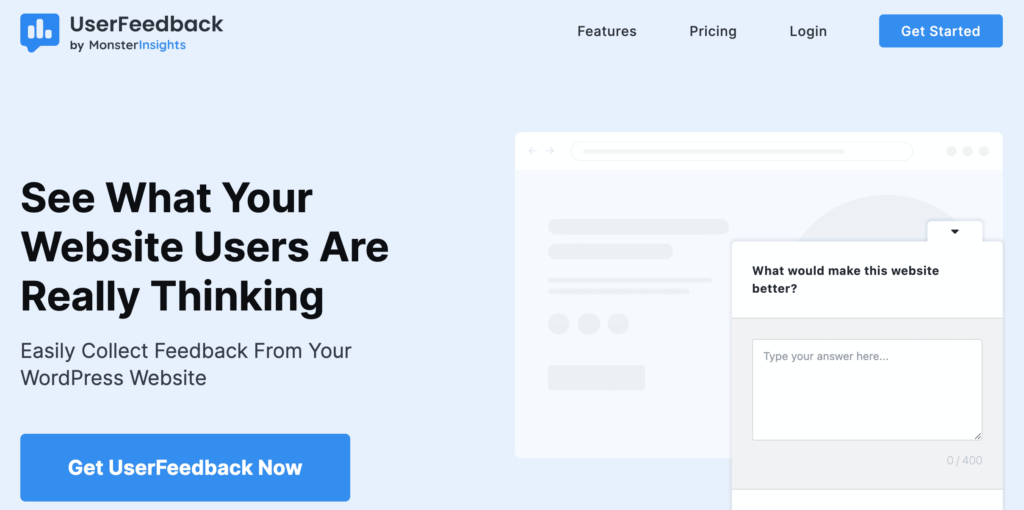 An awesome tool to help you with this is UserFeedback by MonsterInsights. It allows you to collect user feedback from your WordPress website visitors easily and build a better picture of what your audience looks like, and what they want from your business.
Once you understand your target audience, then you can build an affiliate program that's able to reach them.
2. Customize Your Affiliate Signup Page
We often underestimate the affiliate signup page.
First off, affiliates are busy people with a ton of choice about the products they promote. They'll be analyzing your affiliate signup page for clues as to whether you're a good fit and if they can make money selling your product.
Most importantly, not every affiliate is a good fit for you. Someone can be an excellent marketer, but they don't necessarily have the tools to sell your product.
It takes time and effort to manage affiliates, so you want to make sure you're focusing your resources on the ones that offer you the most potential.
One step you can take to achieve this is to be open about your target audience. Show prospective affiliates what your ideal customer looks like, where they hang out, and the messages they respond to.
You can also use your affiliate registration form (here's how you can customize your affiliate registration form in WordPress) to collect information on how prospective affiliates plan to promote your products. This will give you an excellent picture of whether they have access to the right people who are going to buy your products.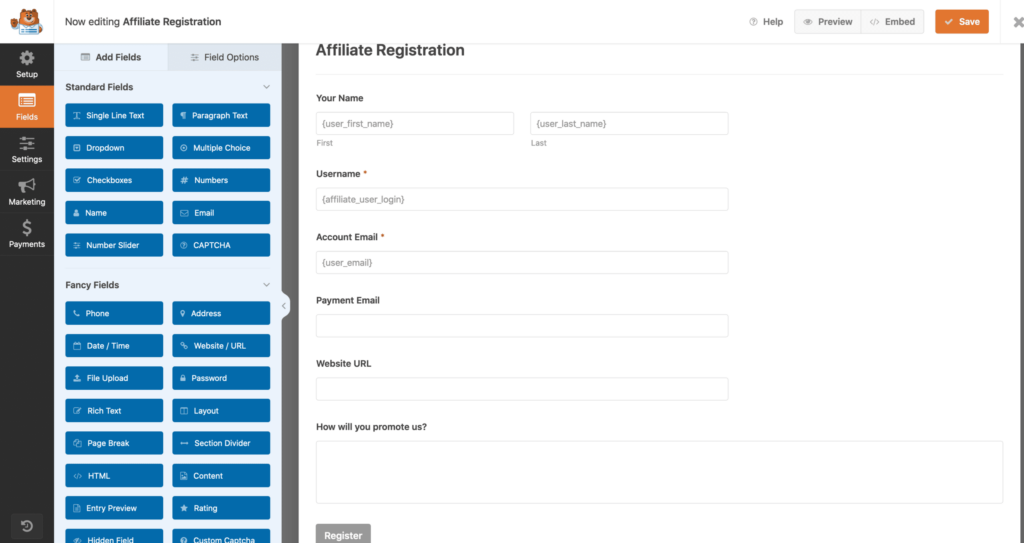 Getting the right affiliates is essential, which is why the best affiliate software like AffiliateWP gives you a ton of customization tools. Your signup page and registration form are important screening tools that help you narrow in on the highest-potential affiliates, so make the most of them.
3. Be Prepared to Reach Out to Potential Affiliates
If you're looking for something specific it's best to go out and get it rather than wait for it to come to you.
You're looking for affiliates who have access to a specific audience, so go out and find them. A few quick searches on Google and social media will give you a good idea of what publishers your target audience is engaging with.
Then it's just a case of building the relationship and asking them if they would like to promote your products.
Don't be shy about this!
If you've done your research well, then you're offering this person an opportunity to make more money!
4. Approve and Reject Affiliates
It's tempting to see any new affiliates application as a great thing, but this isn't the case.
As we mentioned, managing affiliates requires time and effort and you have limited resources. You want to make sure you focus your resources on the affiliates that have the most potential.
80% of your affiliate revenue will come from 20% of your affiliates, so the approval process is important.
If you've customized your affiliate registration form, then you should have lots of information to base your decision on. Ultimately, one question is going to play a huge part: "can this person reach and influence my target audience?"
Not only is this going to help you narrow in on your target audience, but it's also an important step in stopping affiliate fraud. If anybody can join your program it opens you up to more risk, so it's always worth taking the time to approve or reject affiliates manually.
5. Create an Affiliate Onboarding
By this point, you should be the expert in everything to do with selling your products.
Affiliates might be excellent marketers, but they don't have all the detailed knowledge you do. By sharing this knowledge through an affiliate onboarding, you can drastically cut your affiliates' learning curve.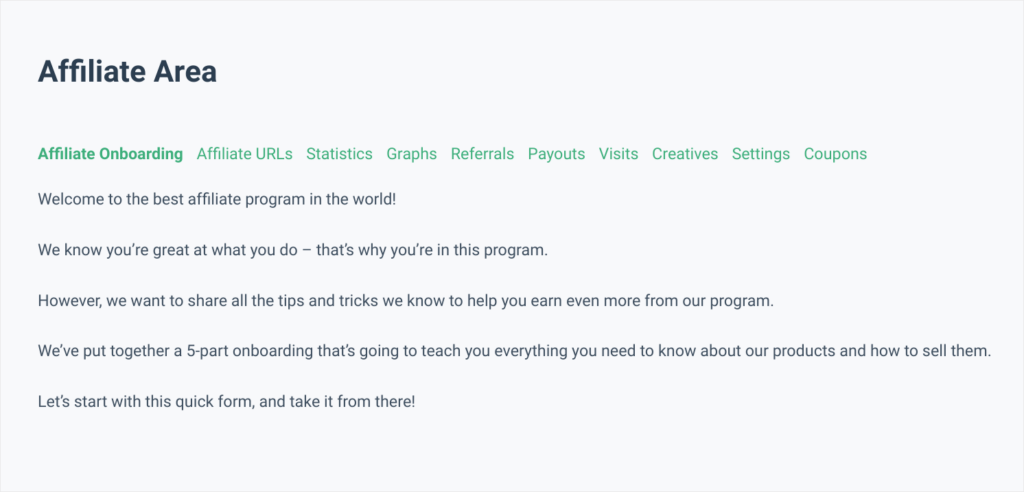 The quicker an affiliate earns that first sale, the more likely they are to stick with your program and continue to promote your products.
Highlighting what your target audience looks like within the onboarding is only going to help affiliates do their jobs better!
6. Let Your Content Be the Example
One of the best strategies to help you reach your target audience through affiliate marketing is to lead by example.
Creating great content that's targeted to your audience will help you understand this demographic even better. As you get comments on your articles, and data about which content is most popular, you'll pick up even more insights about what works and what doesn't.
Your affiliates should be able to look at your content and take cues on what messages appeal to your target audience.
Affiliates will then be able to infuse their expertise and creativity to engage their own audiences and send prospective customers to your website.
7. Make Use of Affiliate Creatives
Creatives like images, videos, and banner ads are powerful selling tools most e-commerce stores use. If you need these creatives to get sales, then your affiliates will probably need access to them as well.
A substantial library of affiliate creatives gives your affiliates a head start in reaching your target audience. Before they even think about crafting content, they have highly optimized creatives they can use. They can add banners to their site, use product videos in emails, and benefit from assets that are already optimized for your target audience.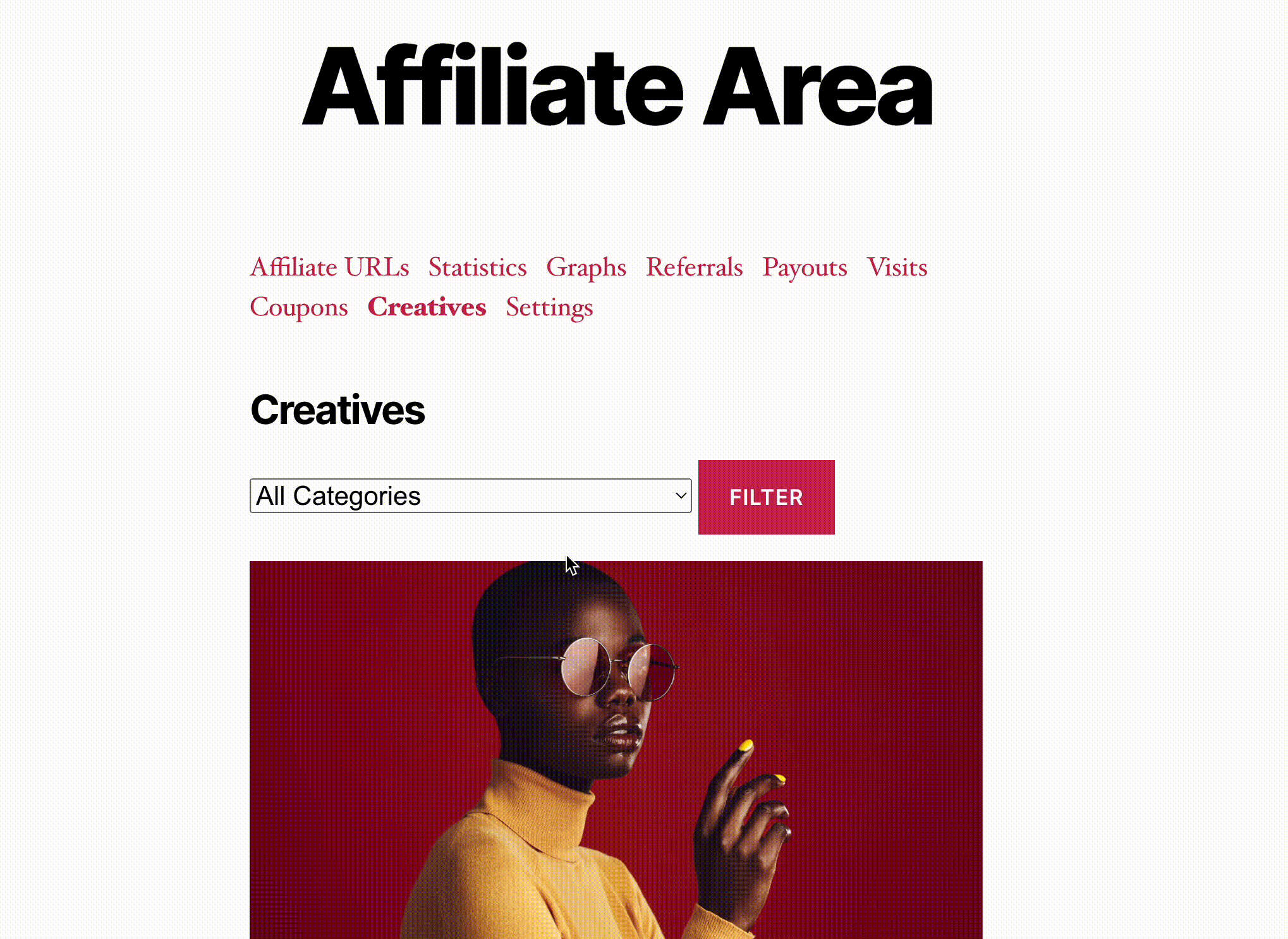 By providing high-quality creatives, you give affiliates a good starting point to engage your target audience and build the relationship.
8. Make Social Sharing Effortless
No matter what your target audience looks like, they probably hang out on social media.
Hopefully, your affiliates will have strong social media followings on the platforms your target audience uses, so why not make it as easy as possible to share affiliate links?
Well, with AffiliateWP's Affiliate Dashboard Sharing, affiliates can share affiliate links to your products in just a click. Your target audience is on social media, so it makes sense to encourage affiliates to share on these platforms.
9. Allow for Personalization
One of the best ways to target specific audiences is through personalization.
For instance, Vanity Coupon Codes allow your affiliates to choose their own coupon codes. They know their audience, and they know how to grab their attention, so the ability to brand coupon codes is hugely effective. You'll find this increases click-through rates while appealing directly to your target audience.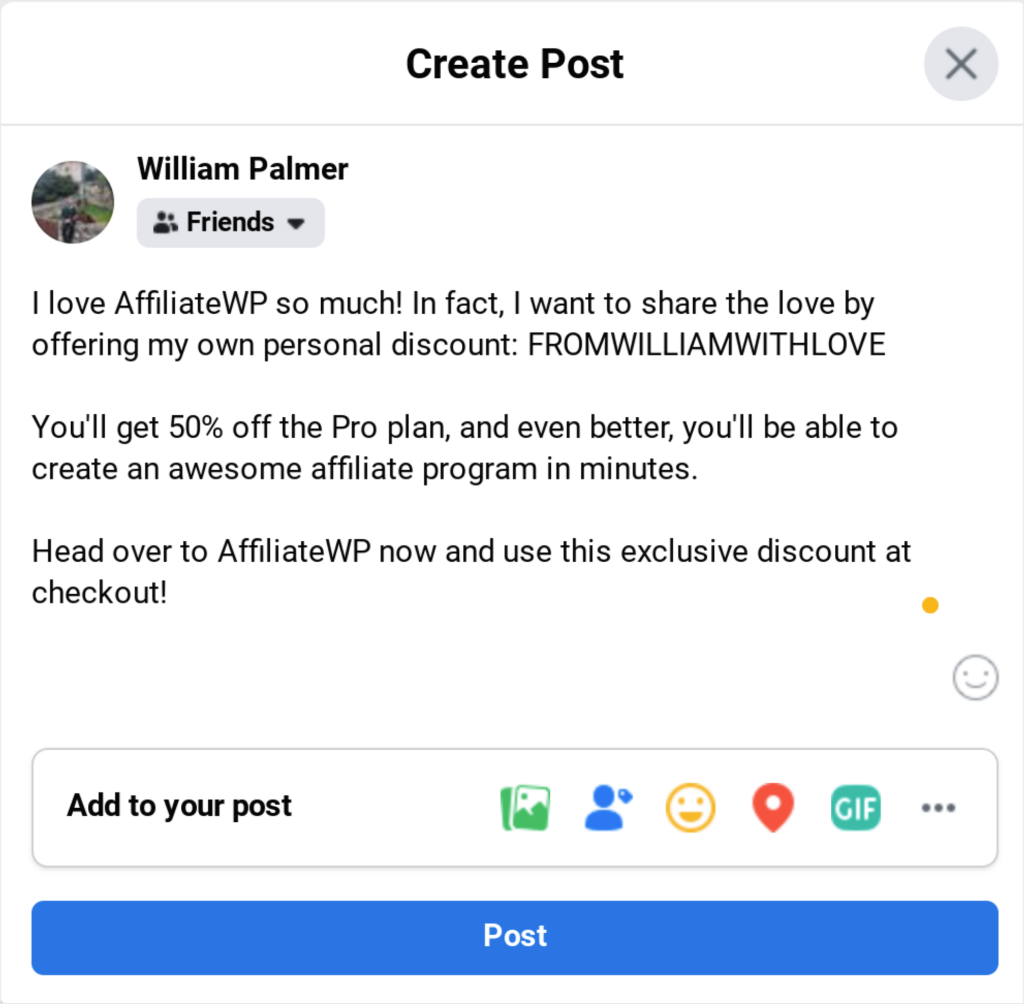 Another exceptional feature you get with AffiliateWP is Personalized Affiliate Landing Pages. This allows you to create affiliate-specific landing pages to maximize conversions.
Think of this as segmenting your target audience.
You're able to deliver personalized content based on the relationship the visitor has with your affiliates. This takes your targeting to a whole new level, improving the customer experience, and boosting sales.
Now It's Time to Upgrade Your Affiliate Program
If you're going to leverage these strategies to reach your target audience, then it's vital you have the right affiliate software.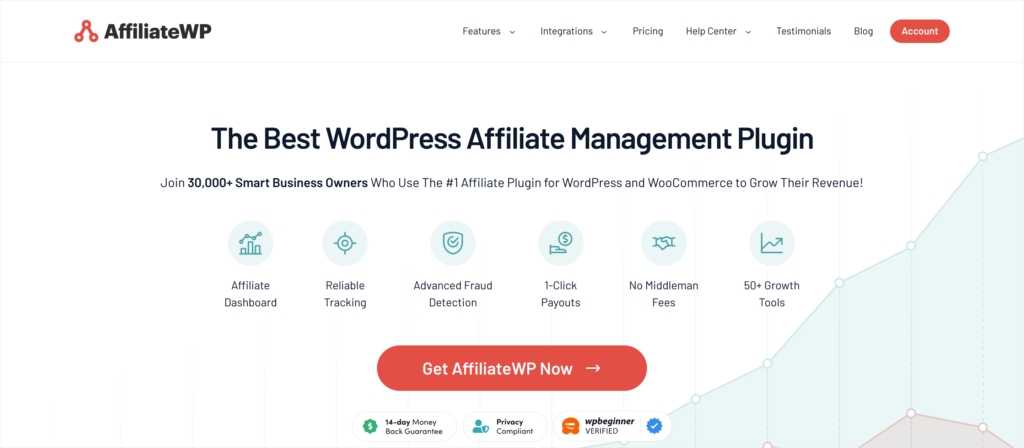 You need to do more than just track referrals; you need tools that help you manage affiliates and empower them to make sales. Whether that means filtering potential affiliates, crafting the perfect onboarding, or delivering personalized content, that software is AffiliateWP.
It's these details that make the difference between an affiliate program that makes the odd sale and one that completely transforms your business, so it's time to get set up now.
Check out AffiliateWP's pricing and get set up in under 10 minutes!
Reaching Your Target Audience is the Key to Affiliate Marketing
If you can get affiliates to reach your target audience consistently at scale, then you're in an amazing position. Pair this with landing pages that convert well and you are going to see a significant uptick in sales!
So, what else should you know about managing an affiliate marketing program?
Now there's only one thing left to do.