How EDD Onboards 100+ Affiliates a Year to Supercharge Sales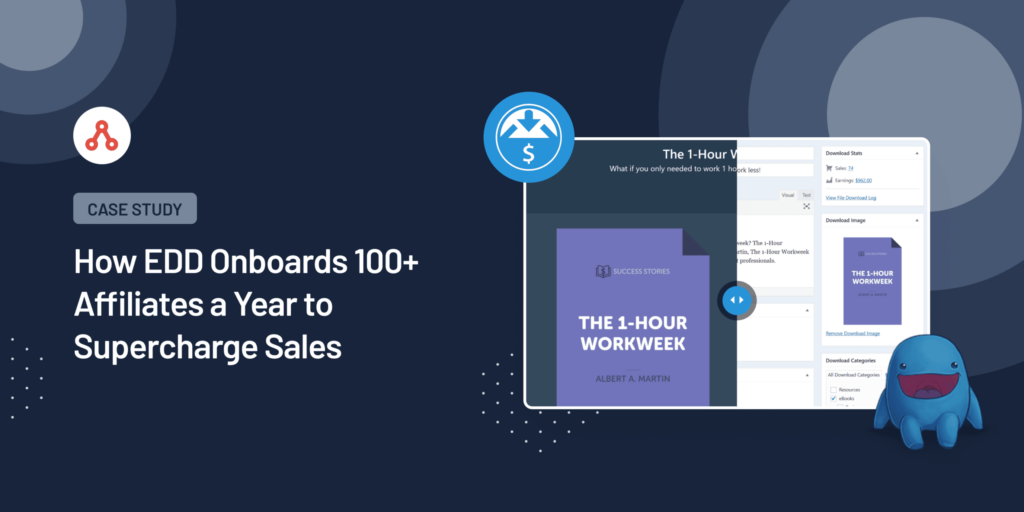 Want to know how to grow your affiliate program and keep top affiliates engaged for longer?
Well, Easy Digital Downloads has found the secret thanks to AffiliateWP.
Here's how EDD uses AffiliateWP to onboard 100+ active affiliates each year to supercharge sales.
Meet Easy Digital Downloads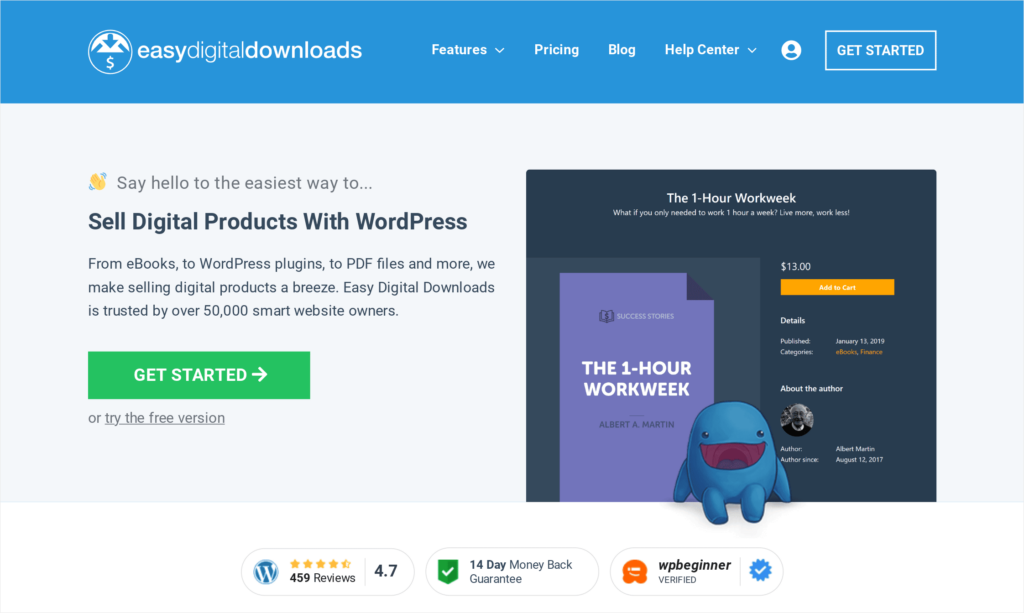 Easy Digital Downloads offers you the easiest way to sell digital products with WordPress, and with over 4 million downloads, it's got a loyal following of developers, agencies, course creators, and educators.
Throw in EDD's 4.7-star customer rating, and you've got an ideal affiliate offering.
An awesome product, with an enthusiastic following of digitally-minded sellers – a perfect recipe to attract affiliates and grow sales with affiliate marketing.
The problem was (and this is something many brands face), Chris Klosowski, EDD's President didn't want to risk EDD's stellar reputation with an unreliable affiliate program.
If affiliate marketing was a strategy EDD was to pursue, then it had to be done properly.
What Does Easy Digital Downloads Look for in Affiliate Management Software?
Like all businesses, Easy Digital Downloads wanted to focus on what it does best – helping its customers to sell their digital products.
While affiliate marketing represented a great opportunity to grow its business, Chris couldn't afford for it to become a distraction from EDD's true purpose.
For an affiliate program to work, he needed it to be:
Reliable
Easy to manage
Facilitate strong affiliate relationships
As Chris says, "an affiliate program is only as good as your relationship with your affiliates," so he needed affiliate software that promoted excellent communication and made life simple for everyone.
Since he wasn't getting this balance of reliability and easy affiliate management with his previous software, he realized it was time to upgrade to AffiliateWP.
What Strategies Has EDD Used to Grow its Affiliate Program?
The first thing Chris found when he switched over to AffiliateWP is that he didn't have to worry about referral tracking.
It's incredibly easy to set up and just works.
Once you have the peace of mind that your link tracking is 100% accurate, then you can get down to business and work on the strategies that are going to bring growth to your business.
For EDD, that was all about making their affiliate program "effortless" both for them and their affiliates.
Step 1: Setting up Direct Link Tracking to eliminate the need for messy affiliate URLs
Step 1 was getting rid of affiliate links altogether, thanks to AffiliateWP's Direct Link Tracking addon. As Chris says, "we use the Direct Link Tracking so our affiliates don't have to hassle with 'ugly' referral URLs."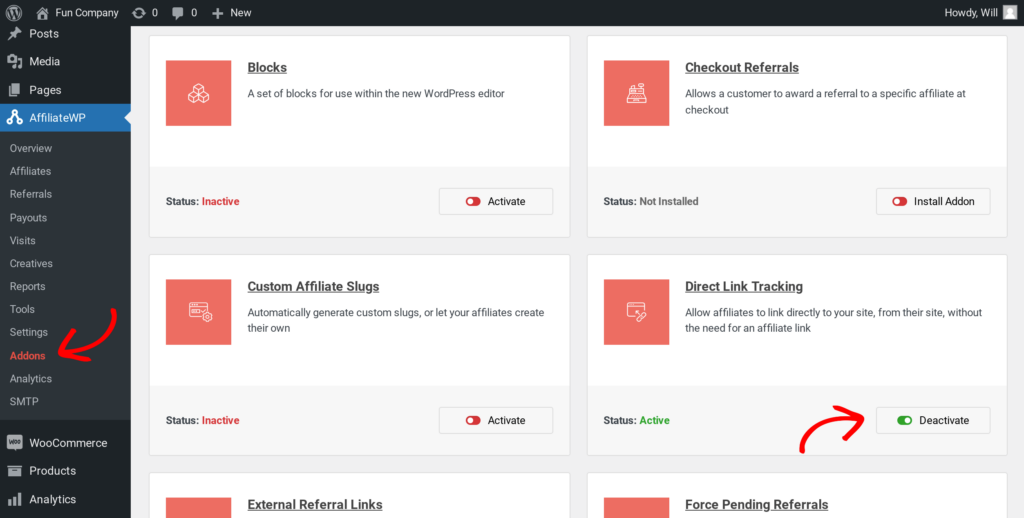 Instead of having to generate affiliate URLs to link to EDD's products and offers, affiliates simply use a regular link and AffiliateWP takes care of the tracking. This saves affiliates from a lot of hassle, but it also increases click-through rates, making this tactic a win-win for EDD.
Step 2: Using the Payouts Service to make affiliate payments effortless
Another element EDD recognizes is essential to a thriving affiliate program is making it easy for affiliates to get paid (as you might expect, this is pretty much an affiliate's number one concern).
However, affiliate payouts can get very messy if you don't have built-in payment tools.
Chris has found AffiliateWP fits perfectly with his philosophy of making affiliate management effortless when it comes to payouts. With the integrated payouts service and PayPal payouts, he can ensure affiliates around the world get paid in a convenient, easy-to-access way.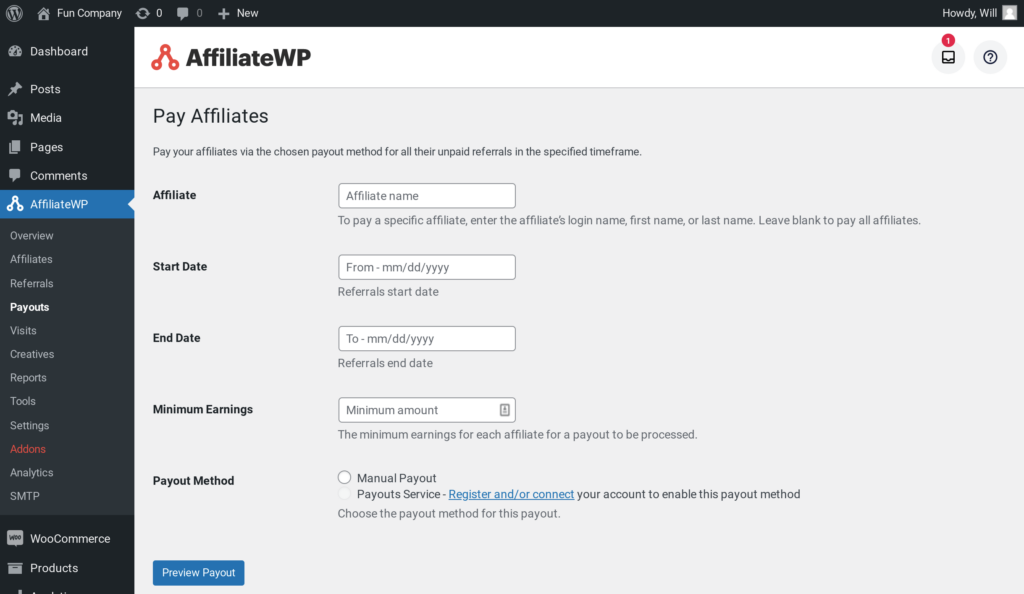 As he recommends to others, "sign up for the Payouts Service, encourage your affiliates to register with it, and just start paying them out every month." It couldn't be easier with the Payouts Service.
How Easy Digital Downloads Attracts 100+ High-Quality New Affiliates Each Year
It's not possible to run a program with hundreds of affiliates without the right software.
You've got to invest in your affiliate relationships to keep people engaged with your offers, but it's impossible to do this at scale without a high level of affiliate automation.
It might seem simple, but one of Chris' top tips is "be sure to inform your affiliates of big changes, releases, or upcoming sales to ensure they have time to set up their own promotions of your service."
Unless you have software that puts you in complete control of affiliate management, you're going to struggle to do this.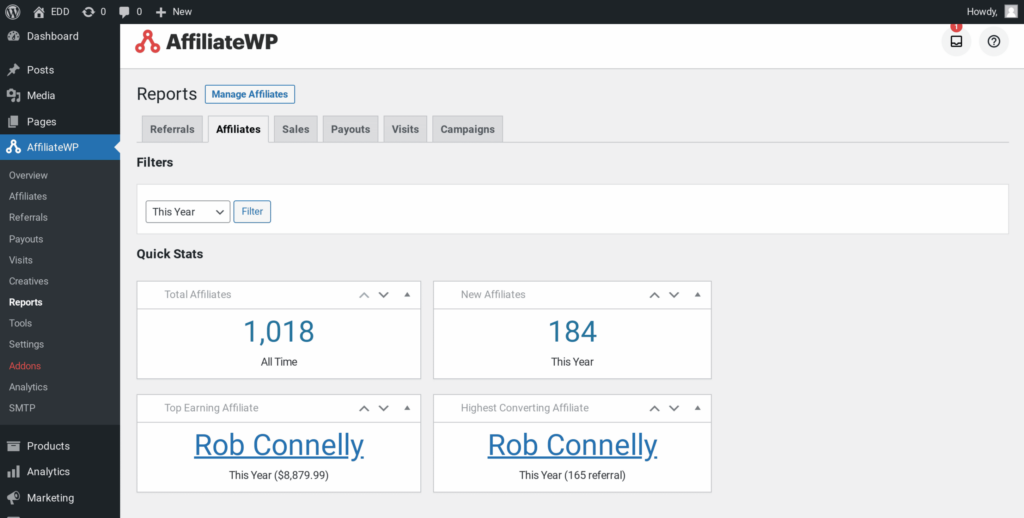 You lose contact with affiliates, your top sellers become disengaged as they're attracted to shiny new offers from other brands, and your affiliate program stumbles.
Easy Digital Downloads has been able to build a sustainable affiliate program that brings in a serious amount of revenue each month because it invests in its affiliate relationships. Affiliate management runs like clockwork so affiliates know they're getting fairly rewarded for their efforts, and close communication keeps everybody engaged with the program.
AffiliateWP has allowed Easy Digital Downloads to build a reliable revenue stream that complements its core purpose – helping customers to sell their digital products.
Results
EDD went from onboarding 49 affiliates in 2018 to 184 in 2022
EDD maintains an impressive conversion rate of between 0.75 and 1%
How You Can Follow in EDD's Footsteps to Build a Sustainable, Long-Term Affiliate Marketing Program
AffiliateWP makes it incredibly easy to set up an affiliate program for your WordPress website. In fact, you can get everything live in under 10 minutes.
But, what makes the very best affiliate programs stand out is the commitment to making life as easy as possible for affiliates.
With standard affiliate software, that would mean a whole host of extra work for you, but with AffiliateWP, it doesn't. There are tons of powerful tools that are specifically designed to make affiliate marketing simple for you and your affiliates, and Easy Digital Downloads has been able to leverage these.
The great news is that addons like Direct Link Tracking are as easy to set up as your affiliate program itself!
You're only ever just a few clicks away from streamlining your affiliate program with AffiliateWP and making it work even better for you and your affiliates.
Summary
Easy Digital Downloads has been able to build a sustainable affiliate program that attracts affiliates and maintains impressive conversion rates.
"With AffiliateWP, we've been able to build a loyal following of developers, agencies, course creators, and educators who love sharing Easy Digital Downloads with their clients, students, and followers.
These community members are vital to our success and AffiliateWP makes it possible for us to take these highly-valued leads, convert them, and reward the Easy Digital Downloads community for it."
Grow a sustainable affiliate marketing program with AffiliateWP today!