Introducing AffiliateWP 2.9.6 – Terms of Use Generator, Email Summaries, and More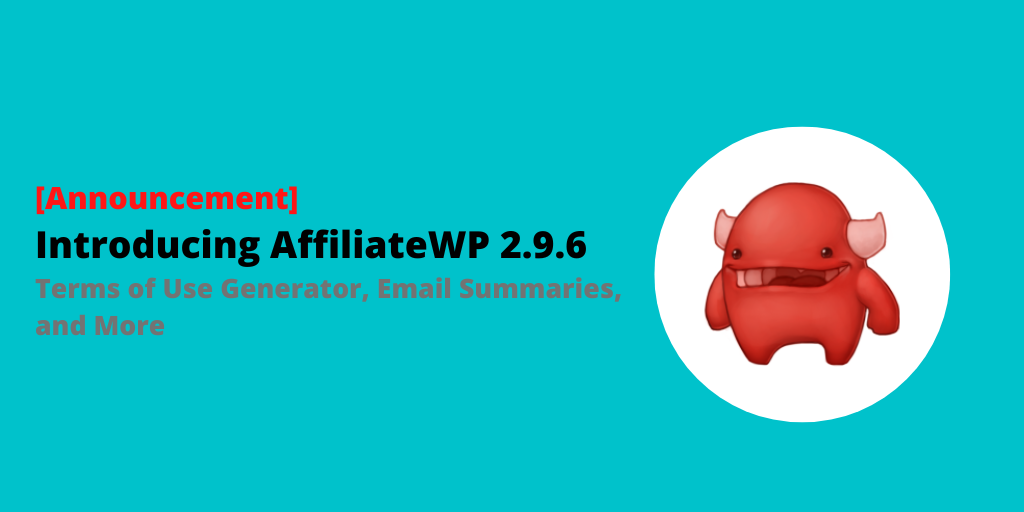 AffiliateWP version 2.9.6 has just dropped and it brings some incredible new features!
With this update, we're releasing not 1, not 2, but 3 amazing features to:
Help you get set up quicker (both your program as a whole and new features)
Make your program even easier to manage
Protect your program and set clear expectations for affiliates
Spot important trends with your affiliate program
Let's take a look at these new features and their benefits in more detail.
Set Clear Guidelines with Our Terms of Use Generator
A good terms of use (terms and conditions) is one of the first lines of defense against affiliate fraud.
With version 2.9.6, we're helping you to create a powerful affiliate terms of use in no time at all with our Terms of Use Generator.
Just head to the AffiliateWP Tools page and click on the Terms of Use Generator tab.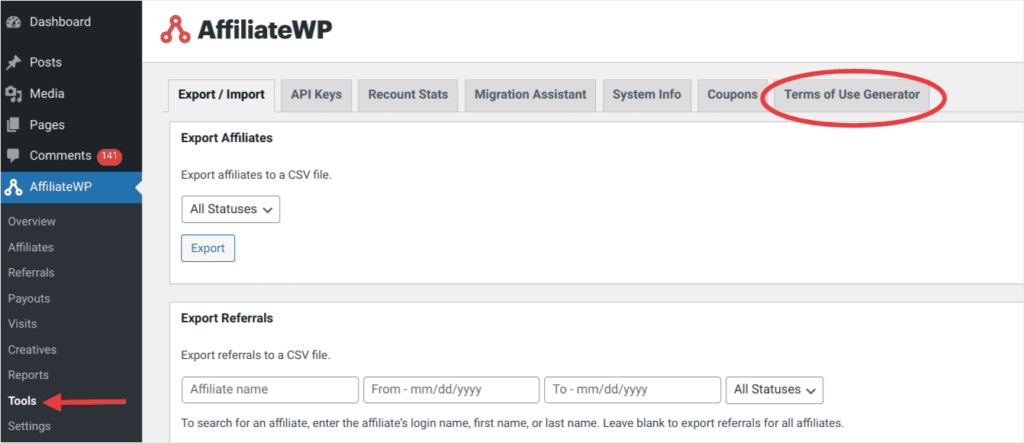 We've created the template, and all you've got to do is tell us your company name, and we'll automatically fill in the blanks. It's as easy as that.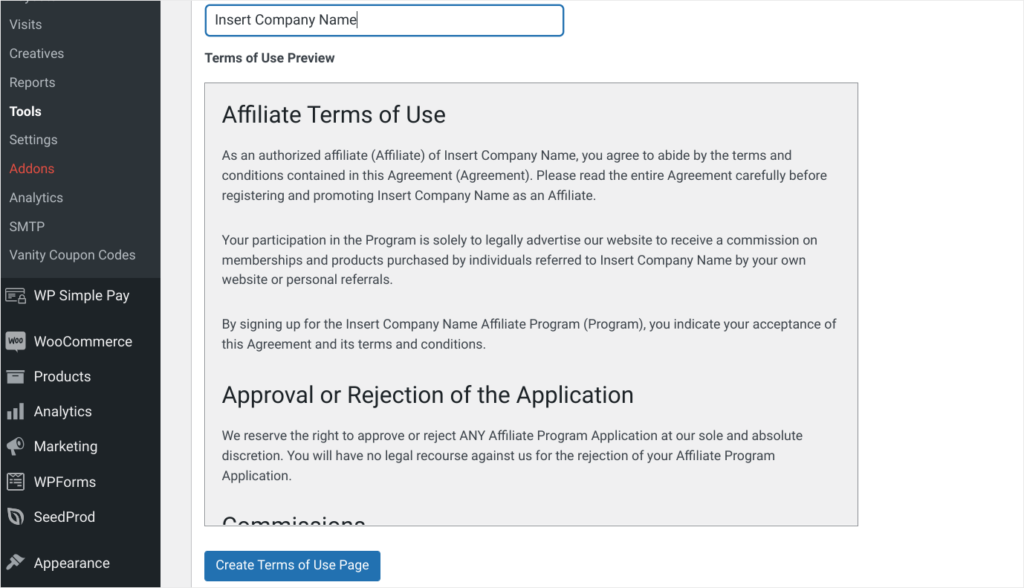 As soon as you confirm you're happy with the outline, we'll automatically create a "terms of use" WordPress page, ready to be used in your registration forms, affiliate area, footer, and anywhere you choose.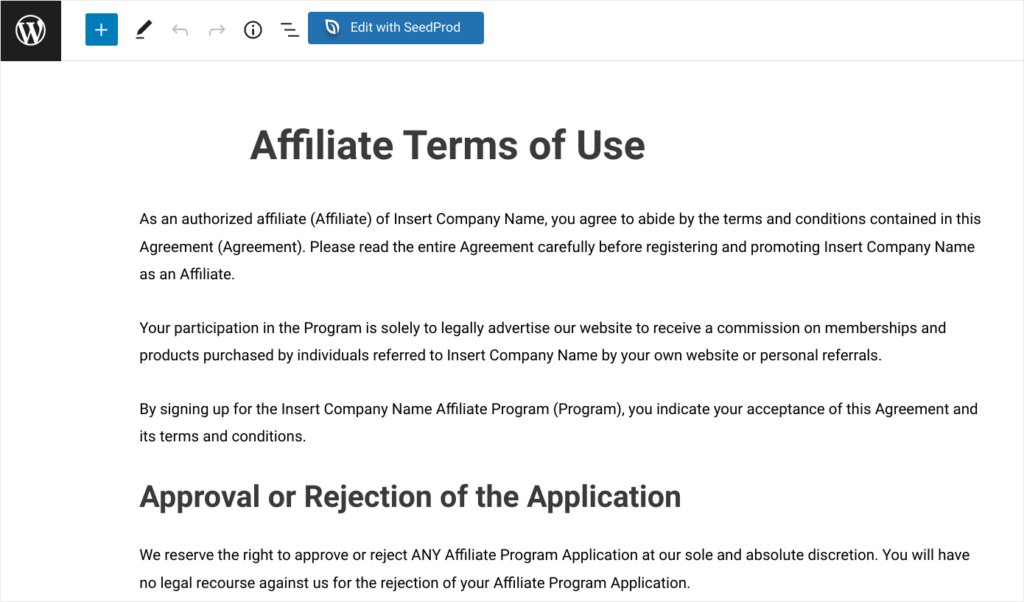 No more searching around for information about what to include in a terms of use, just a simple setup, all from your AffiliateWP admin.
Manage Addons with a Click from Your WordPress Admin
Version 2.9.6 has made a huge improvement to the way you manage your AffiliateWP addons.
In previous versions, you would go to the Downloads section of your AffiliateWP account to download an addon. Once it downloaded, you'd then manually upload the zip file through the WordPress' Add Plugins page.
We've streamlined this entire process and you can now do everything from the Addons page.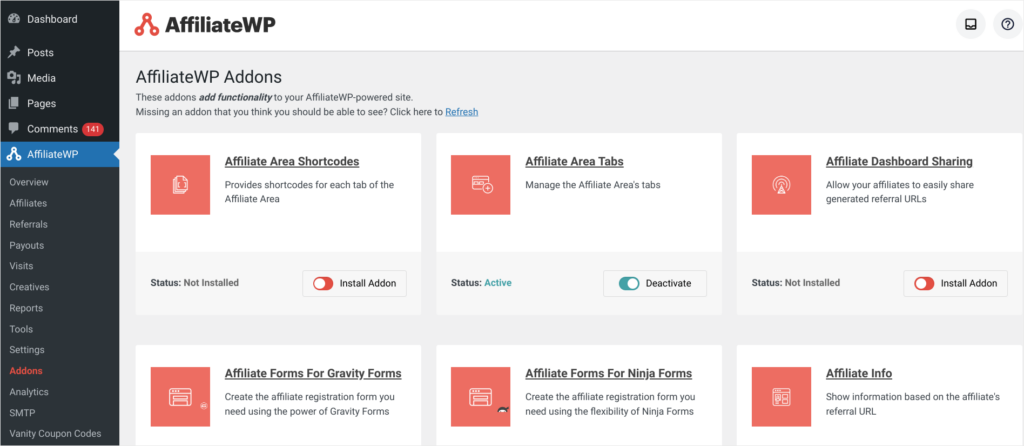 All you have to do is click Install Addon and your chosen addon will download, install, and activate. Simply click the toggle button again, and you can deactivate the addon.
This makes it even easier for you to manage your affiliate program and upgrade your capabilities.
Track Affiliate Program Performance with Email Summaries
We want to make it as easy as possible to keep track of your affiliate program's performance.
Yes, you've got access to real-time analytics, but sometimes what you want is a convenient snapshot.
With version 2.9.6, we're going to give you just that thanks to Email Summaries.
You'll receive emails with the most important details about your program's performance. See metrics for revenue (for supported integrations), new affiliates, unpaid earnings, and paid earnings for the past 30-days, ensuring you've always got a clear picture of what's going on.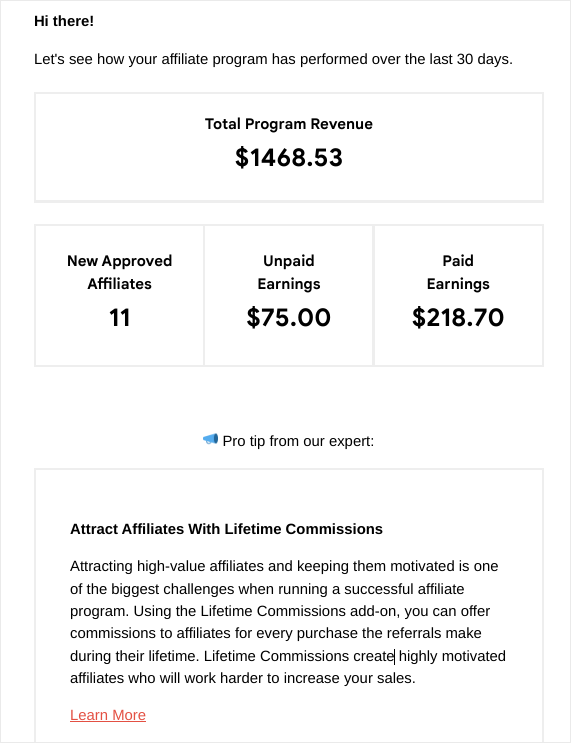 We know you've got tons of tasks to take care of, so we want to free up time by giving you easy access to the information you need.
Just update to version 2.9.6, sit back, relax, and you'll receive summaries to your inbox.
We've Got More to Come
For our team, new release days are the most exciting time of the year!
We love working on new features to power your businesses, so it's great when they come to fruition.
We're particularly excited about version 2.9.6 as it's got some great features to help grow your business. It's going to make AffiliateWP easier to set up and manage, and ultimately, drive affiliate sales.
Now you just need to update to version 2.9.6 and benefit from our latest and greatest features!
Not using AffiliateWP yet?