How to Set Up Affiliate Tracking for Gravity Forms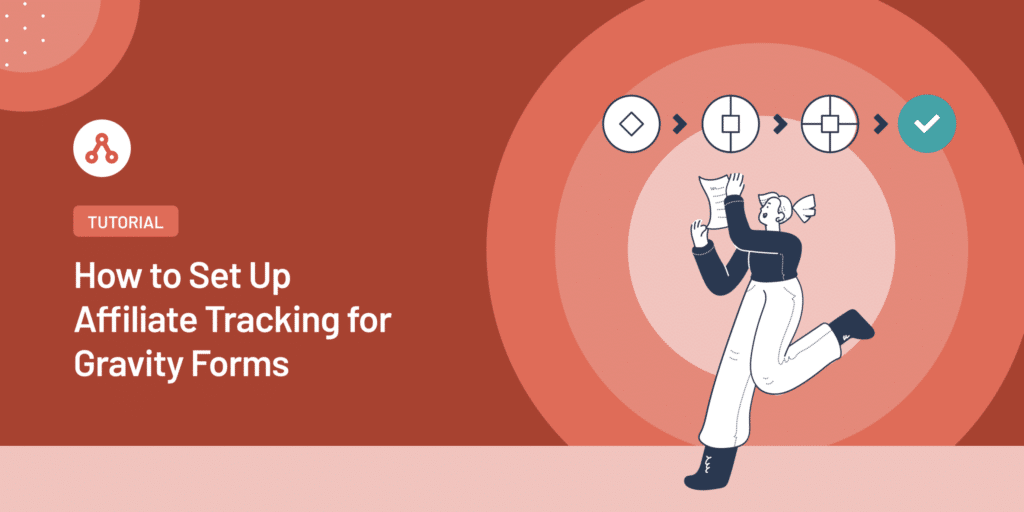 Want to set up affiliate tracking for Gravity Forms?
It's a great idea that can grow your business, and it's a lot easier to get started than you might think.
Here's your expert guide on how to set up affiliate tracking for Gravity Forms.
Can Affiliate Tracking Boost Gravity Forms Submissions?
Affiliate tracking for Gravity Forms is a perfect way to increase form submissions. Whether you're selling products through payment forms or generating leads with opt-in forms, affiliate marketing is a hugely beneficial strategy.
If your site converts well (turns visitors into leads and leads into customers), then expanding your audience is a surefire way to grow your business. One of the quickest ways to do this is with affiliate marketing.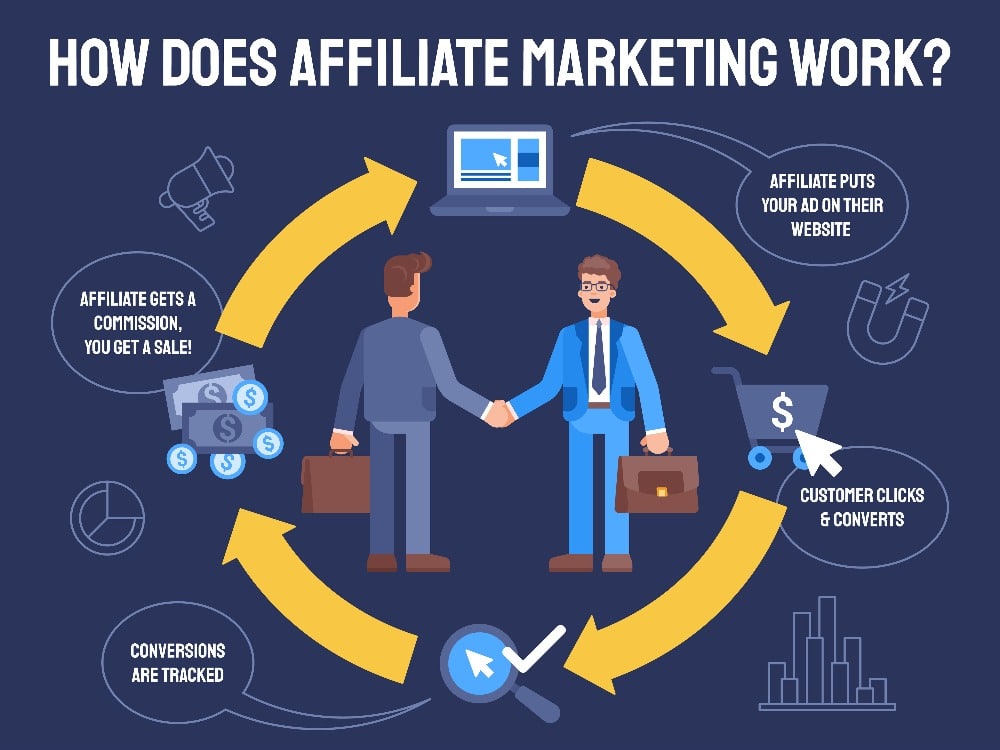 Whatever industry you work in, there are bound to be a host of high-performing affiliates and influencers. These affiliates have access to large, highly-motivated audiences, and having them on your side can make a massive difference.
The great thing about affiliate marketing is there are few start-up costs, and you don't have to pay affiliates until they convert. Ultimately, this gives you low-risk access to a huge number of people in your target audience.
So, how can you leverage affiliate tracking for Gravity Forms to grow your form submissions?
Let's take a look.
8 Steps to Set Up Affiliate Tracking for Gravity Forms
Affiliate tracking allows affiliates to send prospects or customers to your website and receive a commission when that person completes a defined action such as filling out a contact form or completing a product purchase.
If Gravity Forms plays a big part in your lead generation or sales, then affiliate marketing can open up a whole new marketing strategy.
Here's the good news: it's super easy to do!
We're going to walk you through these simple steps (you can actually get set up in just two, but we're going to give you some extra tips):
Install AffiliateWP (2 minutes)
Complete the Setup Wizard (5 minutes)
Allow Referrals on Individual Forms (2 minutes)
Customize your Affiliate Area and Registration Form (10 minutes)
Approve or Reject Affiliate Applications (2 minutes)
Affiliates Generate Affiliate Links in their Dashboards (2 minutes)
Track Affiliate Performance with Advanced Analytics (2 minutes)
Pay Affiliates without Leaving Your WordPress Admin (5 minutes)
Read on to find out exactly how to set up affiliate tracking for Gravity Forms.
Step 1: Install AffiliateWP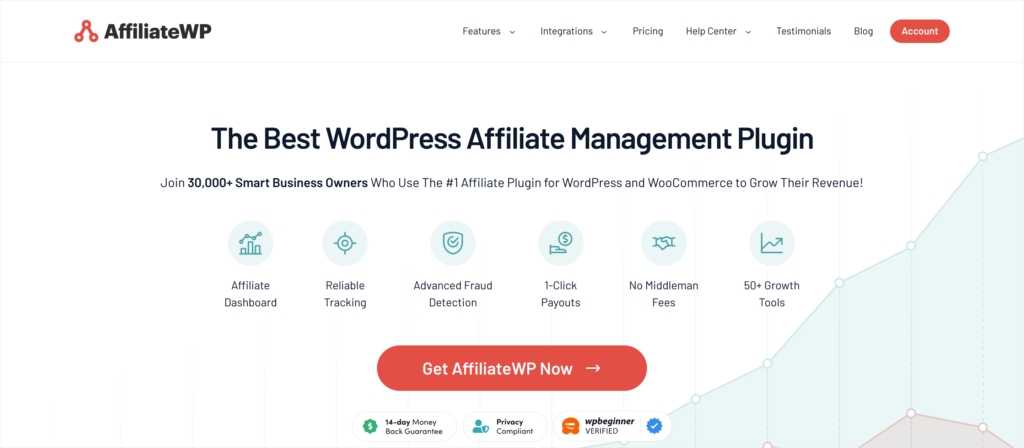 AffiliateWP is the best affiliate management plugin for Gravity Forms. It integrates with Gravity Forms in just a click and allows you to set up a WordPress affiliate program in under 10 minutes.
There's no need for any technical or coding knowledge, which means you can set up an affiliate program on your own terms without any hassle. All you have to do is follow the simple setup wizard steps, and in a few clicks, you will have a fully functional Gravity Forms affiliate program.
Affiliates will be able to log into an affiliate dashboard where they can generate affiliate URLs, access affiliate coupon codes, see detailed performance analytics, and much more.
One of the awesome things about AffiliateWP is it's built for WordPress, so it automatically syncs with your theme and allows you to leverage your brand image in your affiliate program. This customizability, as well as powerful growth tools, makes AffiliateWP the best affiliate plugin for Gravity Forms.
To get started, just go to the pricing page, and choose the plan that best fits your needs. Download the plugin following this simple guide, and then you're ready to set up affiliate tracking for Gravity Forms.
You can set up a powerful Gravity Forms affiliate marketing program with all our plans, but the Professional and Plus plans are particularly useful for Gravity customers. This unlocks Affiliate Forms for Gravity Forms, allowing you to optimize the affiliate registration form with Gravity Forms.
Step 2: Complete the Setup Wizard
AffiliateWP's easy setup wizard will help you set up affiliate tracking for Gravity Forms in just a few clicks.
To open the setup wizard, just go to your AffiliateWP Settings and click the Launch Setup Wizard button at the bottom of the page. This will bring up the first page of the setup wizard where you need to enter your license key (found in your AffiliateWP account) before clicking Continue.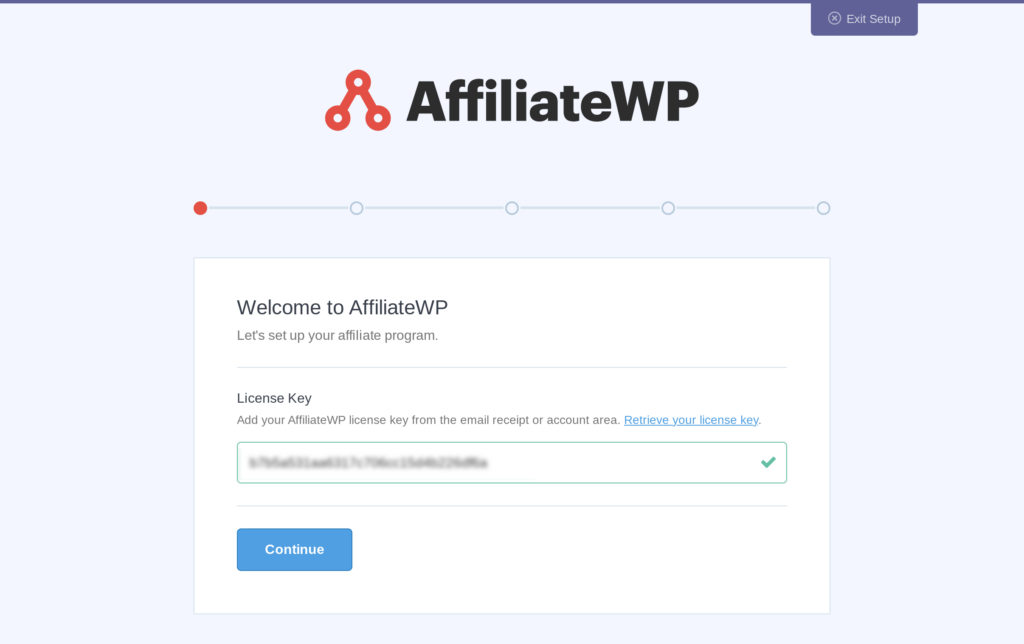 Next, you'll see a list of one-click integrations. Click on Form Integrations and check the box next to Gravity Forms before clicking Continue. This will integrate AffiliateWP with Gravity Forms, and you'll then be able to choose your commission and cookie settings.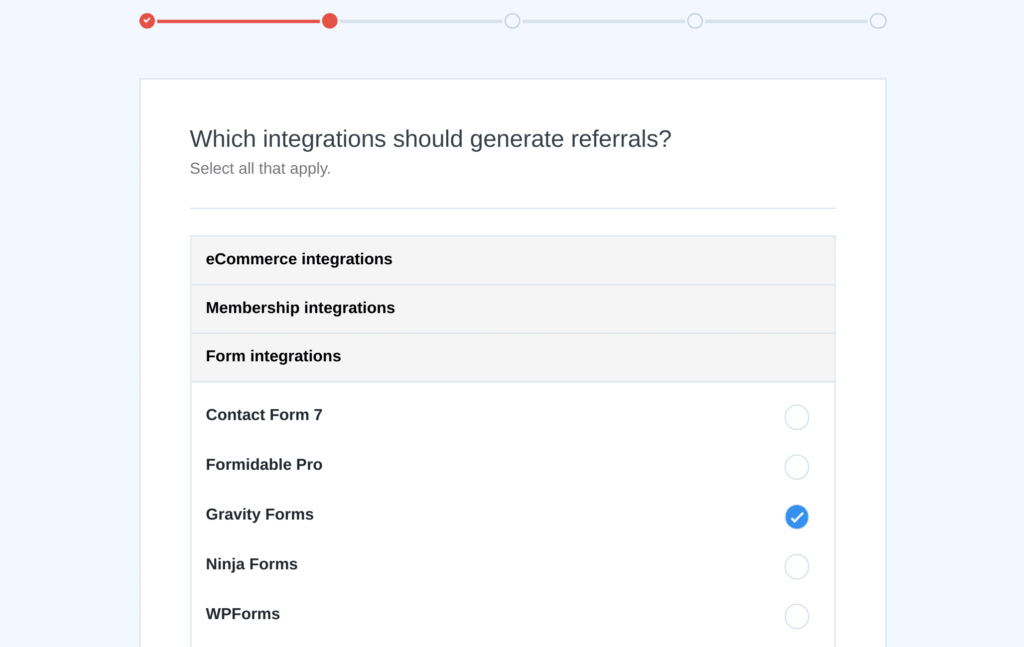 The next page in the setup wizard is the Referral page where you can set your currency and choose your commission structure. What you choose will depend on the type of forms you want to track referrals to. For example, if you're tracking payment forms, you might want to use a percentage-based commission, but if you're tracking leads, then you'll need to use a flat fee commission.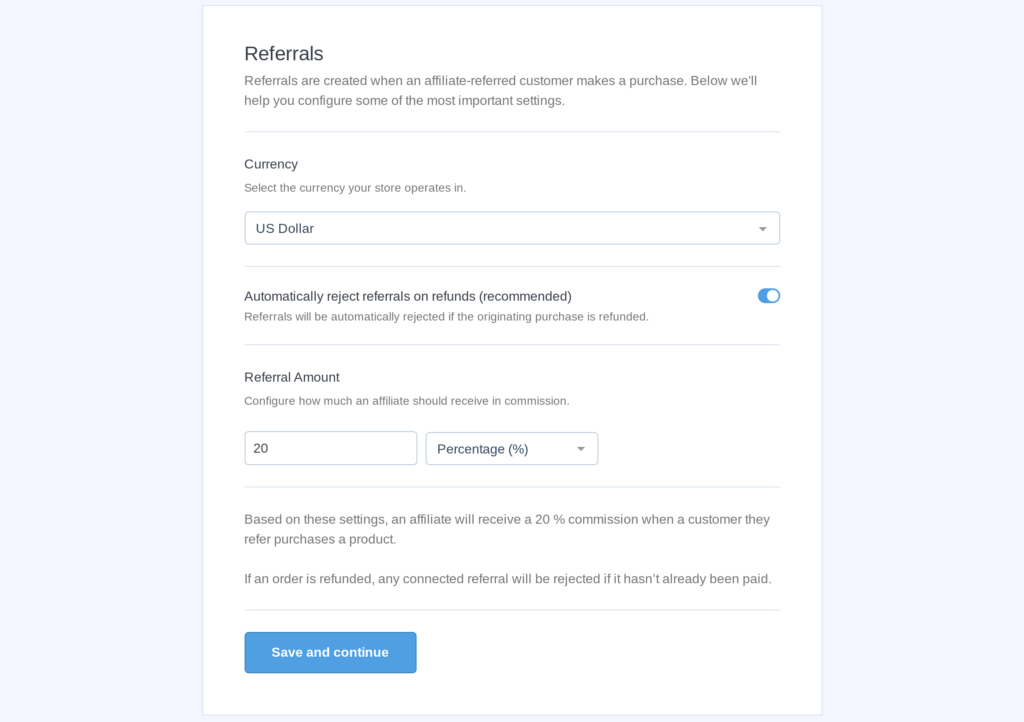 For more information on choosing your commission, check out our extensive guide on affiliate commissions. You don't have to make a decision right now though, as all of these settings can be edited later in your Settings.
Once you've clicked Save and Continue, you'll be taken to the Affiliates page, which is the last step. Here you can choose your affiliate link structure and cookie duration. Again, these elements can be changed from your Settings page, so don't worry about this too much.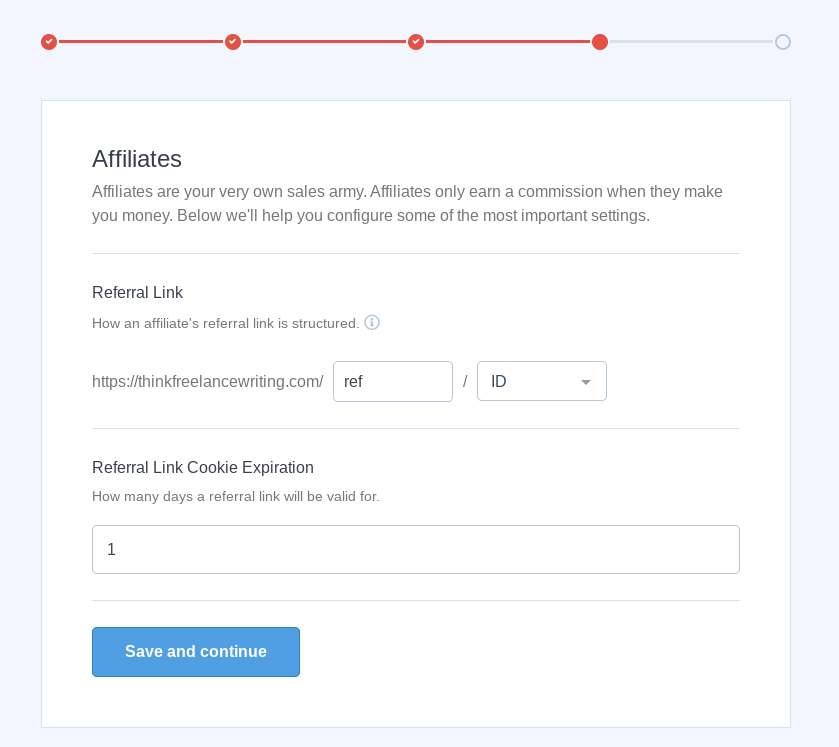 Click Save and Continue, and then Finish the Setup and Exit the Wizard.
That's it, your affiliate tracking for Gravity Forms is ready to go!
Step 3: Allow Referrals for Individual Forms
Once you complete the setup wizard, AffiliateWP will be able to track referrals on any Gravity Forms form. To give you more control over what forms generate referrals, you'll need to manually specify this in the individual forms.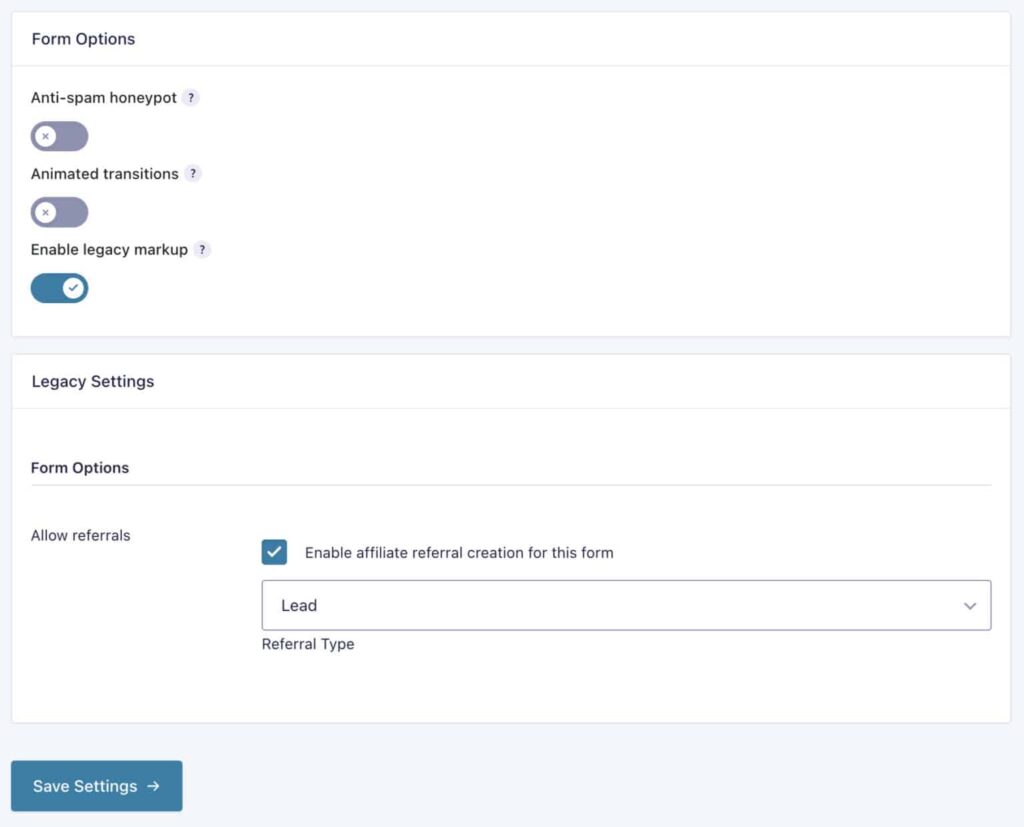 To enable form referrals, open your form as you normally would with Gravity Forms and click on Form Settings. You will now see an Allow Referrals box at the bottom of the page, click the checkbox, and choose the type of event you want to incentivize from the dropdown box.
If you choose to track sales and want to use a percentage-based commission, then you'll need to make sure your form includes both a Product and Price field. Just follow this easy guide if you have any problems.
Step 4: Customize Your Affiliate Registration Forms
When you install AffiliateWP it automatically creates an Affiliate Area page on your website. This page is where affiliates sign up for your affiliate program, and once accepted, log in to their accounts.
You can easily edit the Affiliate Area by going to Pages and searching for Affiliate Area. You'll be able to edit the page using WordPress blocks and customize your affiliate registration to maximize conversions.
The best way for Gravity Forms customers to do this is with the Affiliate Forms for Gravity Forms addon. This brings all Gravity Forms form-building tools and integrations to your affiliate registration form, boosting signups and aiding automation.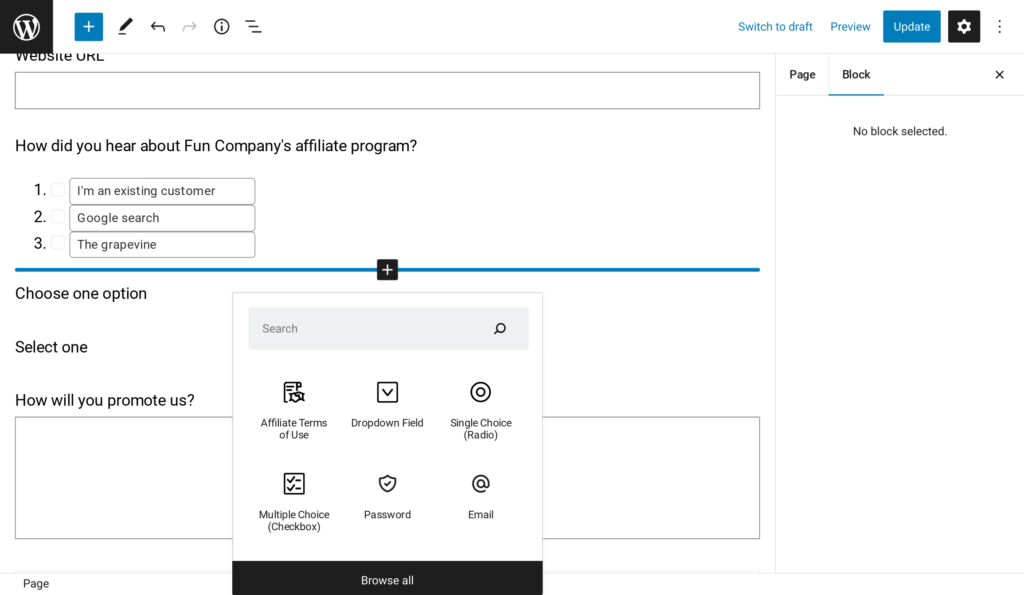 Alternatively, you can use WordPress blocks, or our free WPForms integration to customize your registration form.
Step 5: Approve or Reject Affiliate Applications
You can automate a lot of processes with AffiliateWP, but one we recommend you do manually is affiliate approval. This is to make sure you're getting high-quality affiliates into your program and not wasting resources on spam signups.
To approve or reject affiliate applications, just go to Affiliates and click the Pending tab at the top. You'll now see all your pending applications, and you can view more information by clicking the affiliate's name. Use the Accept and Reject buttons to approve affiliates in a click, and they'll automatically receive an email notifying them of your decision.
Step 6: Affiliates Generate Affiliate URLs in their Dashboards
You don't have to do anything at all for this step, but it's worth knowing.
Once you've approved an affiliate, they'll be able to log in to their dashboard on the same Affiliate Area page they signed up on. When logged in, they'll be able to create affiliate links using the Affiliate URL Generator.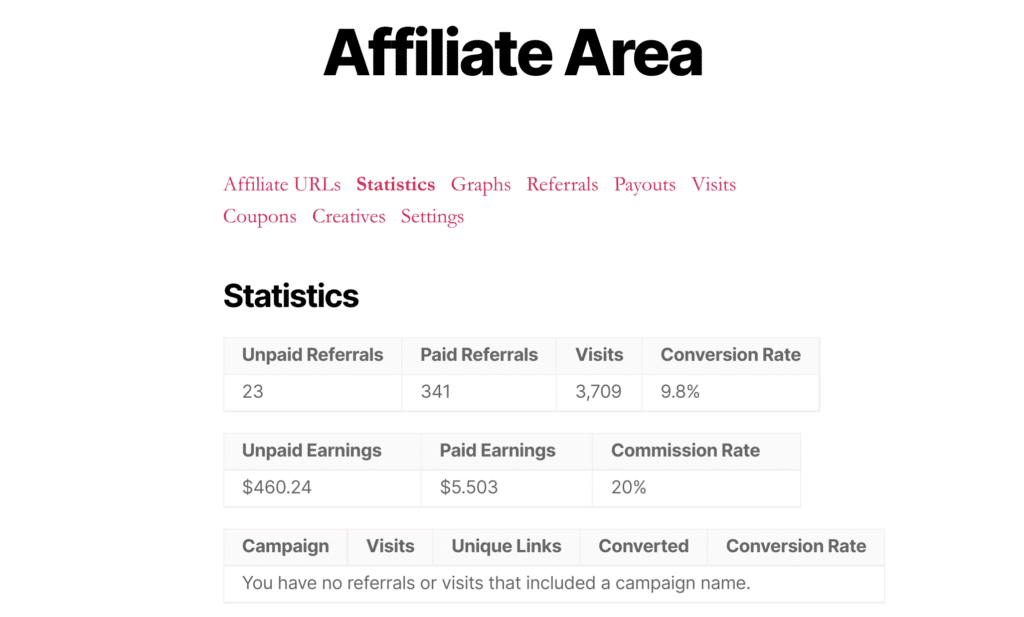 They can put their affiliate links in their blogs, social media posts, email marketing, and more to promote your products/ forms.
The affiliate dashboard also shows detailed affiliate analytics and is completely customizable thanks to Affiliate Area Tabs.
Step 7: Track Affiliate Performance with Advanced Analytics
As soon as affiliates have been accepted into your program they can start sending you traffic through affiliate links. This will create affiliate visits and referrals (conversion events) which can be tracked with real-time analytics.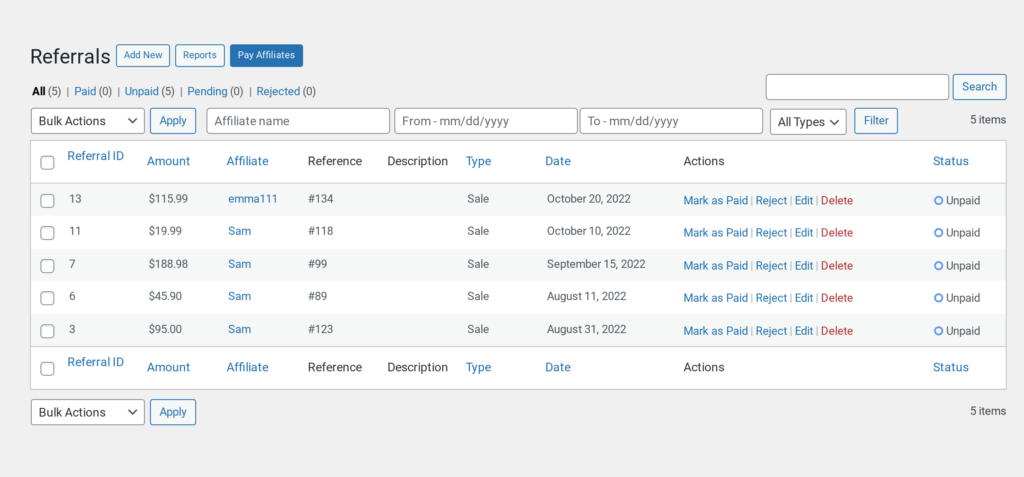 Click on Reports and you'll be able to see detailed information on referrals, affiliates, sales, payouts, visits, and campaigns. This will help you to track the performance of your affiliate program and gain insights into how you can make it run even more effectively.
Step 8: Pay Affiliates without Leaving Your WordPress Admin
Another great feature with AffiliateWP is that you can pay affiliates without ever leaving your WordPress admin. All plan holders can do this using the Integrated Payouts Service and pay affiliates directly to their bank accounts.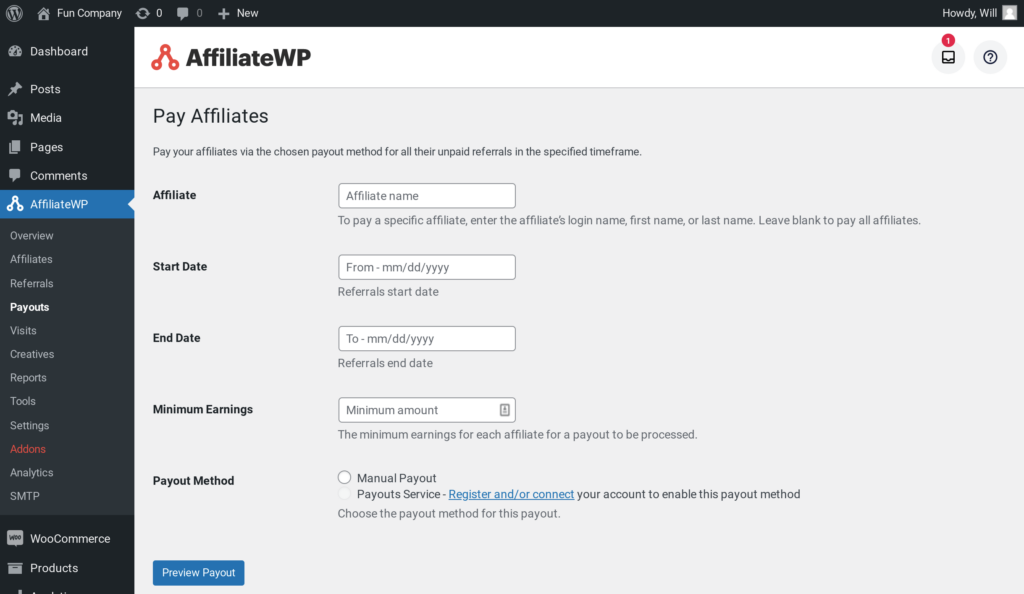 We also offer PayPal Payouts (Professional license) and Stripe mass payouts, so there are plenty of ways to ensure your affiliates get paid.
A smooth affiliate payout process is essential for keeping affiliates engaged, and AffiliateWP makes this step incredibly easy.
Now Set Up Recurring Referrals and Affiliate Coupons
If you're using Gravity Forms to sell products, then you'll want to consider setting up Recurring Referrals and affiliate coupons. These are two awesome features affiliates love and they'll help you to boost your conversion rates.
Recurring Referrals are perfect if you sell subscription products. It means affiliates can receive a commission every time the customer they refer makes a subscription payment. This is an excellent way to encourage affiliates to send you high-quality, long-term customers, and it helps reward your top-performing affiliates.
Another handy tool if you're using Gravity Forms for sales is affiliate coupons. If you run regular sales, then it's well worth creating affiliate specific coupon codes for your affiliate partners to promote.
Affiliate coupon codes for Gravity Forms are really easy to set up and can help drive affiliate sales.
Setting Up Affiliate Tracking for Gravity Forms is Simple with AffiliateWP
AffiliateWP makes it incredibly easy to set up affiliate tracking for Gravity Forms. With affiliate marketing, you can get more leads and make more sales, and it's just a few simple steps away.
We've shown you how to set up affiliate marketing for Gravity Forms, but what else do you need to know?
Check out these handy resources to learn more about affiliate marketing:
Now there's only one thing left to do.
Get AffiliateWP and set up affiliate tracking for Gravity Forms today!