How to Find Affiliates on Instagram (Step-by-Step Guide)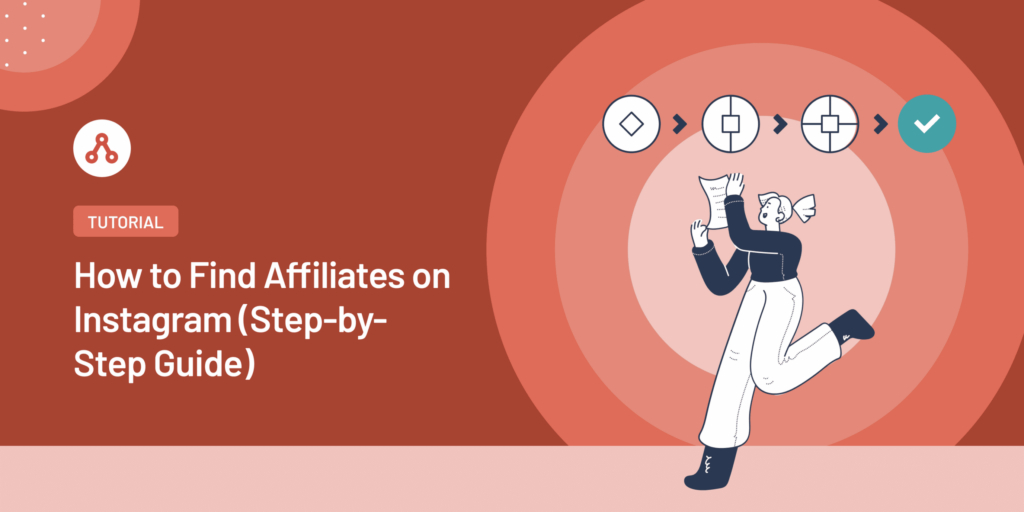 Want to learn how to find affiliates on Instagram?
Social media platforms can be the perfect place to find top new affiliates, and we're going to show you how to do it.
Here's how to find affiliates on Instagram.
Is Instagram a Good Place to Find Affiliates?
Instagram is one of many great places to find affiliates.
It's full of successful social media influencers with the ability to reach targeted audiences, and that's exactly what you're looking for.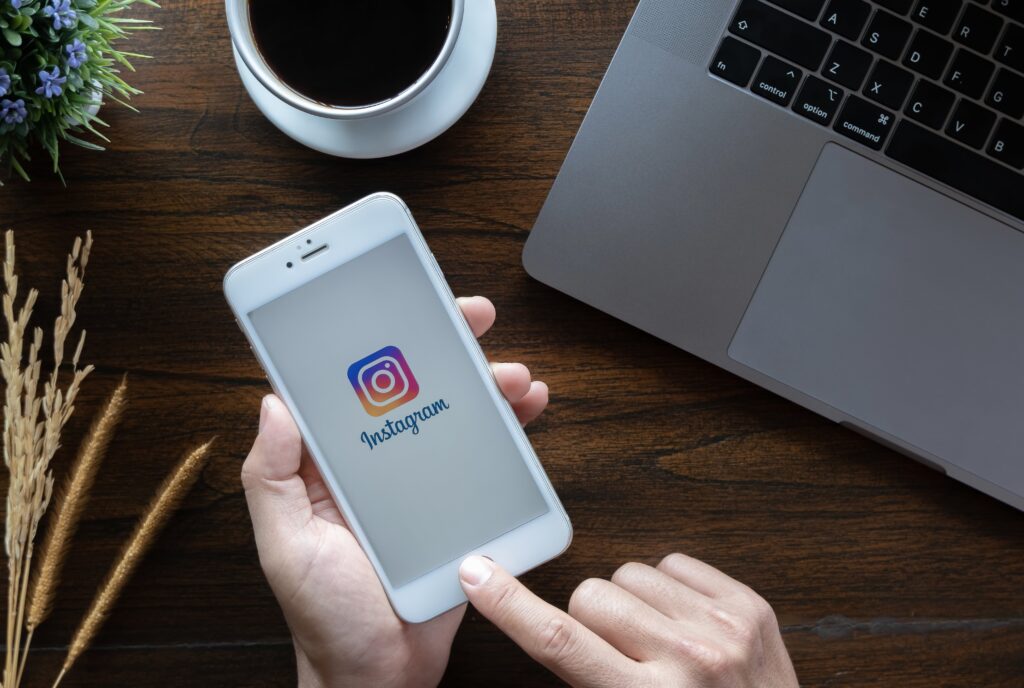 People get hung up on the differences between influencers and affiliates, but there's a lot of interchangeability between them. There's no reason why you can't find influencers on Instagram and turn them into your affiliates, the question is, what should you be looking for?
Great affiliates aren't necessarily on the big affiliate networks like Shareasale, Amazon, Awin, ClickBank, or CJ Affiliate. Instead, they're looking for more personalized affiliate programs, and that's exactly what you can offer them with good Instagram outreach.
So Instagram is a great place to find affiliates, but how do you go about it?
Remember, Instagram isn't the only social network that's great for finding affiliates. These steps will also help you find affiliates on TikTok, LinkedIn, Facebook, and more.
How to Find Affiliates on Instagram in 6 Steps
There are hundreds of millions of people on Instagram, so how do you narrow it down and find the ones who'll help you grow brand awareness and increase sales?
We're going to talk you through exactly how to find affiliates on Instagram, and these are the steps we're going to look at:
Audience size is important, but not necessarily how you think
Make sure you're looking at authentic metrics
Consider whether you're a good match
Check out their website
Don't count people out
Ensure you have the right systems in place
Sometimes you've got to put a little bit of extra work in to find the best affiliate partners, but it's well worth it in the end.
We're going to walk you through the step-by-step guide on how to find affiliates on Instagram.
Step 1: Consider Audience Size
Bigger isn't always better when considering the size of an influencer's audience.
The ultimate goal of affiliate marketing is conversions, so rather than simply looking at an influencer's ability to reach people, you need to consider their ability to influence people. When you look at macro influencers vs micro-influencers, you'll often see that while macro-influencers reach more people, micro-influencers are better at engaging their audience.
Ultimately, you want to work with affiliates who can reach a specific target market, so audience size isn't the be-all and end-all. What does matter is their ability to connect with their audience, showcase authority, and get people to take action.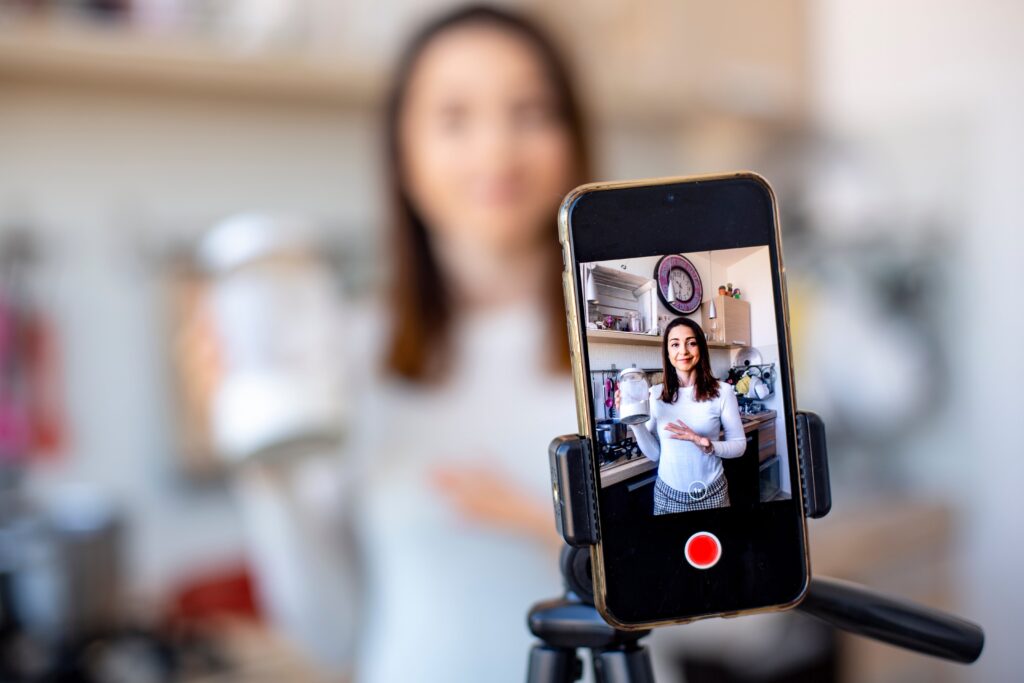 Don't be sucked in simply by the number of followers an influencer has, instead, dig deeper and find out if they consistently inspire people to take action.
Step 2: Look for Authentic Metrics
As with everything on social media, you don't have to look too hard to find a workaround.
There are plenty of Instagram users who have built their followings through dubious means and lots of comments that aren't quite what they appear, so it's worth digging into things a little bit more.
A few things you want to be on the lookout for are:
People with lots of followers but very low engagement rates
Posts with lots of very basic comments like single emojis
Disproportionate rates of follows to likes
Another key element of affiliate marketing is authenticity, and you want to see this in your potential affiliates' profiles.
The best research you can do is by selecting a few posts and giving them a good check-over, but there's also a good tool you can use. The Influencer Earnings Calculator from the Influencer Marketing Hub is a free way to check out an influencer's statistics and get a better picture of their earning potential.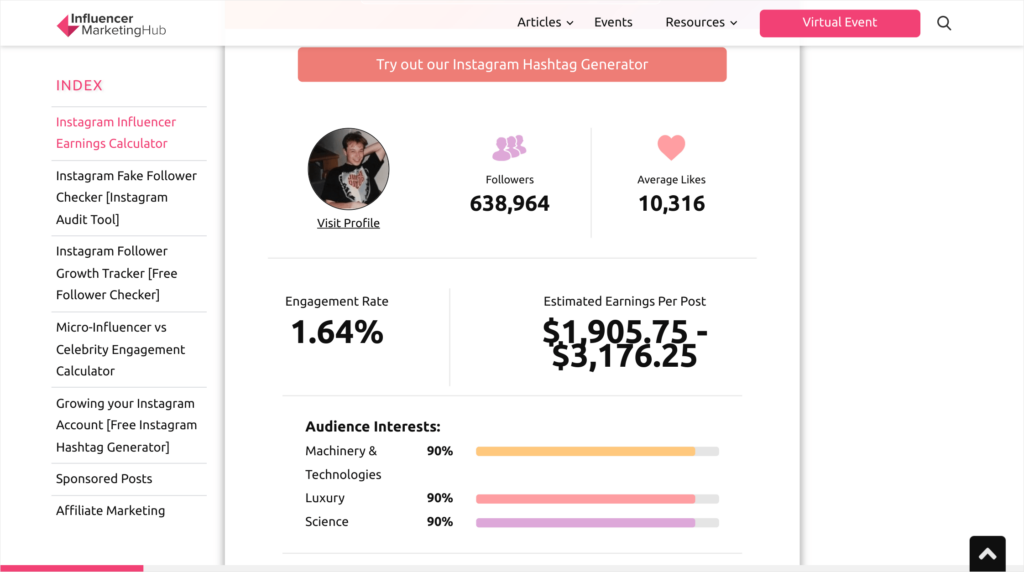 Doing this extra research takes time, but it will help you find affiliates who are a better fit for your program.
Step 3: Check You're a Good Match
An influencer can have great influence with a large chunk of your target audience, but if you're not a good fit, then the partnership is still unlikely to work out.
You've got a brand image to protect, and it's important to remember this when engaging potential affiliates. If you're both pushing different messages, then your campaigns aren't going to be coherent and your audience will notice.
You can use Instagram stories and hashtags to find affiliates that are a broad match for your brand, but to get a true picture of whether you're a good match, you've got to dig a little deeper into their Instagram posts.
People want authenticity and part of this is shared values. If you can find Instagram influencers who represent the same principles you do, then you're going to see better results.
Step 4: Evaluate the Influencer's Website
There are a lot of content creators who rely solely on their social media presence.
You can still add these people to your affiliate program and have them promote your e-commerce products through affiliate coupons and other marketing strategies, but it's not ideal. These influencers tend to seek passive income opportunities and paid promotions rather than payments based on commission rates.
This means it pays to look for affiliates with their own websites (bloggers, SEO and digital marketing experts, email marketing pros, and more) where they have evergreen, high-quality content. Evergreen marketing campaigns are much more permanent and they're going to stay relevant for a long time and bring in a consistent stream of potential customers – perfect for affiliate links.
By looking at the potential affiliate's content, you can get a good idea of the quality of their work and better understand whether they will resonate with the demographics you're looking to reach.
Step 5: Don't Count People Out
Don't count people out because you think you're product is too small or they won't be interested.
If you think you're a great match and you believe the influencer can help draw attention to your promos and sell your products, then they'll probably want to hear about it. Let people see your proposal and evaluate it for themselves – as you never know what the answer will be.
Affiliates and influencers are always looking for great new opportunities, so why shouldn't it be your brand?
Step 6: Ensure You Have the Right Systems in Place for Instagram Affiliate Marketing
You want to make a great first impression with your potential affiliates, so it's important you have the right systems in place before you start finding affiliates on Instagram.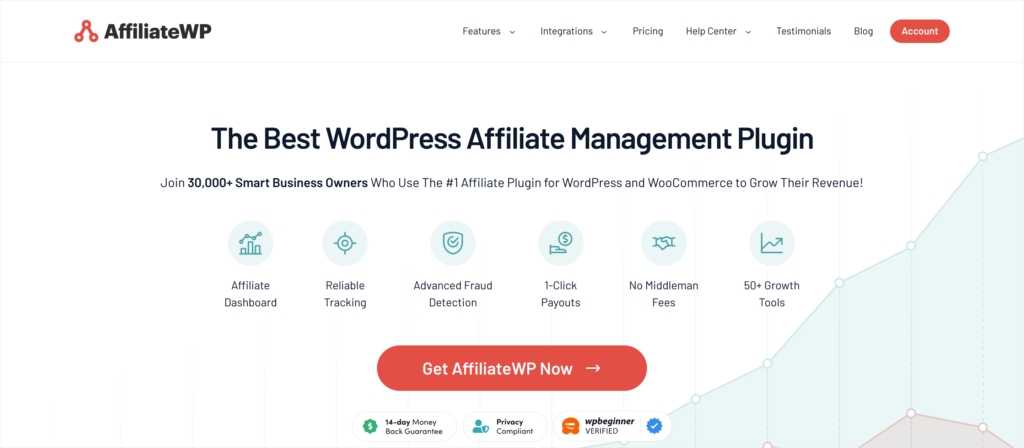 These are busy people, but if you present them with a great opportunity, then they're not going to turn you down. However, to make that opportunity a reality, you've got to have good affiliate management software like AffiliateWP.
Assure affiliates that you have reliable referral tracking (affiliate links, discount codes, and more) that's going to ensure they receive accurate, regular payouts.
Demonstrate how easy it ease to create affiliate links, access analytics, and learn about your affiliate products.
Provide affiliates with high-quality landing pages that maximize conversions.
Showcase the powerful affiliate marketing tools you use to help affiliates convert more and earn more.
These are the details that matter to potential affiliates, so when it comes to reaching out to them, make sure you're presenting a professional, revenue-generating affiliate marketing program.
If your website runs on WordPress, then the best option is AffiliateWP, but if you use another platform, then check out this guide to the best affiliate tracking software.
Check out AffiliateWP's pricing!
Now Work on Your Affiliate Outreach
Once you've identified the right people it's time to reach out to your potential affiliates.
This can be a tricky step, but we've got you covered with a tutorial – How to Reach Out to Affiliates (And Sign Them Up) . It's well worth checking out, but if you're short of time, here's a quick synopsis:
Be direct
Showcase the benefits
Strengthen your argument with social proof
Highlight why you're a great match
Offer to send products for review
Make the next steps simple and obvious
Follow up
Make the process repeatable
This is a process you can continue to optimize so that you convert more and more of your targets.
When you're finding successful affiliates and getting your outreach right, then your affiliate program is going to be in a great position, so mastering these steps is key.
If you're going to reach out through Instagram, then make sure important details like your bio are up-to-date. You may not place much focus on Instagram marketing, but it's going to be helpful for your outreach if you keep your Instagram account relevant.
How to Find Affiliates on Instagram: Prioritize the Match
A lot of our steps have talked about prioritizing the match over the size of an influencer's audience, and we believe that's important.
The right affiliate is going to have a better connection with their audience, present your products with more authority, achieve better results, and ultimately commit to your program for longer. And all of that sounds pretty good, right?
So, what other steps can you take to build your own affiliate program and attract the best affiliates?
Here are some more resources to help boost your affiliate marketing strategy:
Now make sure you have your affiliate management software in place.