9 Best PayPal Affiliate Software (Compared – 2023)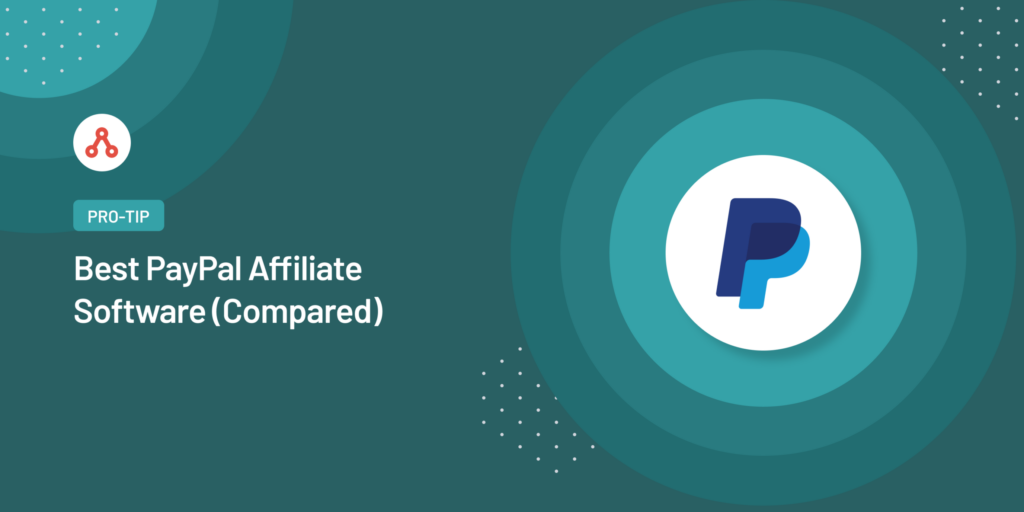 Looking for PayPal affiliate software so you can track referrals on your sales?
We've compared the best free and paid PayPal affiliate integrations so you can start tracking referrals.
Here's our guide to the best PayPal affiliate software.
Can I Track Affiliate Referrals on PayPal Transactions?
PayPal doesn't offer built-in referral tracking for transactions, so you'll have to look to an external plugin to add this functionality.
Luckily, there are lots of reliable options to choose from.
The right PayPal affiliate software will allow you to create affiliate links, manage affiliates, and make affiliate payouts, and they're much less complicated than you might think. There are a large number of PayPal affiliate software on the market, so we've narrowed them down using the following criteria:
Ease of setup
Depth of the PayPal integration
Affiliate management tools
Growth tools that empower your affiliates to increase sales
Support
The best PayPal affiliate software should tick all of these boxes, so we've put in the research to find you the best options. You'll find a variety of alternatives on this list that accommodate small businesses as well as medium, and larger organizations, so read on to find out which is the best PayPal affiliate software for your needs.
You may be using PayPal as your online payment method as part of another shopping cart plugin like WooCommerce or Easy Digital Downloads. If this is the case, then the best way to track referrals is directly through your cart plugin. Here's a helpful guide on the Best WooCommerce Affiliate Plugins.
Comparing the Best PayPal Affiliate Software
We've set out our criteria for the best Paypal affiliate plugins, now let's take a look at the options in more detail.
We're going to be looking at:
AffiliateWP
EasyAffiliate
Post Affiliate Pro
Tapfiliate
LeadDyno
iDevAffiliate
Goaffpro
OSI Affiliate
Metricks
There's something for everyone on this list, and whether you're a large, established brand, or you're just getting started, you will be able to set up your own affiliate program for PayPal.
Let's take an in-depth look at the best PayPal affiliate software!
1. AffiliateWP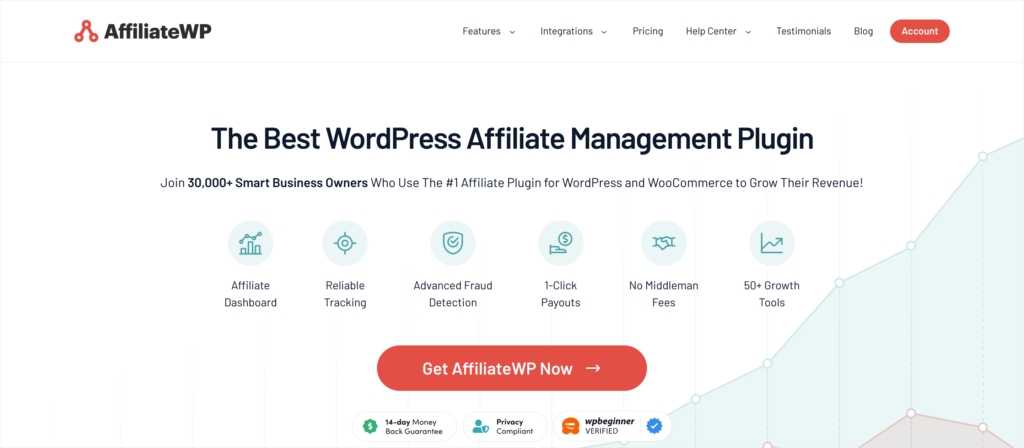 AffiliateWP is the best affiliate management plugin for WordPress.
If your website runs on WordPress (which more than 40% of the web does), then you're in luck, because AffiliateWP gives you everything you need to set up an affiliate program in under 10 minutes.
All you have to do is open up the setup wizard, and AffiliateWP's one-click integration for PayPal will take care of all the work for you. It really is that simple – there's no need for any coding or advanced technical knowledge, just a few clicks and you're ready to go.
Once everything is set up, you'll find AffiliateWP makes it incredibly easy to manage your affiliates without ever having to leave your WordPress admin, and it also offers innovative tools to boost conversion rates and power your business.
The best news is that AffiliateWP offers some of the most attractive pricing on this list, so it certainly represents unbeatable value for money if you're looking to set up a PayPal affiliate program.
Check out AffiliateWP's pricing!
2. EasyAffiliate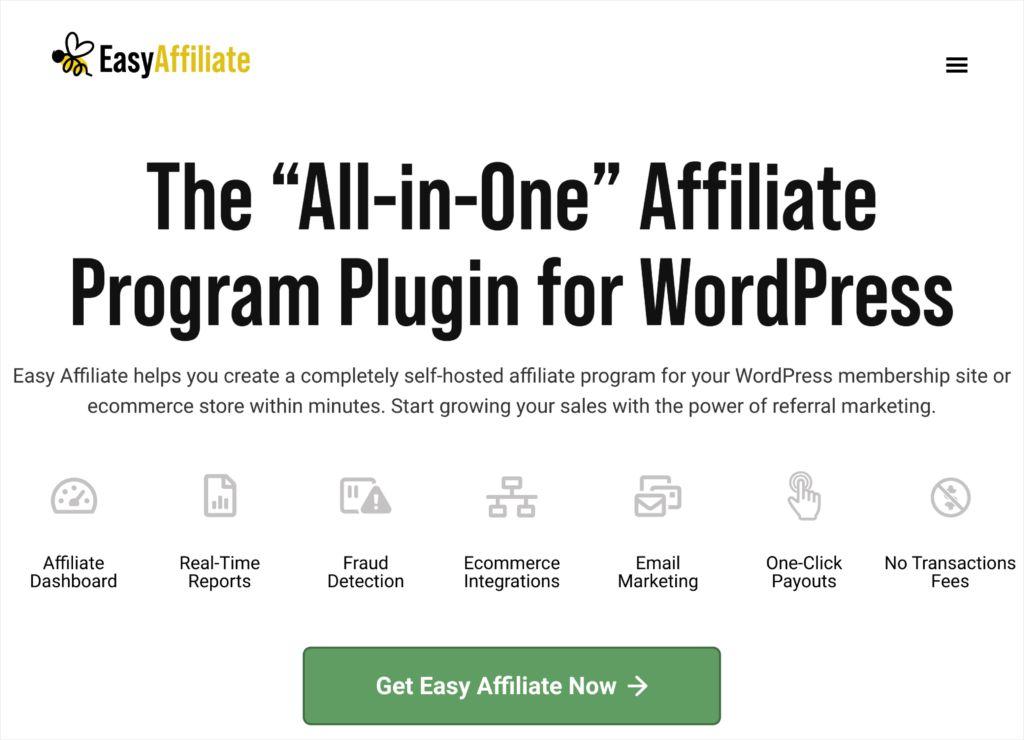 Next on our list of top PayPal affiliate plugins, we have EasyAffiliate.
This is another WordPress-specific plugin, but since so many websites run on WordPress, we found EasyAffiliate warranted second place on the list.
EasyAffiliate doesn't offer the advanced features and range of integrations AffiliateWP does, but it does have an effective, simple-to-use PayPal plugin. It's going to allow you to set up a simple affiliate program to track PayPal referrals and for some businesses, that's all that's needed.
If you're looking for quick, reliable PayPal affiliate software, then EasyAffiliate ticks all the boxes.
Check out EasyAffiliate's pricing!
3. Post Affiliate Pro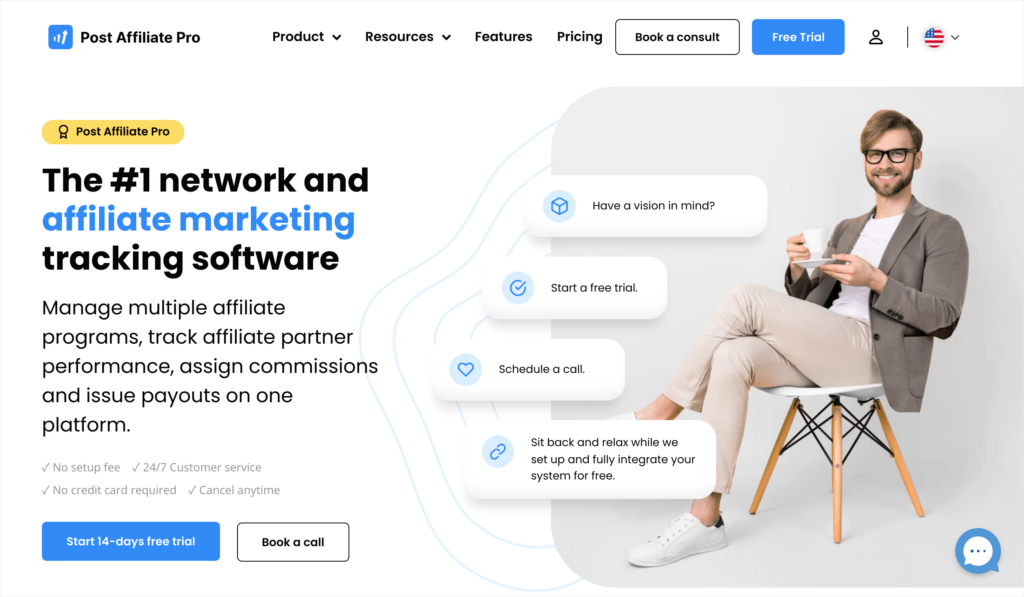 Post Affiliate Pro is an excellent PayPal affiliate software for businesses with a slightly larger budget.
It's compatible with all major platforms, including WordPress, Shopify, BigCommerce, and more and it has a whole host of helpful integrations. It's even got the option to build your own affiliate network, which could be useful for some businesses.
The drawback with Post Affiliate Pro is that it's pretty expensive in comparison to AffiliateWP and EasyAffiliate. You get plenty of bang for your buck with that money, but only if you have a very established brand and know your affiliate program is going to hit the ground running.
Still, it's worth checking out for larger businesses.
Check out Post Affiliate Pro's pricing!
4. Tapfiliate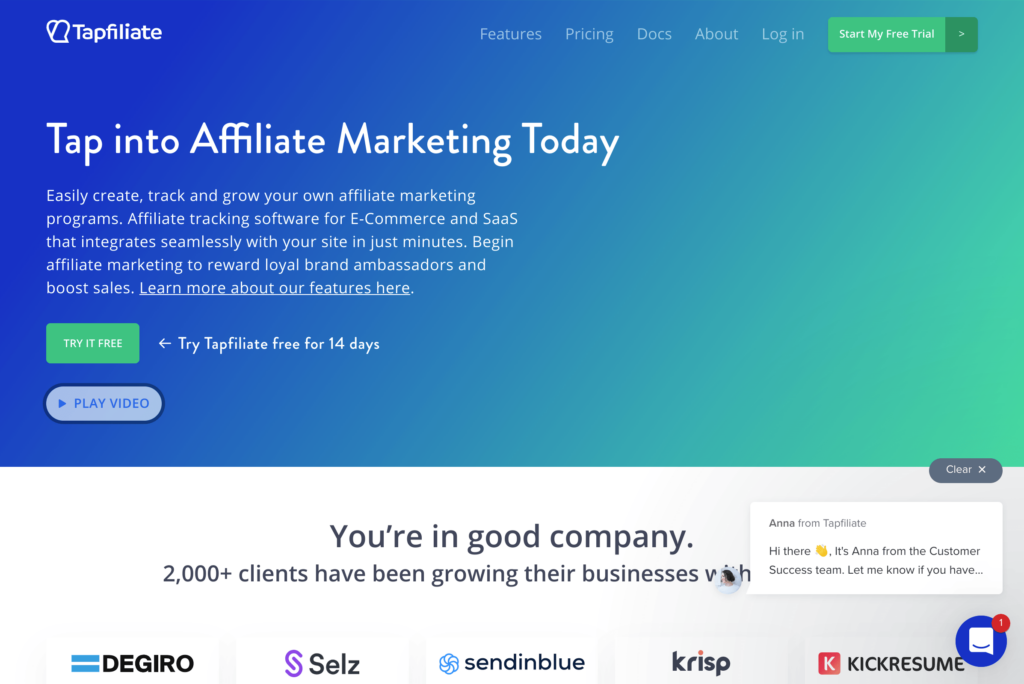 Tapfiliate is another large affiliate software provider that has an integration with PayPal. It's something of a middle ground between AffiliateWP and Post Affiliate Pro in terms of pricing and offers some solid features to help you grow your business.
A nice feature with Tapfiliate is access to the Admitad Partner Network, where you can find lots of active affiliates to recruit, however, you do need the Essential plan or higher for this.
Like AffiliateWP, it offers almost unlimited marketing automation options thanks to its Zapier addon, and it also gives you good ability to customize your affiliate commission rates.
Check out Tapfiliate's pricing!
5. LeadDyno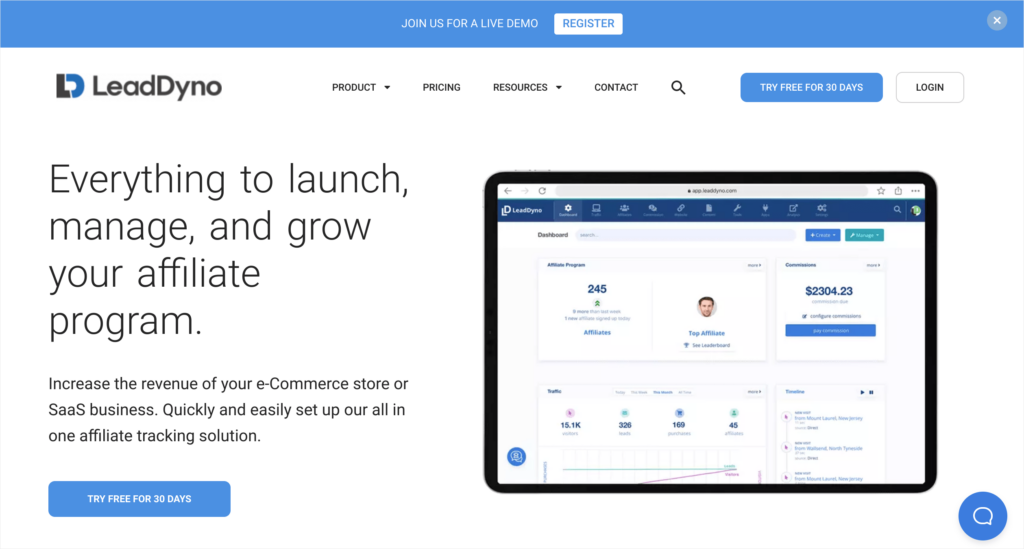 LeadDyno is another "all-rounder" that serves all platforms and has a ton of affiliate integrations.
One of those integrations is with PayPal, and it allows you to quickly set up your affiliate program and track referrals on your transactions. LeadDyno has some nice features such as multiple tracking options (links and coupon codes), email software integrations, advanced analytics, and adjustable commission structures, and it generally has everything you need.
With hassle-free setup, good performance tracking, and conversion-focused tools, LeadDyno is one of the best PayPal affiliate integrations.
6. iDevAffiliate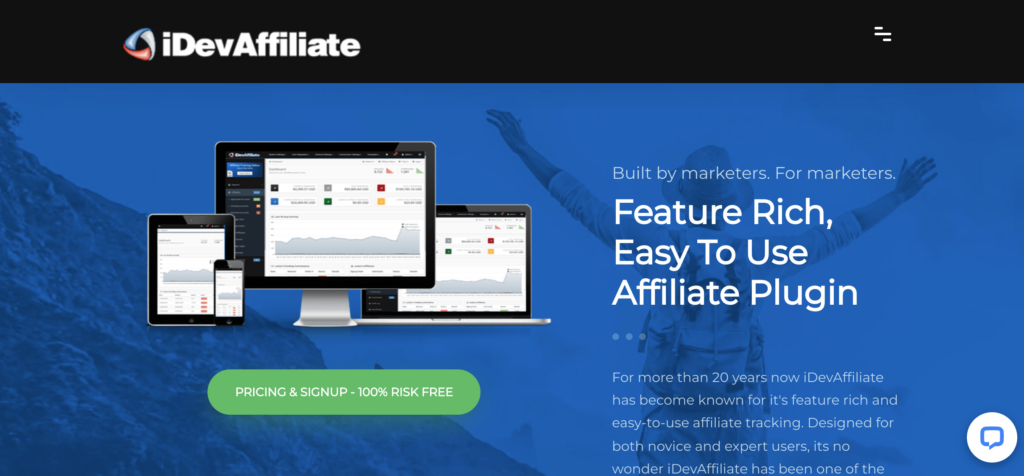 iDevAffiliate does a great job of helping you to get your PayPal affiliate program set up, and it has solid tools to help you increase referrals.
We particularly liked the built-in onboarding and comprehensive resources and found it had a good selection of features. The one drawback was that the interface is starting to look a little outdated, and it definitely fell behind some of the alternatives on this point.
Another thing to note with iDevAffiliate is that plans are limited by number of clicks, which can push up the price of your link tracking.
Check out iDevAffiliate's pricing!
7. Goaffpro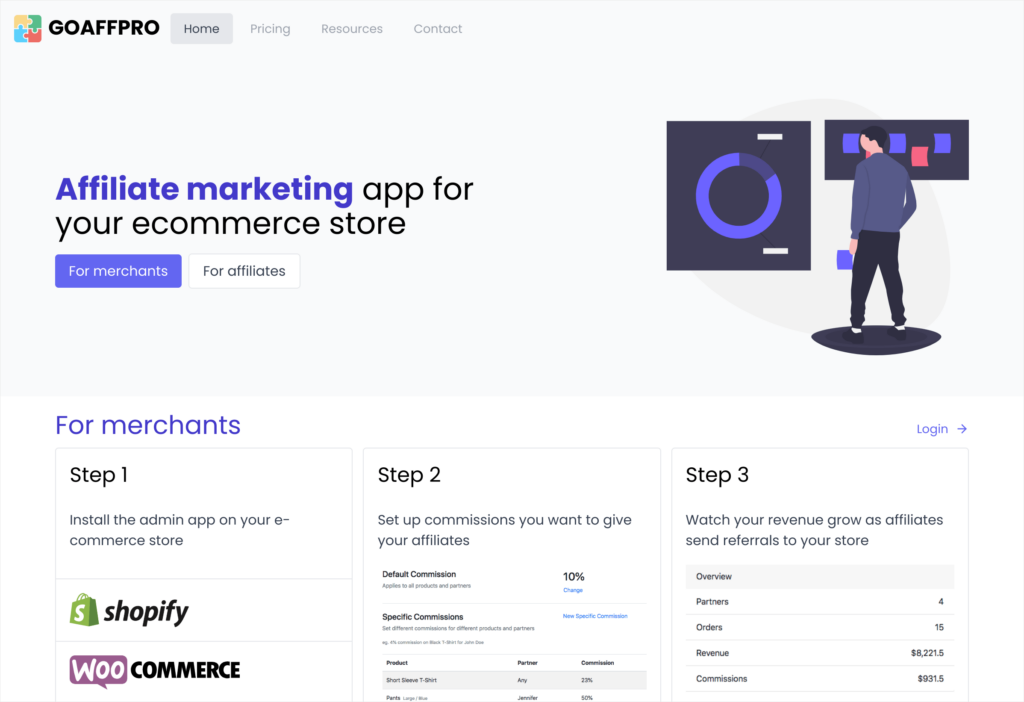 Goaffpro offers the cheapest way to set up an affiliate program for PayPal because it has a free plan, but as you might expect, there are limits to this.
With Goaffpro, you don't have a dedicated PayPal integration, but the system can connect through other methods if you speak to customer support.
The free plan is a good way to test out affiliate marketing, but if you're going to grow your business, you really need to look at upgrading to the Premium plan. You're sure to find that with the expanded features you'll increase your return on investment, so we'd always recommend going with the more advanced plan.
8. OSI Affiliate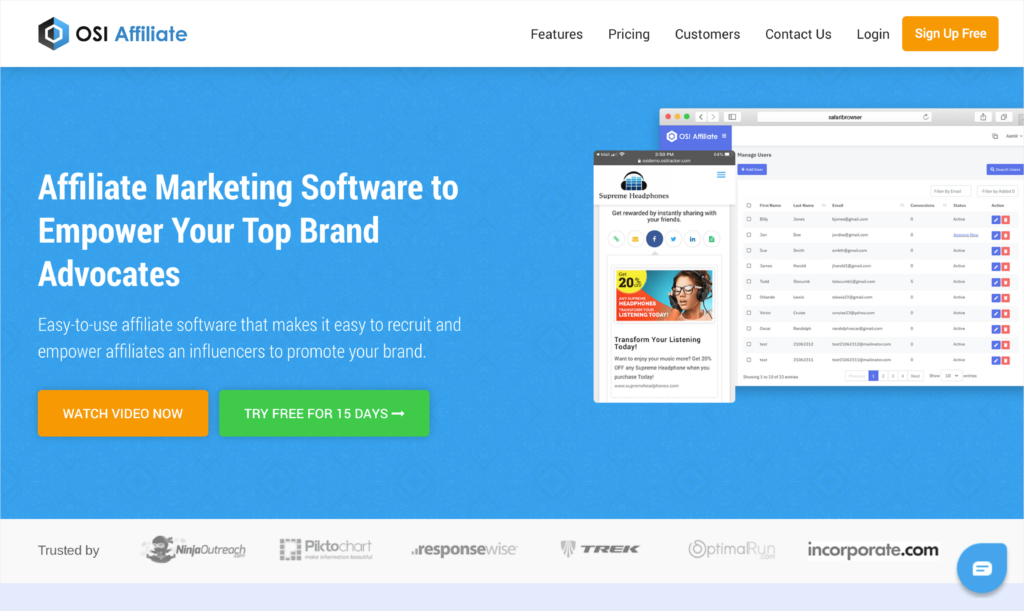 OSI Affiliate is a solid affiliate software with a focus on customer referrals.
It's got a dedicated PayPal integration as well as a smart setup wizard, social media sharing, an influencer directory, promo code tracking, and much more. These are all useful features to help you grow your affiliate marketing program and expand PayPal sales.
The pricing plans are limited by unique visitors, so again, this is something you'll have to be aware of as it can make OSI Affiliate a lot more expensive than a plugin like AffiliateWP that has no limits.
Check out OSI Affiliate's pricing!
9. Metricks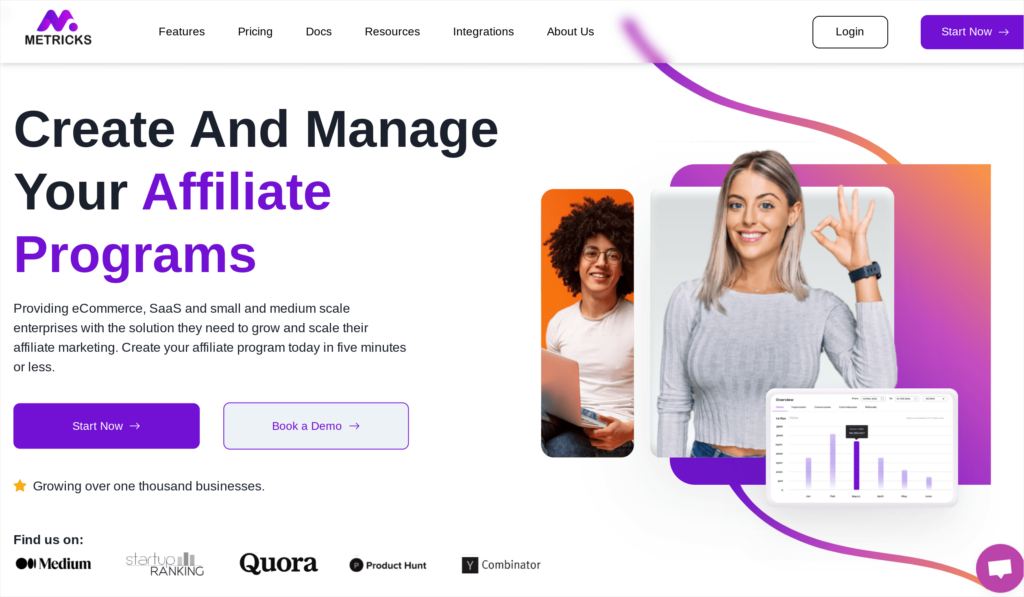 Metricks offers an easy-to-use PayPal integration and good affiliate tracking software to help power your business growth.
It's extremely easy to set up, has a clean user interface, and offers some innovative features like in-app messaging. We also liked the custom affiliate onboarding, custom themes, and direct social sharing, which help keep affiliates engaged with your program.
There are more affiliate software out there that integrate with PayPal like Payoneer and JVZoo, but we think we've highlighted the best options to help small business owners utilize affiliate marketing.
Which is the Best PayPal Affiliate Integration?
If your e-commerce store runs on WordPress then AffiliateWP is the best PayPal affiliate software.
Not only does it make it incredibly easy to set up your referral program but it's also got all the tools you need to attract, motivate, and empower affiliates (bloggers, influencers, SEO experts, and more). This allows you to quickly make a return on your investment and start expanding your affiliate marketing strategies.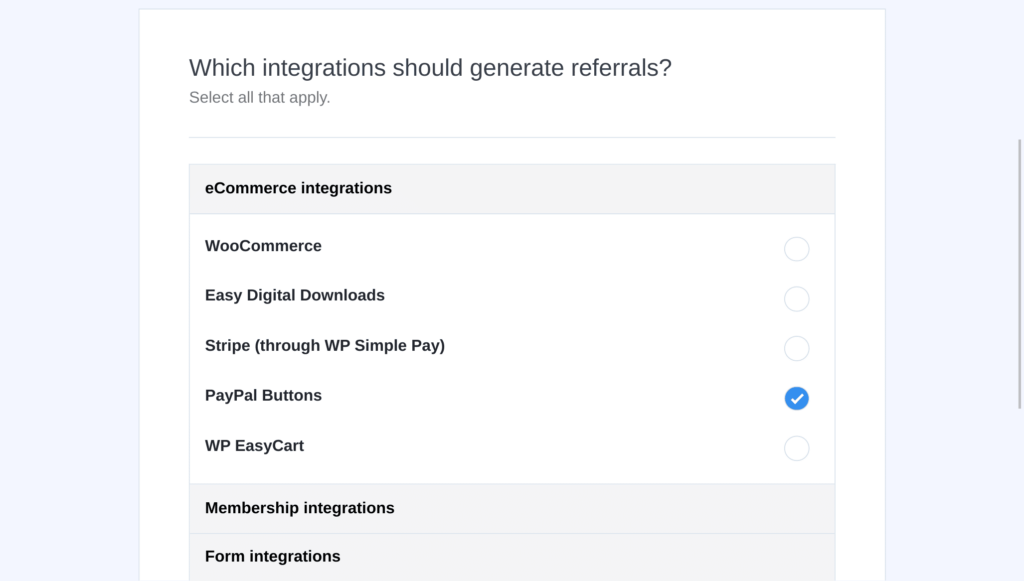 Here are some of the features that make AffiliateWP the best PayPal affiliate integration:
Perfectly integrated within your WordPress dashboard
Easy setup wizard
1-click PayPal integration
Advanced fraud protection
Real-time analytics
Customizable affiliate dashboards (+ API and hooks for complete customizability)
Integrated payouts service allows you to pay affiliates directly to their bank accounts or credit cards in multiple currencies (+ PayPal Payouts and Stripe payment options)
Advanced growth tools like Vanity Coupon Codes, Affiliate Landing Pages, recurring commissions and more…
Tons of helpful tutorials to help you get more out of your affiliate program
All of this is offered at an incredible price that makes AffiliateWP the must-have PayPal affiliate software.
Now Give Your Sales a Boost
Setting up PayPal affiliate software is a great way to boost sales and you've taken the first step. Now you want to leverage all the features we've talked about to make sure affiliates are bringing in the sales you desire.
To give you the perfect start to affiliate marketing, we've put together our very best tips to help you get started.
Now there's only one thing left to do.