How to Pay Your Affiliates Without Using Stripe (Guide)
Want to pay your affiliates without using Stripe on WordPress?
Paying your affiliates promptly and efficiently is crucial for maintaining trust and motivating them. But what if you're not keen on using Stripe? Don't worry. There are alternative methods that can be just as effective.
In this guide, we'll walk you through how to pay your affiliates without using Stripe, ensuring a seamless experience for you and your affiliates.
3 Ways to Pay Your Affiliates Without Using Stripe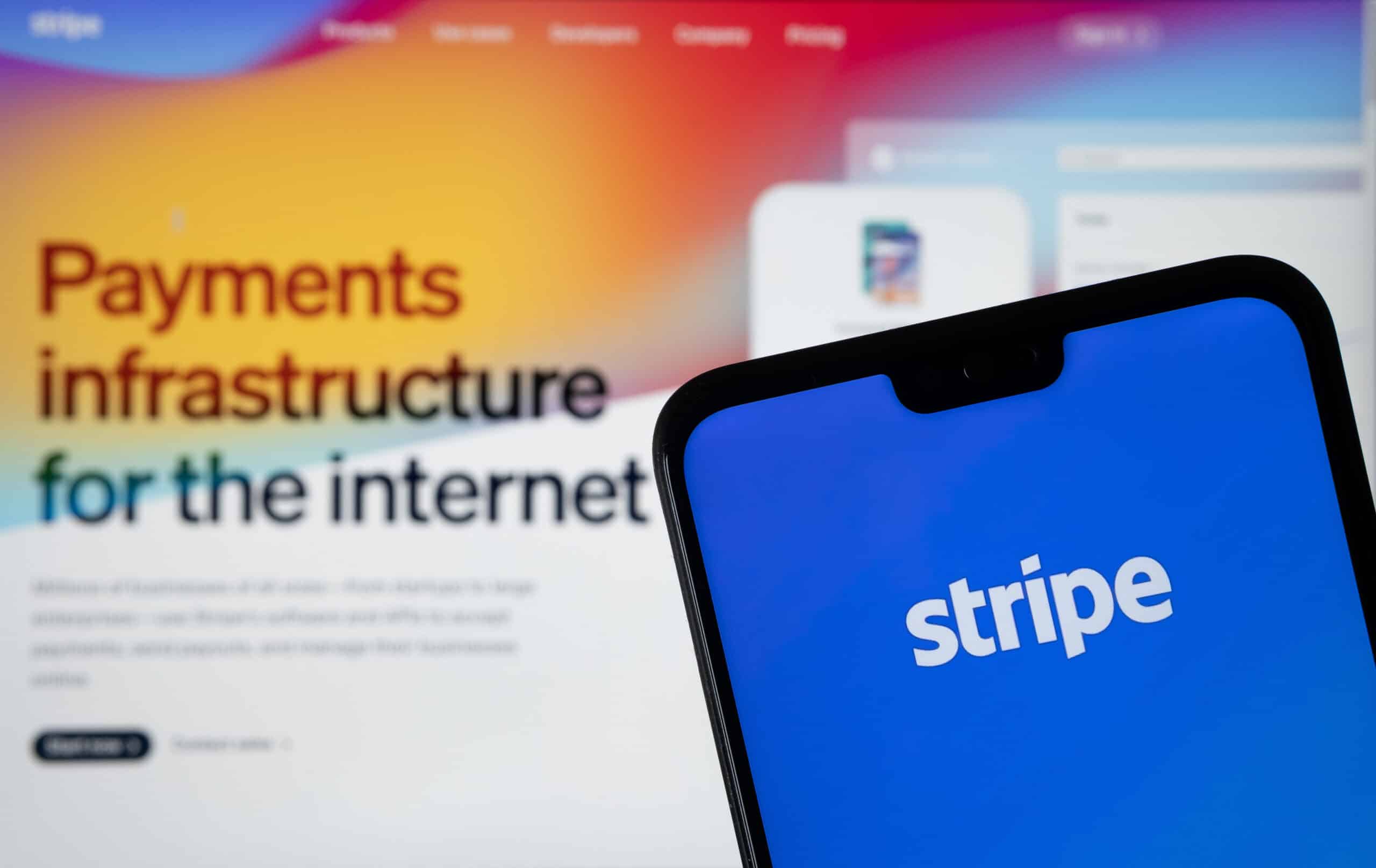 Affiliate marketing can be a powerful tool to drive sales and grow your online presence. But, like any business venture, it comes with its challenges, one of which is ensuring timely and hassle-free payments to your affiliates.
With Stripe being a common choice for many, you might wonder, "are there alternative ways to reward my affiliates?"
The answer is a resounding 'yes'.
If you don't want to pay your affiliates using Stripe, then don't worry. With AffiliateWP, you can easily pay your affiliates in multiple ways.
Here are three straightforward methods to pay your affiliates, without Stripe:
Method #1: Pay Your Affiliates Using PayPal
Firstly, make sure you have AffiliateWP installed on your WordPress site. The beauty of AffiliateWP is how seamlessly it integrates with PayPal. This integration simplifies the entire process of managing and paying your affiliates.
Once you select the plan that suits your requirements, downloading the plugin is just a few clicks away.
Once you've installed AffiliateWP, the next step is to add the PayPal Payouts add-on.
This add-on offers two payout methods: API Application (which we recommend due to its utilization of PayPal's latest REST API) and the older MassPay.
Navigate to AffiliateWP » Settings » PayPal Payouts to choose your preferred method. Do note, however, that payouts might not be active for all PayPal accounts. If you face issues, a chat with PayPal merchant support might be needed.
Post the API setup, you'll see a Pay Now option for all unpaid referrals. Simply click it to initiate payments. Remember, affiliates need a valid PayPal account linked to their email.
If not, PayPal sends them an invite. For bulk payments, you can either select multiple referrals and choose Pay Now or use the Pay Affiliates button to initiate a consolidated payment process.

Always ensure your PayPal has enough funds to cover all payments. Additionally, granting your PayPal account API access is mandatory to utilize PayPal Payouts with AffiliateWP.
And yes, while we've designed the system to be seamless, errors can occur. This could be due to insufficient permissions or incorrect API details. But worry not, for any hiccup, AffiliateWP will keep you notified.
Want to know how you can easily pay your affiliates using PayPal? Check out this guide.
Method #2: Pay Your Affiliates Using AffiliateWP's Payouts Service
For businesses seeking a seamless, time-efficient way to handle affiliate payments without the complications of Stripe, AffiliateWP's Integrated Payout Service is an invaluable tool.
This method stands out for its simplicity, reducing the steps involved in the payment process and ensuring your affiliates get paid promptly and efficiently.
Once, you've set up AffiliateWP and onboarded your affiliates, navigate to the AffiliateWP settings on your WordPress dashboard.
Here, you'll find an option to link your site with the Payouts Service. This connection is straightforward and guides you through each step.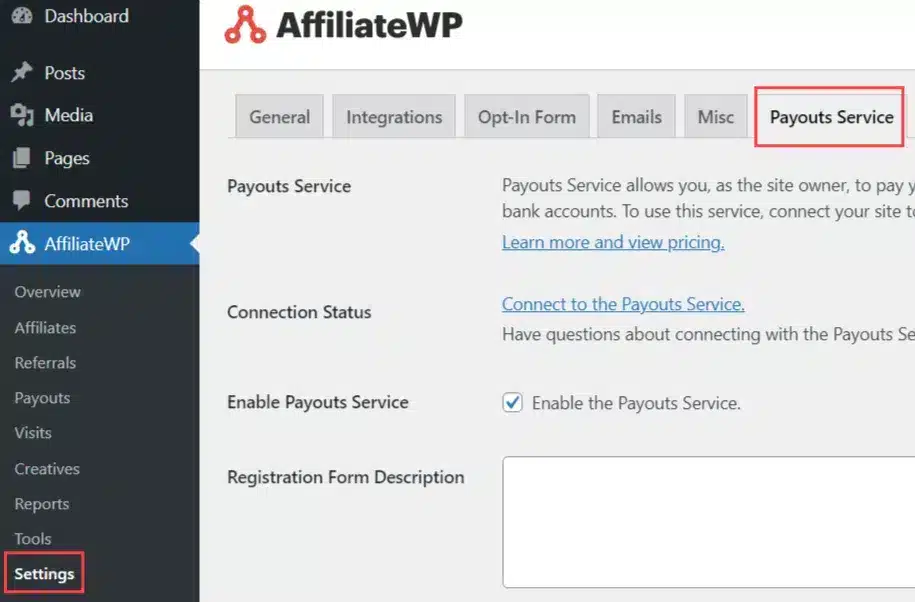 With your site linked, simply enable the Payouts Service. This activation prompts affiliates to input their payment details within their individual Affiliate Area, ensuring they're set up to receive funds.
It's essential that your affiliates register their payment details. They can quickly do this by logging into their account, where they'll find an intuitive registration form. Once they've input their bank or card details, they're all set.
And if they ever need to change their payment information, the system is designed to make this process as straightforward as possible.
Now, if you want to pay your affiliates, On your dashboard, go to AffiliateWP » Payouts » Pay Affiliates.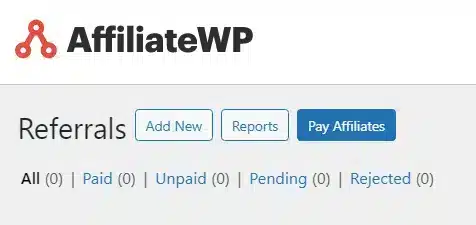 Whether you want to pay a specific affiliate, set a date range for referrals, or establish a minimum earning threshold, you have full control.
Ensure you select the Payouts Service as the payout method.
Before executing the payment, you can preview all details, ensuring accuracy. Once you're satisfied, simply submit the payout.
An invoice detailing the total payout and any associated fees is generated. Upon its settlement, the Payouts Service swings into action, ensuring funds reach your affiliates within 2-14 days.
With these steps completed, each affiliate is notified of their deposited earnings, wrapping up a smooth, efficient payment process.
Check out the complete step-by-step guide on automating your affiliate payouts using Payouts Service.
Method #3: Pay Your Affiliates via Bank Transfer
As businesses seek flexibility in payment methods, Bank Transfers emerge as a trustworthy and time-tested solution. Especially when you aim to sidestep third-party platforms like Stripe, direct bank transfers offer simplicity and directness.
If the methods involving PayPal and AffiliateWP's Payout Service don't align with your business model or if you're inclined towards a more hands-on approach, bank transfers are your answer.
Paying affiliates via bank transfers means you're handling the transactions personally, outside the domain of AffiliateWP. This method involves a straightforward procedure. You converse with your affiliates, informing them about the payment modality.
Following this, they'll provide you with their banking details, equipping you with all the necessary information to initiate the transfers.
If your bank supports mass payments, the process is even more streamlined. AffiliateWP plays a role here by allowing you to export a CSV payout file.
To generate your CSV payout file, head over to AffiliateWP » Referrals. There, you'll find a Pay Affiliates button, using which you can generate a CSV file of affiliates along with their respective totals. The resultant file will highlight email addresses, accumulated amounts, and the chosen currency for all affiliates with pending earnings.
This file, once uploaded to your bank's online portal, sets all Unpaid referrals to a Paid status. This feature is a timesaver, especially when dealing with multiple affiliates.
However, in cases where your bank doesn't offer mass payment options, you can easily process individual payments.
Even though the actual money transfer is happening outside AffiliateWP, it's crucial to maintain a record within the system.
After processing the bank transfers, you should manually mark the referrals as Paid on the AffiliateWP » Referrals page. This ensures clarity and avoids any confusion in the future.
FAQs: Pay Your Affiliates Without Using Stripe
Why Should I Consider Alternatives to Stripe for Affiliate Payouts?
While Stripe is a popular choice, it might not be available in all regions or may not cater to specific business needs. Exploring alternatives ensures a broader reach and flexibility in rewarding affiliates.
How Do I Track Affiliate Performances with AffiliateWP?
AffiliateWP offers a comprehensive dashboard for both managers and affiliates. It allows easy tracking of generated links, referrals, and overall performance.
Can I Switch Between Payment Methods Using AffiliateWP?
Definitely! AffiliateWP is flexible and lets you choose or switch between multiple payment options based on your convenience.
Start Paying Your Affiliates Seamlessly
Using AffiliateWP, paying your affiliates in WordPress has never been easier or more versatile.
Using AffiliateWP's payout methods means bypassing payment hassles and focusing on what truly matters: growing your affiliate program and expanding your brand's reach. You've journeyed with us through the setup and explored diverse payout methods. But remember, this is just the beginning.
To further enhance your affiliate management journey, consider diving into:
You're now armed with the knowledge to kickstart or revamp your affiliate program without relying on Stripe. So, why wait?