How to Increase Affiliate Sales for Your Affiliate Program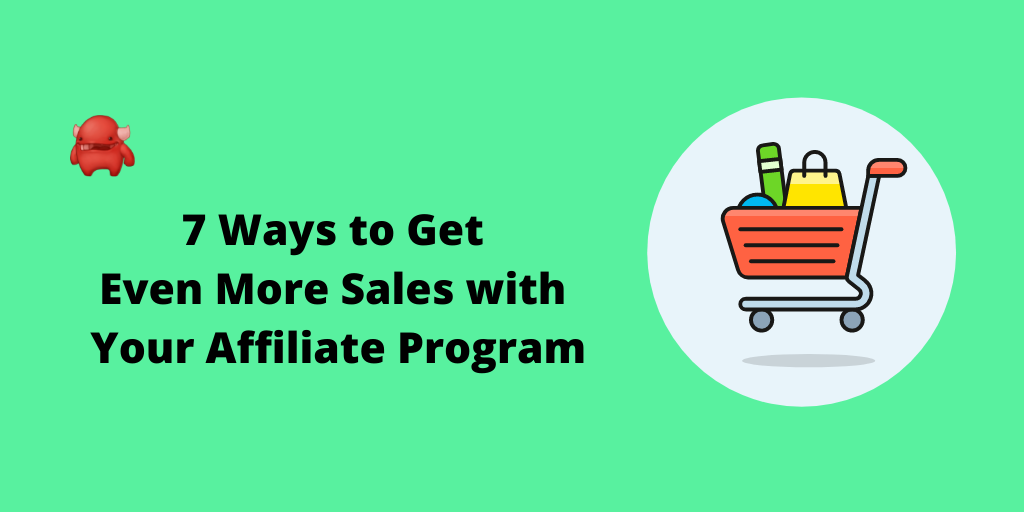 Looking for ways to increase affiliate sales?
We've got some awesome ideas to help turn your affiliate marketing program into a sales-generating machine.
Here's your expert guide on how to increase affiliate sales.
Taking Care of Small Details Can Seriously Increase Affiliate Sales
Affiliate marketing is an incredible strategy to grow your sales. It can have an almost immediate impact, and it's very low risk, making it a popular tactic for merchants.
If you're going to go to the trouble of setting up an affiliate marketing program though, you want to maximize its potential. You don't want a few sales here and there, you want a steady stream of affiliate sales that makes a big difference to your revenue.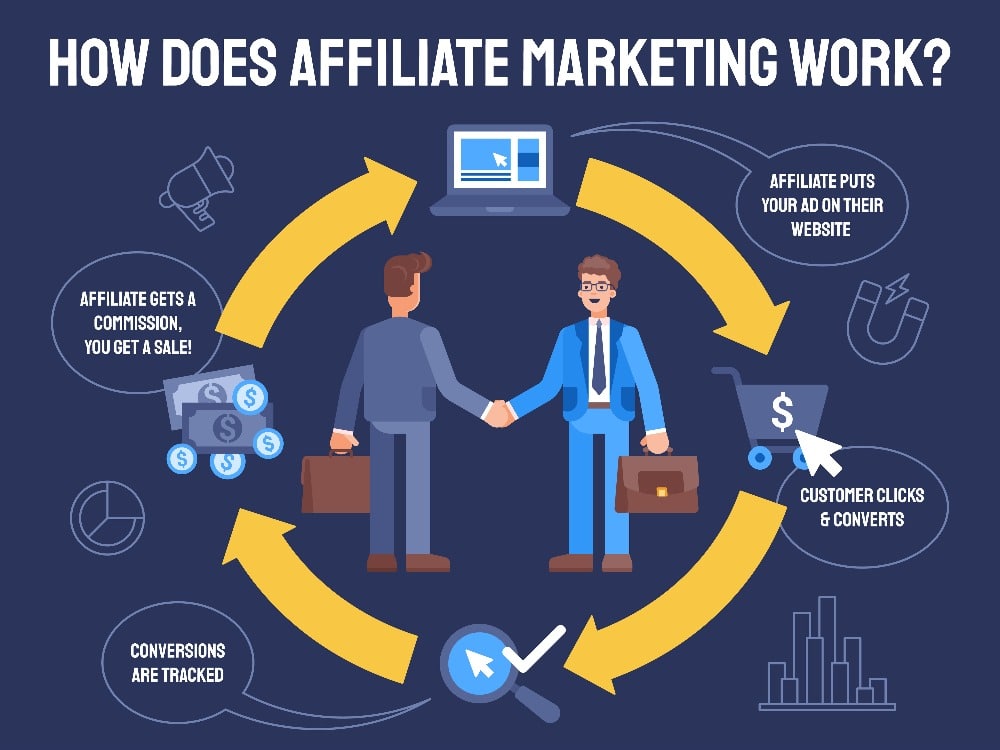 As with many things, if you want to maximize performance, the key is in the details.
By following these simple steps, you can gradually increase your conversion rate until you've transformed your sales. They're all tips you can start implementing today, and they're going to make your affiliate program much more attractive for potential affiliates.
So, let's take a look at how you can increase your affiliate sales.
9 Steps to Increase Affiliate Sales
Just imagine if you increased your affiliate sales by 10x this year, or perhaps even more. It's absolutely possible with affiliate marketing, but it does take a little bit of work.
By implementing these tips, you'll set up good processes that help your affiliate program run more efficiently which will ultimately lead to more sales.
Here's what we're going to look at:
Install the best affiliate software
Create a process for attracting top affiliates
Upgrade your creatives
Start an affiliate newsletter
Create tiered affiliate rates
Create a sense of competition
Embrace customizability
Level up your communication
Improve your conversion rate
Now let's look at these steps to increase affiliate sales in more detail.
1. Install the Best Affiliate Software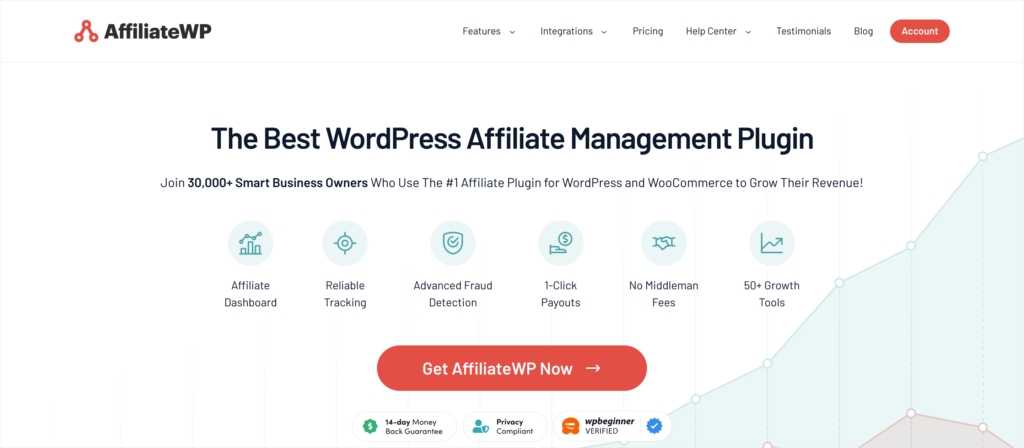 You probably use a whole host of marketing tools to help grow your sales, so you have to ask yourself the same question about your affiliate sales.
Does your affiliate software offer everything you need to make sales?
The best way to ensure you and your affiliates have all the tools you need is by installing AffiliateWP. AffiliateWP is the best affiliate management plugin for WordPress, and it's going to help transform your affiliate sales.
It's incredibly easy to set up, and it's got a huge focus on conversions. Its advanced growth tools such as Vanity Coupon Codes and Direct Link Tracking are proven affiliate sales boosters, and they can make an immediate impact on your business.
If you want more affiliate sales, then you need to start with the right software, and if your website runs on WordPress, that's AffiliateWP.
Check out AffiliateWP's pricing!
2. Attract Top Affiliates
A key element of any affiliate program is the affiliates themselves.
If you want to increase affiliate sales, then you've got to have a clear idea of the kind of affiliates who can help you do it. 80% of your affiliate sales tend to come from 20% of your affiliates, so it really is about focusing on quality.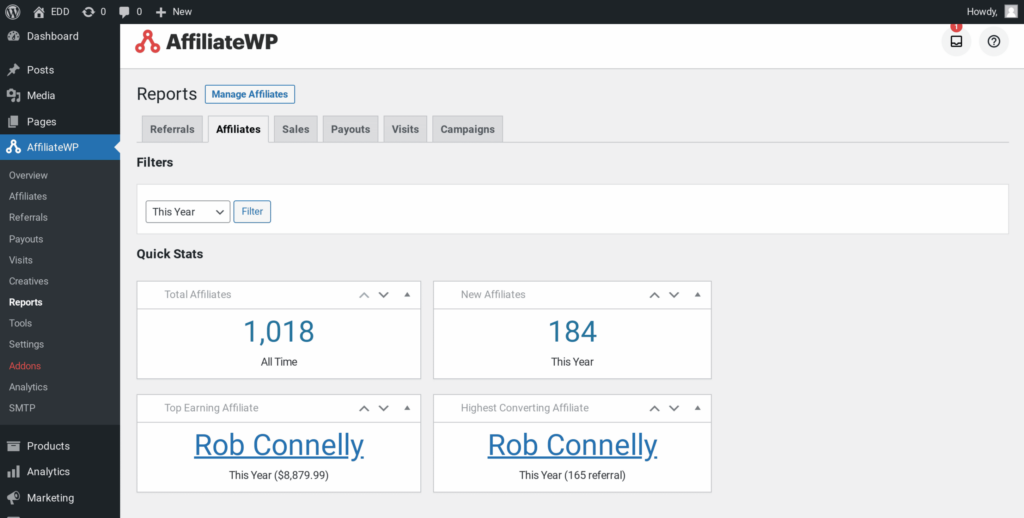 If you want to increase affiliate sales, then a great place to start is by checking out our guide on how to get affiliates. This is going to show you how to ensure you have a consistent stream of high-quality affiliates coming into your program.
3. Upgrade Your Creatives 
Getting online sales isn't easy. You've got some advantages over a physical store, but there are also some big disadvantages.
One of the biggest disadvantages is that people can't see your products with their own eyes and feel them in their hands. Even if you're selling services, you don't have the luxury of looking someone in the eye and shaking their hand.
To try and negate this, you rely on good creatives:
Images
Videos
Webinars
Podcasts
Infographics
These aren't just essential elements for making more sales, they're essential elements for marketing in general.
If your affiliates don't have access to high-quality creatives, then it's much more difficult to convince their audience that they should buy your products. Words only go so far, so one of the best ways to get more affiliate sales for your affiliate program is by upgrading your creatives.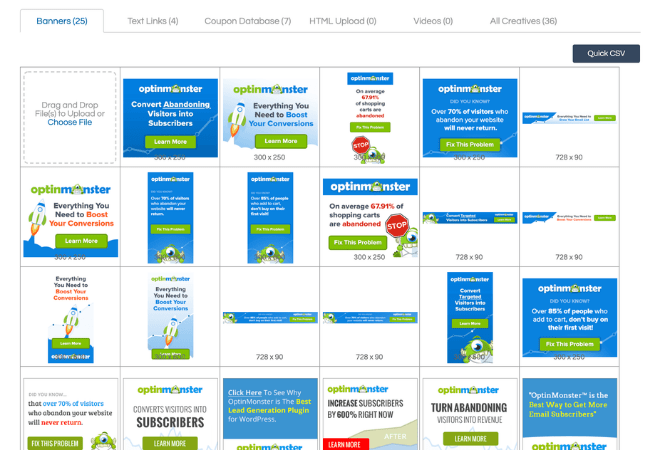 Luckily, when you run your affiliate program on AffiliateWP, you get unlimited storage for creatives!
4. Start an Affiliate Newsletter
When you were creating your online store, it's likely you spent time researching how to optimize your site, create engaging content, and maximize your traffic.
When it comes to selling your products, there's no better expert than you, right?
If you're good at what you do, then this is absolutely true: you're the expert.
So, when your affiliates are looking for ways to make more referrals, the chances are you've got some great insights to share. Either you can put documents together and put them in your affiliate portal, or you can create an engaging affiliate newsletter that gives your affiliates regular tips and advice.
Your newsletter can easily be automated, so once you've put a series together, there's no additional work to do.
Knowledge and understanding are key to making sales, so sharing your hard-earned insights can help you get more sales for your affiliate program.
5. Create Tiered Affiliate Rates
Incentives form the basis of affiliate marketing. People send you website visitors (and hopefully sales) in return for a commission on any sale, it's as simple as that!
There is, however, a lot of scope to be innovative with those incentives. With the right affiliate marketing software, you can tailor your incentives to specifically match your affiliates' needs.
For instance, you might:
You'll find all of these options are possible with AffiliateWP's pro and free add-ons.
That's not it though!
You can also reward commitment and success by creating tiered affiliate rates. For example:
First 25 sales: 20% commission
Sales 26-50: 22% commission
Sales 51-100: 25% commission
Sales 100+: 28% commission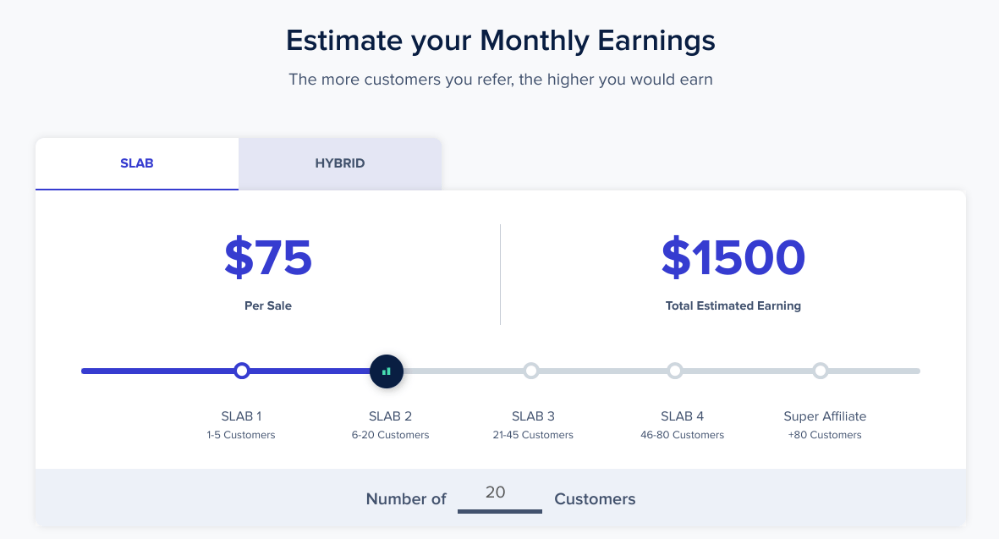 This is a huge incentive for your affiliates to get more sales for your affiliate program. The more your affiliates sell, the more they win, and in turn, the more you win!
6. Get Your Affiliate's Competitive Juices Going
Affiliate marketers love getting sales and watching the money come in.
You'll also find that many of them are competitive beings!
It's the same as with salespeople, they all want to be top dog, and the extra competition pushes them on to bigger and better things. One of the ways you can tap into this is with affiliate leaderboards.
Our free leaderboard add-on allows you to show live leaderboards on any WordPress page, ranking your affiliates by number of sales, total earnings, and number of visits. Not only is this a great way to motivate your affiliates to get more sales for your affiliate program, but it's also a good recruiting tool.
When people come to your affiliate program landing page and see how well your top affiliates are doing, they've got a good incentive to sign up and get in on the action.
7. Embrace Customizability 
Every affiliate is unique. They'll have slightly different marketing methods, different branding, and different expectations from your affiliate program. With AffiliateWP you can meet these expectations thanks to our customizable affiliate portals.
One way you can help them get the most out of your program is by embracing customizability.
Again, this comes down to having the right affiliate software, and AffiliateWP is pretty hard to beat for this. We make it simple for you to tailor your affiliate program to meet your affiliates' needs.
For example, one of the challenges affiliates face is growing their own brand while passing traffic on to you to make the sale. Little things like vanity coupon codes allow affiliates to build their brand while growing your sales.

This enables affiliates to choose their own affiliate coupon codes, for instance, at AffiliateWP, we might recommend you use OptinMonster. Instead of simply giving you a coupon code, we can give you a custom coupon code, such as "OptinMonsterIsBetterWithAffiliateWP."
We're building our brand while facilitating sales for OptinMonster; it's a win-win.
8. Level Up Your Communication 
No matter how experienced you are as an affiliate marketer, it's always exciting to see sales coming in. That excitement is a brilliant tool to keep your affiliates engaged and get more sales for your affiliate program.
The easiest way to let affiliates know they've made a sale is through push notifications!
Once the referral is made, affiliates get a discreet pop-up on their phone or tablet, informing them of the sale. This provides instant motivation every time the affiliate makes a sale.
Of course, this option isn't for everyone, but for affiliates who like to know exactly what's going on with their business, it's a popular feature. It keeps affiliates in the loop and helps you to keep engagement high.
9. Improve Your Conversion Rate
This seems like it's too obvious to include in the article but it's not!
It's easy to get caught up in what your affiliates are doing and the little details of your program, overlooking the most important part. Your website needs to be set up to make sales; if its conversion rate is low, then it's going to be hard to get more sales for your affiliate program (here are some tips to help fix this).
Affiliate marketing isn't a magic wand that can fix your sales. It's a marketing option that can quickly increase your reach and allow you to engage with your target audience.
The selling part still comes down to you, so make sure you're split-testing your landing pages, optimizing your checkout process, and creating more touchpoints with things like abandoned cart emails. 
Sometimes what's holding you back from making more affiliate sales isn't your affiliate program, so make sure you're testing every element of the process.
Now Make Affiliate Payouts Easy
Everyone wants to increase affiliate sales, but your affiliate program also needs to be easy to manage.
It's no good if you're making tons of affiliate sales but don't have the tools to keep track of affiliate commissions. You need something that makes affiliate payouts effortless, and AffiliateWP has the perfect solution.
The Integrated Payouts Service means you can pay affiliates directly to their bank accounts without ever leaving your WordPress admin. It syncs perfectly with your AffiliateWP analytics and means you spend less time managing your affiliate program.
If you want to keep top affiliates in your program, then you need to make sure you're paying them on time, and the Integrated Payouts Service can ensure this.
The Key to Increasing Affiliate Sales
To increase sales you've got to make sure you have the right software and processes in place.
Start by looking at your affiliate marketing software and ask yourself if you have the right base to work from. You can then begin to optimize your processes and start putting in place strategies to increase affiliate sales.
And we've got even more resources to help you do just this:
Now there's only one thing left to do.