How to Create an Affiliate Program With Stripe (Guide)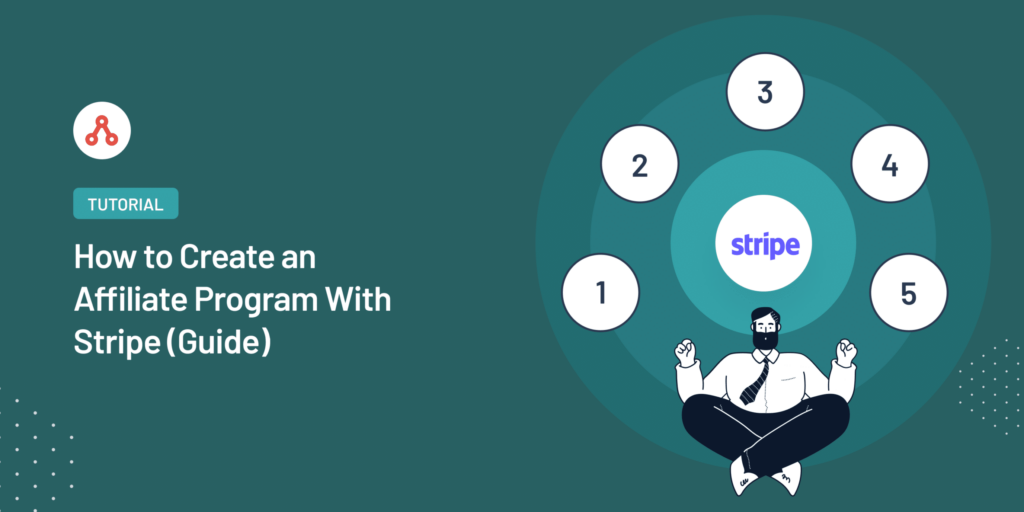 Do you want to create an affiliate program using Stripe?
Integrating an affiliate program with Stripe in WordPress can be the perfect solution for businesses looking to streamline their payment processing and simplify affiliate commission tracking.
In this guide, we'll provide step-by-step instructions to ensure a seamless integration that can help you take your business to new heights.
Why Create an Affiliate Program with Stripe?
Growing your business requires smart strategies beyond traditional marketing in the digital age.
One such approach is affiliate marketing, which has proven to be effective for driving sales and expanding your brand's reach.
By integrating an affiliate program with Stripe, you can incentivize your affiliates with a referral commission, encouraging them to refer your business even more.
Now, let's dive into how to start your affiliate program with Stripe.
Here's How to Create an Affiliate Program With Stripe
Like the image below, you can efficiently start your affiliate program for Stripe. You only need the best tools in the market: WP SimplePay and AffiliateWP.
These powerful plugins will help you create affiliate-friendly payment forms, manage affiliates, and track referrals, ensuring a successful and profitable affiliate program.
So, let's get started.
Step 1: Install and Set Up AffiliateWP
To begin creating your affiliate program with Stripe, first, install the AffiliateWP plugin on your WordPress site.
Once you've purchased the plugin, download it from your email receipt or AffiliateWP account.
Then, log in to your WordPress admin panel and navigate to Plugins > Add New. Click on Upload Plugin and select the downloaded AffiliateWP plugin file. After uploading the plugin, click on Install Now, and then Activate Plugin.
Upon activation, you'll be directed to the AffiliateWP setup wizard. Enter your license key, which can be found in your AffiliateWP account, and proceed to the next step.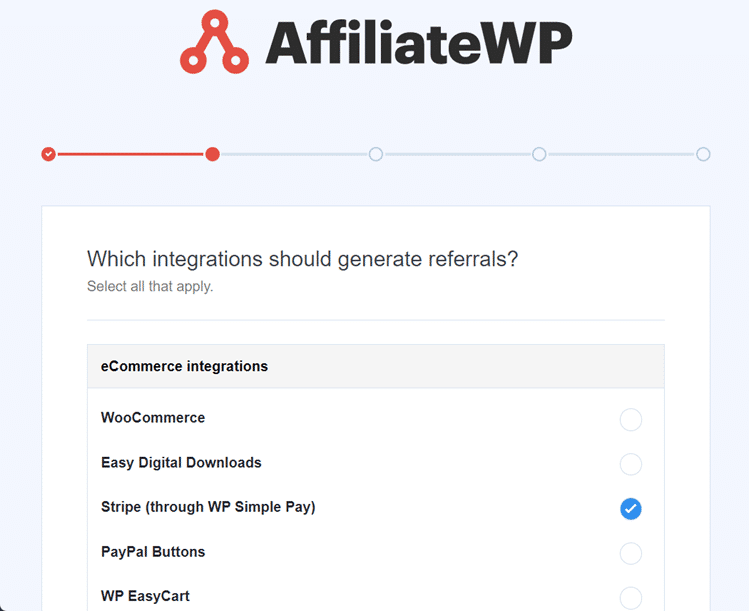 The wizard will guide you through configuring your affiliate program settings, such as choosing an integration method, setting up the referral rate and currency, and customizing the referral link structure.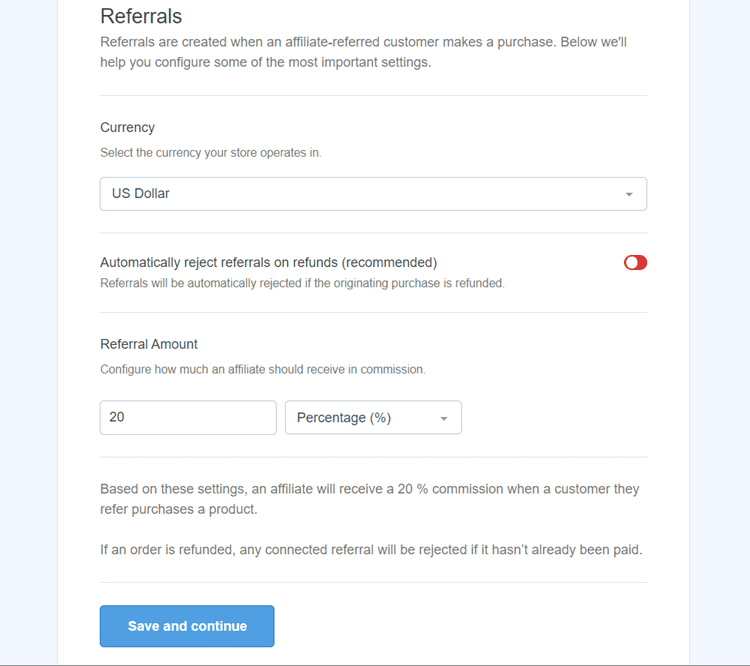 Make sure to select Stripe as the integration method.
Step 2: Install and Configure WP SimplePay Plugin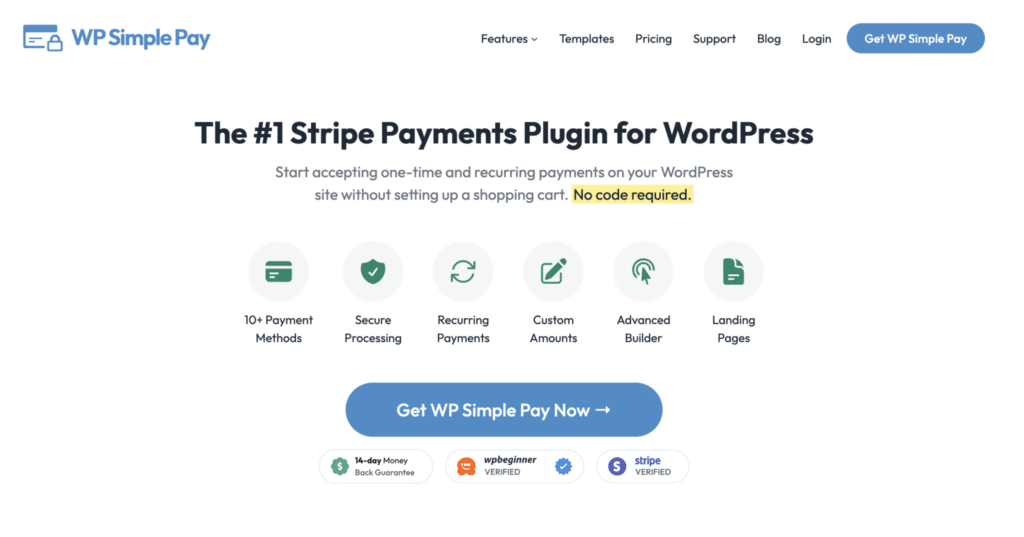 Next, install the WP SimplePay plugin to create affiliate-friendly Stripe payment forms.
Download the plugin from the WP SimplePay account and, in your WordPress admin panel, navigate to Plugins > Add New, click on Upload Plugin, and select the downloaded WP SimplePay plugin file.
Install and activate the plugin.
After activation, you'll be directed to the setup wizard for WP SimplePay.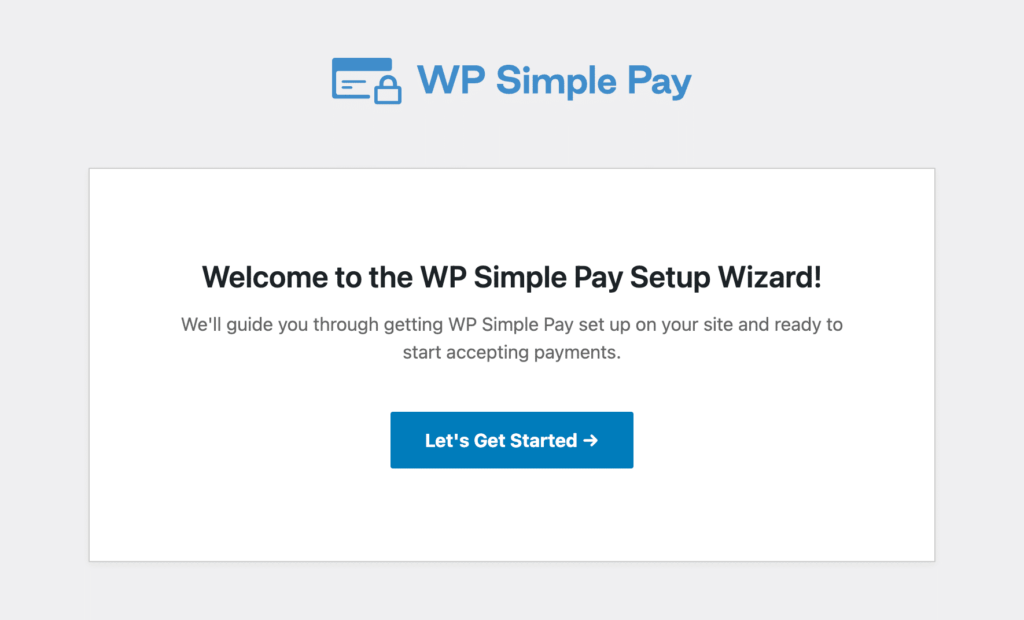 This wizard will connect your Stripe account with your WordPress site. Once connected, create an affiliate-friendly payment form using the plugin settings.
Customize the form according to your needs, making sure it's set up to accept payments and track affiliate referrals.
Step 3: Enable Stripe Integration in AffiliateWP
With AffiliateWP and WP SimplePay installed, navigate to AffiliateWP > Settings > Integration in your WordPress dashboard.
Locate the Stripe option and check the box to enable integration between AffiliateWP and Stripe.
This will allow AffiliateWP to track referrals and attribute commissions for payments made through Stripe.
Step 4: Customize and Manage the Affiliate Area
AffiliateWP automatically creates an Affiliate Area page on your website. This is where potential affiliates can register for your program and access their affiliate dashboard.
Customize the page design and layout to match your branding, and ensure the registration form is visible and accessible.
In your WordPress dashboard, navigate to AffiliateWP > Affiliates to manage affiliate registrations.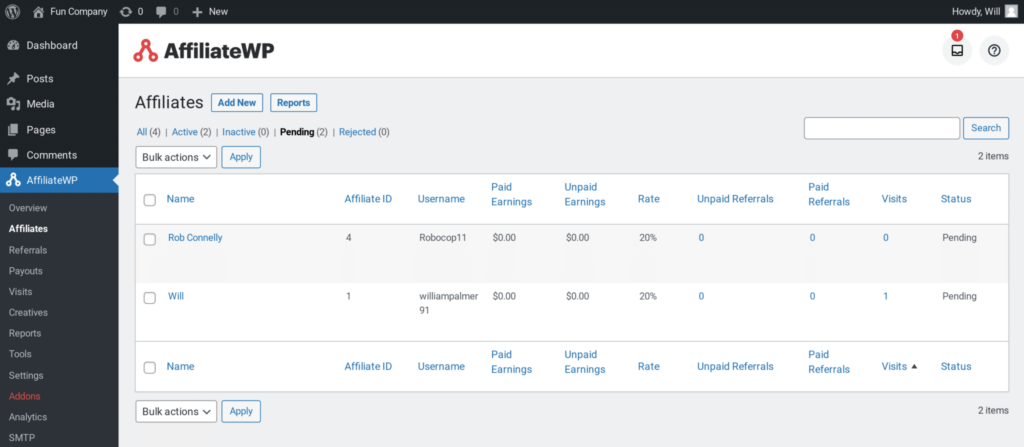 You can approve or reject new affiliate applications and monitor the performance of your existing affiliates.
Provide affiliates with marketing materials and support to help them promote your products or services effectively.
Step 5: Track Affiliate Performance and Process Payouts
With AffiliateWP and Stripe integration, you can now monitor the performance of your affiliates and track their earnings.
From your WordPress dashboard, navigate to AffiliateWP > Referrals to view detailed information about each referral, such as the referral amount, date, and status.
In the AffiliateWP > Payouts section, you can process payouts for your affiliates.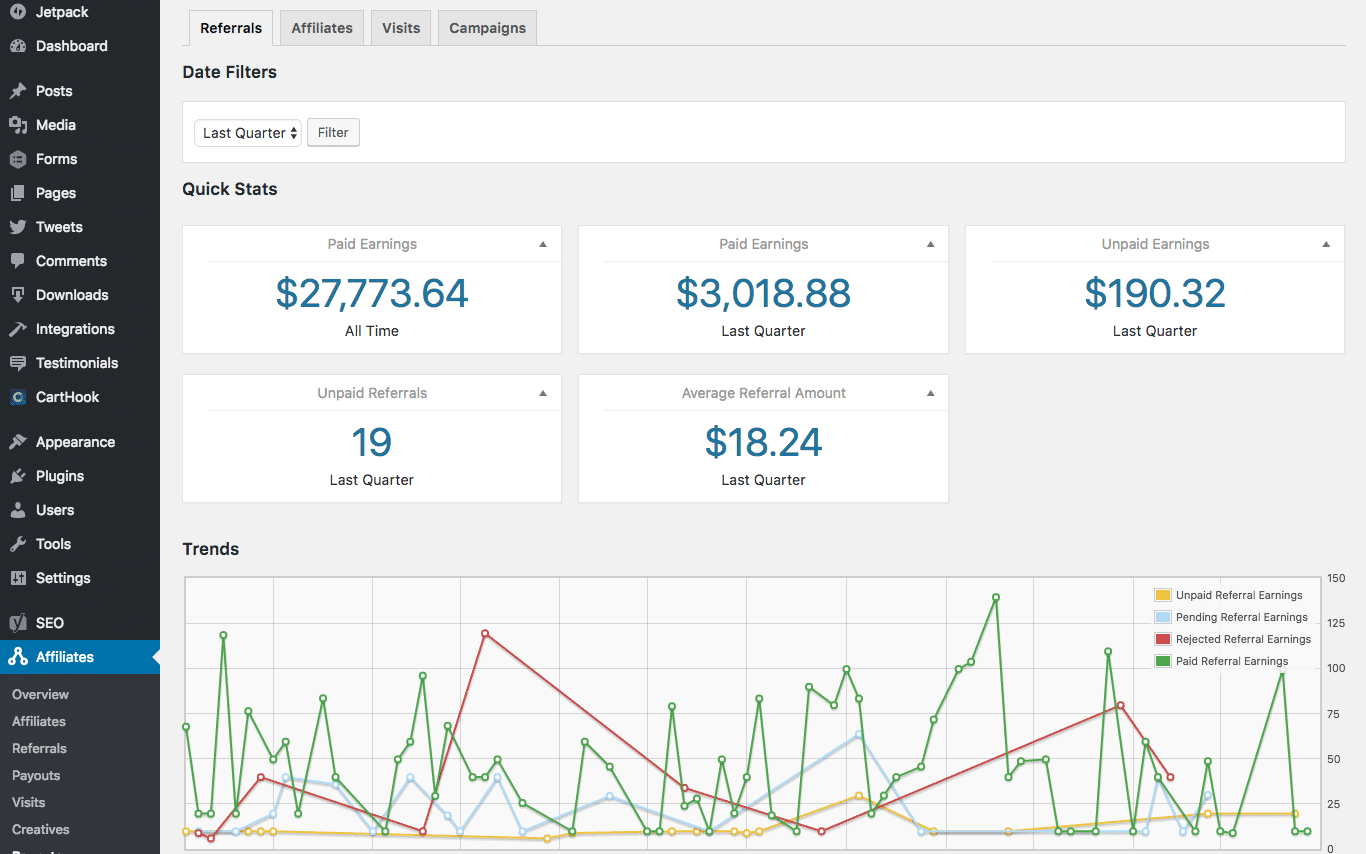 Depending on your payout settings, you can either pay affiliates manually or set up payouts through Stripe.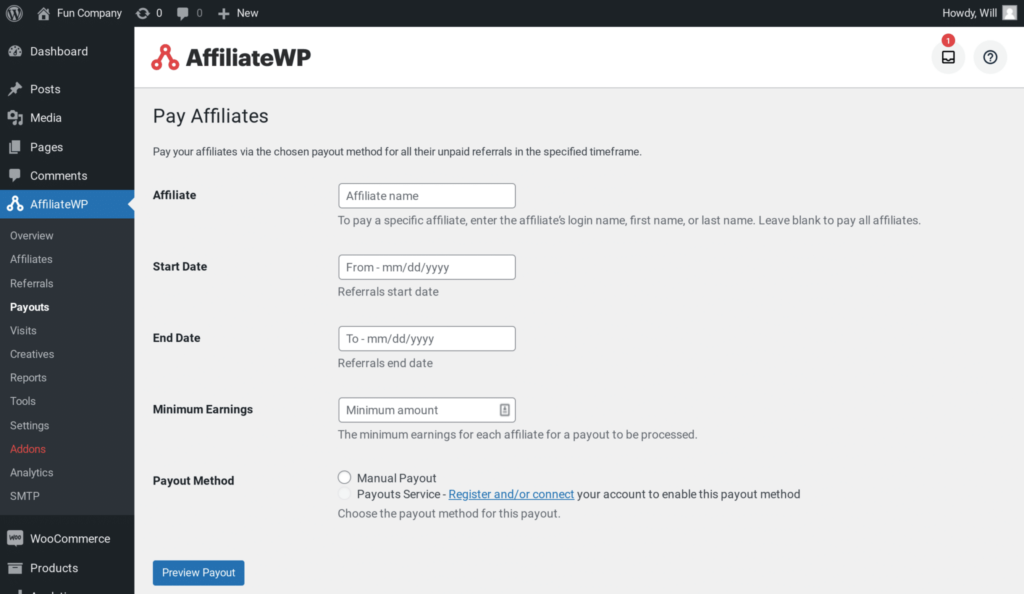 Make sure to communicate your payout schedule and terms with your affiliates, so they know when and how they'll receive their commissions.
FAQ: Creating an Affiliate Program With Stripe
Can I Use Stripe for My Affiliate Program Even if I'm Not Using Woo Commerce or Easy Digital Downloads?
Yes, you can. By using WP SimplePay and AffiliateWP plugins, you can integrate Stripe with your affiliate program, regardless of whether you're using WooCommerce or Easy Digital Downloads.
Are There Any Transaction Fees Associated with Stripe for My Affiliate Program?
Stripe charges a standard transaction fee for processing payments, but there are no additional fees associated with using Stripe for your affiliate program.
Can I Offer Recurring Commissions to My Affiliates for Subscription Payments?
Yes, with the Recurring Referrals addon in AffiliateWP, you can set up recurring commissions for your affiliates, incentivizing them to send long-term customers to your business.
Growing Your Stripe Affiliate Program
Now that you know how to create an affiliate program with Stripe, the next step is to grow and manage it effectively.
We have additional resources to help you achieve success:
With these resources and the power of AffiliateWP, you're well on your way to creating and growing a successful Stripe affiliate program.
Get started with AffiliateWP today and watch your business thrive!