How to Automate Affiliate Payouts in WordPress (Step-by-Step)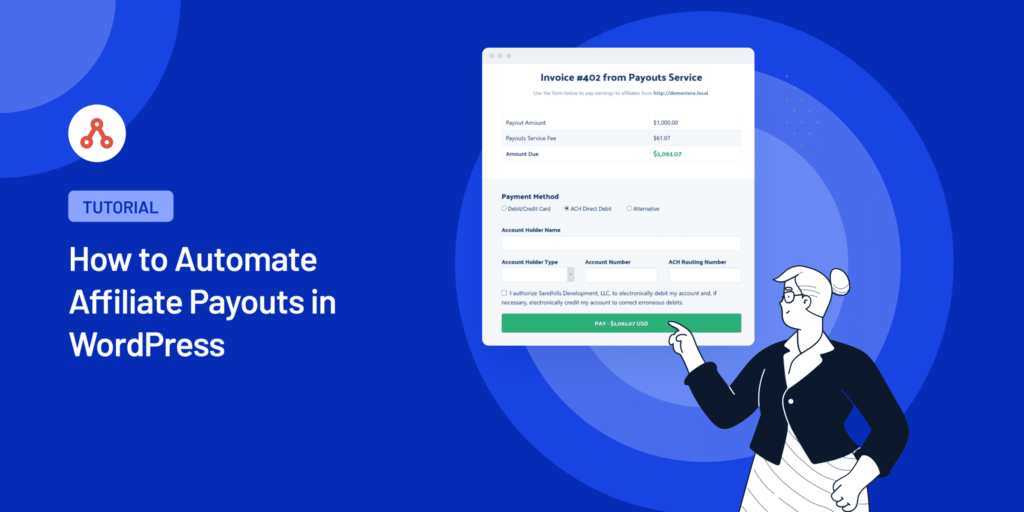 Want to automate affiliate payouts in your affiliate program?
Managing an affiliate program can be a demanding task, especially when it comes to manually paying each affiliate.
In this article, we'll show you how you can effortlessly automate affiliate payouts and save a lot of time.
Why Automate Your Affiliate Payouts in WordPress?
Automation of affiliate payouts is a crucial step in streamlining your affiliate marketing program, ensuring that your affiliates are consistently and accurately paid.
It offers numerous benefits, not only for the program manager but also for the affiliates themselves.
With manual payout methods, program managers need to spend considerable time tracking, calculating, and disbursing payments to affiliates.
This can be labor-intensive, especially for businesses with large affiliate networks. Automation simplifies this process by consolidating payment data and enabling program managers to disburse funds quickly and efficiently, ultimately saving time and resources.
Furthermore, automating affiliate payouts also enhances transparency and trust between affiliates and the program.
Affiliates are more likely to promote your products or services if they have confidence in the payment system and know that they will be compensated fairly for their efforts.
This is the reason why automating your payments in your affiliate program is important, and by leveraging simple tools to simplify and improve the payout process, you can focus on growing your business and achieving success in your affiliate marketing efforts.
Steps to Automate Your Affiliate Payouts in WordPress
In order to automate the payments for your affiliates, you just need AffiliateWP.
It's the best affiliate plugin for WordPress and comes with some super cool features that will not only help you with automating your affiliate payouts but with automating your whole affiliate program.
So, here's how you can automate your affiliate payouts in WordPress:
Step 1: Install AffiliateWP
To begin automating affiliate payouts in WordPress, you first need to install the AffiliateWP plugin.
AffiliateWP is known as the best WordPress affiliate management plugin, offering excellent growth tools and saving time when paying affiliates.
It enables you to make affiliate payouts through your preferred payment method.
Visit the AffiliateWP pricing page and choose a suitable plan that fits your needs. After purchasing the plugin, download and install it on your WordPress website by going to the Plugins tab in your WordPress dashboard.
If you need help with this step, follow our step-by-step guide on how to install AffiliateWP in WordPress.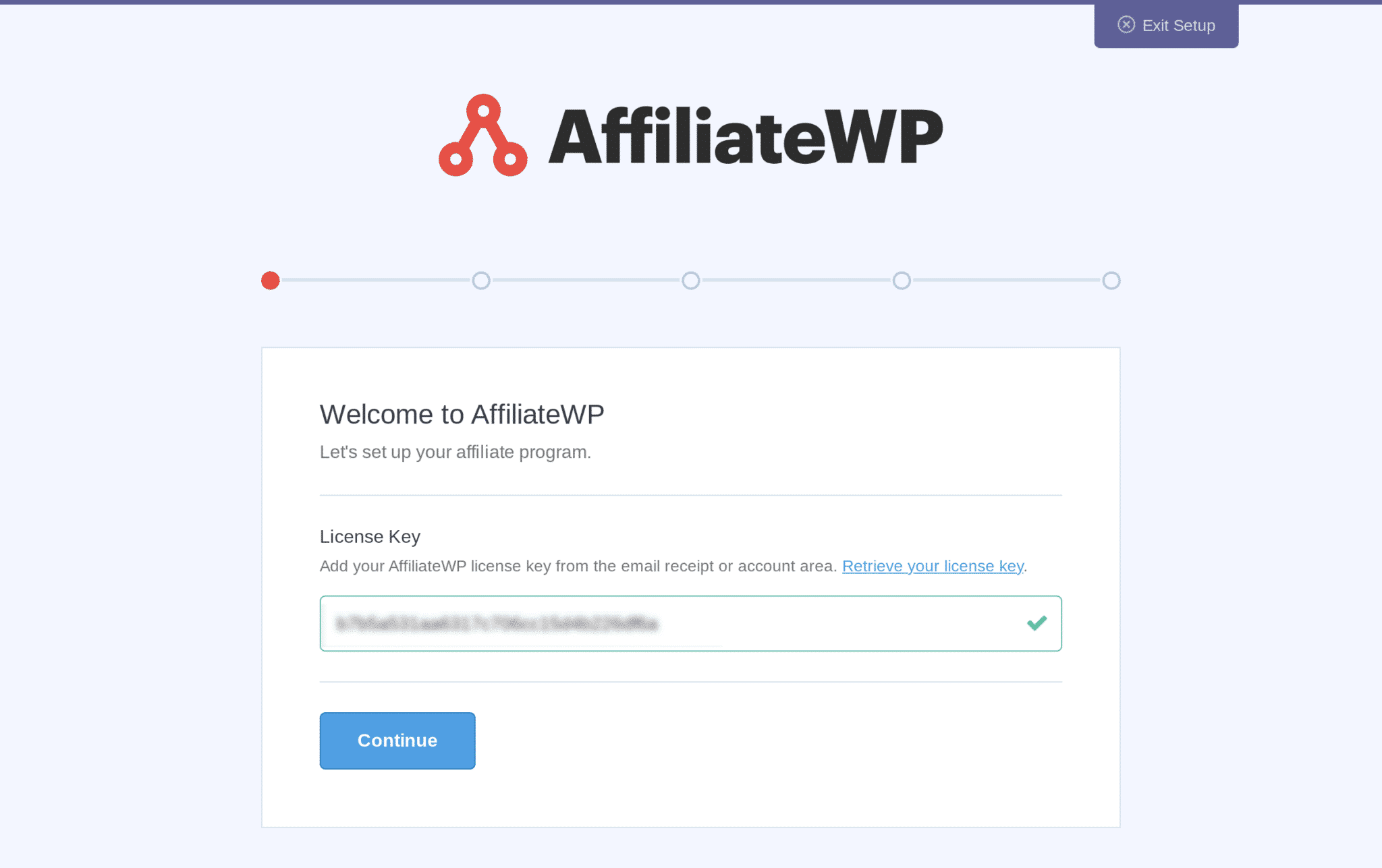 To set up AffiliateWP, open the setup wizard by selecting Settings in the AffiliateWP tab of your WordPress dashboard.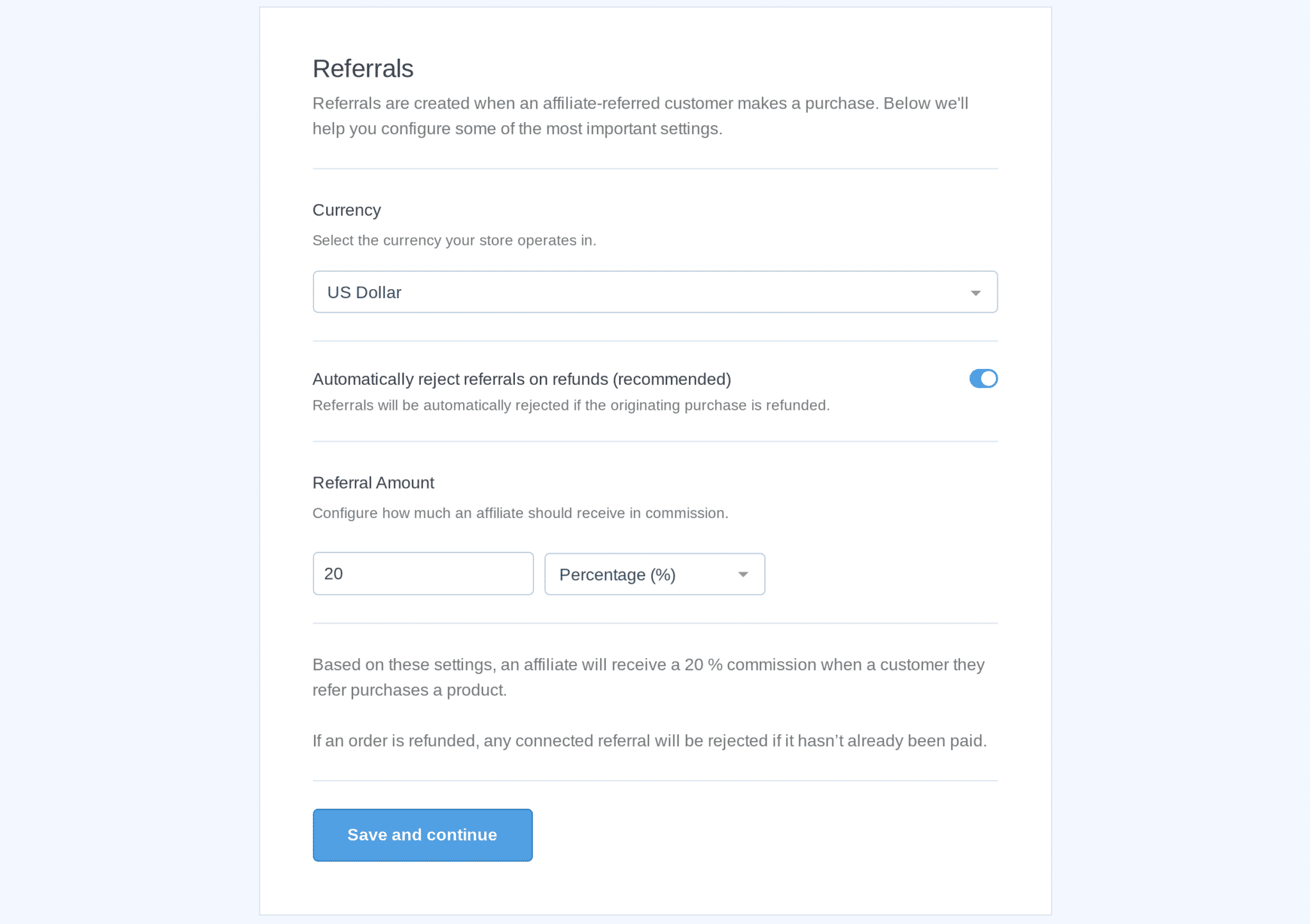 Follow the instructions to enter your license key, integrate your preferred e-commerce plugin, set your commission structure, and configure your referral link structure and cookie expiration settings.
Step 2: Sign up Affiliates
Once AffiliateWP is installed, you need to sign up affiliates.
AffiliateWP creates an Affiliate Area page on your site where affiliates can sign up and log in to their accounts.

You can use the editable template or create your own landing page.
Go to AffiliateWP » Settings and choose the page you want to use from the Affiliate Area drop-down menu. Build a WordPress page and add an affiliate registration form using the blocks.
Bloggers, influencers, and other potential affiliates can visit your Affiliate Area page and register for your program.
You will receive notifications when affiliates apply to join your program, and you can quickly approve or reject their applications by going to AffiliateWP » Affiliates.
Once approved, affiliates can start generating links, creating referrals, and tracking their performance in their affiliate dashboard.
Step 3: Use AffiliateWP's Integrated Payouts Service
Now it's time to automate your affiliate payouts in WordPress. To do that, we will use AffiliateWP's seamless Payout Service that enables you to pay your affiliates automatically without any hassle.
To get started with the Payouts Service, you will need to complete three main tasks:
Register your site with the Payouts Service
Enable the Payouts Service on your site
Instruct your affiliates to register their payment details in their Affiliate Area
To register your site with the Payouts Service, log in to your WordPress dashboard and navigate to AffiliateWP » Settings » Payouts Service.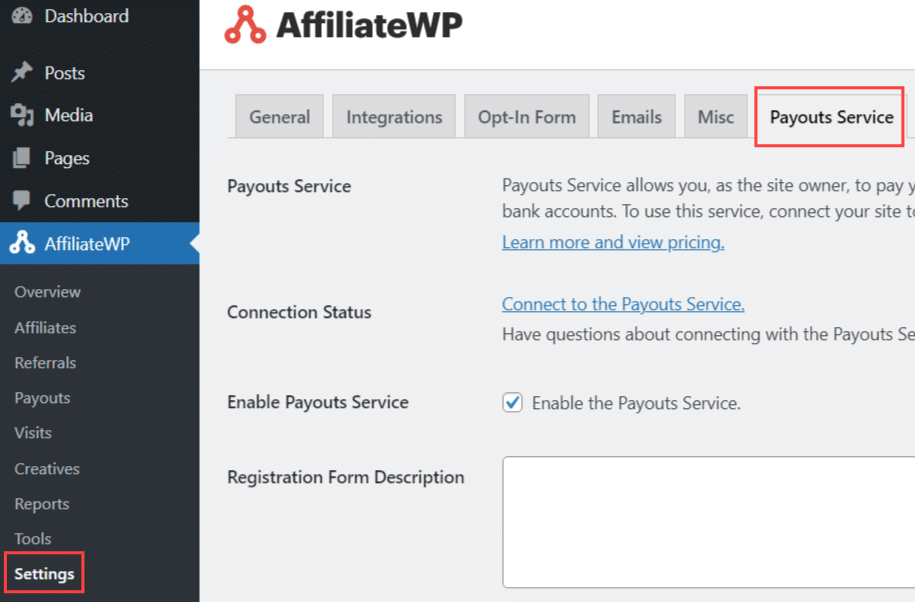 Click the Connect to the AffiliateWP Payouts Service link, and you will be directed to a screen where you can enter basic information about your website.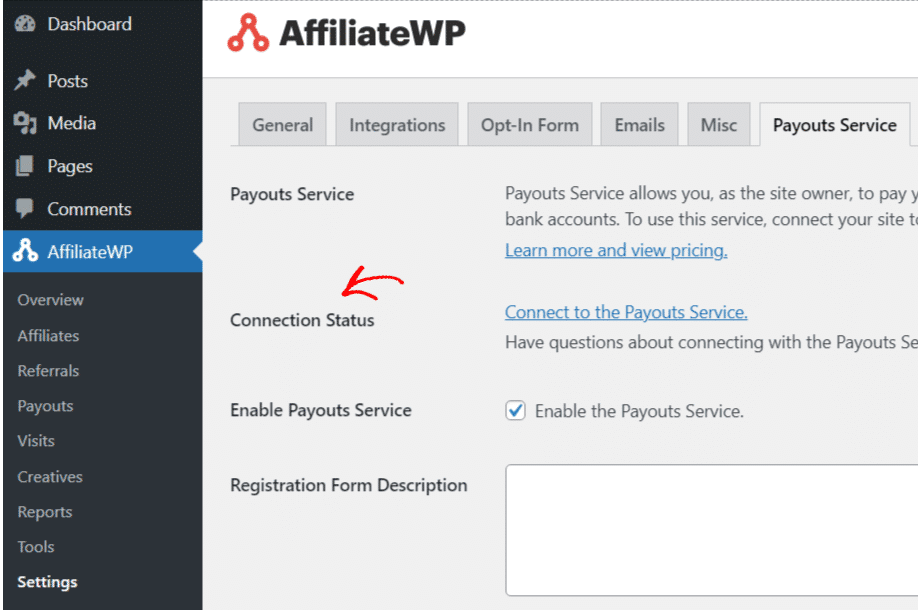 Fill out the required fields, click Connect Site, and you will be redirected back to your AffiliateWP settings screen, confirming a successful connection.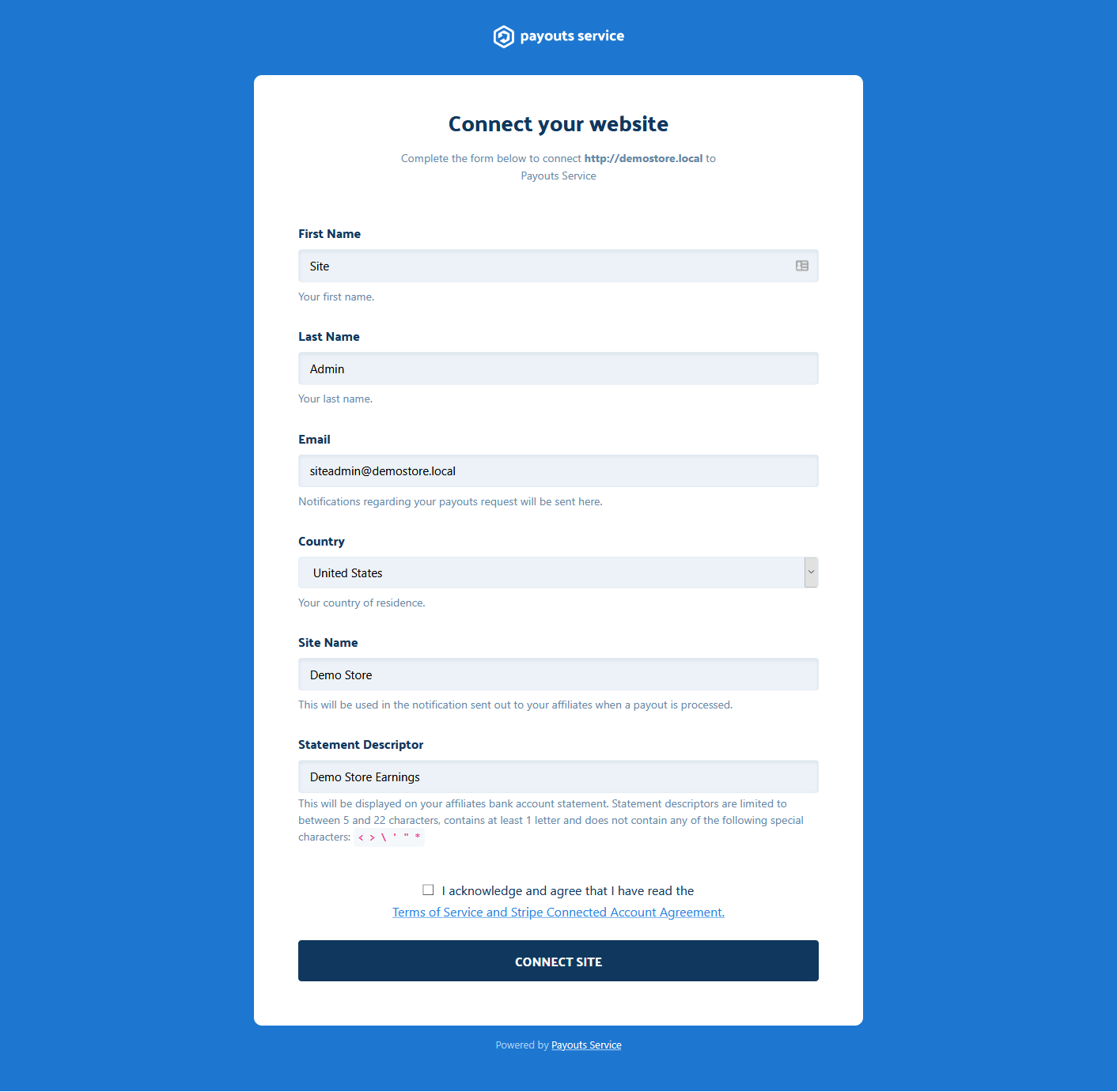 Once your site is connected, you can enable the Payouts Service by ticking the Enable Payouts Service checkbox.

This will give your affiliates the option to register their payment details in their Affiliate Area.
You can also customize the Registration Form Description and Payouts Service Notice settings to display relevant messages to your affiliates during the registration process.


Your affiliates need to register their payment information in their Affiliate Area to receive payments through the Payouts Service.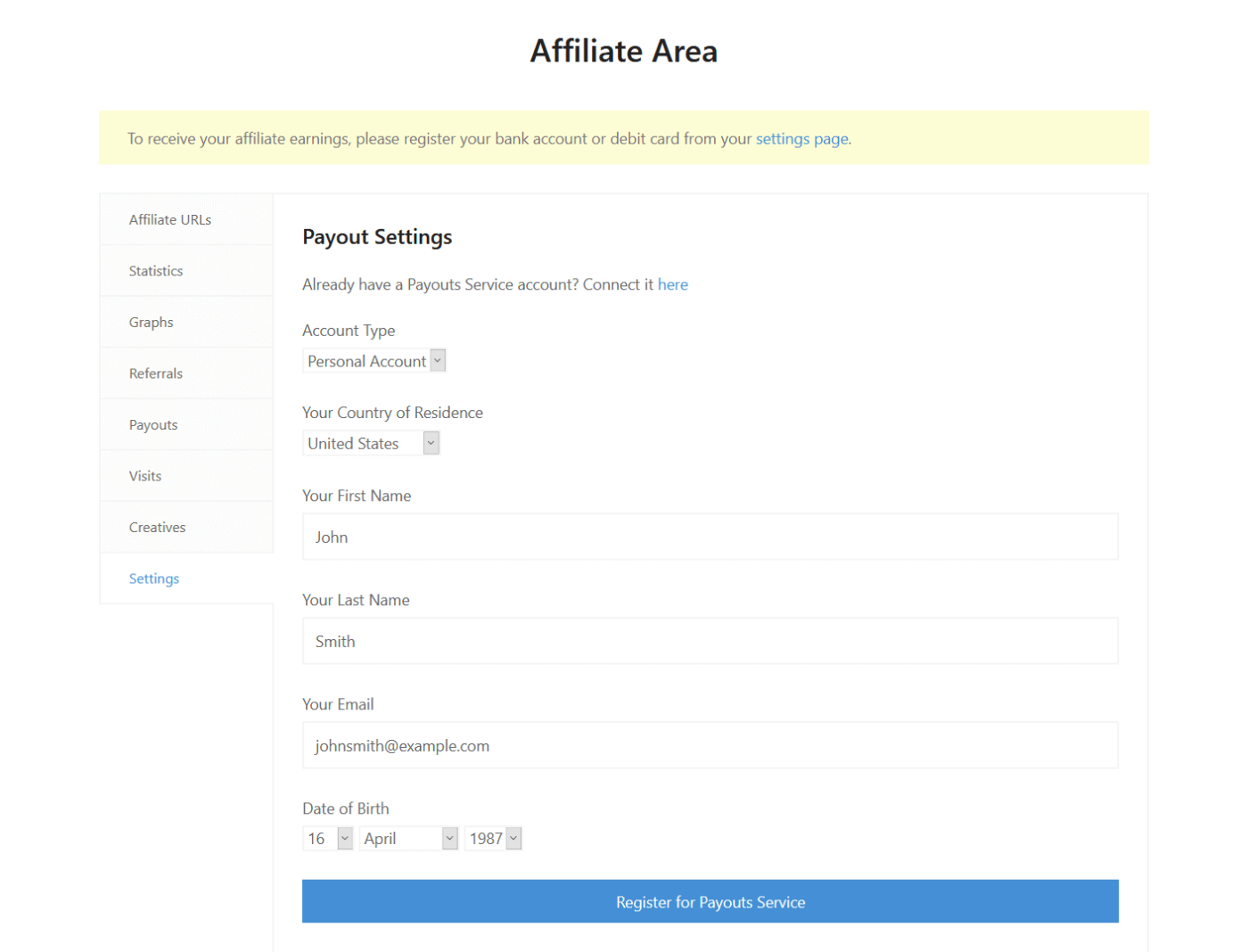 They can do this by logging in and clicking the Settings tab, where they will find a registration form if they haven't registered yet.
Affiliates should complete the form, submit it, and then enter their bank account or debit card details for receiving affiliate earnings.
After successfully submitting their payment details, affiliates will be redirected to their Affiliate Area with a confirmation message.
If they need to change their payout method, they can click the corresponding link, which will send them an email with instructions on how to update their payout destination.
Step 4: Pay Affiliates
Once your site is connected to the Payouts Service and your affiliates have registered their payment details, you can begin processing payouts.
To do this, log in to your WordPress dashboard, navigate to AffiliateWP » Referrals, and click Pay Affiliates.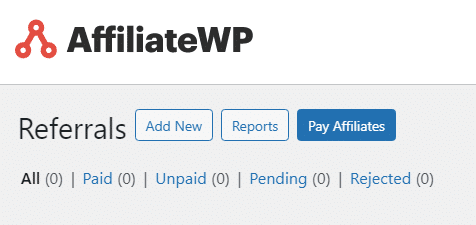 You will be directed to a screen where you can set payout parameters, such as selecting a specific affiliate, defining the date range for referrals, setting a minimum earnings threshold for inclusion, and choosing the Payouts Service as the payout method.
Click Preview Payout to view the total earnings, associated fees, and a list of affiliates to be paid, as well as a list of affiliates who have not registered with the Payouts Service.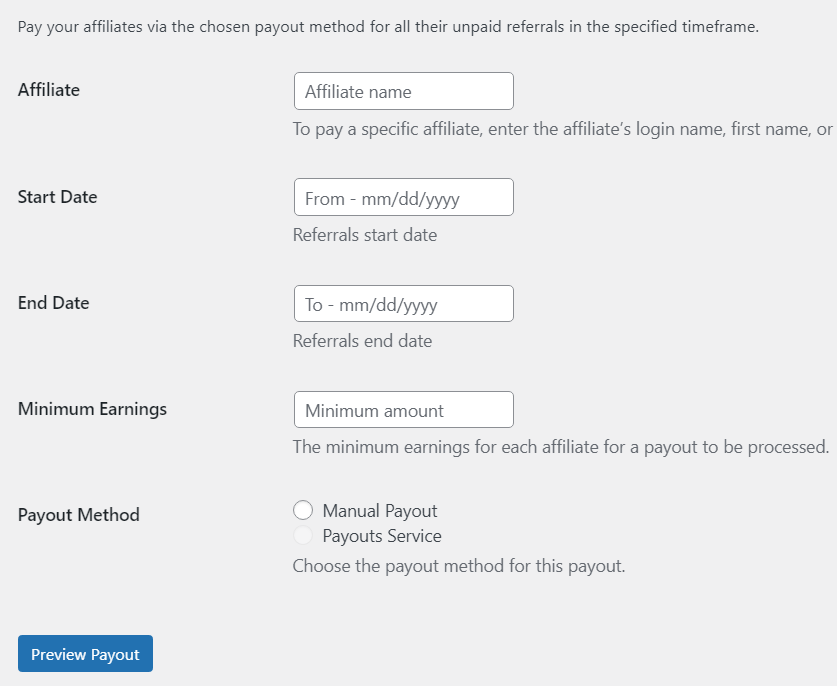 Click Submit Payout at the bottom of the screen to proceed to an invoice for the total payout amount and processing fees.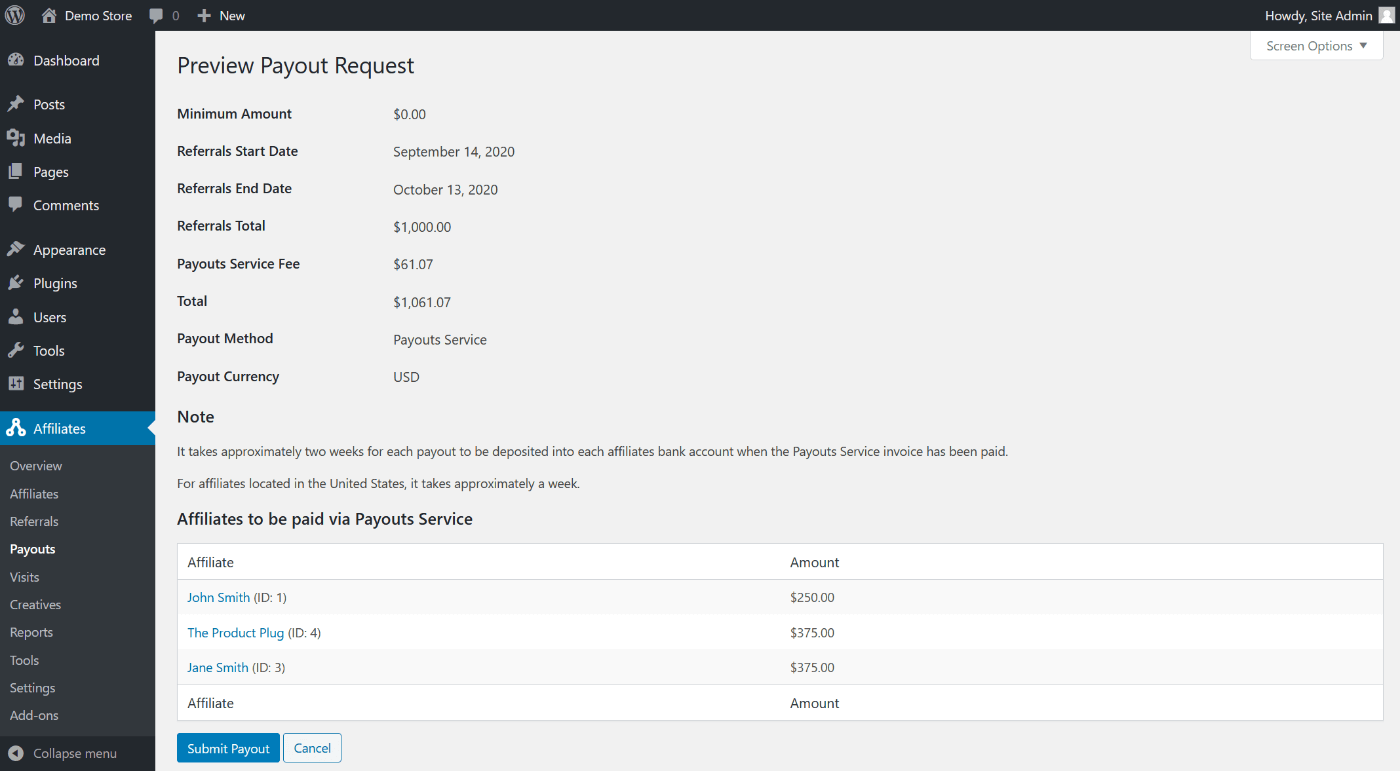 Once the invoice is paid, the Payouts Service will process the payout and disperse funds to the recipient affiliates within 2-14 days.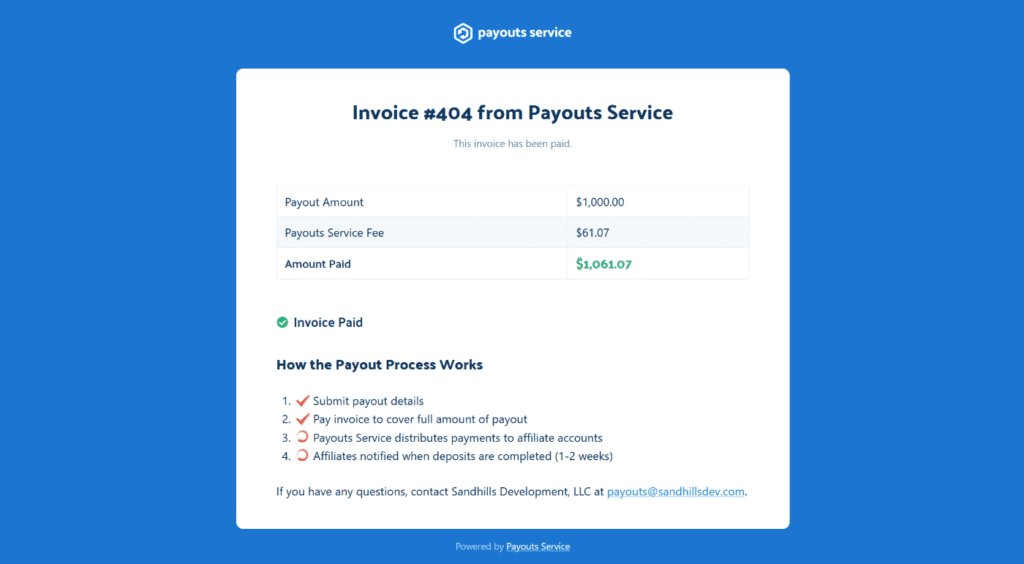 You can check all the paid invoices in the payouts section of AffiliateWP.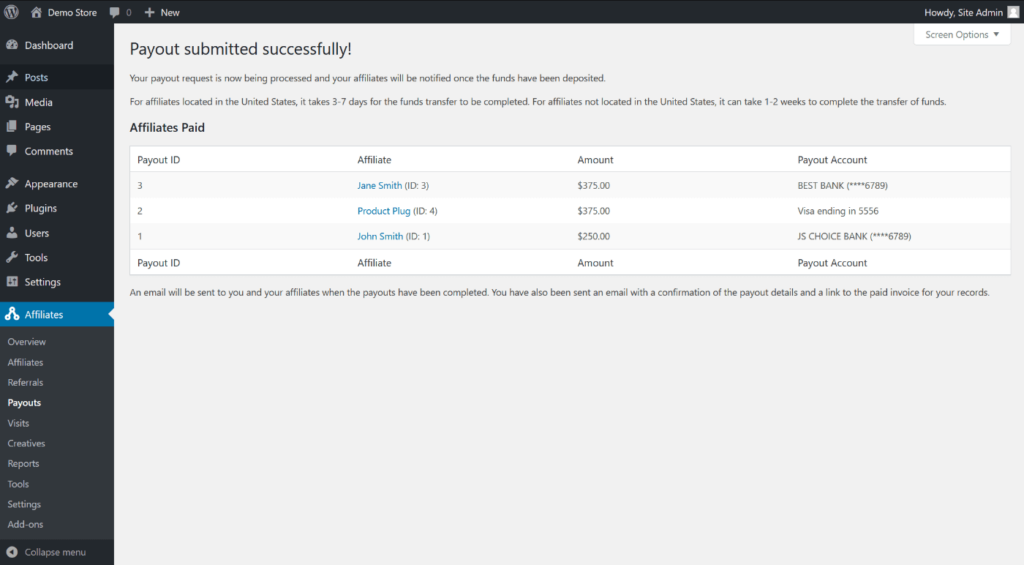 Each affiliate will be notified when their earnings are deposited. That's it, by following these steps you'll be able to effortlessly automate your affiliate payments using AffiliateWP.
Ready to Automate Your Affiliates Payments?
Enabling automated payouts is really easy with AffiliateWP's payout service. You can seamlessly pay your referrals in their bank accounts with just one click.
Here are more resources to help you out with setting up your Affiliate Program:
What are you waiting for? Get AffiliateWP today and automate your affiliate program to grow your business.