How to Quickly Pay Your Affiliate With PayPal (Step by Step)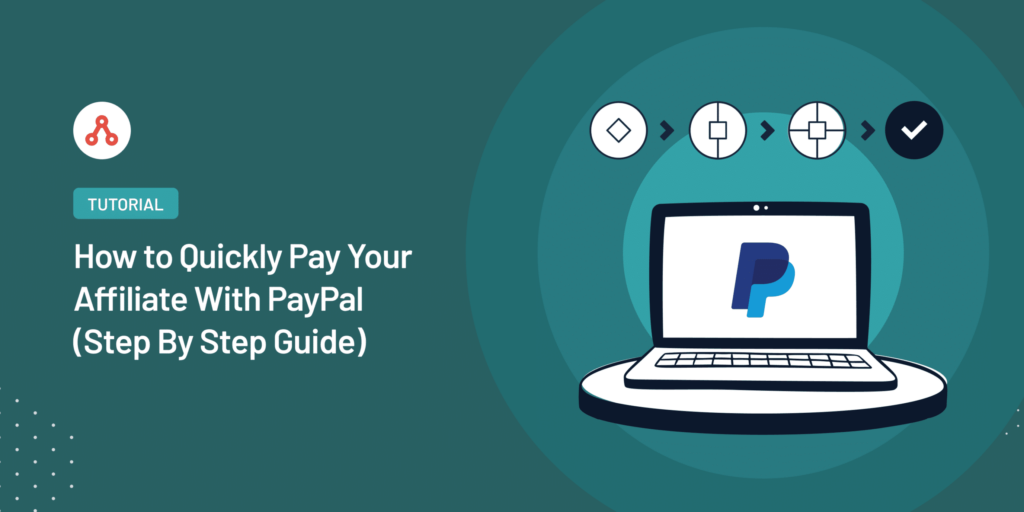 Looking for a simple and quick way to pay your affiliates on your WordPress site?
PayPal offers a convenient solution for website owners to send payments to their affiliates quickly and securely.
In this article, we'll explain how to set up PayPal Payouts and pay your affiliates instantly.
Why Use PayPal Payouts to Pay Your Affiliates?
Using PayPal Payouts to pay your affiliates can significantly improve your affiliate program's efficiency and appeal.
By integrating PayPal Payouts with your WordPress site, you can offer your affiliates a trusted and user-friendly payment method.
Here are some reasons to consider using PayPal Payouts for your affiliate program:
Comprehensive Financial Tracking: PayPal offers comprehensive financial tracking and management tools, making monitoring your affiliate program's performance easy.
Enhanced Security: PayPal's commitment to security is well-known. It offers useful features such as 24/7 transaction monitoring and fraud protection to secure users' data. Using PayPal Payouts for your affiliate program, you can demonstrate to your affiliates that their personal information and transactions are protected.
Boosts Affiliate Confidence: By incorporating PayPal Payouts into your affiliate program, you can attract high-quality affiliates who are already familiar with and comfortable using this payment method.
Now that we've discussed how great PayPal is for your business and affiliates, let's look at how you can quickly pay your affiliates with it.
Using PayPal to Pay Affiliates: A Step-by-Step Guide
AffiliateWP makes it easy to pay your affiliates with PayPal because it comes with a PayPal Payouts add-on.
With this add-on, you can instantly pay your affiliates their earnings from your PayPal account.
Follow these steps to pay your affiliates via PayPal quickly:
Step 1: Install AffiliateWP
For those with a WordPress-based website, AffiliateWP is the top choice for affiliate management. It streamlines your affiliate marketing efforts while integrating seamlessly with your PayPal account.
This powerful plugin simplifies affiliate management by providing tools that enable you to:
Quickly create an effective affiliate signup page
Effortlessly approve or decline affiliate applications
Offer affiliates a customizable and user-friendly dashboard
Generate affiliate links, coupons, and landing pages
Monitor visits, referrals, and payouts with real-time analytics
Process affiliate payments directly from your WordPress dashboard
Select a plan that suits your needs from the pricing page and download the plugin. If you encounter any issues, consult this step-by-step tutorial.
Step 2: Install the PayPal Payouts Add-on
Next, install and activate the PayPal Payouts add-on. There are two payout methods available: API Application and MassPay.
API Application is the recommended method as it uses PayPal's new REST API, while PayPal MassPay is an older technology, no longer accessible for most accounts. If your account has MassPay enabled, feel free to use it.
To choose the method for paying out your affiliates, go to AffiliateWP » Settings » PayPal Payouts and choose the desired mode.
Remember: Payouts are not enabled on all PayPal accounts. For new accounts or accounts with few transactions, payouts must be approved by PayPal merchant support. If you want to use Payouts but can't, please contact PayPal merchant support.
Step 3: Start Processing Your Payouts via PayPal
After entering your API credentials, all unpaid referral records will have a Pay Now action link.
Click the Pay Now button to process payouts for individual referral records. Once done, AffiliateWP will notify if the payout is successful or encounters an issue:

Note: Affiliates can only get paid if they have a valid PayPal account linked to their email address. If the affiliate doesn't already have a PayPal account, they will get an invitation from PayPal to make one. If the affiliate doesn't want to join, the money will go back to your PayPal account.
Alternatively, you also have the option to process payouts in bulk in two ways:
Select the checkbox beside each referral you want to pay, then choose Pay Now from the Bulk Actions menu. This processes payment for each selected referral.
Or
Use the blue Pay Affiliates button to start a bulk payment. On the next screen, choose a range of dates and the minimum amount to accumulate before affiliates can be paid. AffiliateWP determines how much each affiliate is owed and sends them a single payment. Referrals that are paid for are marked as Paid in the process.
To see a list of all referrals selected to pay, enter your filtering criteria, choose PayPal as the Payout Method, and then click Preview Payout.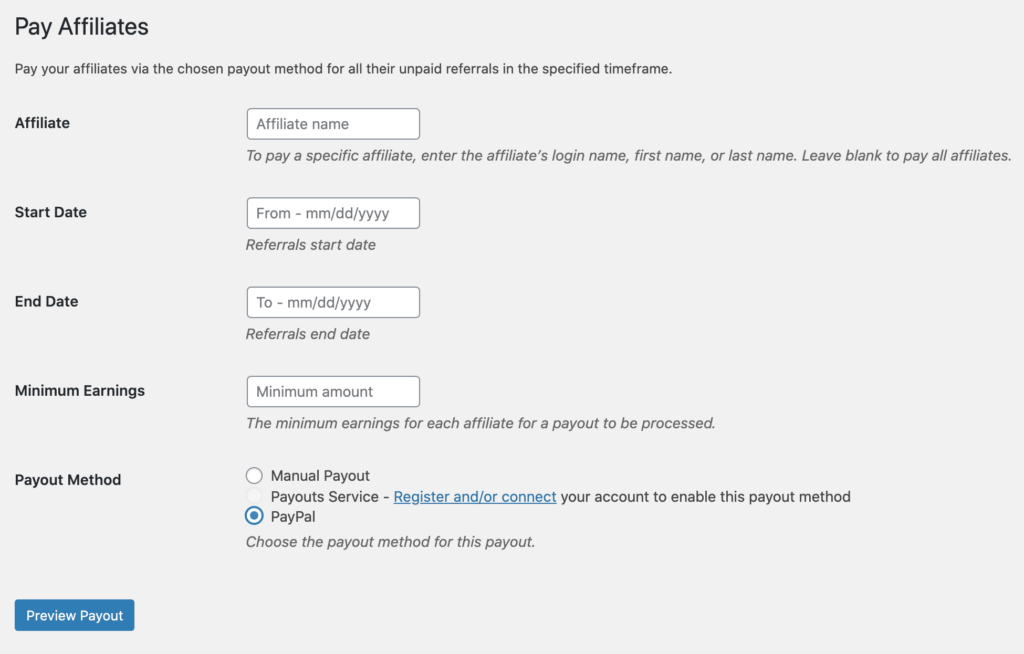 If everything is in order, click the Submit Payout button.

Important: To use PayPal Payouts, you must give your PayPal account API access. There will be transfer fees for affiliate payments sent through PayPal. You need to ensure enough funds are available in your PayPal account to cover all pending payouts.
If something goes wrong while processing payments through PayPal, AffiliateWP will show an error message.
Error messages can be sent back for a number of reasons, such as a lack of permissions or wrong API credentials.
This guide shows you how to fix problems with PayPal in AffiliateWP.
FAQ: Paying Your Affiliates Easily Using PayPal
How Can I Ensure My Affiliates Have the Right PayPal Account to Receive Payouts?
Before processing payouts, make sure that your affiliates have a valid PayPal account associated with their registered email address. If an affiliate doesn't have a PayPal account, they will receive an invitation from PayPal to create one. If the invitation isn't accepted, the funds will be returned to your PayPal account.
Are There Any Fees Associated with Paying Affiliates Through PayPal?
Yes, when using PayPal to pay your affiliates, you will need to cover the PayPal transfer fees. The fees vary depending on factors such as the transaction amount, currency, and the countries involved. It's important to factor in these fees when calculating your affiliate payouts.
Can I Use PayPal Payouts to Pay Affiliates in Bulk?
Yes, with AffiliateWP's PayPal Payouts add-on, you can process payouts in bulk in two ways. Either by selecting individual referrals and choosing Pay Now from the Bulk Actions menu or by using the blue Pay Affiliates button, specifying a date range and minimum payout amount, and sending a single payment to each eligible affiliate.
Now You Know How to Pay Your Affiliates Easily Using PayPal
Now that you've learned the easiest way of paying your affiliates using PayPal, you can see how simple the process can be, especially with the help of AffiliateWP.
Remember, setting up a successful affiliate program with PayPal is just the starting point – nurturing and growing it is the real game-changer.
Don't worry, we've got your back with even more resources to help you excel:
With these valuable resources at your fingertips, there's only one thing left for you to do.
Start automating PayPal affiliate payments with AffiliateWP today!