8 Proven Tips to Improve Your Affiliate Website's UX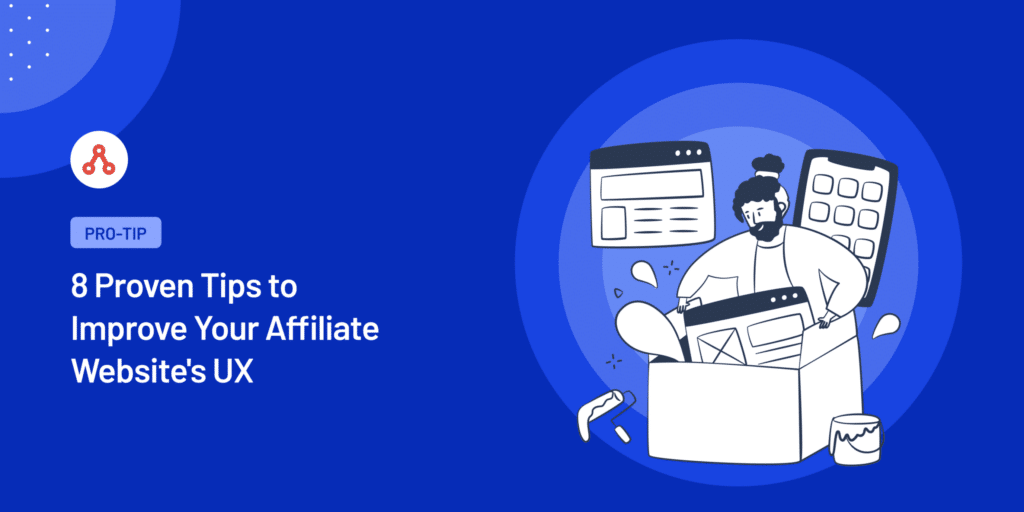 Want to enhance your affiliate marketing WordPress website's UX?
A great user experience is the cornerstone of any successful affiliate website. When visitors find it easy to navigate and get the information or product they seek, they're more likely to engage, trust your recommendations, and purchase. Sometimes, it can be challenging to pinpoint where your site might be lacking, especially when everything seems great on the surface.
That's why we've compiled these essential tips to uplift the user experience on your affiliate marketing WordPress website.
Let's dive in!
Here's Why User Experience Matters
Imagine walking into a store where everything is disorganized, the lighting is too dim, and there's no one around to help. Would you stay long? Probably not.
In the online world, your WordPress website is that store. And just like in a physical store, visitors decide in seconds whether to stay or leave.
For affiliate marketing websites or businesses, where the primary goal is to encourage visitors to click on a product link and make a purchase, the importance of user experience (UX) cannot be overstated.
Here's why:
Trust Builds Over Time: First impressions are crucial. If visitors find your website hard to navigate, cluttered, or slow, they might question the reliability of your recommendations. A smooth UX implies professionalism and credibility. When users feel comfortable on your site, they're more likely to trust your content and return in the future.
Improved Conversions: Think of it this way – if users struggle to find what they're looking for, they might leave without purchasing. A well-optimized website, on the other hand, guides the user seamlessly from the homepage to the content and finally to the affiliate link. This flow can significantly boost your conversion rates.
Search Engine Rankings: Google loves user-friendly websites. Sites with a good user experience often see better search engine rankings, leading to more organic traffic. A lower bounce rate, longer session durations, and increased engagement can signal to search engines that your site is valuable to visitors.
Reduced Bounce Rate: If a visitor clicks on your site and quickly exits without interacting, this is a "bounce." A high bounce rate often indicates that your site didn't offer what the user was looking for or was challenging to use. Improving UX can keep visitors engaged longer, reducing this rate.
So, focusing on user experience isn't just a nice-to-have—it's a must. It's the bridge that connects your content to conversions, turning passive browsers into active buyers.
Now, let's learn the essential tips to improve your affiliate website's user experience on WordPress quickly.
How to Improve An Affiliate Website's UX
Improving the user experience of your affiliate website is not as hard as it sounds. All you have to care about is seeing your site from a user viewpoint.
Things that frustrate you while navigating your website might do the same for your users, too.
So, here are some of the most important tips you must remember while improving your website's UX.
1. Simplicity in Design and Structure
A streamlined design is vital for any affiliate website. When discussing simplicity, we're looking at a design where each element serves a purpose.
Users shouldn't feel lost or overwhelmed. Take our website, for instance: its layout is clean, making it easier for users to focus on the content. The same principle should apply to your affiliate site.
Use a consistent color palette, and avoid cluttering your site with too many elements.
When everything is laid out neatly and purposefully, users are likelier to engage with your content and affiliate links.
2. Use Whitespace
Whitespace, often overlooked, plays a crucial role in web design. It's the gap between different elements on your page – text, images, and CTAs.
Look at how our website uses whitespace to separate different sections. This separation ensures that users aren't overwhelmed with too much information simultaneously.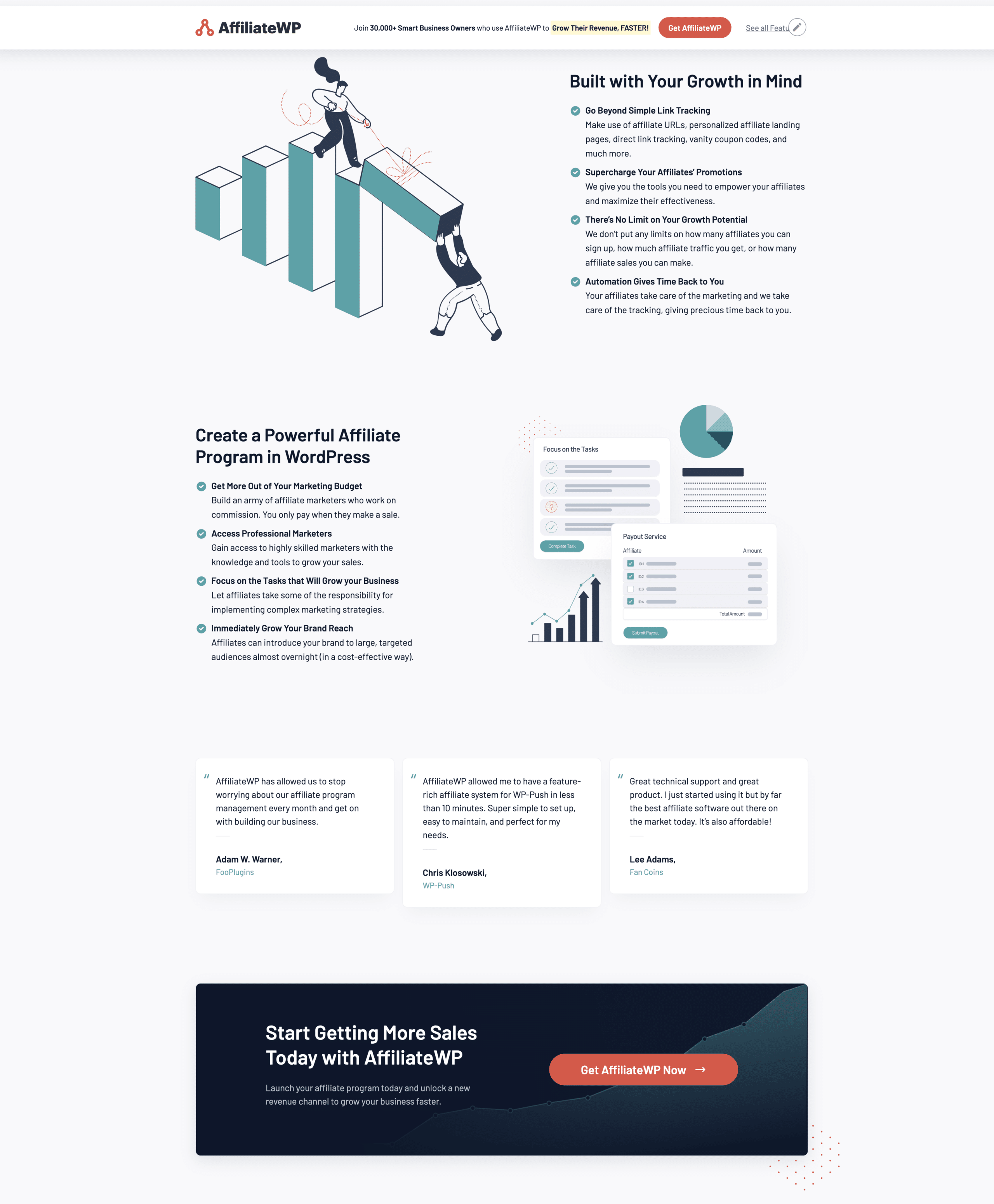 By strategically placing whitespace on your page, you create a visual hierarchy, guiding users' eyes to the most critical parts of your content.
3. Value Customer Feedback
Understanding your audience is paramount. Integrate feedback mechanisms, like simple surveys or comment sections, into your website. To do this, you can use the UserFeedback plugin on your WordPress website.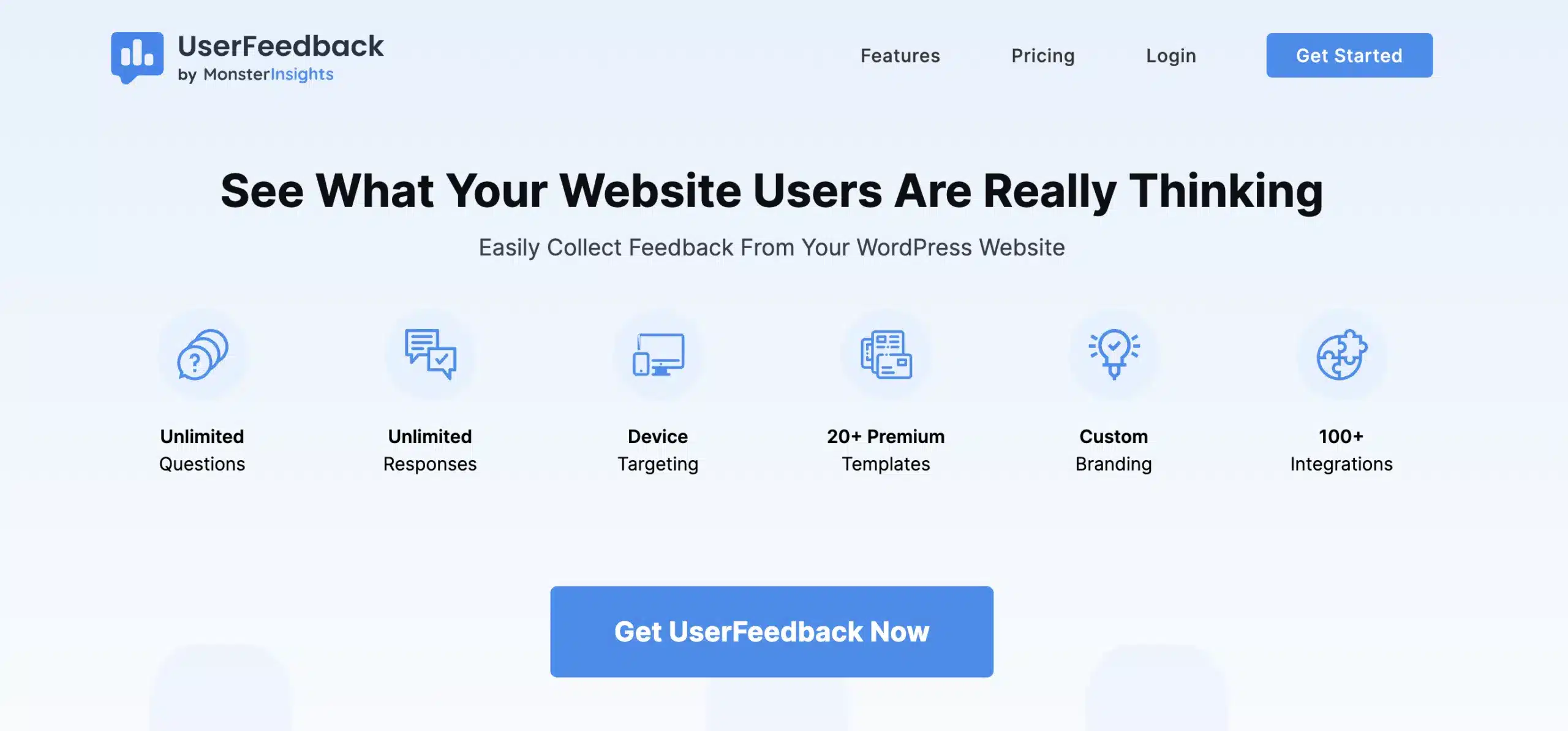 By doing so, you give your visitors a voice, letting them tell you what they love or what could be improved.
When you act on this feedback, not only do you enhance your site's UX, but you also build trust with your audience.
4. Prioritize Page Load Time
Slow websites are a big no. Users expect a site to load quickly. If it doesn't, they're likely to leave.
Begin by selecting a reliable hosting provider. The right host can make a world of difference in loading times. Additionally, reduce image sizes without sacrificing quality using tools or plugins designed for image optimization.
Use performance analysis tools like Google PageSpeed Insights or GTmetrix. These platforms identify what's slowing your site down and provide actionable recommendations for improvement.
5. Craft Compelling Calls to Action (CTAs)
CTAs guide users on what to do next. But a good CTA does more than that. Take AffiliateWP's CTAs as an example.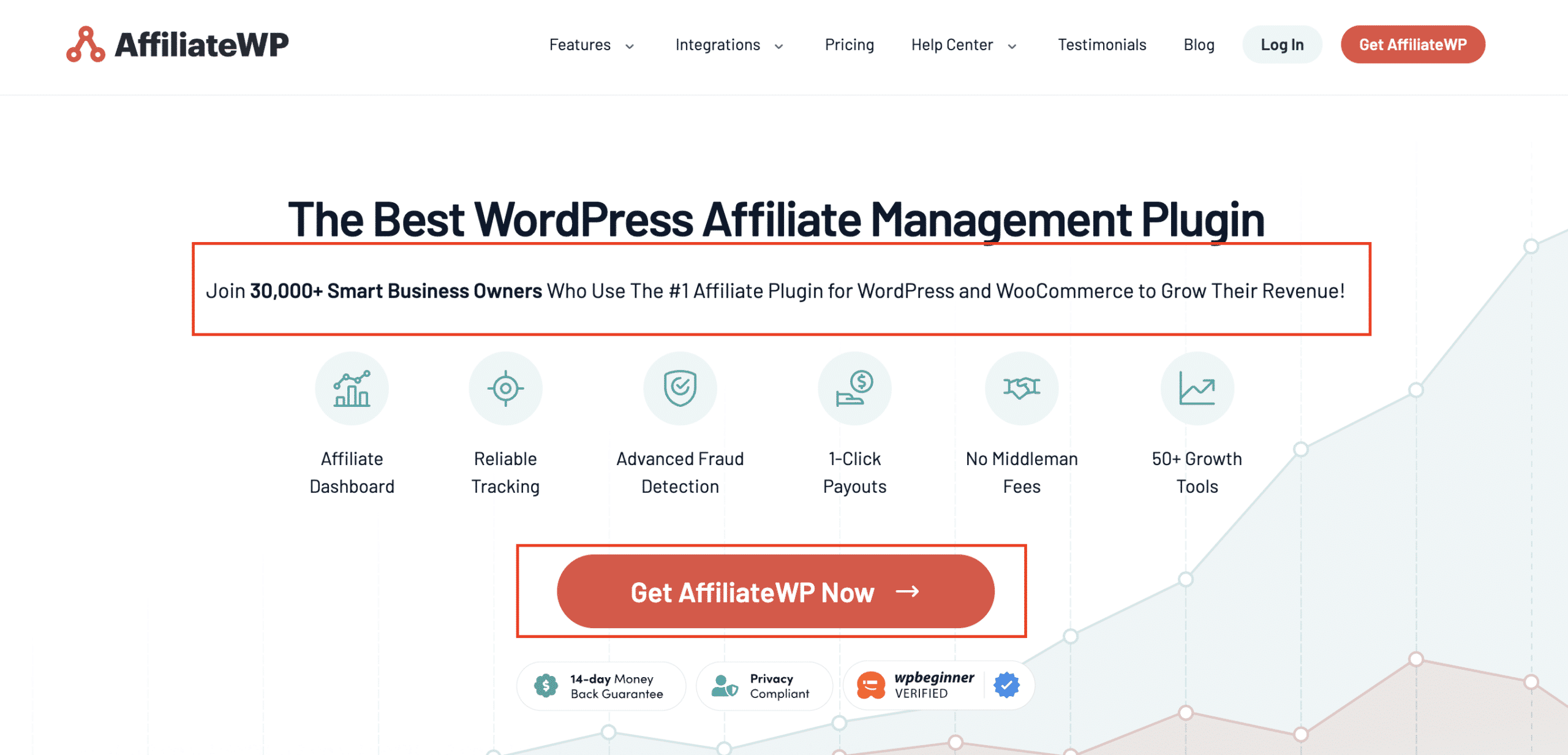 They're clear, precise, and compelling. Your CTAs should tell users what they'll get when they click, in our case, a reliable affiliate management plugin that will help them grow their business.
Instead of generic phrases like "Click Here," use action-driven phrases like "Discover More" or "Start Earning Now".
Visually striking design CTAs, employing contrasting colors and readable fonts. The messaging should be direct, highlighting the benefit to the user—e.g., "Unlock Exclusive Deals."
6. Limit Overwhelming Advertisements
Yes, the goal is to promote affiliate links, but moderation is key. Bombarding users with ads or links can make your site appear untrustworthy. Instead, curate your affiliate content.
Make sure each link or ad is relevant and adds value.
This approach enhances UX and builds trust with your visitors.
Be informed about ad placement and quantity. Every ad should align with your content and resonate with your target audience. Remember to regularly audit your ads. Remove any that underperform or don't match your site's ethos.
Use heatmaps to understand where users are most engaged and consider placing your top-performing ads in these areas.
7. Optimise for Mobile Devices
Over half of global web traffic comes from mobile devices. If your site isn't mobile-friendly, you're missing out on a vast audience segment.
Test your site's mobile responsiveness using tools like Google's Mobile-Friendly Test.
Implement design changes as needed, and consider adopting a mobile-first design approach.
8. High-Quality Content and Products
Delivering value is pivotal for any affiliate site, both in terms of content and the products or services being promoted. Content that is well-researched, engaging, and trustworthy not only positions your site as a reliable source but also encourages users to interact more with your affiliate links.
Such content addresses the needs and interests of your audience and offers solutions or insights that they find genuinely beneficial.
But high-quality content alone is not enough. The products or services you're affiliating with must also match this standard. Promoting superior products enhances your site's credibility.
After all, your recommendations serve as endorsements and consistently pointing your audience to top-notch products establishes trust.
Next, Invest in a Reliable Affiliate Management WordPress Tool
Yes, ensuring a good user experience is vital, but that's just one piece of the puzzle. To truly shine in affiliate marketing, it's wise to invest in a top-notch affiliate management WordPress tool. AffiliateWP is that tool for many.
It's not just another plugin; it's a complete solution crafted to make your affiliate journey smoother.
AffiliateWP stands out for many reasons. First, setting it up is a breeze. Even if you're not tech-savvy, you can get your program running without breaking a sweat. And once it's set, you'll see how well it gels with popular plugins like WooCommerce, making integration seamless.
But what really makes it special is its management features. Think about all the things you'd have to do in affiliate marketing: registering affiliates, tracking their links, handling commissions, and more.
AffiliateWP does all this for you, and it does it well. So, while you sleep, it's working, ensuring everything runs smoothly.
Additionally, it's backed by top-tier support. If you ever hit a snag or just have a query, there's a team ready to assist. With a library of guides and a responsive team, you're never left in the dark.
In simple words, if you're serious about affiliate marketing, AffiliateWP isn't just a good choice; it's the best one. It streamlines, simplifies, and supercharges your efforts, ensuring you get the best out of your program.
So why wait?
Get AffiliateWP today and start growing your revenue right now.
Enhance Your Affiliate Website's User Experience
Having journeyed through the intricacies of optimizing an affiliate website's user experience, it's clear that the heart of a successful affiliate program lies in its seamlessness. With tools like AffiliateWP, the process becomes effortless, enabling you to focus on the core goal: enhancing your site's UX and broadening your brand's horizon.
But remember, the learning doesn't stop here. To truly excel in the realm of affiliate marketing, consider diving deeper into:
Now that you're equipped with the essentials to refine your affiliate website's user experience, there's no better time to take action. Dive in risk-free with AffiliateWP's 14-day money-back guarantee.
We're confident you'll love it!