What to Include in Your Affiliate Registration Form (Answered)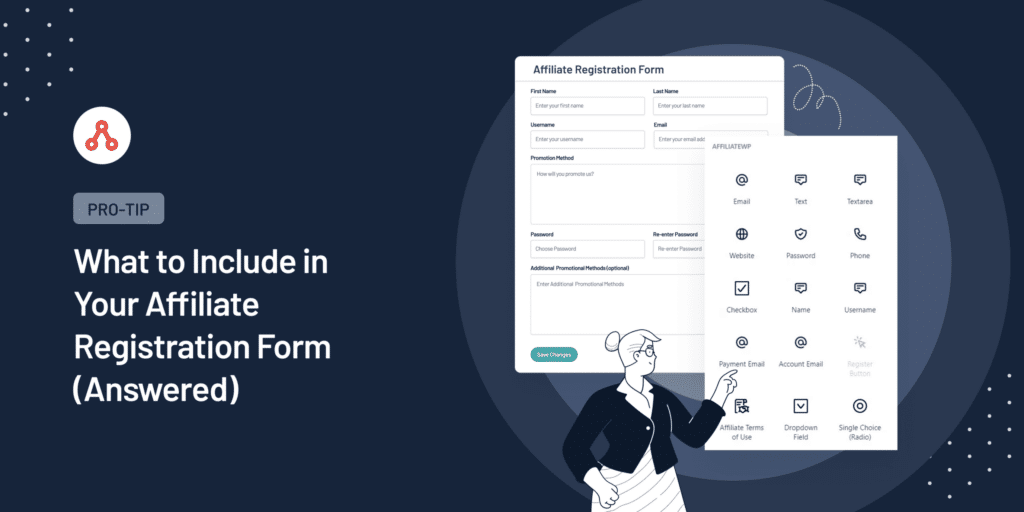 Want to know what to include in your affiliate registration form and signup page?
Tailoring your affiliate registration form is essential as it allows you to gather the specific information you need from your affiliates, enhancing your marketing strategies and partnerships.
This article will guide you on what to include in your affiliate registration form and page for your affiliate program in WordPress.
Why You Should Customize Your Affiliate Registration Form
Customizing the affiliate registration form is a strategic move for any affiliate program.
The primary reason for this is that it allows businesses to gather specific information that is pertinent to their operations and marketing strategies.
By tailoring the form to suit your needs, you can ask for information to help them understand your affiliates better, leading to more effective communication and collaboration.
Moreover, a customized affiliate registration form can enhance the user experience.
Affiliates are likelier to complete a straightforward, concise form and only ask for relevant information.
A form cluttered with unnecessary fields can be off-putting and may deter potential affiliates from completing the registration process.
Therefore, by customizing the form, you can ensure that you are not asking for more information than necessary, increasing the likelihood of successful registrations.
Ultimately, customizing the affiliate registration form can also give your business greater control over your affiliate program. By deciding what information to collect, you can better manage your affiliates and ensure they align with their brand values and objectives.
Let's now discuss some of the most essential elements to add while easily customizing an affiliate registration form for your affiliate program.
Things to Include in Your Affiliate Registration Form And Signup Page
To create an effective affiliate registration form on your WordPress website, include these essential components.
AffiliateWP allows you to add all the blocks listed below in your affiliate registration form, like passwords, emails, checkboxes, and more.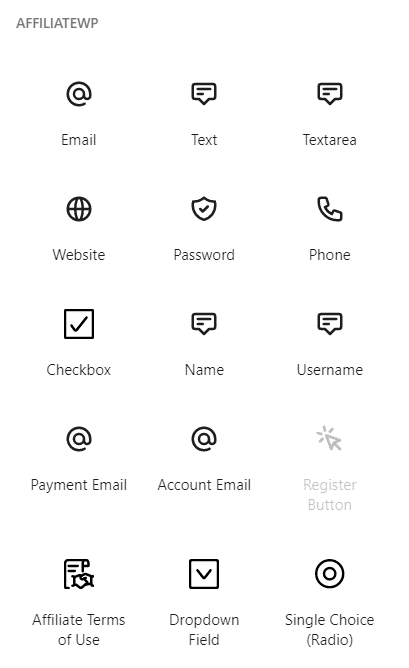 Let's look at some of the most important things you need to add in your affiliate registration form and signup page to get the information you need to run a successful affiliate program.
1. Name and Email Address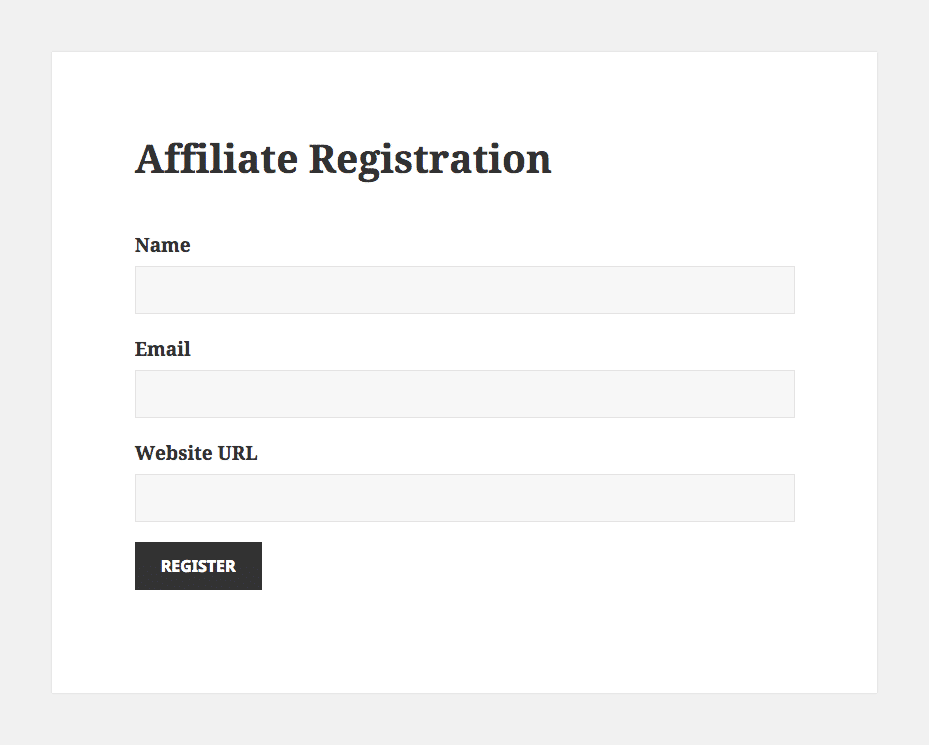 Asking for the potential affiliate's name and email address is crucial for building a personalized relationship with them.
It allows you to address them by name in future communications and send them updates, promotions, or any other relevant information.
It also helps you keep track of your affiliates and their performance.
2. Password
A password field is an essential addition to your affiliate registration form.

It enables potential affiliates to create their own secure account where they can log in to access their unique tracking links, performance data, and other important information related to your affiliate program.
Make sure to have password strength requirements and a password confirmation field to ensure account security.
3. Contact Details
Collecting contact details, such as phone numbers and mailing addresses, is valuable for various reasons.
It allows you to communicate with your affiliates through different channels and send them promotional materials, payment information, and more.
It also helps you better understand your affiliates' location and target audience.
4. Business Information (If Applicable)
Gathering information about their business is essential if your potential affiliates represent a company.
Ask for their business name and industry to ensure your brand values align and their target audience is compatible with your products and services.
5. Website and Social Media Links
Requesting website and social media links allows you to review the content your potential affiliates produce and ensure that it aligns with your brand values.
This is crucial because associating your brand with poor-quality content could negatively impact your brand's reputation.
6. Background Information
To better understand your potential affiliates and whether they would be a good fit for your program, ask them to provide background information about themselves and their community.
Some questions you could ask include:
Tell us about yourself and your background. What experiences or expertise do you bring to our affiliate program?
How did you become interested in our product/company? What attracts you to our affiliate program?
Describe your online presence and the platforms you are active on (e.g., website, blog, social media channels). How do you engage with your audience?
What other affiliate programs have you participated in, and what were your experiences with them?
How do you plan to promote our product/service as an affiliate? Do you have any specific strategies or channels in mind?
7. Affiliate Terms of Use
Incorporate a section in your affiliate registration form that explains your affiliate terms of use. These terms should outline the rules and guidelines for your affiliate program, such as payment terms, promotion restrictions, and affiliate obligations.
Including these terms ensures your potential affiliates understand and agree to abide by your program's rules.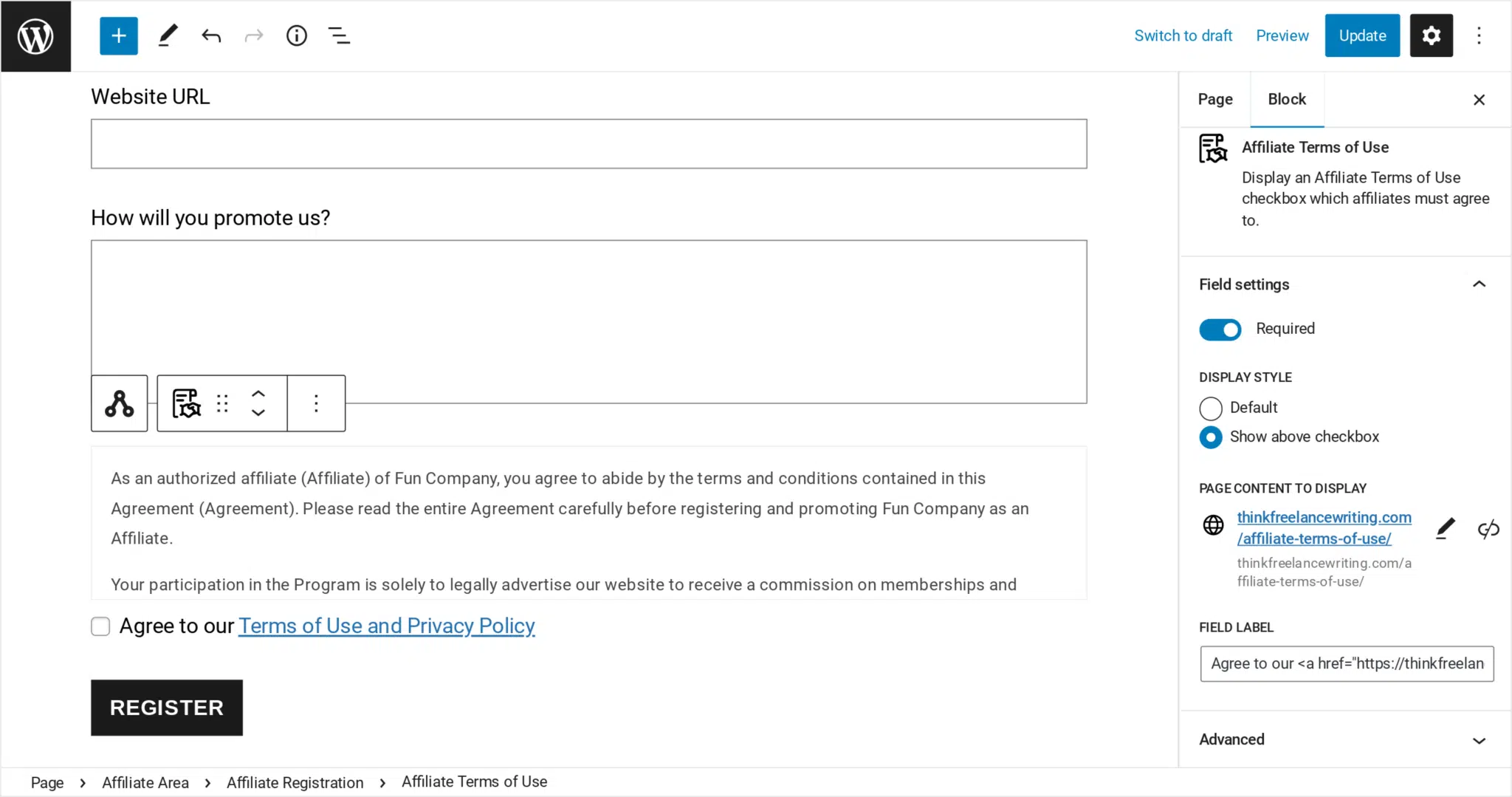 With the AffiliateWP affiliate registration form, you can easily add an Affiliate Terms of Use block and provide all the guidelines your affiliates must adhere to.
Remember that by focusing on these critical components and using simple language, you can create a practical form that will attract high-quality affiliates and contribute to the success of your affiliate program.
So, how can you add these important blocks to your affiliate registration form? Customizing your affiliate registration form with these components is very easy with AffiliateWP.
Let's find out how you can easily customize your affiliate registration form or signup page in a few steps.
Steps to Customize the Affiliate Registration Form
AffiliateWP allows you to customize your affiliate registration form in several ways, including adding, removing, or rearranging fields, changing field labels, making specific fields required or not required, changing the Register Button's text, and more.
Adding custom blocks in an affiliate registration form tailored to your website's needs is as easy as following these steps:
Step 1: Install AffiliateWP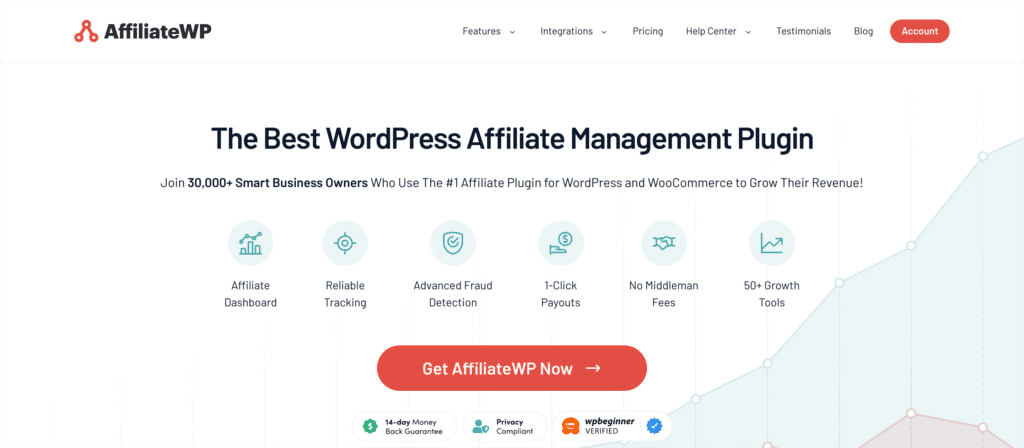 To begin customizing your affiliate registration form, you must install AffiliateWP.
AffiliateWP is the best WordPress affiliate management plugin available, allowing you to set up an affiliate program for digital downloads easily.
After purchasing the plan that suits your needs, download the plugin from your account and follow the installation instructions provided by AffiliateWP.
Step 2: Add the Affiliate Registration Block to Your Page
Once you have installed AffiliateWP, open the page editor in your WordPress dashboard and click the plus (+) icon in the upper left corner to add a new block.

Type "Affiliate" in the blocks search bar and select Affiliate Registration to add the default AffiliateWP registration form to your page.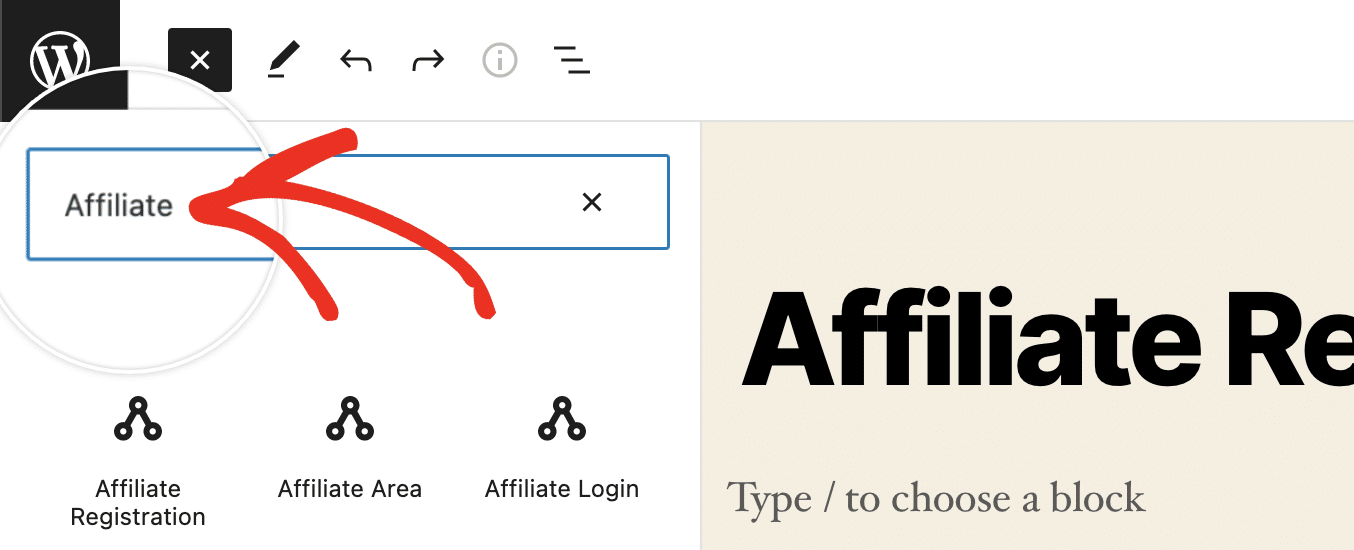 You can now start customizing the form to match your website's requirements.
Remember, when using AffiliateWP, you have three options to display the affiliate registration and login forms: Affiliate Area block, Affiliate Registration block, and Affiliate Area shortcode.
The affiliate area shortcode used to be the default method for displaying both the Affiliate Registration and Affiliate Login forms when you installed and activated AffiliateWP.

The Affiliate Area block is a group block that includes both the Affiliate Registration and Affiliate Login blocks, whereas the Affiliate Registration block only contains the registration form.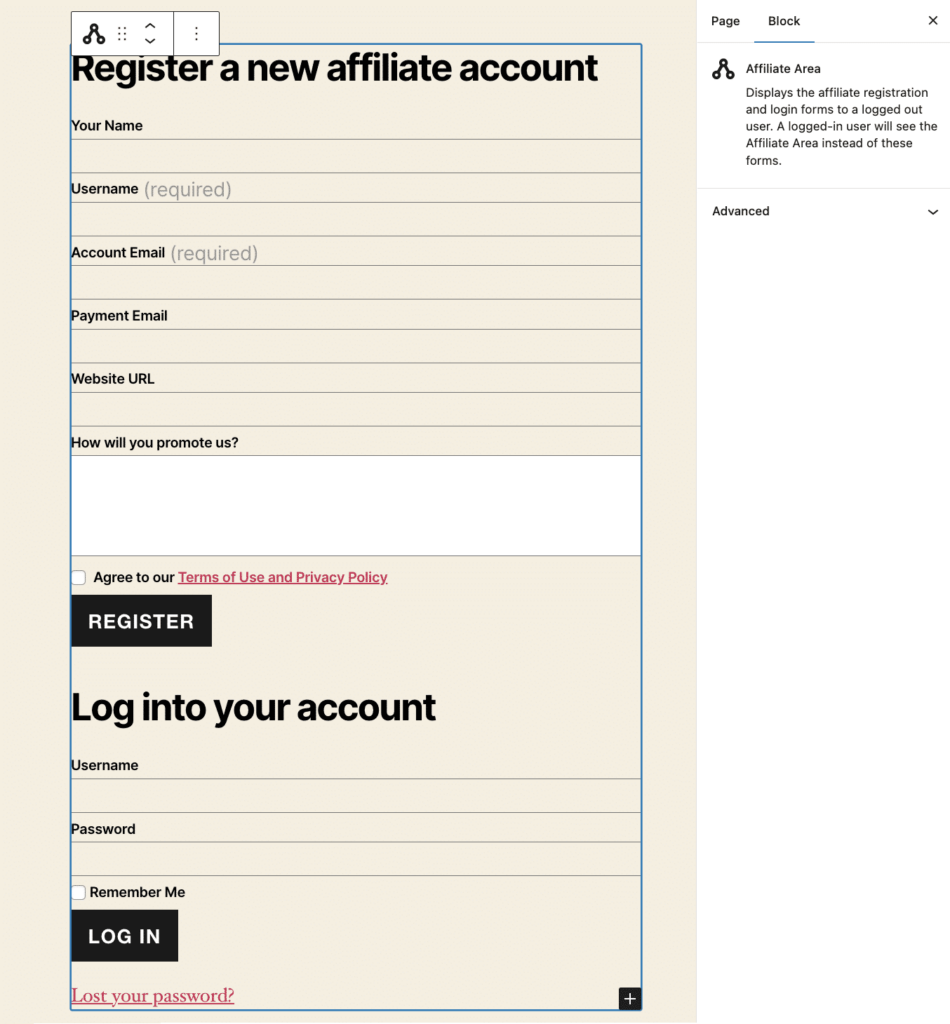 If your affiliate-area page still contains the shortcode and you'd like to switch to blocks, you can remove the affiliate_area shortcode from the page and add the Affiliate Area block.
Keep in mind that the settings in AffiliateWP » Settings » General, such as the Required Registration Fields section, apply only when using the affiliate area shortcode.
When using blocks, you can make changes directly on the page, such as removing a form or making fields required.
Step 3: Customize Default Fields
Click on any field or field label within the affiliate registration form to display the field settings on the right side of your screen.
You can then make specific fields required, change field labels, or add placeholder text as needed.

For example, to make the Payment Email field required, slide the "Required" slider to the right, and the field label will automatically update to include "(required)."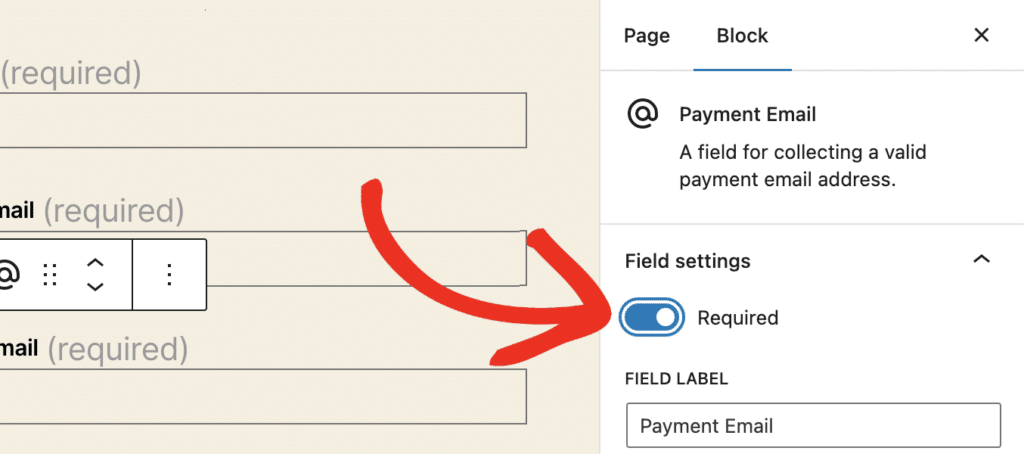 In the same section of field configuration, you can rename the FIELD LABEL field to something more descriptive, like PayPal Email, if you like.

The FIELD PLACEHOLDER field, located directly below it, can also be used to enter placeholder text.
Step 4: Remove Default Fields
If there are default fields in the registration form that you don't need, you can easily remove them.

Click on the field label or field contents, then click the three-dot ellipsis icon and select the field name at the bottom to remove the field from the form.

Step 5: Add New Fields
To add new fields to the affiliate registration form, select the affiliate registration form as the parent block.

Then, click the plus sign at the bottom right of the form to see the available fields that can be added.

For example, select the Password field to add password fields, and the Confirm Password field will be added automatically.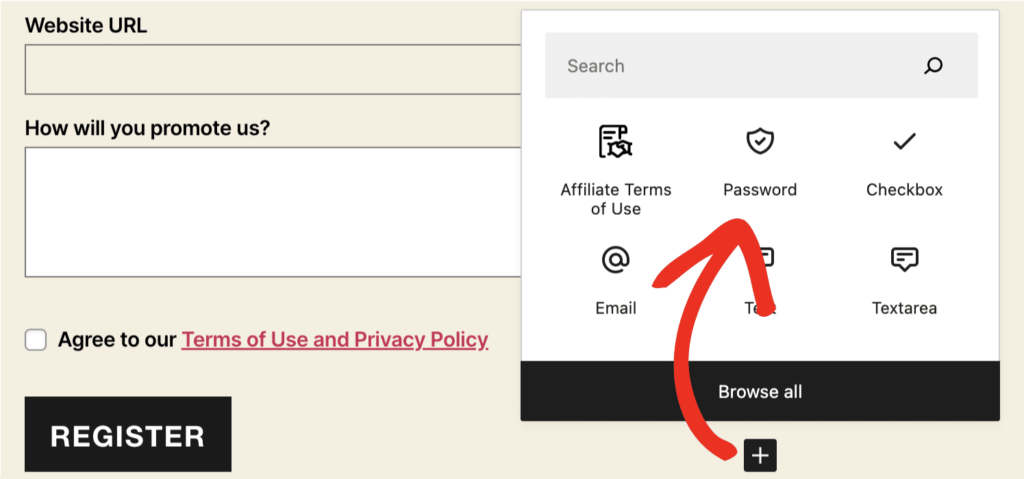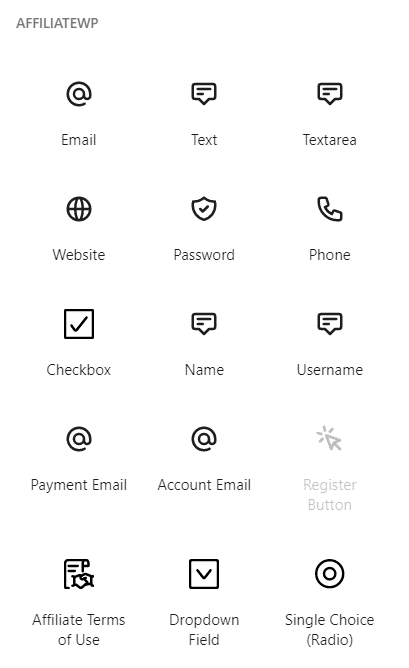 Use the up and down arrows to position the new fields within the registration form as desired.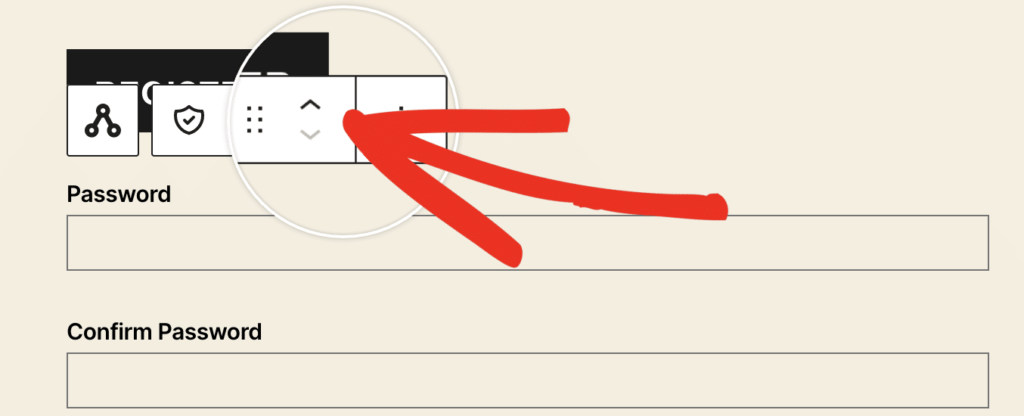 Don't forget to save your changes by clicking the Update button in the page/block editor.
Step 6: Change Register Button Text
To change the default label for the registration form's submit button, click on the button and update the BUTTON TEXT field to your preferred text.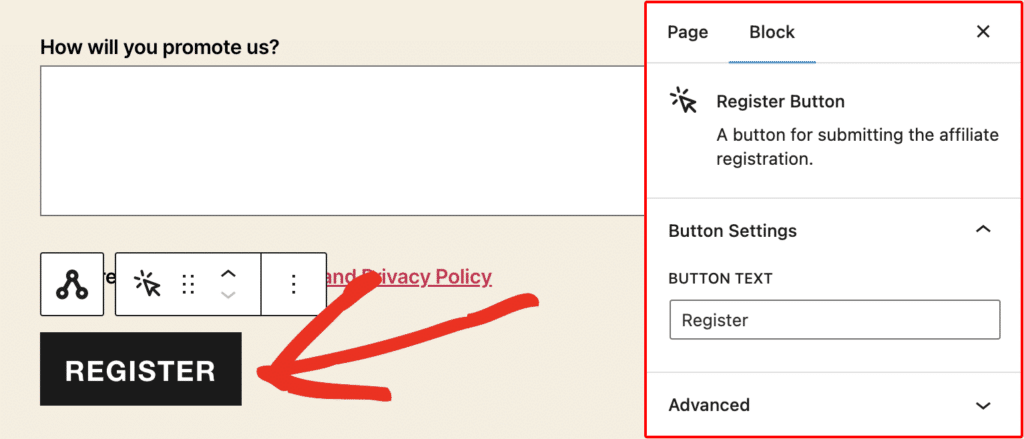 This allows you to personalize the registration form further to align with your brand's messaging and style.
FAQs: What to Include in Affiliate Registration Form
How Can I Add Custom Fields to My Affiliate Registration Form?
You can easily add custom fields to your affiliate registration form with the block editor. Simply click the plus sign at the bottom right of the form and choose from the available field types. This allows you to collect additional information from your affiliates during registration.
How Can I Prevent Spam Registrations on My Affiliate Registration Form?
You can enable Google reCAPTCHA on your affiliate registration form to prevent spam registrations. This will require users to complete a captcha challenge before submitting the form, reducing the likelihood of automated spam registrations.
Is it Possible to Add a Terms and Conditions Checkbox to My Affiliate Registration Form?
You can add a terms and conditions checkbox to your affiliate registration form by adding a new field and selecting the Checkbox field type. You can then customize the label to include a link to your terms and conditions page, ensuring that your affiliates agree to your policies before registering.
Ready to Skyrocket Your Affiliate Program with AffiliateWP?
By following the steps we've outlined in this guide, you can customize your affiliate registration form to suit your needs better, making it easy for potential affiliates to sign up and start promoting your products.
As we've discussed, the registration form is just the beginning; it's time to get your affiliate program up and running and tap into the potential of passive income through affiliate marketing.
Don't forget to check out these additional resources to help you maximize your affiliate marketing efforts:
So, why wait? Get started today and see the benefits of having a successful affiliate program.