How to Get Customer Feedback in WordPress (3 Proven Ways)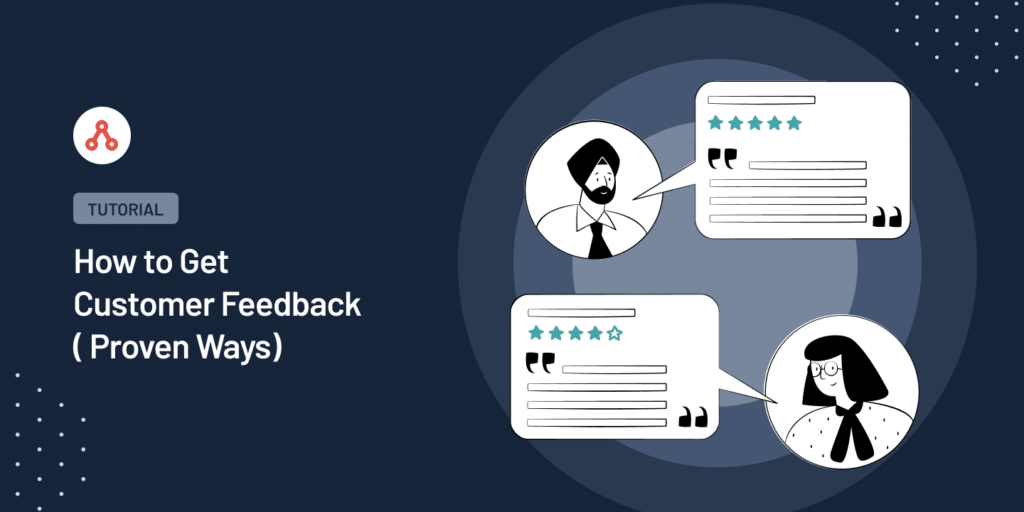 Want to know how you can get customer feedback?
Customer feedback is essential for any business that wants to succeed. It helps you understand what your customers like and dislike about your products, services, and website. This information can then improve your offerings and make your business more successful.
In this article, we will discuss how to get customer feedback quickly and drive your business toward success.
Why It's Important to Get Customer Feedback
As a business that utilizes affiliate marketing, understanding the importance of customer feedback is crucial for your success.
Customer feedback plays a vital role in optimizing your affiliate marketing campaigns. By actively seeking feedback from your audience, you can gain valuable insights into their preferences, interests, and pain points.
This information allows you to align your promotional efforts with the needs of your target audience, resulting in higher conversion rates.
On the other hand, by regularly collecting customer feedback, you can stay ahead of market trends and identify emerging opportunities in your niche.
Understanding your customers' evolving needs and preferences allows you to adapt your affiliate marketing strategies and capitalize on new trends.
But how can one collect customer feedback online?
Don't worry.
We have shared some of the best and proven ways by which you can get customer feedback without any hassle.
Best Ways to Collect Customer Feedback Online
Collecting customer feedback is not as complicated as you might think.
To get customer feedback and use it to improve your business strategies, you need to use these simple ways:
1. Leverage Website Feedback Tools
Harnessing website feedback tools is an effective strategy to solicit genuine, unfiltered feedback from your site visitors in real-time.
You can utilize these tools to ask pointed questions or enable users to give feedback on a broad spectrum of topics.
Our personal favorite in this category is the UserFeedback plugin for WordPress.
This tool facilitates the creation of popup feedback surveys on your site in a snap, allowing you to connect with the user sentiment instantly.
You should curate thoughtful questions to leverage website feedback tools to your advantage. Carefully curate the questions to be specific and relevant to your business.
For instance, ask about the ease of finding your products, any issues with the checkout process, or what other products they might be interested in purchasing.
With a tool like UserFeedback, you can decide where to place your surveys on your site.
For example, putting a survey on a blog post about affiliate marketing could be a great way to ask if visitors have any specific queries about your program.
2. Rely on Online Surveys
Online surveys are a classic yet powerful tool for gathering customer feedback. They allow you to understand customer sentiment and preferences in a more structured manner.
Plugins like WPForms and UserFeedback simplify these surveys' creation, distribution, and analysis.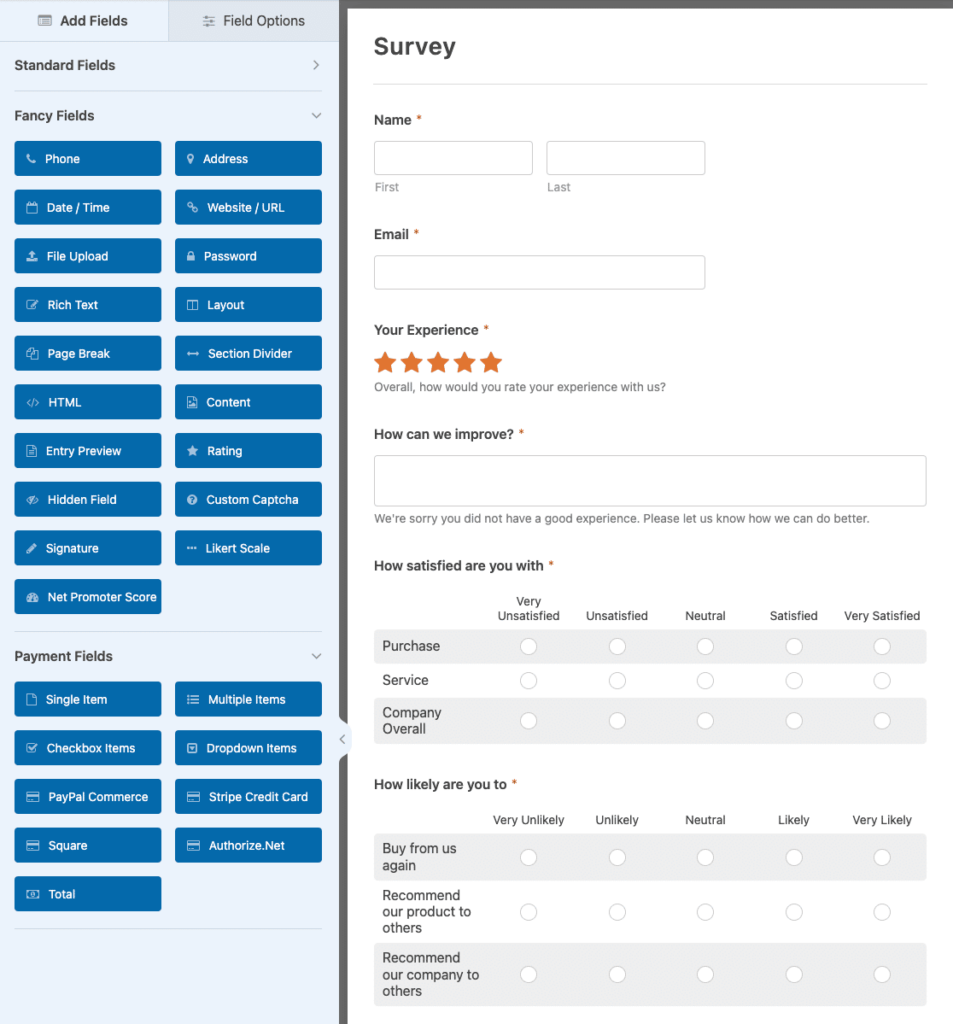 When designing an online survey for your affiliate marketers, keep these pointers in mind that most website visitors have limited time to spare.
So, you must keep your survey crisp, focusing on the most crucial questions that could improve your affiliate program.
Additionally, to boost the response rate, consider offering a small incentive, such as a discount on their next purchase or an exclusive ebook.
3. Utilize Email
Emails serve as an incredibly effective channel for soliciting customer feedback.
Besides sharing surveys with your email subscribers, you can follow up with your affiliate marketers after they make a sale or interact with your business.
To ensure you're making the most of emails, you should include a simple explanation of the survey's purpose, ensuring that the link or button to take the survey is the main focus of the email.
Also, try to send a survey immediately after a customer interaction when the experience is still fresh in their mind.
Remember to customize your survey emails for different audience segments, as personalizing the message can increase the likelihood of recipients responding.
4. Deploy SMS Campaigns
SMS (text) surveys are a quick and impactful way to gather customer feedback.
The significant advantage is that you can reach people right on their phones, an environment where they spend a significant amount of time.
To effectively use SMS surveys for customer feedback, your SMS surveys should be brief, ideally just a few questions long.
This helps ensure a higher response rate.
Also, address recipients by their names to make the interaction more personalized. And also, don't forget to send an automatic 'thank you' message to express gratitude when someone fills out your survey,
5. Use Exit-Intent Popups
Exit-Intent popups are the ones that appear when a user is about to leave your site.
For example: Were they unable to find something? Was there something they were hoping to see?
Asking open-ended questions like "What did you think of our site?" will not elicit as functional responses as more direct questions like "Did you find the information you were looking for today?"
If visitors are about to leave your site, they will likely not stick around for a 10-question survey. To add exit intent popups, you can use OptinMonster and take customer feedback through popups.
Keep your exit-intent popup short, simple, and easy to answer.
Next, Retain High-Quality Affiliates
As we keep growing our businesses, we often focus on attracting new customers and getting their feedback.
But have you ever thought about how to maintain and strengthen the relationship with your affiliates?
Retaining high-quality affiliates is another crucial aspect of growing your business, as they will ensure your product gets promoted to more and more potential customers.
Read this guide on how to retain high-quality affiliates to grow your business.
In this post, we've delved deep into affiliate retention and why it is crucial for your online business's sustained growth and success.
Furthermore, we've discussed how providing comprehensive support and resources can foster trust, ultimately boosting affiliate retention.
Grow Your Business With an Affiliate Program
Now that we've gone through how to gather customer feedback and why it's beneficial, it's clear that feedback can seriously improve your business.
It can help you improve your products or services and make your customers happier.
But getting feedback is just the first step. What's going to make your business take off is starting an affiliate program.
Here are some more resources that will help you build and grow your affiliate program:
So, why wait? Leverage the power of customer feedback and bring your business to new heights.
Get AffiliateWP today and create a robust affiliate program to grow your business.