7 Proven Steps to Optimize SEO in Affiliate Marketing (Guide)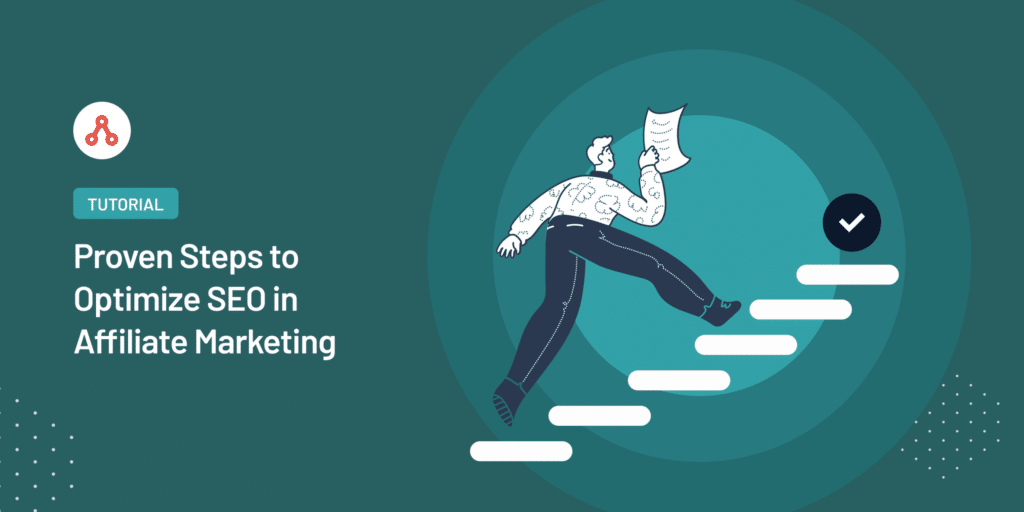 Want to know how you can do SEO on your affiliate marketing website?
Many affiliate marketers jump into the field with high hopes, only to find that their websites are buried under countless other search results, rendering them nearly invisible to potential customers.
If you're ready to break out of this cycle and want to significantly boost your affiliate earnings, this article is a must-read. In this post, We're going to show you exactly how to do SEO for affiliate marketing… the easy way!
Bring in Consistent (Targeted) Traffic with SEO for Affiliate Marketing
Organic traffic, the clicks you get from the search engines (that aren't PPC – paid ads), is incredibly powerful for your affiliate website.
Let's take a look at some of the benefits:
You don't have to pay for each click
The visitor has actively searched for the content you're providing
Ranking in the top results in the SERPs gives your website authority
It can be a long-term source of traffic (think passive income)
Yes, it can take time to build an organic presence with SEO for affiliate marketing, but it's very much worth it.
Once you've established yourself, your website pages can bring in free traffic for years to come. What's more, you're reaching the people looking for the affiliate products you're promoting.
So, we will show you the best strategy for your SEO affiliate marketing.
How to Do SEO for Affiliate Marketing
Top affiliate sites can bring in hundreds of thousands of visitors each month through a sound SEO strategy, and there's nothing stopping you from building up to these numbers.
Everyone's got to start somewhere, though, so where should you begin?
We'll assume that you've set up your domain name and website and get started with organizing your SEO.
Here are the steps we're going to be looking at.
Install AIOSEO
Keyword research
Content Types
Internal Linking
Affiliate Links
Backlinks
Analytics and content decay
If you can start taking positive action with all of these steps, you're likely to see an improvement in your SEO for affiliate marketing.
Step 1: Install AIOSEO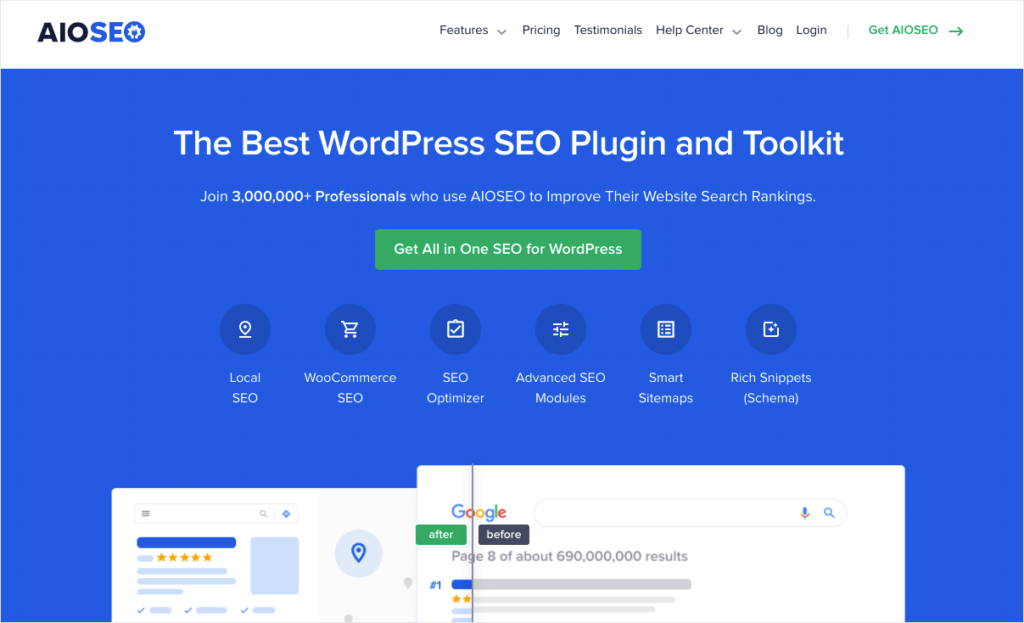 AIOSEO is the best WordPress SEO plugin and toolkit.
Installing AIOSEO is the perfect first step for improving your SEO because it's going to serve as your "command center."
It's going to perform a quick site audit, help reinforce all the points on this list, keep you organized, and show you areas for improvement.
And, it's got some excellent features for affiliate marketers (we'll talk more about these later in the article).
Head over to the AIOSEO pricing page and choose the plan that best fits your needs.
You'll find it's incredibly easy to set up, but if you have any problems, just follow this handy guide.
Taking care of this step first will help you immensely because it will allow you to be a lot more strategic with your affiliate SEO.
Step 2: Strategic Keyword Research
You're going to see the word strategic in this article a lot!
Keyword research is where you learn about the way your target audience searches. What words and phrases do they use when they're looking for the content you're creating?
Once you've found the right keyword or phrase, you'll then use it to guide your content creation.
This is one area where you need to be particularly thoughtful.
It's easy to go chasing target keywords with huge volumes, but you've got to ask yourself if this is the right approach. Here are some of the problems with chasing keywords with high search volumes:
There's likely to be a lot of competition
Just because there is a high search volume doesn't mean it's likely to result in affiliate sales
What you have to factor in are the customer journey and purchase intent.
For example, if you searched "SEO," what would you be looking for?
Probably a broad overview of what SEO is and some basic tips on how to implement it.
Now let's say you search for a long-tail keyword like "10 Best SEO Software for Affiliates."
The people searching this term are likely to be much further into the customer journey. They're comparing software to buy, so they're much nearer the point of making a purchase.
This is where you want your affiliate website to show up.
"SEO" might have 20x the number of search queries as "best SEO software for affiliates," but which one is more valuable to you? There's a clear winner.
Make sure to consider your searchers' intent when choosing your keywords and really plan out your content schedule.
When it comes to optimizing your content around the keyword (on-page optimization), you'll see AIOSEO has added an SEO block in the top-right-hand corner of your WordPress post builder.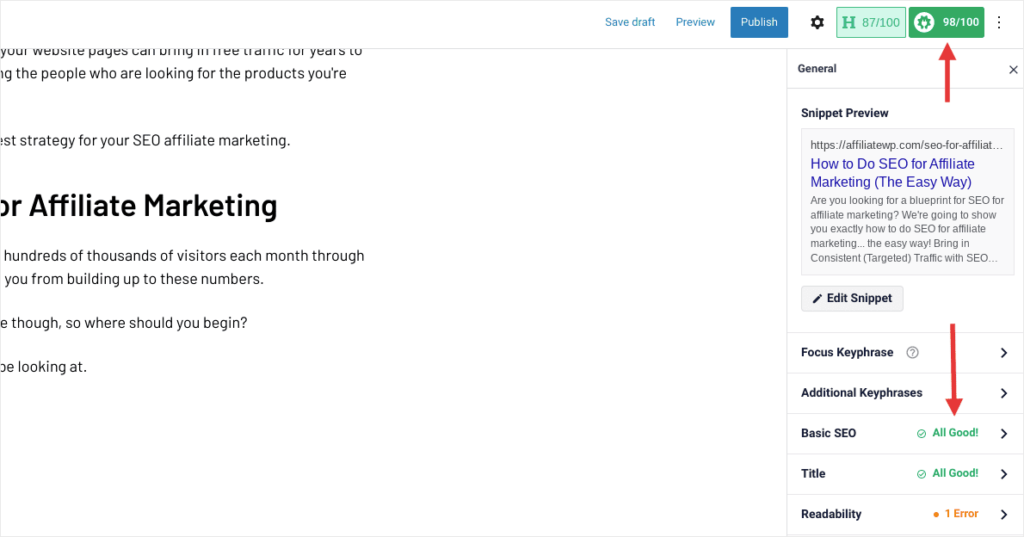 Use the Edit Snippet button to edit your title and meta description, and then open the Focus Keyphrase tab. Here you can enter your focus keyword for the post, and AIOSEO will give you a checklist of ways to optimize.
Note: You might also want to look at some other great keyword research tools like SEMRush and Ahrefs.
Step 3. Think About the Types of Content You Create
This point really builds on the last one.
Once you've understood how your target audience searches, you've got to decide how best to serve the information you're offering.
One of the worst things you can do in SEO for affiliate marketing is to get carried away with writing for bots. Yes, SEO is about getting the best rankings in the search engines (which are decided by an algorithm), but you've got to think about what the algorithm's job is.
The algorithm's job is to serve people with the information that best answers their questions. It follows that providing the right user experience and information is your job as well.
If you've chosen keywords with high purchase intent like "best SEO plugins for affiliates," then you already know what the user wants. They're trying to solve a problem and they want to use your experiences to make an informed decision.
Here's where you can break your content creation down into different types:
How to guides
Product reviews
Product comparisons
Round-ups of the best products on the market
Alternatives to a certain product
These content types are great options for affiliates because they appeal to users with high purchase intent. You're giving them the exact information they need to solve a problem and come to a decision.
This is the kind of meaningful, high-quality content that Google and the other search engines reward.
Step 4: Build Helpful Internal Links
This is an area where AIOSEO is going to come in handy!
Internal links sometimes get overlooked in SEO. Perhaps because they're actually easy for everybody to do, so they're not as cool for agencies to talk about.
A good internal linking structure helps guide people around your site.
It helps your visitors identify other subjects they'd like to learn more about, and then navigate to a page that talks about that subject in more detail.
When it comes to your SEO efforts, it also helps bots do a similar thing.
Bots will come to your website and simply crawl the pages (indexing). They follow all the internal links to see how pages interconnect and build a better understanding of what your website is all about.
Both of these functions are incredibly important!
So, wouldn't it be nice if you had a tool that identified where to place internal links in your content, and added them in a click?
Oh wait, you've already got that SEO tool!
Navigate to your WordPress dashboard, and hover over All in One SEO in the left-hand sidebar, and you'll see a Link Assistant tab (available on Pro and Elite plans). Click this link and you'll bring up a report on all your internal and external links.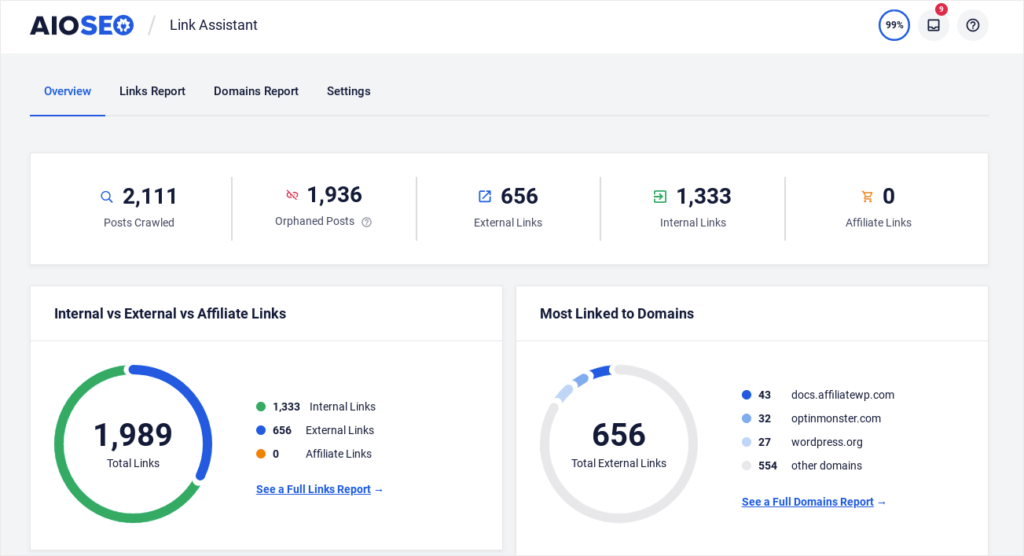 Click the Link Reports tab at the top of the screen and then the Linking Opportunities button just below.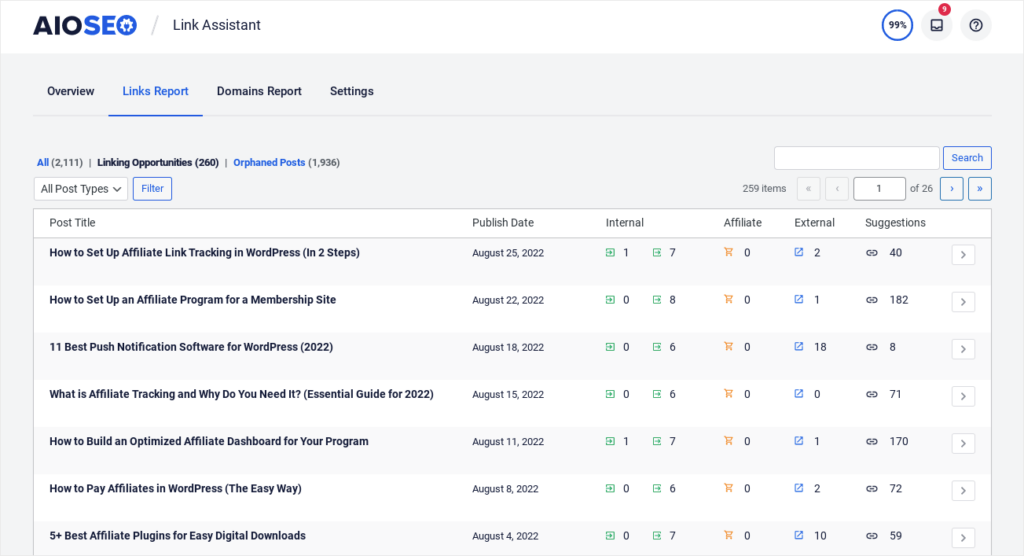 You'll now see all the posts on your affiliate website with a list of internal linking opportunities. Just click the dropdown button to expand the list of recommendations for a given post and select the Link Suggestions tab.
You'll now see a list of recommendations with a snippet detailing where to add the links, the titles of the post to link to, and an Add Link button.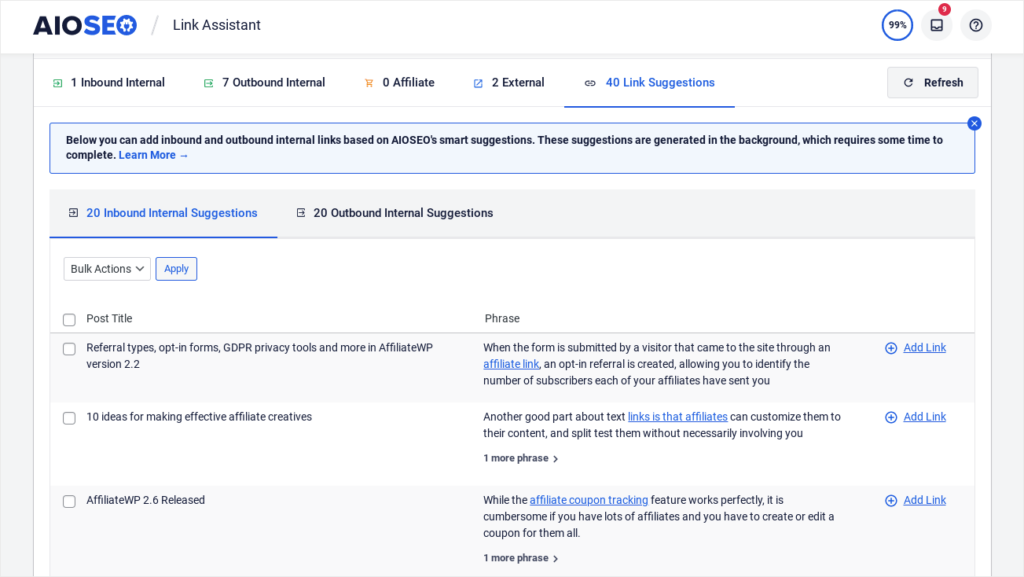 Just click the Add Link button and confirm the action, and the internal link will automatically be created.
You'll find this makes internal linking incredibly easy and can save you a lot of time.
Step 5: Placing Your Affiliate Links
SEO for affiliate marketing isn't just about getting the right people to your website, it's also about what you do with them.
As an affiliate marketer, you have a clear picture of what you want to achieve with your content marketing. You want people to follow the affiliate links and make a purchase on your affiliate program partner's site.
This might be obvious to you, but it won't necessarily be obvious to your visitors when they arrive on your landing page.
You've got to be clear with your calls to action, strategic with where you place them, and consistent.
As your site grows, it can be difficult to stay on top of your affiliate links (particularly if you have to make changes to them). This is where AIOSEO can be worth its weight in gold.
In your AIOSEO Link Assistant, you'll find an Affiliate Links tab that keeps track of all the affiliate links you have on your site.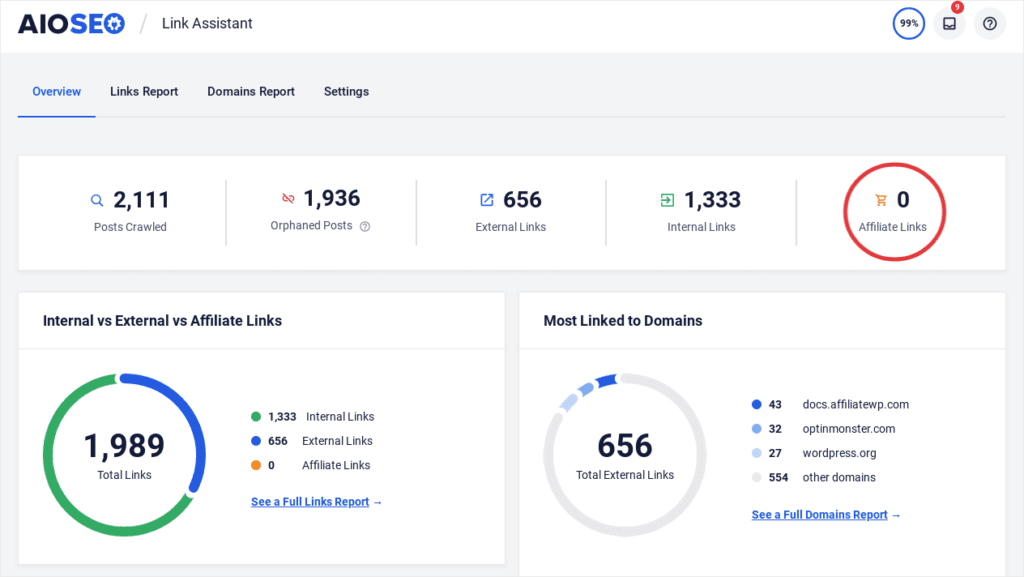 You can easily set this up by going to your Link Assistant settings and adding the affiliate link prefixes you use. For example, if you use Amazon affiliate links you might set https://amazn.to as one of your prefixes.

Once you've set up your prefixes, and saved your settings, you can head back to the Link Assistant overview to manage all of your affiliate links.
Note: Remember that it takes multiple touchpoints to create a sale. You might not get people to click right away, but if you get their email, then you can build more touchpoints through your email marketing campaigns.
Step 6: Gain Authority Through Backlinks
If you search "SEO tactics" one of the first things that's going to be mentioned is backlinking.
Backlinks are the links that point from external websites back to yours. The search engines look at these as a vote of confidence. The thinking goes, if X website trusts your website, then Google should trust it a little more.
The more links you get from websites that Google already considers to be trustworthy and authoritative, the better it's going to reflect on your affiliate website, and your rankings are likely to improve.
So, how do you get these backlinks?
Well, it's all got to start with the quality of your website and the content you create. You've got to give other websites a reason to link to your pages.
If you can match user intent, answer people's questions, and help solve their problems, then it's much more likely websites are going to link out to you.
Of course, there are link building tactics you can use to build your backlink profile like guest posting, reaching out to websites that link to your competitors, posting your content to social media (where bloggers and influencers can find it), and many more, but you need the basics in place first.
Step 7: Using Analytics to Optimize Your Processes
Nobody knows the exact details of Google's algorithm and the ranking factors it uses.
We're just making our best guesses based on the bits Google does tell us and the data we have available to us. It's hard to underestimate the power of that data and the ability to optimize your processes.
You have information about what works and what doesn't hidden within your analytics.
Google Analytics and Google Search Console are treasure troves that can help you make big improvements to your SEO for affiliate marketing.
The difficulty is, it can be a little bit complicated to turn metrics into insights, so the best option is to make things as simple as possible. You can do this by installing MonsterInsights, the best WordPress analytics plugin.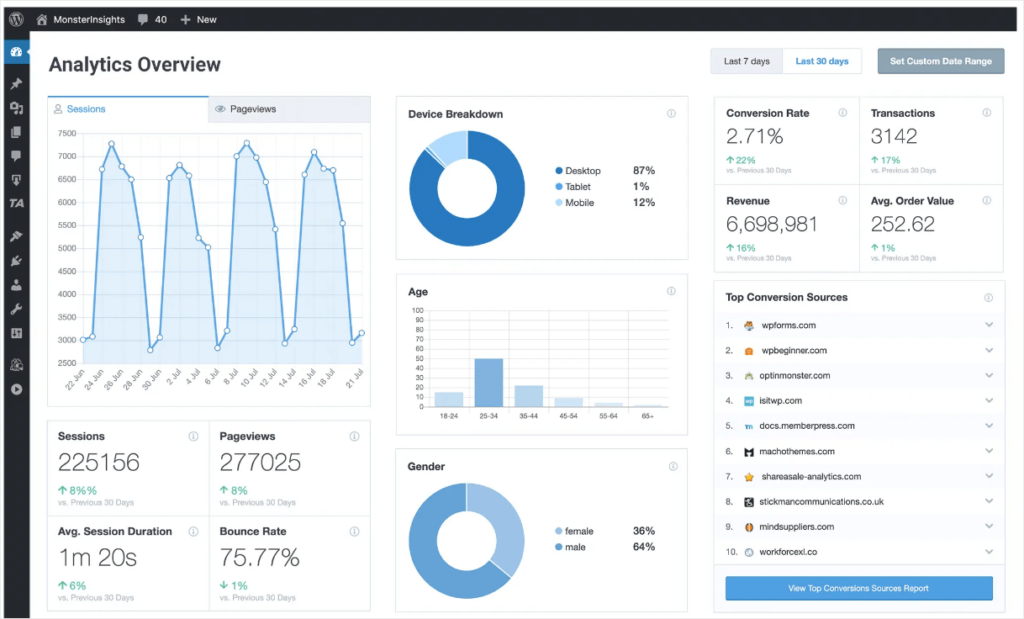 MonsterInsights is incredibly easy to set up and its affiliate link tracking helps you dig deep into the data to optimize your strategies and maximize conversion rates.
Search engine optimization is a constant learning process, and to cut your learning curve, you need to have access to great analytics, so check out MonsterInisght's pricing page.
Next, Grow Your Affiliate Website With The Right Tool
Now that you have a solid grasp on the ins and outs of SEO for affiliate marketing, it's time to turn your attention to the next critical step: converting that traffic into sales.
SEO might bring people to your website, but you'll need more than high visitor numbers to see a meaningful impact on your affiliate earnings.
This is where the right tools come into play, and when it comes to affiliate marketing, one platform stands head and shoulders above the rest: AffiliateWP.
AffiliateWP is not just another affiliate management system; it's an all-in-one solution designed to turbocharge your affiliate program. It seamlessly integrates with WordPress, offering a plethora of features that make managing your affiliates easier than ever.
Here are some features that set AffiliateWP apart:
Real-Time Reporting: Say goodbye to guessing games. AffiliateWP provides real-time tracking, so you can see who is selling what, when, and how.
Easy Affiliate Management: View your top-earning affiliates, manage affiliate registrations, and even moderate each stage of your affiliate program right from the dashboard.
Automated Payouts: Forget manual calculations and time-consuming PayPal transactions. AffiliateWP automates the entire payout process, saving you both time and potential errors.
Customizable Affiliate Area: Personalize your affiliate dashboard with brand colors, messaging, and banners to make affiliates feel at home when they log in.
Advanced Tracking Methods: Beyond just cookie-based tracking, AffiliateWP offers URL tracking and the ability to associate coupon codes directly with specific affiliates, ensuring fair and accurate credit for sales.
So, what are you waiting for?
Get Started With AffiliateWP Today
Now It's Time to Start Implementing Your Strategy
You don't need technical or specialist marketing knowledge to implement these strategies.
It's simply about understanding your audience and what you want to achieve.
When you create great content that helps users, the search engines will reward you, and your digital marketing will benefit.
Of course, you've also got to make sure you're formatting your ideas in ways that the search engines understand, and that's where AIOSEO comes in.
There is no silver bullet for SEO, but it's the perfect tool if you're looking to get organized and save time implementing your SEO for affiliate marketing strategy.
Want even more great tips?
We've got more resources to help you out:
Ready to grow your affiliate program and earn more revenue?
Get AffiliateWP and AIOSEO Today!