5 Best WordPress Affiliate Plugins with Affiliate Tracking (Guide)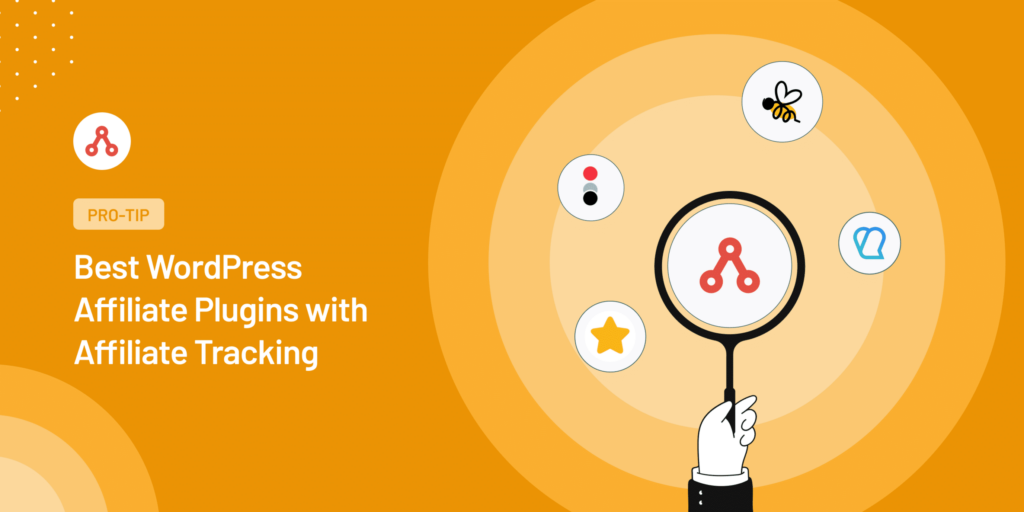 Looking for the best WordPress affiliate plugin with advanced affiliate tracking?
Finding the right affiliate plugin with advanced tracking features can be complex. Your chosen solution must align with your business needs, offering reliability and accuracy.
Discover the best affiliate plugin with advanced tracking capabilities for your platform with this comprehensive guide. Let's find the perfect solution to enhance your affiliate marketing success.
Why Affiliate Tracking is Important in Affiliate Marketing
Affiliate marketing is a powerful way to drive sales and grow your business, but without the right tracking, it can quickly become a complicated and inefficient system.
Here's why affiliate tracking is so vital in affiliate marketing:
Accuracy in Commissions: Accurate tracking ensures that affiliates are paid correctly for their efforts. Inaccuracies can lead to disputes, dissatisfaction, and loss of trust among your affiliates.
Understanding Your ROI: Through tracking, you can easily identify which affiliates are performing well and what marketing strategies are most effective. This information helps you invest more in what works, thus maximizing your Return on Investment (ROI).
Enhancing Affiliate Performance: With proper tracking, you can provide detailed insights and feedback to your affiliates. By understanding where they excel and where they can improve, you can guide them to perform better.
Security and Fraud Prevention: Advanced tracking helps detect fraudulent activities and protect your business from potential losses. Without a robust tracking system, you may fall victim to fake clicks or other deceitful practices.
Real-Time Insights: Affiliate tracking systems provide real-time data. This immediate access to information allows for quicker decisions, necessary adjustments, and agile reactions to market changes.
Ease of Management: Managing a vast affiliate network can be overwhelming without proper tracking. A streamlined tracking process enables you to monitor all your affiliates from one dashboard, saving time and reducing the risk of human error.
Affiliate tracking is not just about counting clicks and commissions. It's about creating a transparent, efficient, and rewarding system that benefits your business and affiliates.
From understanding your audience to preventing fraud, the right tracking system is foundational to your success in affiliate marketing.
So, as you understand the importance of affiliate tracking, it's crucial to find the right tool that fulfills all these needs.
Let's now explore the best WordPress affiliate plugins with affiliate tracking to ensure your affiliate marketing efforts are fruitful but also seamless and efficient.
Best Affiliate Plugins with Affiliate Tracking
Affiliate tracking is essential in managing a successful affiliate marketing program.
The right plugin not only provides accurate tracking but also helps in effective affiliate management.
Here are some of the top affiliate plugins that are designed to offer advanced tracking and ease of use:
1. AffiliateWP: Best WordPress Affiliate Management Plugin
AffiliateWP is synonymous with top-tier affiliate management for WordPress users.
Integrating seamlessly with popular plugins like WooCommerce, Easy Digital Downloads, MemberPress, and PayPal, it's a powerhouse of functionality.
Starting with AffiliateWP is a breeze, thanks to its simple integration wizard. Just a few clicks and your affiliate program is ready to roll.
It's not just about ease; the plugin comes packed with unique growth tools like Vanity Coupon Codes and Direct Link Tracking to amplify your sales and revenue.
Advanced Affiliate Tracking is one of its core features, ensuring precise attribution for links, codes, and leads.
Features like a Custom Affiliate Dashboard, Affiliate Fraud Detection, Automated Notifications, and Internal Payouts Service make AffiliateWP a must-have plugin for serious affiliate marketers.
With a user-friendly approach, powerful affiliate management, and cost-effective plans, AffiliateWP is a clear winner in the affiliate marketing space.
And don't forget the 14-day money-back guarantee, making it a risk-free investment!
Pricing:
Personal: $149.50/year for the first year, $299.00/year thereafter (1 site, essential features)
Plus: $199.50/year for the first year, $399.00/year thereafter (3 sites, growth, and essential tools)
Professional: $299.50/year for the first year, $599.00/year thereafter (10 sites, advanced features)
Get AffiliateWP today and take advantage of its advanced affiliate tracking!
2. Easy Affiliate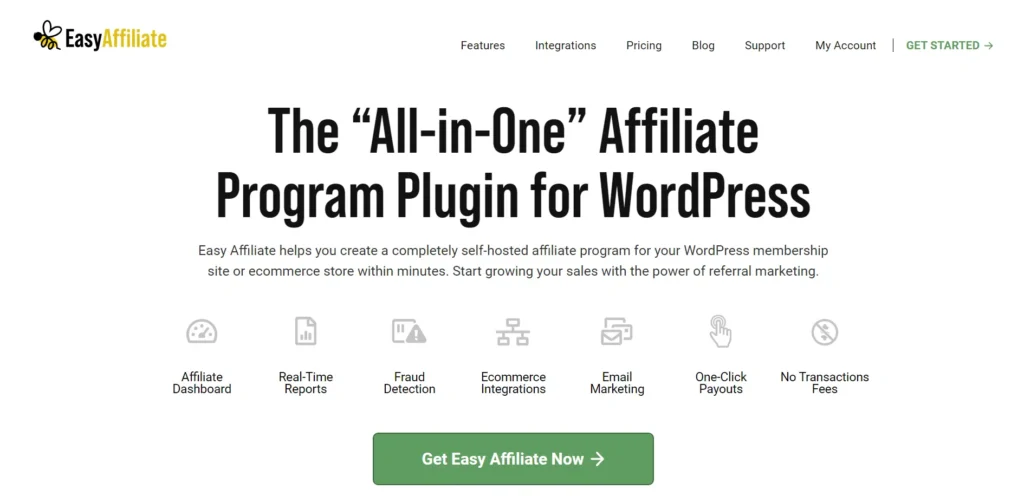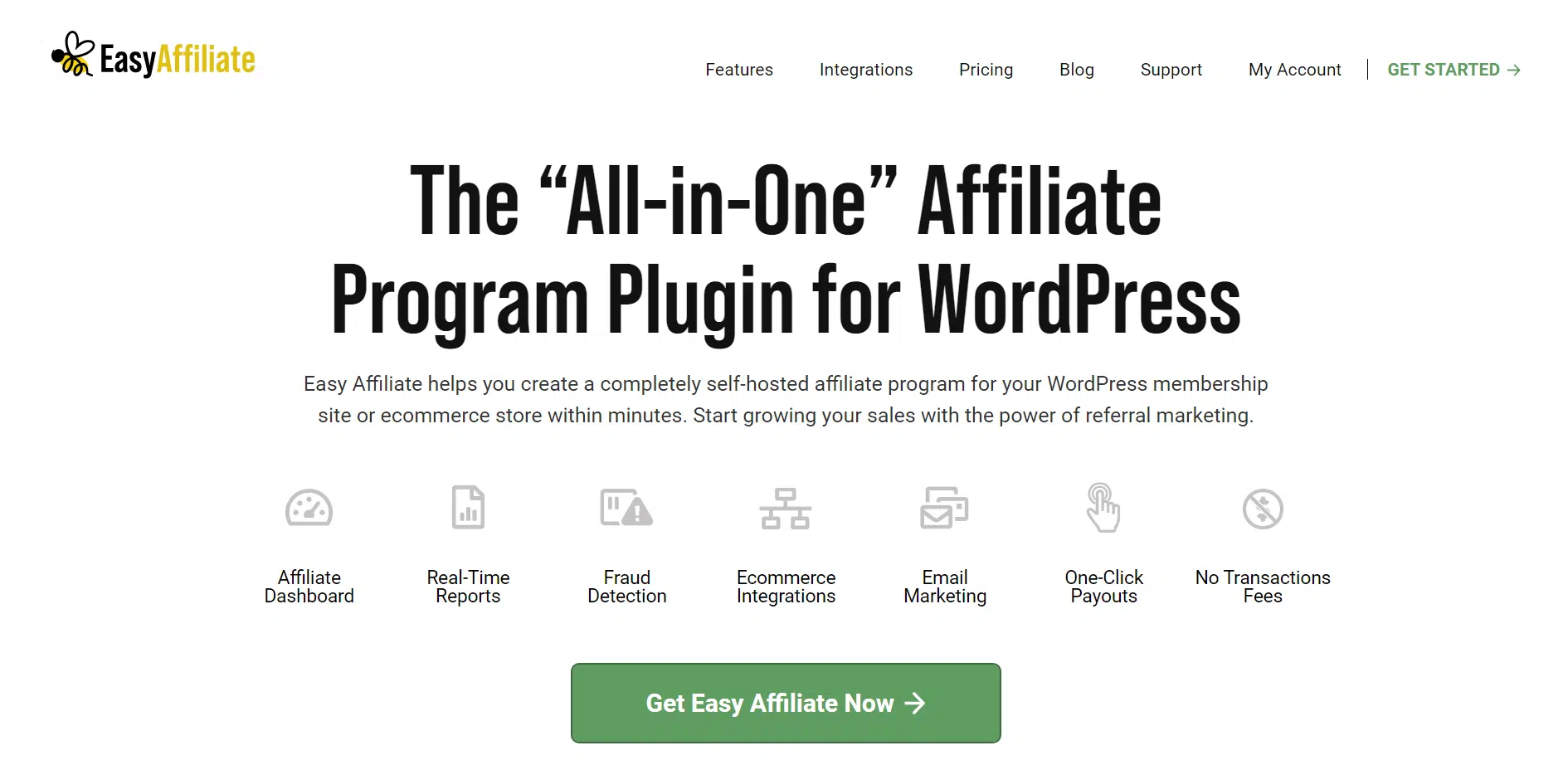 Easy Affiliate is an all-in-one affiliate tracking and management solution.
It offers seamless integration with WooCommerce and a real-time reporting system to track performance. Its intuitive user interface allows you to manage affiliates effortlessly right from your WordPress dashboard.
With features like fraud detection, classic editor support, bulk link updates, and detailed click counts, Easy Affiliate makes tracking and managing affiliates a piece of cake.
If simplicity and efficiency are your preference, Easy Affiliate might be the perfect choice for your WordPress site.
Pricing:
Starter: $99/year for the first year, $199/year thereafter (1 site, basic features)
Plus: $149/year for the first year, $299/year thereafter (3 sites, advanced features)
Pro: $199/year for the first year, $399/year thereafter (5 sites, all features)
3. Tapffiliate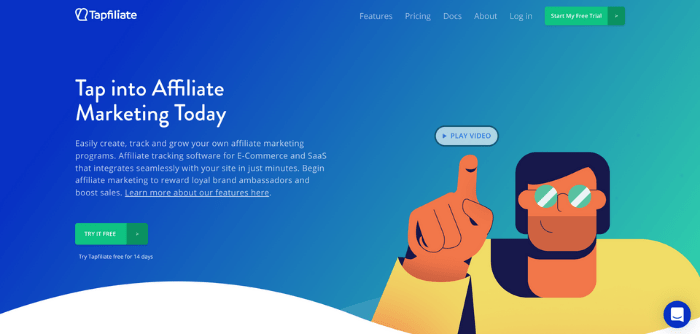 Tapffiliate is designed considering the specific needs of eCommerce and SaaS businesses.
With over 30 platform integrations, including Woocommerce, Shopify, and WordPress, it offers targeted functionalities.
Features like branded dashboards for affiliates, custom signup fields, and lifetime commissions put you in control of your affiliate program. Plus, the automation of commissions and payments ensures hassle-free management.
For businesses looking for a streamlined solution with minimal setup, Tapffiliate might be the perfect pick.
Pricing:
Essential: From $89/month
Great plan for small-size businesses. It comes with features like white labeling, two team members' support, and more.
Great for large enterprises. You get a custom domain, 5 team members support, and more.
4. ShareASale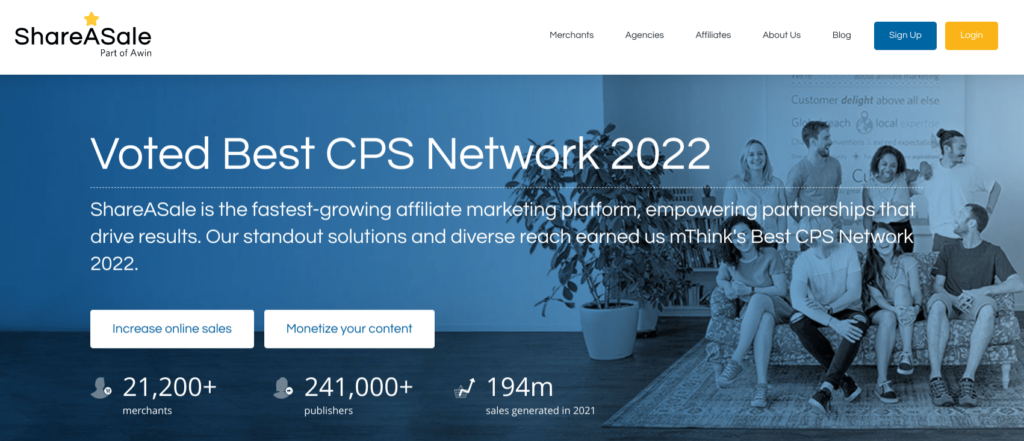 With over 20 years in the business, ShareASale is one of the most trusted affiliate networks.
Its large network of affiliate marketers and no monthly recurring fees make it appealing for beginners and experienced marketers.
ShareASale's real-time tracking, top-performer segmentation, and multi-site connection provide robust control over your affiliate marketing efforts.
Though the user interface might seem outdated, the efficiency and effectiveness of the platform are still top-notch.
ShareASale is worth considering if access to a vast network and reliable tracking is your priority.
Pricing:
One-time network access fee of $550: Upfront deposit of $100. The platform charges a transaction fee per sale. This fee is 20% of the commission paid to your affiliate partner.
5. Impact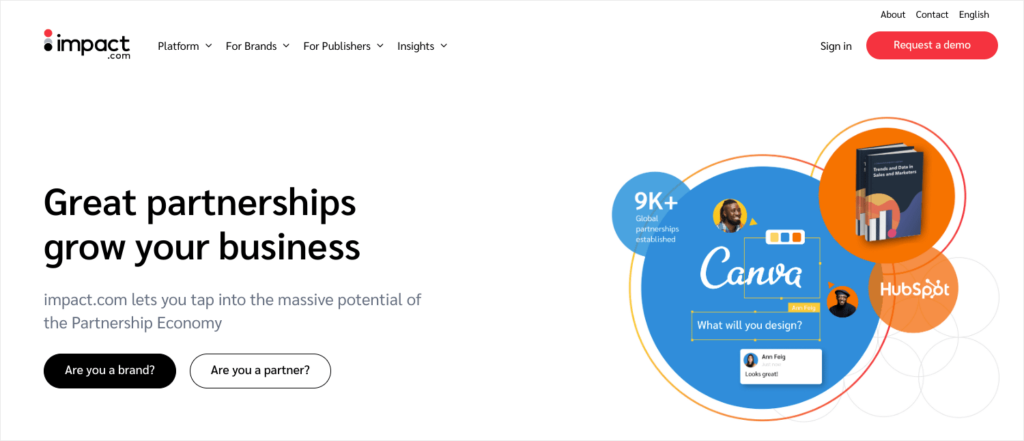 Impact offers a unique pay-per-affiliate structure, cutting down on unnecessary costs. It has powerful tracking options for accurate campaign measurement.
With features like cross-device tracking, fraud protection, and integration with platforms like Salesforce, it offers a comprehensive solution for affiliate management.
Impact's powerful user interface and detailed analytics and insights, helps you understand and grow your marketing campaigns.
Though it might seem complex, Impact's feature set is tailored for larger programs seeking advanced functionalities.
Impact might be the right choice if you want detailed control and are ready to invest in a robust system.
Pricing:
Quote-Based: Impact.com operates on a quote-based pricing model, meaning the cost will depend on the specific requirements of your business.
Which is the Best Affiliate Plugin with Affiliate Tracking
When selecting the best affiliate plugin that offers advanced affiliate tracking, the one that stands out from the crowd is AffiliateWP.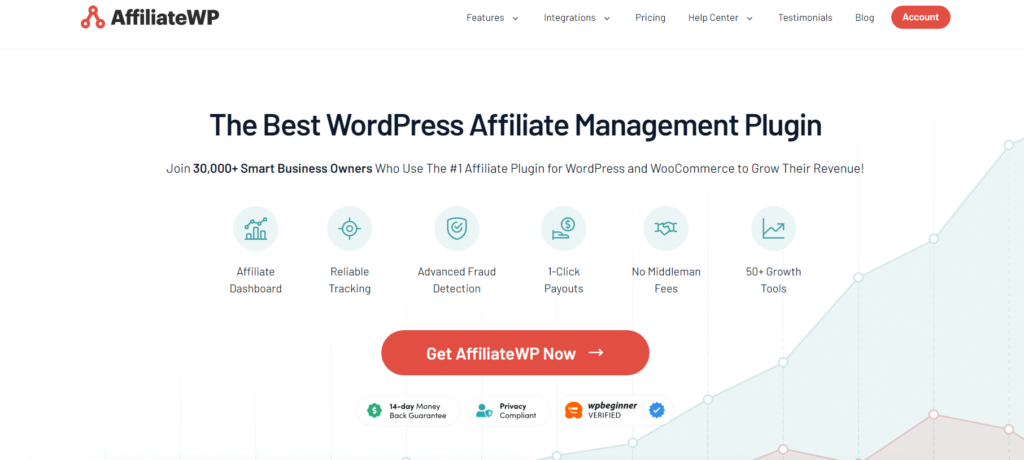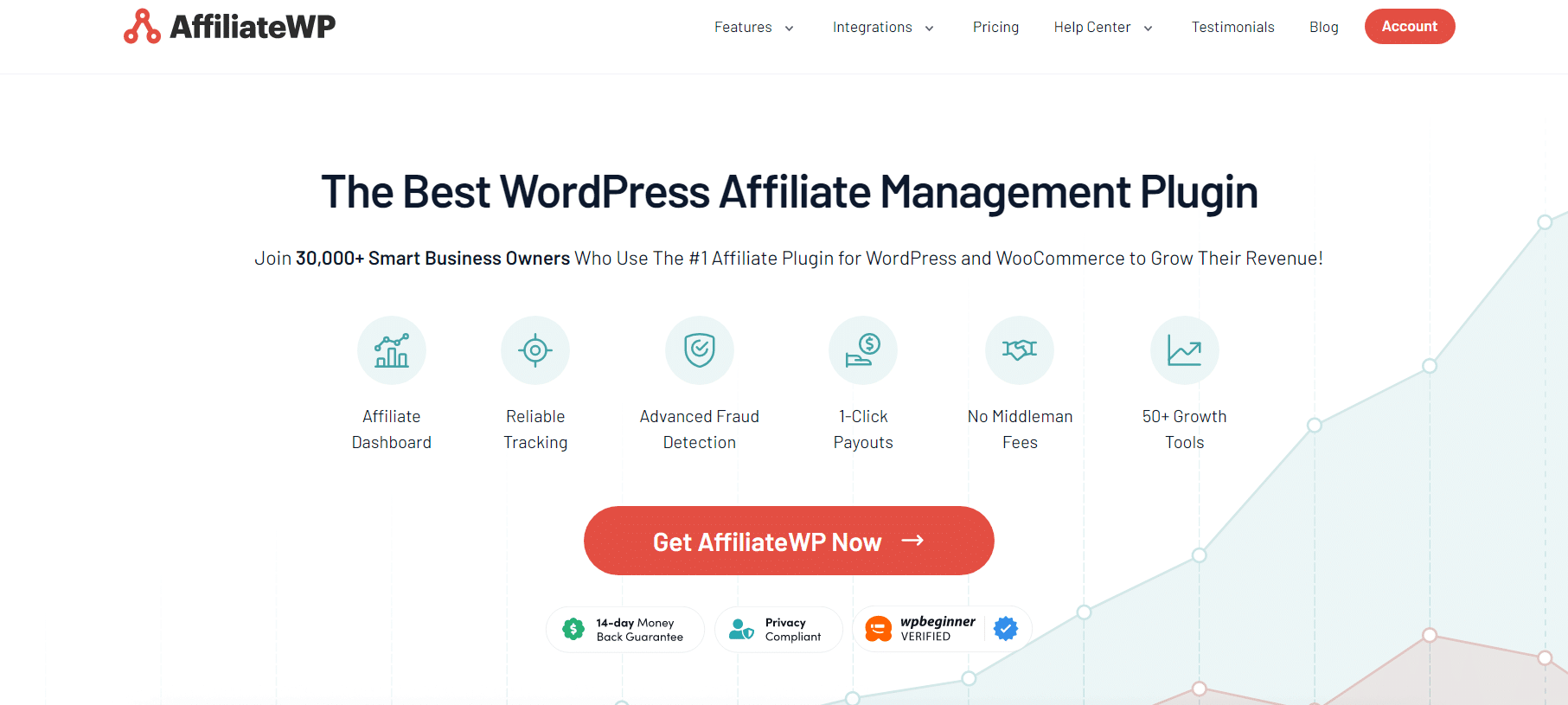 AffiliateWP has earned its reputation as the best affiliate management software for WordPress.
It is designed to work flawlessly with your favorite WordPress plugins, including WooCommerce, Easy Digital Downloads, MemberPress, and more.
Even if you're not tech-savvy, the smart setup wizard guides you through the process, making it simple to sync products and create an affiliate program in just a few minutes.
Accurate tracking is the heart of any successful affiliate program, and AffiliateWP has nailed it. It offers pinpoint accuracy in attributing affiliate links, coupon codes, direct link tracking, lead generation, and more.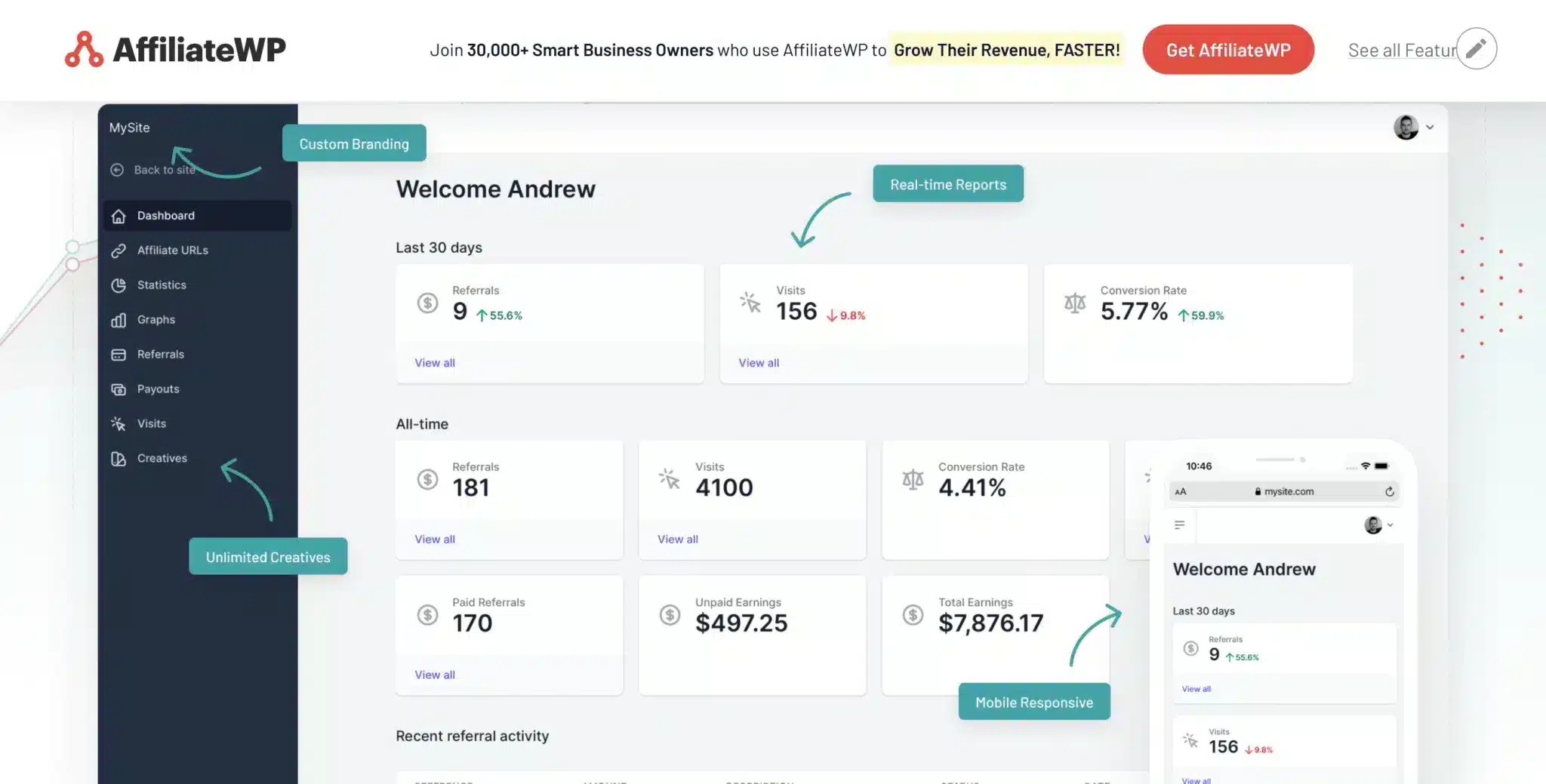 Whether it's tracking a single click or managing complex commission structures, AffiliateWP has you covered.
Beyond basic tracking, AffiliateWP offers innovative growth tools like Vanity Coupon Codes and Affiliate Landing Pages. These features are designed to boost your sales and return on investment by making it easier for affiliates to promote your products effectively.
If tracking is your priority, and you want a system offering more than just basic functionalities, AffiliateWP is the best choice.
Don't wait.
FAQ: Best Affiliate Plugin with Affiliate Tracking
How Quickly Can I Set up AffiliateWP on My Word Press Site?
AffiliateWP is renowned for its ease of use. With a simple setup wizard, even those without technical expertise can have their affiliate program up and running in minutes.
What Exactly Is Affiliate Tracking, and Why Is It Important?
Affiliate tracking is the process of monitoring and recording the activities of your affiliates, such as clicks, sales, and commissions. This tracking is essential to understand the performance of individual affiliates and ensures that they are rewarded accurately for their efforts. Without proper tracking, managing an affiliate program can become chaotic and ineffective.
How Does AffiliateWP Ensure Accurate Tracking of Affiliate Performance?
AffiliateWP uses advanced tracking technology, including cookies and unique affiliate IDs, to accurately monitor every click and sale made through affiliate links. This ensures that all activities are correctly attributed to the right affiliates, providing a transparent and fair system. Detailed reports are also available, giving insights into how your affiliates are performing and where you can improve.
Get Ready to Start Your Affiliate Program
Managing affiliates and paying them seamlessly without hassle is the first thing a business wants to run a successful affiliate program.
However, with the best affiliate management plugins like AffiliateWP, managing affiliates is much easier and more fun.
Your affiliate program can be created, integrated with your preferred software, and ready to go in minutes. Pick the best affiliate management plugin from the list above that suits your need and start your affiliate program to grow your business.
Here are some excellent resources that can help you get started:
Now there is only one more thing to do.
Get AffiliateWP, the best affiliate management plugin for WordPress today!