8 Best Lead Generation Plugins for WordPress (2023)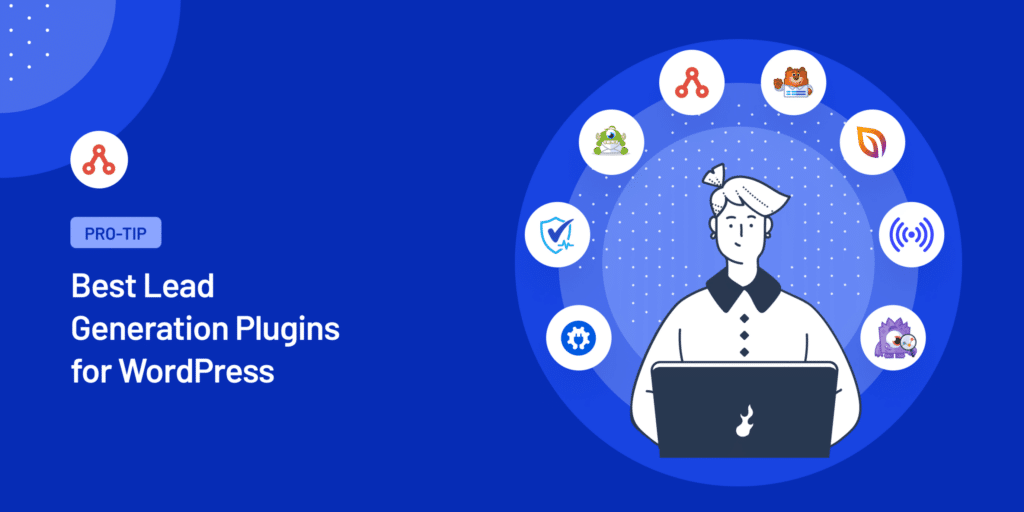 Are you looking to streamline and enhance your lead generation strategies for your WordPress website?
Implementing a powerful lead generation plugin can boost your online business's customer acquisition, sales, and overall growth.
In this article, we will share the best lead-generation WordPress plugins that you can use to ramp up your marketing strategies.
Let's dive in.
What is Lead Generation, and Why is it Crucial?
Lead generation, in simple terms, is about sparking the interest of potential customers. It's about making people who have never heard of you say, "Hey, this looks interesting. Tell me more!"
So, how does lead generation work?
Well, if we're talking about your website, it might involve encouraging visitors to:
Subscribe to your email newsletter.
Fill out a contact or inquiry form on your website.
Start a conversation through a live chat feature.
Engage with a chatbot (an automated chat tool).
Call your sales team or book a phone call with them.
You might be thinking, "I'm running an online business or affiliate program. Is lead generation really that important for me?" The answer is a resounding yes!
Lead generation is the heart of all online businesses. It's the first step to turning a stranger into a customer.
But generating leads is often where most businesses stumble. They struggle to get enough leads, to begin with.
If you're involved in a nonprofit, lead generation is still crucial. It's the way to garner more donations and support for your cause.
There are numerous WordPress lead generation plugins, each with unique strengths. But we believe in a holistic approach to lead generation. We recommend not just relying on a single tool but exploring multiple options and strategies.
So, buckle up and explore the best lead-generation tools to boost your business growth.
Best Lead Generation WordPress Plugins
As we discussed, lead generation is the process of sparking the interest of prospective customers in your product or service and converting that interest into a sales funnel.
For your website, lead generation might involve enticing visitors to join your email newsletter, submit a form, or even contact your sales team directly. Given its importance in driving online business, it's no surprise that many powerful plugins are available to help you capture leads more effectively.
Without further ado, here are the best lead generation plugins for WordPress:
AffiliateWP is a full-featured, easy-to-use affiliate marketing plugin for WordPress that lets you start your own affiliate program.
It provides a complete system for managing, tracking, and paying out your affiliates, all from within your WordPress dashboard. This can enhance your visibility online, leading to increased traffic and sales.
The plugin offers precise affiliate tracking even on servers with aggressive caching. Its integrated payout service allows you to pay your affiliates directly from your website, reducing the hassle of manual payments.
Real-time reporting keeps you updated on your affiliates' activities and their impact on your business. AffiliateWP is designed with ease of use in mind, making it simple to set up and manage your affiliate program.
Key Features:
Accurate affiliate tracking
Integrated payouts
Real-time reporting
Affiliate coupon tracking
Pricing: AffiliateWP's pricing starts at $149.50 per year.
WPForms is a beginner-friendly, drag-and-drop form builder for WordPress, boasting over 6 million active installations.
Its powerful features allow you to create diverse lead generation forms, such as email newsletter signups, content download forms, event registration forms, and more.
It provides over a hundred pre-built form templates to kickstart your form creation process.
Additionally, you can integrate WPForms with various email marketing services and CRM providers, letting you add leads to your email list automatically.
Moreover, it has options for managing notifications and storing form entries within your WordPress database, ensuring you never miss a potential lead.
Key Features:
Drag-and-drop form builder
Pre-built form templates
Integration with email marketing and CRM tools
Form entry storage
Pricing: WPForms' pricing starts at $49.50/year, but a limited-feature free version is also available.
OptinMonster is a powerful lead generation and popup plugin for WordPress.
With OptinMonster, you can create high-converting popups and email signup forms, turning abandoned visitors into subscribers and customers.
One of OptinMonster's standout features is Exit Intent® technology, which shows your popup when a visitor is about to leave your site. Coupled with page targeting, this can dramatically increase conversion rates.
Moreover, OptinMonster offers unique popup types like "spin the wheel" popups and Yes/No options, adding a fun element to your lead generation efforts.
OptinMonster's drag-and-drop builder and professionally-designed templates make creating attractive and effective popups and lead forms easy.
Key Features:
Drag-and-drop builder
Exit Intent® technology
Page level targeting
Variety of popup types
Pricing: OptinMonster starts at $9/month when billed annually, but for more advanced features like Exit Intent technology and Yes/No forms, you would need the Pro plan from $29/month.
SeedProd is a versatile WordPress website and theme builder. With over a million users, it allows you to build any website without writing code.
It offers a simple, drag-and-drop interface, making the creation process easy for beginners and experienced users alike.
SeedProd stands out for its extensive library of professional templates, easily customizable to fit your business's unique needs.
Its landing page builder feature simplifies creating sales, opt-in, and webinar registration pages.
It includes dozens of integrations with popular email marketing service providers, allowing you to collect and manage leads more efficiently.
Key Features:
Drag-and-drop interface
A variety of professional templates
Landing page builder
Integrations with popular email marketing tools
Pricing: SeedProd's pricing starts at $39.50 per year.
TrustPulse is a social-proof notification plugin for WordPress that can boost your lead generation efforts by up to 15%.
Social proof is a powerful tool in digital marketing, showing potential customers that others are engaging with and buying your product.
TrustPulse lets you leverage this by showing your site's small, non-intrusive real-time activity notifications.
For instance, a small popup notification can display this activity to your site visitors when someone purchases, signs up, or submits a form.
You can customize these notifications, choosing what to display, how often, and where. This plugin also lets you track the performance of your notifications with its built-in analytics feature.
Key Features:
Real-time activity notifications
Customizable display options
Built-in analytics
Pricing: TrustPulse's pricing starts at $5/month.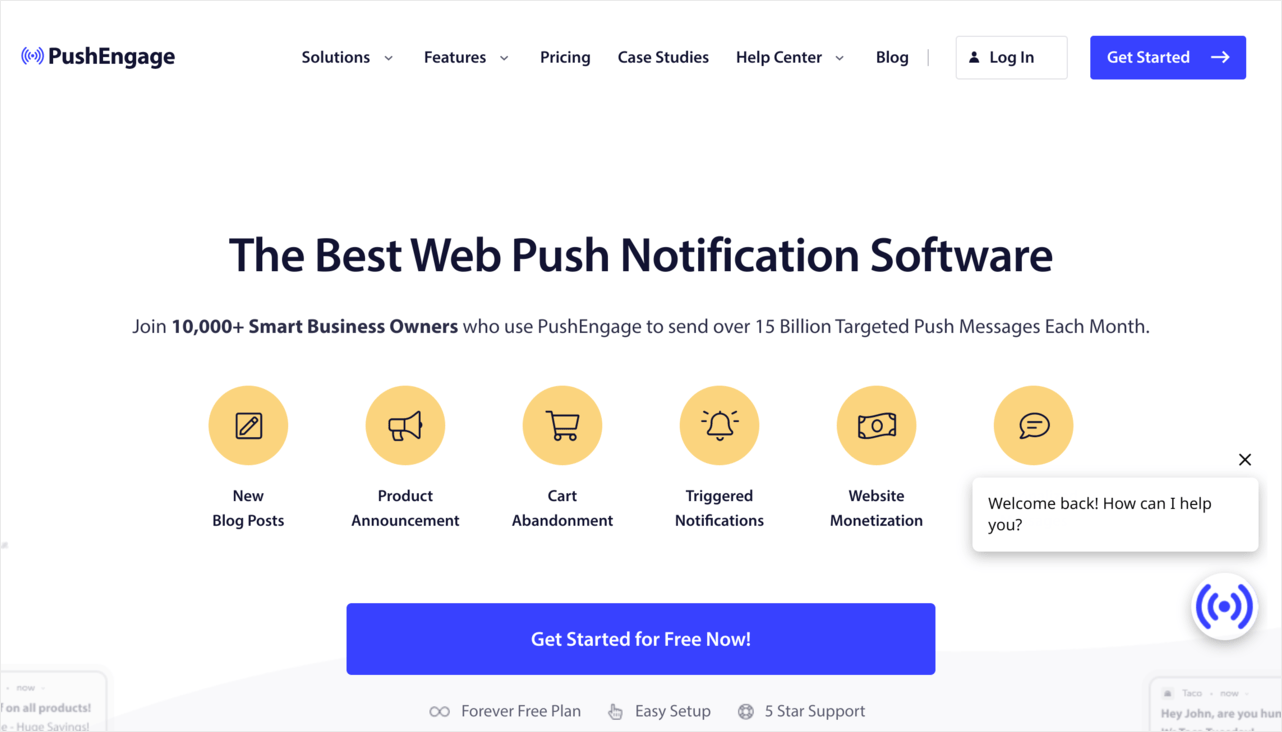 If you've been looking for an effective way to re-engage visitors, look no further than PushEngage. It is a powerful WordPress lead-generation plugin that utilizes browser push notifications to draw leads to your website.
PushEngage allows you to create and deploy push notifications prompted by different activities on your site, such as publishing a new blog post. Whenever a notification pops up, the subscriber can click on it to view the latest updates instantly.
Apart from being an excellent re-engagement tool, PushEngage can be an asset in recovering abandoned carts.
You can set it up to send push notifications to remind users who left items in their cart without checking out.
One of the commendable features of PushEngage is its opt-in nature. Visitors can decide whether or not they want to receive notifications, which means you're only engaging those genuinely interested.
Key Features:
Browser push notifications
Abandoned cart recovery
Opt-in nature
Easy installation and setup
Pricing: PushEngage offers a free plan that caters to up to 2,500 subscribers and supports 120 monthly push notifications. Premium plans start at $29/month.
Traffic is the lifeblood of any website, and to generate leads, your site needs to be easily discoverable. All in One SEO is a powerful plugin that lets you optimize your site's pages to improve organic search rankings.
All in One SEO examines every facet of your webpage, helping you fine-tune your content to rank highly for your target keywords.
With this tool, you can add meta descriptions and keywords, aiding search engines in understanding your site's content better and directing high-quality traffic to your site.
The beauty of All in One SEO lies in its ease of use for beginners. It has features to generate optimized titles, alt tags, and more automatically.
As your website grows, you can leverage advanced features to optimize every part of your site even further.
Key Features:
Advanced page analysis
Auto-generation of optimized titles and alt tags
TruSEO on-page checker for real-time optimization
Pricing: All in One SEO pricing starts at $99/year.
Regarding analytics plugins for WordPress, MonsterInsights stands at the forefront.
This powerful tool consolidates useful data from various services like Google Analytics and Google Search Console and transforms them into actionable, easy-to-understand reports.
MonsterInsights is not just about tracking your site's performance, but it also helps you understand your audience's behavior.
You can see which pages are getting the most traffic and which links are the most clicked and evaluate the performance of your call-to-action buttons. Over time, you get a clear picture of your site's growth and content that attracts the most valuable visitors.
One feature of MonsterInsights that shines is its ability to track the download of lead magnets such as ebooks. It automatically recognizes downloadable files and keeps tabs on them without extra setup or scripts.
If you use WPForms for your forms, MonsterInsights will automatically track your form conversions, offering you a seamless lead-tracking solution.
Key Features:
Comprehensive site performance tracking
User behavior analysis
File download tracking
Automatic form conversions tracking with WPForms
Pricing: MonsterInsights offers a free version, while paid licenses start at $199/year.
Skyrocket Your Business with Effective Lead Generation
Having explored some of the best lead generation plugins for your WordPress site, it's time to highlight a powerful tool that can take your online presence to a new level: AffiliateWP.
With AffiliateWP, you can build a robust affiliate program to boost your sales and broaden your online reach, propelling your business toward unprecedented growth.
To help you navigate and efficiently manage your lead generation strategies, we recommend the following insightful resources:
Are you ready to transform your online business? To boost your leads, increase conversions, and supercharge your growth?