How to Add Fuzzy Search in WordPress Affiliate Marketing Website
Want to enhance the search feature on your affiliate marketing WordPress website?
Fuzzy search can be a game-changer for your WordPress website. It helps users discover the content they're after, even if they mistype or are slightly off in their search terms. This can mean more engagement, clicks, and conversions for your affiliate marketing site.
In this guide, we'll walk you through the steps to seamlessly integrate fuzzy search into your affiliate marketing WordPress website.
Why Add Fuzzy Search to Your Affiliate Marketing Website
Have you ever tried to search for something online and got stuck because you weren't sure about the spelling? Or did you make a small typo and end up with no results?
This can be quite frustrating, right?
Fuzzy search comes to the rescue in such scenarios. Instead of looking for exact word matches, fuzzy search goes for "close enough" matches.
If your visitors misspell a term or affiliate product on your WordPress site, fuzzy search will still present them with relevant options, rather than an empty "No results found" page.
For businesses running affiliate programs, this is essential. Let's say someone is looking for "Vintage flower pots" on your site but types "Vinteg Flover Pots" by mistake. Instead of showing no results, fuzzy search could guide them to your site's relevant articles or affiliate links.
This means more chances for engagement, and, potentially, more revenue for you!
However, the standard search tool in WordPress is quite basic. Users who don't type their queries perfectly might not find what they want.
But don't worry, there's a solution like using SearchWP on your website.
SearchWP upgrades your site's search feature, making it smarter. It supports fuzzy search and checks various areas of your site, like titles, tags, product descriptions, and even PDFs.
So, if someone looks up "travel affiliate program" but spells it "trvel affiliate progrm", SearchWP can still show them relevant results from your site.
Note: While fuzzy search is a fantastic tool, use it wisely. It might show too many unrelated results if incorrectly calibrated, confusing users. It's all about striking the right balance.
If you're keen on enhancing your affiliate marketing WordPress site's user experience, adding fuzzy search might be a great idea.
Now, let's look at how you can add a fuzzy search to your website.
Steps to Add Fuzzy Search on Your Affiliate Marketing Website
Adding a fuzzy search is super easy; here are some simple steps to follow if you want to enhance your website's search feature:
Step 1: Install the SearchWP Plugin
Firstly, to enhance your site's search capabilities, you will need the SearchWP plugin.
Navigate to your WordPress dashboard, go to Plugins, and then click on Add New.
In the search bar, type SearchWP. Once you find the plugin, click on the Install Now button.
After it's installed, make sure to Activate the plugin. If you're unfamiliar with adding plugins, here's a detailed guide on how to install a WordPress plugin.
Step 2: Activate Your License
After activating the plugin, go to the SearchWP section on your dashboard and click on Settings.
Here, you will need to enter the license key to get the full benefits of SearchWP.
This license key can be found in your account on the SearchWP website.
Enter this key into the provided field and then click on the Activate button.

Step 3: Enable the Fuzzy Search Feature
By default, SearchWP does not have the fuzzy search feature turned on.
But no worries! Enabling it is easy.
From your dashboard, navigate to SearchWP » Settings. Scroll down until you see the General tab.

Look for the Partial Matches option and toggle the switch to turn it on. This action enables the WordPress fuzzy search feature for your site.
Step 4: Customize Your Search Settings
Now, it's time to tailor the search to suit your affiliate marketing website's needs.
Go to SearchWP » Algorithm. This section lets you decide the importance or 'weight' of different search results.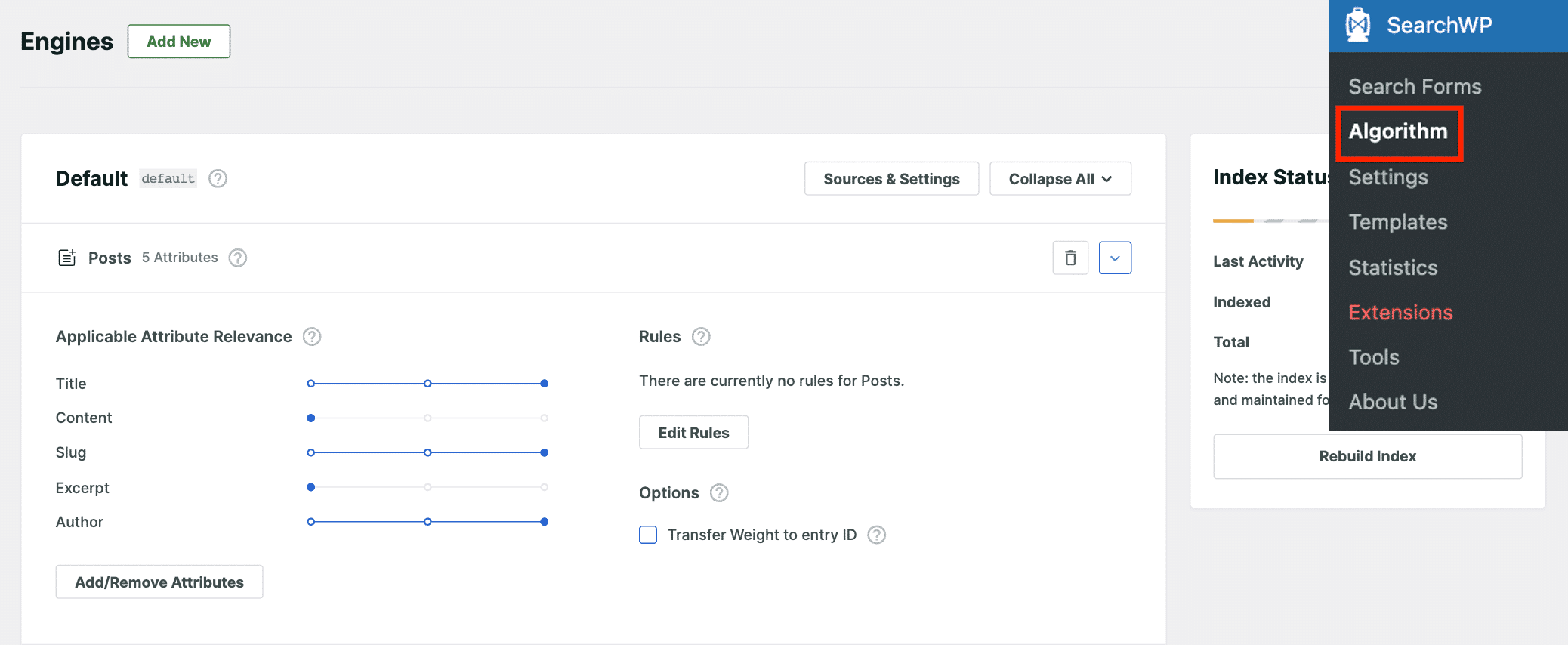 For example, if you want product descriptions to appear higher in search results than blog posts, you can adjust their weight accordingly.
You also have the option to expand your search areas by clicking on Sources & Settings.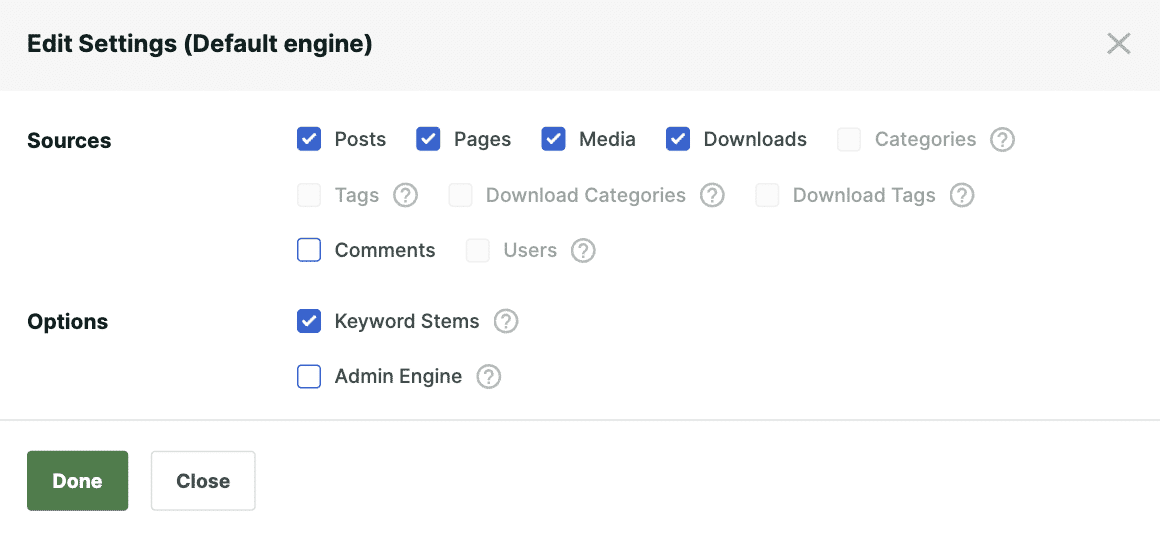 This feature allows you to include comments, products, or any other content in your search results, not just posts and pages.
Step 5: Add a Search Form to Your Site
With SearchWP activated, it will automatically upgrade the default WordPress search. If you've placed a WordPress Search widget or block on your site, it will now use SearchWP's enhanced algorithm.
If you haven't added a search form yet, here's what to do:
Go to Appearance on your dashboard and then click on Widgets. Find the Search widget and drag it to your desired location, like a sidebar. Make sure to save or update your changes.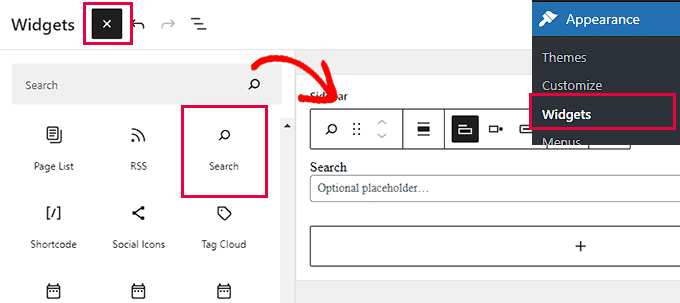 For those using block themes without widget areas, you'll use the full site editor.
Navigate to Appearance and click on Editor. You can easily add the Search block to your desired page or post from there.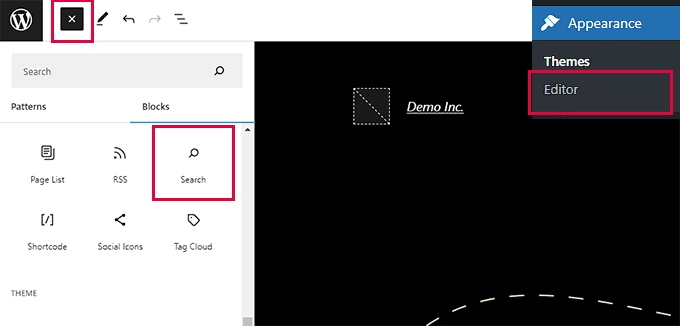 Step 6: Test Your New Fuzzy Search
After all these steps, visiting your site and testing the search feature is a good idea.
Try searching with a misspelled affiliate product or topic. With fuzzy search enabled, you should see relevant results, even with minor typos.
For example, we typed "e mail marketing" instead of "email marketing" in the search bar after following the above steps.

SearchWP showed the results even though our query was misspelled, but it gave the correct results, as you can see in the image below.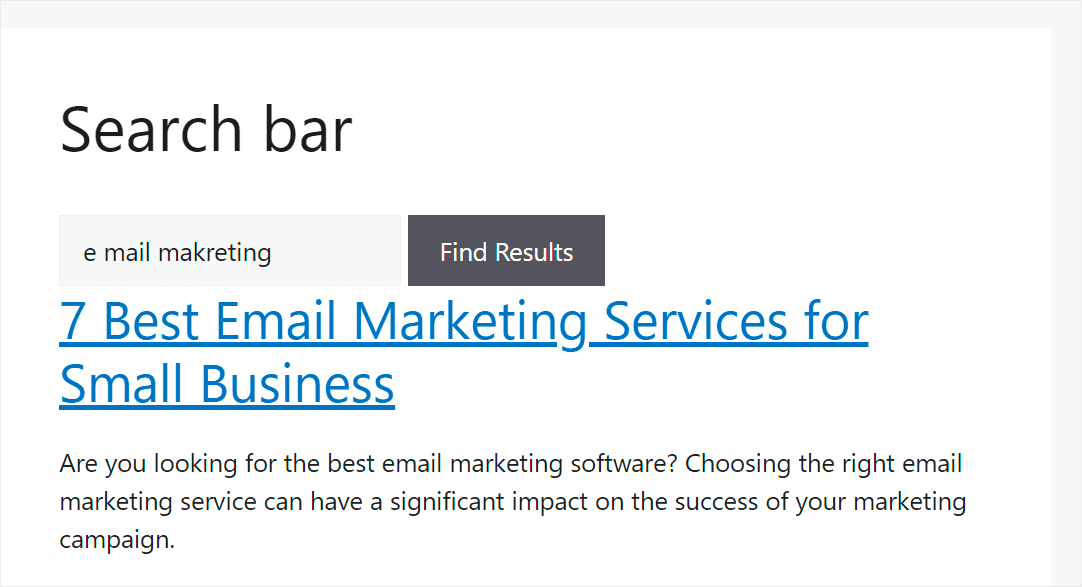 And there you have it!
With these simple steps, you've greatly enhanced the search functionality of your affiliate marketing WordPress website, ensuring users find exactly what they're looking for, even if they don't spell it quite right.
Next, Skyrocket Your Conversions with AffiliateWP
You've taken a significant step by integrating fuzzy search on your website, enhancing user experience and potentially boosting your sales.
But why stop there? To truly push your online business to new heights, you need to capitalize on one of the most potent online marketing strategies: affiliate marketing.
And when it comes to affiliate marketing on a WordPress site, AffiliateWP stands out as the top player.
AffiliateWP isn't just another WordPress plugin as it comes with a lot of standout features like:
Simplified Setup: Unlike many advanced tools that come with a steep learning curve, AffiliateWP is a breeze to install and activate. Once you've got it up and running, dive into the intuitive settings, and you're off to the races.
Effortless Affiliate Management: Say goodbye to cumbersome spreadsheets and manual checks. With AffiliateWP, you get a clear view of all affiliate activities right from your WordPress dashboard, making management a walk in the park.
Real-time Insights: Data drives decisions. With AffiliateWP's real-time reporting, you'll have your finger on the pulse of your affiliate program, understanding what's working and what needs tweaking.
Quick Affiliate Onboarding: Attracting affiliates is great, but if onboarding is a hassle, they'll drop off. AffiliateWP makes the process seamless, with automated profiles and a dedicated dashboard for each affiliate.
And More…
Yes, there's a long list of features that AffiliateWP comes with. By pairing the power of fuzzy search with a top-tier affiliate management system, you're not just setting your platform for success; you're ensuring it.
So why wait? Grow your business with AffiliateWP today.