How to Enable Affiliate Marketing on Easy Digital Downloads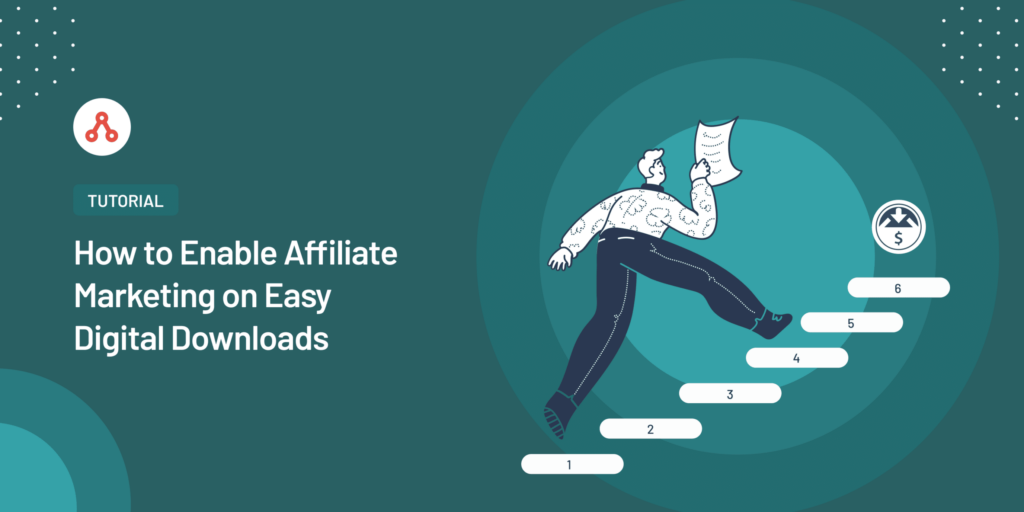 Want to set up affiliate marketing for your Easy Digital Downloads store?
Easy Digital Downloads (EDD) might not have built-in affiliate link tracking, but it's actually very easy to set up.
Let's take a look at how you can enable affiliate marketing on Easy Digital Downloads.
Affiliate Marketing is a Perfect Strategy to Grow Digital Downloads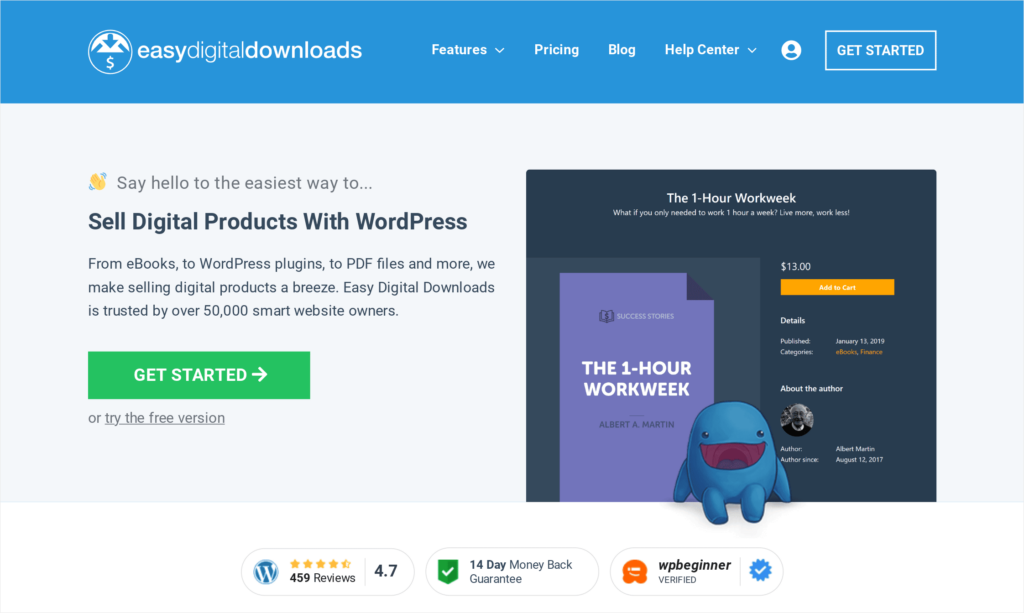 Digital products are perfect for affiliate marketing.
With EDD, you've already got the perfect platform to maximize conversions, but by adding affiliate marketing, you can expand your audience almost immediately.
By signing up top affiliates in your industry/ niche, you can access your target audience while leveraging social proof. Whatever niche you sell your products in, there are plenty of affiliates with large, engaged audiences, and they have real authority with these people.
Collaborating with people who carry influence in your industry can only benefit your sales and affiliate marketing is the best way to do it.
Digital products tend to offer excellent margins (you create the product once and can sell it over and over again), so there is room to offer an attractive commission to potential affiliates.
While the commission cuts into your profits slightly, it's well worth it to drastically increase revenue. Affiliate marketing can generate tens and even hundreds of thousands of dollars in additional revenue, and there's very little risk.
With the right software, setup costs are low and there are no fees on transactions (unlike with affiliate networks). All you've got to do is pay a small commission and you can immediately increase sales on your WordPress site.
So, affiliate marketing is a no-brainer for EDD store owners, but how do you set it up?
6 Steps to Set Up Affiliate Marketing for Easy Digital Downloads
Setting up affiliate marketing might seem complicated but it's actually incredibly easy.
You can start tracking referrals in Easy Digital Downloads in just 2 simple steps, but we're going to talk you through some additional tips you can use to make sure you're set up for success.
Install AffiliateWP
Integrate your products with the setup wizard
Customize your affiliate registration form
Approve affiliate registrations
Set up affiliate coupon codes
Pay your affiliates
Here are more details on how you can quickly build an Easy Digital Downloads affiliate program.
Step 1: Install AffiliateWP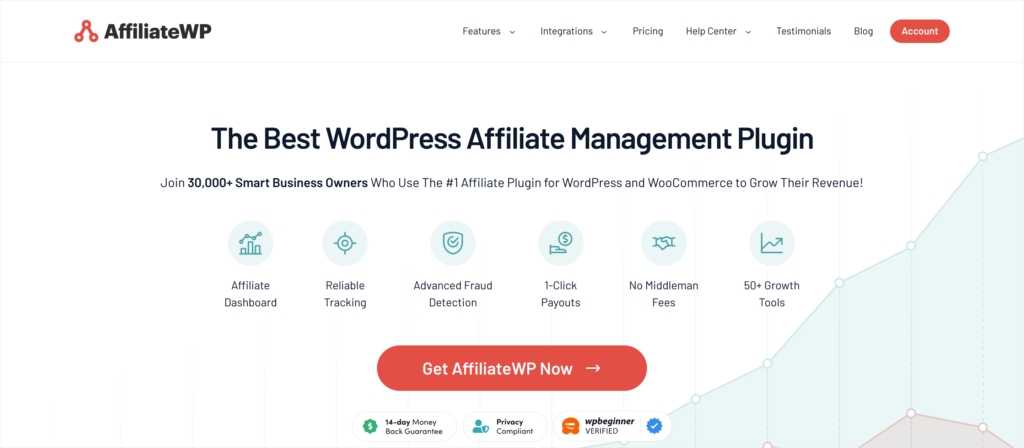 AffiliateWP is the best affiliate management plugin for WordPress. It's a sister company of Easy Digital Downloads, so it's perfectly optimized to integrate with EDD to track referrals.
The best part is, it's incredibly easy to use.
It allows you to set up a WordPress affiliate program in under 10 minutes while offering powerful tools to help you grow your business. The simple setup wizard means you can integrate your products with a click, and ensure you've got everything you need to automate your program.
Affiliates will be able to generate affiliate links to your EDD products with a URL generator, allowing them to promote your digital downloads to their audiences, safe in the knowledge that they'll receive the correct attribution for any sale.
AffiliateWP makes your life simple, providing affiliate link tracking you can rely on and the tools you need to manage affiliates.
Check out the pricing page and choose the plan that best fits your needs.
When you've completed your purchase, download the plugin from your account, and install it following this simple guide.
Now you're ready to sync your EDD account to AffiliateWP.
Step 2: Integrate Your Products Using the Easy Setup Wizard
You won't believe how easy it is to enable affiliate marketing on Easy Digital Downloads.
Just go to your AffiliateWP Settings and scroll to the bottom of the page and click Launch Setup Wizard.
A new page will open where you'll be asked to enter your license key. Copy your license key from your Account page and paste it into the box before clicking Continue.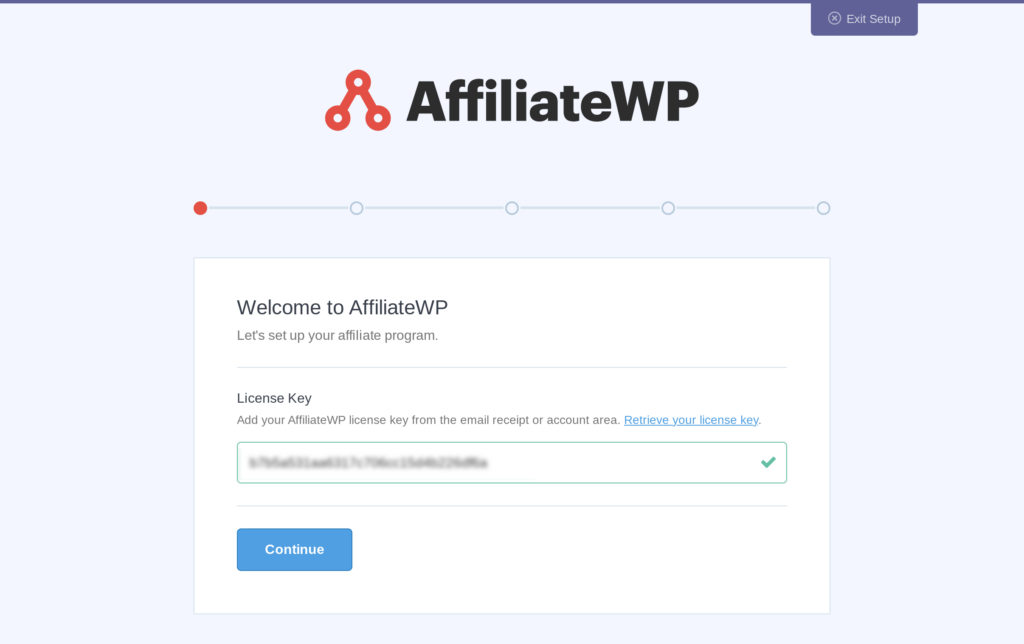 Next, you'll see a list of integrations.
Check the checkbox next to Easy Digital Downloads and click Continue.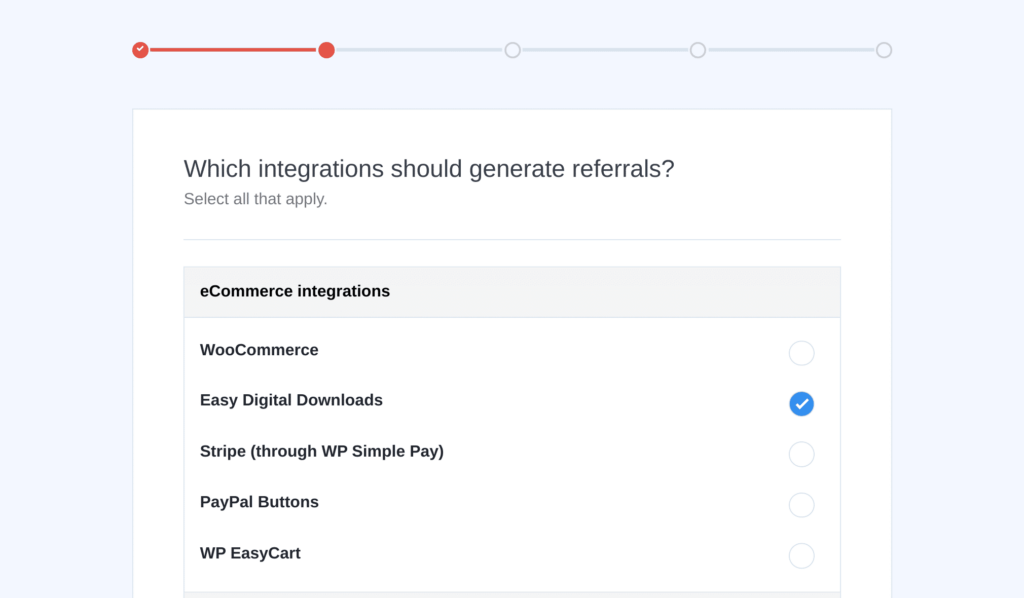 The next step is to choose your commission structure. Select your currency, choose whether to offer a fixed rate or percentage of order value and decide on the referral amount. Remember, you can always adjust these settings on the AffiliateWP Settings page.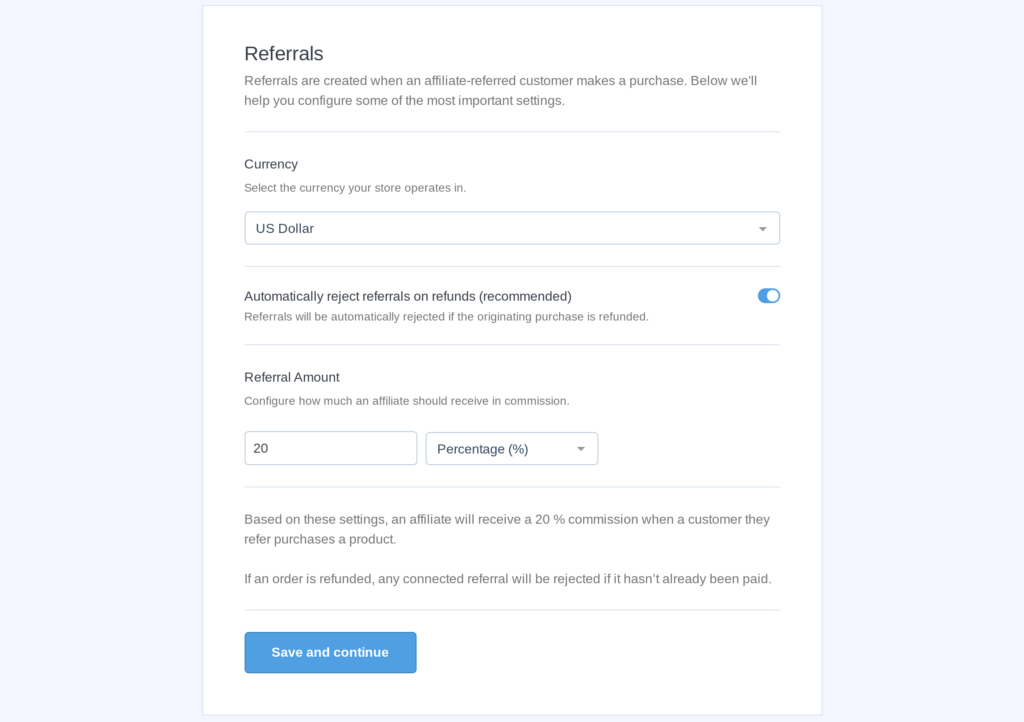 Click Save and Continue and then you'll be ready to edit your cookie expiration. Cookie expiration is the amount of time an affiliate link is valid once someone clicks it. For example, if you choose a cookie expiration of 30 days, a person must complete a purchase within 30 days of clicking the affiliate link for the affiliate to be entitled to a commission.
Don't worry, all these settings can be adjusted at a later date by going to your AffiliateWP settings page!
Once you've decided on all your settings, click Finish the Setup and Exit the Wizard and your affiliate program will go live.
AffiliateWP will now automatically track visits and referrals through Easy Digital Downloads.
Step 3: Customize Your Affiliate Registration Form
When you install AffiliateWP it will automatically create an Affiliate Area page in WordPress.
The Affiliate Area page serves as your affiliate signup page and a place for approved affiliates to sign in to their dashboards. One of the big advantages with AffiliateWP is that all these elements are extremely customizable. You can easily edit every aspect of your affiliate program to maximize conversions and ensure everything is on-point with your brand.
To edit your Affiliate Area page, just go to Pages and type "affiliate area" in the search bar. Click Edit underneath the page name and you will be able to edit it just like any other WordPress page.
You can use WordPress blocks to edit your affiliate registration page, or, if you want to take things to the next level, make use of our incredible WPForms integration. This brings all the advanced tools of WPForms to your affiliate signup forms and can be a huge conversion booster.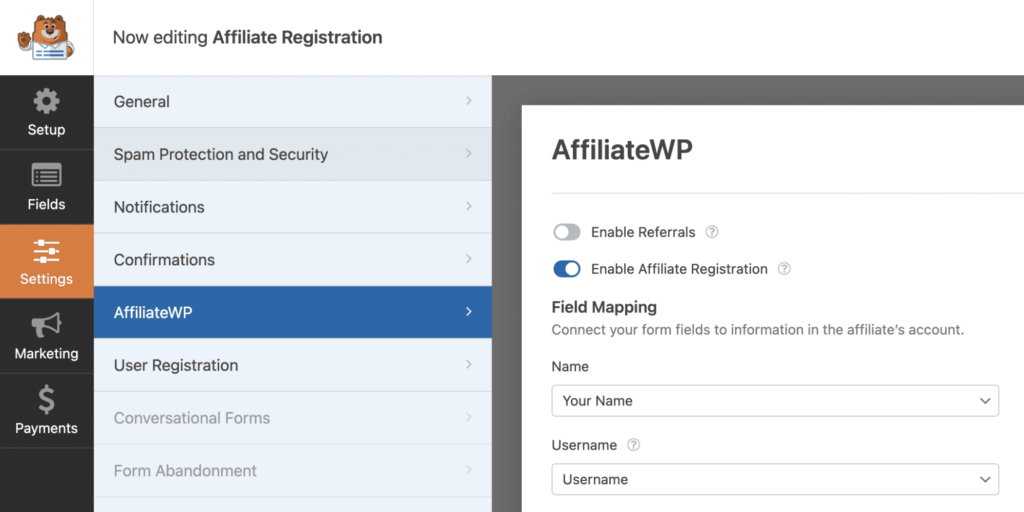 Affiliates are the lifeblood of your program, so this is an important step to make sure you're attracting the right people.
Step 4: Approve Affiliate Applications
When an affiliate completes your affiliate registration form you will receive an email notification (you can edit this in the Email tab of your affiliate settings).
To view the application, go to the Affiliates page and click Pending to see all your open applications. You can click on the affiliate's name to see all their registration details and choose whether you want to accept or reject them.
The affiliate will receive an email notifying them of whether they've been accepted or rejected, and if accepted, they'll be able to log into their account through the same Affiliate Area page they signed up on.
Once, they log in, they'll have access to their affiliate dashboard where they'll be able to generate affiliate links, see analytics, and much more. You can also edit the appearance of the affiliate dashboard using Affiliate Area Tabs.
Step 5: Set Up Affiliate Coupon Codes
Once you've completed step four, your Easy Digital Downloads affiliate program will be in great shape, however, there are some extra steps you can take.
Affiliate links aren't the only way affiliates promote your products, so a great feature you will want to set up is affiliate coupon codes. Coupon codes are a great selling tool and they can be a big revenue booster.
To set up affiliate coupon codes, just go to Downloads > Discount Codes and create a new discount code. Give your code a name and value and then scroll to the bottom where you will see an Affiliate Discount box.

Start typing your affiliate's username and select the name from the dropdown menu. This will assign the coupon code to your affiliate, and they'll be able to access it in the Coupons tab in their affiliate dashboard.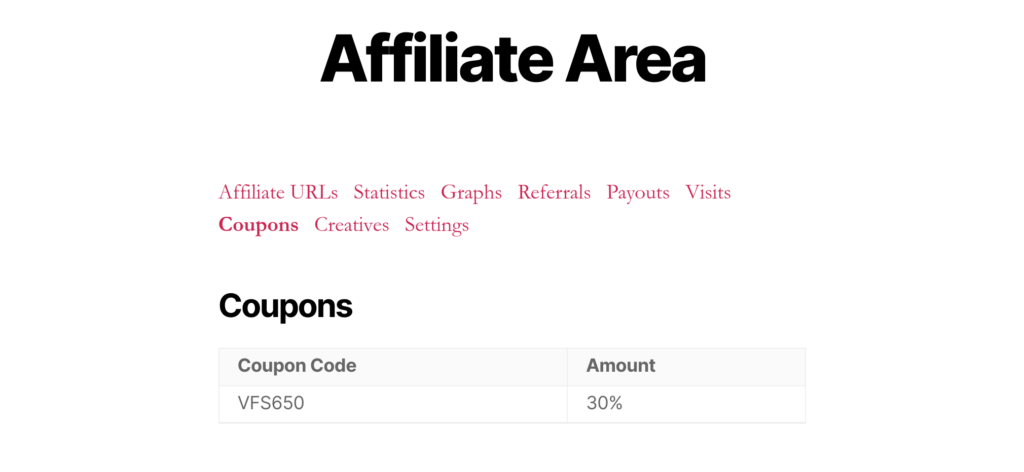 Any time that discount code is used to make a purchase, AffiliateWP will assign a referral to the corresponding affiliate and facilitate a payout.
If you want to take your affiliate coupon codes to the next level then check out Vanity Coupon Codes!
Step 6: Pay Your Affiliates
With AffiliateWP, you're in control of when you pay your affiliates.
You can choose to do this weekly, monthly, quarterly, or whenever you feel like; it's completely up to you. We also give you multiple different ways to pay affiliates, with an integrated payouts service, PayPal payouts, and Stripe mass payments.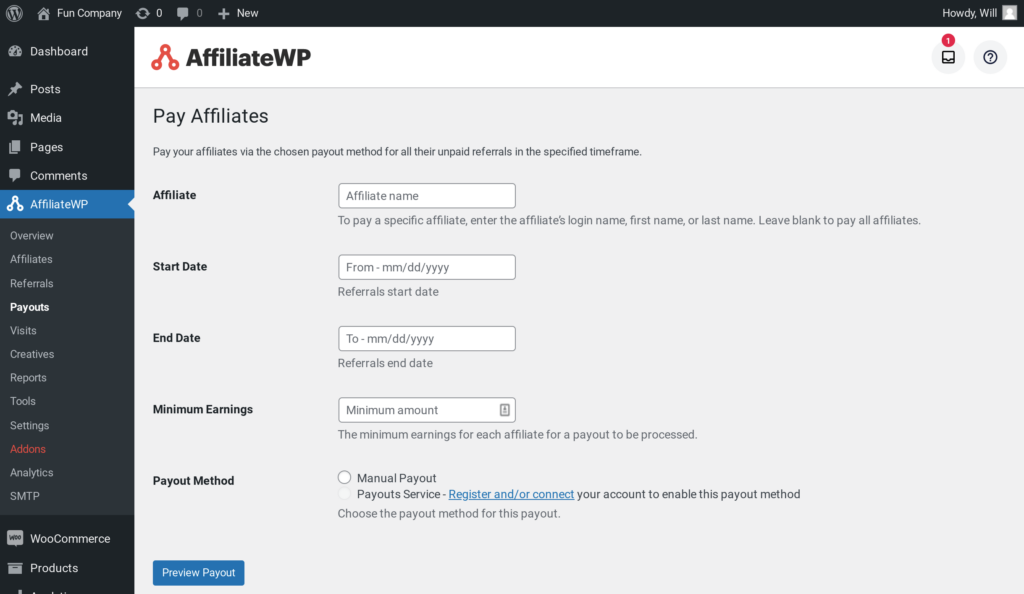 The easiest way is with the integrated payouts service as it means you never have to leave your WordPress admin. Just follow the Payout Service setup wizard, and you'll be able to pay affiliates in just a few clicks.
Affiliate payouts are a hugely important part of running an affiliate program, so AffiliateWP makes it as easy as possible for you.
Next, Get More Specific with Your Affiliate Commissions
Commissions are your main tool to incentivize sales, so it's important you consider your structure.
AffiliateWP allows you to be extremely specific with your commissions, letting you set affiliate-specific, and product-specific commissions. These features give you more control over how you run your program and can help you boost revenues even more.
Another important feature you might want to consider setting up is Recurring Referrals. If you make recurring sales, where customers pay a monthly subscription, then Recurring Referrals is exactly what you need.
When you activate Recurring Referrals, affiliates get a commission on each subscription payment the customer makes. Affiliates love the recurring revenue this generates and it's an excellent way to encourage affiliates to bring in high-quality customers.
Setting Up Affiliate Marketing for EDD is a No Brainer
You've got nothing to lose when you set up affiliate marketing for Easy Digital Downloads. It's very low risk, takes just a few minutes to set up, and can have an immediate impact on your sales.
With Easy Digital Downloads and AffiliateWP, you have everything you need to create a professional affiliate marketing program and attract the best affiliates out there!
So, what else do you need to know?
We've got some more awesome resources to help you:
Now there's only one thing left to do.
Get AffiliateWP and set up affiliate marketing for Easy Digital Downloads!