How to Assign Coupons to Affiliates and Drive More Sales (Guide)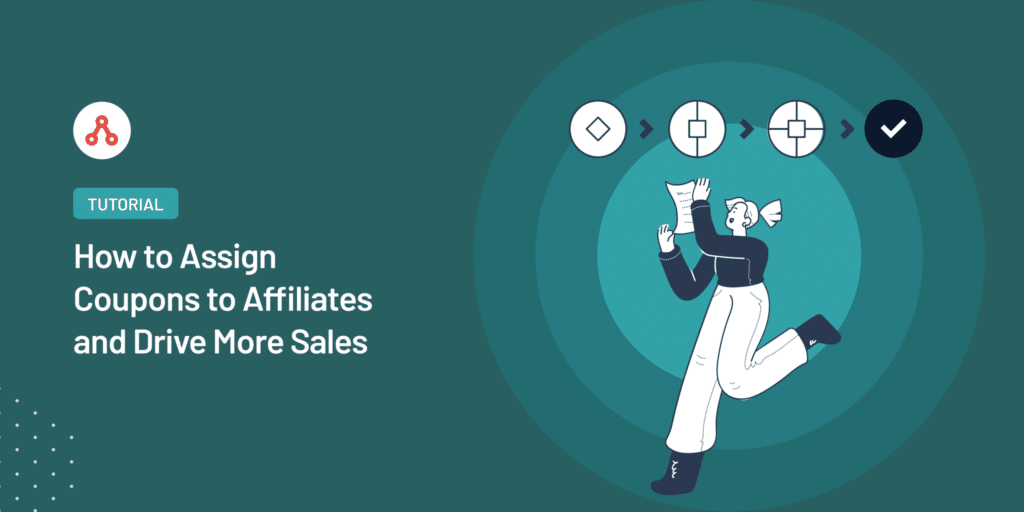 Ready to supercharge your sales with a simple yet powerful strategy?
Imagine your affiliate coupons not just being another code in the mix, but a key player in driving more sales. That's right, assigning unique coupons to your affiliates can do wonders for your business.
In this guide, we'll walk you through linking specific coupons to your affiliates in WordPress. This not only boosts your sales but also helps in tracking and rewarding your affiliates more effectively.
Let's dive in!
Why Assign Coupons to Affiliates (And How They Will Help Your Business)
Assigning coupons to affiliates is a game-changer when boosting your business through affiliate marketing. Let's explain why this approach is so effective and how it can elevate your business.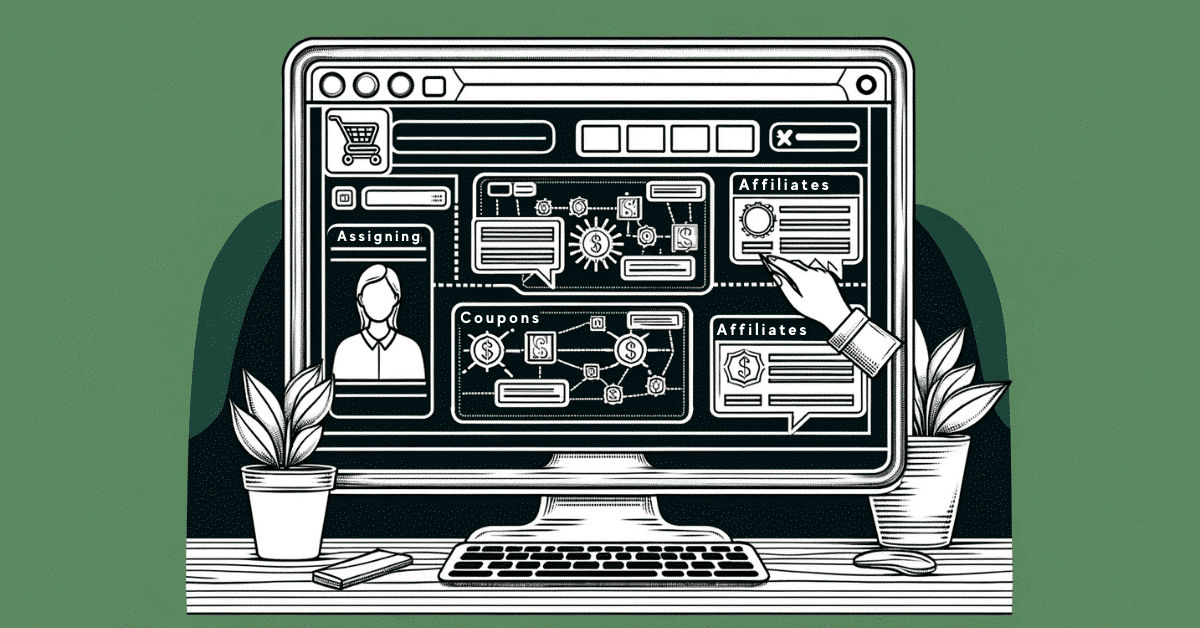 First off, think about the online shopping scenario today. Nearly everyone loves a good deal, right? In fact, about 90% of shoppers use coupons when they buy things online.
That's a huge number!
It shows that offering discount coupons isn't just a nice-to-have – it's essential for attracting and retaining customers in the competitive online market.
But here's where it gets interesting for your business: by linking these coupons to your affiliates. This strategy does more than just hand out discounts. It turns your affiliates into active promoters of your products, using these special codes.
Imagine this: each affiliate has a unique coupon code. When they share this with their audience, not only does it offer a discount, but it also tracks back to the affiliate. This means you can see exactly which affiliate drives sales to your website.
Here's how these coupons can supercharge your business:
Increased Sales: Affiliates sharing your coupons means more people seeing your products and a higher chance of them buying – especially if there's a tempting discount involved.
Better Tracking: With each affiliate using a unique code, you can easily track which affiliates perform best. This helps you understand where to focus your efforts and resources.
Customer Attraction and Retention: Everyone loves a discount. Offering exclusive coupons through affiliates can attract new customers and keep them returning for more.
Building Brand Loyalty: When customers get a good deal through a trusted affiliate, they associate that positive experience with your brand, building loyalty and repeat business.
So, by integrating affiliate coupon codes into your marketing strategy, you're not just offering a discount.
Let's now find out how to create coupons for your affiliates on WordPress.
Steps to Assign Coupons to Affiliates
Assigning coupons to your affiliates in WordPress is not as hard as it might seem, thanks to AffiliateWP.
Just follow these simple steps, and you'll be ready to maximize your business revenue in a few minutes:
Step 1: Install AffiliateWP
Before being able to assign coupon codes to affiliates, the first essential step is installing and configuring AffiliateWP.
It's best-in-class WordPress affiliate management plugin provides comprehensive referral tracking and reporting, robust coupon code management, and the ability to incentivize your affiliate partners effectively.
To get started with AffiliateWP, first navigate to their pricing page and select a suitable license tier based on your business needs and goals. The Pro plan is recommended for advanced capabilities like vanity coupon codes, lifetime commissions, and more.
Once you complete your AffiliateWP purchase, proceed to download the plugin file, usually named AffiliateWP.zip, provided in your order confirmation email.
From your WordPress admin, go to the Plugins » Add New screen and click Upload Plugin to install AffiliateWP using the zip file.
You will now see an AffiliateWP menu in your left-hand admin navigation area. Access the AffiliateWP Settings page (Affiliates »Settings) and locate your license key, which is also provided after purchase in your account on the AffiliateWP website.
Paste your valid license key into the box on the Settings screen and click Activate. This will activate all features of your AffiliateWP license.
Step 2: Setup Wizard
Before assigning affiliate coupon codes, the final step is running through AffiliateWP's helpful Setup Wizard.
This wizard quickly guides you through key plugin settings, ensuring AffiliateWP is appropriately integrated and communicating with your eCommerce platform.
To launch the Setup Wizard, scroll to the bottom of the AffiliateWP Settings screen and click the Launch Setup Wizard button. Proceed according to the on-screen prompts, pasting your AffiliateWP license key again to verify it.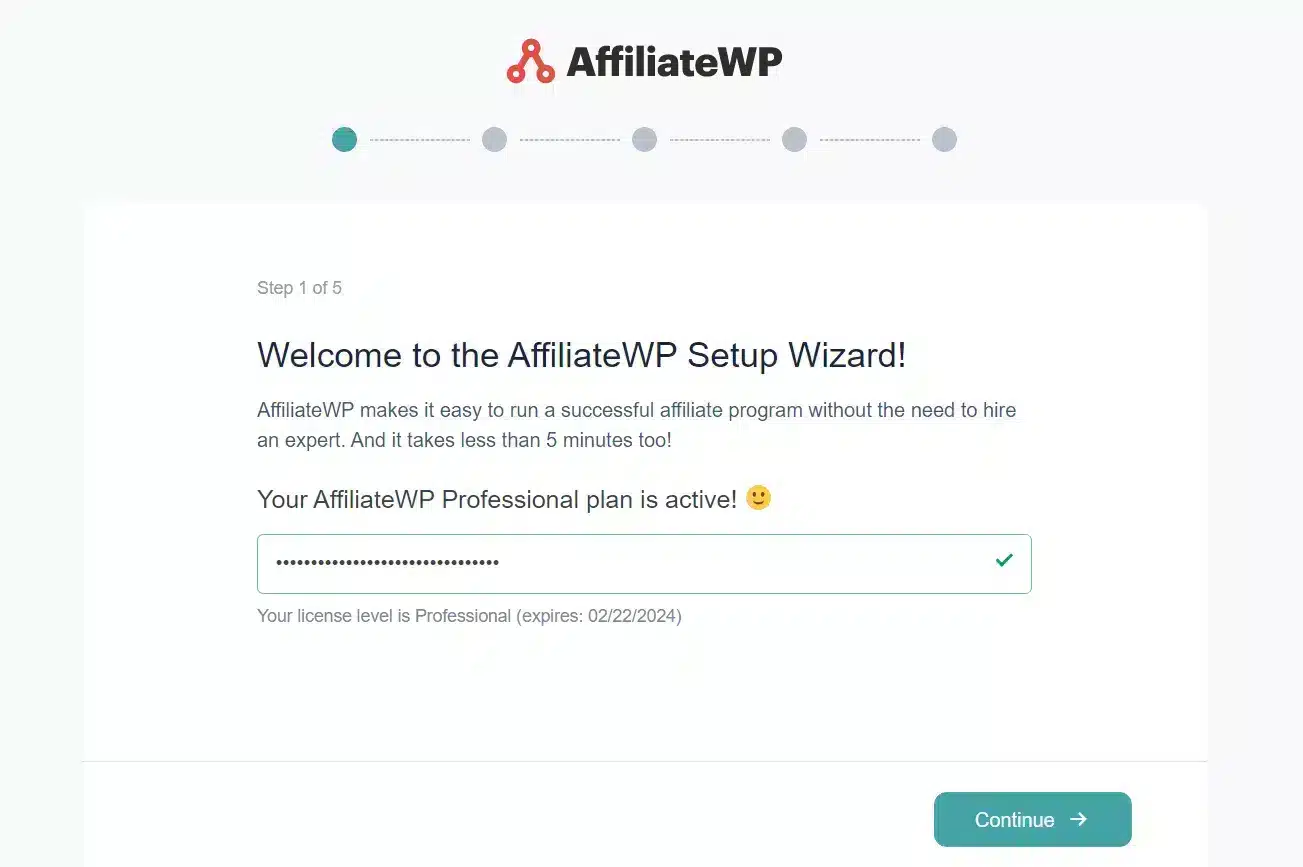 Next, on the Plugin Integrations page of the wizard, locate the checkbox next to your eCommerce or membership platform (such as WooCommerce) and check it to activate the platform integration.
AffiliateWP will automatically enable real-time referral and coupon tracking with your platform.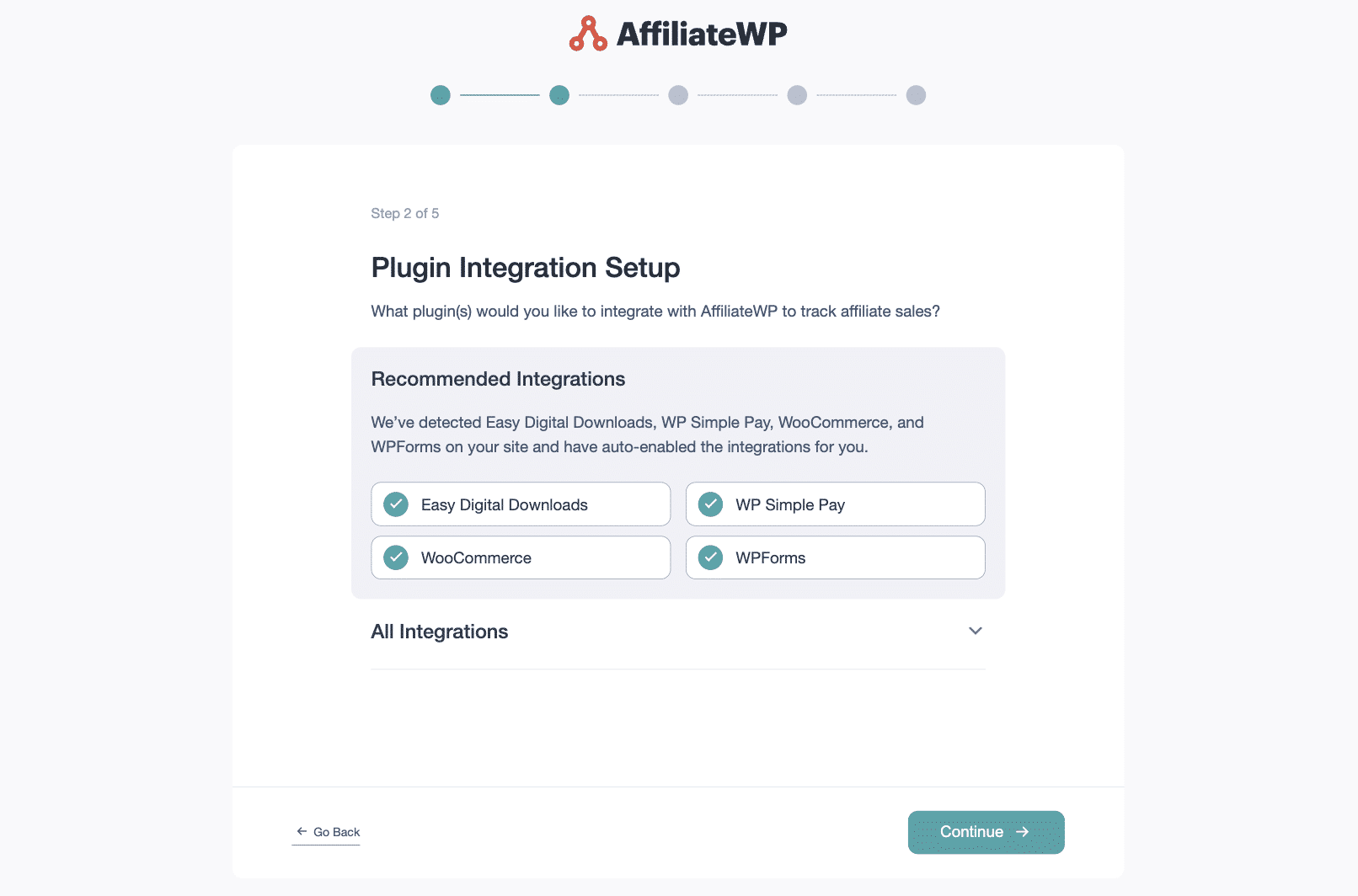 You will then be guided through additional settings like your commission structure, cookie expiration rules, available payment gateways for sending affiliate payouts, and optional growth tools to further power affiliate promotions. Adjust these settings as needed.
Once complete, the final step of the Setup Wizard will be a confirmation page where you can save your choices and exit the wizard.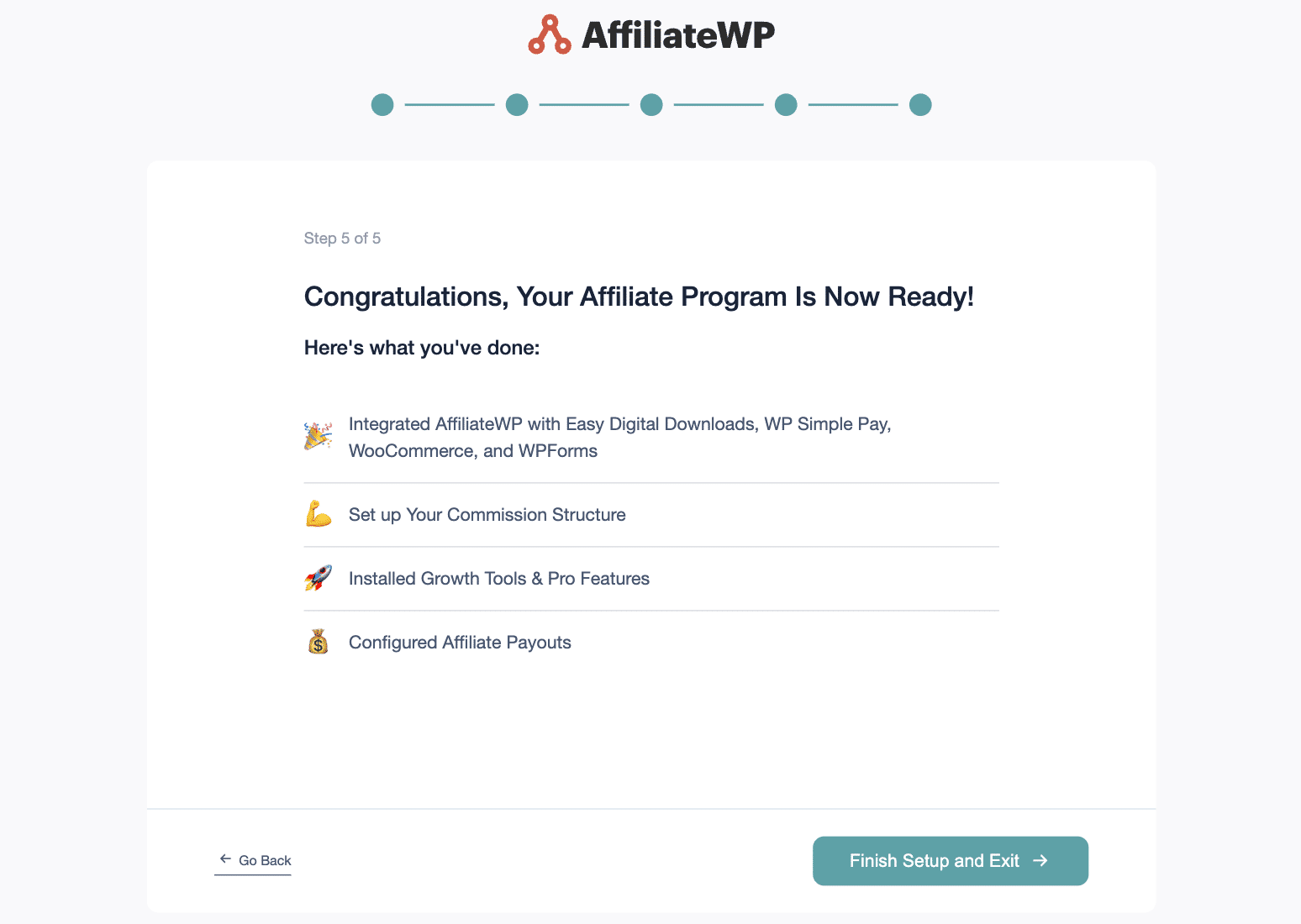 After exiting, your AffiliateWP plugin will be fully set up and integrated to begin creating and assigning affiliate coupon codes.
Step 3: Create Coupons in WooCommerce
Before assigning coupons specifically to affiliates, you must create the base coupon codes in WooCommerce that will later be assigned.
To create new WooCommerce coupons, hover over Marketing in the left sidebar and click on Coupons. On the Coupon management page, click the Add Coupon button.
On the Add New Coupon page, give your coupon a title and enter a coupon code value that customers will use at checkout to receive the discount.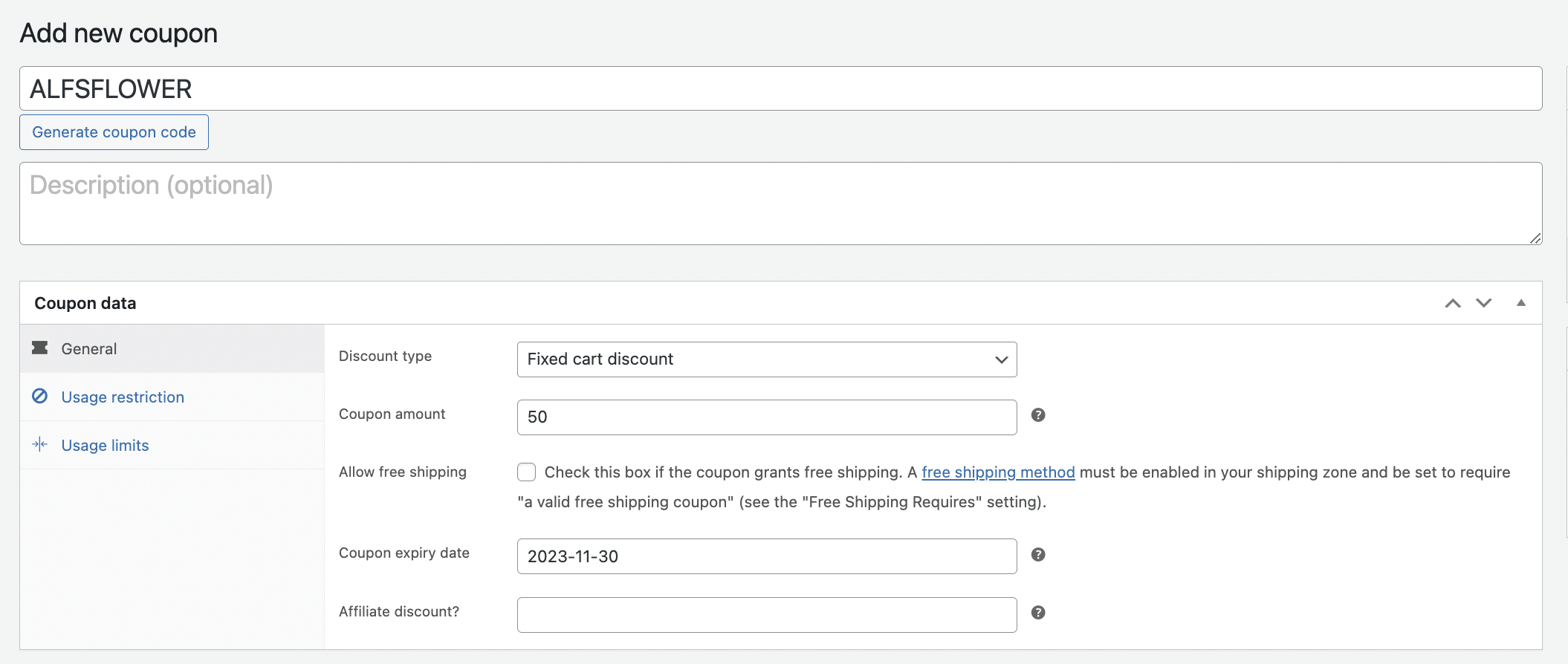 Then, define the parameters of the coupon, such as the discount type (fixed cart/order discount or % discount), the discount amount, usage limits, expiration date, and any product or category exclusions.
At this stage, it is just a normal WooCommerce coupon. We will tie it to affiliates next.
Configure all the different coupon settings to match the promotion you want to run and hit Publish.
Step 4: Assign Coupons to Affiliates
Now that the base coupon exists in WooCommerce, we can assign it to affiliates. This allows AffiliateWP to track coupon redemptions and credit the affiliate who referred that customer.
Select the coupon you want to assign to your affiliates on the Add New Coupon page, and select Affiliate Discount setting. Start typing the affiliate's username to which you want to assign the coupon and select it from the dropdown menu.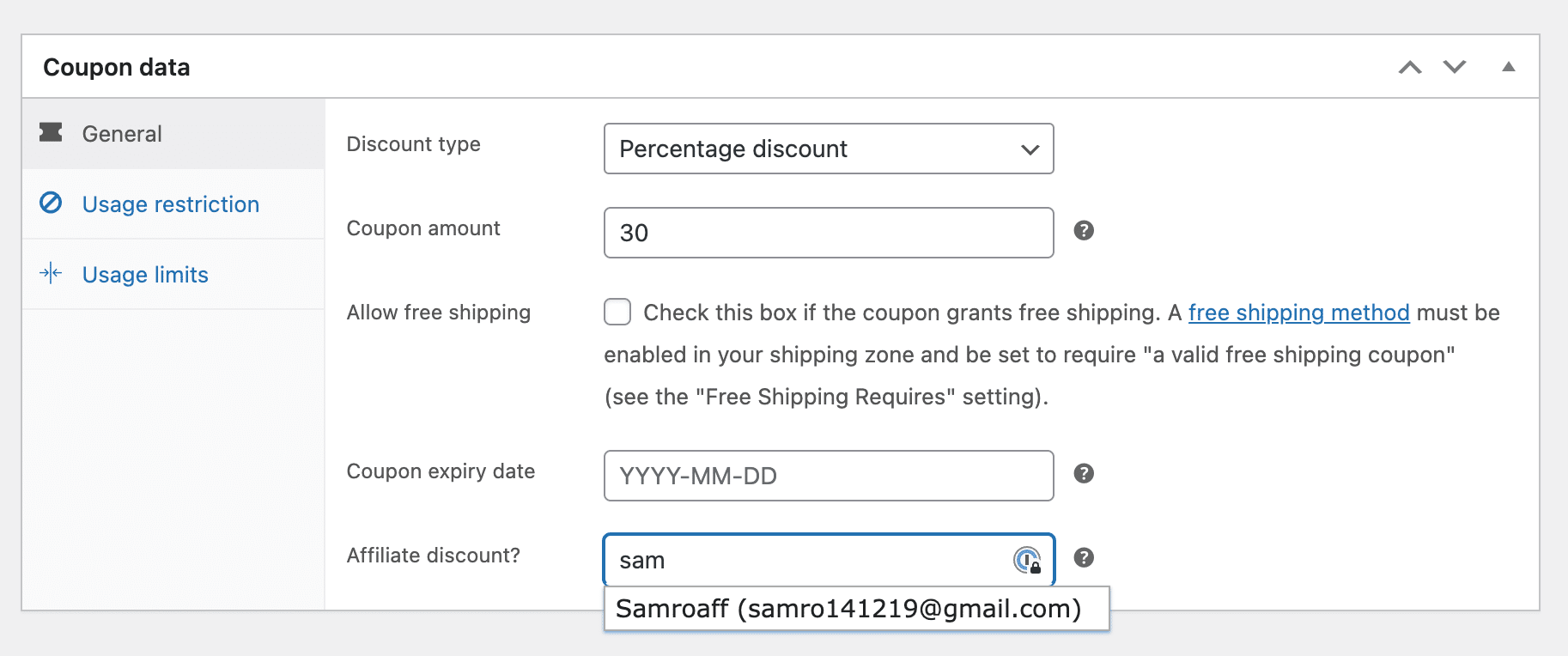 .
As soon as the coupon is assigned to an affiliate, they will see it appear in their affiliate dashboard and can start promoting that exclusive coupon code immediately.
When customers use that coupon code at checkout, purchases and commissions will be attributed to the connected affiliate for easy tracking and reporting.
Step 5: Set Up Vanity Coupon Codes (Pro Only)
If you have an AffiliateWP Pro plan, you gain access to the Vanity Coupon Codes addon.
This empowers your affiliates to create fully custom coupon codes to match their brand.
For example, Sally's Decor Blog can request a custom promotional code like "SallysHome20" instead of using a generic code. Affiliates can get creative and tie the coupon code to their website or social media handles.
As the advertiser, you maintain full control over vanity coupon codes. You can approve or reject an affiliate's custom code suggestions to ensure they meet your brand guidelines.
Look for Vanity Coupon Codes on the AffiliateWP Addons page. The addon will be installed and turned on automatically when you hit the toggle button.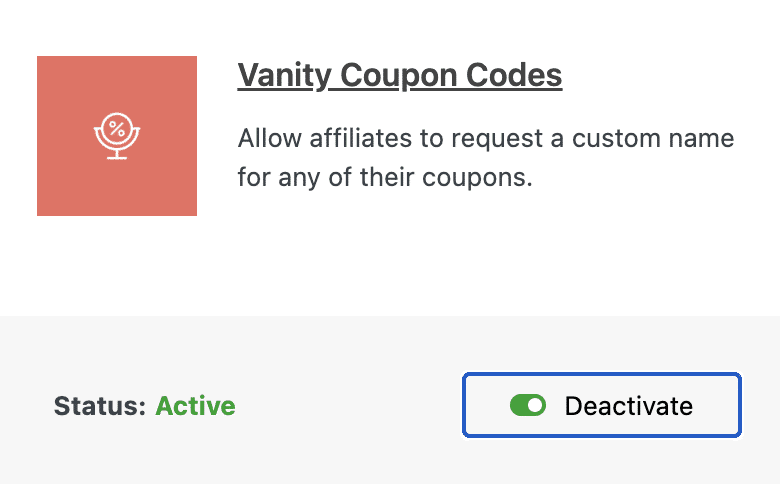 This is how it works now: affiliates can get their coupon codes by clicking the Edit button in the Coupons tab of their affiliate accounts.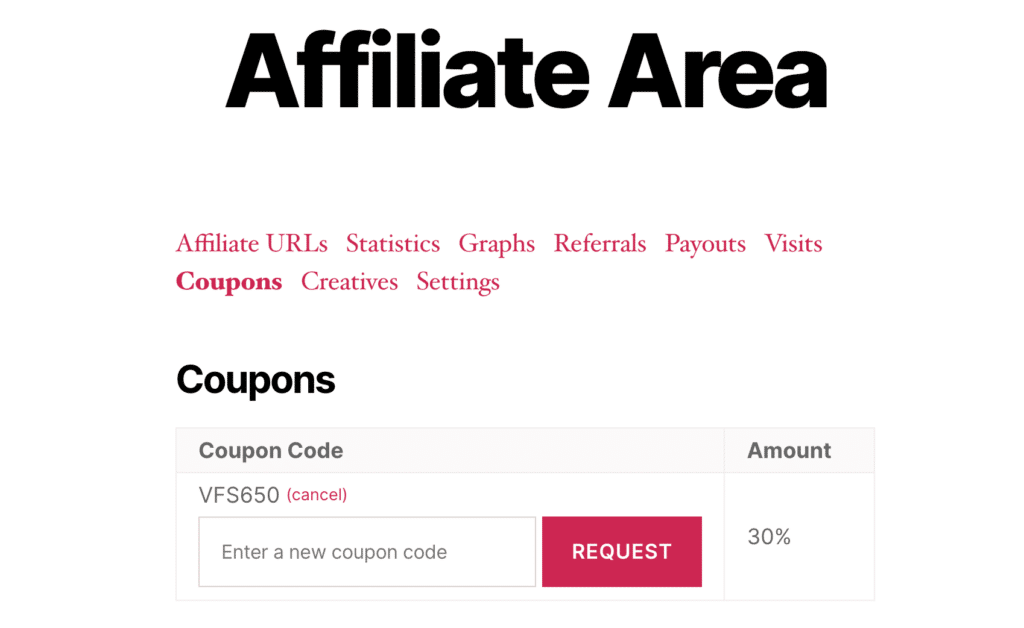 When someone asks for a vanity coupon code, you'll be notified, and you can quickly accept it from the screen that shows Vanity Coupon Codes. After getting permission, your affiliate can use the code to promote your goods immediately.
For detailed information on Vanity Coupons, check out this guide.
Step 6: Inform Affiliates About Coupon Codes
Once you've created affiliate-specific coupon codes in WooCommerce and connected them to affiliates in AffiliateWP, the next crucial step is making your affiliates aware of this promotional opportunity.
The easiest approach is to set up a tailored onboarding experience within the affiliate dashboard.
Activate the Affiliate Area Tabs addon under the AffiliateWP addons screen. Then, access the Affiliate Area Tabs settings. Here you can rearrange default tabs in the affiliate dashboard and insert new tabs.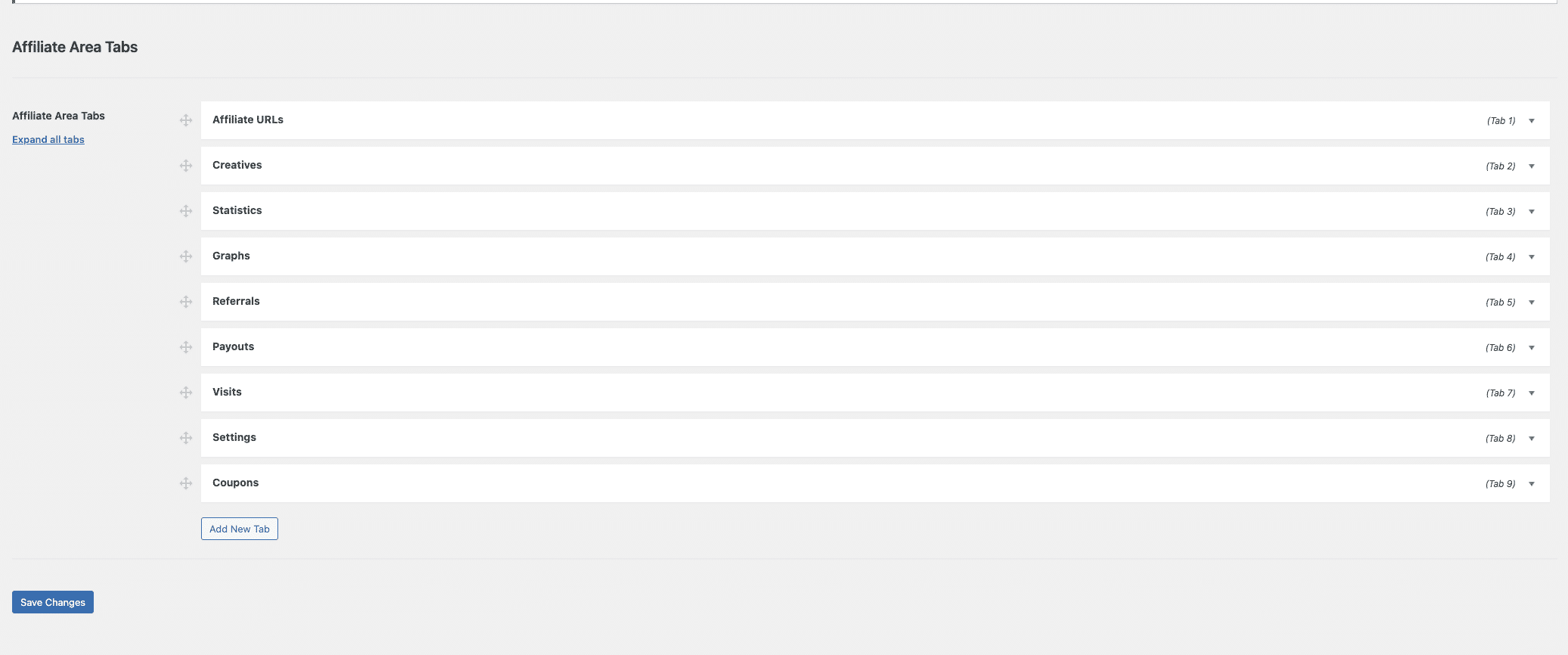 Click Add New Tab and give it an informative name like Promotions. Then, select which WordPress page you want to display within that tab. Create a dedicated WordPress page explaining your various coupon promotions.

By proactively informing your affiliates about assigning them custom coupon codes, you will maximize adoption and activate new streams of customizable affiliate promotions.
Ready to Elevate Your Business
It's Time to Assign Coupons to Your Affiliates
If you're not incentivizing your affiliates with customized coupon codes yet, then you're missing out on revenue opportunities. Assigning exclusive promo codes to your partners boosts engagement, provides better tracking, and ultimately drives more sales.
We've shown you how easy AffiliateWP makes setting up affiliate coupon tracking and attribution in WordPress.
But here are some additional resources on growing your program:
Now, you've got the info you need on assigning coupons to affiliates.
Get started with AffiliateWP today to supercharge your affiliate channel and sales!