How to Add Vanity Affiliate Coupons to your WordPress Affiliate Program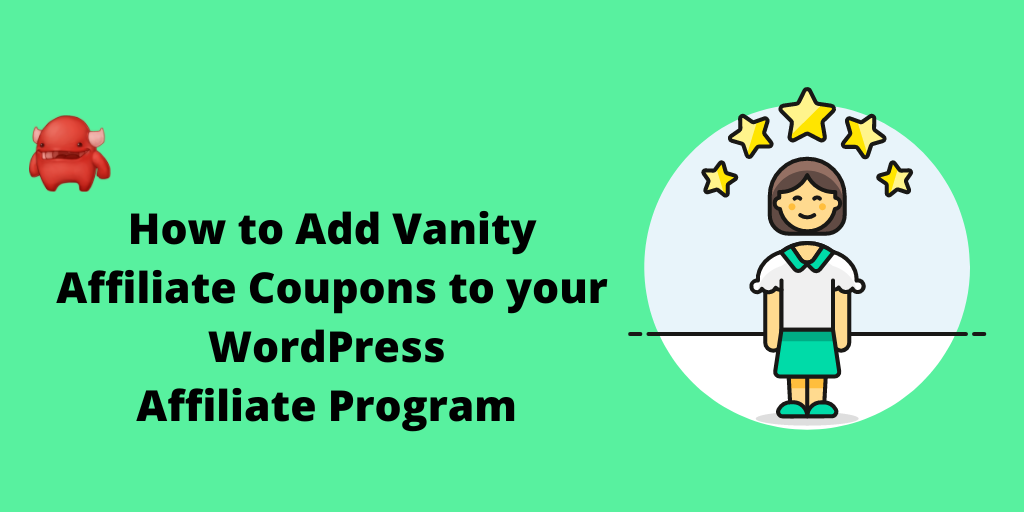 It's time to take your coupon discounts to the next level with vanity affiliate coupons.
At present, your discount codes don't stand out from the crowd, but there's an easy way to change that.
Here's how you can add vanity affiliate coupons to your WordPress affiliate program and make a serious difference to its performance.
What are Vanity Affiliate Coupons?
Vanity affiliate coupons are discount codes that are chosen by your affiliates.
The retailer decides on the value of the discount, and your affiliate chooses their own discount code. Once approved, affiliates can market their vanity affiliate coupons to their audience.
Customers will then enter the discount code at checkout, and AffiliateWP will match the coupon code to the correct affiliate, creating a referral.
We're so used to seeing boring discount codes on social media and around the internet. PX20OFF, AFF50, REF4AD; they're hardly exciting.
When you create your coupon codes through WordPress, you probably go with something a little more exciting than randomly generated numbers and letters. After all, you want to grab your audience's attention.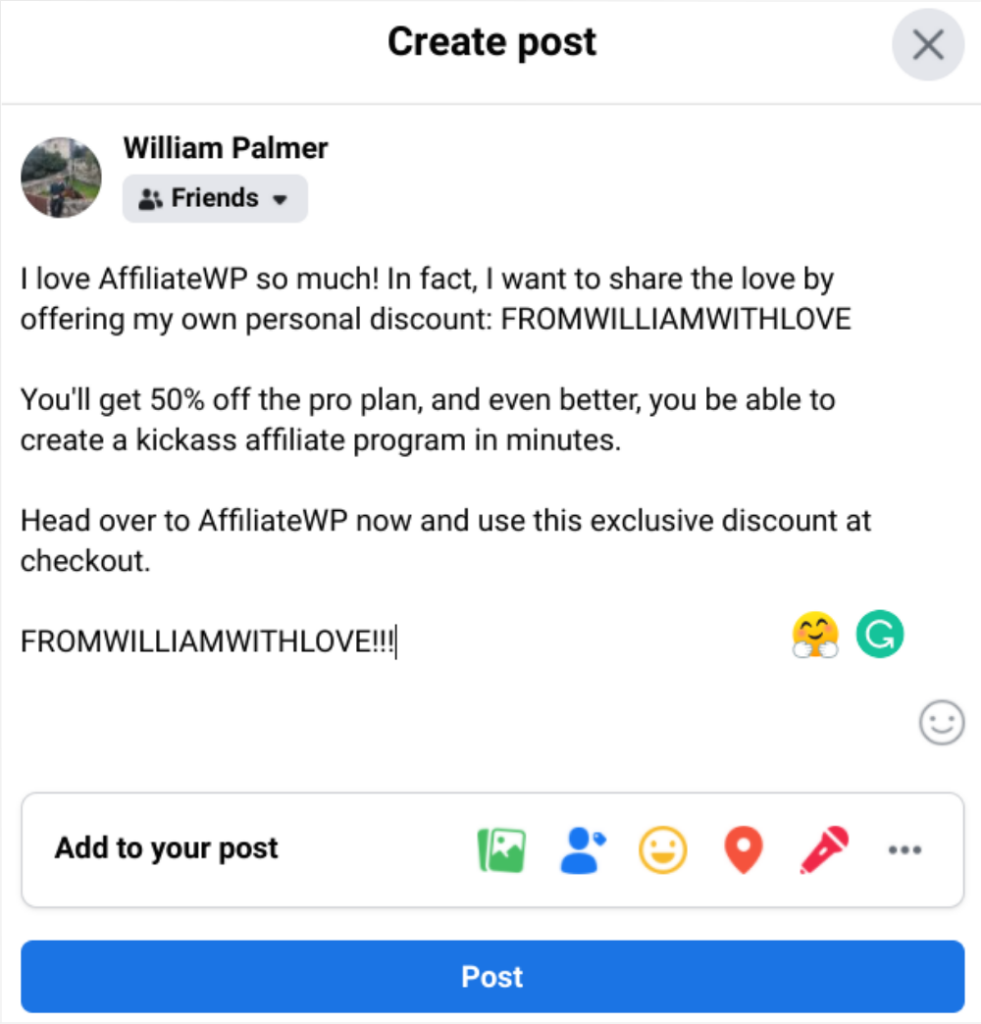 Your affiliates didn't have the same luxury though, until now!
Rather than having promo codes assigned to them, with vanity affiliate coupons, affiliates can choose their own codes.
So, what are the benefits of this?
More attention-grabbing.
Create a sense of exclusivity.
Allow affiliates to build their own brand.
They bring a sense of fun.
Personalization is key to conversion rate optimization.
Take advantage of the affiliate's marketing skills.
And many more…
90% of consumers use coupons, so your affiliates need to be able to leverage this essential marketing tool. The best way to do this is with vanity affiliate coupons.
Check out our Vanity Coupon Codes add-on!
Do I Still Maintain Control Over my Discount Codes?
The short answer here is yes!
As the affiliate program manager, you control the value of the discount, and you get final approval over the codes your affiliates choose.
Of course, you want to allow for creativity, but ultimately, these discount codes reflect your brand, so we've made it simple to approve and reject your affiliates' vanity codes. AffiliateWP is built to give you complete control over your affiliate marketing program while giving your affiliates access to powerful tools, so we always make it easy for you to oversee features like vanity affiliate coupons.
Check out our Vanity Coupon Codes add-on!
How to Add Vanity Affiliate Coupons to Your Affiliate Program
If your website runs on WordPress, then AffiliateWP allows you to create a powerful affiliate program in minutes. Once your referral tracking is set up, then you can add our Vanity Coupon Codes add-on and allow your affiliates to personalize their discount codes.
Here's how to get started.
Note: If you already have an AffiliateWP Pro license, you can skip ahead to step 3.
Step 1: Download and Install AffiliateWP
To use our vanity affiliate coupons feature, you'll need an AffiliateWP Pro license.
Not only will this give you access to vanity affiliate coupons, but it also unlocks 15+ other powerful features.
Head over to our pricing page and follow the simple steps to complete your purchase.
Once you've completed your purchase, you'll receive a confirmation email with some important details.
Check your inbox and download the AffiliateWP.zip file contained in the confirmation email.
You can then return to your WordPress dashboard and choose Plugins > Add New from the left-hand sidebar.

At the top of the next page, click the Upload Plugin button and select the AffiliateWP.zip file you just downloaded before selecting Open > Install Now.
Once the file has downloaded, hit Activate.
All you have to do now is add your license key, so head back to the confirmation email and copy the key.
Go back to your WordPress dashboard, and you'll now see an AffiliateWP tab in the left-hand sidebar. Hover over this tab and select Settings.
Paste your license key into the License Key box and hit Activate.
Step 2: Integrate Your Store
The next step is to integrate your store with AffiliateWP.
Don't worry, this is very simple and only takes a few seconds.
Return to your AffiliateWP settings by hovering over Affiliates in the left-hand sidebar and clicking Settings.
In the tabs, you'll see one titled Integrations. Click this tab, and you'll find a list of all the programs AffiliateWP integrates with. Simply check the check box next to your integration.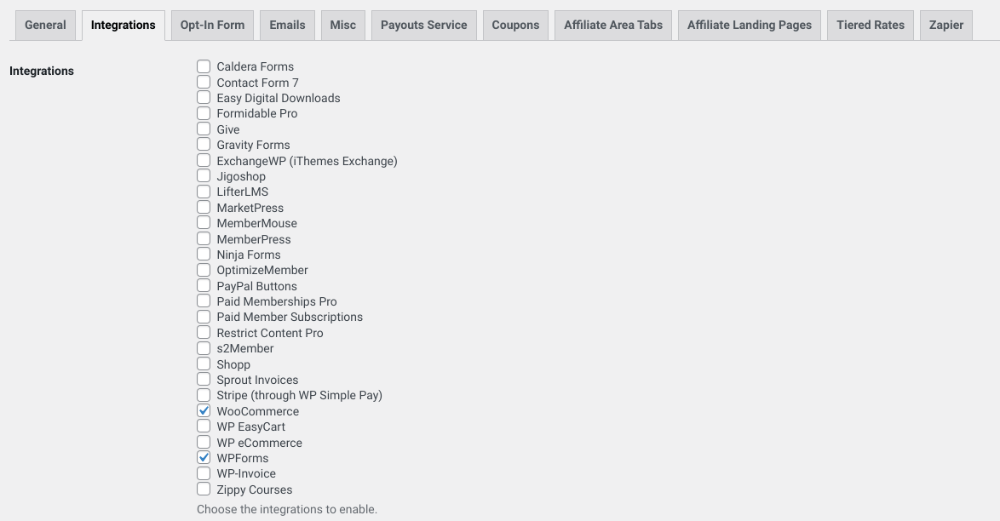 The most common option for affiliate coupon marketing is WooCommerce which we will use as our example, but this also works with other popular software like Easy Digital Downloads.
Once you've checked the box and saved your changes, then you're ready to start tracking affiliate sales.
Step 3: Download the Vanity Coupon Codes Add-On
Head over to the Vanity Coupon Codes add-on page and click Download Now.
Follow the steps you used to upload the AffiliateWP.zip file, but this time choose the Vanity Coupon Codes file.
Once you click Activate, Vanity Coupon Codes will be up and running, and your affiliates can request personalized codes for their existing coupons.
How Do Affiliates Request Vanity Affiliate Coupons?
Before your affiliates request their personalized codes, you have to assign them a discount. Once the discount is assigned to them, it will show in their affiliate area with an option to request a personalized coupon.
Step 1: Assign a Coupon to Your Affiliate
In the left-hand sidebar, hover over Marketing and head to the coupons section by clicking Coupons.

Create a new coupon and choose your discount type, coupon amount, and discount code (at this point it doesn't matter what coupon name you give it).
At the bottom of the page, you'll see a box titled Affiliate Discount? Write your affiliate's ID in this box to assign the coupon to a specific affiliate.
The coupon code will now show in the assigned affiliate's area.
Step 2: Your Affiliate Accesses the Coupon Code in their Affiliate Area
Your affiliate needs to log in to their affiliate area and click on the Coupons tab.
They will be able to see the generic coupon code you assigned to them, with an option to edit it.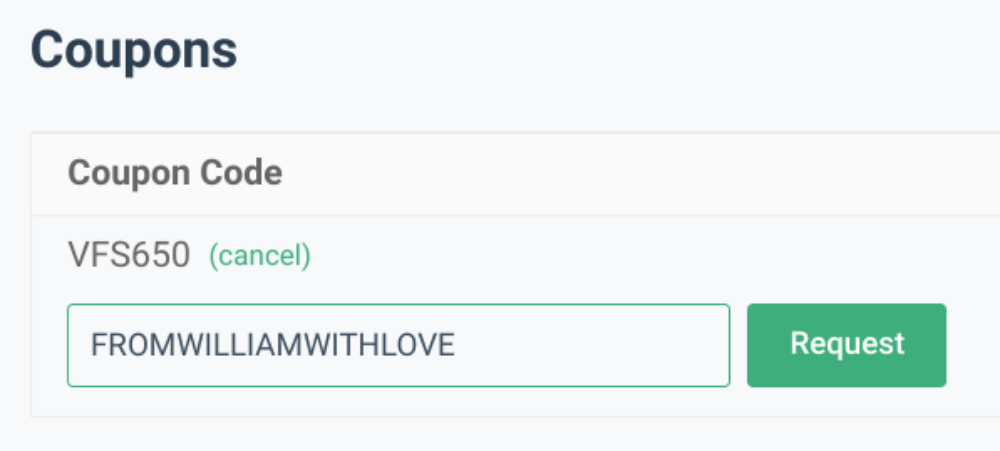 All your affiliates need to do is edit the coupon code by entering the text they would like to use and clicking Request.
As soon as you've approved the vanity affiliate coupon code, your affiliate can start using their own coupon code to promote your products.
How Do You Approve/Reject Vanity Affiliate Coupons?
We've made it incredibly easy for you to approve or reject your affiliates' vanity codes.
All you have to do is hover over the AffiliateWP tab in the left-hand sidebar of your WordPress dashboard and click Vanity Coupon Codes.

You'll see a list of all your vanity affiliate coupon requests and you can approve or reject them in one click.
What Integrations Work with Vanity Affiliate Coupons?
At present, vanity affiliate coupons are supported on our WooCommerce, Easy Digital Downloads, and MemberPress integrations.
As soon as your AffiliateWP account is connected with either of these integrations, your vanity affiliate coupons will be live. You just need to create and assign your coupons as usual, and your affiliates will be able to edit and request their personalized codes in their affiliate areas.
The vanity coupon codes pro add-on also has excellent functionality with many of our other add-ons like Affiliate Portals, Affiliate Landing Pages, and more.
Coupon Codes Are an Important Part of Affiliate Marketing
Coupon codes are an important digital marketing tool and we want you to get the most value out of them.
One of the major benefits is they allow your affiliates to promote your major sales (think Black Friday, Cyber Monday, and Christmas) in a more personalized way.
When it comes to a generic affiliate coupon code vs a personalized one, there's no competition. A vanity coupon code grabs people's attention, demands the click, and increases conversion rates. This is exactly what your affiliates want, and it's exactly what your affiliate program needs, so it's the perfect feature.
It's time you got started with vanity affiliate coupon codes.