6 Best ShareASale Alternatives for 2023 (More Reliable And Powerful)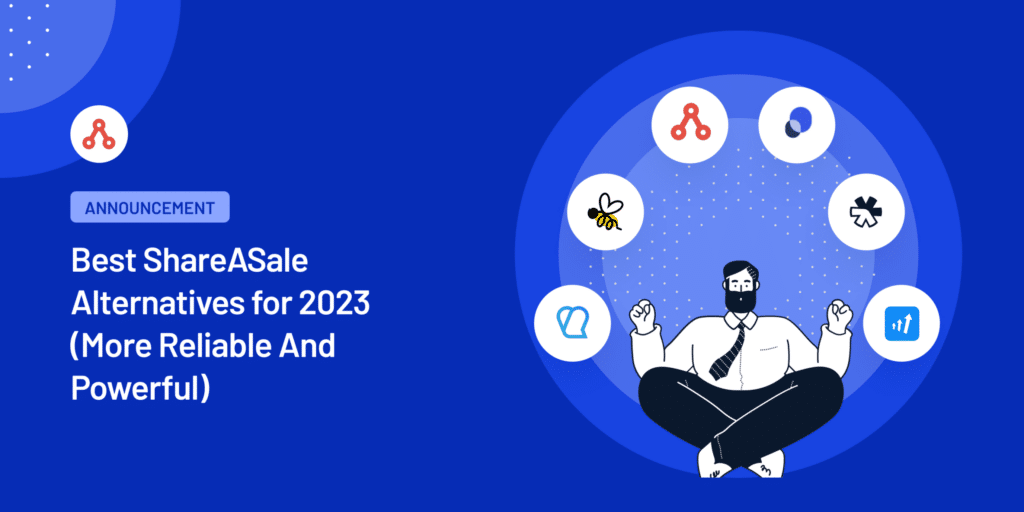 Are you searching for the best alternatives to ShareASale?
We know that finding the right affiliate platform can be tough. That's why we've researched you and compiled this must-see list of the best ShareASale alternatives.
Ready to discover the platform that'll take your affiliate program to the next level?
Let's dive in!
Why Are People Switching from ShareASale
ShareASale has a longstanding history in the affiliate marketing industry and is known for its reliability and diverse selection of merchants. However, the industry is evolving, and so are the needs and preferences of affiliate marketers.
For instance, while ShareASale's dashboard is functionally sound, some users find that newer platforms offer more contemporary, user-friendly interfaces.
This often caters to those who are accustomed to sleek and intuitive designs in software platforms.
Regarding merchant variety, ShareASale has a broad range, yet it focuses more on small and medium enterprises rather than universally recognizable brands.
Depending on the marketer's target audience and brand affiliation interests, this can be an advantage or a drawback.
Payment options are another consideration. ShareASale operates on a net 30 model and issues payments promptly each month. However, the absence of PayPal as a payment option has led some to explore alternatives that offer this widely-used service.
The good news is that the affiliate marketing space is abundant with powerful and reliable alternatives to ShareASale.
Let's dive in and explore some of these top-notch alternatives.
Best ShareASale Alternatives
ShareASale is a popular choice for many marketers indeed.
But it's not the only affiliate management software in town.
We've looked at other options that you would love too. What did we pay attention to?
How easy it is to get started
How well you can manage your affiliates
Tools to help your program grow
Help and support from the company
What you get for your money
After looking at these things, we found some perfect other choices for ShareASale.
If your site runs on WordPress, AffiliateWP is tailored just for you. Unlike other general solutions, this one integrates seamlessly with WordPress, offering features that are optimized specifically for this platform.
The installation is a breeze. You'll find a setup wizard that guides you through the entire process, usually in less than 10 minutes. Once the setup is complete, you get access to an array of features that are both comprehensive and easy to use.
For instance, there's an affiliate fraud detection system, customizable affiliate dashboards, and real-time analytics to keep you informed at all times.
Affiliates get special perks too! Features like Affiliate Landing Pages, Vanity Coupon Codes, and Direct Link Tracking help your affiliates more effectively drive sales.
For the cost, starting at $149.50 per year, the value is hard to beat, particularly if you compare it to more general solutions like ShareASale.
Key Features:
Seamless WooCommerce integration
Reliable affiliate management
Advanced affiliate tracking
Recurring Referrals
Direct Link Tracking
Advanced affiliate growth tools
Top-notch support
Pricing:
Personal: $149.50 for the first year, then $299.00 a year (1 website, basic features)
Plus: $199.50 for the first year, then $399.00 a year (3 websites, more features)
Professional: $299.50 for the first year, then $599.00 a year (10 websites, even more features)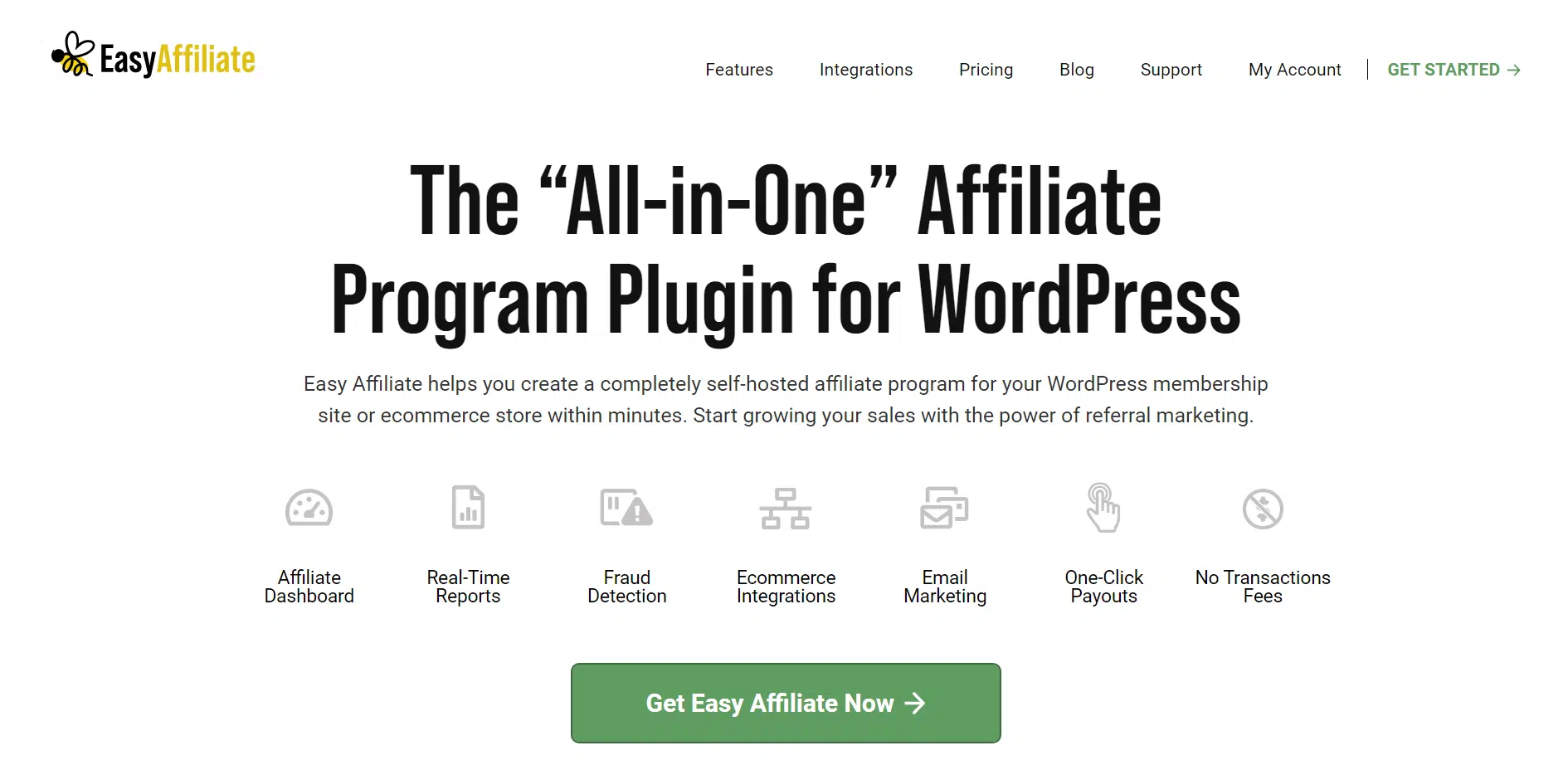 EasyAffiliate is all about making your life easier. The design is simple, giving you tools that do the work for you.
You can easily bring in new affiliates, keep track of how everyone's doing, and ensure they get paid without fuss.
Real-time tracking is another advantage. With EasyAffiliate, you can keep your finger on your campaigns' pulse, ensuring you understand exactly how well your affiliates perform.
Key Features:
Brings new affiliates on board by itself
Tells you how your program is doing in real-time
Works with popular online stores
Pricing:
Basic: From $199/year
Plus: From $299/year
Pro: From $399/year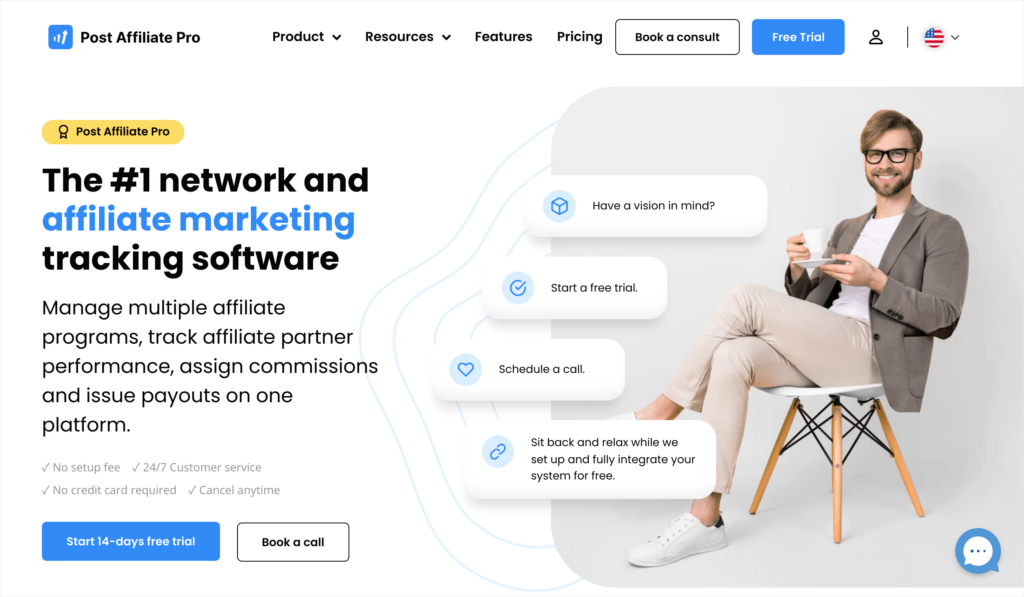 This is another great pick if you want to look beyond ShareASale. Post Affiliate Pro lets you do many things in one place.
You can look after many different affiliate programs, check how well people are doing, set up how much to pay, and ensure everyone gets their money.
The design is simple and easy to use, so that you won't get lost. If you have tried Post Affiliate Pro and are looking for it's alternatives, read out our post on the best Post Affiliate Pro alternatives to get started,
Key Features:
Good at tracking who sent you business
Links are good for search engines
Different types of affiliate links work
You can set how much to pay in different ways
Works with over 200 other platforms
Pricing:
Pro: $129/month if you pay for a year, or $139 if you pay monthly (good for starting out)
Ultimate: $249/month for a year, or $269 if you pay monthly (for those who need more)
Network: $599/month for a year, or $649 if you pay monthly (for big affiliate networks)
PartnerStack is a comprehensive, all-in-one affiliate marketing software that connects businesses with the best affiliates.
One of its standout features is automated partner management, making tracking multiple affiliates and campaigns easier than ever.
The software allows you to set up unique goals for each of your campaigns, whether that's driving more traffic, gaining new leads, or boosting sales.
Key Features:
Automated partner management and payouts
Analytics and Reporting
Access to B2B-focused partners
Pricing:
Lite: From $500/month
Pro: From $800/month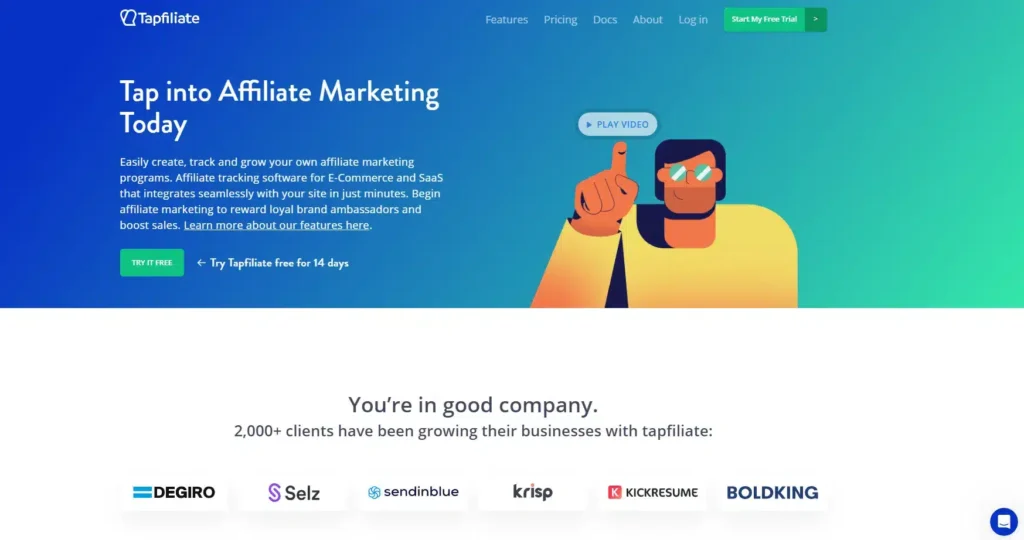 Tapfiliate is another fantastic choice, designed to serve businesses of all sizes. Unlike other options, it's extremely user-friendly and works across e-commerce platforms.
The dashboard is clean, intuitive, and devoid of confusing elements, making it an excellent choice for those who may be less tech-savvy.
But don't let the user-friendly design fool you; the software has powerful tools to help you take your affiliate marketing to the next level. For instance, it offers various creative tools like banners, text links, videos, and social posts.
This enables you to customize your affiliate program deeply, giving you a greater chance to boost conversion rates.
Key Features:
Affiliate Recruitment
Personal Affiliate Links and Coupon Codes
Branded Dashboard
Custom Sign-up Fields
Variety of Publisher Types
Pricing:
Essential: From $89/month
Pro: From $149/month
Enterprise: Custom pricing
Refersion is a versatile affiliate marketing tool that plays well with most major e-commerce platforms. Whether you're operating on WordPress, Shopify, BigCommerce, or even Amazon Marketplace, Refersion is built to integrate seamlessly.
The user interface is designed for simplicity and efficiency. Navigating through the various options for campaign management feels intuitive, letting you set up and track everything with minimal hassle. That said, don't mistake its ease of use for lack of depth.
Refersion is comprehensive, offering detailed performance reports that you can customize to suit your needs.
Key Features:
Multi-store support
Customizable commission structures
Custom performance reports
Pricing:
Professional: $99/month if paid annually (limited to 50 monthly order conversions)
Business: $249/month if paid annually (up to 200 monthly order conversions)
What Sets AffiliateWP Apart as a Top ShareASale Alternative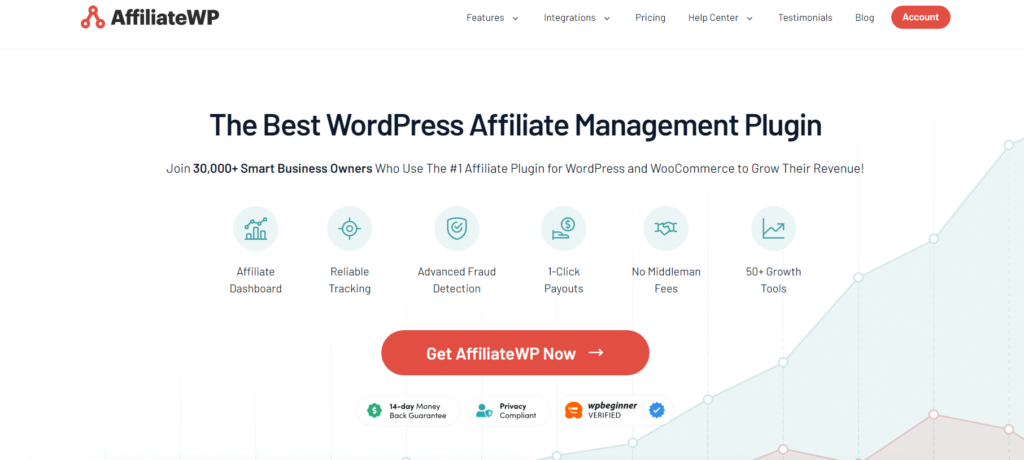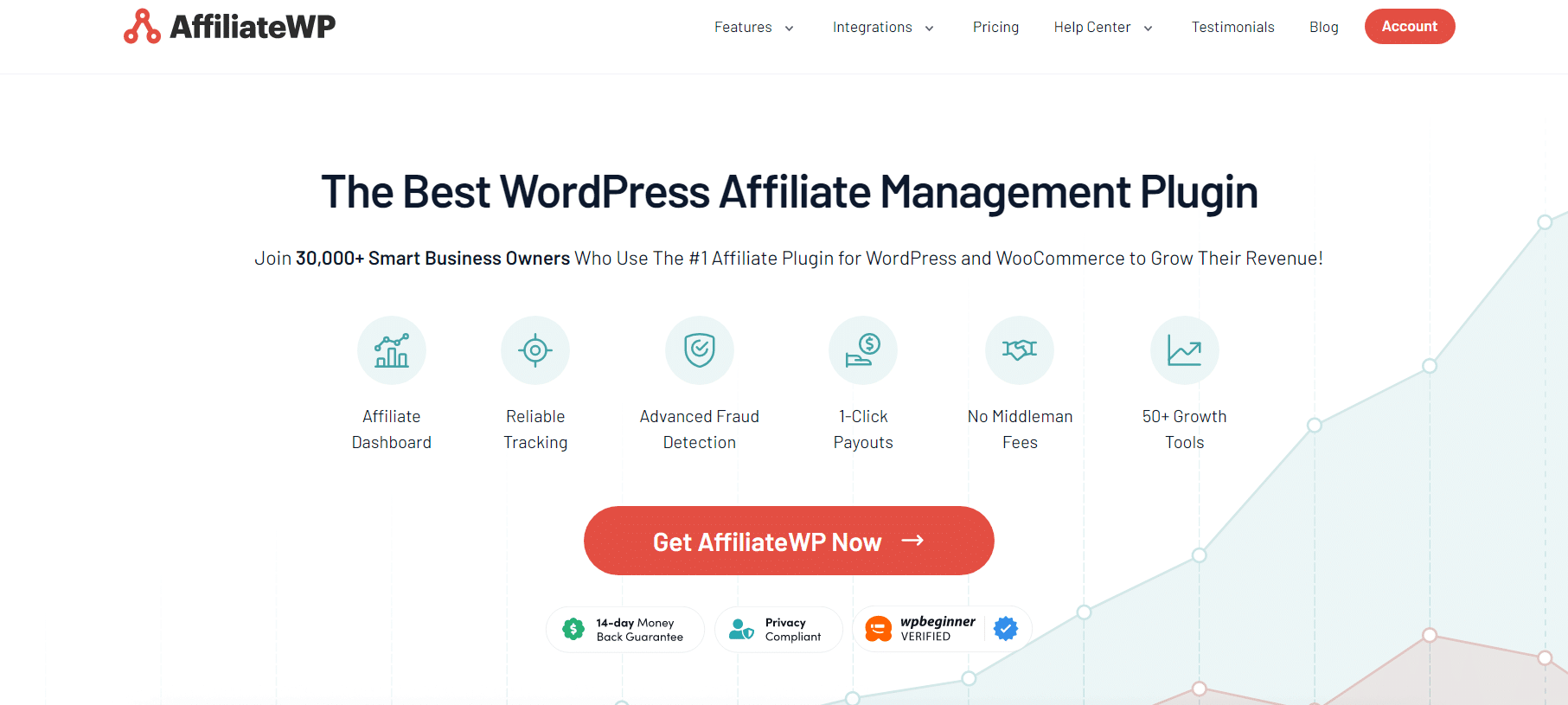 When choosing a solid alternative to ShareASale, AffiliateWP stands tall among the options.
So, what makes it so special?
Firstly, AffiliateWP is incredibly user-friendly and integrates seamlessly with your WordPress site. In less than 10 minutes, its setup wizard walks you through creating an efficient affiliate program.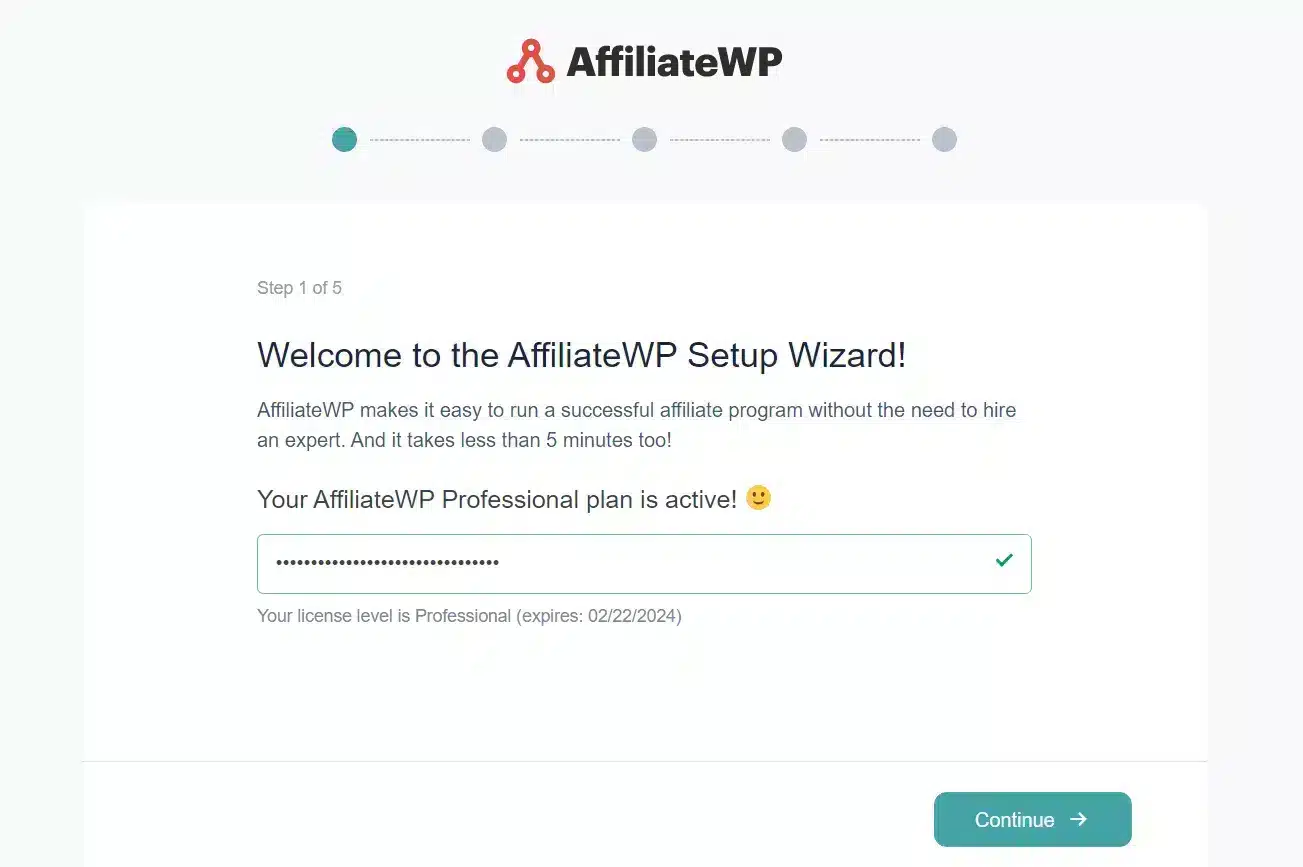 You don't need to be a tech wizard; it's all straightforward.
AffiliateWP isn't just about helping you set up an affiliate program; it's about helping you manage it effectively.
With tools like affiliate fraud detection, real-time analytics, and customizable affiliate dashboards, you're not flying blind—you have data to back up your decisions.
The software also offers unique marketing tools. From scheduled creatives to seamless creatives tab, your affiliates have more than one way to boost their sales, making it a win-win for both parties.
Taking The Next Steps with AffiliateWP
So, you've read about the best ShareASale alternatives and are leaning toward AffiliateWP. What's next?
Now's the time to dive in and get your affiliate program. AffiliateWP's user-friendly setup ensures you won't spend endless hours figuring things out—you can get your program up and running quickly.
Check out more resources:
With AffiliateWP, you're not just purchasing software but investing in a tool that can help scale your business.
Ready to take your business to the next level?