How to Set Up Affiliate Marketing for Tutor LMS (Guide)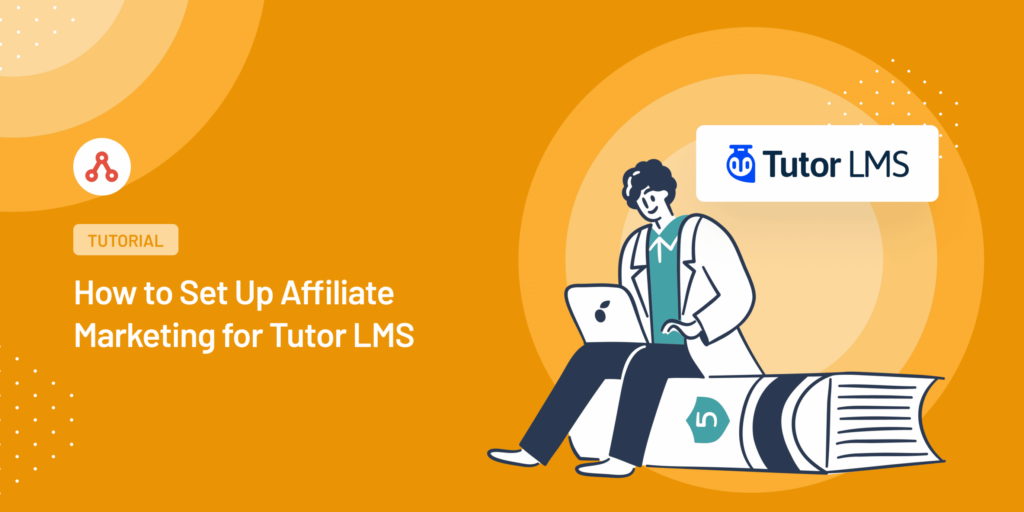 Looking to set up affiliate marketing for Tutor LMS?
Not only can it have a big impact on your sales, but it's also surprisingly easy to implement.
Let's take a look at how you can set up affiliate marketing for Tutor LMS.
How Affiliate Marketing Can Grow Your Tutor LMS Course Sales
If you've been thinking about setting up affiliate marketing to sell more of your Tutor LMS courses then you absolutely should.
Affiliate marketing works incredibly well for course sales, and we're going to show you exactly how to leverage it.
So, why is affiliate marketing such a good fit with selling courses?
Well, let's start with this point – it's extremely low risk. You don't have to pay your affiliates unless they make sales, so there's not much to lose.
And, following on from that, digital products like online courses tend to have a lot of margin built-in, allowing you to offer an attractive affiliate commission. This means you can have awesome affiliates working on your marketing while you focus on creating amazing course content.
It's an excellent marketing strategy, and one you're well placed to leverage thanks to AffiliateWP's integration for Tutor LMS.
Let's take a look at how to set up affiliate marketing for Tutor LMS.
5 Steps to Set Up Affiliate Marketing for Tutor LMS
Ok, so this title isn't exactly true – you can set up affiliate marketing for the Tutor LMS plugin in just 2 steps, but we're going through a couple of extra ones to make sure you're set up for success.
Here's what we'll be discussing:
Install AffiliateWP
Run the AffiliateWP setup wizard
Edit your affiliate area page
Approve affiliate sign-ups
Keep an eye on your affiliate analytics
All of these steps are straightforward and require no coding or technical knowledge (wohoo).
Let's get started and look at how you can set up affiliate marketing for Tutor LMS.
Step 1: Install AffiliateWP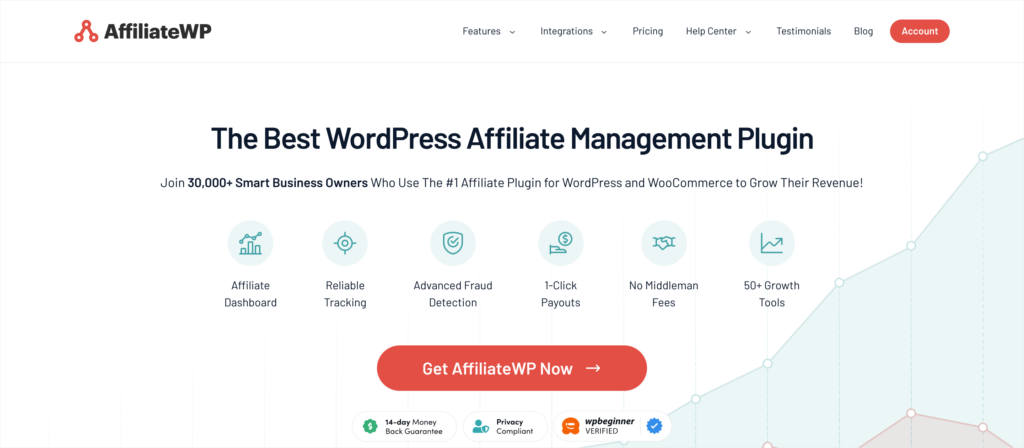 AffiliateWP is the best affiliate management plugin for WordPress.
It also happens to have a great integration for Tutor LMS, so it's an ideal place for you to start growing your course sales!
Of course, that's just a starting point – AffiliateWP also offers some of the best affiliate management and growth tools on the market. All at a price that's designed to help small businesses take on the big guys by leveraging a top-quality affiliate marketing program.
Sounds pretty great right?
Check out the pricing page and find the plan that best fits your needs, and then you're ready to get started with affiliate marketing for Tutor LMS. If you get stuck installing the plugin just follow this handy tutorial.
Next up, let's get your affiliate program running.
Step 2: Run the AffiliateWP Setup Wizard
You can realistically get your affiliate program for Tutor LMS set up in under 10 minutes.
All you've got to do is open the setup wizard by going to the AffiliateWP Settings page and clicking the Launch Setup Wizard button at the bottom.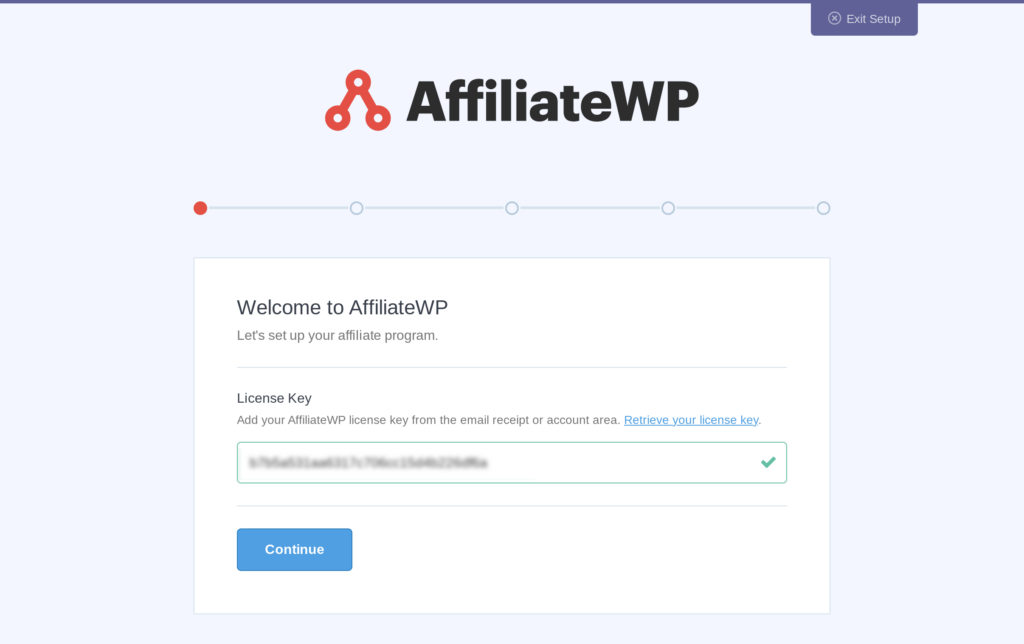 At this point, you'll be asked to enter your License Key which can be found in your AffiliateWP Account or confirmation email. Copy the key into the box and click Continue.
Now, you're ready to integrate AffiliateWP with Tutor LMS, but you'll notice Tutor LMS isn't listed in the dropdown menu. Instead, you're going to sync AffiliateWP through either WooCommerce or Easy Digital Downloads.
This is because Tutor LMS uses either of these plugins as its cart plugin, and you can check which one you're running by going to Tutor LMS > Settings > Monetization.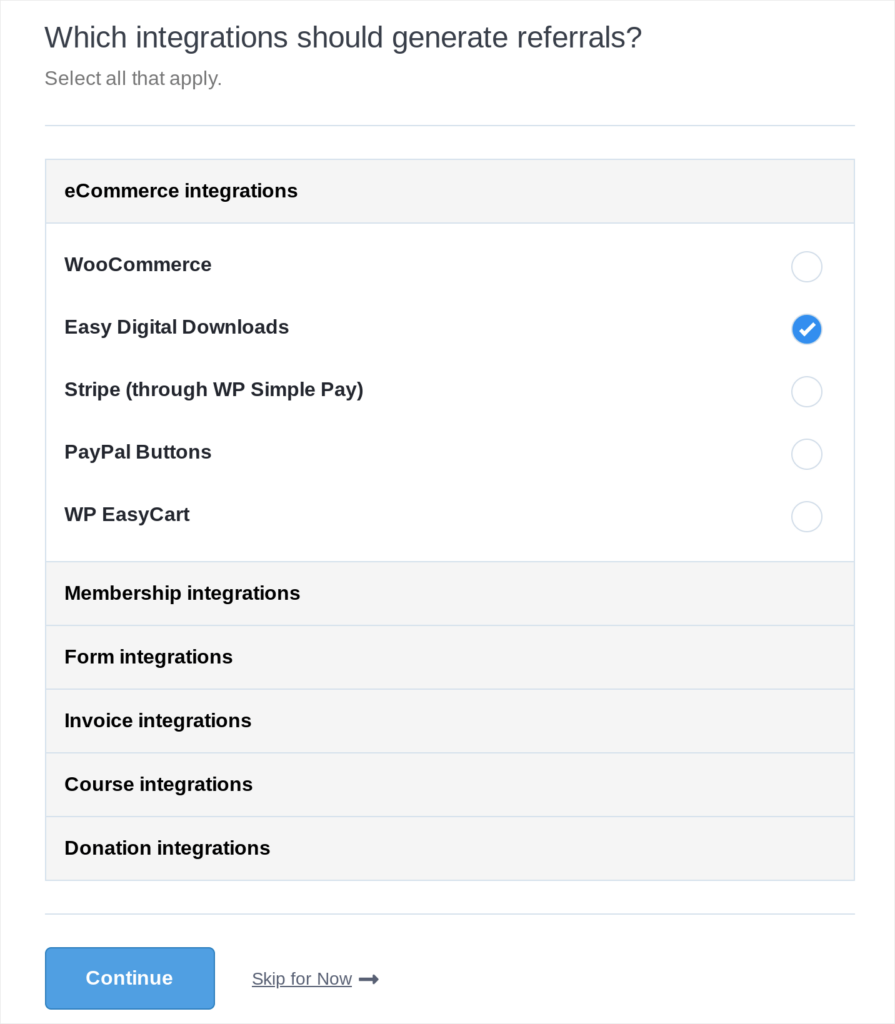 Select the corresponding plugin from the AffiliateWP integrations dropdown and click Continue.
The next step is to set your commission structure which you can easily do on the next page. Don't worry about this too much for now as you can easily edit it from the Settings page at a later date.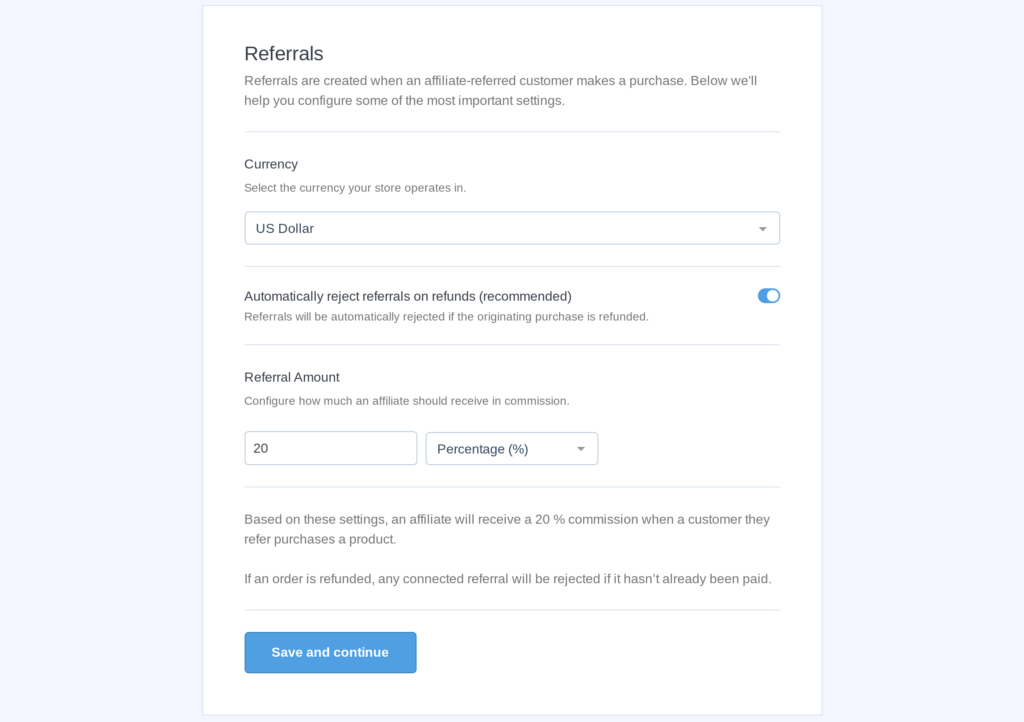 Click Save and Continue and on the next page, you'll choose your cookie expiration settings (once again, you can easily change this at a later date), before clicking Save and Continue once again.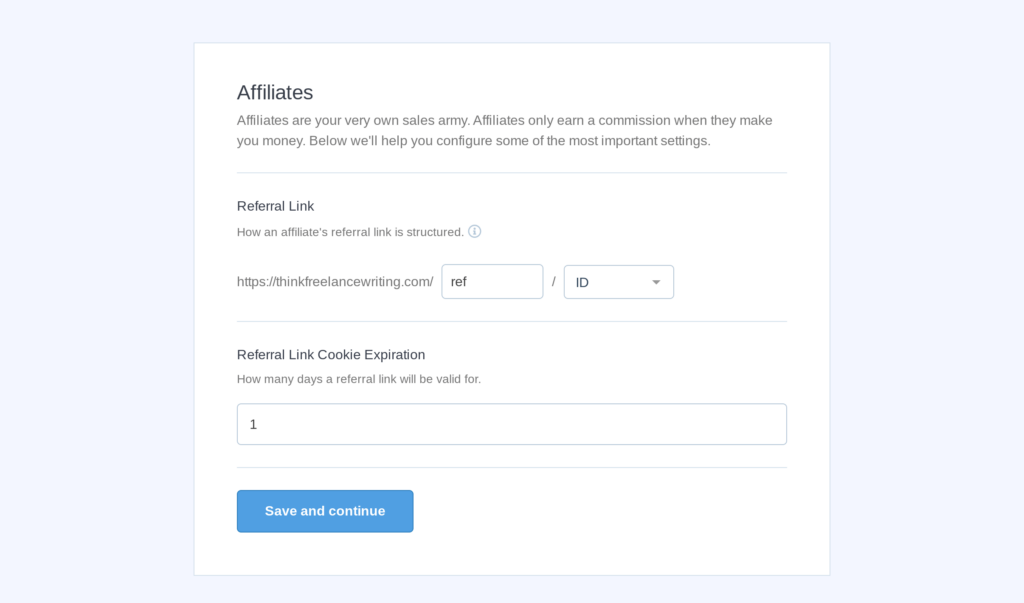 All that's left now is to click Finish the setup and exit the wizard and your affiliate program will be live.
Step 3: Edit Your Affiliate Area Page
As soon as you complete the setup wizard AffiliateWP will be able to track referrals on your Tutor LMS course sales, but what about adding affiliates?
AffiliateWP automatically creates an Affiliate Area page where affiliates can sign up for your program and access their affiliate dashboard. To edit this page, just go to Pages from your WordPress admin and search for "Affiliate Area."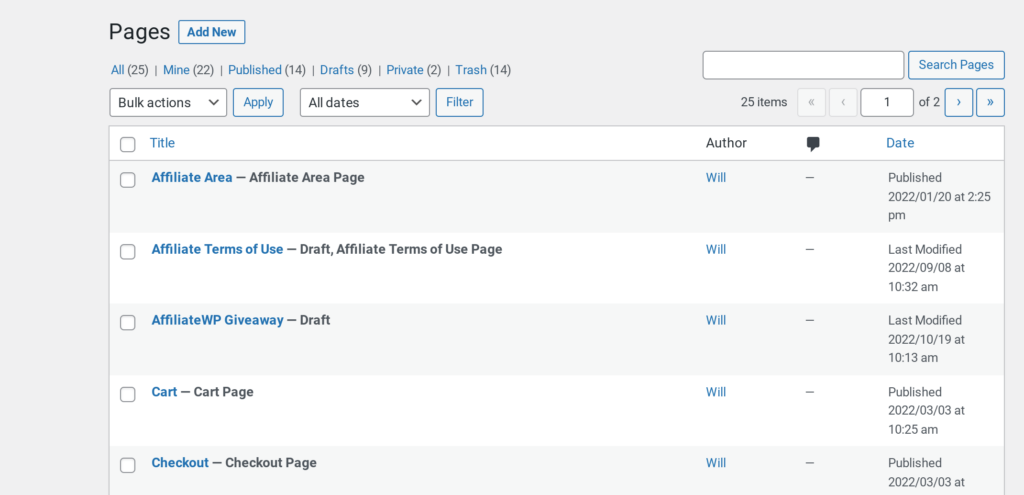 You'll be able to open the editable template and change different elements to fit your needs, or alternatively, you can create a new page, and set it as your Affiliate Area in the AffiliateWP Settings.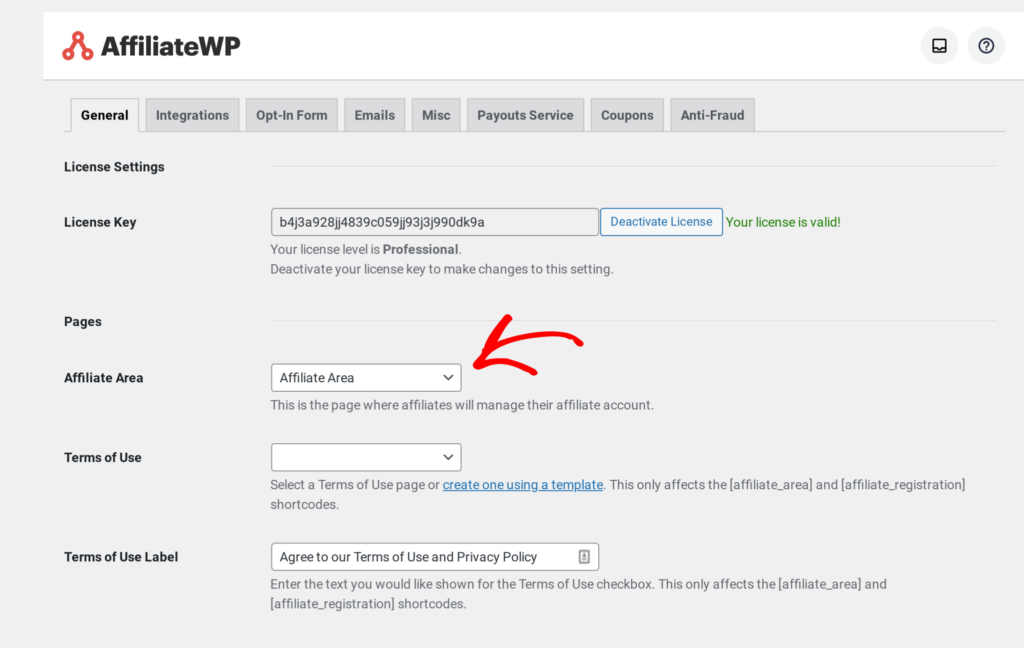 Once you've accepted an affiliate application (more on this in the next step), the same Affiliate Area page will allow your affiliates to sign in and access their affiliate dashboard (which again, is highly customizable). From here, they'll be able to generate affiliate links and access coupons to help promote your products.
Step 4: Approve Affiliate Sign-Ups
AffiliateWP's standard settings require you to approve all affiliate sign-ups because it's an important part of fraud prevention.
You can change this by going to Settings > Misc and unchecking the box next to Require Approval. However, we strongly recommend you approve all affiliates, and would recommend our Fraud Prevention addon to further boost your protection.
Anyway, approving affiliates is incredibly simple. All you have to do is go to the Affiliates page and click Approve next to the affiliate's name.

Once your affiliate has been approved they'll automatically receive an email telling them they've been accepted into your program, and they can then log into their account through the Affiliate Area.
Step 5: Keep an Eye on Your Affiliate Analytics
Whenever your affiliates generate a referral you'll both get an email in your inbox, but you can also dig deeper into the data with our affiliate analytics.
Just go to the Reports page from your WordPress admin and you'll have access to tons of data on referrals, visits, sales, payouts, and campaigns. These real-time analytics will help you keep track of your top affiliates and understand which marketing strategies work and which ones don't.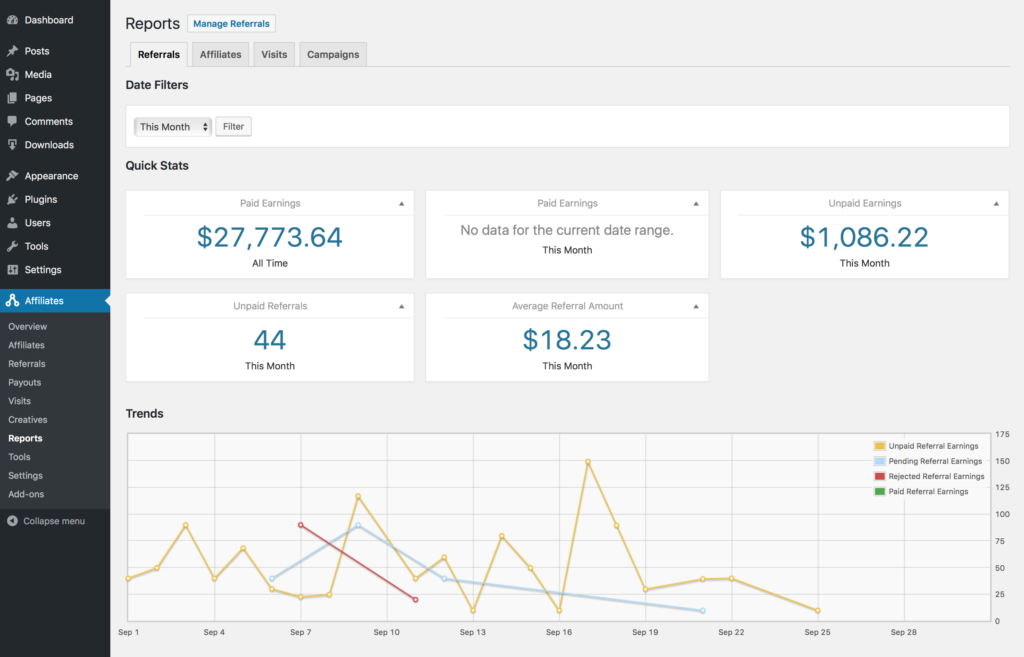 That's it, you've successfully set up affiliate marketing for Tutor LMS!
Now Sign Up Top Affiliates for Your Program
Now you've got a great learning management system and affiliate marketing, you've got all the tools you need to make affiliate course sales, but have you got the affiliates?
Just a handful of great affiliates can make all the difference to your business, and we've got a great guide to help you find them. One of the key things to remember is that you've got to be proactive – if you sit and wait for affiliates to come to you, it's probably not going to happen very quickly.
Treat affiliate recruitment like a sale and optimize your processes.
That means:
Optimize your affiliate sign-up page to maximize conversions
Leverage social proof to show potential affiliates the benefits of your program
Use your email marketing to retarget potential affiliates
Make your forms easy to fill out
Minimize the barriers you put in front of signups
Make it easy for people to become "a lead" and once you've got them interested, take the next steps to vet them and make sure they're a good fit for your program.
Once you get this step optimized, you'll find it much easier to recruit affiliates who can make a difference to your business.
Create Your Tutor LMS Affiliate Marketing Program
You can set up affiliate marketing for Tutor LMS in just a few clicks!
It's low risk and it can make a huge difference to your e-learning course sales, so there's absolutely no reason not to. Just follow this guide, and you can start tracking affiliate links in under 10 minutes.
Want to get even more affiliate marketing tips?
We've got you covered:
Now there's only one thing left to do.
Get AffiliateWP and start your Tutor LMS affiliate marketing campaign today!