Not many things get done in this world without rewards. Affiliate marketing is no different, so getting your affiliate rewards right is important.
We won't lie, finding and motivating top affiliates isn't easy, but when you get the rewards right, it can have a huge impact.
Here's your complete guide to affiliate rewards.
Monetary Affiliate Rewards
You can't talk about affiliate rewards without mentioning the money aspect.
Affiliates don't join your program to do you a favor, they're doing it to bring in an income. They've got lots of choices about what affiliate programs they join, so it's important you get the monetary aspect right.
Commission
When an affiliate is looking at your affiliate program landing page, one of the first things they'll be looking for is your commission structure.
This certainly isn't everything though.
We could offer you 80% on every affiliate sale you bring in, but if we're not able to convert and make sales, then that still results in no money for you. So, no, commission isn't everything but it is important.
When considering your commission structure think about these important points:
What are your profit margins on your products? If your profit margins are tight, then you're limited in how much commission you can offer.
What's your average sale value? 20% of a $1,000 order is a lot more than 20% of a $100 order.
What's your conversion rate? If you have a high conversion rate, then affiliates are likely to make more sales.
What's the average lifetime value of a customer? It's not just about the initial order; how much is each customer worth to you overall?
What are your competitors offering? It's hard to attract affiliates if your competitors are offering a much better deal.
Remember that your commission structure isn't set in stone, but it's much easier to raise your rates than lower them!
Tiered Affiliate Commissions
Commissions are an incentive. Rather than paying someone a flat rate regardless of how many sales someone brings in, when you use a tiered affiliate commission, you're saying the better you do the more you earn.
Tiered affiliate rates are a way to ramp the incentive up even more. Take this commission structure example.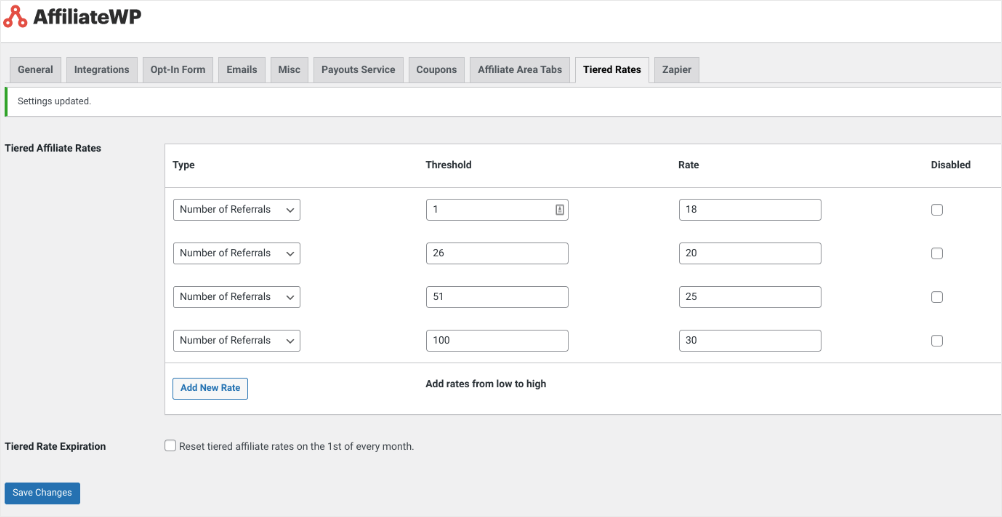 Sales 1-25: 18%
Sales 26-50: 20%
Sales 51-100: 25%
Sales 100+: 30%
You're creating a huge incentive for your affiliates to perform. Once the affiliate reaches 100+ sales, they're earning a lot more than their first 25 sales.
Of course, your commission structure will look slightly different, but using our tiered affiliate rates pro-add-on you can create an affiliate reward that's always pushing your affiliates to achieve more.
Sign-Up Bonus
Signing up affiliates isn't easy (we've got a few tips to help you though).
You're competing with big affiliate networks, and every brand seems to have an affiliate program these days, so how can you stand out?
Using affiliate rewards in a smart way is one way you can do this, and offering a sign-up bonus is particularly useful.
Obviously, you don't want to be handing out free money, so make sure your sign-up bonus comes with some strings attached! Set a minimum payout threshold so that the affiliate receives the bonus after they've earned X amount of sales.
By this point, the affiliate has seen they can make sales with your program and experienced the thrill of earning money, so it's a great time to pay the bonus.
Non-Monetary Affiliate Rewards
Monetary affiliate rewards are obvious, and everyone offers them to some extent.
It's easy to get caught in a race to the bottom by offering ever greater commissions, but it's not always the answer. What's more challenging is creating an affiliate program that offers the less tangible things affiliates are looking for.
Here are some non-monetary affiliate rewards you can use to make your program more attractive.
Free Products and Company Swag
Free products and branded merchandise are a logical first step when it comes to non-monetary affiliate rewards. Not only do they help create a sense of belonging, but they also allow your affiliates to be more familiar with your products.
There are a lot of great marketers out there who can sell virtually anything, but when someone has a genuine connection with the product, it shows through. By giving your affiliates easy access to your products, you help them do their job better.
Also, who doesn't love receiving a little present through the mail?
This is a cost-effective way of rewarding your affiliates, but it maintains a personal touch that helps build the relationship.
Personalized Creatives
It's hard to market a product without creatives. Your audience loves images and videos, because, well we all do!
For this reason, creatives are an important part of your affiliate program, but they're also an opportunity to create advanced rewards.
We're not saying you should start your affiliates out with sub-standard creatives, far from it, but they offer an opportunity to reward engaged, high-performing affiliates through personalization.
A perfect example of this is personalized affiliate landing pages.
They allow you to work with your affiliate to design a personalized, exclusive landing page to boost conversions and grow sales. For example, if you were an AffiliateWP affiliate, your landing page will be on our site, but it might have a picture of you with the AffiliateWP team and bespoke copy.
This level of exclusivity is a huge sale generator, so it's a brilliant affiliate reward.
Gamification
Digital businesses frequently use gamification to increase user engagement. It's no wonder why; gamification draws on a system of rewards and acknowledgment of achievements that make the user experience both fun and full of positive reinforcement.
This works well for affiliates as well.
We all like a little competition, so things like affiliate leaderboards can make all the difference.
That's just the tip of the iceberg though; there are lots of little elements you can introduce to add a feeling of gamification (tiered commissions, monthly quests, point tracking, badges, titles).
One tool we particularly like for this is RafflePress, which allows you to create incentivized prize draws. Your affiliates would complete little tasks like sharing a social post, completing an onboarding task, or creating a video review, and in return, they earn an entry into a prize draw.
Not only is this fun, but it's also a great affiliate reward.
Exclusive Deals
Another way you can reward affiliates is by giving them exclusive deals to share with their followers.
The stats about discount coupon codes are impressive:
At the same time, they also want those coupons to be personalized:
80% of consumers are more likely to buy from a company that offers a customized experience
72% of consumers claim that they only respond to marketing messages that are exclusively crafted to their choices
The perfect way to combine the two is with our Vanity Coupon Codes pro-add-on.
Vanity Coupon Codes allow you to create a discount for your affiliates to share, but they're completely customizable. Rather than sending their audience a randomly generated code like CX30SWFD, they can personalize it to their needs, for example, I might choose FROMWILLIAMWITHLOVE.
It's a simple affiliate reward, but it can make a big difference.
Recognition
As humans, we are significantly motivated by acknowledgment of our work and the feeling of accomplishment. This is not to say that money isn't a factor; rather, it's not the only factor, and it doesn't always produce the same degree of enthusiasm for commitments and performance that recognition can.
"Recognition is not a scarce resource. You can't use it up or run out of it."
Susan M. Heathfield, Human Resources Expert
You can recognize your affiliates in a variety of ways, from offering simple words of gratitude and encouragement to featuring them in your newsletters, content, and social media posts. For example, you could feature affiliates in your affiliate newsletters (regardless of their sales and performance status) in an effort to build community within your program.
An Affiliate's Basic Needs
Before we start thinking about affiliate rewards, it's important we also consider affiliates' basic needs.
The rewards are all well and good but your affiliates are in your program to create an income. If you can't provide the right software, tools, and guidance to help them achieve this, then the rewards don't mean much.
Software
Your affiliate marketing software is essential to the success of your program and your affiliates.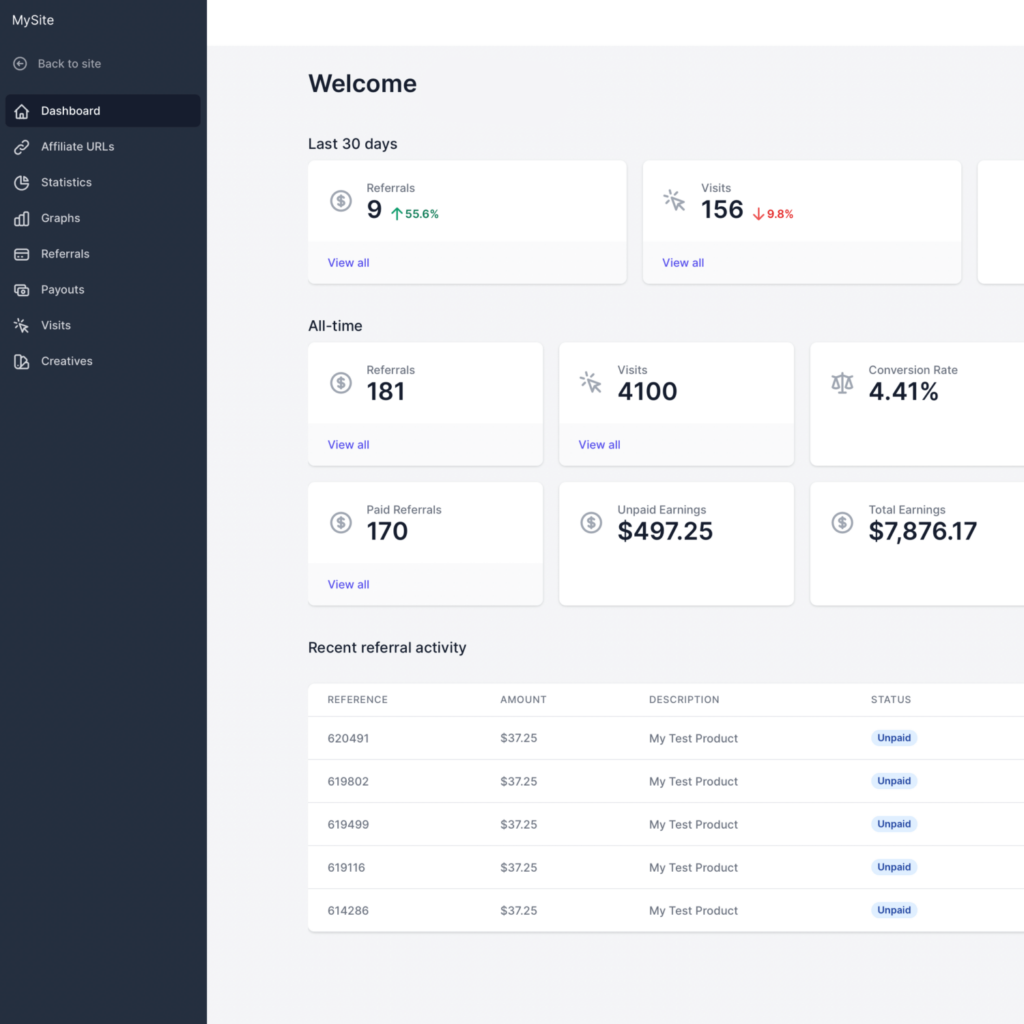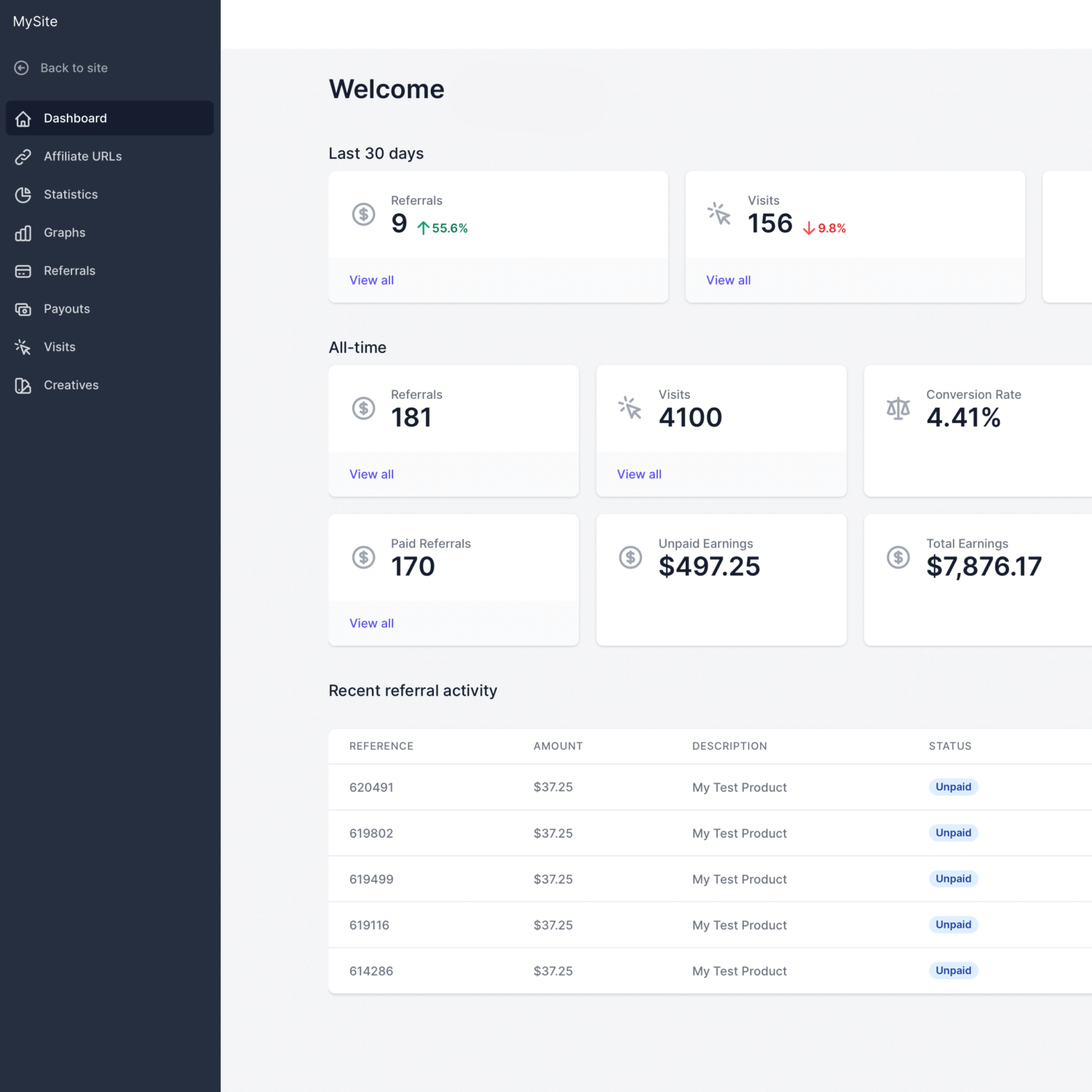 If it's difficult to use, prone to frequent errors, and doesn't ensure a smooth experience, then it's going to put affiliates off. You can create lots of little affiliate rewards, but if your software eats up your affiliates' time and makes it hard for them to do good work, then this can be a big problem.
In such a competitive sphere, having the right platform is crucial.
Tools
How many different tools have we mentioned so far in this article?
They're not completely necessary for creating a good affiliate marketing program, but they can make a big difference. If your affiliates feel like they don't have the tools they need to make sales, then they're more likely to look to other affiliate programs to fill their needs.
Affiliate marketing moves on quickly, and you want to make sure you're at the forefront of what's happening by constantly equipping your program with the right tools.
Guidance
You'll often hear the saying, "give a man a fish, and he will be hungry again tomorrow; teach him how to catch a fish and he will be richer all his life."
You can offer all kinds of affiliate rewards, but ultimately to attract and keep affiliates, they need sales.
Since you're a world-leading expert on your products, you're in a perfect position to offer guidance on how affiliates can achieve the sales they crave. Put together an affiliate onboarding program, and address the ultimate issue.
Affiliate Rewards: AffiliateWP Has You Covered
We understand what it takes to attract and engage high-quality affiliates.
We're not going to tell you it's a walk in the park; instead, we're going to be realistic. It's not easy, and you need to use all the tools you have at your disposal. One of those tools is rewards, which is why we're constantly releasing new features to help you incentivize your affiliates.
Remember that it's about more than just monetary affiliate rewards.
It's about the full package which means meeting affiliates' basic needs, offering tantalizing monetary rewards, and demonstrating a personal touch through non-monetary rewards.
AffiliateWP provides the perfect platform for all of these affiliate rewards.