Notice: There is no legacy documentation available for this item, so you are seeing the current documentation.
How to Install and Use the Affiliate Product Rates Add-on for AffiliateWP
For integrations that support per-product referral rates, affiliates can earn different commissions based on which product/s are purchased. AffiliateWP also allows you to set referral rates on a per-affiliate level which will override any per-product referral rate.
In this article, we'll show you how to install and set up the Affiliate Product Rates add-on for AffiliateWP.
---
1. Installing the Affiliate Product Rates Add-on
Before we get started, be sure to install and activate AffiliateWP on your WordPress site.
Once you've got AffiliateWP installed and your license is verified, you'll be able to quickly install and activate the Affiliate Product Rates add-on.
2. Setting per-product, per-affiliate referral rates with Affiliate Product Rates
Follow these steps to set up Affiliate Product Rates:
Install and activate the Affiliate Product Rates add-on
Ensure your integration with either Easy Digital Downloads or WooCommerce has been enabled in the AffiliateWP » Settings » Integrations tab
In the AffiliateWP » Affiliates screen, find the affiliate you wish to set per-product rates for. Click the affiliate's name to edit that affiliate's account information
Affiliate Product Rates will add a new Product Rates section to the Edit Affiliate screen: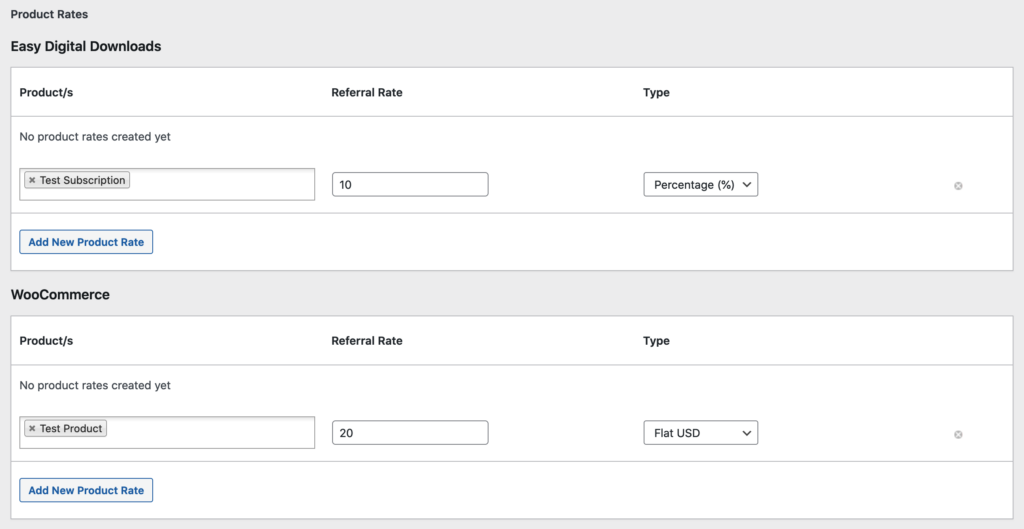 In the Product/s field, you can add any existing products for which you wish to set a specific referral rate. You can add one product or multiple products per referral rate/referral rate type. If you have multiple products per referral rate, the rate and type you set will apply to all of those products
In the Referral Rate field, enter the amount you would like to pay your affiliate
And then from the Type drop-down menu you can choose between a Flat Rate (specific dollar amount) or a Percentage. For the Flat Rate, the currency shown will reflect the currency setting you have in the AffiliateWP » Settings » General tab. However, if you are using a Flat Rate that includes a decimal in your Referral Rate amount, make certain to use a period regardless of what you have set in your global Decimal Separator settings for accurate calculation results.
If you want to set a product to a zero referral rate, make sure and enter this as 0.00 exactly.
Click Update Affiliate and your changes will be saved. These referral rates and referral rate types will now only apply to this specific affiliate.