Keeping your sales funnel constantly topped up with leads can be challenging, but it's certainly not impossible and a lead generation affiliate program can help.
One way you can make sure you have a constant drip of leads coming into your funnel is through affiliate marketing. This can help you automate your lead generation and ensure your salespeople always have qualified leads to go after.
Here's how to set up a lead generation affiliate program in WordPress.
What is a Lead Generation Affiliate Program?
You might have heard of lead tracking, which is all about monitoring how a customer progresses through your sales funnel, but what about the journey they took to becoming a lead?
One of the ways you can understand how you attract leads is through a lead generation affiliate program, but it's much more than just tracking. It also allows you to expand your reach and recruit an army of affiliates to help you with your lead generation.
Affiliates sign up to your program, they place affiliate links in their content, and if someone follows those links and fills out a form to become a lead, the affiliate gets a reward (this could be monetary, store credit, free products, whatever you choose).
Without leads coming into your sales funnel, you don't have a business, so it's vitally important you can guarantee a steady supply.
To keep a stream of leads flowing into our funnels, we use a variety of marketing strategies, but affiliate marketing is often overlooked.
When we think of affiliate marketing we tend to think about final sales rather than leads, but that shouldn't be the case. A lead generation affiliate program is an excellent way to get more quality leads into your sales funnel; what you do with them from there is up to you and your sales team.
How Does Affiliate Marketing Lead Generation Work?
Affiliate lead generation is simple: you incentivize other people to send you leads. This could be your customers, publishers in your niche, or virtually anyone you choose.
With the right software, you can set up a lead generation affiliate program that tracks where each lead has come from, automatically paying a reward to the approved affiliates who supply the leads. You're in control of who can sign up as an affiliate, and how much you pay out for each lead, meaning you expand your reach without taking any big risks.
Here's a simple example of how it might work:
A third-party publisher writes a great review of your product/service
The reader clicks the affiliate link within the article
Your affiliate software recognizes the cookies from the referral link, so it knows which affiliate has sent the visitor
The visitor likes the look of your product/service, so they fill out your lead generation form
Once the lead is verified, your affiliate software identifies which affiliate sent the lead to your site, allowing them to receive their compensation.
Again, since it's your lead generation affiliate program, you're in control. This allows you to create your own terms and conditions to make sure you're paying affiliates for legitimate, qualified leads. 
What are the Benefits of Affiliate Lead Generation?
One question you might find yourself asking is why incentivize leads over sales? Surely it's more beneficial to have sales than leads? The answer generally boils down to the fact that it's hard to make sales.
There are many cases where you want to maintain control over the sales process:
You're selling big-ticket items
You have a long customer journey
You're selling something that's very technical
Your products and services have a big impact on people's lives (think legal services, medical equipment)
Returns aren't possible
You might simply have an amazing sales team and know that they have the best chance of turning website visitors into customers. Whatever the reason, a lead generation affiliate program can be exactly what you need.
The important thing is not to underestimate the effort that goes into building an irresistible affiliate marketing program. Yes, you can seriously expand your reach with affiliate marketing, but it's one thing to create a program, and another to turn it into something that consistently gets results.
Ultimately, an affiliate program is what you make of it. There's no limit to what you can do, but you need to take the right steps to achieve it.
When it comes to a lead generation affiliate program, there's an extra consideration you have to think about as well: the quality of leads. There's no point having 1,000 leads in your sales funnel if 990 of them are terrible. They're just going to eat up your time, stopping you from reaching your true target audience.
This is why it's extremely important that you're qualifying your leads, and we'll talk more about this in the next section.
How to Set Up a Lead Generation Affiliate Program in WordPress
To set up your lead generation affiliate program, you're going to need two key elements: a form builder, and affiliate marketing software. We'll take a look at the best options and show you how to quickly set them up to work together to track affiliate referrals.
Step 1: Download a Form Builder and Create Your Forms
There are lots of form builders to choose from on WordPress, but we find WPForms is hard to beat, and it's great for lead referral tracking (AffiliateWP also integrates with Ninja Forms, Gravity Forms, Caldera Forms, and Formidable Forms).
Head to the Plugins section in your WordPress platform and search for WPForms. It's a free plugin, so it won't cost you anything to download and take a look at. You'll automatically have everything you need to build highly optimized forms (including lots of templates), but it is worth looking at the paid plans for those little extras you need to take your lead generation to the next level.
Really think about what you're trying to achieve from your lead generation form and keep the affiliate aspect in mind.
While you don't want to put people off becoming a lead, you want to make sure there's some level of qualification, because you're going to be paying a small fee for each sign up (the ones that are referred by affiliates). Make sure you're asking the right questions, but at the same time, don't bombard people with too many requests.
WPForms, allows you to use conditional logic and conversation forms, which are great ways to collect the information you need without scaring people off.
Step 2: Download and Install AffiliateWP
Once you've chosen a form builder, then you can start to get your lead generation affiliate program set up. The best way to do this is through AffiliateWP, and it couldn't be easier!
Check out our pricing plans, and choose the one that best suits your needs. All our form integrations are free, but it's worth looking at the pro add-ons as well to see if they're things you're likely to need for your program.
Once you've chosen the best fit for you, complete your purchase, and then lookout for a confirmation email in your inbox. In this email, you'll see a download link and your registration keys. Click the download link to download the AffiliateWP.zip file.
Head over to your WordPress admin, and in the Plugins section in the left-hand sidebar, click Add New.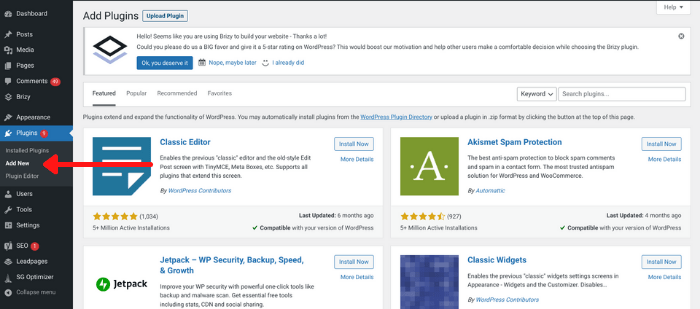 On the next screen, click the Upload Plugin button and then Choose File. Select the AffiliateWP.zip file you just downloaded and click Open and then Install Now.
Once the plugin has downloaded, hit Activate and the installation process will be complete.
Now hover over Affiliates in the left-hand sidebar and click Settings. At the top of the page, you'll see a box titled License Key. Copy the license key you received in your email into the box and click Activate License Key.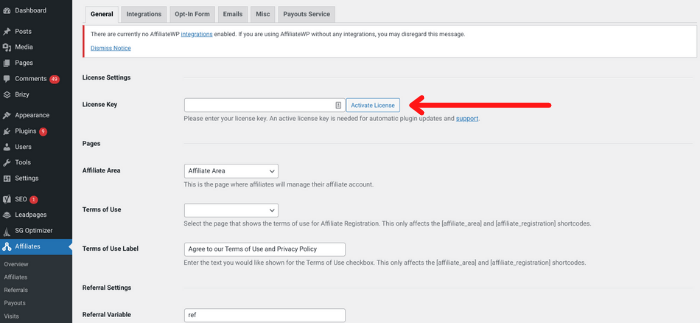 Your affiliate program is now ready to be customized.
Step 3: Integrate AffiliateWP with WPForms (Or the Form Builder of Your Choice)
Once you've downloaded AffiliateWP, then you can link it to your form builder, allowing you to track lead referrals.
From the Settings tab in your AffiliateWP account, select Integrations at the top. You'll see a list of integrations with empty checkboxes next to them. Check the box next to the form builder you want to connect to your AffiliateWP and click Save Changes.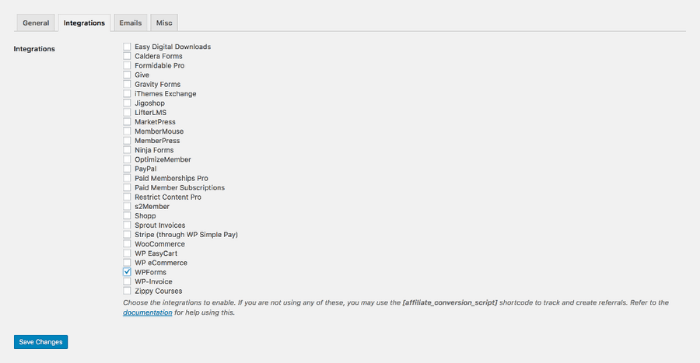 If you're using WPForms, then you can see this process in more detail in our article on How to Set Up Referral Tracking on WPForms.
Step 4: Allow Referral Tracking on WPForms
Head back to WPForms and select the form you want to use to sign up leads. In the left-hand menu, select Settings, and in the next tab click General. Near the bottom, you'll see a check box titled Allow Referrals, check this box, and in the next box, select Lead.
(If you're using another plugin for your forms, then search are documentation for plugin-specific information)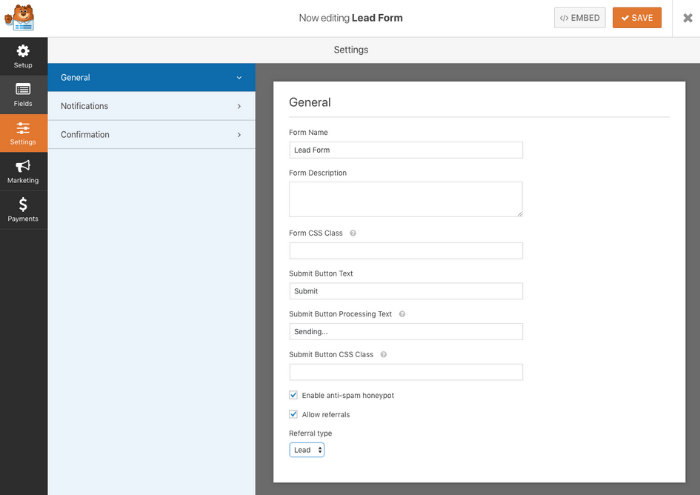 Your form will now automatically track referrals in your AffiliateWP dashboard, allowing you to effortlessly pay affiliates when they sign up a qualified lead.
Your lead generation affiliate program is ready to go, but make sure to head back to your AffiliateWP settings to explore your commission settings and edit the fine details.
Grow Your Lead Generation Affiliate Program
If you're setting up a lead generation affiliate program on your WordPress site, then the best place to start is with AffiliateWP.
Our platform is designed specifically for WordPress, allowing you to seamlessly grow your affiliate program and reward affiliates for their work. With no limits on how many affiliates you can sign up, or how much you pay out, all that's left to do is get started and bring in those leads.