7 iDevAfiliate Alternatives to Build an Affiliate Program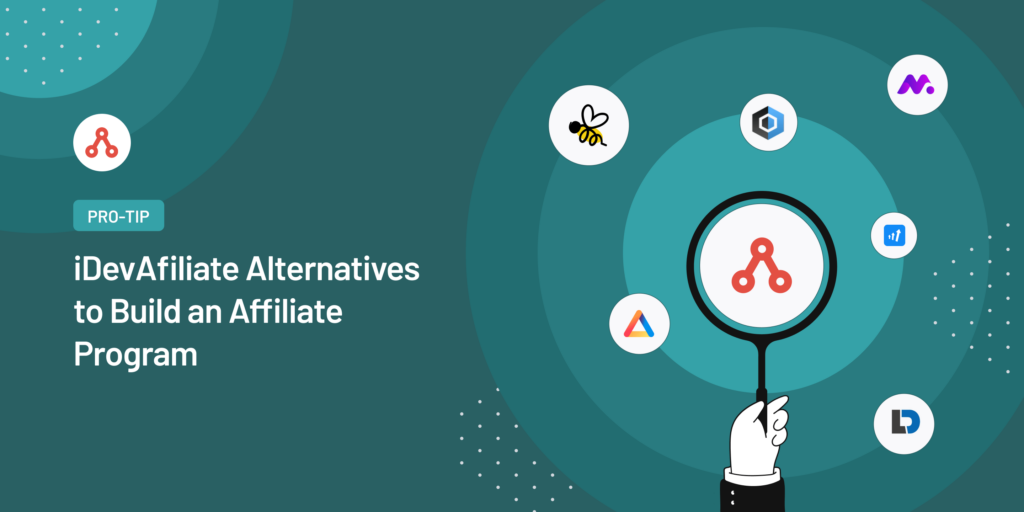 Looking for the best iDevAffiliate alternatives?
Here you go:
AffiliateWP
EasyAffiliate
OSI Affiliate
Metricks
Post Affiliate Pro
LeadDyno
SolidAffiliate
Now, let's look at all of these iDevAffiliate alternatives in more detail.
How Are We Judging the iDevAffiliate Alternatives?
What do you really need when setting up your own affiliate program?
That's what we've judged all these iDevAffiliate alternatives by, which has led us to break the search down into 6 criteria:
Ease of setup
Ease of use
Affiliate campaign management tools
Affiliate marketing tools
Customer support
Value for money
We've looked at a whole host of affiliate software and judged them by this criteria to bring you the best iDevAffiliate alternatives.
Like iDevAffiliate these plugins will allow you to create an excellent affiliate program, but it's always worth comparing the pros and cons of each piece of software to find the right fit for your business.
So here we go with our list of the best iDevAffiliate alternatives.
7 Best iDevAffiliate Alternatives
We've spent our time comparing all the top iDevAffiliate alternatives so you don't have to.
Here's what we found.
1. AffiliateWP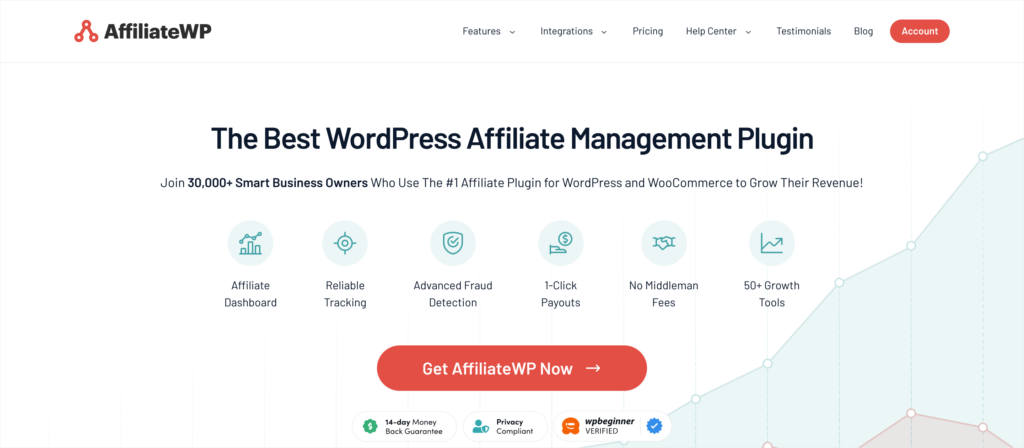 AffiliateWP is the best affiliate management plugin for WordPress.
Since more than 40% of the web runs on WordPress, that means AffiliateWP is the perfect option for a whole host of people reading along right now.
Why is that?
Well, AffiliateWP offers an incredible combination of ease of use, innovative features, and exceptional value.
This all starts with the setup wizard, which will help you get your affiliate program set up in under 10 minutes.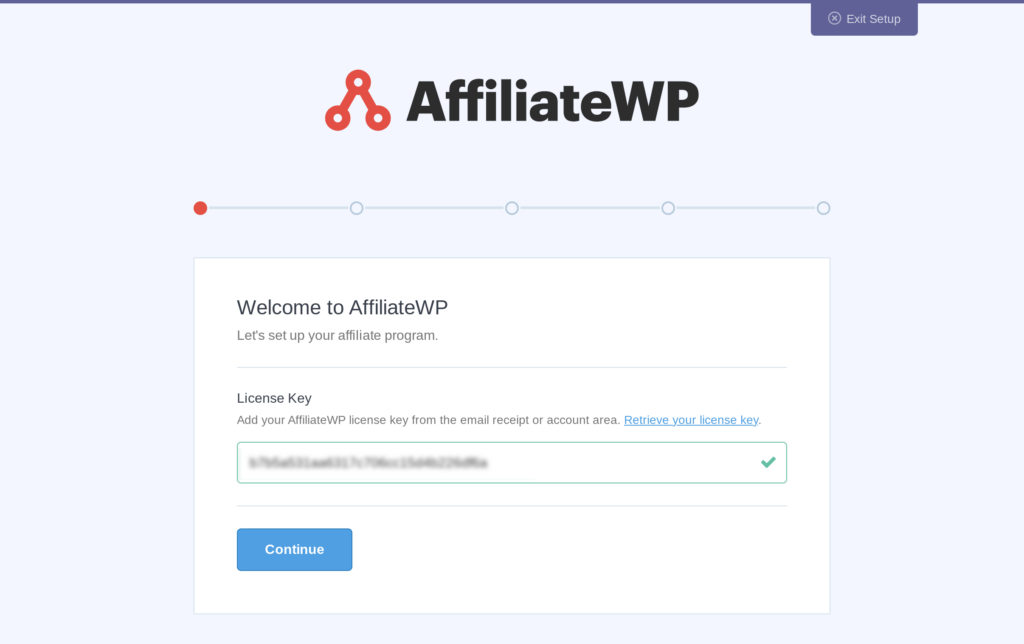 From there, you'll have excellent affiliate management tools at your disposal like:
One-click affiliate approvals
Automated email notifications
Advanced affiliate fraud prevention
Affiliate automation
Customizability through hooks, API, and templates
Real-time analytics
Integrated payouts service
Technical support
And much more…
AffiliateWP isn't just set up to help you to attract and manage new affiliates though; its true purpose is to help you grow your small business. To do this, it offers innovative marketing features like Vanity Coupon Codes, Affiliate Portal, Affiliate Landing Pages, and a whole host more.
And the best part is you get all of this for a fraction of the price of iDevAffiliate.
With prices starting from just $149.50 a year, you can set up a professional affiliate marketing program with no hassle at all. Oh, and the 14-day money-back guarantee means there's no risk at all to trying it!
2. EasyAffiliate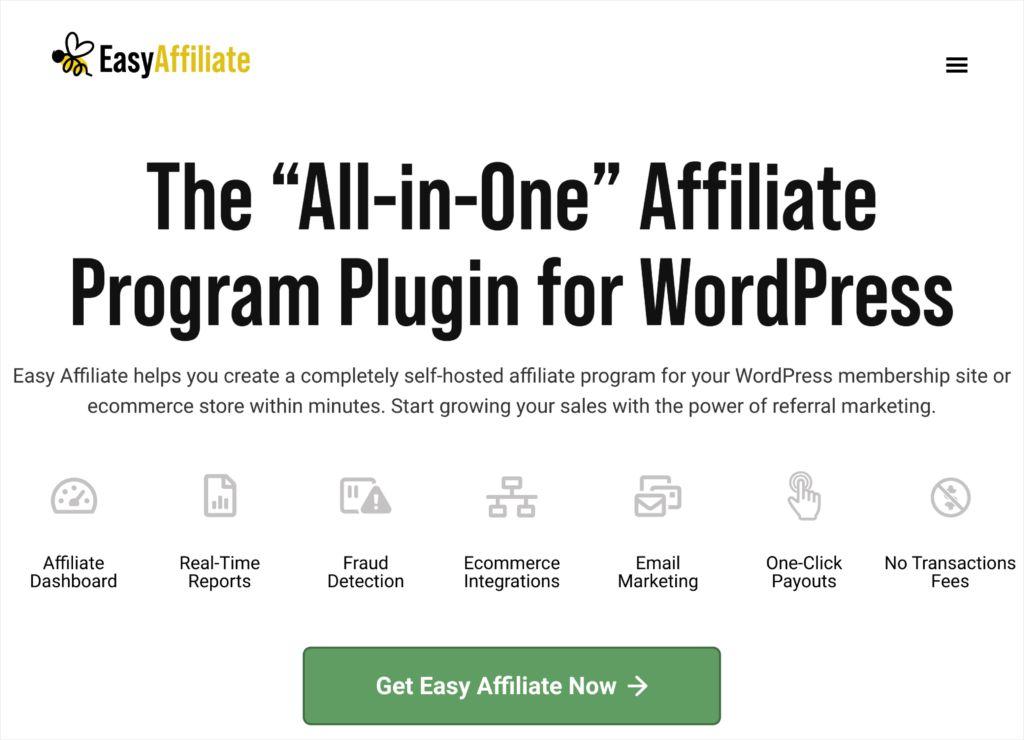 Since so many of the world's websites run on WordPress, it makes sense to offer up another WP affiliate plugin – EasyAffiliate.
Like AffiliateWP, EasyAffiliate works because of its depth of integration with WordPress. While it doesn't have the same level of integrations or functionality as AffiliateWP, what it does, it does very well, which is an excellent place to start.
If you're looking to set up a simple affiliate and partner marketing program, then EasyAffiliate is a great option. It's easy to use, nice and simple to set up, and very reasonably priced.
Check out EasyAffiliate's pricing!
3. OSI Affiliate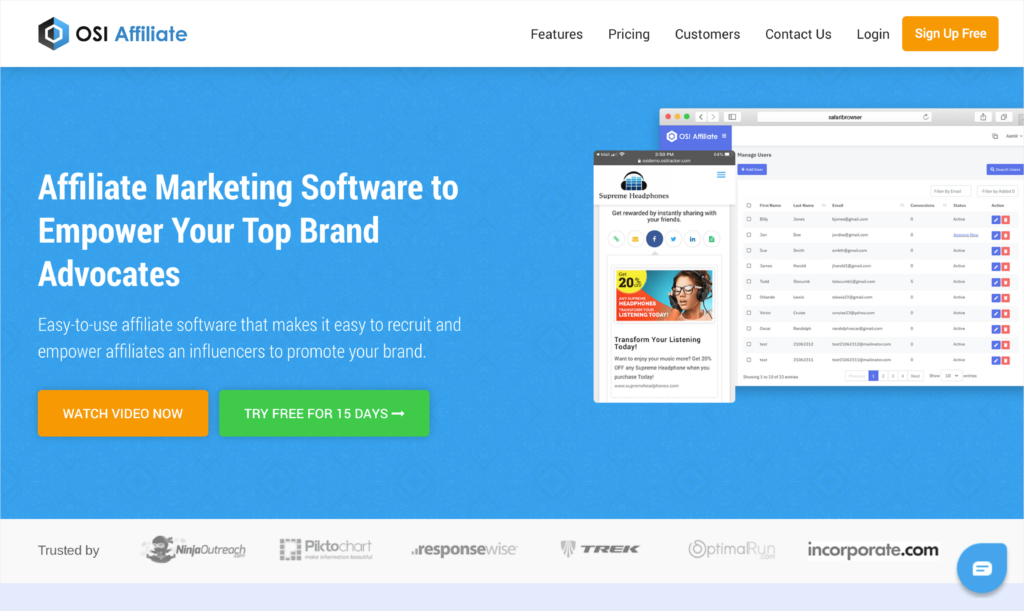 Let's branch out from WordPress affiliate plugins now with OSI Affiliate.
OSI Affiliate is a much broader iDevAffiliate alternative that integrates with Squarespace, Shopify, BigCommerce, Wix, and WordPress sites. This means it's got virtually everyone covered, and it's also got some great features.
We particularly liked the smart setup wizard, social media sharing, influencer directory, and promo code tracking, which are all good features to help grow your program.
The Basic plan does come in a little more expensive than iDevAffiliate at $47 a month, but the expanded features could be worth it for some businesses.
One thing to note with OSI Affiliate is that the plans do come with limits on unique visitors and affiliate users, so you'll have to keep this in mind.
Check out OSI Affiliate's pricing!
4. Metricks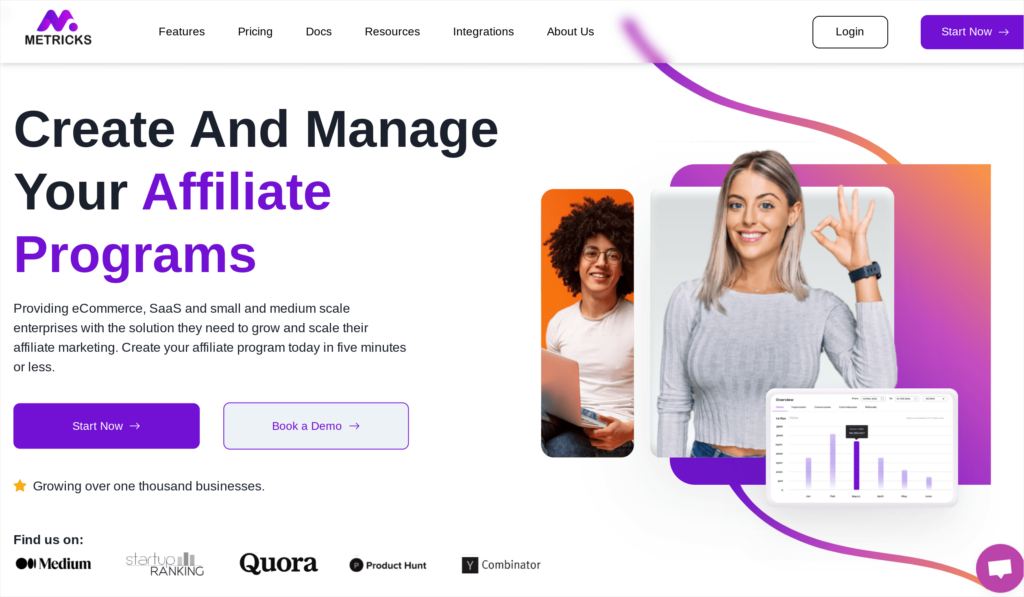 Metricks offers solid affiliate marketing SaaS for Wix, WordPress, Shopify, BigCommerce, Squarespace, and Magento.
It's got a nice user experience, making it easy to use and get the most out of its features. On top of that, you also get some nice little features like custom affiliate onboarding, custom themes, and direct social sharing, all extras that make your life a little easier.
There are no limits on clicks, affiliate partnerships, or referrals, which is always good news if you're going to grow a thriving performance marketing program.
With pricing plans starting from $59 a month, it's a little more expensive than iDevAffiliate, but still a very good option.
5. Post Affiliate Pro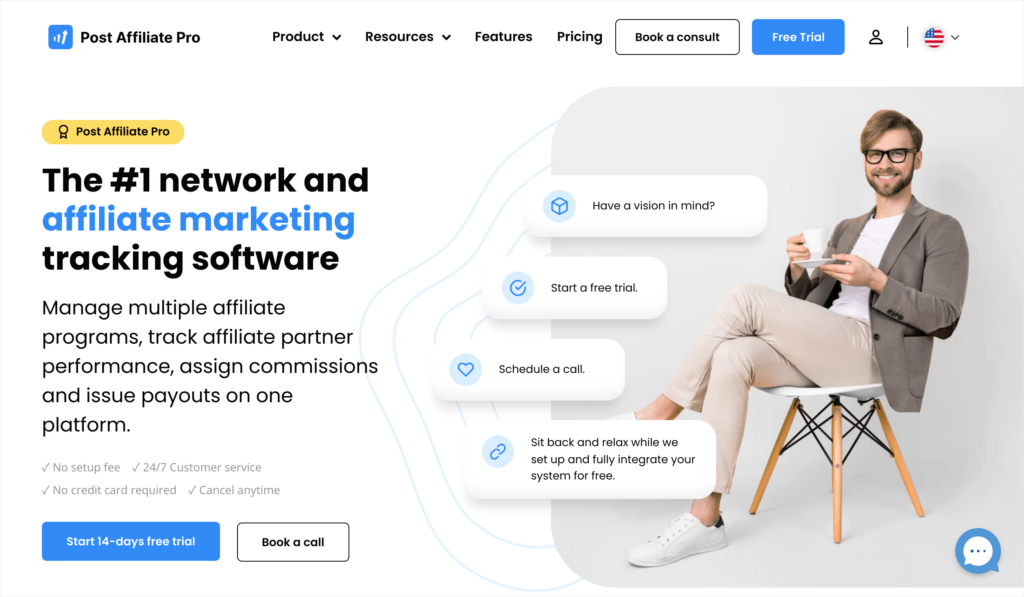 Post Affiliate Pro is a slightly different option to iDevAffiliate, but we've included it on our list of alternatives nonetheless.
Let's get to the kicker – Post Affiliate Pro's pricing plans start at $129 a month.
So, this is only a good iDevAffiliate alternative for bigger businesses or existing affiliate programs that are already thriving.
But, as you would expect, with the extra outlay, you do get a lot of features.
Post Affiliate Pro allows you to effortlessly connect with e-commerce platforms, payment gateways (PayPal and Stripe), CRMs, email marketing software, and everything else you need for affiliate automation. Its advanced analytics and flexible commissions are great optimization features, but they do come at a price.
The question is with the numbers because you don't want to cut into your profits too much.
Check out Post Affiliate Pro's pricing!
6. LeadDyno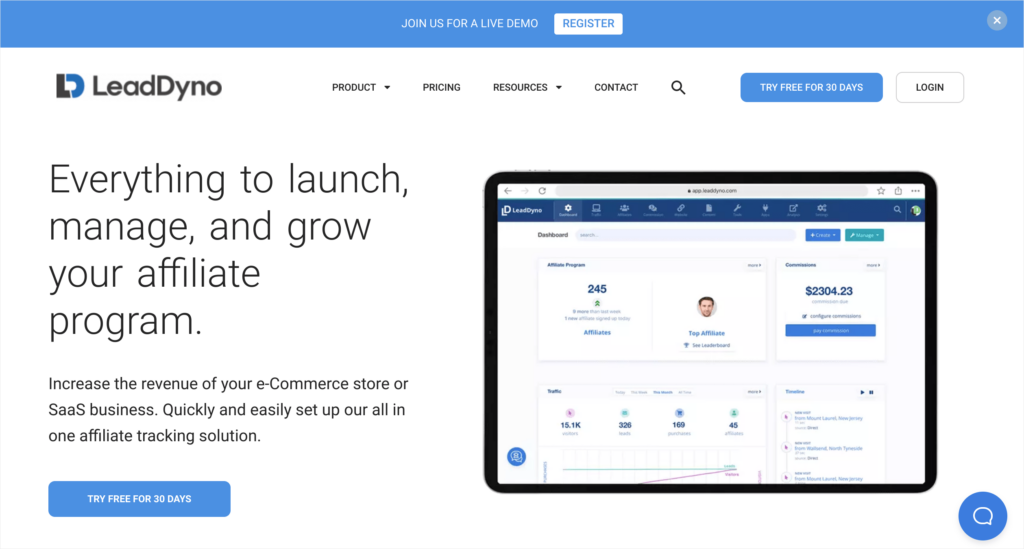 Let's go back to an affiliate marketing platform with a comparable price structure to iDevAffiliate – LeadDyno.
Like iDevAffiliate, it's compatible with a variety of platforms like Squarespace, WordPress, Shopify, BigCommerce, and Wix, so it's a pretty flexible option to consider.
In terms of features, the two are quite similar, but LeadDyno does offer a nicer user experience, which is always helpful. It's easy to set up and helps you build a professional-looking referral program in no time at all.
Check out LeadDyno's pricing plans!
7. SolidAffiliate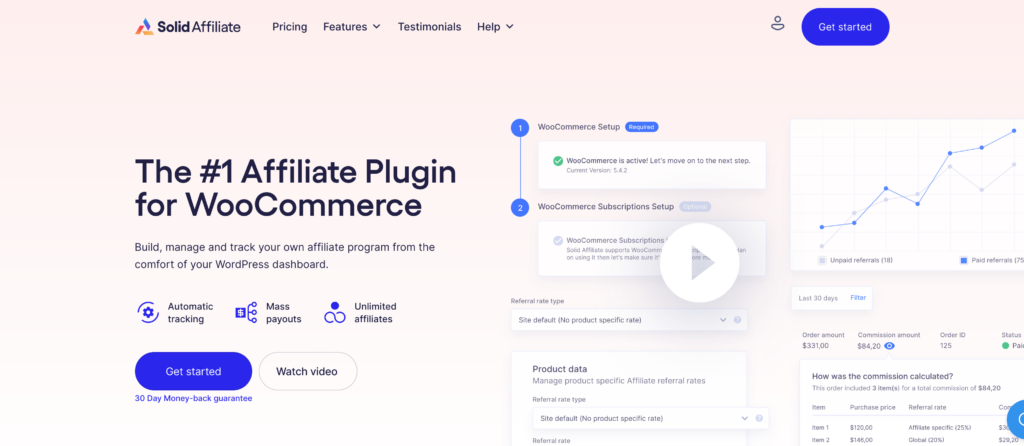 Another option for WordPress users comes in SolidAffiliate.
It does what its name suggests, accurately tracking affiliate links, and making it easy to set up an affiliate program. One of the big pluses with SolidAffiliate is it's extremely user-friendly, which makes it a nice alternative to iDevAffiliate.
Although it doesn't have the depth of integrations or features that AffiliateWP does, it's well-priced, and a good option for WooCommerce users.
Check out SolidAffiliate's pricing!
The Best iDevAffiliate Alternative
The best iDevAffiliate alternative if your site runs on WordPress is AffiliateWP.
It's incredibly easy to set up and gives you powerful features at an excellent price. All of this is designed to help you quickly grow your affiliate program and maximize your return on investment.
In just a few clicks, you can get your attribution tracking and affiliate coupon codes set up, and start growing your program with innovative features.
You're just a few clicks away from the best iDevAffiliate alternative!
Note: We also considered other software and affiliate networks like Affise, Refersion, Everflow, and more, but we think we've picked the best iDevAffiliate alternatives.
Now Grow Your Affiliate Program
Once you've got your affiliate marketing software sorted, the next step is to make sure your affiliate program continues to grow, and we've got some ideas that can help.
AffiliateWP is constantly bringing out new features to aid your marketing strategies, and of course, we've got great content to help you get the most out of them.
Here are some handy resources you might like to look at.
Now there's only one thing left to do.