How to Set Up an Affiliate Program for LearnDash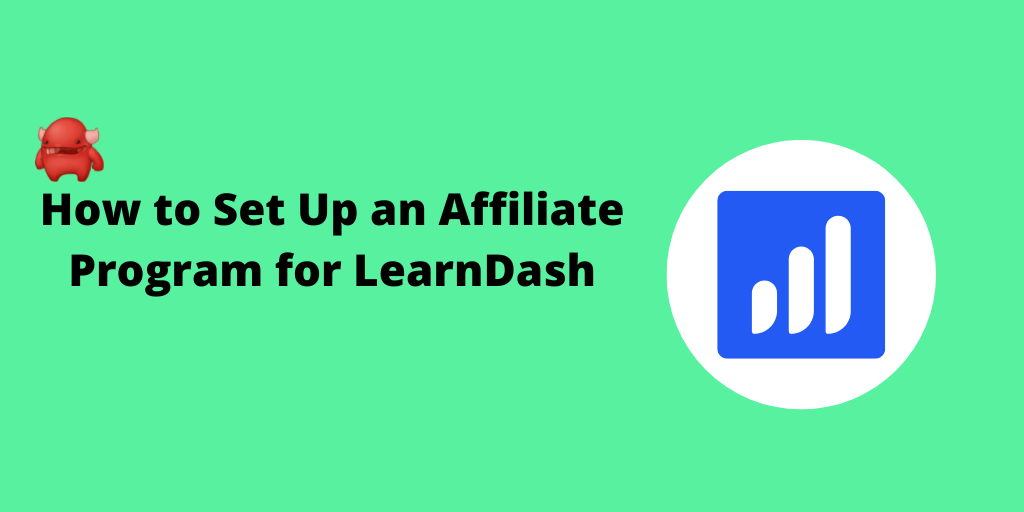 Want to start an affiliate program for LearnDash and grow your course sales?
You've got the perfect product for affiliate marketing, but, how do you get started?
We're going to show you the best way to set up an affiliate program for LearnDash and take your business to the next level.
The Benefits of Affiliate Marketing for Online Course Sales
Affiliate marketing is the perfect way to boost e-learning course sales.
In fact, it's the perfect way to boost any digital product.
This is because you've got a lot of flexibility over pricing, so you can easily work in a commission that tantalizes top affiliates (bloggers, social media influencers, SEO experts, webinar pros, and more). When you sign awesome new affiliates, you gain immediate access to their audiences, which helps you expand your reach and boost sales.
Growing course sales is as much about investing in your courses and conversion optimization as it is about marketing. The difficulty is, taking on all 3 elements at once can be time-consuming and expensive.
Affiliate marketing allows you to get some expert help on the marketing side, and you don't have to pay upfront!
You pay when your affiliates bring you results, so an affiliate marketing program is a low-risk, potentially high-reward investment.
Note: One reason why we love LearnDash as opposed to platforms like Udemy and Thinkfic is that you own all the data and it's super customizable, which is great when setting up your affiliate program.
5 Steps to Set Up an Affiliate Program for LearnDash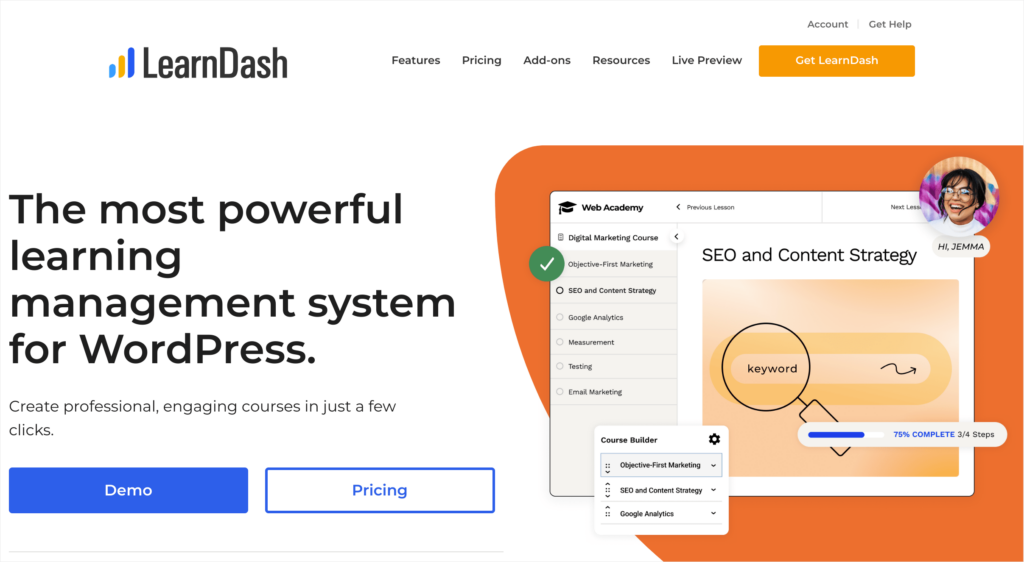 LearnDash is one of the best online learning management systems (LMS) for WordPress, but, it doesn't have a built-in way to track affiliate referrals.
Don't worry though!
We're going to show you how to set up your own affiliate program for LearnDash.
Here are the steps we're going to follow:
Install AffiliateWP
Integrate LearnDash with a click
Edit your affiliate signup page
Track visits and referrals in your analytics
Access order details
Let's go through these steps in more detail to help you set up affiliate tracking for your LearnDash courses.
Note: If you've already set up AffiliateWP, then you can integrate LearnDash by going to your AffiliateWP settings and clicking the Integrations tab. You'll see LearnDash in the list, and all you have to do is mark the checkbox and click Save Changes.
Step 1: Install AffiliateWP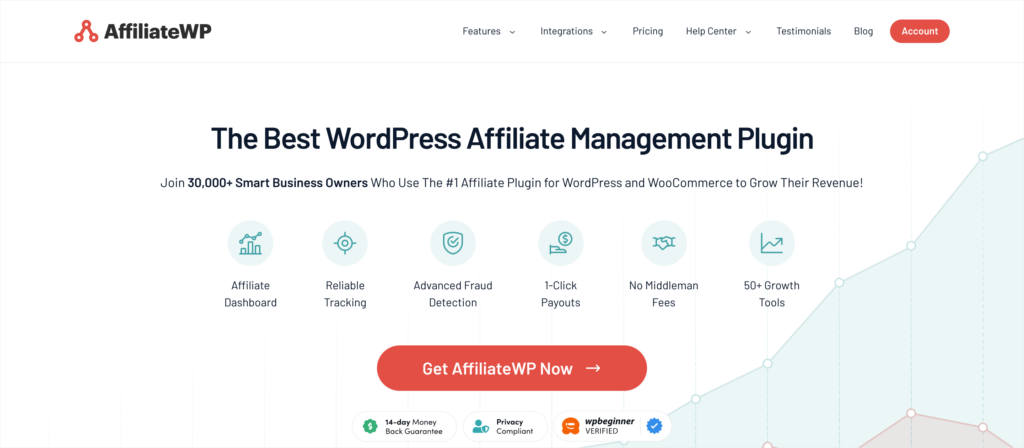 AffiliateWP is the best affiliate plugin for LearnDash.
It's incredibly easy (even for complete beginners) to set up and offers some powerful marketing tools to help you grow your program. And, most importantly for you, it integrates with LearnDash in a click.
Start by heading to the pricing page and choosing the plan that best fits your needs.
All the plans sync seamlessly with LearnDash, but with the Professional plan, you unlock a host of growth-focused marketing tools that can supercharge your e-commerce sales.
Once you've completed your purchase, install the plugin following this handy tutorial, and then you're ready to get started with setup.
Step 2: Integrate LearnDash with a Click
To get your affiliate program set up with the LearnDash LMS plugin, you'll need to open the setup wizard.
Head to your AffiliateWP settings using the admin bar in your WordPress dashboard and scroll to the bottom of the page. Now click the button titled Launch Setup Wizard.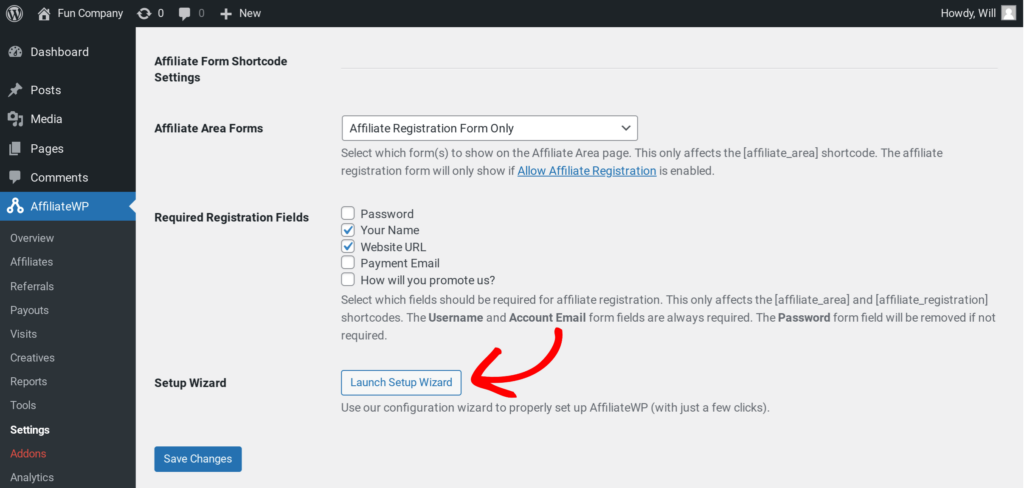 The setup wizard will walk you through the steps required to set up your affiliate program and sync it with LearnDash. Don't worry, all of the steps are very simple and should only take about 10 minutes.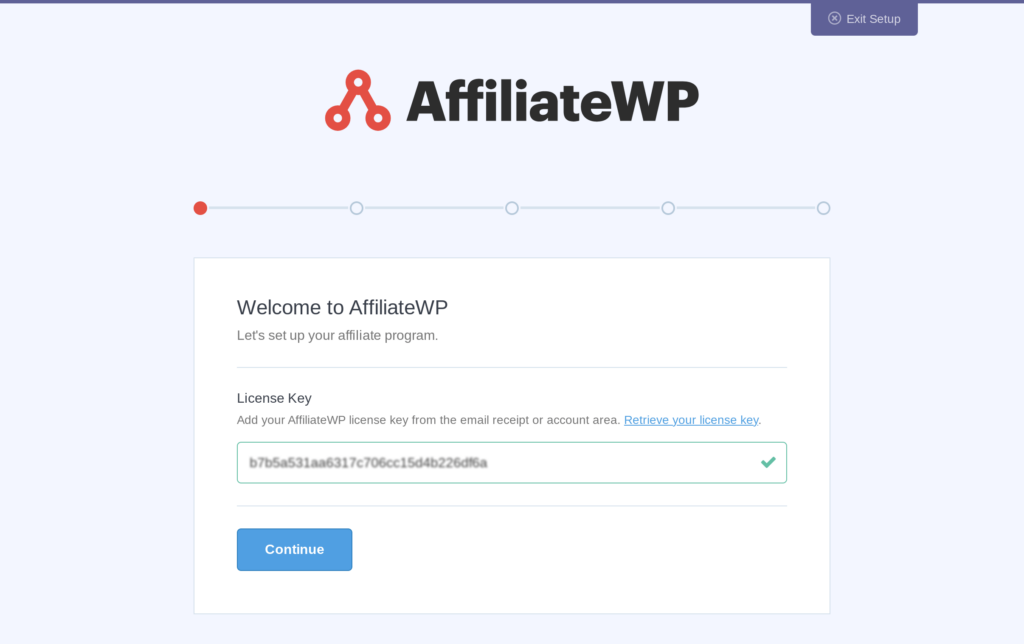 Copy your AffiliateWP license key from your account and paste it into the box on the first page and click Continue. You'll then be brought to the integrations page, where you can choose LearnDash by clicking on Course Integrations.
Mark the check box next to LearnDash and click Continue.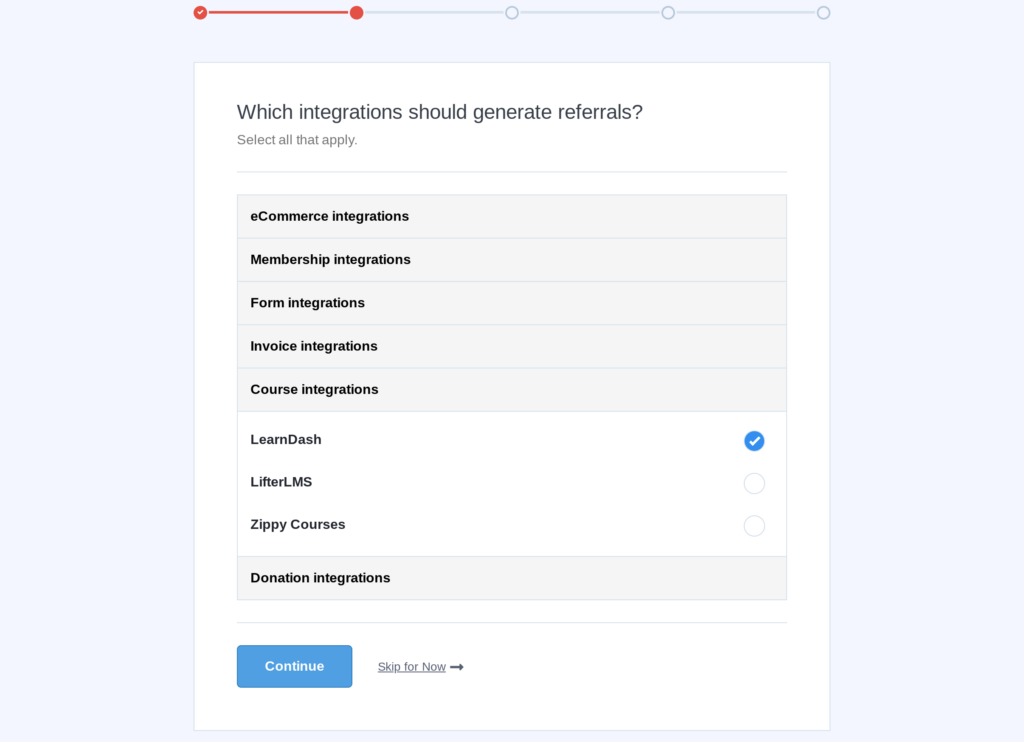 Now it's time to choose your commission structure. Don't worry, this can easily be changed at a later date, so just go with a standard number like 20% if you're not sure.
The last step is to set your cookie expiration. Again, this can be changed later, so if you're not sure, then go with something standard like 30-days.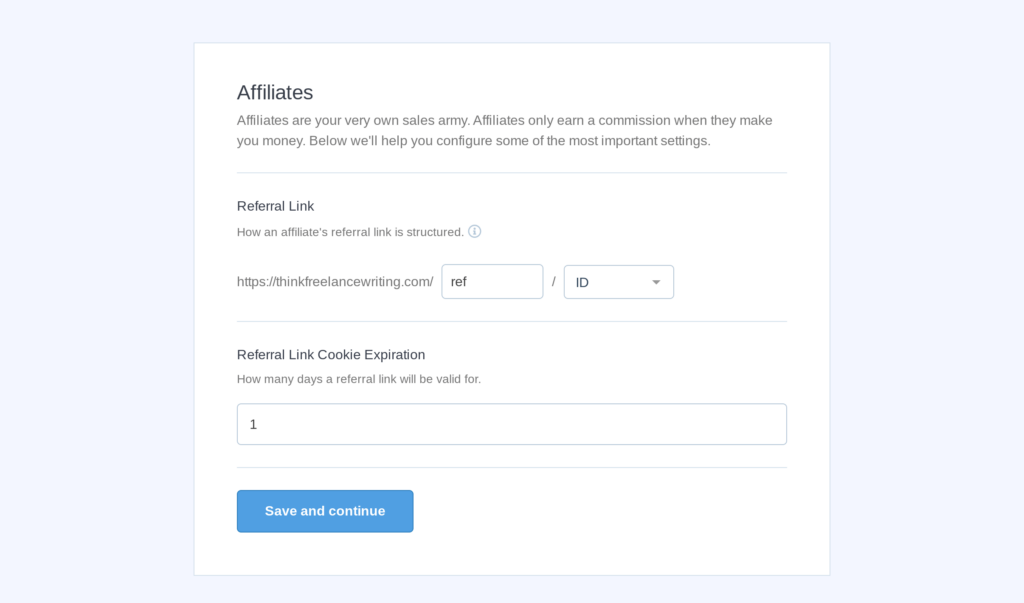 Click Save and Continue, and then you're ready for the last step.
Read through the details and click Finish the setup and exit the wizard.
That's it, you're affiliate program is ready to go, but there's one extra thing you can do.
At the end of the setup wizard, you'll see an option to use AffiliateWP's Terms of Use Generator which can be a huge help. This tool makes it super easy to create an affiliate terms of use that protects your program from minute 1.
Note: If you use LearnDash with either the Easy Digital Downloads or WooCommerce WordPress plugins, then you can connect AffiliateWP to LearnDash through those dedicated integrations.
Step 3: Edit Your Affiliate Signup Page
Another great AffiliateWP feature is its customizability.
As soon as your program setup is complete the software will create an affiliate signup/login page for you titled Affiliate Area. You can edit this page by selecting it from your WordPress Pages, or create a new page using your WordPress page builder.
To create your own affiliate signup page, just build the page as you normally would in WordPress. Your builder will now show some additional AffiliateWP blocks, and you can use these to edit your affiliate registration form and other elements.
Once you're happy with your page, you can then set it as your Affiliate Area in the AffiliateWP settings. Just click on the dropdown menu next to Affiliate Area and choose your page.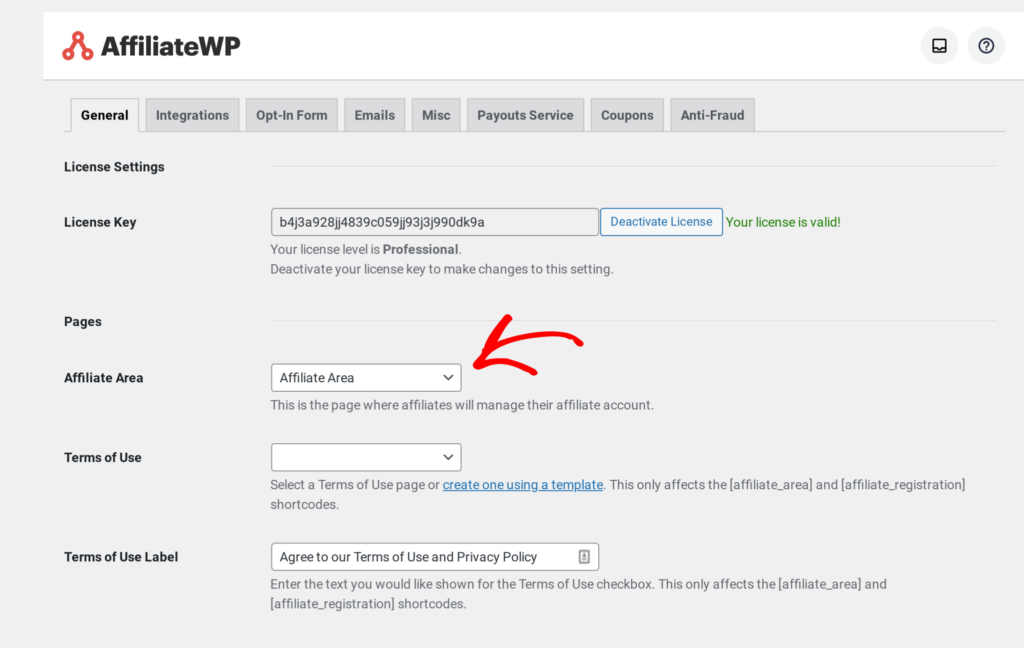 Your signup/login page is ready to go, and affiliates can now sign up and create referral links. They can now sign in on the same page and access their affiliate dashboard where they can see the URL generator, analytics, and more.
Step 4: Track Visits and Referrals in Your Analytics
Once you've signed up affiliates you should see a flurry of activity.
You'll get automated notifications when your affiliates make sales, but, you'll also want to keep track of progress in your analytics.
You can access detailed analytics on the Visits, Referrals, and Reports pages. Together, these pages will give you a complete overview of what's happening with your program. You'll also be able to dig deeper into the numbers and discover important insights to improve your program.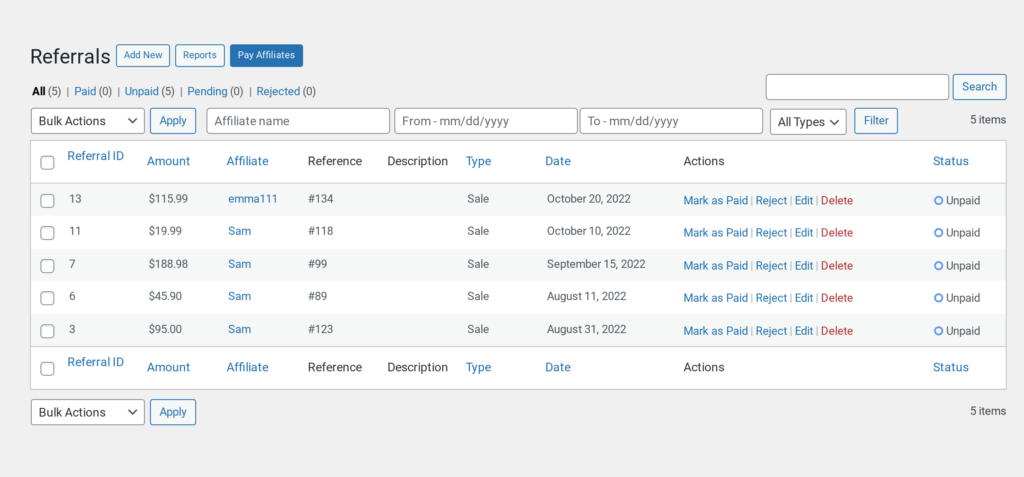 AffiliateWP automatically tracks referrals and attribution, so there's only one thing left for you to do – facilitate payouts. The easiest way to do this is with the Integrated Payouts Service, although we also offer PayPal and Stripe payouts.
Note: We've also got some awesome features to help you boost your conversion rate, including, Affiliate Landing Pages, Vanity Coupon Codes, Recurring Commissions, and Affiliate Portal.
Step 5: See Order Details in LearnDash
We've shown you how to set up an affiliate program for LearnDash, but there's one more step you might want to know.
You can easily see the order details from a sale by clicking on the number in the Reference column on the Referrals page. This will bring you to the transaction details in LearnDash.
From here, you can dig deeper into the transaction and learn more about the sales your affiliates are making.
And just like that, you've got a fully functioning affiliate program for LearnDash.
Now Get More Affiliates
Once you've got your own affiliate program for LearnDash it's time to sign up affiliates. This can be a little daunting, but there are lots of tactics you can use.
Check out this guide on How to Get More Affiliates and start using AffiliateWP's unique features and addons to stand out from the crowd.
There are lots of handy tactics like:
Optimizing your sales funnel so you can showcase higher conversion rates
Perfecting the design of your affiliate sign-up page
Publicizing affiliate success stories
Good old-fashioned networking
And much more…
Affiliates are the lifeblood of your program, and if you find the right ones, they can take your online course sales to the next level.
You Need an Affiliate Program for LearnDash
Affiliate marketing is a low-risk marketing strategy and you can easily set up an affiliate program for LearnDash.
Online courses are a perfect affiliate product, and with a great WordPress LMS like LearnDash plus awesome affiliate software like AffiliateWP, you've got the perfect setup.
Want to learn more about affiliate marketing?
We've got some great resources, for example:
Now there's only one thing left to do.
Get AffiliateWP and start your LearnDash affiliate program today!