5+ Best Affiliate Giveaway Ideas (Ultimate List)
Looking for some great affiliate giveaway ideas to motivate affiliates and grow your program?
Giveaways are an amazing tool, but they need to be well thought out if they're going to achieve your goals.
Here are some of the best affiliate giveaway ideas to help you out.
How to Run an Affiliate Giveaway Efficiently
Before you think about your affiliate giveaway ideas, you want to make it as convenient as possible to run your sweepstakes offers.
The last thing you want to be doing is manually counting affiliate signups, clicks, and sales, and figuring out who's won your competition promo. If you're going to offer regular affiliate giveaways, then your system needs to be automated.
This is where RafflePress can be incredibly useful.
It's the best WordPress giveaway plugin, and it's got some amazing features:
Drag and drop giveaway builder
Automatic end dates
Viral giveaway templates
1-Click entry + fraud protection
Marketing and CRM integrations
Tracking and retargeting
Useful notifications
RafflePress is going to make it easy to create and manage your affiliate giveaway (even for complete beginners), meaning you're much more likely to achieve your goals.
Check out RafflePress pricing plans!
Set Your Goals for Your Affiliate Giveaways
When it comes to affiliate marketing campaigns, we're rightfully concerned about sales. However, rewarding sales doesn't have to be the ultimate goal for your giveaway.
It's often more effective to take your overall goal and break it down into the steps that are required to achieve it.
For example, for someone to make lots of sales, they've first got to sign up for your program, create high-quality content, publicize your products on social media (LinkedIn, Facebook, Instagram, etc.), and much more.
So, why not incentivize these steps?
With RafflePress, this is exactly what you can do (check out this guide on how to run your affiliate giveaway)!
Here's a quick round-up of the goals you should be looking to set:
Signing up for your program or affiliate network
Signing up for your email list
Completing onboarding tasks
Creating affiliate blog content to improve SEO
Sharing affiliate links to social media
Promoting a limited-time offer
Posting videos on YouTube
Driving traffic to your website or e-commerce store
Creating affiliate referrals
Updating articles with conversion rate optimization
You can get as creative as you like here – just ask yourself what actions your affiliates need to take to help your program grow.
Affiliate Giveaway Ideas to Grow Your Program
We've talked about the best ways to run your affiliate program and the actions you want to incentivize, but what about the actual prizes?
Let's take a look at some of the best affiliate giveaway ideas you can try.
1. Free Products
Offering free products as part of your affiliate giveaway is a win-win.
Not only do your competition winners get some cool prizes, but they also get a chance to become more familiar with your products. This allows them to create more authentic, useful, and convincing content.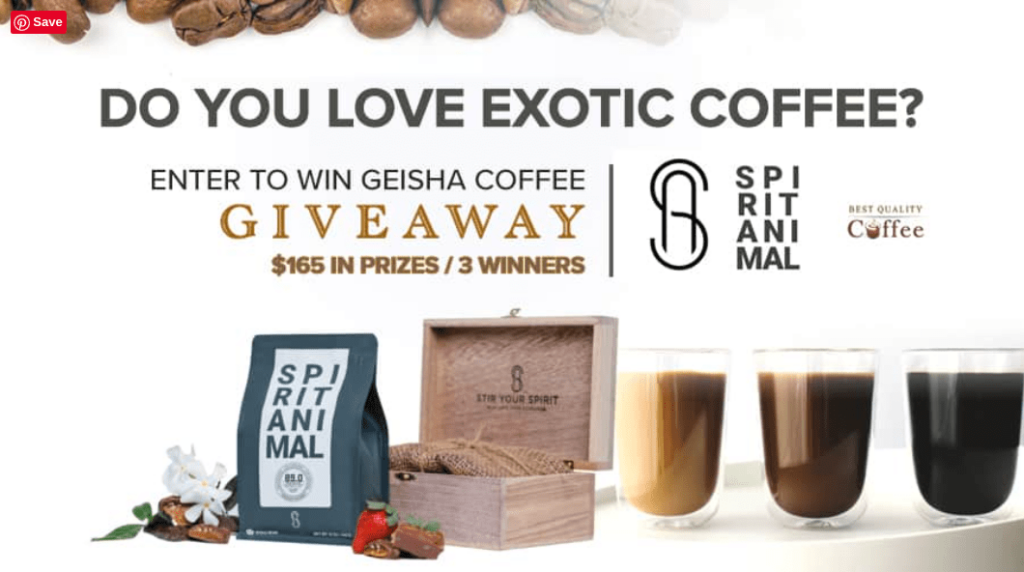 The better your affiliates know your products, the easier it is to sell them to their audience. So, giving out free products tends to result in better conversion rates (this is also something to keep in mind for your affiliate onboarding).
Free products are a cost-effective way to reward your giveaway entrants, and they help your affiliates do their jobs better.
2. Exclusive Offers
Another great affiliate giveaway idea is exclusive offers.
It's not easy for affiliates to stand out on the internet, but if they can offer an exclusive discount code, then it makes it easier to gain some traction.
You can easily offer an exclusive discount code to your competition winner using AffiliateWP's Vanity Coupon Codes addon. You set the discount % and the affiliate can choose their own personal code.
Yet another great option you can offer is a personalized affiliate landing page.
Exclusivity shows potential customers the strong relationship you and your top affiliates have, and reinforces the social proof you're getting from the affiliate's recommendation. All of this equals happy affiliates and more sales.
3. Brand Experiences
If you've got a particularly exciting brand, then you can offer crafted brand experiences as your giveaway prize.
This might be a tour of your production line, an interview with the CEO, a day hanging out with your social media team, or any number of things. Essentially, it's an opportunity for your affiliate to feel like a part of the team.
There are many benefits to this reward:
Helps grow brand loyalty
It's an opportunity for your affiliates to learn new selling techniques
Adds legitimacy to the relationship (making social proof even stronger)
It's very personal, and a fun way to reward hard work
Of course, your affiliates are probably spread out across the country, or even the world, but there's still plenty you can do with online experiences.
4. Exposure
One of the most important things an affiliate has is their audience.
If you give them the opportunity to grow that audience, then that's a wonderful reward. You can use this as an affiliate giveaway idea by promoting your competition winners on your social media accounts and email marketing platform.
First off, it's easy content for you, but even more importantly, it's a huge incentive for your affiliate to enter your giveaway.
5. Cool Gadgets
Your affiliate giveaway ideas don't necessarily have to be related to your affiliate marketing strategy.
One option that works particularly well is the latest technology.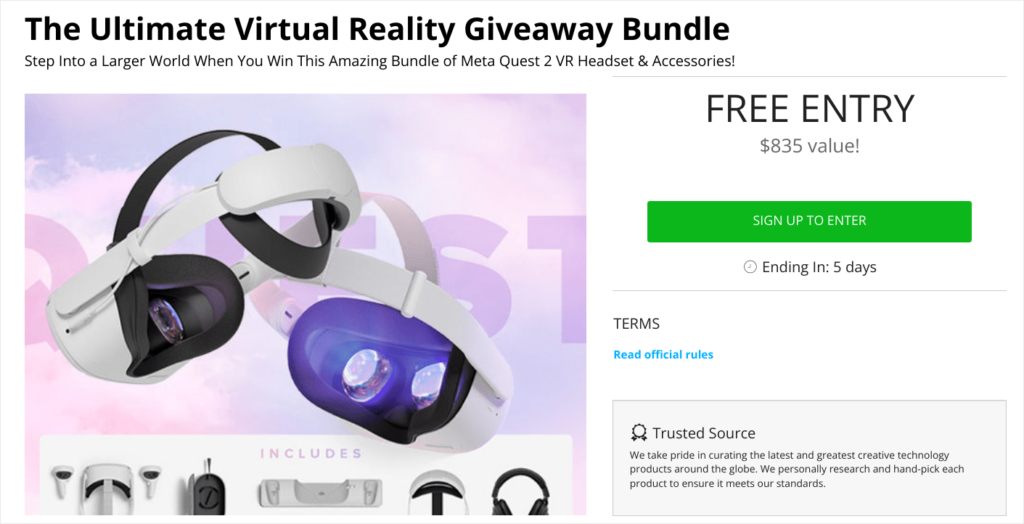 Offering the chance to win a MacBook Pro or iPhone, for example, is pretty eye-catching.
With a large reward like this, people are going to be highly motivated to take the small actions it requires to enter your affiliate giveaway.
6. Cash and Other Prizes
Last, but not least, cash and other prizes are time-tested incentives for the vast majority of people – and because they have such wide appeal, they can be inspiring for all different kinds of affiliates.
From big-ticket items to events and experiences, the good news is that there are many options for these kinds of incentives.
Here are a few examples:
Cash
Vacation packages
Event tickets
Gift certificates
Subscription boxes
Gift baskets
App subscriptions
Gift cards and vouchers (Amazon vouchers work great)
You can even custom-tailor your giveaway contests and prize drawings to different subsets of your affiliate team.
Next, Get Set Up with RafflePress
Now that you've got your affiliate giveaway ideas we recommend you check out RafflePress.
It's going to help you take care of all the setup and tracking and generally make your life much easier. The verified bonus actions make it incredibly easy to keep track of who qualifies for your giveaway, and this gives you virtually unlimited scope to come up with new affiliate incentives.
So, now you've got a good idea of how to run an affiliate giveaway, how else can you improve your program?
We've got some thoughts:
Have fun running your affiliate giveaways and growing your program!