4 Best Membership Affiliate Software to Set Up an Affiliate Program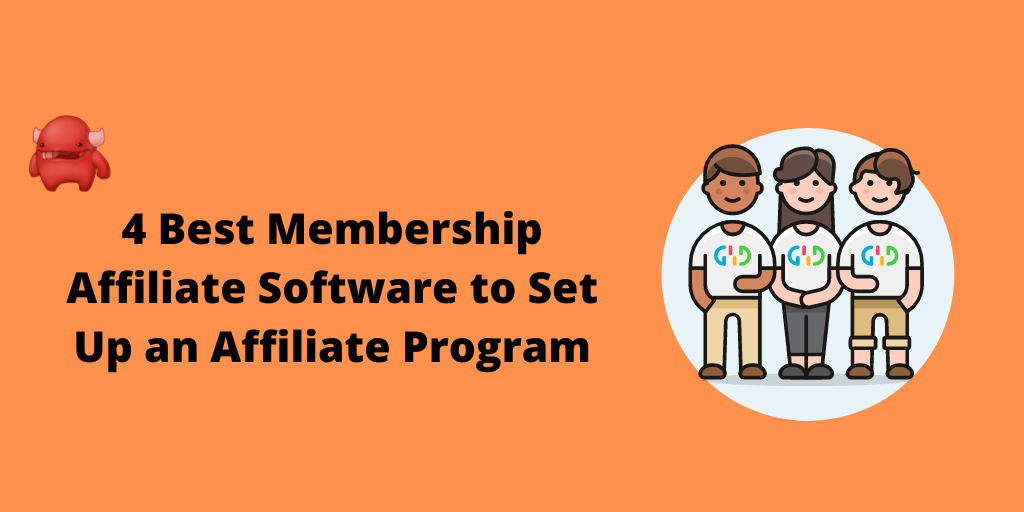 Are you looking for membership affiliate software to grow your membership website?
We've compared the best membership affiliate marketing software to help you find the perfect fit for your needs.
Read on to find out which software can add an affiliate marketing program to your membership website.
What to Look for in the Best Membership Affiliate Software?
Affiliate programs are perfect for membership sites.
They generally have good margins built into their products, allowing plenty of room for a good commission rate. This gives affiliates (bloggers, influencers, SEO experts, podcast and webinar pros, and more) plenty of incentive to promote the online courses to your target audience and bring in new customers.
It also frees up time for entrepreneurs to focus on their membership content and sales funnels.
Rather than worrying about all the ins and outs of digital marketing, they can spend more time focusing on creating the best digital products out there!
So, what should you look for in the best membership affiliate software?
Well, the first thing we've done is narrow the field down to platforms with specific integrations with membership software. So, rather than integrating through your payment gateway, each of these options connect directly through your membership plugin.
This gives you much better functionality when it comes to managing your affiliate partners and tailoring your commission structure.
From there, we ranked the membership affiliate software based on ease of use, affiliate management tools, and affiliate marketing tools (innovative features, email marketing integrations, etc) that boost conversion rates.
Keep reading to find out which membership affiliate marketing platform is the best option for your online business.
Note: While you can look to promote your online courses on affiliate networks, we're going to look at the affiliate software providers that allow you to build your own program.
The Best Membership Affiliate Software
We've made this list very concise by focusing only on affiliate software with direct integrations to membership platforms.
This will help you get the best possible functionality, but be aware that if your membership platform isn't on the list, all hope is not lost. With many platforms like LearnDash, you can create an affiliate program by plugging into your e-commerce shopping cart, generally WooCommerce or Easy Digital Downloads.
If this seems like the best option for you, then check out these articles:
Here's a quick overview of the membership affiliate software we're going to discuss, and the membership platforms they integrate with.
AffiliateWP (MemberPress, Restrict Content Pro, OptimizeMember, MemberMouse, LifterLMS, and more)
EasyAffiliate (MemberPress)
PostAffiliatePro (Thinkific, MemberMouse, aMember, OptimizeMember, Paid Memberships Pro)
Tapfiliate (Teachable, Memberful)
As you can see, these membership affiliate software plug into a number of different platforms, so let's take a look at them in more detail.
1. AffiliateWP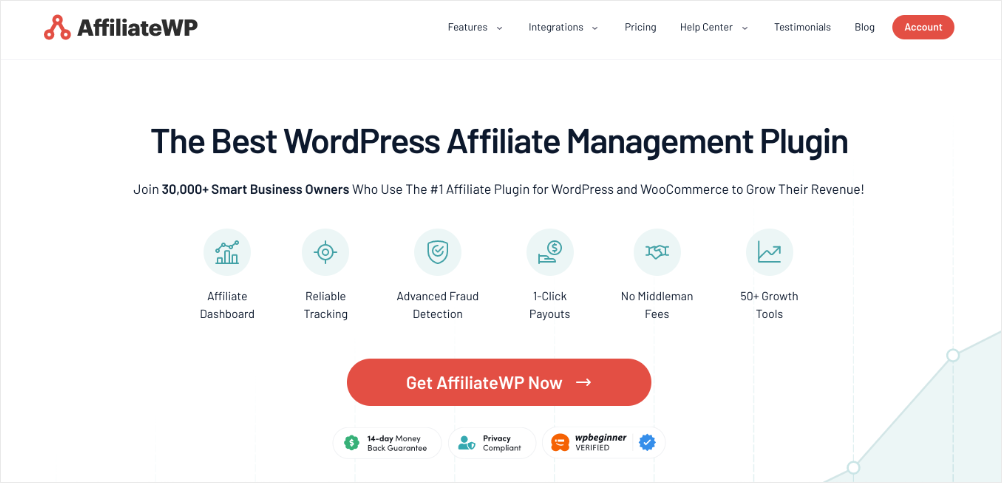 AffiliateWP is the best affiliate management plugin for WordPress.
It's also ideal for membership websites, offering 1-click integrations with 7+ membership and LMS platforms:
MemberPress
Restrict Content Pro
OptimizeMember
MemberMouse
LifterLMS
s2Member
Paid Member Subscriptions
Paid Memberships Pro
Not only do these integrations make it incredibly easy to get your affiliate partner program started, but they also offer powerful features. You can manage every part of your AffiliateWP program from your WP dashboard (with a great integrated payouts service, or PayPal payouts), and it offers good customization options (API, hooks, and templates).
Perhaps the standout part of AffiliateWP is its growth tools though.
These tools are designed to grow your small business and sign up new members:
One-Time and Lifetime Commissions
Recurring Commissions
Vanity Coupon Codes
Affiliate Portal (+ Affiliate tabs for onboarding)
Affiliate Landing Pages
Social Media Sharing
You'll find AffiliateWP offers the ease of use, powerful tools, and flexibility you need to take your membership website to the next level.
Check out AffiliateWP's pricing!
2. EasyAffiliate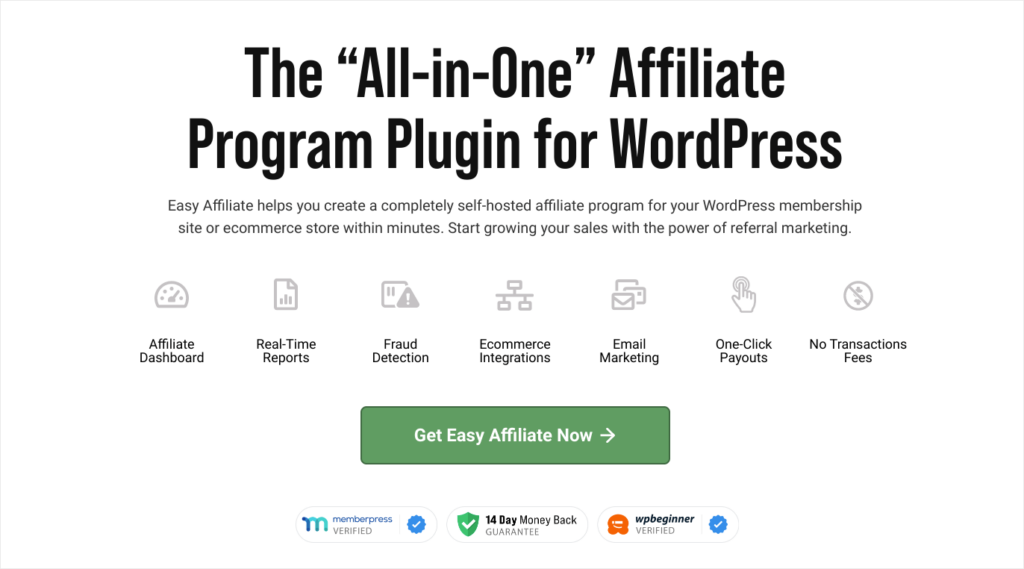 If your membership site runs on MemberPress, then EasyAffiliate is a solid alternative to AffiliateWP.
While it doesn't have quite the same level of growth tools as AffiliateWP, it does give you a user-friendly platform to manage your referral program. Its seamless integration with MemberPress makes it extremely easy to set up and gives you good flexibility over affiliate commissions.
EasyAffiliate might not have a wide range of membership integrations, but it does a great job with the one it focuses on.
3. Post Affiliate Pro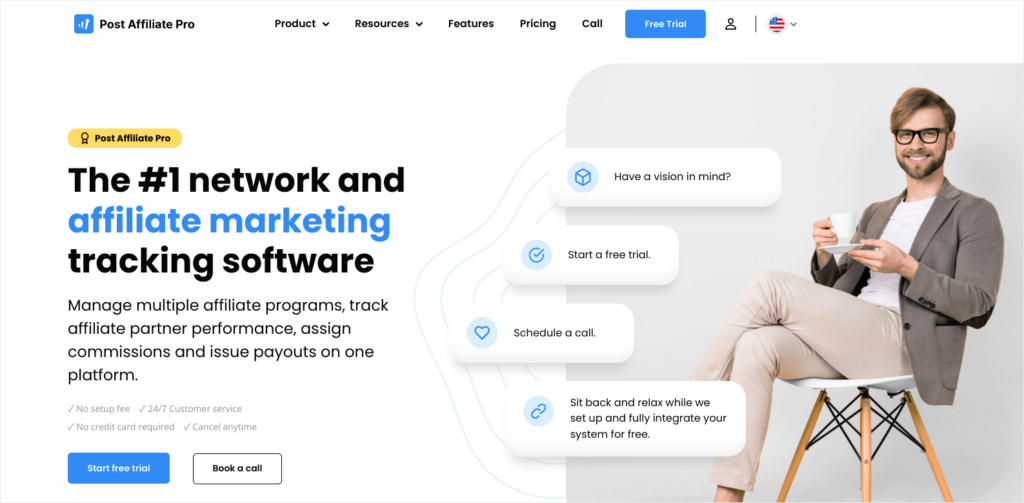 Post Affiliate Pro offers excellent affiliate tracking software (SaaS based) with a wide range of membership integrations as well as syncing with CRMs, email marketing, and other referral marketing software:
MemberMouse
aMember
OptimizeMember
Paid Memberships Pro
Thinkific
CourseCraft
s2Member
Teachable
WishList Member
As well as these integrations, Post Affiliate Pro offers good affiliate management tools and a lot of innovative features. However, it certainly comes in at the high-end of the market when it comes to pricing with plans starting at $129 a month.
4. Tapfiliate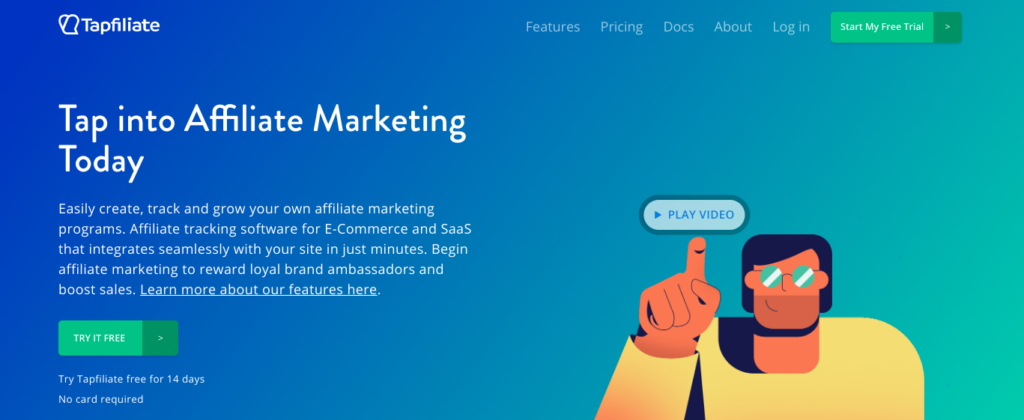 Tapfiliate is another good membership affiliate software that's packed full of features.
It offers integrations for Teachable and Memberful, allowing you to set up a powerful affiliate marketing program. Again, while it doesn't offer quite the same range of integrations as AffiliateWP or Post Affiliate Pro, it does do a good job with the ones it focuses on.
You'll get good automation options, and different ways to incentivize new affiliates like tier commissions, recurring payments, and much more.
Pricing-wise Tapfiliate falls somewhere in the middle, coming in at quite a bit more expensive than AffiliateWP but cheaper than Post Affiliate Pro. It's another good option for setting up a referral program for your membership site.
Which is the Best Membership Affiliate Software?
The best membership affiliate software will depend on the platform you use to run your membership website.
However, based on the number of integrations it has, ease of use, and powerful features, AffiliateWP offers the best value for money.
It allows you to quickly create the best affiliate program for your membership website and gives you the tools you need to grow. All of this without any limits or fees on your affiliate sales!
So now, all that's left is to get started, and we've got some more marketing materials to help you:
You've got the knowledge you need, now it's time to start growing your membership website.