How to Do a Giveaway on TikTok (Easy Setup, Big Results)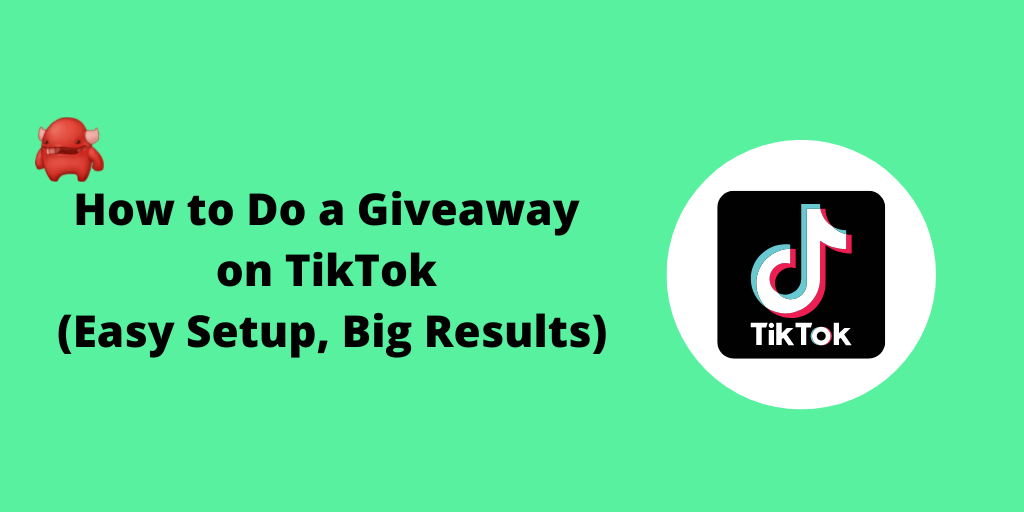 Trying to figure out how to do a giveaway on Tiktok?
You're just a few steps away from growing your TikTok following because we're going to show you exactly how to do a giveaway on TikTok.
The Benefits of Running a TikTok Giveaway
Giveaways are the perfect way to grow your following on TikTok.
They're easy to set up, and their viral nature drives real engagement with your TikTok profile. You can use this to get more followers, increase views on your posts and track the results automatically.
TikTok has become a powerhouse of the social media world with over 3 billion downloads, and the chances are, a large chunk of your audience use TikTok.
If you want to create some buzz around your brand and grow your social media, then a TikTok giveaway is exactly what you need.
So, we're going to show you how to do a giveaway on TikTok to drive greater brand awareness.
How to Do a Giveaway on TikTok
The key thing you want when you run a giveaway on social media platforms is measurable results. There needs to be a benefit for you as well as your audience, so we're going to show you how to do a giveaway on TikTok while achieving measurable success.
Here are the steps we're going to look at:
Install RafflePress
Choose the TikTok template
Select a prize
Set your start and end date
Edit your entry requirements
Perfect your design
Manage your giveaway settings
Publish your TikTok giveaway
That might seem like quite a lot of steps, but it's actually incredibly easy. Let's find out how to do a giveaway on TikTok in no time at all.
Step 1: Install RafflePress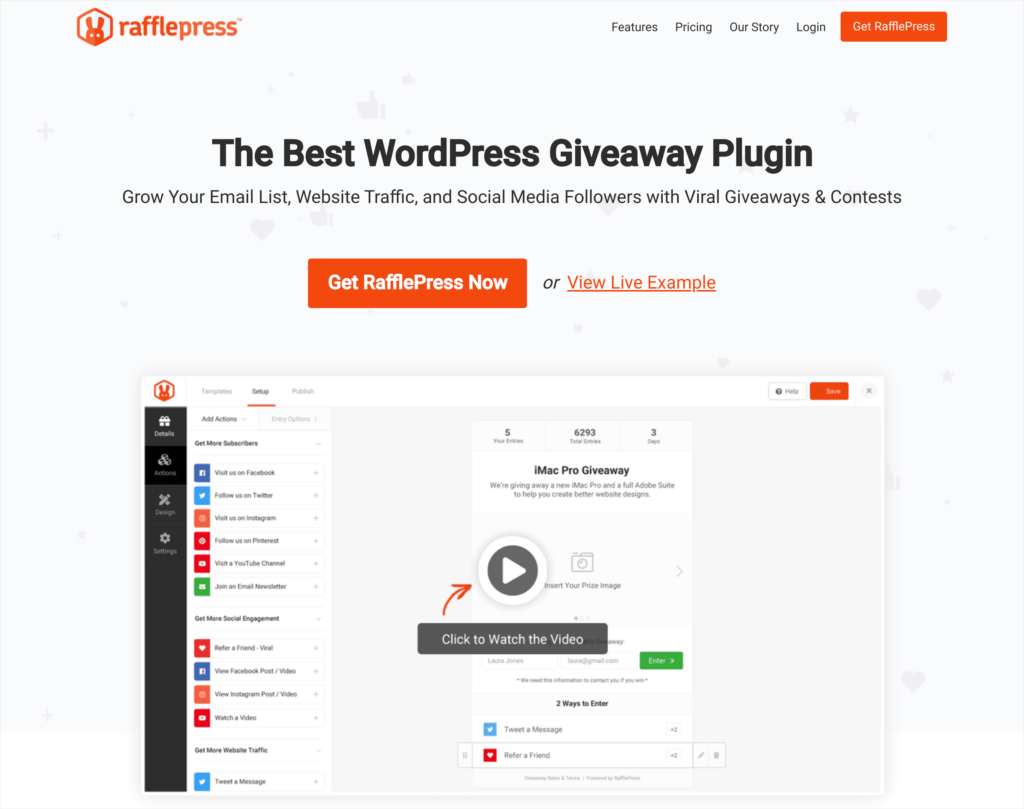 RafflePress is the best WordPress giveaway plugin.
Whatever kind of giveaway you want to run, RafflePress is going to help you to set up an engaging competition, manage entries, and track the results. It's also perfect for TikTok giveaways because it gives you a ready-made template you can follow.
Just head to the pricing page and choose the plan that best fits your needs.
Once you've completed your purchase, you can easily install the plugin using this handy guide, and then you're ready to set up your first TikTok sweepstakes.
RafflePress requires a small yearly investment, but its ability to supercharge your giveaways is huge. It ensures your trading prizes for real, measurable actions that help you achieve your goals, and this makes it a great investment.
Check out RafflePress's pricing.
Step 2: Choose the TikTok Template
One of the great things about RafflePress is the free templates that help you get your giveaways set up in no time at all.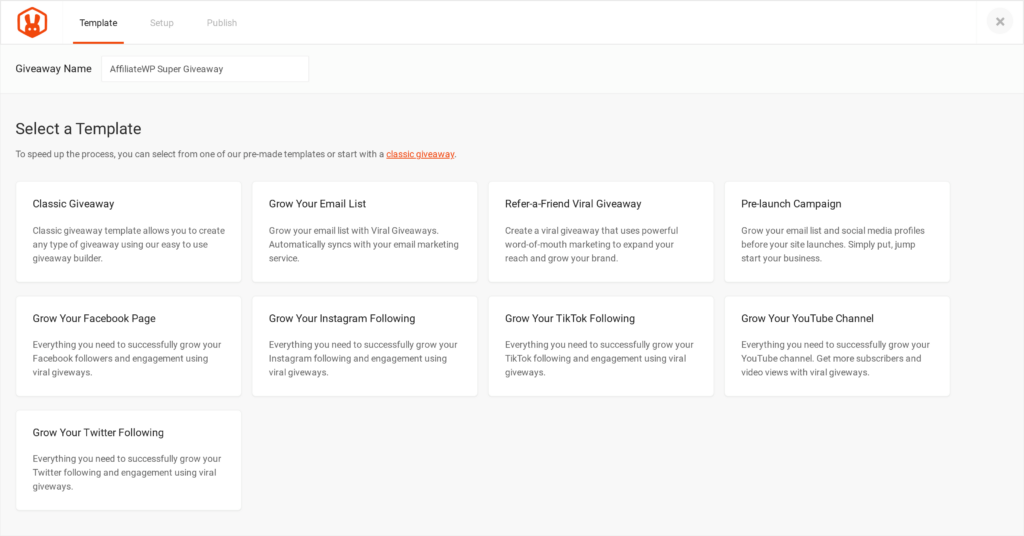 Navigate to the RafflePress Giveaways page in your WordPress admin and click the Add New button at the top. You'll see a list of templates to choose from, but for this example, we're going to use the Grow Your TikTok Following template.
First, enter your giveaway's name in the box in the top-left-hand corner, then hover over the template, and click Use This Template.
This will load an editable template, and in just a few clicks you'll be able to tailor it to your brand's needs.
Step 3: Select a Prize
When you think about how to do a TikTok giveaway, the prize is one of the first things you think of.
It's not always easy to come up with a prize that's going to inspire your audience though, so it does require a little bit of thought. The first thing it's got to do is grab attention, and then, the chance of winning it has to be worth the effort it takes to take the required action.
The good news is there's no limit to what you can offer your giveaway winner, so be imaginative. Here are some ideas you might consider:
Cash
Gift Cards
Trending Products
Experiences
Social Media Exposure
Early Access to New Products
This is just a small selection of ideas. The best giveaway prizes happen when you get creative though, so get brainstorming!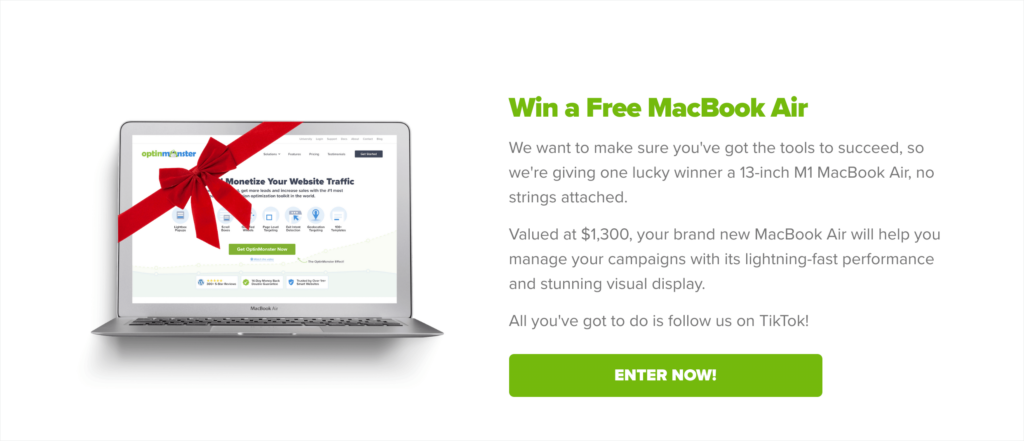 Once you've chosen your prize, edit the prize name and description (you can add unique hashtags and other useful things here), and add an attractive image that grabs your audience's attention and then click Done Editing.
Your giveaway form should be looking pretty good already, but there are some more things we can do to make sure you create the perfect viral TikTok giveaway.
Step 4: Set Your Start and End Date
Creating a sense of urgency is hugely important in marketing strategy.
If people think they have loads of time to do something, then they'll leave it until later, and then guess what? They forget about it, or they lose excitement and don't end up doing it.
To stop this from happening, you want to set a clear start and end date for your TikTok contest.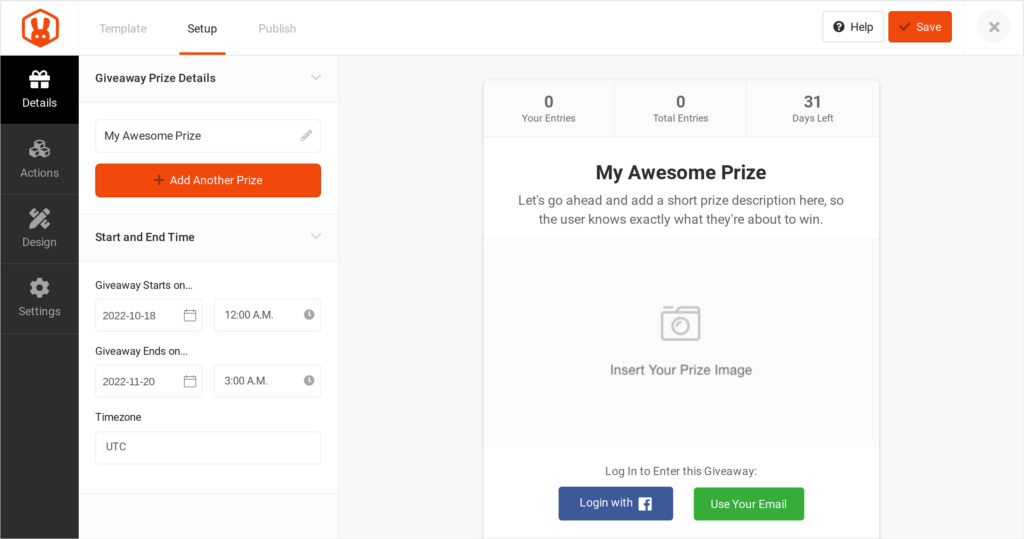 You can do this in the Details tab, and as soon as you enter start and end dates, you'll see your giveaway automatically shows how many days are left to enter.
Step 5: Edit Your Entry Requirements
One of the most challenging parts of figuring out how to do a TikTok giveaway (before you knew about RafflePress) was how you measure success.
For a giveaway to be worthwhile, it needs to inspire people (in this case, TikTok users) to take action. But what action do you want entrants to take and how can you measure it?
Luckily, RafflePress takes care of this for you, allowing you to track actions on all kinds of applications. For TikTok, this means tracking when someone follows you or views a post or video.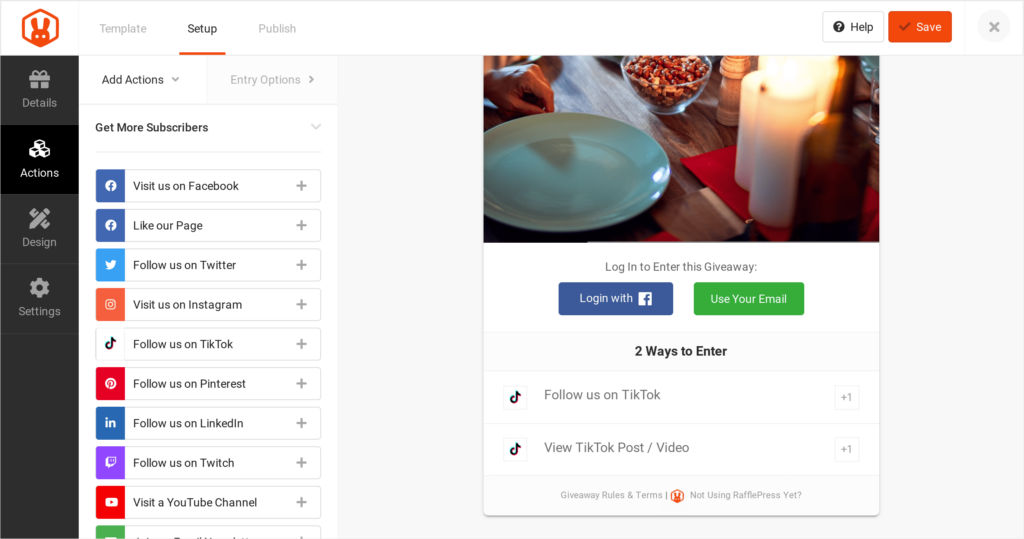 The template automatically gives contestants 2 entry methods:
Following you on TikTok (you can also expand this to other platforms like Facebook, Twitter, and LinkedIn)
Viewing a post or TikTok video
You can edit these actions by clicking on them.
An Entry Options tab will open on the left side of your page, and you can edit the title of the action, change the number of submissions the action will earn, make the action mandatory, allow daily entries, and add your TikTok URL (TikTok account information)/ post embed code.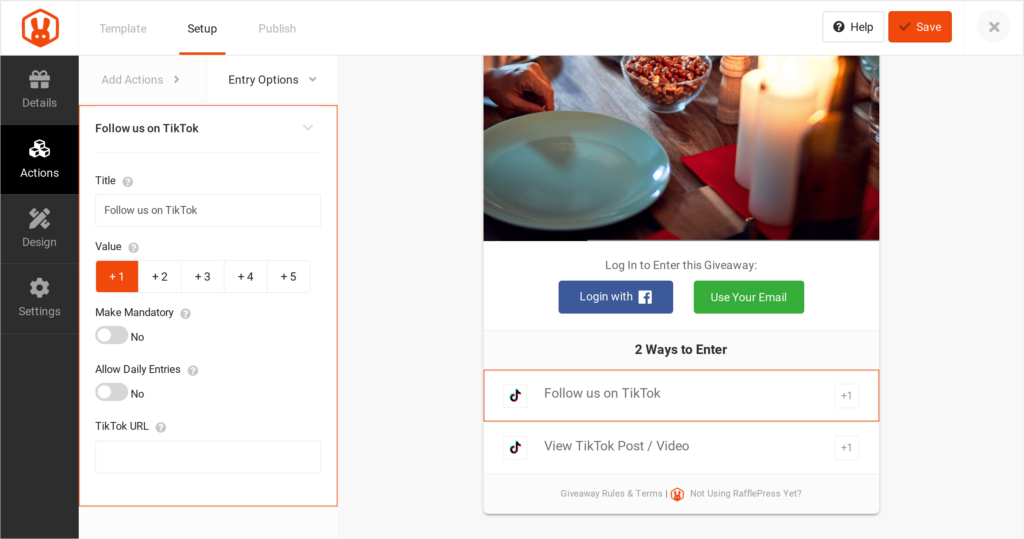 This will allow RafflePress to track when entrants have completed the required actions and earned an entry into your prize draw.
Step 6: Perfect Your Design
RafflePress makes it super easy to change up the design of your giveaway from the Design tab.
Here, you'll be able to move sections around, change your font and CTA colors, and customize the background.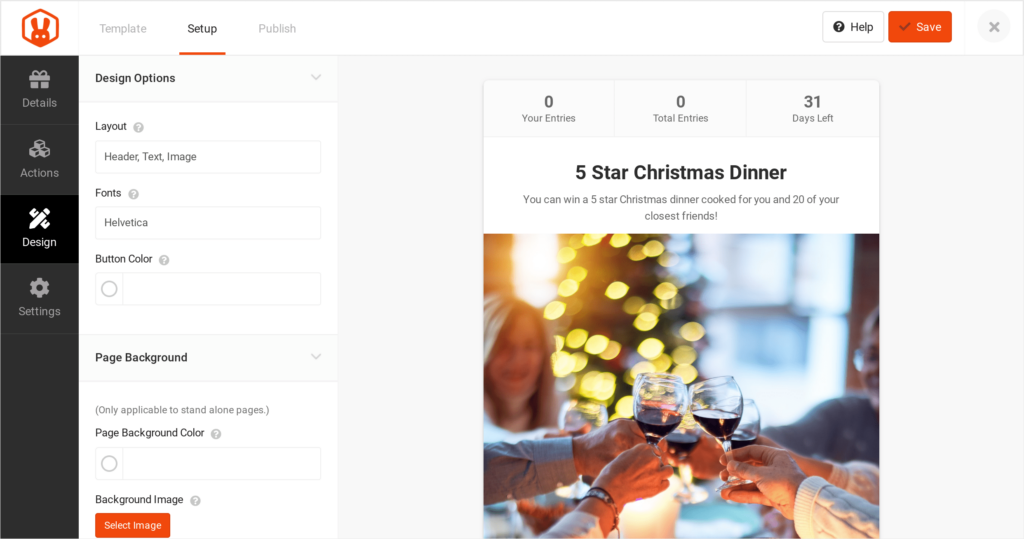 The TikTok template is well-optimized to begin with, so you don't need to spend too much time on this step.
Step 7: Manage Your TikTok Giveaway Settings
One last step before you publish your TikTok giveaway – managing your settings.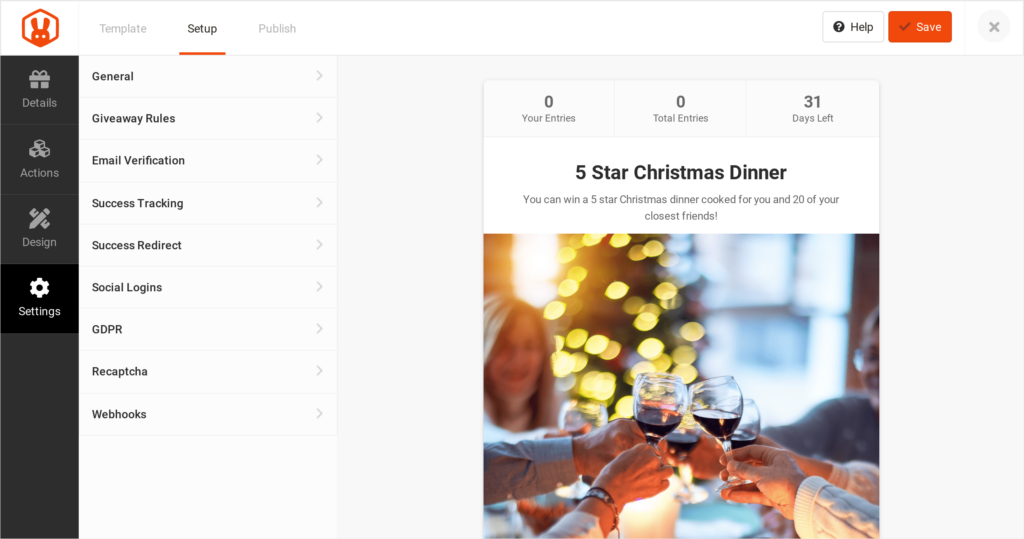 If you click on the Settings tab, you'll see lots of different elements you can edit. These options include:
Limiting the number of entries for an IP address
Requiring email verification
Redirecting customers once they enter
Allowing social logins
Adding GDPR consent
Enabling Recaptcha
And more…
One element you should make sure to fill out is your giveaway rules. Don't worry, RafflePress takes the hassle out of this as well with its contest rules generator template.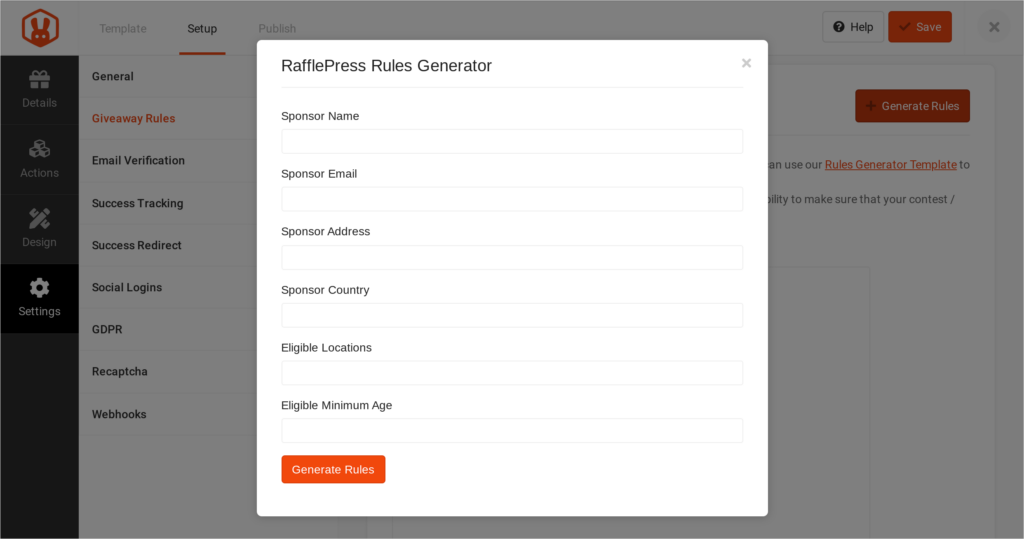 Click the Generate Rules button at the top and enter your business's details. Once you click Generate Rules an editable template will automatically be created to help inform your customers about the official rules of your giveaway and highlight eligibility.
Note: Make sure to check TikTok's community guidelines to make sure you're compliant.
Step 8: Publish Your TikTok Givewaway
The last step in our how to do a TikTok giveaway guide is publishing your giveaway.
To do this, all you have to do is click on the Publish tab at the top of the page.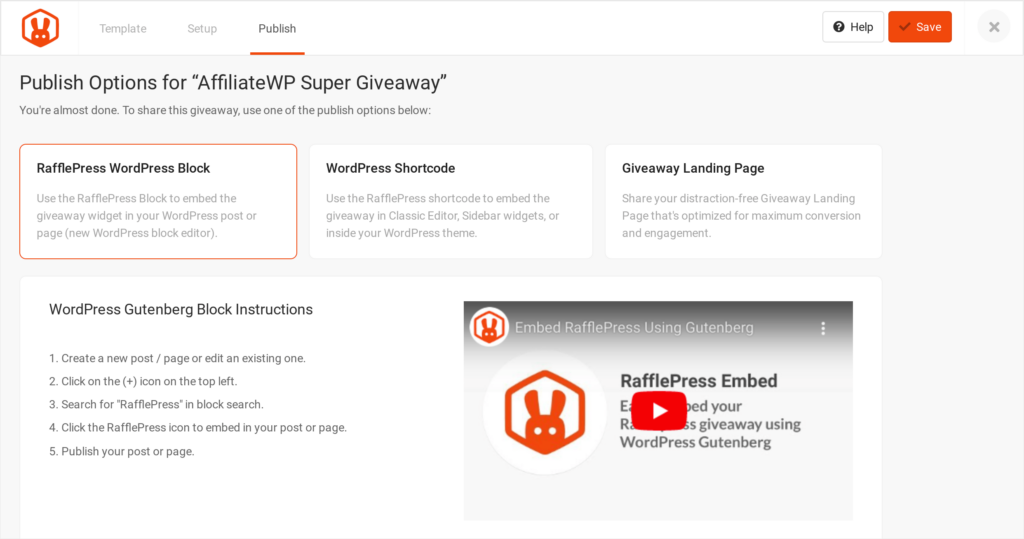 Here, you'll be given 3 different ways to publish your giveaway: a WordPress block, a WordPress shortcode, or a Giveaway landing page.
If you choose WordPress block or shortcode, then you can easily add your giveaway to an existing WordPress page.
To add the giveaway using the WordPress block, open your page and add a new block. Start typing in RafflePress, and you should see the block come up. Choose the RafflePress block, and then click on it. In the block settings, you can use the dropdown menu to choose the giveaway you've just made.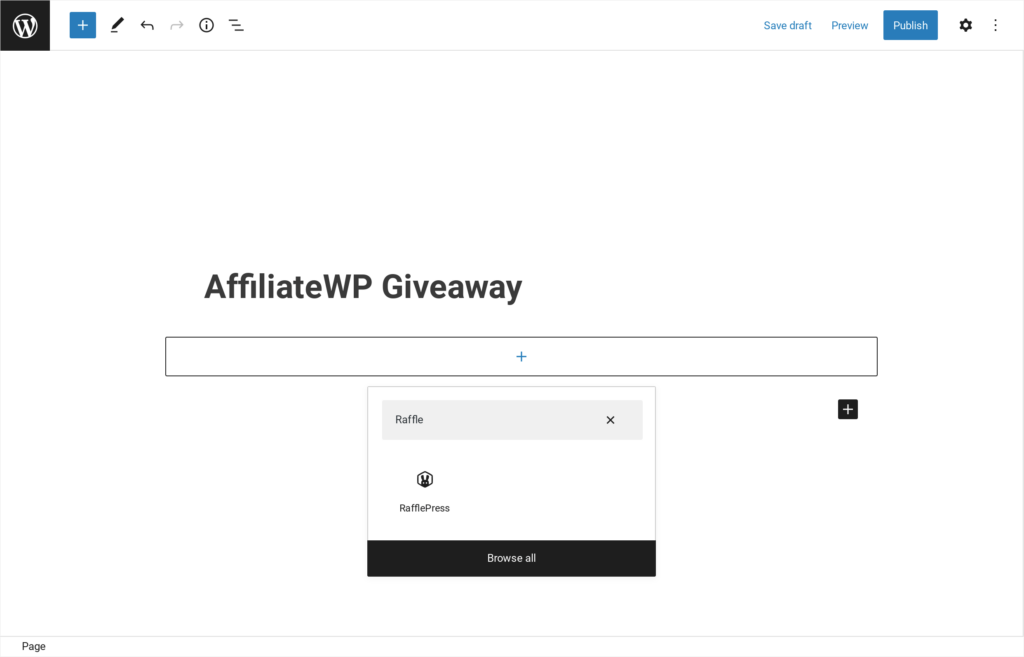 Alternatively, if you chose to use a WP shortcode, just search for the shortcode block and paste your code into the box.
Or, if you wanted to create a new giveaway post (landing page) for your TikTok giveaway, then choose the Giveaway Landing Page option.
Now Use Your Social Media Following to Make More Sales
One thing your social media following is great for is creating social proof.
When you've got people interacting with your brand it shows a level of trust that you should be using to help sell your products. A great way to do this is by creating beautiful social feeds on your website.
The best plugin to help you do this is Smash Balloon.

While it doesn't support TikTok just yet, it can help you bring all the user-generated content you've collected on Facebook, Twitter, YouTube, and Instagram (Instagram giveaways are also hugely effective) to your website. All those cool pictures and videos your influencers make can be a huge conversion rate booster, and that's exactly what you get with Smash Balloon.
Check out the social wall demo!
How to Do a TikTok Giveaway that Inspires Action
With RafflePress, it's incredibly easy to do a TikTok giveaway that inspires people to take valuable actions.
Get your prize right and promote your giveaway well and you can soon see your TikTok followers and post views skyrocketing!
So, now that you know how to do a TikTok giveaway, what else should you be planning to do for your business?
There's only one thing left to do.