6 SaaS Marketing Strategies to Grow Sales Quickly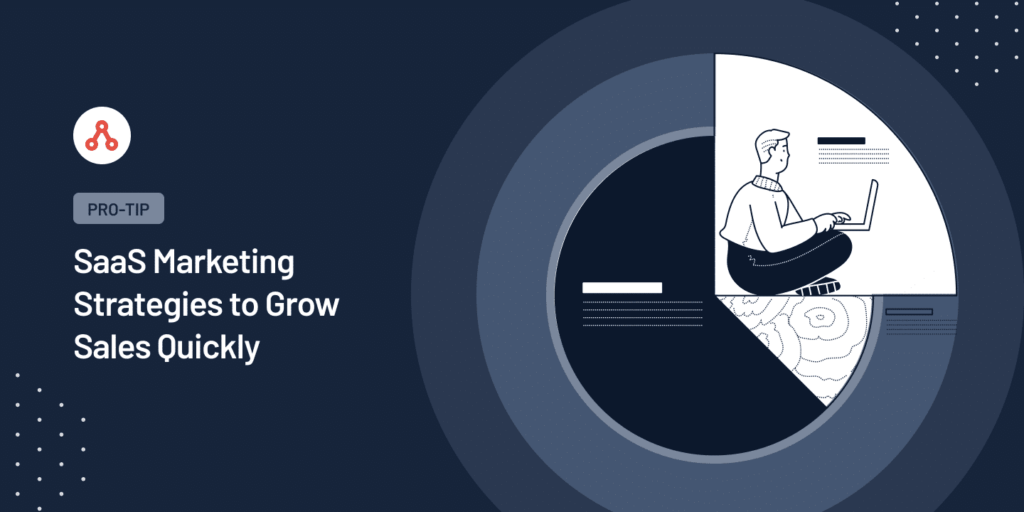 Looking for proven SaaS marketing strategies to grow sales?
Every SaaS business wants to grow its reach and expand its customer base in order to boost sales. For that, one needs to have a marketing strategy.
In this article, we've put together a guide to SaaS marketing strategies.
Let's get started!
What is SaaS Marketing?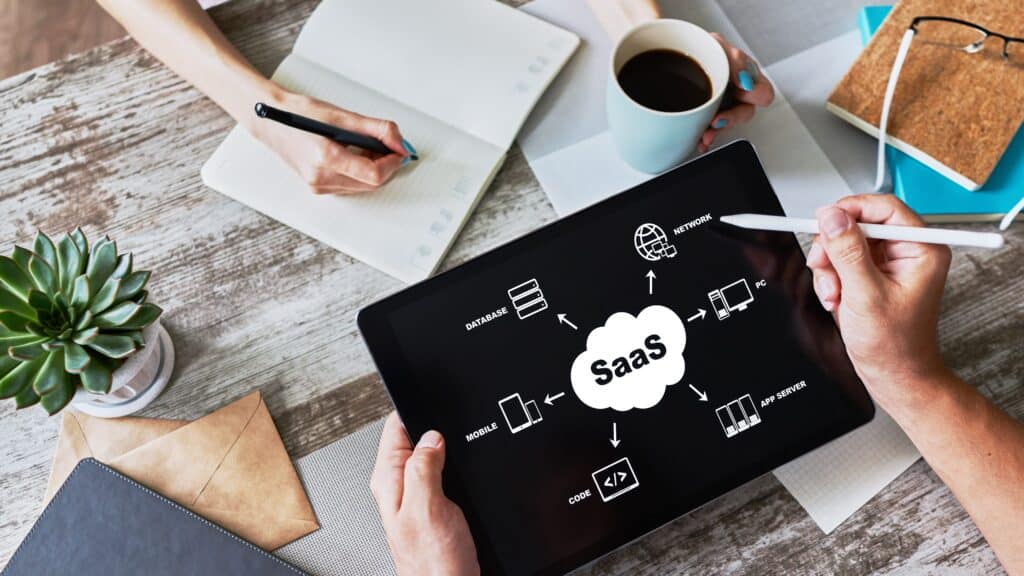 SaaS marketing is the process of promoting and selling software as a service (SaaS) products to potential customers.
SaaS products are typically cloud-based software applications that allow users to access and use the software via the internet, without needing to download or install anything on their own devices. There are various SaaS applications that we use in our daily lives.
For example:
Slack
Hubspot
Buffer
BambooHR
Toggl
The goal of SaaS marketing is to attract and convert potential customers into paying subscribers, by highlighting the benefits and features of the product, and addressing any concerns or objections they may have.
This often involves creating targeted content, such as blog posts, videos, and social media posts that showcase the product's unique value proposition, and using paid advertising to reach a wider audience.
For example, a company that offers a project management tool as a SaaS product may create a blog post that explains how their tool can help teams stay organized and improve collaboration. They may also run Facebook ads targeting small business owners who are looking for a better way to manage their team's workflow.
Overall, SaaS marketing is all about understanding the needs and pain points of potential customers, and showing how your product can solve those problems in a way that is easy to understand and appealing to them.
Why is SaaS Marketing Important?
SaaS marketing is crucial for the success of any SaaS business.
It's not enough to simply create a great product and hope that customers will find it, therefore SaaS marketing is important.
Let's look at some reasons SaaS marketing is so important:
Differentiation: The SaaS market is highly competitive, with many companies offering similar products. Effective marketing can help you stand out from the crowd and differentiate your product from the competition.
For example: Both Microsoft Teams and Google Workspace (formerly G Suite) offer email, chat, video conferencing, document collaboration, and more.
Microsoft Teams integrates with other Microsoft products like Office 365 and SharePoint to stand out from the competition. AI-powered background noise suppression during video calls and live transcription during meetings are also available.
Google Workspace emphasises its user-friendly interface and collaboration features like real-time editing and commenting and offline document editing. Google Meet's 250-person video calls are unique.
Microsoft Teams and Google Workspace have differentiated themselves from each other and attracted customers with specific needs and preferences by highlighting their unique strengths and features.
Customer Acquisition: Attracting new customers is essential for any SaaS business, and marketing is a key driver of customer acquisition. Using targeted advertising, content marketing, and other tactics, you can reach potential customers who may not have otherwise discovered your product.
Customer Retention: Keeping your customers engaged with regular content and updates, providing exceptional customer service, and offering incentives to stay subscribed, you can increase customer loyalty and reduce churn.
Revenue Growth: Ultimately, the goal of SaaS marketing is to drive revenue growth. By effectively marketing your product, you can increase sales, boost customer lifetime value, and grow your business.
Since we now know your goals, the question becomes what tactics should you employ in your SaaS advertising.
6 Ultimate SaaS Marketing Strategies
Effective SaaS marketing strategies are essential to succeed in the highly competitive SaaS market.
In order to attract and retain customers, differentiate your product, and drive revenue growth, you need to develop and implement marketing strategies that are tailored to your specific business and target audience.
Here are the six most important SaaS marketing strategies you can implement today.
1. Know Your Audience
Knowing your audience is a crucial component of effective SaaS marketing.
By understanding the needs, pain points, and preferences of your target audience, you can tailor your marketing message and tactics to resonate with them and drive conversions.
Here are some ways to better understand your audience:
Identify Your Target Audience: The first step is to identify your ideal customer. Who is most likely to benefit from your product, and who is most likely to pay for it? This may involve creating customer personas or profiles based on demographic, psychographic, and behavioral data.
Conduct Market Research: Once you have identified your target audience, the next step is to conduct market research to gain a deeper understanding of their needs, pain points, and preferences. This may involve surveys, focus groups, and other research methods.
Tailor Your Marketing Message to Your Audience: Armed with insights from your market research, you can tailor your marketing message to speak directly to your target audience. This may involve using specific language, imagery, and messaging that resonate with their needs and desires.
These simple techniques can help you learn more about your target audience, which will make your marketing efforts more effective.
2. Optimize Your Landing Pages
Your website and landing pages are key touchpoints for your SaaS marketing strategy, and they play a critical role in converting visitors into leads and customers.
To maximize the effectiveness of your website and landing pages, you need to optimize them for user experience and conversion.
Here are some tips for optimizing your website and landing pages:
Streamline Your Navigation: Your website should have a clear and intuitive navigation structure that makes it easy for visitors to find what they're looking for. Have a simpler menu structure, clear calls-to-action, and a search bar that is easily accessible.
Use High-Quality Visuals: High-quality visuals can make a big impact on the user experience of your website and landing pages. This may include using professional photos, videos, or graphics that are visually appealing and help to communicate your product's value proposition.
Optimize for Mobile: With more and more people using mobile devices to browse the web, it's essential that your website and landing pages are optimized for mobile. For example, use responsive design, simplifying your page layouts, and making sure that your content is easily readable on small screens.
Focus on Conversion: To maximize the effectiveness of your website and landing pages, you need to focus on conversion. This may include using clear and compelling calls-to-action, optimizing your forms for ease of use, and using social proof, such as customer testimonials or case studies.
3. Leverage Content Marketing for Your SaaS Business
Content marketing is a powerful strategy for SaaS companies to build brand awareness, generate leads, and engage with their target audience.
To create content that resonates with your target audience, you need to understand their needs, preferences, and pain points. This may involve conducting market research, analyzing website and social media analytics data, or engaging with your audience through surveys.
Once you understand your audience, you can develop a content strategy that aligns with their needs and preferences.
This may include identifying key topics and themes that are relevant to your audience, developing a content calendar, and setting goals for your content marketing efforts.
However, creating great content is only half the battle; you also need to promote it effectively to reach your target audience. Try to promote your content through email marketing, influencer outreach or social media.
So, by creating valuable and informative content that resonates with your audience, you can establish your SaaS business as a thought leader in your industry and drive revenue growth.
4. Use Social Media to Boost Your SaaS Sales
As we have talked about content marketing in the 3rd strategy, you might have got an idea about how social media can be a superb marketing technique to boost sales for your SaaS product.
Social media is a powerful tool for SaaS companies to connect with their audience, build brand awareness, and drive sales.
Here are some tips for utilizing social media to boost your SaaS sales:
Determine the Right Platforms: There are many social media platforms available, each with its own strengths and weaknesses. To maximize the effectiveness of your social media strategy, you need to determine the right platforms for your business. This may include platforms like Twitter, LinkedIn, or Instagram, depending on your target audience and business goals.
Engage with Your Followers: Social media is a two-way conversation, and it's important to engage with your followers on a regular basis. This may include responding to comments, sharing user-generated content, or asking questions to spark conversations.
Leverage Social Media Advertising: Social media advertising can be a highly effective way to reach new customers and drive sales. By using targeting options like demographics, interests, and behaviors, you can ensure that your ads are seen by the right people at the right time.
By leveraging social media platforms effectively, you can engage with your followers, amplify your content marketing efforts, and reach new customers.
5. Create Referral Programs
Referral marketing is a powerful way to drive new customers to your SaaS business.
By encouraging your existing customers to refer their friends and colleagues to your product or service, you can tap into a new source of leads and sales.
Here are some tips for encouraging referrals to boost your SaaS sales:
Offer Incentives: To encourage your customers to refer others to your business, you can offer incentives like discounts, free trials, or other perks. This can be an effective way to motivate your customers to spread the word about your product or service.
Make it Easy to Refer: Make it easy for your customers to refer others by providing them with clear instructions on how to refer, as well as any tools or resources they may need. This can include referral links or social media sharing buttons.
Create a Referral Program: A referral program can help you incentivize your customers to refer others to your business. Using one of the best affiliate software plugins, AffiliateWP, you can set up a referral program for your SaaS business. With AffiliateWP you can create a referral program that gives your customers powerful incentives to promote your products. By encouraging referrals, you can tap into a new source of leads and sales for your SaaS business.
With the right incentives and tools in place, you can motivate your customers to spread the word about your product or service and drive new business your way.
6. Create An Affiliate Program
Affiliate marketing is a powerful way to drive sales and grow your SaaS business.
Unlike referral marketing, where your existing customers refer your product to others, affiliate marketing involves partnering with other businesses or individuals who promote your product for a commission on each sale they generate.
If you're planning to start an affiliate program to boost your sales as a SaaS business, we would recommend using AffiliateWP. It's one of the most popular affiliate management plugins for WordPress.
With its easy setup wizard, you can create an affiliate program for your SaaS business in under 10 minutes. AffiliateWP integrates with a wide range of WordPress plugins, allowing you to sync your products, memberships, forms, and other items with your affiliate program.
By partnering with affiliates who have an audience that would be interested in your product, you can tap into a new customer base that you may not have been able to reach on your own.
This can increase your SaaS sales and revenue, while also providing a way for your affiliates to earn income by promoting your product. You can check out our step-by-step guide on how to set up a WordPress affiliate program in 10 minutes.
Check out AffiliateWP's pricing!
FAQ: SaaS Marketing Strategies to Grow Sales
How Do SaaS Attract Customers?
There are several ways for SaaS businesses to attract customers. Some effective strategies include targeted advertising on social media and search engines, creating informative and engaging content, optimizing the website and landing pages, offering free trials, and using referral and affiliate marketing programs.
What Is the Best B2B SaaS Marketing Strategy?
The best B2B SaaS marketing strategy depends on the specific business and its target audience. However, some effective strategies for B2B SaaS marketing include account-based marketing, creating informative content, utilizing email marketing, affiliate marketing and offering product demos or free trials.
What Are Some SaaS Marketing Strategy Examples?
An example of a SaaS marketing strategy is Hubspot's inbound marketing approach. They create informative and engaging content on their blog, offer free resources like templates and tools, and use targeted social media advertising to attract potential customers. They also utilize email marketing to nurture leads and offer free trials of their product to entice prospects to become paying customers.
Now, It's Time to Implement Your SaaS Marketing Strategy!
By implementing the proven marketing strategies outlined above, you can significantly boost your SaaS business sales and create a strong customer base.
While it may be challenging to implement all of these strategies at once, we recommend starting by knowing your audience and creating an affiliate program.
Taking these first steps will set your business up for success and help you achieve your marketing goals.
Got more questions? Here are some more resources for you:
Ready to take your SaaS marketing to the next level?
Start by creating a powerful affiliate program with AffiliateWP!