7 Best Post Affiliate Pro Alternatives (Ultimate Guide 2023)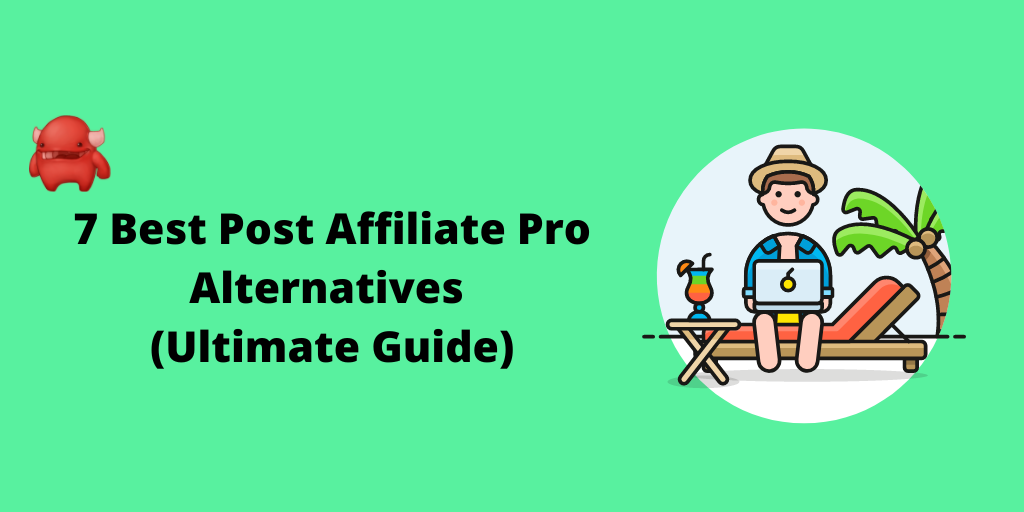 Looking for the best Post Affiliate Pro Alternatives?
We've researched the best affiliate software out there to put this expert guide together.
Check out the best Post Affiliate Pro alternatives and find the one that's going to help you grow your affiliate program.
Best Post Affiliate Pro Alternatives
Post Affiliate Pro is a popular affiliate marketing software that helps you run an affiliate program or affiliate network and improve your digital marketing.
It's well-known for its wide array of integrations (for e-commerce, email marketing, CRMs, and much more) and has plenty of solid features to help you set up and manage your affiliate program.
This being said, it's not for everyone, and there are some great alternatives out there on the market.
So what exactly are the criteria we've used to judge the best Post Affiliate Pro alternatives?
Well, we've looked at the elements we think are most important when running an affiliate program:
Ease of setup
Range of integrations
Easy affiliate and campaign management + payouts
Powerful marketing features
Customer support
Value for money
After some careful research we've narrowed down the list and picked out the very best Post Affiliate Pro competitors:
AffiliateWP
Tapfiliate
Refersion
PartnerStack
iDevAffiliate
LeadDyno
OSI Affiliate
Each of these software has its own strong points and will appeal to different businesses.
Read on to see the breakdown and find out which Post Affiliate Pro alternative is the right option for you.
Note: We considered other partnership marketing software like Everflow, but they didn't quite make the top 7.
1. AffiliateWP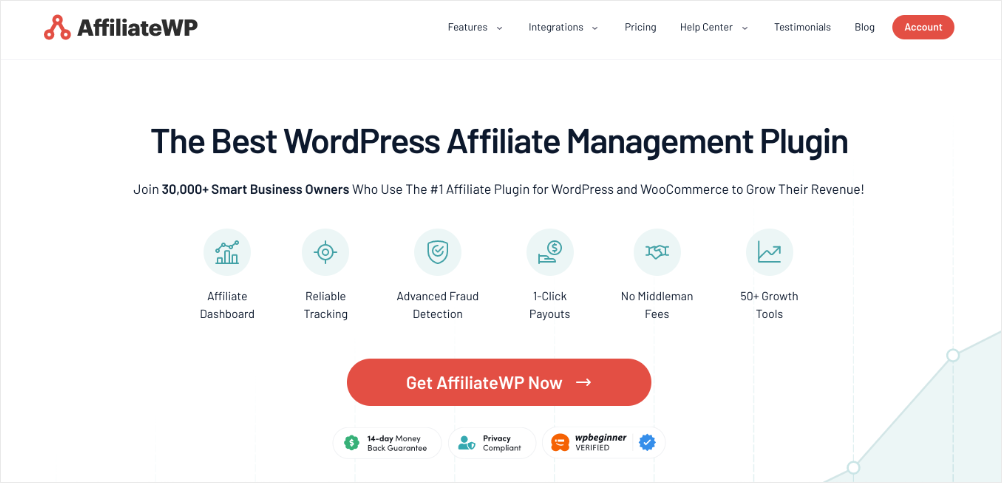 If your website runs on WordPress, then AffiliateWP is the best possible affiliate management software provider.
Not only does it sync seamlessly with your WordPress site, but it also integrates with all your favorite plugins.
Whether you're selling online products through WooCommerce or Easy Digital Downloads, growing your membership program with MemberPress, or generating leads with WPForms, AffiliateWP can set up an affiliate program in minutes.
With 1-click integrations for these plugins, plus a whole host more (see all the available integrations), it couldn't be easier to get started with affiliate marketing.
What really matters though is growing your affiliate program, and this is where AffiliateWP offers incredible value.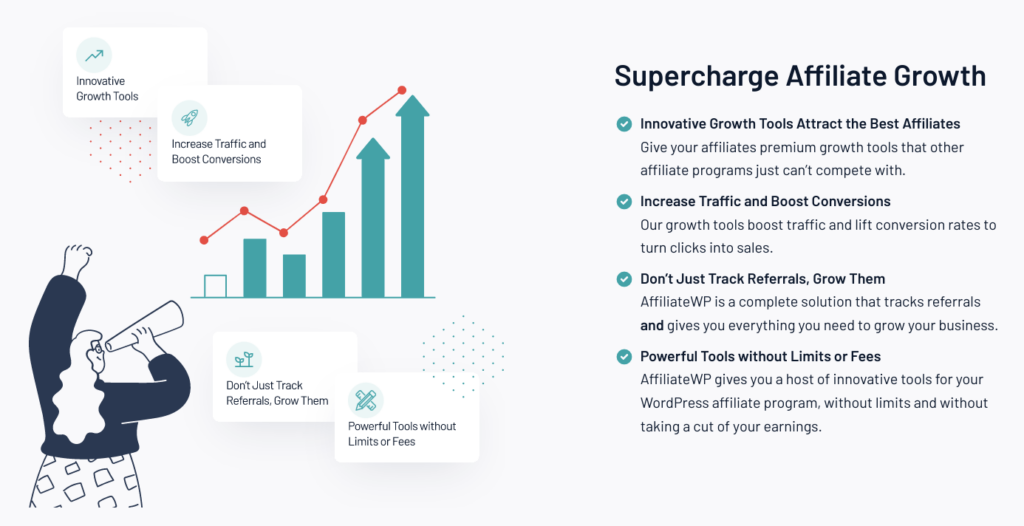 Innovative marketing tools like Vanity Coupon Codes, personalized Affiliate Landing Pages, and Direct Link Tracking are huge conversion rate -boosters, helping you to squeeze even more out of your investment.
And talking of investments, AffiliateWP comes in at a fraction of the cost of Post Affiliate Pro. In fact, you can save up to $1,300 a year for a comparable plan.
With world-class support, and no limits or restrictions on sales, affiliates, or earnings, AffiliateWP should be your first consideration if your website runs on WordPress.
Check out AffiliateWP's pricing!
2. Tapfiliate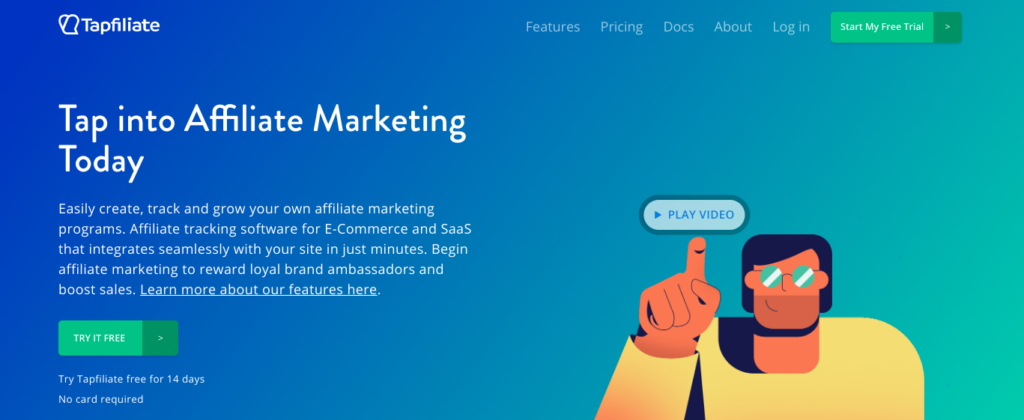 Tapfiliate offers easy affiliate program setup for a wide range of platforms including WordPress, Shopify, Squarespace, and Wix.
Like AffiliateWP, Tapfiliate offers a customizable platform that's easy to set up as well as a host of helpful features. One we particularly liked was the sharable social media posts that make it incredibly easy for affiliates to post to their social platforms.
Price-wise, Tapfiliate falls somewhere in between Post Affiliate Pro and AffiliateWP. Although it might not have quite the range of features as Post Affiliate Pro, it's still a very good option because it offers the functionality you do need.
Pricing plans start at $59 a month.
3. Refersion

Refersion is an excellent affiliate tracking software for WordPress, Shopify, BigCommerce, and Amazon Marketplace.
Its features cover every area of performance marketing, helping you to attract, manage, and incentivize top affiliates and influencers. One particular bonus it offers (for Enterprise plans) is access to a directory of over 3.6 million affiliates where you're bound to find some great people to grow your business.
Although the pricing starts at $99 a month for the Professional plan, this is limited to 50 conversions a month, so it really feels like Refersion is aimed at large companies looking to build an enterprise affiliate program.
Pricing plans start at $99 a month.
4. PartnerStack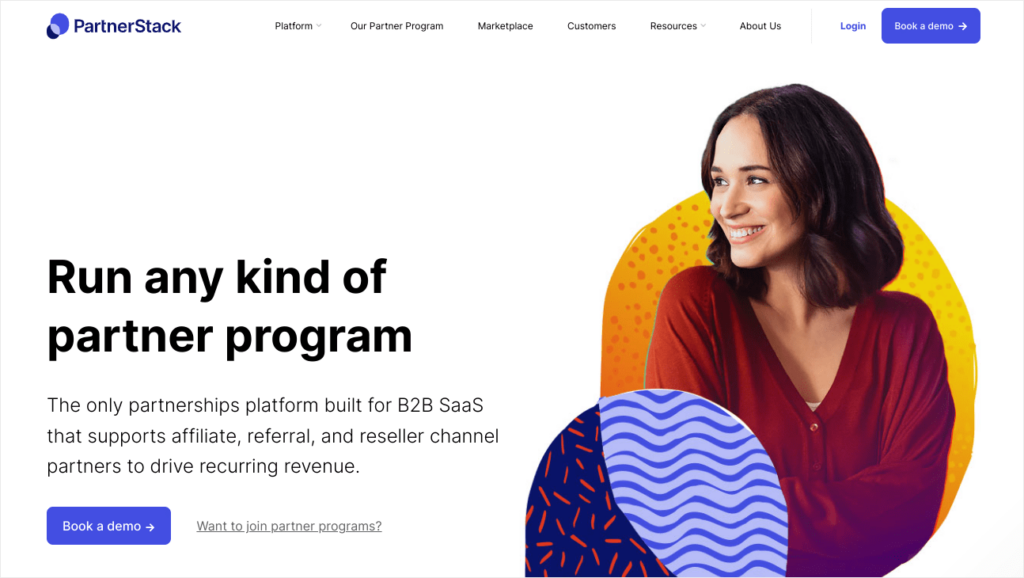 PartnerStack is an all-in-one solution for your partner marketing.
Whether that be affiliates, influencers, or other partners, it brings everything together in one easy-to-use platform.
Like Refersion it's much more aimed at the enterprise end of the market, so you'll want to have big plans for your partnership marketing if you're going to invest in this option.
If that's you, then PartnerStack offers great partner management features to help you scale your business and increase revenue. In fact, it claims to boost customer revenue by an average of 122%.
The strong automation tools and access to a directory of 800,000+ partners make this possible, but with its pricing points, it's possibly not an option for small businesses and startups.
Visit website for pricing.
5. iDevAffiliate

iDevAffiliate allows you to set up an affiliate program for e-commerce websites on a number of different platforms.
You can host your program on your own domain or as a cloud-based affiliate program, which is a nice choice to have, and it's got some good features to power growth.
While we find the user interface looks a little bit dated, it's still easy to use, and a very efficient option.
iDevAffiliate comes in quite a bit cheaper than Post Affiliate Pro, so it's a good option for smaller businesses who are looking for cost-effective referral tracking software.
Pricing plans start at $39 a month.
6. LeadDyno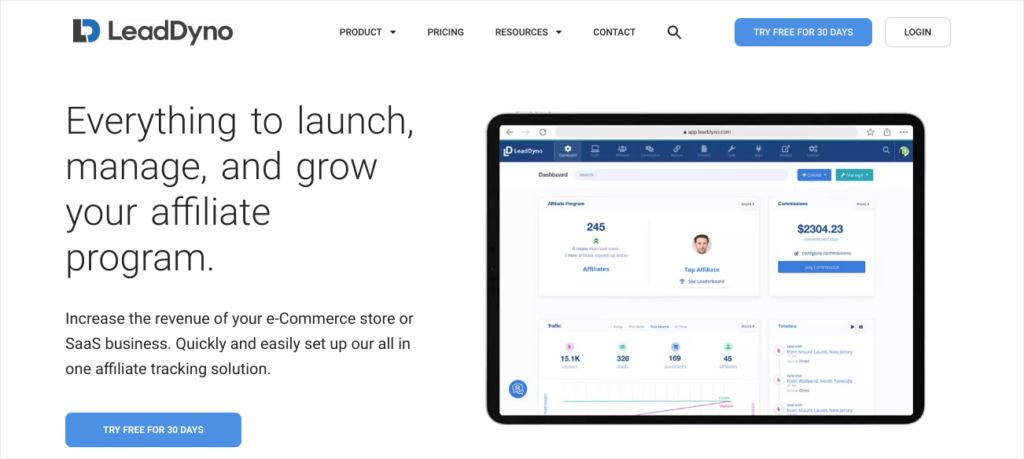 LeadDyno makes it easy to launch, manage, and grow your referral program.
Like many of the other options, it offers easy setup, and it's got excellent real-time analytics to help with program optimization. Automatic email notifications and other features like multi-level marketing (MLM) can help your program run on autopilot, but its pricing plans can be a bit restrictive.
Plans are governed by your total unique visitors a month, so it's not a cost-effective option for all businesses.
Pricing plans start at $49 a month.
7. OSI Affiliate
Another Post Affiliate Pro alternative that we liked during our testing was OSI Affiliate.
While it's still significantly more expensive than AffiliateWP, it's still in a reasonable price range for small businesses. For your investment, you do get some good features, with referral marketing attribution (word of mouth) a key element of the software.
It's not the complete solution Post Affiliate Pro is, but for smaller businesses, it can offer a more bespoke product that matches their needs.
Pricing plans start at $47 a month.
Which is the Best Post Affiliate Pro Alternative?
If you're looking to build an affiliate program for your WordPress website then AffiliateWP is the best alternative to Post Affiliate Pro.
Not only is it extremely customizable (with API, hooks, and templates) and scalable, but it's also incredibly good value.
You'll be able to run your own affiliate program at a fraction of the cost of Post Affiliate Pro.
And yet, you still get simple setup, plenty of automation, innovative marketing tools, and excellent support. If you're comparing Post Affiliate Pro with AffiliateWP, then it's a no-brainer to give AffiliateWP a try first.
This is especially true for small businesses, that are trying to maximize a tight marketing budget!
Take the first step and get AffiliateWP today!
Next, Grow Your Affiliate Program
Once you've decided on your affiliate marketing platform, all that's left to do is grow your affiliate program.
Don't worry, we've got some great tips for this as well!
Check out some of our helpful resources to discover all the ways you can take your affiliate program to the next level.
Now you've got all the information you need to grow your affiliate program there's only one thing left to do.