5 Best Affiliate Fraud Detection Software for WordPress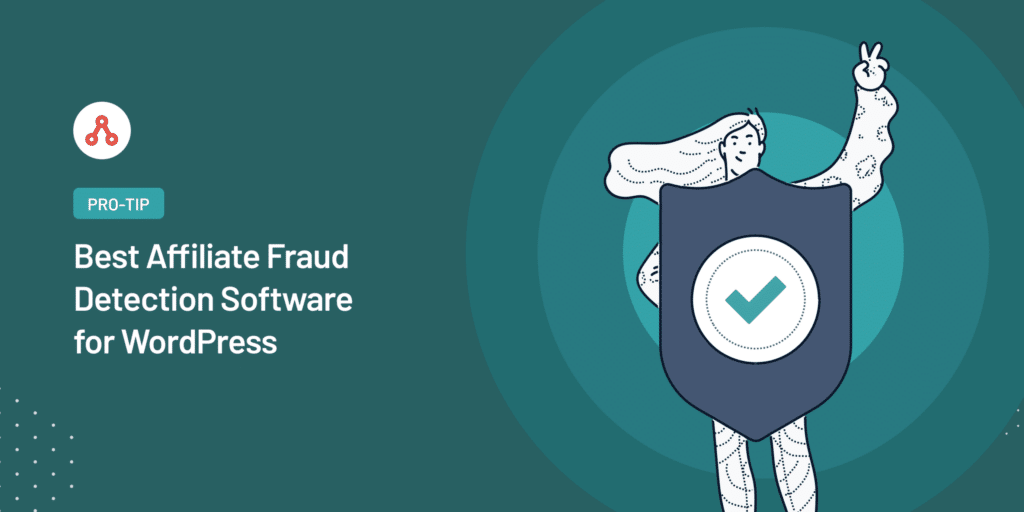 Looking for the best affiliate fraud detection software for WordPress?
Your affiliate program's credibility is at stake if you don't use effective fraud detection software. That being said, we have compiled a list of the top five affiliate fraud detection tools for WordPress to help you avoid common affiliate scams.
Let's get started!
How We Ranked 5 Best Affiliate Fraud Detection Software for WordPress?
Affiliate fraud occurs when an individual participating in an affiliate program engages in fraudulent activities, such as generating fake clicks.
Which means they pretend to click on things to make it look like more people are interested in buying something.
Or providing false information, with the intention of earning commissions or payments that they are not legitimately entitled to receive.
As an affiliate manager, it's important to protect yourself from these scams, which is where affiliate fraud detection software comes in.
We took a lot of things into account when making this list of the best affiliate fraud detection software for WordPress. This is to make sure that we only list the most effective and reliable software.
Here's what to look for in the best fraud detection affiliate software for WordPress:
Accuracy of fraud detection: The software must be able to find and flag fraud accurately and with as few false positives as possible.
Ease of use: It should be easy to use, even for people who don't know much about technology.
Compatibility with WordPress: If you're running an affiliate program with WordPress, it's important to choose software that works with the platform.
Integration with other tools and plugins: If you're already using other tools and plugins for your affiliate program, it's important to choose software that works well with them.
Pricing: Make sure that your money is well spent without going bankrupt.
By taking the above factors into consideration, here's an overview of the best affiliate fraud detection software for WordPress:
To find the best SaaS affiliate program, let's compare each one's price and features.
Best Affiliate Fraud Detection Software for WordPress
Using the best affiliate fraud detection software for WordPress can help protect your affiliate program from fraudulent activities, minimize false positives, and save you time and resources.
Let's take a look at these software and select the one that better suits your needs.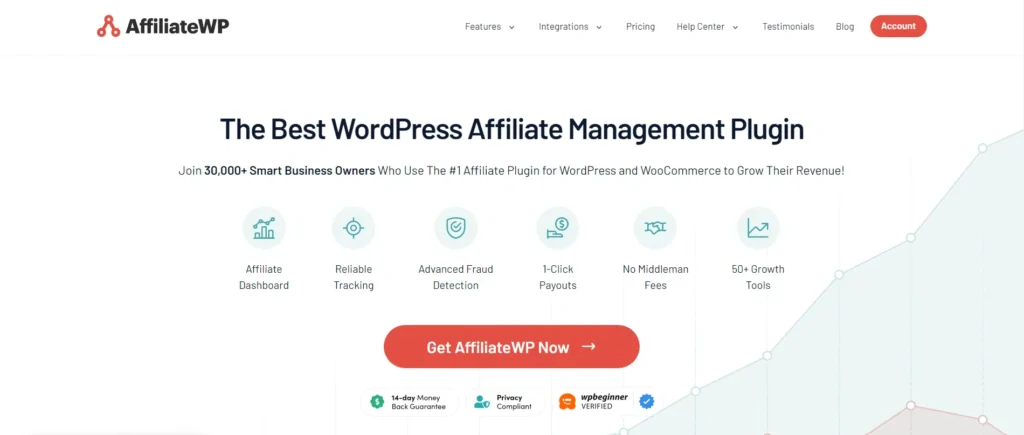 AffiliateWP is one of the best affiliate fraud detection software options available for WordPress.
Not only does it provide high-quality affiliate link tracking software, but it also offers a range of powerful functionality to help prevent fraud before it occurs.
One of the key features of AffiliateWP is the ability to set up strong affiliate terms and conditions that can be generated using their Terms of Use generator.
This includes detailed metrics, customizable affiliate registration forms, and affiliate approval on signup.
Additionally, the software offers the ability to blacklist URLs with suspicious activity and deactivate affiliate accounts, providing a range of barriers to prevent fraudsters from infiltrating your program.
You can use AffiliateWP Fraud Prevention addon to further enhance your program's security. This addon provides a dedicated anti-fraud tab in your settings where you can manage program security, bringing together existing features with powerful new settings to boost your fraud protection.
With the addon, you can manage self-referrals, approve or reject referrals from non-approved websites, and flag referrals and visits from affiliates with suspicious conversion rates.
By making it as difficult as possible for fraudulent affiliates to infiltrate your program, AffiliateWP provides the ultimate arsenal of defenses to stop affiliate fraud in its tracks.
With the click of a button, you can easily manage your settings and ensure that your program is protected against fraudulent activity.
Protecting your affiliate program from fraud is essential to maintain profitability.
With an estimated 2% of affiliate transactions attributed to fraud, not taking measures to prevent it can seriously hurt your marketing budget.
But, by using AffiliateWP's powerful fraud prevention features, you can minimize false positives and save valuable time and resources.
Key Features:
Easy affiliate registration
Create and Track Referrals
Smart Fraud Detection
Smart Commission Rules
Custom Affiliate Dashboard
Advanced Security
Detailed Affiliate Reports
Pricing:
Professional: $299.50/ year for the first year, and $599.00/ year for subsequent years.
Use it on 10 sites. Comes with advance features such as white label affiliate area, custom affiliate dashboard and fraud prevention suite.
Plus: $199.50/ year for the first year, and $399.00/ year for subsequent years.
Use it on 3 sites. You can go for a plus plan if you're looking to have both growth and essential tools
Personal: $149.50/ year for the first year and $299.00/ year for subsequent years.
Allows only 1 site installation. Comes with all the essential features like first-party cookies, affiliate area, check out referrals, and more.
So why wait? Get AffiliateWP Now!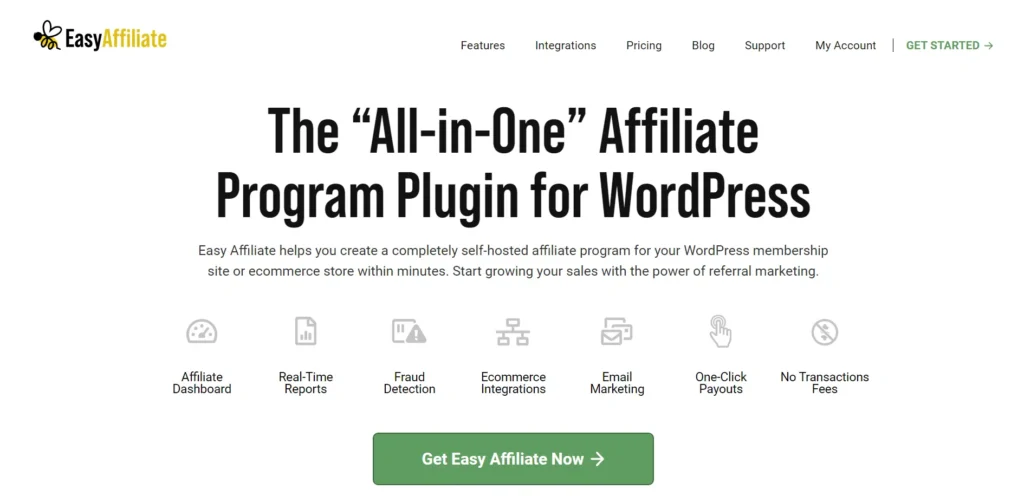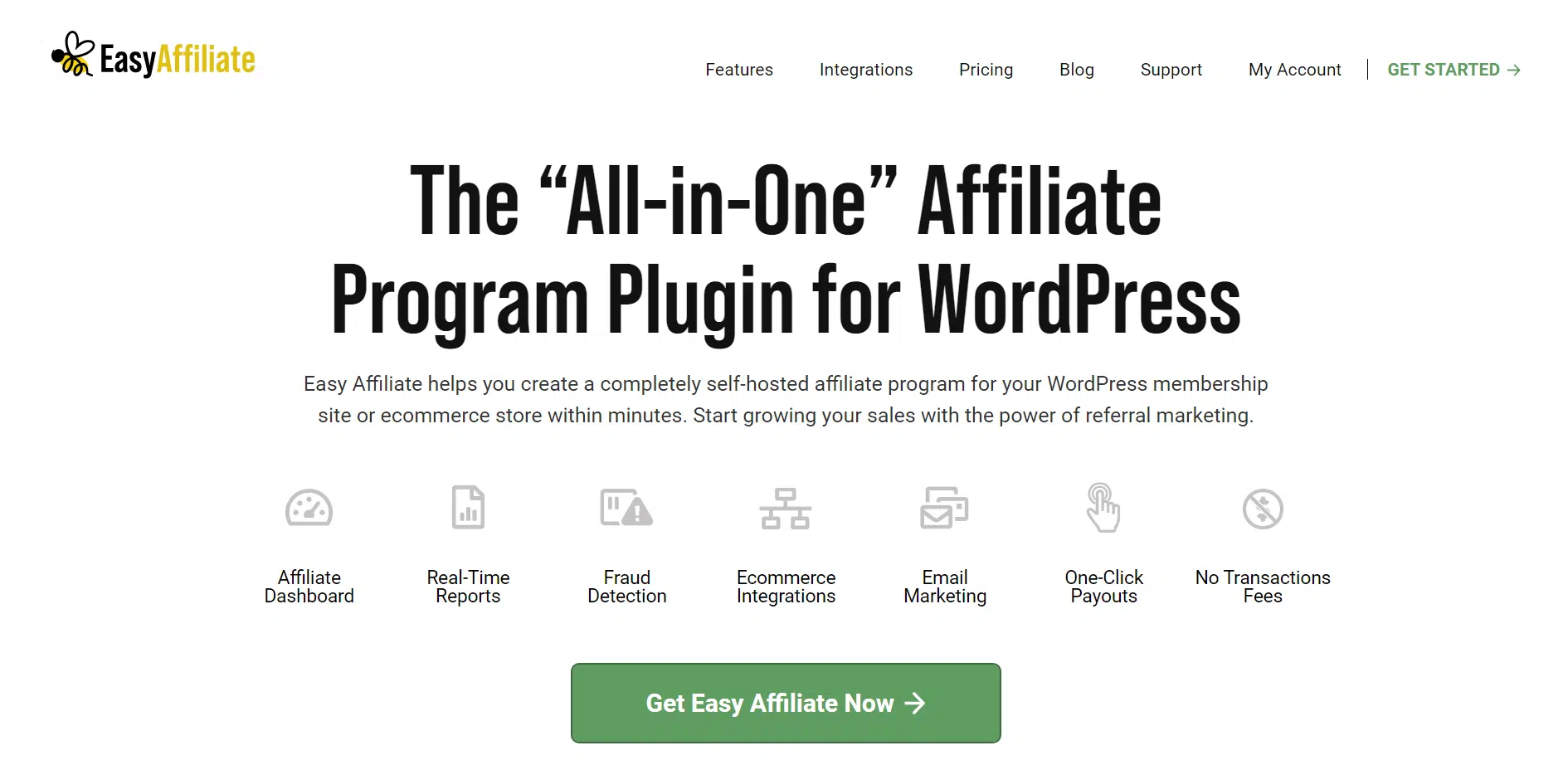 EasyAffiliate is a powerful tool for affiliate managers with an essential add-on called Fraud Prevention. This feature provides a reliable way to safeguard your affiliate program against fraudulent activities that could impact your business negatively.
Like AffiliateWP, EasyAffiliate, too, has its own Fraud Prevention add-on, using which you can protect your affiliate program from abusive traffic generated by bots, non-human requests, and residential proxies.
EasyAffiliate's fraud prevention comes with customizable settings that allow you to manage different scenarios.
For instance, you can set up how commissions are handled if an affiliate makes a purchase using their affiliate link. You can choose to allow, flag, or reject the commission, depending on your preference.
Overall, EasyAffiliate is a great software that helps protect your affiliate program from fraudulent activities, giving you peace of mind and ensuring you only pay for legitimate traffic.
Key Features:
Personalized Affiliate Dashboard
Payment Integration
Affiliate Applications
Commission Tracking
Custom Link Generation
Fraud Detection
Pricing:
Use it on 1 site. Comes with only essential features like commission theft prevention, tracking, and banner ads.
Great for medium size businesses. Comes with multi-level affiliate commission tracking, and marketing tools.
Great plan for eCommerce sites. Use it on 5 sites. Features include advanced commission rules, tax reports, and more.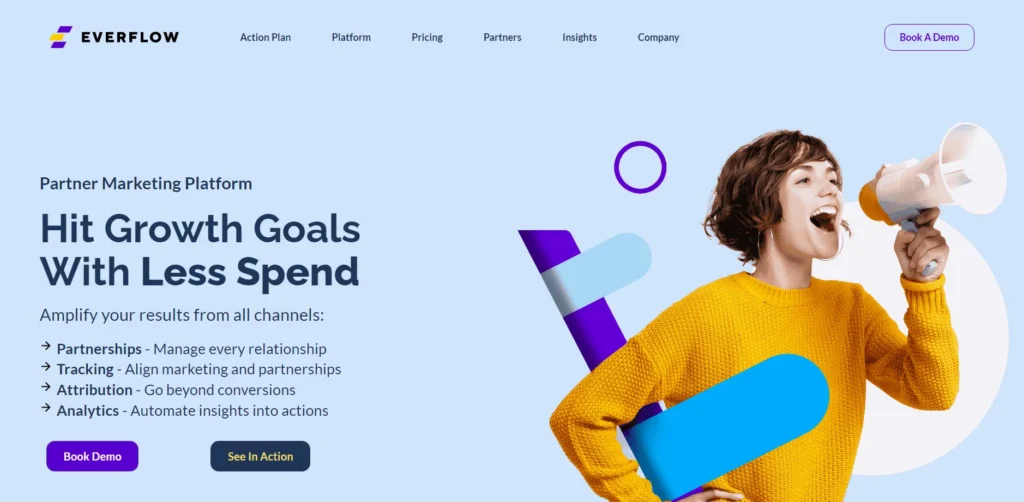 Everflow is an excellent affiliate management software that offers various features to help prevent fraud in affiliate marketing campaigns.
One of the most effective fraud prevention strategies offered by Everflow is the ability to set targeting restrictions. By targeting specific users based on their location, device, and other parameters, you can ensure that your campaigns are only shown to legitimate users, thereby reducing the risk of fraud.
Everflow also offers the ability to require approval for sensitive offers and manually approve conversions.
Everflow is an excellent choice for big businesses willing to invest in advanced fraud prevention tools. Because due to its high cost, it may not be suitable for small or medium-sized businesses just starting as affiliate managers.
In comparison, AffiliateWP or EasyAffiliate is a more affordable option that offers similar fraud prevention features.
Key Features:
Set Rules for Automatic Fraud Blocking
Global Payments
Auto-Optimizations
Event Tracking
Connect Your CRM Data
Pricing:
Core Plan: From $750/ month
Great for small and medium businesses. It comes with every essential tool you need to create a successful affiliate program.
Suitable for big enterprises, this plan has all the core plan features and additional features, such as a dedicated team, proven partners, and automated payments.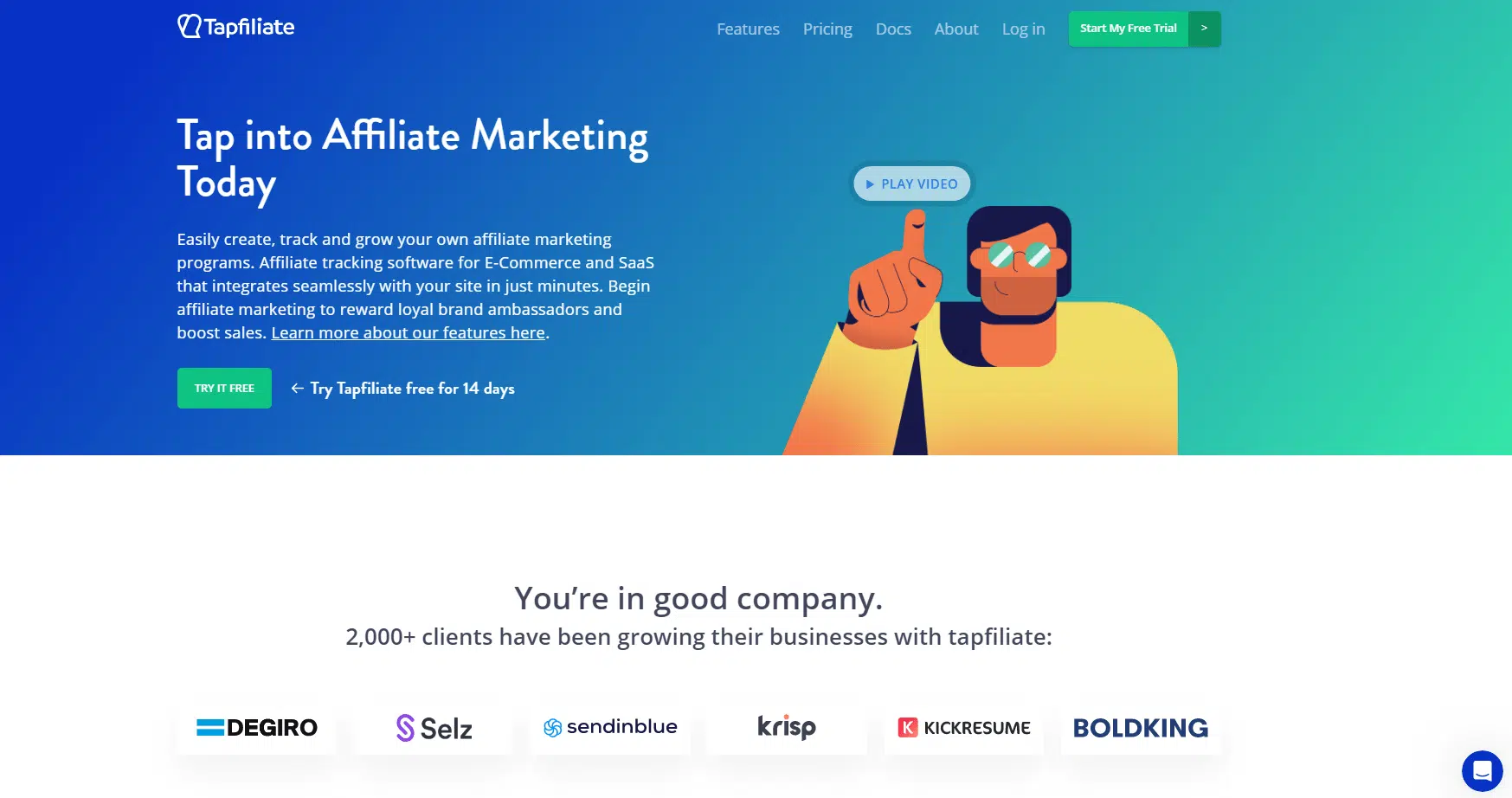 TapAffiliate is an affiliate tracking software that enables businesses to create and manage their own affiliate programs. With seamless integration with E-Commerce and SaaS websites, it takes only a few minutes to set up and benefit from loyal brand ambassadors and increased sales.
Tapfiliate's software utilizes a combination of checks on both affiliates and the traffic and conversions they drive to ensure the program's integrity.
The system blacklists several values for key attributes such as IP, domain, etc., performs attribute comparisons between clicks and conversions, and performs sliding window checks to identify fraudulent activities.
In the event that an affiliate uses their own referral link to make a purchase and the IP of the affiliate and the conversion match, Tapfiliate will track and flag the resulting conversion.
However, it's important to note that while Tapfiliate tracks incoming traffic and conversions on the website in which tracking scripts are installed, any activities outside the website's bounds where tracking is taking place are beyond the system's control.
Key Features:
Real-Time Reporting
Personal Affiliate Links and Coupon Codes
Branded Dashboard
Affiliate Coupons
Multi-Language
Pricing:
Essential: From $89/month
Great plan for small-size businesses. It comes with features like white labeling, two team members' support, and more.
Great for large enterprises. You get a custom domain, 5 team members support, and more.
Trakaff is another awesome affiliate fraud detection software that easily detects and prevents fraudulent activity such as fake conversions, fake traffic sources, fake hits, or clicks.
The software alerts the user, ensuring no fraudulent activity passes through your network.
Apart from fraud detection, Trakaff offers a range of other features to help you optimize and scale your affiliate network. You can create custom affiliate campaigns and set up different commission structures to incentivize affiliates.
With its powerful fraud detection tools, real-time tracking and reporting, and seamless integrations, Trakaff is a great choice for CPA networks, affiliate networks, and e-commerce companies looking to create, optimize, and scale their affiliate network.
Key Features:
Anti-fraud System
Smart Link
Integration with other Networks
Conversion Optimization
Pricing:
If you're a beginner, this plan will suit you the best. It comes with 3-month data retention, email support, and SSL certificate.
An excellent plan for pros. It comes with 6 month data retention, email and Skype support,
Great for medium size owners. Comes with multi-level tracking, intelligent links, and more.
Professional: $299 /month
The best plan for large enterprises comes with a 24/7 support team, API access, and a smarter email system.
What's The Best Affiliate Fraud Detection Software?
After evaluating several affiliate fraud detection software options, we have determined that AffiliateWP is the best choice for businesses looking to manage and prevent affiliate fraud effectively.
Not only is it one of the most affordable options, but it also provides robust features that help prevent fraudulent activity, including tracking clicks, referrals, and conversions, as well as providing options to set approval rules for conversions, block fraudulent traffic sources, and more.
AffiliateWP also integrates with several popular e-commerce platforms such as WooCommerce, Easy Digital Downloads, and more, making it a seamless addition to any existing e-commerce infrastructure.
We can say that businesses can protect their brand, build trust with their affiliates, and make sure their affiliate program is successful and profitable by using AffiliateWP.
Don't wait any longer to try out AffiliateWP!
FAQ: Best Affiliate Fraud Detection Software for WordPress
Why Is Fraud Detection Important for Affiliate Programs?
Fraud detection is essential for affiliate programs because it ensuress that only legitimate traffic and conversions are counted toward commissions.
How Can I Choose the Best Affiliate Fraud Detection Software for My Needs?
When choosing affiliate fraud detection software, it's essential to consider factors like ease of use, features, and pricing. AffiliateWP is a popular choice for many businesses because of its powerful fraud detection tools and ease of use.
What Are Some Common Types of Affiliate Fraud?
Common types of affiliate fraud include click fraud, lead fraud, and conversion fraud. Click fraud involves generating fake clicks on affiliate links, while lead fraud involves generating fake leads.
Now, Start a Safe WordPress Affiliate Program
Once you've selected the ideal affiliate fraud detection software, you can focus on expanding and enhancing your affiliate program on WordPress.
Choosing the right fraud detection software for your affiliate website can secure your business' long-term success.
In case you're looking for more resources on affiliate marketing, we've got you covered:
Get AffiliateWP today and secure your website from affiliate fraud!