Best Affiliate Plugin for LifterLMS (Set Up in 7 Simple Steps)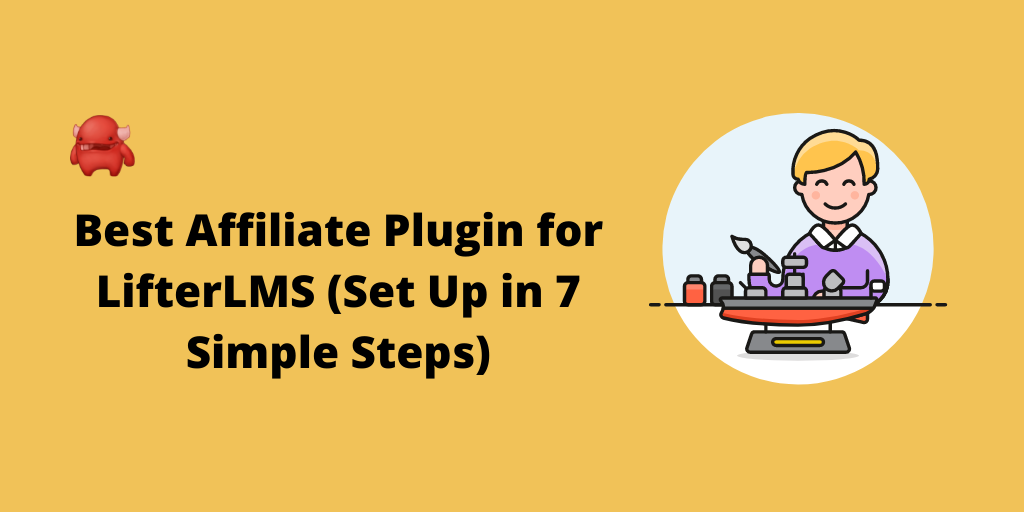 Looking for the best affiliate plugin for LifterLMS?
The number of people buying online courses has skyrocketed in recent years, and this growth is only set to continue. If you're selling online courses through LifterLMS, then the audience is certainly there, but so too is the competition.
It's tough to stand out from the crowd and sell your courses, but affiliate marketing is one way you can expand your reach and boost sales.
With online course sales expected to pass $1 trillion a year in 2027, you want to secure yourself a piece of that pie, and AffiliateWP, the best affiliate plugin for LifterLMS, can help you do that.
What is LifterLMS?
LifterLMS is a learning management system that enables individuals to create and sell their own courses online.
It's designed to give you the tools you need to build engaging courses, market your materials, communicate with students, and get paid for your hard work. To do this, it gives you access to a host of great features that can help you build your own business from scratch.
Drag and drop course builder
Multimedia lessons
Interactive quizzes
Assignments
Drip content
Form integrations
Discussion areas
Conversion-optimized checkout
Course bundles
Affiliate marketing integrations
These are just some of the tools that give you complete control over your courses. It's an easy-to-use platform that enables anyone to build and sell learning materials.
LifterLMS isn't the only option out there for selling digital products (Easy Digital Downloads is another great option), but it's one that's well worth considering if your website runs on WordPress.
Pricing:
Individual Add-Ons: $120+/ year
Universe Bundle: $360/ year
Infinity Bundle: $1200/ year
Why Choose LifterLMS?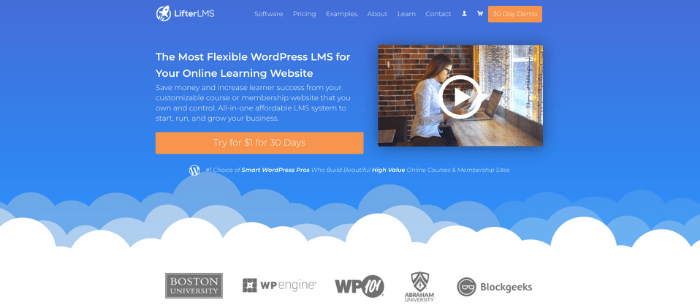 The online learning market is growing at a rapid rate. In 2020, the global e-learning market passed $250 billion, and that number is likely to increase to over $1 trillion by 2027.
These numbers suggest there's plenty of room to flourish in the e-learning market, but at the same time, it's incredibly competitive. Just look at YouTube and see how many educators there are marketing online courses.
To succeed, you've got to stand out from the crowd and to do this, you've got to innovate and offer serious value. It's hard to do this without access to software with lots of features.
Online courses come in every single genre you can think of, and for the most part, the people running them are content creators, not expert developers. This means they need software that makes it easy to build attractive, engaging courses without the need for technical knowledge.
LifterLMS does this extremely well, and with good support, it means anyone has access to the tools they need to create a stand-out course (the rest is up to their creativity!).
Affiliate Marketing and Online Learning
Affiliate marketing can be applied to virtually anything. Whatever action you want people to take, you can incentivize it through affiliate marketing.
This brings affiliate marketers a wide range of opportunities. They can sell physical products (think Amazon Associates), they can sell services (financial services are one of the most popular affiliate products), they can sell leads (find out how to do this through WPForms), and they can sell digital products.
When you look at the growth in the online learning market, this signals a huge opportunity for affiliate marketers. New online courses are being created every day, and businesses are looking for new ways to reach their target audience.
The niche element of online courses makes affiliate marketing an excellent marketing strategy. It allows you to reach all those niche publishers, and turn them into your own personal marketing army.
The statistics behind affiliate marketing are telling:
80% of brands run affiliate programs
16% of all online orders are attributed to affiliate marketing
Affiliate marketing is the top customer acquisition channel for 40% of US merchants
Not every product is a perfect fit for affiliate marketing, but online courses most definitely are.
AffiliateWP: The Best Affiliate Plugin for LifterLMS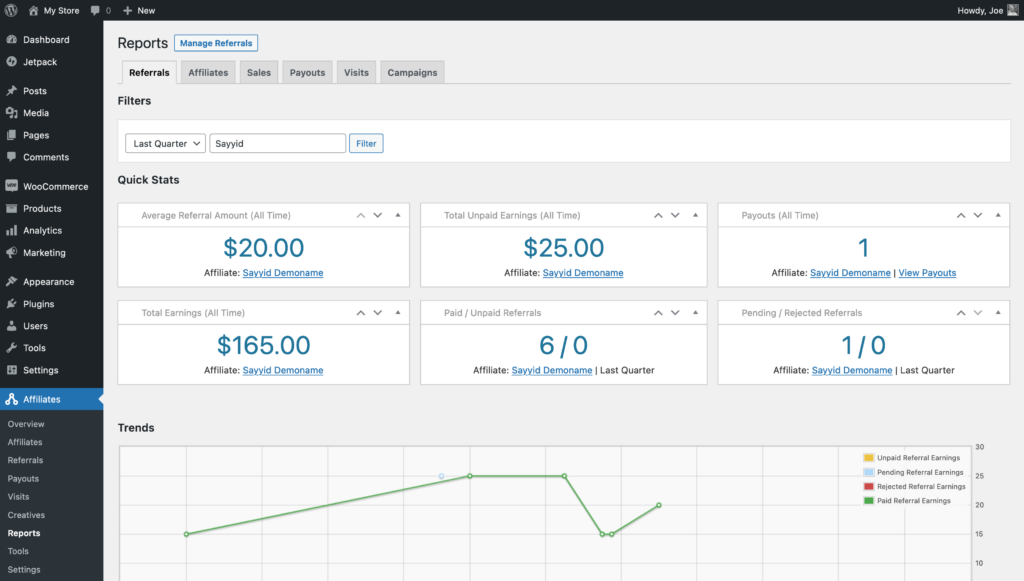 LifterLMS is built for WordPress, and one of the great things about that is it allows you to link some of the most powerful WordPress plugins. In the case of affiliate marketing, that means AffiliateWP.
Like LifterLMS, AffiliateWP has been built specifically for WordPress, making it exceptionally easy to integrate. In just a few minutes, you can connect your store to your own affiliate program, and benefit from innovative features.
Whether you use WooCommerce, LifterLMS, Easy Digital Downloads, or a host of other software to sell your products, you can effortlessly track referrals with AffiliateWP.
We're not talking about a bare-bones affiliate program where your affiliates get sent a coupon and are left to fend for themselves, we're talking about a fully-functional affiliate program that empowers your affiliates to get sales for you.
A wide range of built-in tools will help you create the perfect affiliate program for your LifterLMS courses.
Easy setup wizard
Accurate affiliate tracking
Real-time reporting
Unlimited creatives
Unlimited affiliates
Wide-range of WordPress integrations (Over 20 integrations + many more add-ons)
Affiliate dashboard
Adjustable referral rates and cookies
Integrated payout service
These are just some of the features that make AffiliateWP the best affiliate plugin for LifterLMS.
Pricing:
Personal: $149.50 for the first year, rising to $299/ year thereafter
Plus: $199.50 for the first year, rising to $399/ year thereafter
Professional: $299.50 for the first year, rising to $599/ year thereafter
Setting Up AffiliateWP for LifterLMS
Setting up an affiliate program for LifterLMS couldn't be easier with AffiliateWP.
Step 1: Choose the Right Plan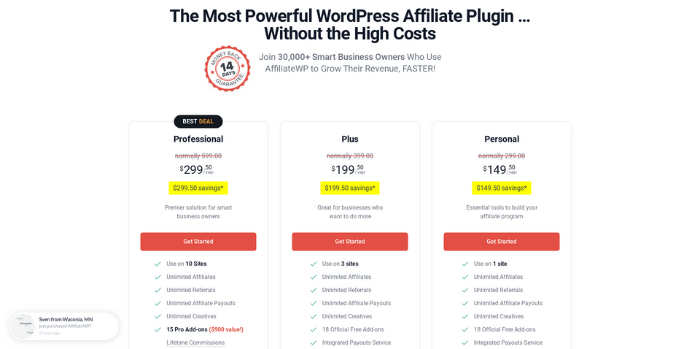 Head to the AffiliateWP pricing page and select the package that best fits your needs.
The personal plan is perfect for setting up an affiliate program on one website with no limits and lots of great tools.
The plus plan can be used on up to three sites and gives you extra features to grow your business to the next level.
The professional plan is a premier solution for large affiliate programs and can be used on up to ten websites.
Once you've chosen the right plan, click Get Started and complete the checkout process.
Step 2: Check Your Emails
Take a look in your inbox, and you should see a confirmation email from AffiliateWP.
This contains two vital pieces of information: a link to download the AffiliateWP plugin, and your license keys.
Step 3: Download and Install the AffiliateWP Plugin
Click the download link in your confirmation email to download the AffiliateWP.zip file.
Head over to your WordPress dashboard, and from the left-hand sidebar, hover offer Plugins before selecting Add New.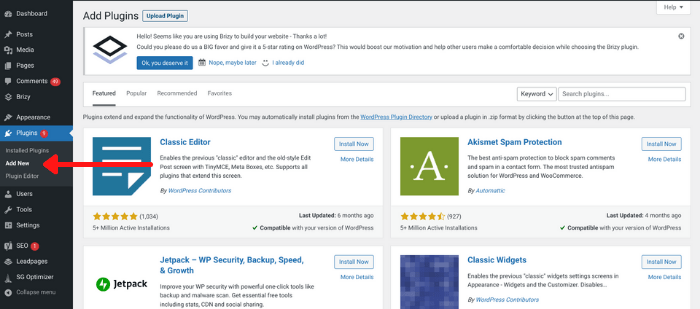 At the top of the page, you will see a tab titled Upload Plugin, click this, and then select Choose File to add the .zip file you just downloaded.
Once the download is finished, click Activate Plugin.
Step 4: Enter Your License Key
In the left-hand sidebar of your WordPress dashboard, hover over Affiliates, and select Settings.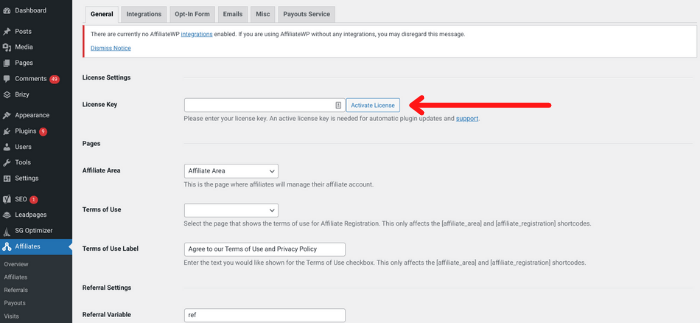 In the first box, you will find a space to enter your license key, copy and paste this from your confirmation email, and select Activate License.
Step 5: Choose Your Commission Structure
In your AffiliateWP settings, on the general tab, scroll down until you see Referral Rate Type. This option will allow you to choose your commission structure, and as you scroll down, you will see other elements you can adjust.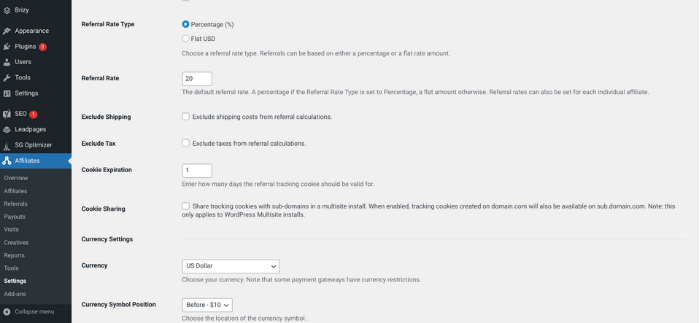 Take this opportunity to explore other settings and decide on the details of your program.
Step 6: Connect LifterLMS
Head to the Integrations tab in your AffiliateWP settings.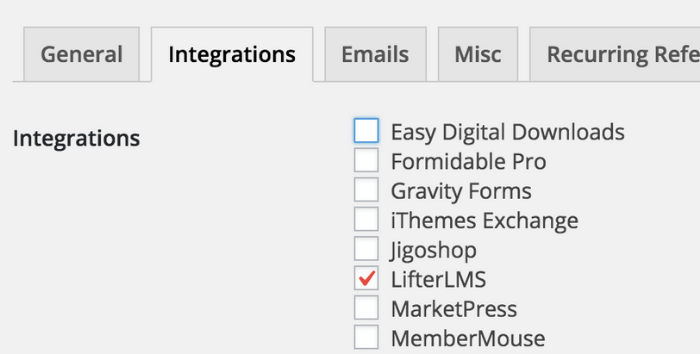 Mark the check box next to LifterLMS and click Save Changes.
Step 7: Enable Tracking for Courses
AffiliateWP will automatically track all referrals occurring in LifterLMS, but to change the settings for individual courses, go to Courses in your LifterLMS dashboard, and then select a course.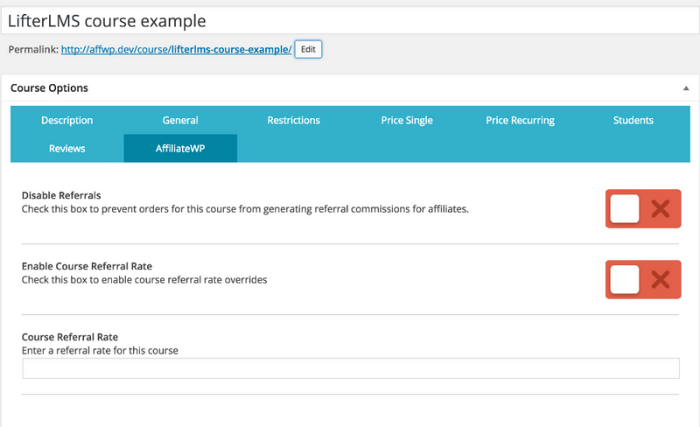 In the tabs at the top you will now see AffiliateWP, click this tab. In these settings, you will be able to disable and enable referrals for individual courses, as well as set course-specific referral rates.
You can also perform the same actions for memberships in your Membership Settings, and for coupons in Coupon Tracking.
Sell More LifterLMS Courses
LifterLMS is an ideal way to create high-converting, valuable learning courses. It's one thing to make a great cause, but it's a very different thing to sell it though.
While LifterLMS gives you some great tools to market yourself, sometimes you need a little more. Enlisting the help of hundreds of experienced marketers who already reach your target audience is the perfect way to do this.
You've built amazing courses, now it's time to build the perfect affiliate marketing program with AffiliateWP, the best affiliate plugin for LifterLMS.
We'll give you everything you need to attract eager, innovative affiliates to market your courses, helping you to build a sustainable business through LifterLMS.