How to Set Up Affiliate Marketing for LifterLMS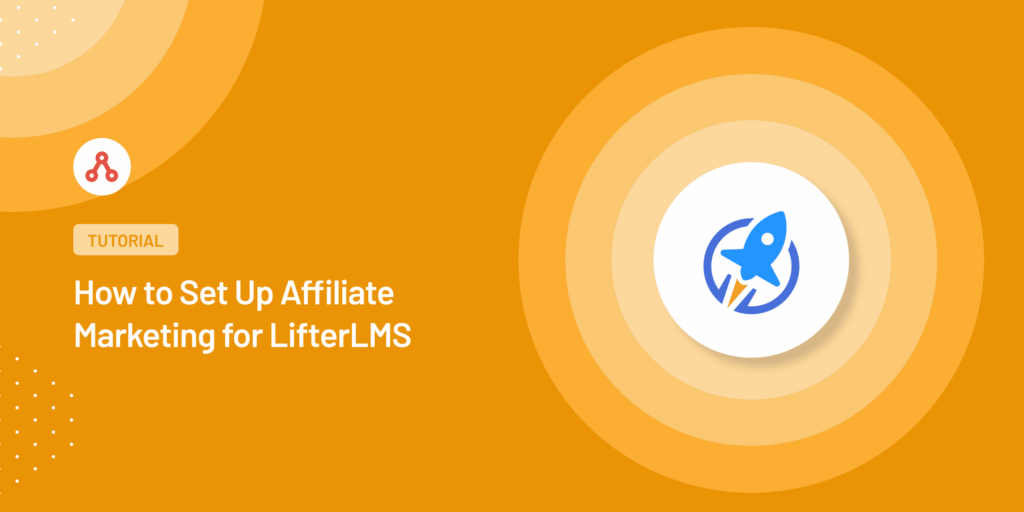 Want to set up affiliate marketing for LifterLMS?
It's a great idea and it's also a lot easier than you might think!
Here's what we're going to talk about in this expert guide to setting up affiliate marketing for LifterLMS.
Let's get started!
Why Does Your LifterLMS Site Need Affiliate Marketing?
You don't need an affiliate marketing program!
But, it can make a huge difference to your course and membership sales.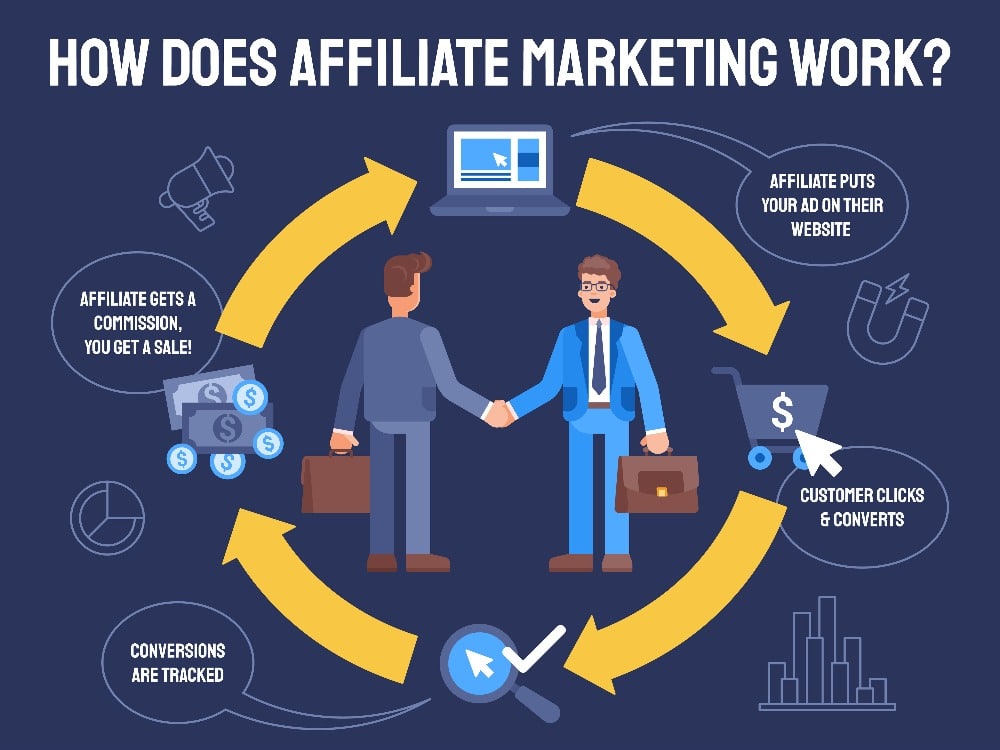 Affiliates love promoting course and membership products, and they can get your brand in front of large, highly-targeted audiences. This is the equivalent of recruiting an army of salespeople without having to pay them upfront.
You only pay affiliates when they make a sale, which makes affiliate marketing very low risk. The one thing that tends to stop people is a belief that:
Affiliate networks are going to take a huge chunk of your revenue (which they are)
Or, creating your own affiliate program is challenging and technical (which it's not)
We're here to show you that there's nothing to lose and everything to gain by setting up a LifterLMS affiliate program because it's low-cost, and it's incredibly easy to set up.
Throw in the fact that it can supercharge your LifterLMS sales and you've got some pretty good reasons to start your affiliate program.
How to Start an Affiliate Program for LiferLMS
Let's get one thing out of the way first – you won't need to know any code, and you don't need any specialist technical knowledge.
In fact, once you've got everything set up, you'll laugh at how easy it was.
So, let's jump into it and find out how to start an affiliate program for LifterLMS.
You'll notice we've got 10 steps here, but really, only the first few are to do with setup and the rest are extra tips you can use to make sure your program runs seamlessly.
Step 1: Install AffiliateWP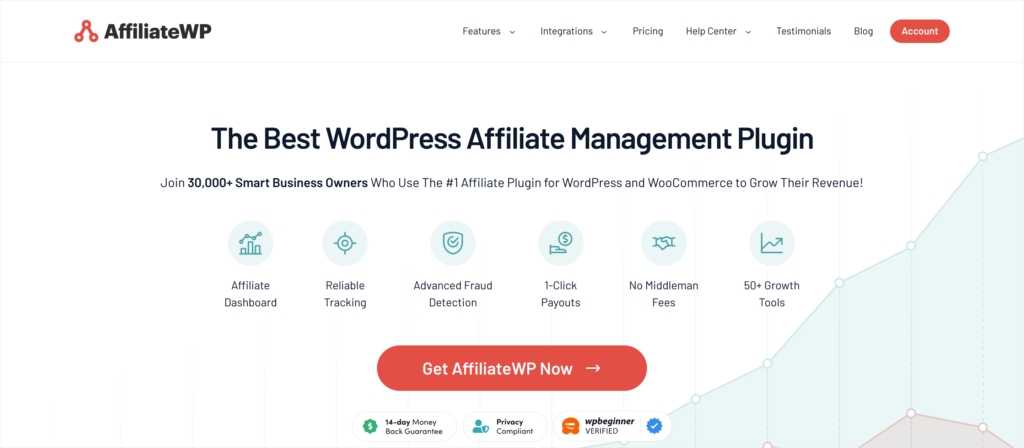 LifterLMS doesn't have built-in link-tracking capabilities, so you'll need to install a plugin to help you with this.
AffiliateWP is the best affiliate management plugin for WordPress and it's got a seamless 1-click integration with LifterLMS. The easy setup wizard will walk you through every step, and you'll be able to get your program running in under 10 minutes.
In those 10 minutes AffiliateWP will automatically create:
Affiliate signup and login page
Affiliate dashboard with URL generator, statistics, and more
Management system for you to approve, reject, and manage affiliates
Automated email communication
Affiliate analytics
Payouts service within your WordPress admin
All of the features will allow you to start signing-up high-quality affiliates from day one.
Those are just the basics though! You'll also have access to innovative growth tools that are specifically designed to boost membership and course sales, as well as a long list of affiliate management features.
To get started, just choose the pricing plan that best fits your needs (there's also a 14-day money-back guarantee), and then install the plugin following this simple guide.
Before you know it, you'll be ready to set up your LifterLMS affiliate program.
Step 2: Complete the Setup Wizard
To get everything started, go to your AffiliateWP Settings and click the Launch Setup Wizard button at the bottom of the page.
The first page will ask you to enter your license key which can be found in your AffiliateWP account. Copy and paste the key into the box and click Continue.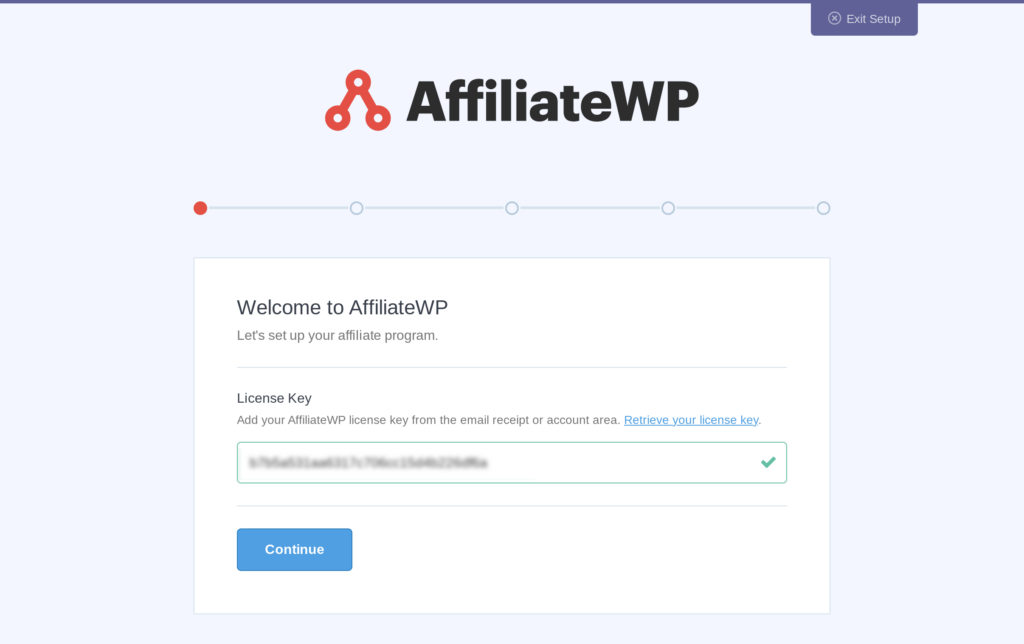 You'll now be brought to the integrations page where you can connect LifterLMS with AffiliateWP. Just click on the Course Integrations dropdown and check the box next to LifterLMS before clicking Continue.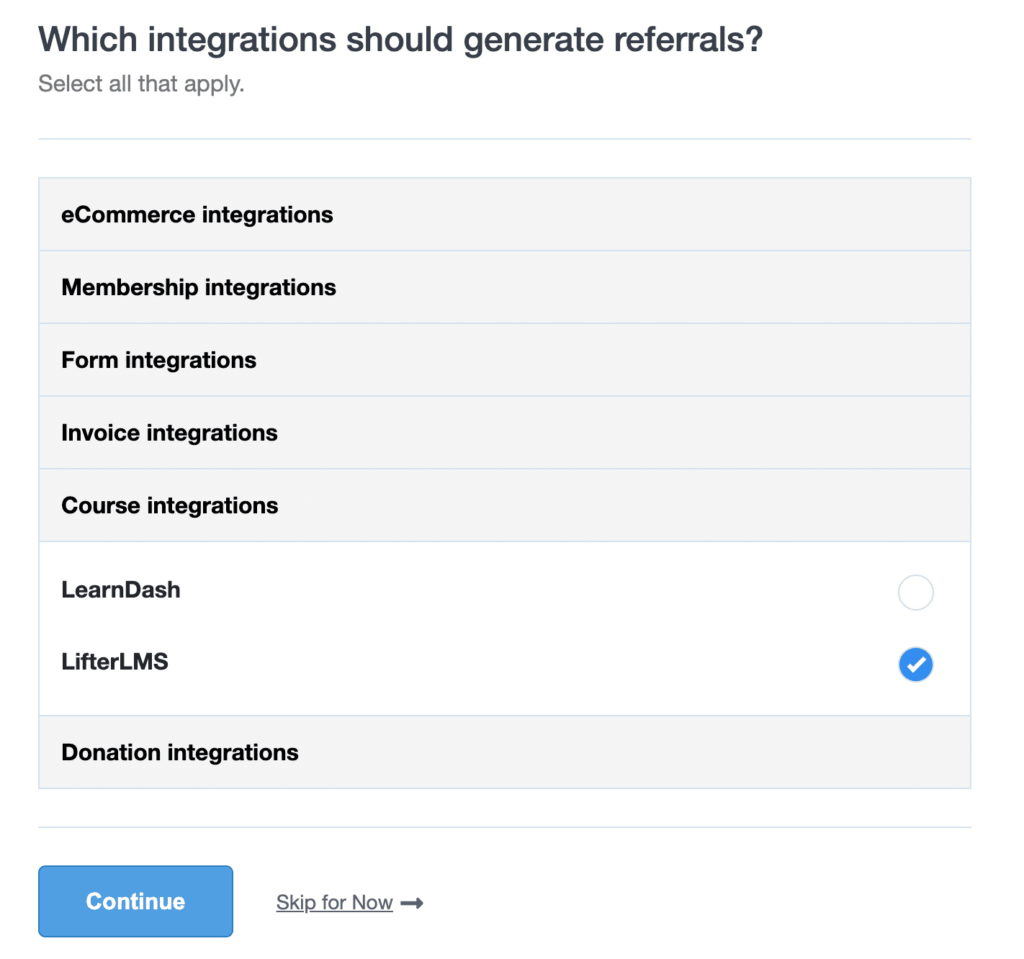 Now it's time to choose your commission structure (don't worry if you're not sure about this, as you can always edit it in Settings at a later date)!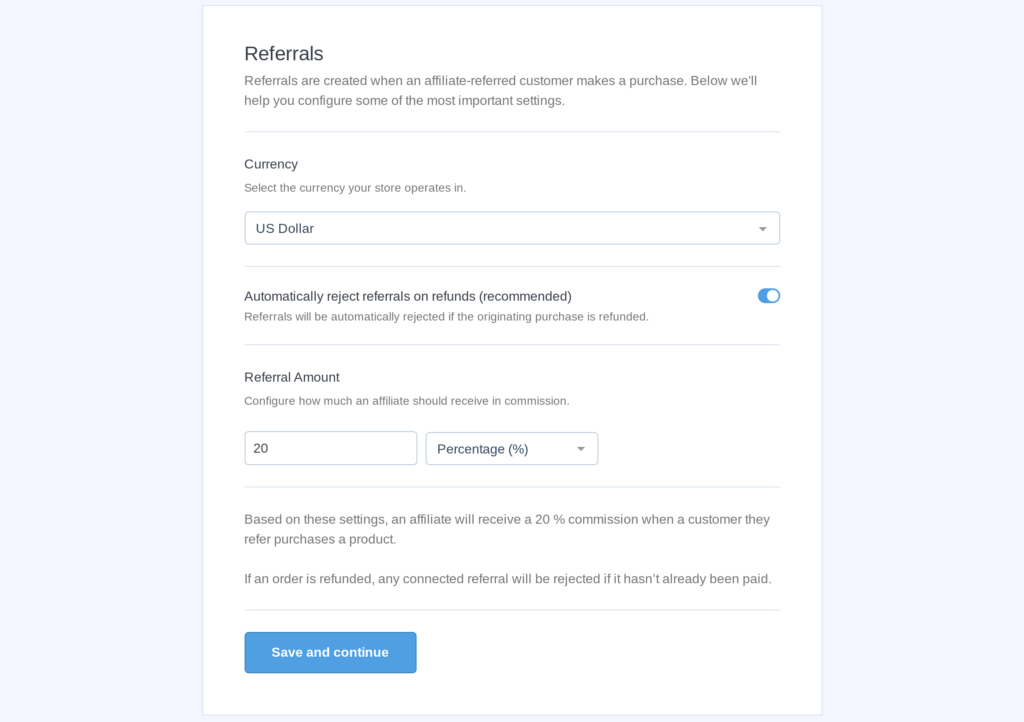 Choose your currency from the dropdown menu and then decide if you want to pay a flat free or percentage commission. The last step is to set your referral rate – if you need some help, then check out this guide to affiliate commissions.
Once you're happy with everything, click Save and Continue to move on to the last part of the setup wizard.
One last decision you'll be asked to make (although you can edit it later) is your cookie duration. This is the amount of time affiliate cookies last in a user's browser (here's more info on affiliate cookies), and it's an important detail for affiliates. If you're not certain, choose a standard duration like 30 days, and then click Save and Continue.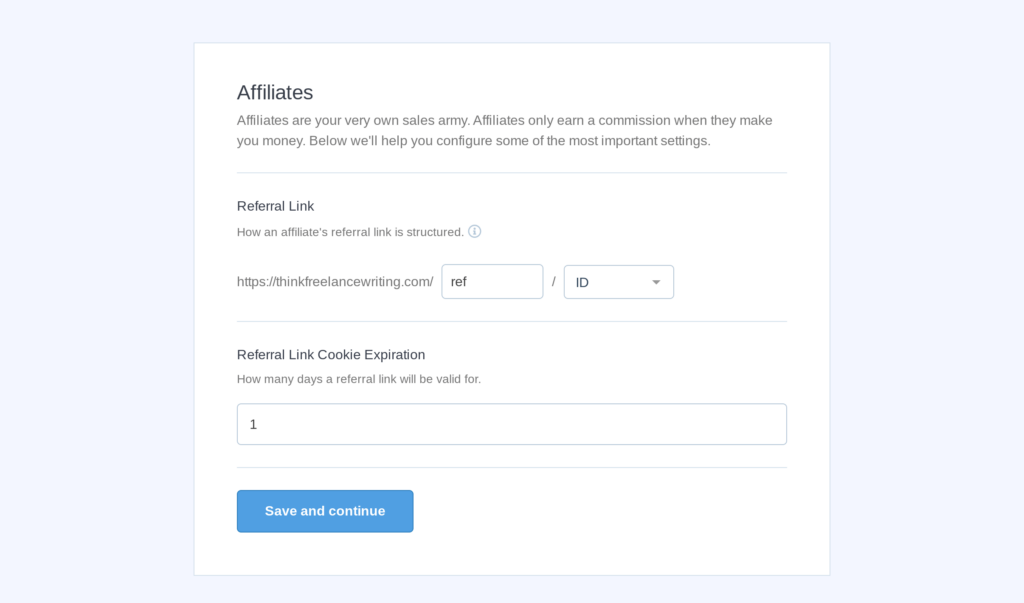 You'll be brought to a final confirmation page where you can click Finish the Setup and Exit the Wizard.
That's it, pretty painless, and absolutely no coding needed!
Step 3: Enable Referral Tracking on Courses, Memberships, and Coupons
Now that you've integrated AffiliateWP with LifterLMS you'll notice some changes in your LifterLMS admin.
On your course, membership, and coupon pages you'll now see an AffiliateWP tab where you can control all your referral tracking. This will allow you to add referral tracking to individual courses and memberships as well as assign coupons to your affiliates.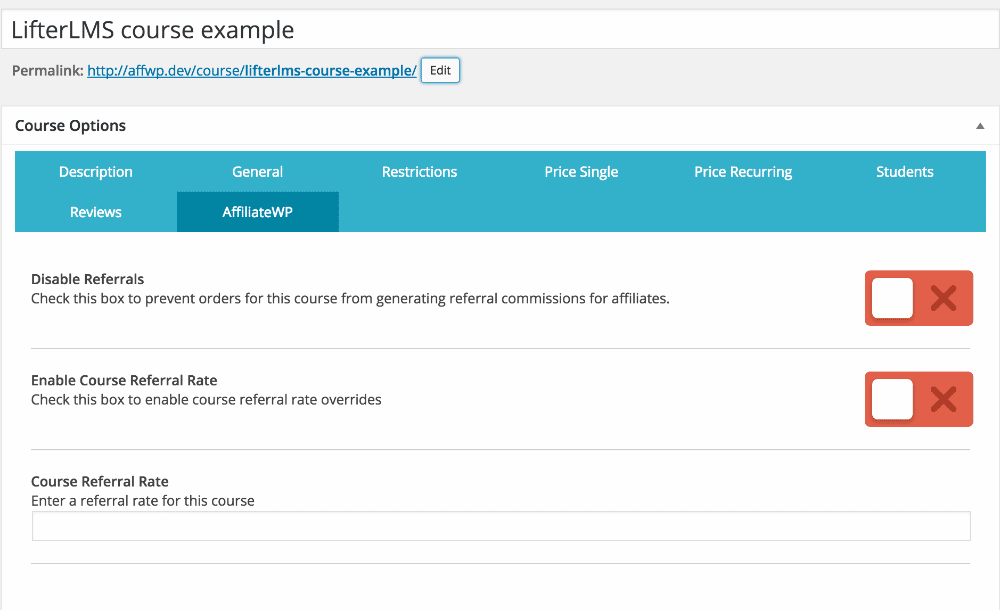 Another great feature with AffiliateWP's LifterLMS integration is that you can set specific commission rates for different courses and memberships. For example, you might want to offer a bigger commission on your top-tier membership, and with AffiliateWP, this is incredibly easy to do.
Just open your course or membership settings as you normally would in LifterLMS and click the AffiliateWP tab. You'll be able to enable/disable referrals, override your global commission rate, and set your course-specific rate.

It's a very similar process when assigning affiliate coupons.
Open your LifterLMS coupon and click on the AffiliateWP tab. Start typing your affiliate's user name and then select them from the list. Now, when the coupon is used by a customer, the referral will be attributed to the correct affiliate.
Step 4: Customize Your Affiliate Area
When you install AffiliateWP it will automatically create an Affiliate Area page where affiliates can sign up for your program.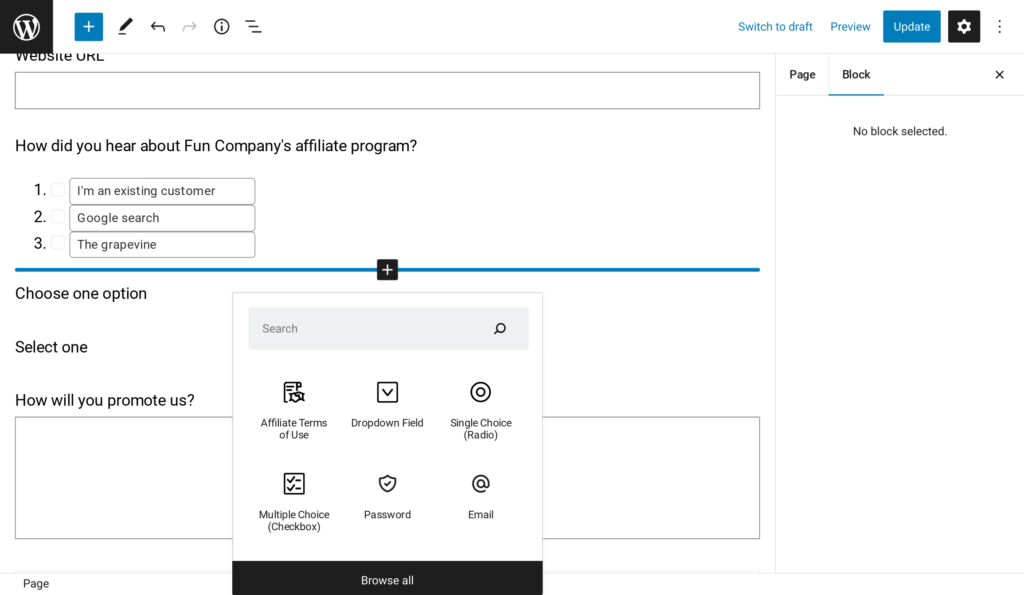 The auto-generated page will be able to accept affiliate registrations and collect data, but it's always a good idea to customize it to make sure you're maximizing signups. The most important part of this is the affiliate registration form, which is why AffiliateWP offers multiple customization options:
WordPress Blocks
WPForms Integration
Gravity Forms Integration (Plus and Pro Licenses)
Ninja Forms Integration (Plus and Pro Licenses)
To start editing your Affiliate Area, just go to Pages and search for "Affiliate Area." You can edit the page just like any other WordPress page and make sure it reflects your brand.
Step 5: Accept and Reject Affiliate Applications
When affiliates sign up for your affiliate program you will automatically receive an email notification. You can then view the application on the Affiliates page and use the buttons to accept or reject the application.
Just navigate to the Affiliates page and then click on the affiliate's name to learn more about their application. Return to the Affiliates screen and then use the accept or reject buttons to make your decision.
Affiliates will receive an email notification detailing your decision (you can edit this in the Emails tab in your AffiliateWP settings), and approved affiliates will be able to log in to their dashboard from the same page they signed up on.
Step 6: Affiliates Create Affiliate Links in their Dashboard
Once approved, affiliates will be able to access their affiliate dashboard. This is their central hub where they can create links, see statistics, view their affiliate coupon codes, and much more.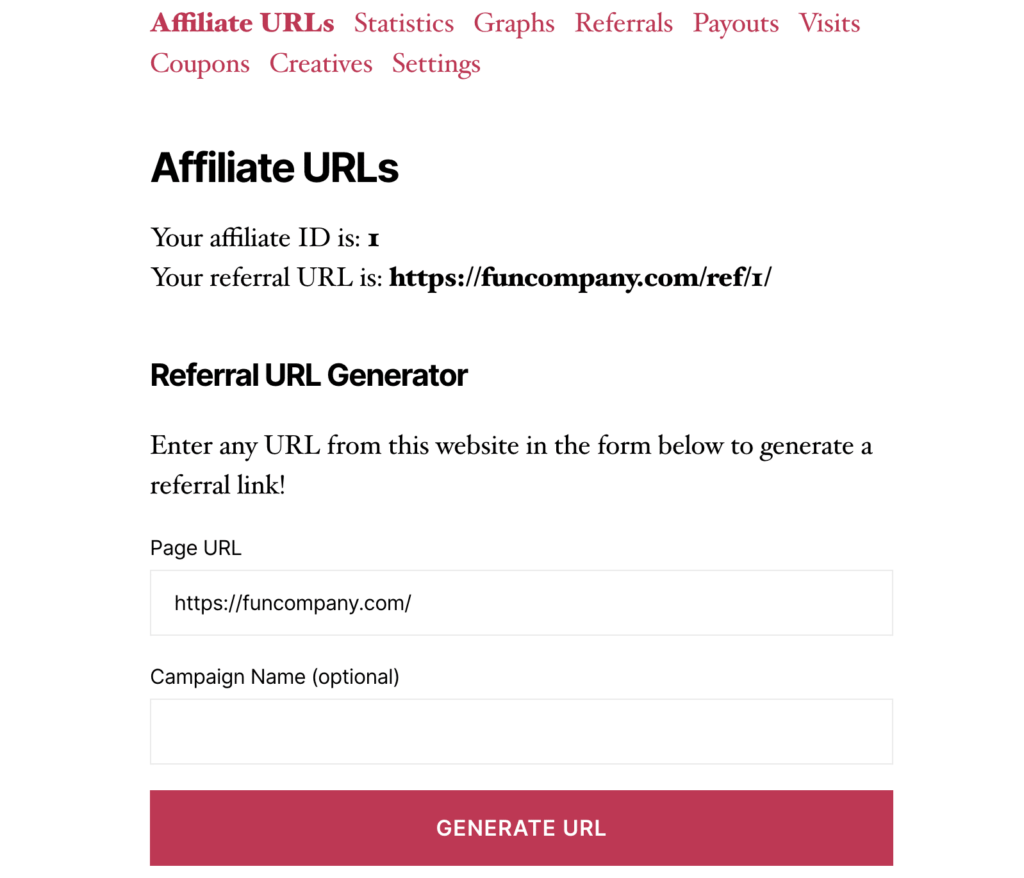 You can also add any extra information you want to the affiliate dashboard using Affiliate Area Tabs. This will help you ensure your affiliate has access to everything they need to grow affiliate sales.
Then, affiliates simply place affiliate links or coupon codes in their blog, social media, and email content, and receive a commission when they result in a sale.
Step 7: Track Results and Make Affiliate Payouts
AffiliateWP gives you powerful affiliate analytics directly in your WordPress admin.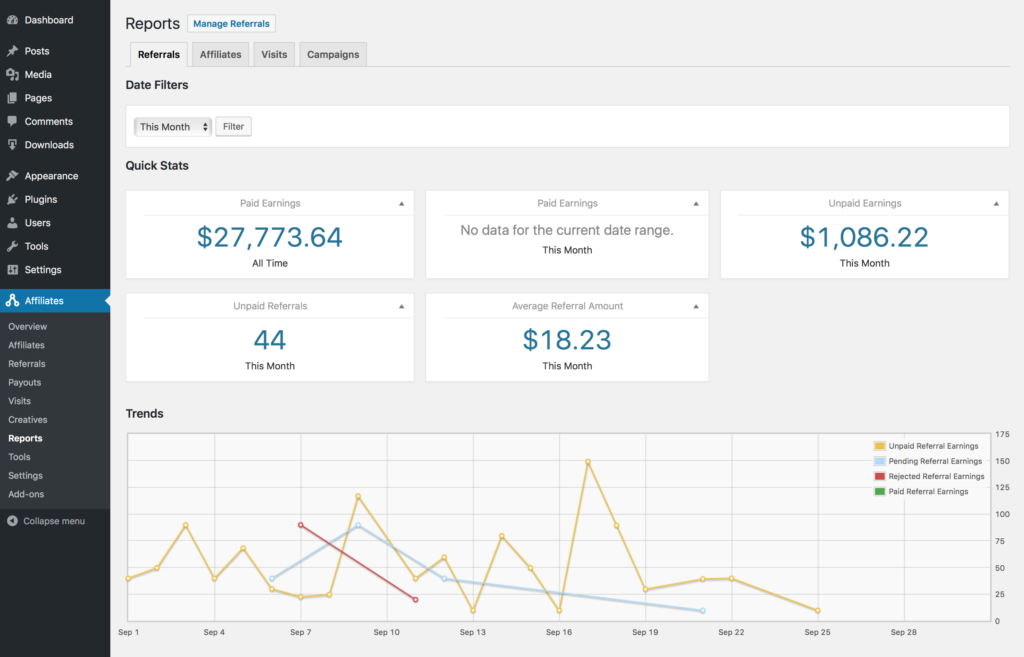 You'll be able to see reports on affiliates, visits, referrals, campaigns, and payouts, helping you to see exactly how your affiliate program is performing. Click on Reports and this will bring up a whole host of useful stats and graphs you can use to maximize sales.
With automated performance summaries, you'll also get regular updates on how your top affiliates are performing, and we've made it unbelievably easy to ensure everyone gets paid.
Click on Payouts and you can quickly take care of all commission payouts in just a few clicks!
Now Start Signing Up High-Quality Affiliates
Now you've set up your affiliate program for LifterLMS, it's time to start signing up top affiliates.
No matter what industry/niche you're in, there are awesome affiliates out there, and it pays to take a little extra time to find them. Affiliates are the lifeblood of your program, so we've put a handy guide together to help make sure you're getting the very best ones.
Here's a summary of some of the key strategies:
Customize your affiliate signup page
Optimize your affiliate signup form
Offer creative affiliate commissions
Showcase affiliate success stories
Go the extra mile with manual outreach
Convert customers into affiliates
Leverage email marketing
80% of your revenue will likely come from 20% of your affiliates, so it's well worth investing time in this step!
You're Ready to Set Up Affiliate Marketing for LifterLMS
We've shown you all the steps you need to take to set up affiliate marketing for LifterLMS, so is there anything else you need to know?
Well, we've got some handy resources for you:
Now there's only one thing left to do.
Get AffiliateWP and set up affiliate marketing for LifterLMS!