How to Grow Your Affiliate Marketing Email List (in 2023)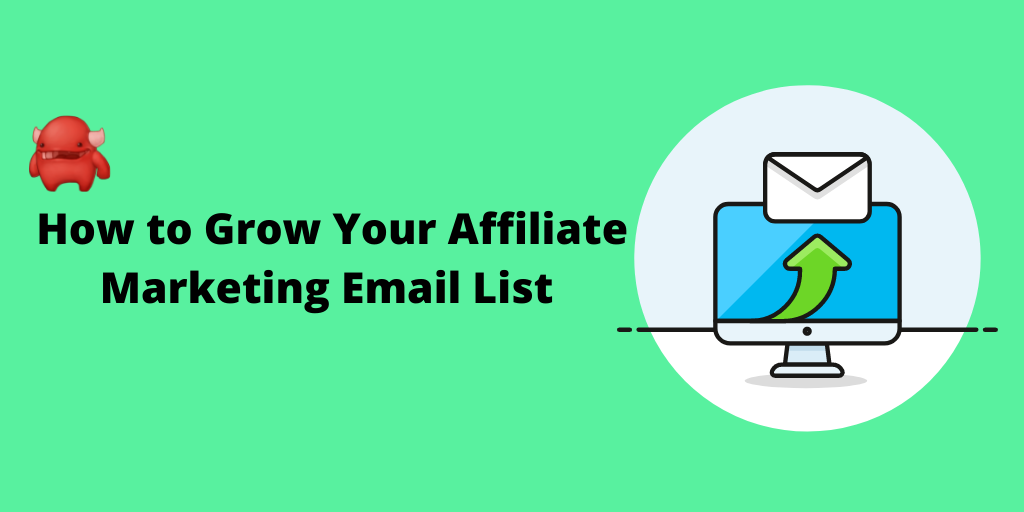 Could an affiliate marketing email list take your business to the next level?
It certainly has the potential to, but first, you've got to know how to grow your list, and then be able to take advantage of it.
We're going to show you exactly how you can do just this!
Why Is an Affiliate Marketing Email List Important?
An affiliate marketing email list is important because it's a point of contact with your target audience.

When someone leaves your website, there's no guarantee you'll ever see them again. A good returning visitor rate is thought to be around 30%, so most people will never come back once they've clicked away from your site.
You've got no way of reaching these people unless you've got their contact details.
An affiliate marketing email list is incredibly important because it allows you to create more touchpoints. It's an opportunity to build the relationship and create the trust that's so important in affiliate sales.
With the right list-building strategies, your email list can grow to include tens of thousands of subscribers to market your affiliate offers to.
Affiliate Marketing Email Lists Work for Program Managers Too
It's not just affiliate marketers who benefit from email lists; affiliate program managers can too.
Signing up an affiliate is like making a sale. You've got to convince affiliates of the benefits of your program and get them to take action. It's not easy, and it often takes multiple touch points to achieve.
One of the best ways to create these touch points is through email marketing, and all the tips in this list apply to program managers as much as affiliates themselves.
Luckily, AffiliateWP's affiliate software connects seamlessly with all the plugins mentioned, so it's the perfect way to grow your affiliate program.
9 Strategies to Grow Your Email Marketing Campaigns
If you just put a little box in the corner of one of your landing pages and hope people sign up for your email list, then you're going to be disappointed. As with any marketing strategy, you've got to be active, and guide people into taking the action you want them to take.
There's always room for optimization with email marketing, but these 9 strategies are a great place to start.
1. Choose the Right Email Provider
The first thing you will need to do is find the right email provider.
A good email provider is going to offer some key ingredients for your affiliate email marketing success:
Superior deliverability
Automation tools
Personalization tools
With affiliate marketing, you've also got to do a little extra research. Not all email marketing services allow affiliate links in their emails, so it's something you'll want to double check.
Here are some providers that generally allow affiliate marketing links:
These email marketing software tend to offer good support, so make sure to ask any questions you might have before committing.
2. Use a Conversion Optimization Toolkit
Whenever you want people to take any action on your website, you've got to make it obvious.
People don't come to your site with the intention of signing up for your email newsletter. They're there for another reason, so you've got to be able to draw attention to the alternative action you want them to take.
Luckily, OptinMonster offers a powerful array of pop-ups and other features to help you achieve this!
By creating professional-looking, high-converting lead capture forms, you ensure more people are aware of your email content. You'll get many more signups just by getting your message in front of more people, but OptinMonster goes a step further.
With easy-to-use a/b testing capabilities, you can continue to boost your conversion rate and grow your affiliate marketing email list.
3. Optimize Your Signup Forms
People take action when you make it easy for them to do so.
This means your signup forms are incredibly important.
If your forms don't stand out, or they ask the user to complete too many steps, then it's going to impact your conversion rate.
You want to make it as easy as possible for people to opt in. The difficulty is you also want to collect some essential information so you can properly segment your audience.
To do this, you need a great form builder, and we always recommend WPForms.
It makes it incredibly easy to create optimized signup forms. With built-in templates and an easy-to-use drag and drop builder, you can bring your forms to life.
4. Create an Appealing Lead Magnet
Why should people give you their contact details?
It's clear what the value of this transaction is for you, but what do your email subscribers get in return?
This is where your lead magnet comes in. It's something that sweetens the deal by immediately offering value to the user.
For instance, you might offer:
Free guides
Content roundups
Free consultations
Quizzes
Free templates
Product samples
Training videos
eBooks
Giveaways
There's no limit here, it's simply a question of asking how you can offer value.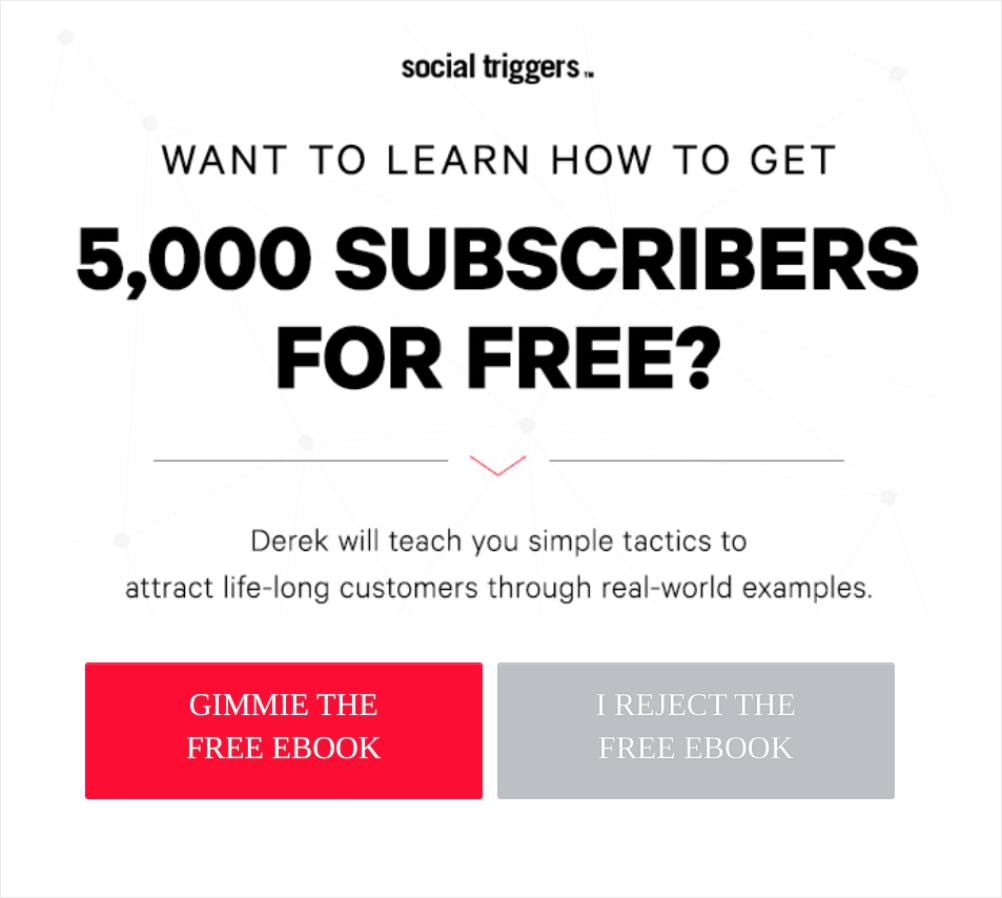 The important thing to remember is it's bigger than just getting contact details. If you promise a great lead magnet, then you've got to follow through, because otherwise, people are going to hit the unsubscribe button very quickly.
The right magnet can make a huge difference to your lead generation and consequently, your affiliate income.
Bonus Tip: RafflePress is an amazing WordPress giveaway plugin to grow your affiliate marketing email list. It makes it unbelievably easy to create viral giveaways and collect emails.
5. Invest in Your Content
People are very protective of their email inboxes. They're so used to spammy emails with subject lines that are trying to bait them into a click.
It's endlessly frustrating!
So, people don't hand out their email addresses to just anybody.
You've got to demonstrate that you're trustworthy and offer value, and the first place to do this is in your website content. This is where you start to build trust.
If you're regularly creating amazing content and using good calls to action (CTAs), then people are going to think "wow, this is great, I've got to sign up." Content is one of your most powerful marketing tools, and it's going to play a key role in growing your affiliate marketing email list.
6. Segment Your Affiliate Marketing Email List
No two people are the same.
Of course, it's not possible to write individual emails for each person on your email list, but you can make sure you're offering a high level of personalization. The way to do this is through segmentation.
With lead capture software like OptinMonster, you know what page your subscriber has signed up from. This is useful to know because it says a lot about what email content they might be interested in.
For example, if someone signed up for emails on a page you have about SEO, then you might put them into an email automation with SEO tips. On the other hand, if someone signed up from a page about PPC advertising, then they'd go into a different segment.
Emails are only useful to people if they talk about the things they're interested in. Without segmentation, you can't ensure that's what you offer.
When your emails are targeted, they're going to result in a lot more click-throughs, and enable you to promote the right affiliate products.
7. Automate Your Email Marketing Campaigns
You can't run an affiliate marketing email list of thousands of subscribers without some automation.
Part of why your segmentation is so important is because it allows you to leverage email sequences. These are pre-written emails that send to your subscribers at pre-set intervals.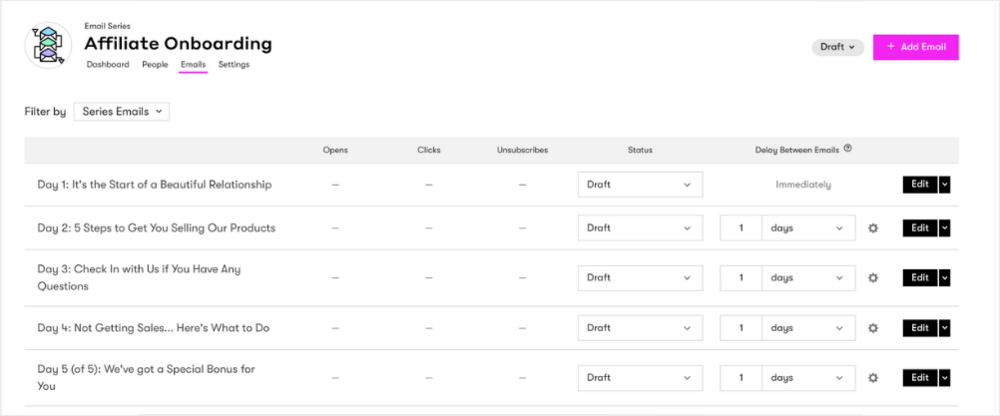 It's very difficult to create a single email automation that's a fit for your entire audience. Without personalization, it's going to bring down your open rates and have a big impact on your conversions. However, with good segmentation, you can ensure your subscribers are always getting relevant content.
These email sequences are a staple of digital marketing and e-commerce, and they're going to save you a ton of time.
8. Ask What Value Your Emails Offer
A lot of people get caught up in the value their affiliate marketing email list offers to them. Sure, it's a great way to reach a targeted audience with your affiliate offers and coupons, but it won't work unless you return the value to the subscriber.
Your email marketing efforts need to be balanced.
You shouldn't be looking to push your affiliate links on subscribers at every opportunity, but simply offer useful information.
If you can look at each email you send and honestly say that it offers the reader legitimate value, then you're on the right track. You can then start to tie your affiliate offers into the emails in an organic way and grow a relationship built on trust.
9. Write Great Emails
Email marketing isn't some magical art that brings in conversions regardless. You've got to work on it and you've got to write great emails.
This might be daunting for beginners, but it's not that different from what you do in the rest of your affiliate marketing. Whether you're a blogger, write social media posts or product reviews, it's all perfect practice for writing great emails.
Check out our guide on writing email newsletters, and follow these simple tips:
Value the reader's time: Keep it simple and to the point.
Use strong calls to action: Highlight what you want people to do next.
Include social proof: People are influenced by the actions and opinions of others.
Follow-up: Follow-ups show that you value the subscriber and are there to help (don't just use an auto-responder).
Create email templates: Turn your best emails into templates you can use over and over.
Bonus Tip: Your welcome email is crucial. Make sure you're welcoming new subscribers and setting expectations. Tell them what you're going to offer and how frequently you'll be in contact.
Affiliate Marketing Email List FAQs
How do I get an email list for affiliate marketing: The best way to get an email list for affiliate marketing is by building it yourself. When you build your own email list, it's going to be perfectly targeted to the affiliate products you offer, resulting in higher open rates and conversion rates.
Do you need an email list for affiliate marketing: You don't need an email list for email marketing, but it's a very handy tool to have. Email marketing is a great compliment to your other marketing strategies and can significantly boost your affiliate income.
Can you put affiliate links in emails? This depends on your email service provider. Some providers allow affiliate links in emails and others don't. It's always best to check before you sign up for an email provider.
How many emails should I have on my email list for affiliate marketing? Any number of subscribers can be a benefit. The more subscribers you have, the more earning potential you have, but the best option is to grow your list organically rather than paying for subscribers.
Email Marketing Works for Affiliates and Affiliate Program Managers
Whichever side of affiliate marketing you're on, email marketing works.
It's the perfect way to create more touchpoints with your target audience, grow trust, and demonstrate your proposition value. When done well, it can significantly boost your conversion rate, and that's what everybody wants to achieve.
These tactics are going to help you do just that, so it's time to start implementing them.