Influencer Marketing vs Affiliate Marketing: Which is Better?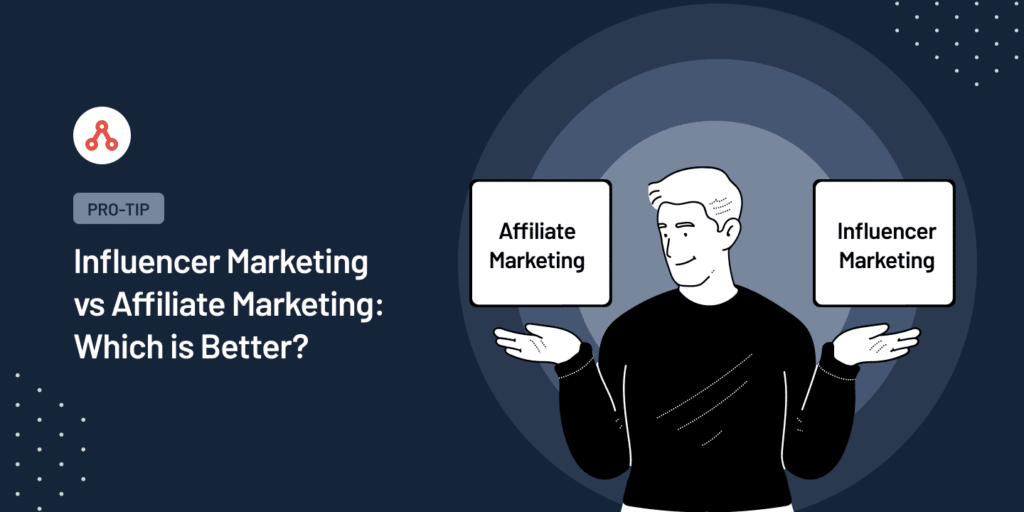 Ever wondered what the difference is between influencer marketing and affiliate marketing?
Not sure which one is the best choice for your business? Don't worry, we've got you covered!
In this guide, we'll explain what influencer and affiliate marketing are, how they're different, and help you determine which might be the best for your business.
Let's get started!
What is Influencer Marketing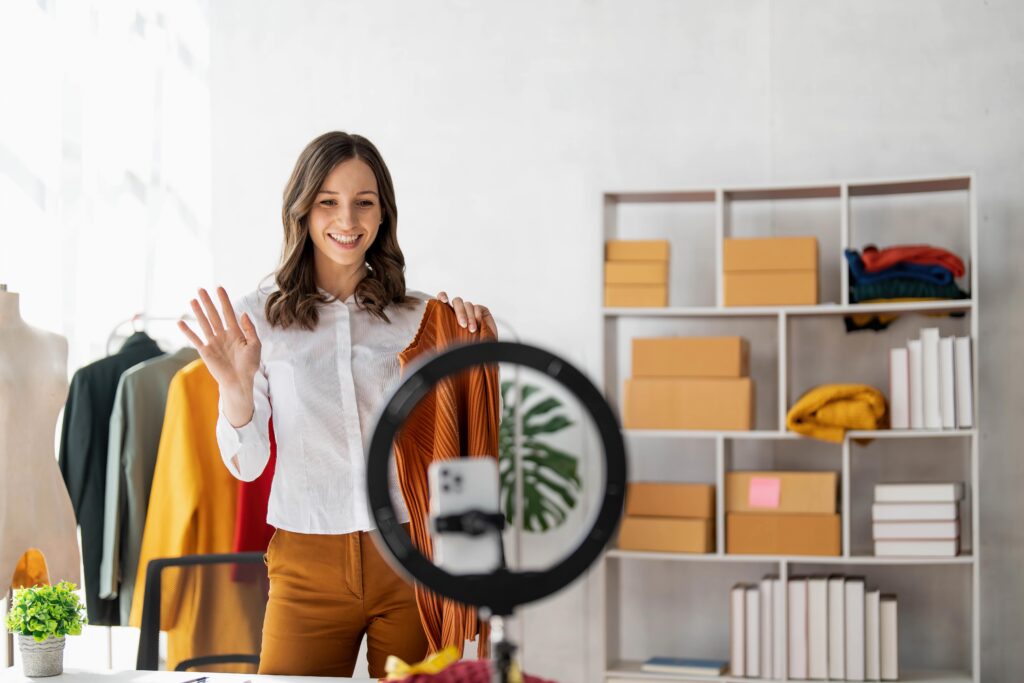 Influencer marketing is a type of marketing that focuses on using key leaders, or influencers, to drive your brand's message to the larger market.
Instead of marketing directly to a large group of consumers, you instead pay influencers to get out the word for you.
Social media influencers can be anyone from celebrities to popular online personalities.
These influencers have a large follower base, often in the thousands or even millions, and their followers value their opinions and recommendations.
When an influencer promotes a product, service, or brand, their followers will likely trust and act on that promotion, leading to increased brand awareness, customer engagement, and sales.
Different Types of Influencer Marketing
Influencer marketing comes in many shapes and sizes, and each type serves a unique purpose.
Here are some of the most common types:
Sponsored Content: This is perhaps the most common type of influencer marketing. Here, a brand pays an influencer to create content that promotes its product or service. The content could be a blog post, social media post, video, or any other format with which the influencer's audience engages.
Brand Ambassador Programs: In this type of influencer marketing, influencers are contracted to work with a brand for a longer term. They regularly create content that promotes the brand and its products. This could involve attending events as a brand representative, featuring products in social media posts, or making other promotional content.
Product Reviews: Brands often send influencers free products in exchange for a review. The review can be positive or negative – the key is that the influencer gives their honest opinion about the product.
Giveaways and Competitions: Brands often partner with influencers to host giveaways or competitions on social media platforms. The brand provides the prize, and the influencer hosts the giveaway or competition, usually requiring their followers to engage with the brand in some way to enter.
Pros and Cons of Influencer Marketing
Influencer marketing, like any other business strategy, has advantages and disadvantages.
It is a dynamic tool that can drastically improve a brand's visibility and reputation and carries potential challenges and risks.
Let's delve deeper into the pros and cons of influencer marketing:
Pros of Influencer Marketing
Increased Reach and Exposure: When you collaborate with influencers, you tap into their follower base, often in the thousands or even millions. This significantly boosts your brand's visibility and allows you to reach audiences you might not have access to otherwise.
Boosted Credibility and Trust: Consumers trust recommendations from individuals they respect or admire over faceless advertisements. When an influencer whom consumers admire endorses your product or service, it enhances your brand's credibility and boosts trust. This increased trust can significantly influence purchasing decisions.
Targeted Audience Engagement: Influencers typically have a specific audience demographic that follows them. Your marketing efforts become highly targeted if this demographic aligns with your target market.
SEO Benefits: When an influencer mentions your brand or shares your content, it can lead to backlinks from their blogs or social media platforms. These backlinks can improve your SEO rankings, driving more organic traffic to your website over time.
Authentic Content Creation: Influencers are often creative individuals who produce engaging and authentic content. When they partner with your brand, they can create unique content around your products or services, adding a fresh perspective that resonates with their audience and yours.
Cons of Influencer Marketing
Potential High Costs: While micro-influencers can be relatively affordable, top-tier influencers often charge high collaboration fees. If not managed properly, these costs can add up and potentially strain your marketing budget.
Lack of Control: Once you entrust an influencer with your brand promotion, you relinquish a degree of control over how your product or service is represented. While most influencers strive to create content that aligns with a brand's ethos, occasional mismatches may not reflect positively on your brand.
Risk of Inauthentic Promotion: If influencers promote too many products or partnerships, their followers may question their endorsements' authenticity. This skepticism can potentially dilute the effectiveness of your marketing campaign.
Possible Audience Mismatch: If there isn't a thorough vetting process, you might partner with influencers whose audience doesn't align with your target demographic. This mismatch can result in low engagement rates and minimal returns on your investment.
Uncertain ROI Measurement: Determining the exact return on investment from influencer marketing can be challenging. While metrics like impressions, likes, comments, and shares provide some insight, they may not always translate directly into sales.
What is Affiliate Marketing
Affiliate marketing, often misunderstood but highly valuable, is a marketing practice that has seen significant growth in the age of digital commerce.
This performance-based marketing model is an effective strategy for large and small businesses to increase their brand visibility and scale their operations.
However, to fully grasp the concept, it is crucial to delve deeper into its intricate workings.
Affiliate marketing is a collaborative profit-sharing model between a business or merchant and an affiliate marketer.
This relationship is bound by a mutual agreement where the affiliate promotes the merchant's products or services.
In return, the merchant rewards the affiliate with a commission for every customer brought in through the affiliate's unique referral link.
Affiliate marketing has a significant advantage: businesses can use their affiliates' audiences and networks to reach more potential customers and boost sales.
By teaming up with publishers with a large and engaged audience, businesses can expand their reach and increase their chances of making sales.
But remember, managing affiliate marketing requires careful monitoring. Businesses must ensure that affiliates promote products that align with the brand and follow the law.
That's where a reliable affiliate management tool like AffiliateWP comes in handy. It helps businesses keep track of their affiliates and ensures everything runs smoothly.
Pros and Cons of Affiliate Marketing
Like any business strategy, affiliate marketing comes with its own set of benefits and drawbacks.
Pros of Affiliate Marketing
Performance-Based Rewards: Since affiliates are rewarded based on their performance, they're incentivized to drive the conversion process. This ensures that your marketing efforts are fully aligned with sales generation.
Broader Market Reach: With affiliates already catering to diverse markets, you can leverage their influence and reach markets that may have been difficult to tap into.
Cost-Effectiveness: You only pay for the sales or leads generated, making it a cost-effective marketing strategy. This can help you achieve more efficient use of your marketing budget.
Increased SEO: Affiliates use SEO tactics to drive traffic to their sites and your product listings, which can boost your ranking in search engine results.
Scalability: As your number of affiliates grows, so does your potential for web traffic and sales, making affiliate marketing a scalable solution.
Cons of Affiliate Marketing
Brand Reputation Risks: You have limited control over how affiliates promote your product, which can sometimes lead to false advertising or damage your brand's reputation.
Dependency: Over-reliance on affiliate marketing can leave you vulnerable if your affiliates decide to cut ties or if changes in the marketplace affect their promotional efforts.
Fraudulent Activities: There is potential for fraud in affiliate marketing, such as false advertising, unauthorized advertising, trademark infringement, or fake click generation.
Competitive Market: As affiliate marketing becomes increasingly popular, the competition becomes stiffer. This can make it harder to stand out and attract high-performing affiliates.
Commission Costs: Depending on the commission structure and the price of your product, the cost of commissions could eat into your profit margins.
You might have understood what influencer and affiliate marketing are by now. However, the main question is still unanswered.
What's the difference between the two, and which one is better for your business?
Let's find out.
Difference Between Influencer Marketing And Affiliate Marketing
Although influencer and affiliate marketing may seem similar, and there can be overlap, each strategy has distinct characteristics.
The key differences lie in the marketing approach, the relationship with the audience, payment structures, and the overall objectives.
Influencer marketing is all about leveraging the influence of individuals with a substantial following and engagement on social media.
However, affiliate marketing involves affiliates (individuals or companies) promoting a brand's products or services and earning a commission for every sale they drive through their unique referral link.
Influencer marketing often relies on influencers' bonds and trust with their audience. Their followers value their opinions and recommendations.
But, affiliate marketers may not necessarily have the same level of personal connection with their audience. Their focus is often more on providing valuable content that drives conversions.
Payment in influencer marketing is typically upfront. Brands pay influencers for their promotional services, including posts, videos, stories, etc. The cost can vary depending on the influencer's reach, engagement rates, and other factors.
In contrast, affiliate marketing operates on a performance-based payment structure. Affiliates earn their income based on the number of sales or leads they generate for the brand. This is usually tracked through unique referral links or promo codes.
Influencer marketing primarily builds brand awareness, enhances brand image, and reaches a broader audience.
Affiliate marketing, however, is more conversion-focused. The objective is to drive sales and generate leads. This strategy is more about immediate results and revenue generation.
Check out this difference table to understand the distinction between influencer marketing and affiliate marketing in more simple words:
| Characteristic | Influencer Marketing | Affiliate Marketing |
| --- | --- | --- |
| Marketing Approach | Taps into the existing communities of influencers for promotional purposes. | Focuses on driving leads and conversions through unique referral links. |
| Relationship with Audience | Relies on the personal bond and trust between the influencer and the audience. | May not necessarily have a personal bond with the audience, focuses more on providing valuable content. |
| Payment Structure | Typically upfront payment based on the influencer's reach and engagement rates. | Performance-based payment; affiliates earn a commission for every sale or lead they generate. |
| Overall Objective | Brand awareness, enhancing brand image, reaching a broader audience. | Driving sales, generating leads, immediate results, and revenue generation. |
Which is Better Influencer Marketing or Affiliate Marketing
Choosing between influencer and affiliate marketing ultimately depends on your business's specific objectives, budget, and overall strategy.
In certain situations, one might be more beneficial than the other, and understanding your business's unique needs can help you make this decision.
Influencer marketing, focusing on leveraging the trust and credibility of influencers, can be a powerful tool for building brand awareness, reaching a broader audience, and enhancing your brand image.
It allows you to tap into an influencer's existing audience, making reaching potential customers interested in your products or services easier.
However, this strategy often requires a significant upfront investment, and the return on investment can be more difficult to quantify directly, as the benefits are usually long-term and indirect.
On the contrary, affiliate marketing is a performance-based strategy that focuses on driving sales and leads. It can provide a more direct return on investment as affiliates are only paid for the sales or leads they generate.
This approach can be a cost-effective way to drive conversions, as you only pay for results.
But, it requires careful management and monitoring to ensure the affiliates promote your brand effectively and ethically.
Even though these marketing strategies have distinct pros and cons, the good news is that with a tool like AffiliateWP, you can integrate both approaches effectively. AffiliateWP is a comprehensive affiliate marketing tool that can be a game-changer for your business.
Not only does it help you manage and track your affiliates and their performance and offers opportunities to collaborate with influencers who can act as affiliates.
AffiliateWP allows you to leverage the power of both influencer and affiliate marketing, getting the best of both worlds.
FAQ: Influencer Marketing vs Affiliate Marketing
What is the Main Difference Between Influencer Marketing and Affiliate Marketing?
The main difference lies in the objective and payout structure. Influencer marketing aims to leverage the trust and audience of an influencer to build brand awareness and reputation. In contrast, affiliate marketing is performance-based, focusing on driving direct sales or leads. Affiliates get paid for the results they generate (sales/leads), while influencers are often compensated upfront for their promotional efforts.
Can I Use Both Influencer Marketing and Affiliate Marketing in My Business?
Absolutely. Tools like AffiliateWP allow you to effectively combine and manage influencer and affiliate marketing strategies, leveraging both benefits to optimize your marketing efforts.
Is Influencer Marketing More Expensive than Affiliate Marketing?
Generally, influencer marketing can require a more significant upfront investment since influencers often charge fees for their services. Affiliate marketing, on the other hand, is typically performance-based, meaning you only pay for the results (sales or leads) affiliates generate.
Boost Your Business with the Power of Influencer and Affiliate Marketing
After understanding influencer marketing and affiliate marketing, it's clear that both strategies can significantly contribute to your business's growth.
You don't have to choose one over the other when you can blend them strategically.
You can use AffiliateWP, a powerful tool for managing affiliates, which serves as a perfect bridge between these two marketing approaches. It enables you to run a strong affiliate program while utilizing the influence of influencers.
With AffiliateWP, you can track and manage your affiliates' performance and offer unique opportunities to influencers to become affiliates themselves.
Check out more helpful guides:
Are you ready to take your business to new heights?
Start your transformative journey with AffiliateWP today and harness the power of both approaches.