8 Best Affiliate Software for SaaS Products (2023)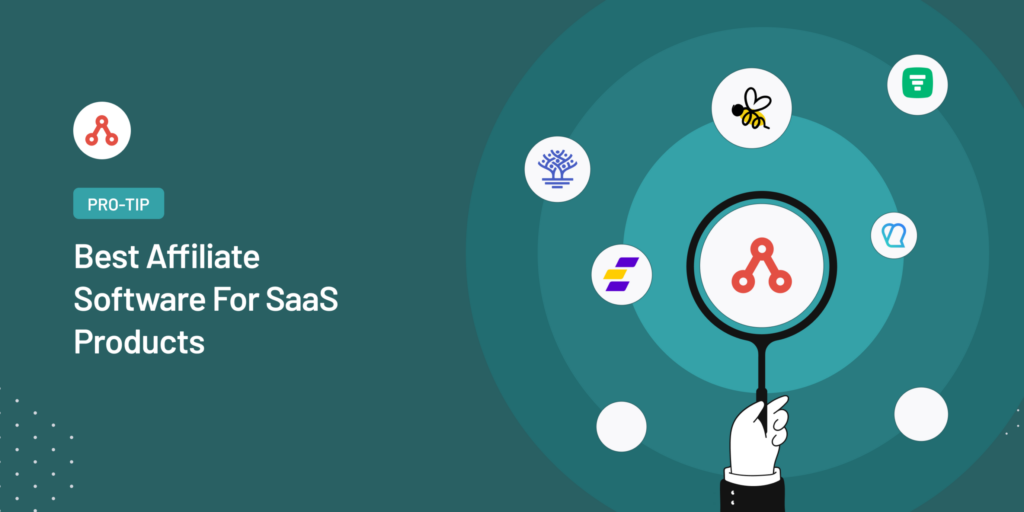 Looking for the best affiliate software for SaaS products?
Look no further as we've researched and analyzed the top affiliate marketing software options available for your business.
Find the right affiliate software for your SaaS products with this comprehensive guide.
What to Look for in the Best Affiliate Software for SaaS?
When it comes to selecting the best affiliate software for your SaaS business, there are several factors to consider.
Choosing the right software can make or break your success with affiliate marketing, so it's important to take the time to think carefully about your options.
Here are some important features to look for when choosing the best affiliate software for SaaS:
Easy Integration: The best affiliate software for SaaS should allow you to seamlessly integrate your affiliate program into your website, shopping cart, or payment gateway without any technical difficulties.
Advanced Tracking: Look for software that provides real-time tracking, reports, and analytics to help you monitor visits, campaigns, and referrals.
Multiple Commission Structures: The best affiliate software should allow you to create and manage multiple commission structures based on the affiliate's performance.
Customizable Affiliate Dashboard: It's crucial to choose software that offers a customizable affiliate dashboard to ensure it aligns with your brand's look and feel.
User-Friendly Interface: Look for software that is intuitive and user-friendly, with clear instructions and documentation to help you get started quickly.
Responsive Customer Support: Look for a provider that offers responsive customer support, with a range of support options such as email, phone, or live chat.
Keeping the above green flags in mind, here is a quick overview of the best affiliate software to promote SaaS products that you can choose from:
Let's compare each affiliate software for SaaS product's pricing and features to find the best one.
Best Affiliate Software for SaaS Products
These affiliate software will help you start a successful SaaS affiliate program and sell your SaaS products with ease.
But it depends on the affiliate software you choose, because the success of your Affiliate Program depends on the tools and software you use.
So choose the one that fits your needs and goals the best.
If you are looking for an affiliate software to manage your SaaS products, AffiliateWP is the perfect solution for you.
This software is a top WordPress affiliate plugin that allows SaaS companies to set up an affiliate marketing program on their WordPress website easily.
Integrating your WooCommerce store, PayPal, Stripe, WPForms and many more outstanding tools with Affiliate WP is a breeze, thanks to its easy setup wizard that guides you through every step of the process, enabling you to track referrals in just a few clicks.
AffiliateWP offers a range of features, including a Terms of Use Generator that takes the hassle out of creating your affiliate terms and conditions, making the set-up process even quicker while protecting your business.
The dashboard is highly customizable, allowing you to build a program that works for your business.
With no limits on the number of affiliates you can sign up, sales, or earnings, you can create a white-label affiliate dashboard that matches your brand.
One great advantage of AffiliateWP is that it provides affiliates with innovative marketing tools to help them make more affiliate sales and grow their earnings. These include:
Affiliate Portals
Personalized Affiliate Landing Pages
Vanity Affiliate Coupon Codes
Direct Link Tracking
Custom Affiliate Slugs
Real-time analytics
Referrals Programs
The user interface is straightforward, making it easy for you to manage your affiliate program, customize affiliate registration forms and other templates, approve or reject affiliates in a click, and pay affiliates directly to their bank accounts in a click.
Check Out AffiliateWP's Pricing!
EasyAffiliate is a tool designed to help SaaS businesses create and manage their affiliate program. With the Affiliate Dashboard, you can keep your affiliates informed about their metrics, creative assets, payments, and other account activities.
The tool offers real-time reports to help you stay on top of your business, and features fraud detection alerts to notify you of suspicious affiliate activities.
EasyAffiliate also seamlessly integrates with popular ecommerce platforms like MemberPress, WooCommerce, PayPal, and Easy Digital Downloads.
Additionally, it offers 1-Click Payouts, enabling you to pay your affiliates easily and quickly using PayPal. Also, its email marketing integrations with Mailchimp, ActiveCampaign, and ConvertKit help you keep your affiliates informed.
Key Features:
Personalized Affiliate Dashboard
Payment Integration
Affiliate Applications
Commission Tracking
Fraud Detection
Pricing:
Basic: From $199/ year
Plus: From $299/ year
Pro: From $399/ year
Trackdesk is a seamless affiliate marketing software for your SaaS products that offers easy integration, real-time reporting, and much more.
However, it does not seamlessly integrate with your favorite WordPress plugins like Easy Digital Downloads, WPForms and Gravity Forms and also lacks some important features like Fraud Detection, Social Promotion, Banner Management, and Points system.
Key Features:
Private Campaigns
Affiliates Newsletters
Access to Error Logs
Offer setup support
Drag & Drop Dashboard
Pricing:
Monthly Subscription: From $149/ per month
Reditus helps you manage relationships, keep track of important numbers for your business, and pay affiliates when they reach specific goals.
However, you can't integrate Reditus with Zapier or even white-label your affiliate dashboard.
But if you're looking for B2B specific affilitate software for your SaaS product, then Reditus can be your handy platform. As you can build custom landing pages, create SEO friendly links, and create multi partner tiers.
Key Features:
SEO friendly links
Partner agreement template
Custom landing page
Set up multiple affiliate tiers
Pricing:
Basic: Free
Starter: From $39/ Monthly
Growth: Custom pricing
Everflow is a software tool designed for businesses that run multiple marketing campaigns with partners.
It helps track, manage and analyze the performance of these campaigns, giving marketers insights into what works and what doesn't.
Everflow provides real-time analytics that help identify the best and worst performing campaigns, enabling businesses to make informed decisions to improve their marketing techniques.
While Everflow is a powerful tool, it is quite expensive. It comes at a steep cost of $750 per month, which may not be realistic for many small and medium-sized businesses.
Overall, Everflow is a great partner marketing platform because it works with shopping carts like Shopify and BigCommerce and lets you pay your partners in a compliant way at scale. But if you run a small to medium-sized business, Everflow might not be the best choice for you.
Key Features:
Instant Cart Setups
Integrations
Global Payments
Auto-Optimizations
Connect Your CRM Data
Pricing:
Core Plan: From $750/ month
Custom: Custom Pricing
Tapfiliate is an affiliate marketing software that helps small to large businesses create an effective affiliate program.
It works well for Software-as-a-Service (SaaS) products, and is compatible with a wide range of e-commerce platforms and payment gateways.
With Tapfiliate, you can easily connect to your WooCommerce store and start building your affiliate program.
Additionally, Tapfiliate provides a variety of creative tools such as banners, text links, videos, and social posts, allowing you to customize your program and improve conversion rates.
While Tapfiliate may not have as many features as other affiliate marketing software like AffiliateWP or Everflow, it is still a great choice for SaaS products looking to create an affiliate program.
Key Features:
Recruit affiliates
Personal Affiliate Links and Coupon Codes
Branded Dashboard
Custom Sign up Fields
Variety of Publisher Types
Pricing:
Essential: From $89/month
Pro: From $149/month
FirstPromoter is specifically designed affiliate software that helps SaaS companies to build their affiliate programs in minutes.
SaaS businesses can monitor, control, and enhance their referral-based marketing initiatives with this all-inclusive affiliate software.
Unlike Reditus, you can easily integrate FirstPromoter with Stripe, Zapier, and Paddle.
Key Features:
Two-Sided Rewards
Branded Affiliate Dashboard
One-Click Paypal Payouts
Personalized Referral Links
Pricing:
Starter: From $49/ month
Business: From $99/ month
Enterprise: From $149/ month
PartnerStack (GrowSumo) is a SaaS affiliate marketing software that helps SaaS brands to connect with affiliates.
It offers various features such as automated partner management, partner payouts, and partner marketing tools to help grow and manage affiliate marketing, reseller, and other programs.
It also provides a custom analytics dashboard, partner profiles, and an email campaign editor.
Real-time customer map tracking and integrations with third-party tools are also available.
Key Features:
Access to B2B-Focused Partners
Partner Analytics
Automated Partner Payments
Detailed Reporting and Stats
Pricing:
Lite: From $500/month
Pro: From $800/month
Which is the Best Affiliate Software for SaaS Products?
Out of all the affiliate software options for starting your SaaS program that we've discussed, AffiliateWP stands out as the top choice and the best software for SaaS products available in the market.
It is easy to use and highly effective, making it the ideal option for anyone looking to get started with affiliate marketing.
AffiliateWP is simply the best affiliate software out there.
Why? Well, it's super easy to set up and comes with all the features you need to launch a successful affiliate program for your SaaS product – without breaking the bank.
With AffiliateWP, you have the freedom to customize it the way you want. Plus, it has an advanced affiliate tracking system that will help you keep tabs on your affiliates and their performance.
So, what are you waiting for?
FAQ: Best Affiliate Software for SaaS Products
How Can Affiliate Software Benefit My SaaS Product?
Affiliate software can help you reach a wider audience and increase sales for your SaaS product. By partnering with affiliates, you can tap into their network and leverage their marketing efforts to promote your product.
What Are Some Key Features to Look for in Affiliate Software for SaaS Products?
Some key features to look for in affiliate software for SaaS products include advanced affiliate tracking, easy integration with your website or e-commerce platform, customizable commission structures, and marketing tools to help your affiliates promote your product.
How Do I Choose the Best Affiliate Software for My SaaS Product?
To choose the best affiliate software for your SaaS product, consider your specific needs such as integration with your platform, customization options, and pricing. AffiliateWP is a great choice for SaaS products as it offers hassle-free setup, advanced affiliate tracking, and customizable options at the best price.
How Do I Create an Affiliate Program for SaaS?
To create an affiliate program for SaaS, you can use an affiliate software like AffiliateWP. First, sign up for the software and install it on your website. Then, set up your affiliate program by creating commission rates, setting terms and conditions, and customizing the program to fit your SaaS product.
Now Start A Successful Affiliate Program for SaaS Products
Once you've chosen the best affiliate plugin for SaaS product, it's time to grow your affiliate program.
Choosing the right affiliate software will help you maximize your sales and profits in the long run.
Additionally, here are more helpful resources to help you out:
Get AffiliateWP, the best affiliate software for SaaS products today!