Affiliate for WooCommerce vs Yith WooCommerce Affiliates vs AffiliateWP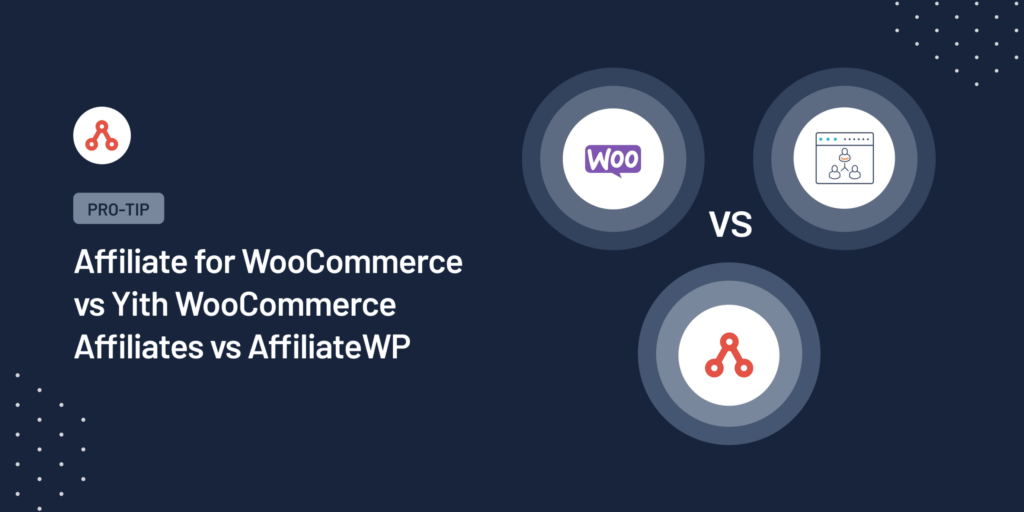 Want to compare WooCommerce vs Yith WooCommerce Affiliates vs AffiliateWP?
We've done some research to help you make the best possible decision.
Here's what we're going to look at:
Let's get started and compare these top Woocommerce affiliate plugins.
Affiliate for WooCommerce vs Yith WooCommerce Affiliates vs AffiliateWP: Which is the Best Affiliate Plugin for WooCommerce?
WooCommerce doesn't offer built-in affiliate tracking, so to start your affiliate marketing program, you will need an external plugin.
There are some great options on the market to help you achieve this, and some of the most popular are Affiliate for WooCommerce, Yith WooCommerce Affiliates, and AffiliateWP.
If you're going to invest in affiliate marketing, then it needs to work for your business though, so we've put each plugin to the test to find out if they're really worth the money. Here are the criteria we've used to evaluate each piece of software:
Ease of setup
Customizability
Affiliate user experience
Marketing features
Automation
Customer support
Pricing
With this guide to Affiliate for WooCommerce vs Yith WooCommerce Affiliates, vs AffiliateWP, you'll be able to make a quick decision and start tracking referrals on WooCommerce.
Ease of Setup
Part of the reason you're investing in affiliate software is to quickly add a new revenue stream to your business. If it's going to be worth your while, then it needs to be easy to set up and require minimal oversight.
Affiliate for WooCommerce: Ease of Setup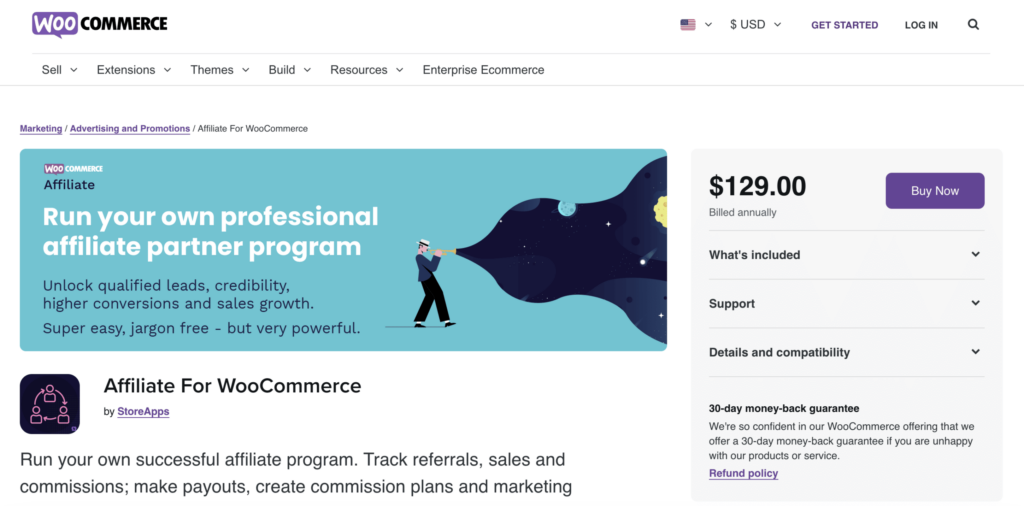 Affiliate for WooCommerce is built specifically for WooCommerce, so as you would expect, the setup is pretty seamless.
All you have to do is download the plugin and install it on your WordPress admin and you'll be brought to a welcome page that explains the simple setup steps. There are no other integrations to worry about, so you can quickly get started and track referrals on WooCommerce sales.
Yith WooCommerce Affiliate: Ease of Setup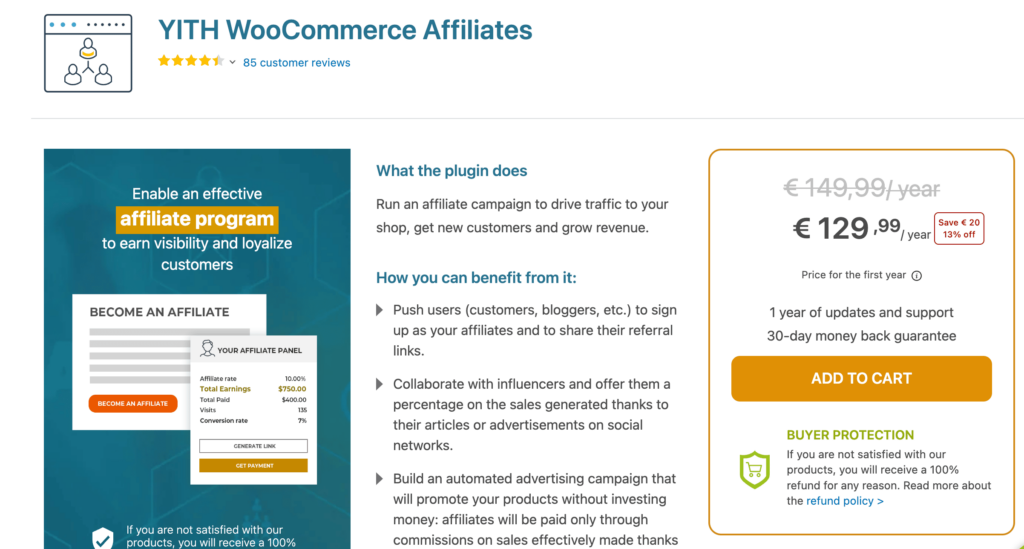 Like Affiliate for WooCommerce, Yith Woocommerce Affiliate is built completely with WooCommerce in mind, so there's very little setup needed from your side.
Once you've installed the plugin, you're pretty much good to go. You just need to edit your registration form, create an affiliate signup page, and put the registration form shortcode on it.
Affiliates will then be able to sign up for your program and start creating affiliate links to your products.
AffiliateWP: Ease of Setup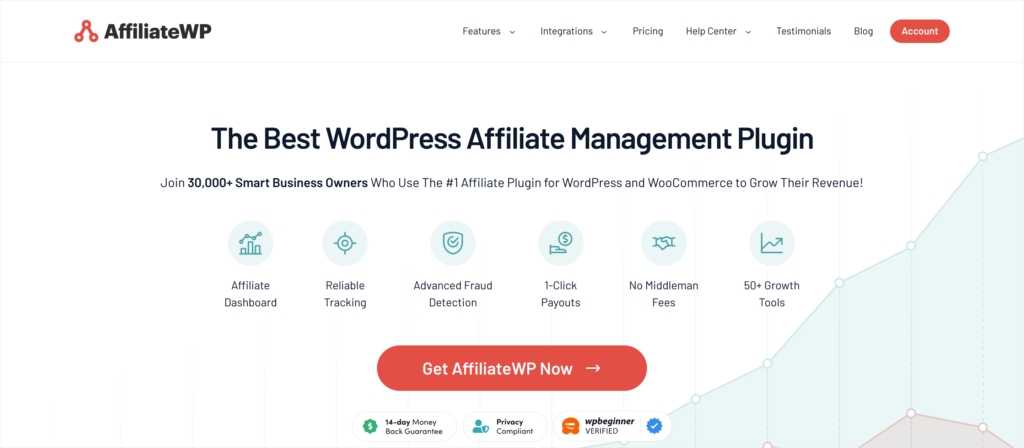 AffiliateWP builds on Affiliate for WooCommerce and Yith WooCommerce Affiliate by giving you a ton of extra integration options. It syncs perfectly with WooCommerce, but you'll also have the option of connecting other popular WordPress plugins like WPForms, MemberPress, PayPal, and many more.
To get started, you simply open the setup wizard, and it will walk you through the simple steps. In just 10 minutes, AffiliateWP will automatically sync with WooCommerce, create an affiliate signup page and dashboard, and give you everything you need to run an affiliate program.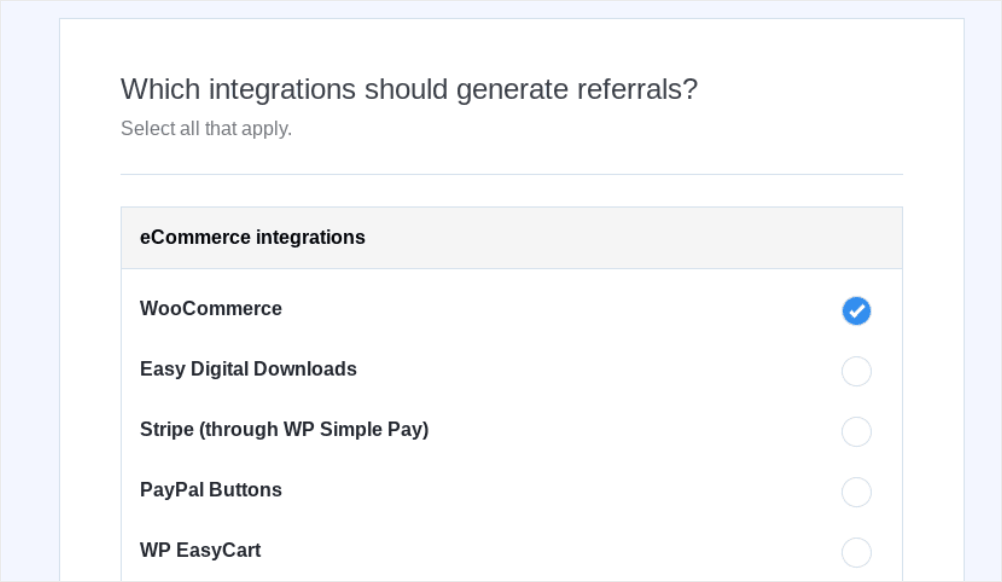 The setup gives you a much wider range of options than with Affiliate for WooCommerce or Yith WooCommerce Affiliate, but it still manages to keep things simple.
Ease of Setup Winner
There's not really a winner here as they all make it incredibly easy to set up a WooCommerce affiliate program in just a few minutes.
Customizability
If you want to create a professional-looking affiliate program, then customizability will be important. This allows you to make sure everything is on-brand and looks good for potential affiliates.
Affiliate for WooCommerce: Customizability
Affiliate for WooCommerce keeps things pretty simple, which in many ways is good.
It's easy to add items such as affiliate onboarding to the affiliate dashboard using Campaigns, and it offers a ton of custom commissions you can use to maximize affiliate incentives.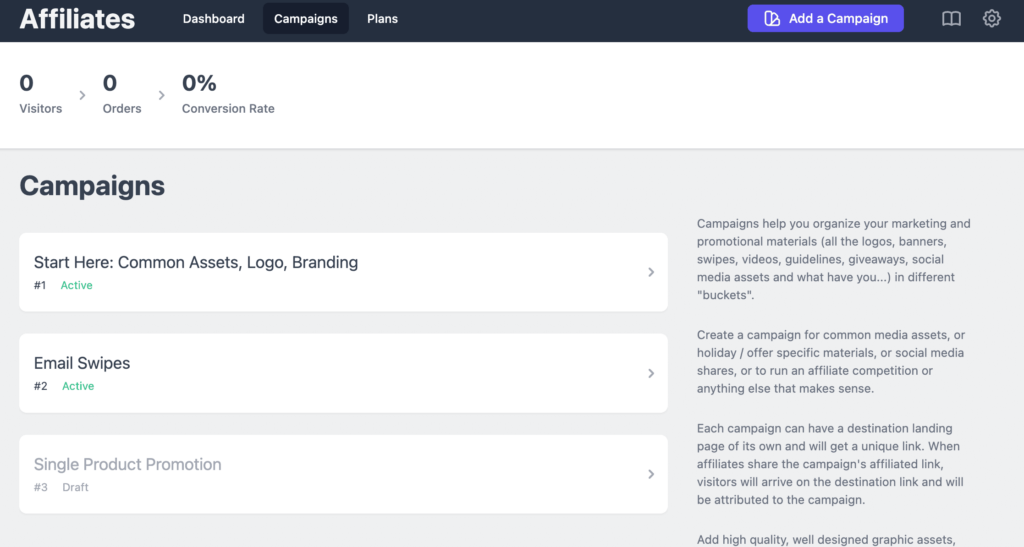 In general, though, your customization options are a little bit limited, and it would be nice to have more say over the look and feel of the affiliate dashboard, but it does the trick.
Yith Woocommerce Affiliates: Customizability
Yith Woocommerce Affiliates allows you to quickly turn any WordPress page into an affiliate signup page using a simple shortcode. However, your customization options with the signup form aren't very advanced, which can limit your ability to sign up top affiliates.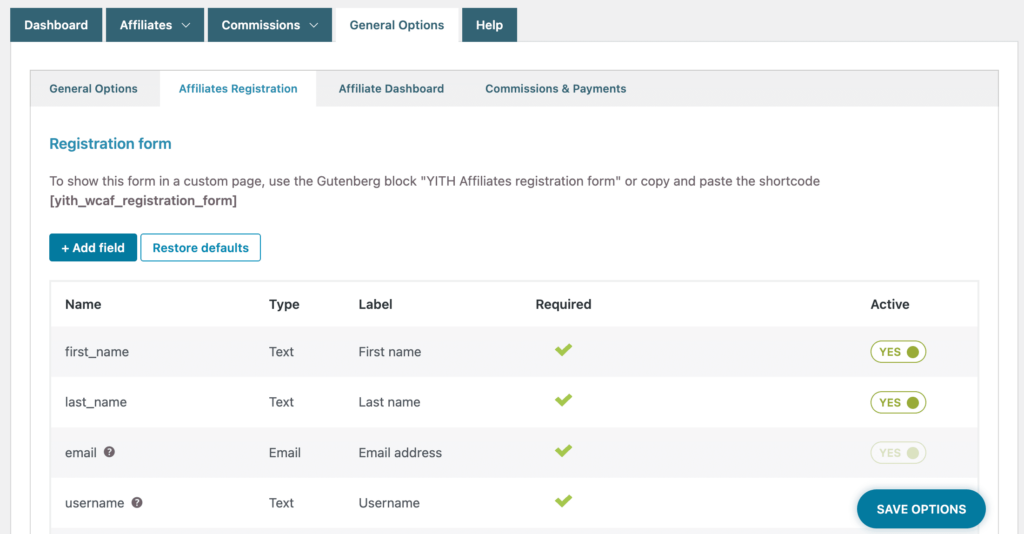 When it comes to the affiliate dashboard, you can choose to host this as a custom page, or in the My Account area, which is a nice touch. Again though, you don't have a ton of customization options with this page.
AffiliateWP: Customizability
AffiliateWP is built to be fully customizable so it excels in this category.
From the moment you download the plugin, you're presented with lots of opportunities to build your affiliate program as you see fit. You can use the Affiliate Area template as your sign-up page, or you can create your own WordPress page.
The handiest customization tool is perhaps the numerous ways you can edit the affiliate registration form. This allows you to integrate WPForms, Gravity Forms, or Ninja Forms to build more advanced forms and integrate your email marketing and CRM software.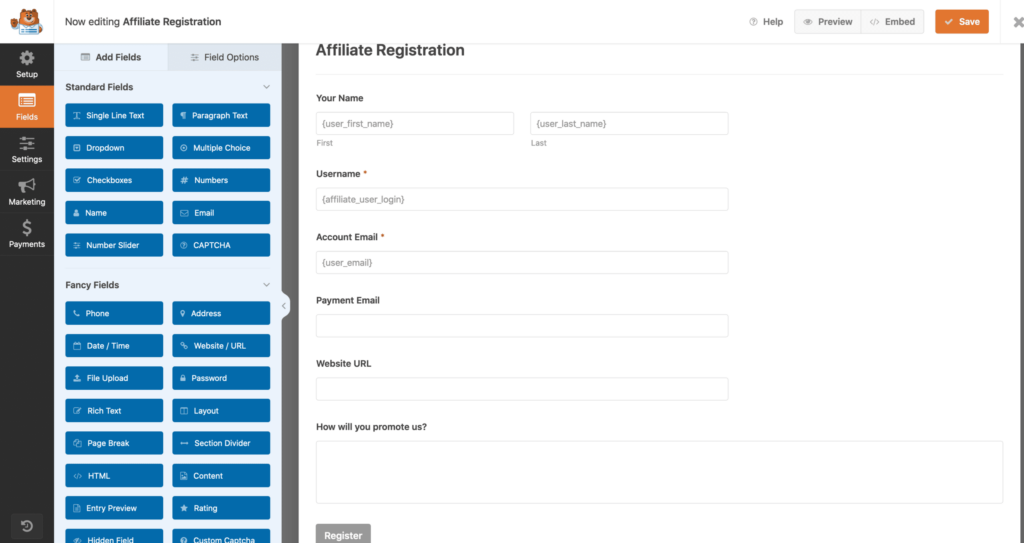 The affiliate dashboard will also automatically adopt your WordPress theme, so it fits seamlessly with your website, and you can create your own dashboard tabs to customize the affiliate experience.
With access to templates, hooks, API, and more, AffiliateWP is also the perfect option for developers looking to create affiliate programs for clients.
Customizability Winner
AffiliateWP offers incredible levels of customization. Whether you're a beginner looking for basic customization or a developer looking to extend the plugin's functionality, there are a ton of options for both.
Affiliate User Experience
The affiliate user experience is important to the success of your program. Affiliates have a ton of choice when picking the programs they join, so you have to make life easy for them.
Affiliate for WooCommerce: Affiliate User Experience
The Affiliate for WooCommerce affiliate dashboard gets the job done.
It's not going to wow affiliates with its beauty, but it does give them useful tools and information to improve performance.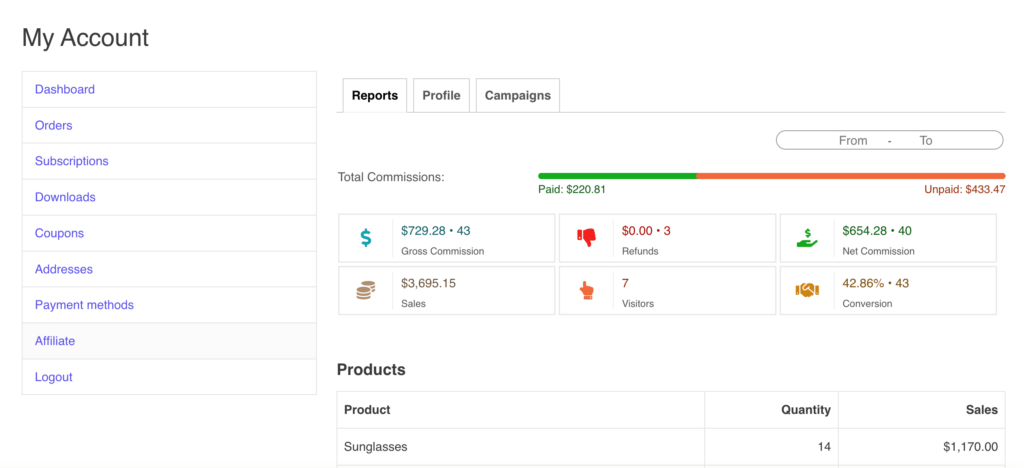 The reports tab gives affiliates detailed information on things like gross commission, sales, refunds, conversion rates, and more, and they can also see individual product sales. The profile tab allows them to edit personal details and see affiliate coupons, and the campaigns tab allows you to add any additional information you want to include.
The experience is functional and offers all the basics affiliates need.
Yith Woocommerce Affiliates: Affiliate User Experience
The Yith affiliate dashboard breaks important information up into different tabs to make things easier to find than in Affiliate for WooCommerce.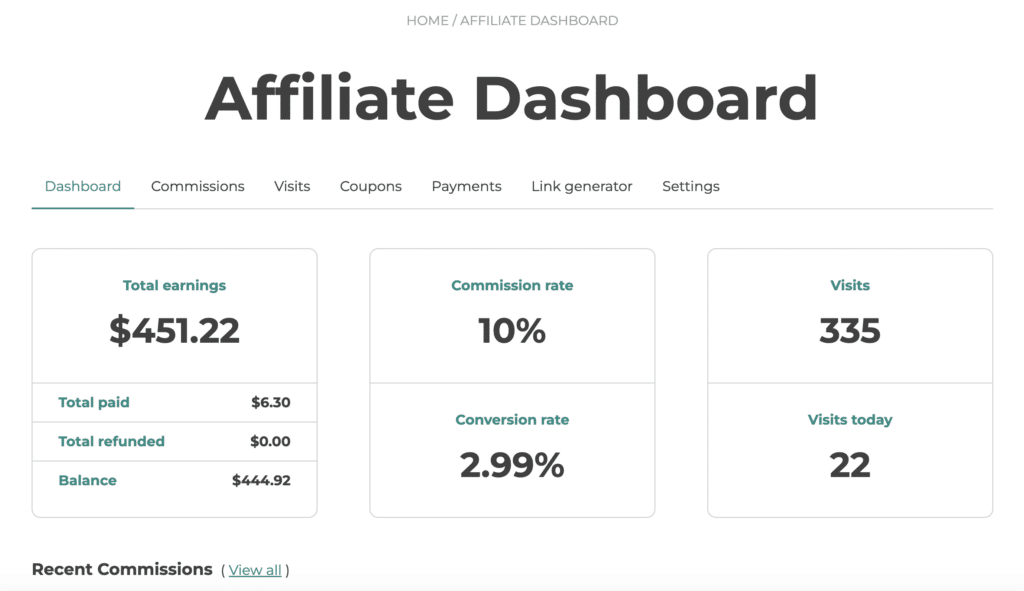 There's a dashboard tab for commissions, visits, coupons, payments, link generator, and settings, so affiliates can quickly navigate to where they want to go.
What it is missing is the customizability the Campaigns tab has in Affiliates for WooCommerce. It's not as easy to show the information you want to show affiliates, meaning you have less control over the affiliate user experience.
AffiliateWP: Affiliate User Experience
You're in charge of what the affiliate user experience looks like with AffiliateWP!
You can add, edit, and delete dashboard tabs so that information appears exactly as you want it to. This means you're in complete control and can give affiliates access to everything they need to maximize sales.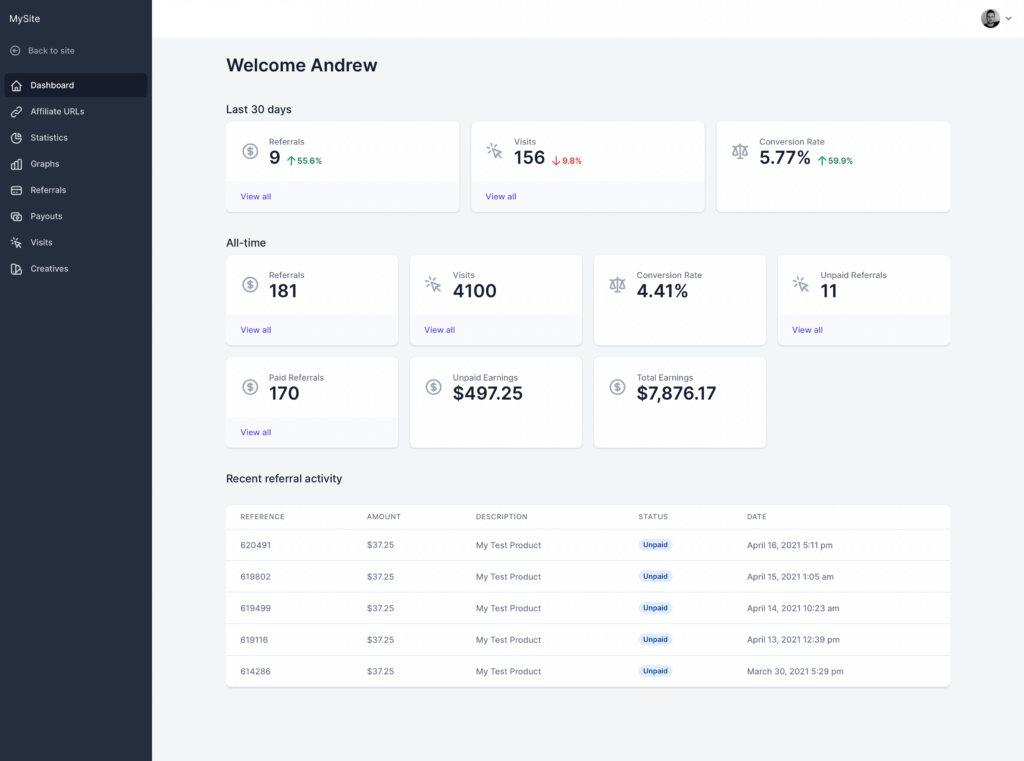 There's an easy affiliate URL generator, advanced statistics, coupon codes, settings, and much more, depending on what you want to show.
Affiliate User Experience Winner
AffiliateWP offers the best affiliate user experience because it gives you complete control over the affiliate dashboard. You've got an optimized template to start out with, but then you can take things to the next level with custom tabs.
Marketing Features
Marketing features are an important consideration when choosing your affiliate software. You don't want to just track referrals, you want to empower affiliates to make sales for you, and that takes more than just affiliate links.
Affiliate for WooCommerce: Marketing Features
Affiliate for WooCommerce doesn't offer a great deal of features above affiliate links and affiliate coupon codes. It does the basics very well, but it does lack those little extras that can take your affiliate program to the next level.

One marketing feature it does offer though is multi-level marketing. It's not a system that works for everyone, but it does allow you to create a tiered system where affiliates earn a commission when someone they recruit to the affiliate program makes a sale.
Yith WooCommerce Affiliates: Marketing Features
Just like Affiliate for WooCommerce, Yith WooCommerce sticks to the basics here. It does affiliate links and coupon codes well, but there aren't a ton of options beyond that.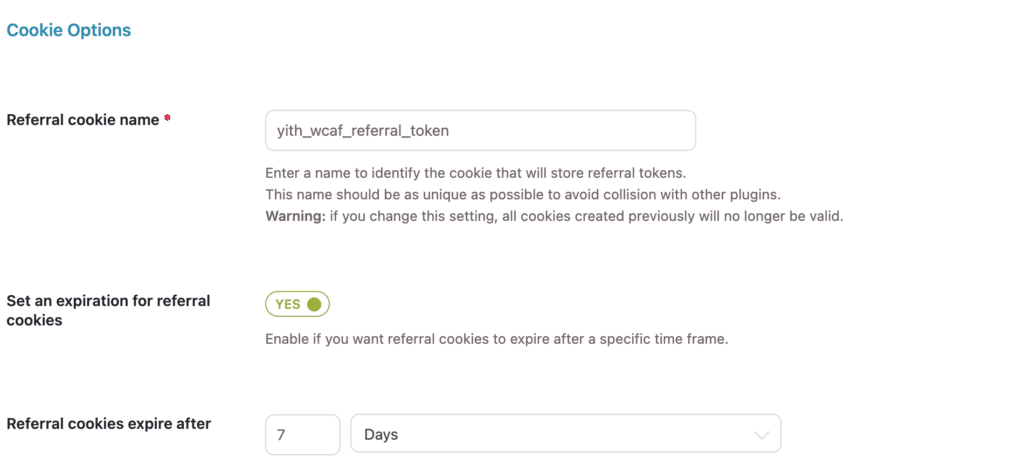 Of course, you can do the basics like changing your cookie duration and setting up product-specific commissions, but there's not a lot to wow your affiliates.
AffiliateWP: Marketing Features
This is another area where AffiliateWP stands out – it has tons of conversion-focused marketing features.
For instance, with Vanity Coupon Codes, you can allow affiliates to create their own coupon codes. Or with Affiliate Landing Pages, you can create affiliate-specific landing pages to maximize conversions.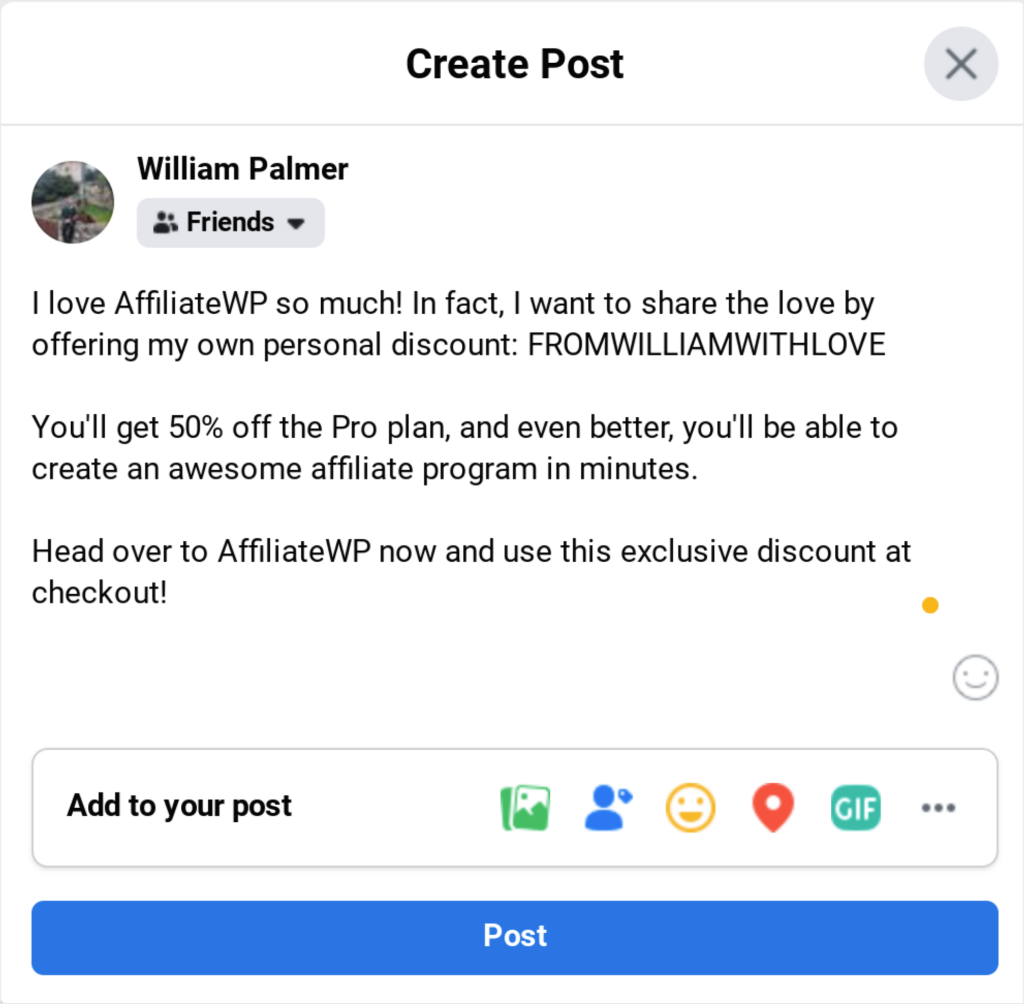 The list goes on with other cool features like Direct Link Tracking (no need for affiliate links at all), Lifetime Commissions, and more.
Marketing Features Winner
AffiliateWP offers lots of innovative marketing features that Affiliate for WooCommerce and Yith WooCommerce Affiliates simply can't compete with.
Automation
You don't want to spend all your time managing your affiliate program. The idea is to create a new revenue source that requires minimal effort on your part, so automation is an important consideration.
Affiliate for WooCommerce: Automation
Affiliate for WooCommerce helps you automate some of the important parts of running an affiliate program such as email notifications.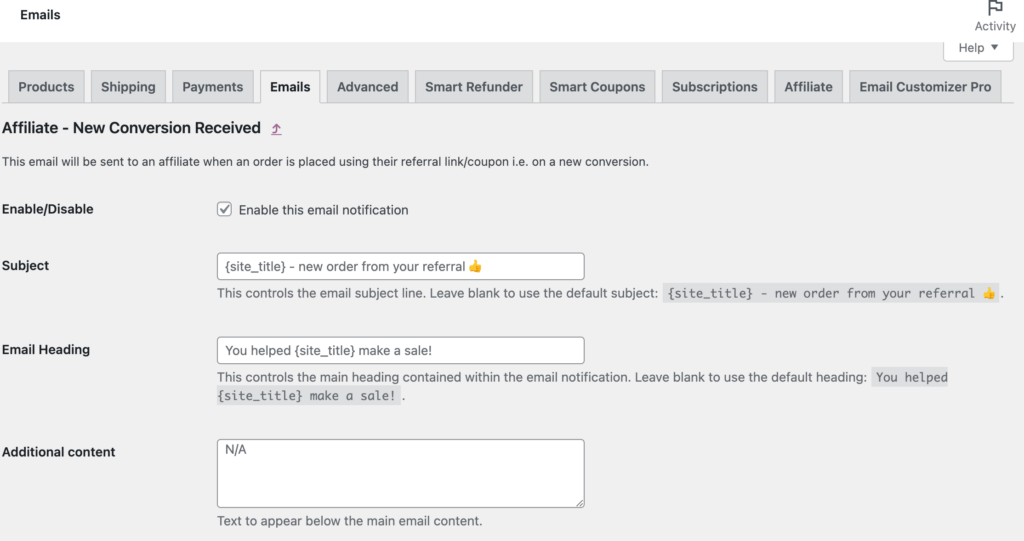 You can easily edit email templates to let affiliates know when they've made a referral, and ensure you get notified any time an affiliate joins your program. This helps to make sure everyone is kept up to date with what's happening in your affiliate program.
Yith WooCommerce Affiliates: Automation
Yith WooCommerce Affiliates also allows you to set up automatic email notifications as well as automatic affiliate approval (although we tend not to recommend this option as affiliate approval is the first step in fraud protection).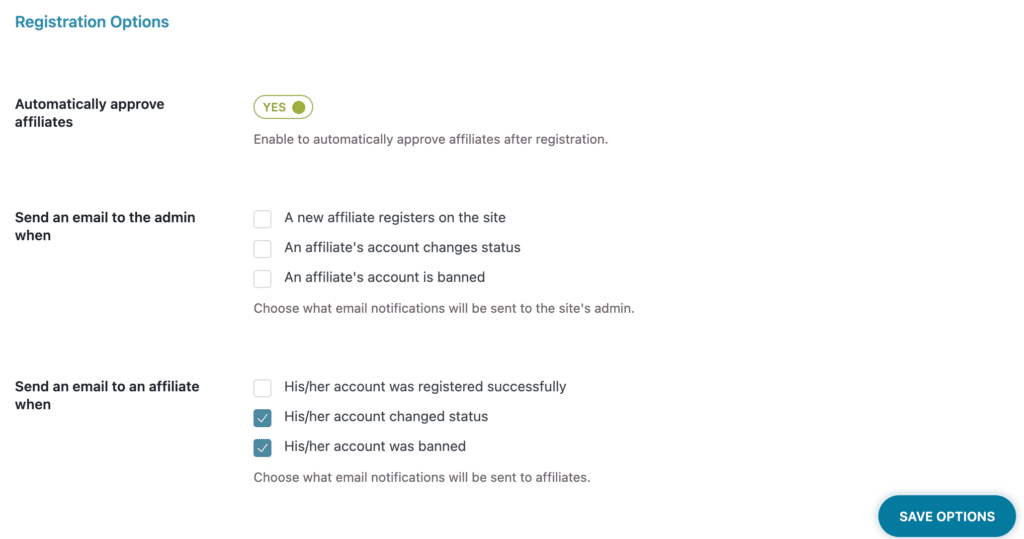 As with Affiliate for WooCommerce, you can edit the email templates in WooCommerce > Settings > Emails to give them a personal touch.
AffiliateWP: Automation
Because AffiliateWP integrates with so many different plugins, it gives you a ton of automation options.
For instance, if you connect your registration form to WPForms, you can automatically link the affiliate to your email marketing or CRM. This is just the tip of the automation iceberg though!
Thanks to integrations with Zapier and Uncanny Automator, you can link AffiliateWP to thousands of other applications and create your own automations. This means the possibilities are endless, and you can find new ways to make your program run on autopilot.

With AffiliateWP, you really can cut down on the time it takes to manage your program, meaning you maximize your return on investment.
Automation Winner
AffiliateWP's depth of integration with other software allows you to create powerful automations that save you time and make you sales.
Customer Support
Even with the very best software, you're bound to have questions about how to set up certain elements or do certain things. So, it's important that your affiliate software has good customer support and helpful documentation.
Affiliate for WooCommerce: Customer Support
Affiliate for WooCommerce is well known for excellent support. A quick look at the reviews, and you'll see lots of mentions of top-notch customer support which is always a welcome sign.
If you're looking for a quick fix for a problem, then you can also check out the documentation. While there's lots of information here, it's not particularly well laid out so it can be a bit tricky to find what you want, but with a bit of searching, you should find an answer to your problem.
Yith WooCommerce Affiliates: Customer Support
Yith is a reputable plugin builder with good support, so you know you'll be looked after in this area.
You'll also have access to reasonable documentation that walks you through many setup steps, and there are some detailed YouTube tutorials you can follow.
AffiliateWP: Customer Support
Just like Affiliate for WooCommerce and Yith, AffiliateWP is well known for excellent support.
If you look through the testimonials, you're bound to find some that refer to the world-class support, and this is important when you're setting up your affiliate program.
AffiliateWP also offers a huge library of in-depth documentation as well as a ton of valuable blog content. If your answers can't be found in the docs, then you're just a few short steps away from talking to an experienced, helpful support team.
Customer Support Winner
All of these plugins offer excellent support, but with AffiliateWP you get more detailed and extensive documentation.
Pricing
We've talked you through all the key details of these plugins, so what about the pricing?
Affiliate for WooCommerce: Pricing
Affiliate for WooCommerce offers one plan where you pay $129 a year. With this, you get unlimited affiliates, visits, and referrals, and you own all the data (unlike with an affiliate network)
Yith WooCommerce Affiliates: Pricing
Yith WooCommerce Affiliates also offers one single plan that starts from $139.99 a year. There are no limits on affiliates, visits, or referrals and you own all the data.
AffiliateWP: Pricing
Personal: From $149.50 a year
Plus: From $199.50 a year
Professional: From $299.50 a year
AffiliateWP offers a ton of additional features compared to the other two plugins, so it makes sense that there are different plans to choose from. The top plan, Professional, gives you access to AffiliateWP's best revenue-building tools and can result in a big increase in your return on investment.
Conclusion: Affiliate for WooCommerce vs Yith WooCommerce Affiliates vs AffiliateWP
AffiliateWP is the best affiliate plugin for WooCommerce.
It performs equally or better than Affiliate for WooCommerce and Yith when it comes to things like ease of setup and support, but it's the advanced tools that really make it stand out.
With AffiliateWP you get many more integrations, better customization options, a lot more automation, and innovative features your affiliates can use to make more sales.
All of this means that you get a better return on your investment and you can grow your affiliate program more quickly.
Check out AffiliateWP's pricing!
Now Grow Your Affiliate Program
Once you get your WooCommerce affiliate program set up it's time to start attracting top affiliates.
With AffiliateWP, you've got all the tools you need, but here are some extra resources to help out.
Now there's only one thing left to do.