Increase Affiliate Sales with These 9+ Simple Techniques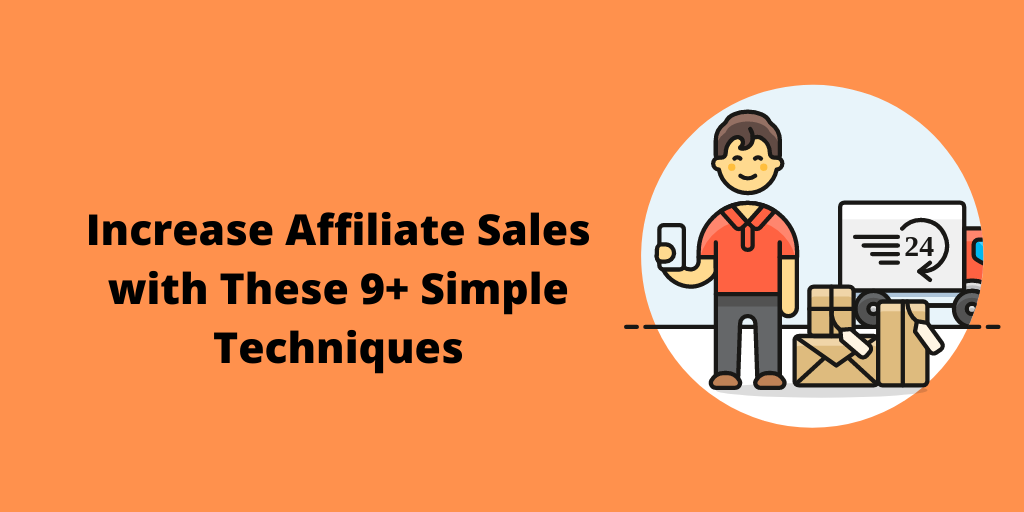 Affiliate marketing should be about creating mutually beneficial relationships. If you're going to increase affiliate sales, then it takes action on both the program manager and the affiliates' part.
When both parties are working together to achieve their goals, that's when an affiliate program gains real momentum.
Here are some highly-effective selling techniques that can help make sure program managers and affiliates are working together to increase affiliate sales.
1. Invest in the Program Manager/Affiliate Relationship
There's this misconception in affiliate marketing that a merchant sets up a program and watches as affiliates sell their products. It just doesn't work like this, at least not if you're going to be successful.
Selling any product is an art, and it's one that takes collaboration and the sharing of knowledge.
If affiliates and program managers don't have a relationship, then it doesn't allow for this sharing of knowledge.
As the merchant, you should be the world expert in selling your product, and this information is something affiliates should be eager to tap into. Equally, affiliates know what they need from an affiliate program, and what's going to keep other affiliates engaged; incredibly useful information for a program manager.
It's mutually beneficial for program managers and affiliates to develop their relationship because it will result in an increase in affiliate sales for both parties.
You both have slightly different roles in this partnership, but there's a lot of crossover, so communication can make all the difference.
2. Emphasize the Importance of Affiliate Onboarding
There are certain fundamental rules of sales and marketing that top affiliates are going to use to make sales. However, each product is unique and will require a slightly different approach.
The goal for both program managers and affiliates is that they start making sales as quickly as possible, but this isn't that easy. Even for the most experienced affiliate, there's a learning curve when they start promoting a new product.
For both program managers and affiliates, the goal should be to shorten this learning curve as much as possible.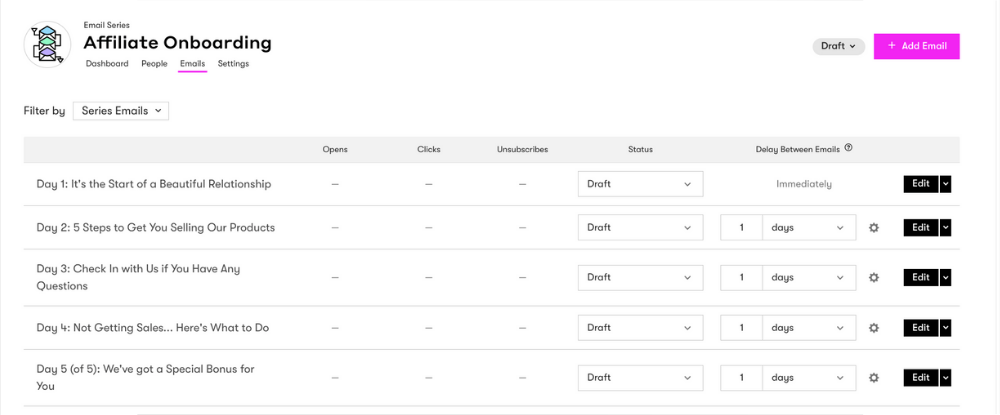 This means program managers should be investing heavily in their onboarding process, and affiliates should see this as an important learning opportunity. Affiliate sales is a process, you constantly tweak what you do and optimize different elements, but you don't have to start from scratch.
A good affiliate onboarding should provide a blueprint for increasing affiliate sales from day one of the affiliate relationship.
3. Optimizing Landing Pages is Essential
This is the main area where the fortunes of program managers and affiliates are intertwined. If the affiliate's landing pages aren't optimized, then the merchant gets no clicks; if the merchant's landing pages aren't optimized, the affiliate gets no sales.
Landing pages are all about getting people to take action. Too often we lose focus on exactly what that action is and don't present the user with a clear picture of what we want them to do next.
In the affiliate's case, that's to click the affiliate link. In the merchant's case, it's to complete a purchase. Getting people to consistently take either action is challenging, which is why you've constantly got to be testing and optimizing your landing pages.
Affiliate program managers will often look at what their affiliates are or aren't doing when the easiest way to increase affiliate sales actually lies in improving their own conversion rate.
4. Create a Personalized Experience
It's impossible to personalize an affiliate experience right?
Wrong!
There are still lots of things you can do to make the experience more personalized for people who have followed an affiliate link. Remember, the merchant knows exactly where this person has come from, which is a huge advantage.
One of the ways you can incorporate personalization (one of the most important elements of marketing) into your affiliate marketing is with features like Vanity Coupon Codes and dynamic elements in your affiliate landing pages.
Picture this!
You've got a content marketing product (let's say it automatically places the perfect royalty-free images into your blogs). Your product is a huge hit and you've just signed up a new affiliate who's a massive player in the SEO world (let's say, Neil Patel).
Now, what if you could do this?
You give Neil his own personal landing page where you might highlight the relationship between his business and yours:
"You know you're on the right track when one of the biggest names in the game like Neil is using your product!

We're lucky to count Neil as a partner, and thanks to our collaboration, you get a 20% discount on our product.

Be sure to keep following Neil for all the latest SEO tips and tricks, while you're saving oodles of time with our automated image placer tool"
The key thing here is that you're building on the relationship your affiliate has already built with the potential customer. You're reaffirming the idea that your product is great because Neil says it is.
This level of personalization can help you significantly increase affiliate sales.
5. Create Exclusive Offers
In order for your affiliates to stand out in a crowded market, they need a competitive edge – and they know it! One way you can help them achieve this is by giving them exclusive deals that the competition just doesn't have.
Exclusivity is a powerful tool. Things that are rare and typically out-of-reach are generally perceived as higher value, and you can use this concept to your advantage when it comes to inspiring your affiliates to get active.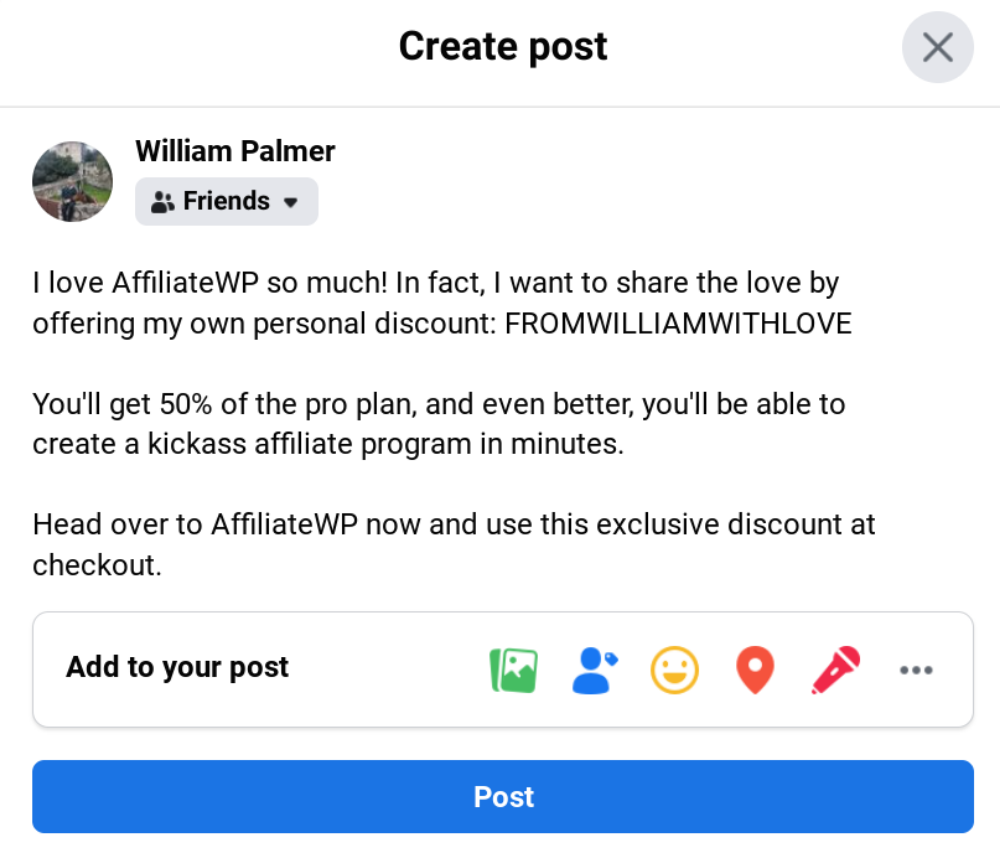 Just think about how much money it costs to acquire exclusive goods, services, and experiences; from VIP tickets to limited edition products, people simply love what they can't normally have.
Consider giving away things like:
Early access to new products
Access to premium products
Access to partner products and discounts
Exclusive discount codes (Vanity Coupon Codes)
Exclusive product bundles
Memberships
Access to higher membership tiers
Other special offers
6. Offer Your Affiliates Free Products
Often, affiliates are industry professionals, specialists, or influencers who have some kind of knowledge or experience in or around your niche. It's not unusual for them to actually use your products, so giving away free products can be an effective motivator.
Hey, everyone loves free stuff, right?
Consider giving away products that normally don't go on sale, or products that you know are particularly in-demand or relevant to certain affiliates. Remember: These giveaways can expand the reach of your affiliate promotions.
You might decide to give away 10 copies of a high-end digital product. Interested affiliates who manage to score a copy are likely to be enthusiastic about the product since it's particularly valuable – and they're also able to promote something they might not otherwise have purchased or had access to in the first place.
In the end, affiliates are more engaged with marketing your business, your products get more exposure, and you make more sales!
7. Find New Ways of Motivating Affiliates
Cash and prizes are time-tested incentives for the vast majority of people, and because they have such wide appeal, they can be inspiring for all kinds of affiliates.
From big-ticket items to events and experiences, the good news is that there are many options for these kinds of incentives.
Here are a few examples:
Cash
Vacation packages
Event tickets
Gift certificates
Electronics like laptops, tablets, phones, gaming systems, and other gadgets
Subscription boxes 
Gift baskets
You can even custom-tailor your giveaway contests and prize draws to different subsets of your affiliate team.
This is also an opportunity to increase affiliate sales through competition. Affiliate marketers can be competitive people, so our leaderboard add-on can be a great way of adding extra motivation.
The point is, it's your affiliate program, so you can reward affiliates as you see fit. Sometimes it's the fun little extras rather than simply commission that can make the big difference.
8. Leverage Social Proof
When someone lands on your page after clicking an affiliate link you've already benefited from an element of social proof. The whole reason that person is on your website is that your affiliate has suggested it.
Don't let that be the last piece of social proof you use though!
Your affiliate might have convinced the user that they've used your product and had a great experience, but what about all the other people out there? You've got one vote of approval, now it's time to drive the sale home by showing off all the people who have been positively impacted by your product.
88% of consumers trust user reviews as much as a personal recommendation, so when you leverage social proof, you're doubling down on the positive work the affiliate has done.
The same is true for affiliates. When they back their recommendation up with proof from other people that have bought the product, it becomes much more powerful. You're the one with access to this information though, so make sure you're sharing it with your affiliates.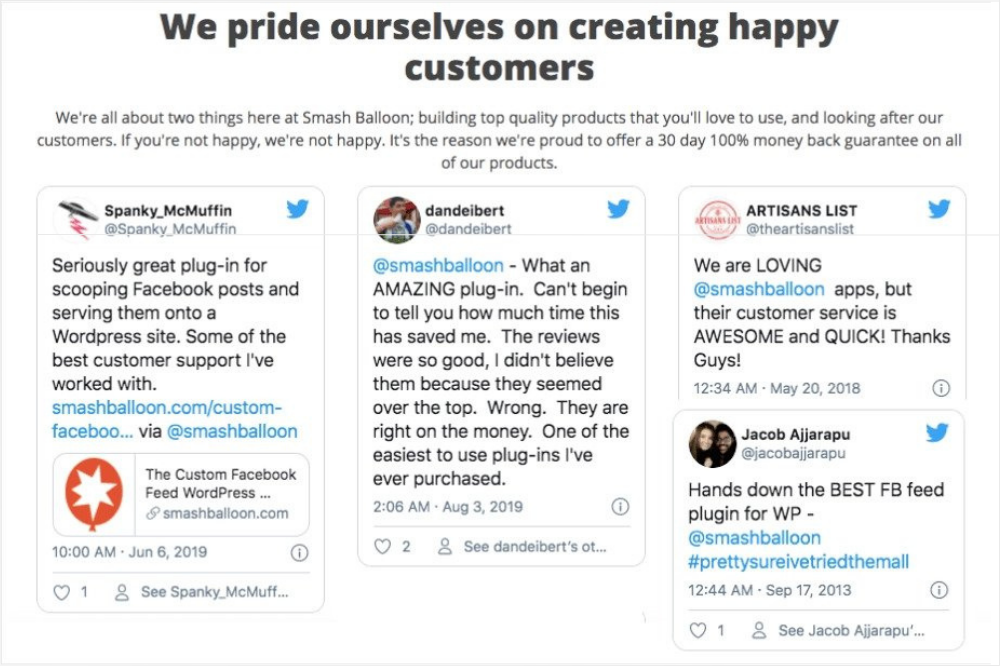 Top Tip: Smash Balloon's WordPress plugin offers an amazing way to take all the social proof your have on your social pages and showcase it on your product pages.
9. Utilize Exit-Intent Pop-Ups
People leave your page or website for all sorts of reasons. Just because somebody clicks off your product page certainly doesn't mean they have no interest in making a purchase.
It generally means they're missing an extra ingredient that's needed to complete the purchase or take another action such as signing up for your newsletter:
They need more information
They're not convinced about the benefits
They're looking for a better price
An exit-intent pop-up gives you an opportunity to figure out what that key missing ingredient is, and can increase conversions by 2-4%.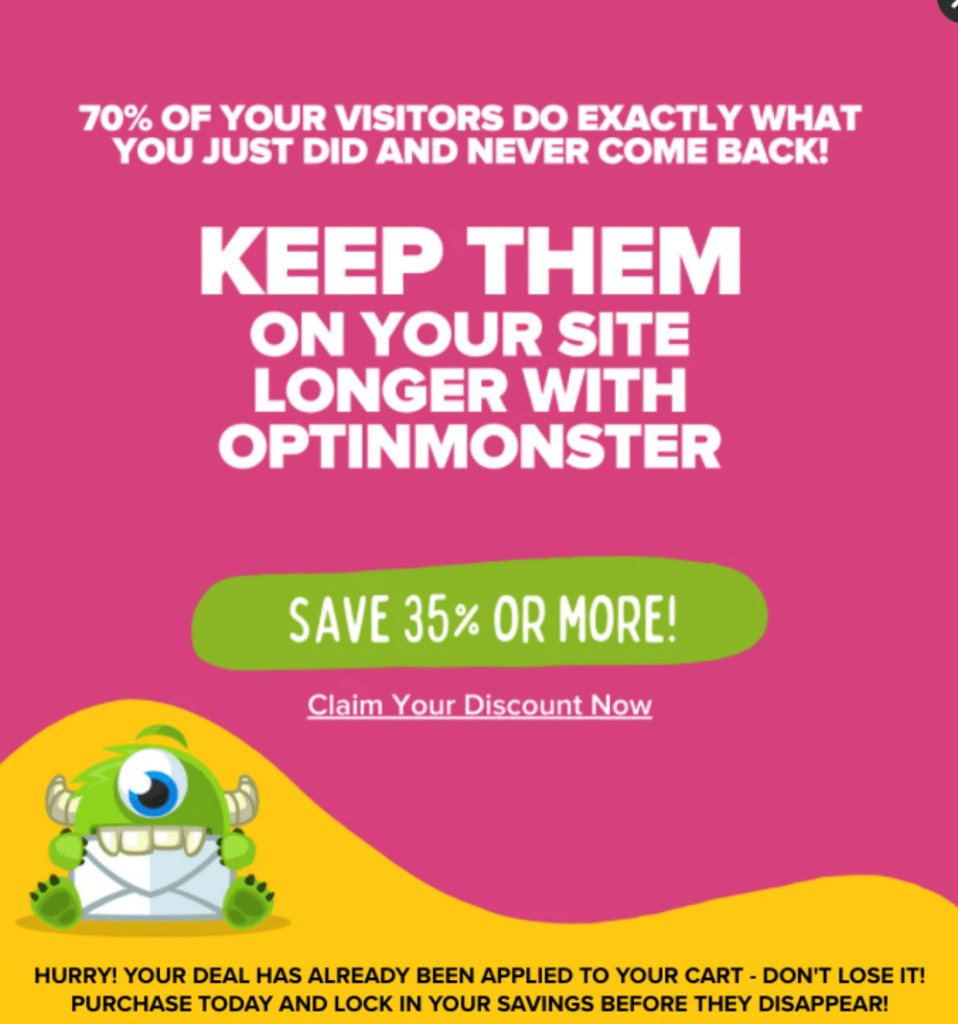 Sales generally don't happen right away. You've got to build touchpoints and create trust with the customer, and exit-intent is a crucial stage in this.
Check out OptinMonster's optimized templates and use exit-intent to increase affiliate sales.
Bonus Tip: Keep Customers Coming Back
It's easy to focus on new customers at the expense of existing customers, and this is particularly true with affiliate marketing. We tend to see it as how we get customers rather than how we keep them coming back to us for repeat purchases.
Part of why great affiliates are so valuable is because they have a relationship with their audience. This relationship doesn't end when they create a referral for you.
One of the best ways to increase affiliate sales is to harness the relationship your affiliates have with their audience by offering lifetime commissions. This means that affiliates get a commission for every future purchase an affiliate makes.
What this does is give affiliates an incentive to keep promoting your product and not be content with just the initial sale.
Acquiring customers can cost a lot more than retaining an existing one, so it makes sense to incentivize your affiliates to nurture your existing customers.
Make use of lifetime commissions, vanity coupons, personalized affiliate landing pages, and much more by upgrading to the AffiliateWP Professional plan.