Why Free Affiliate Software Isn't What it Seems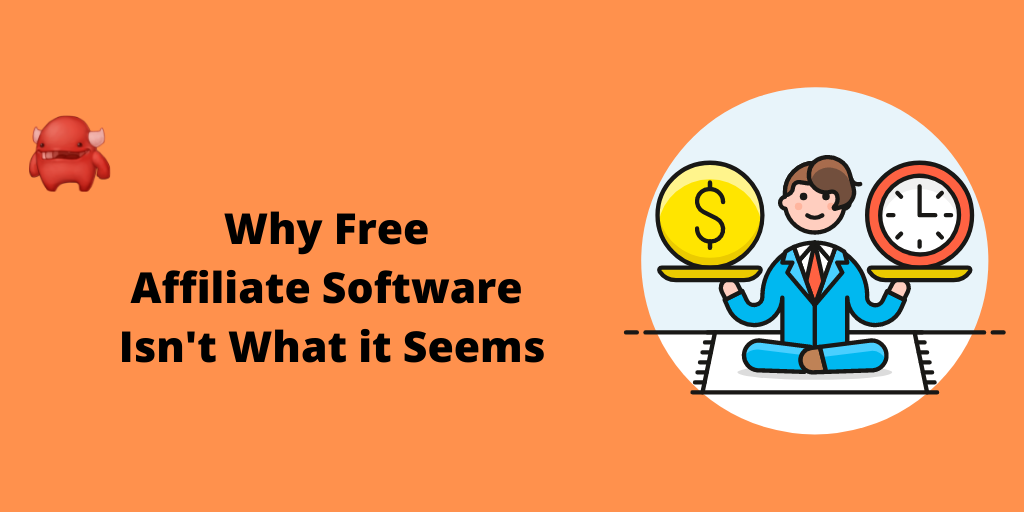 Let's talk about free affiliate software!
It sounds great right? An easy route into affiliate marketing and an opportunity to maximize your affiliate revenues.
Well, free affiliate software isn't always what it seems, and here's why.
Are Affiliate Programs Free?
If you do a quick Google search, then you might be presented with what seems like lots of free affiliate software options to choose from. When you dig a little deeper, you tend to find that the free part is actually just a free trial.
You'll still put your credit card details in just as you would for a normal purchase, but you won't be charged for the first month. Once the first month is over, you'll be moved on to the normal pricing plan.
Other programs like AffiliateWP do the same thing by offering your money back if you cancel in the first 30-days.
This is a great feature that all software should have, but it's not exactly the free affiliate software you were looking for.
That being said, there are some free and open source options, such as eLitius, and LinkTrack, and you've also got the option of joining a big affiliate network like ClickBank or Share a Sale (but you'll pay a percentage on any affiliate sales).
Of course, we have a vested interest in the affiliate marketing software you choose, but we honestly believe that when it comes to your affiliate program, you get what you pay for.
Here's why!
Why Free Affiliate Software Isn't the Answer and Cheaper Isn't Always Better
The simple fact is; nothing about affiliate marketing is as easy as many people like to make it out to be. Finding and signing up good affiliates is hard, keeping them engaged takes commitment and skill, and getting conversions is a constant process of optimization.
It can be a huge revenue earner for your business, but it takes effort and skill.
If your affiliate software offers the bare-bones basics of referral tracking, then it's going to be even more resource intensive. You've got to invest a lot more in affiliate management, and ultimately, this takes away from one of the key reasons you were attracted to affiliate marketing in the first place: it's relatively passive.
Affiliate marketing is something that comes with low startup costs and with free affiliate software, it seems like there are no startup costs. However, you've got to look at the bigger picture of what you're looking to achieve.
If you're going to make good money through an affiliate marketing program, then it will need these 3 elements.
User Experience
Affiliate marketing software has to work for both you and your affiliates, so it's got to be user-friendly.
Both of you want to spend your time optimizing your processes and increasing affiliate sales, but this isn't possible if you're constantly fighting your software.
For affiliate program managers, you want your software to be easy to set up, allow you to quickly approve or reject affiliates, effortlessly track referrals, and make payouts simple.
Affiliates, on the other hand, want to quickly generate affiliate links, and most importantly, have access to meaningful data. It's hard to improve your performance if you're working blind, so they need insights to help them improve what they're doing.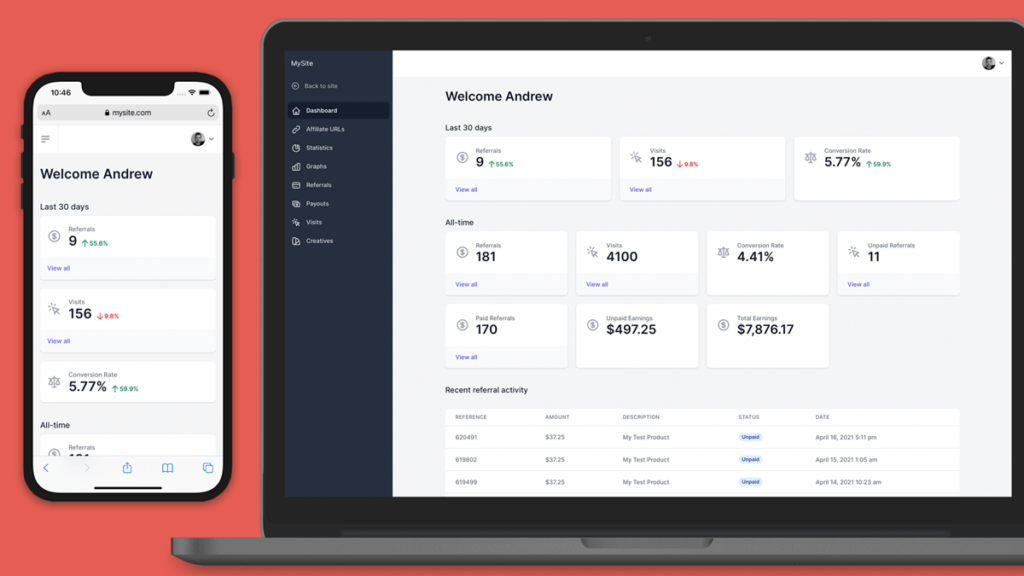 This is something to bear in mind if you're considering free affiliate software because it's going to have a big impact on affiliate engagement. Affiliates have a ton of choice about the affiliate programs they join, so if yours doesn't offer the right experience, then they're not going to be invested in it.
It's about creating partnerships, and to do this your affiliate software has to offer the right experience.
Features
The best affiliates know that they can send you all the traffic in the world, but if you dont't convert then it doesn't mean anything. When considering your program, they're constantly evaluating your landing pages, email marketing, SEO, and other elements to determine your ability to convert.
One of the best ways to convince prospective affiliates you can make sales is by showcasing the features of your affiliate marketing program. What affiliate marketing tools can you offer to help affiliates get more clicks to your site and make more sales?
Advanced Affiliate Portal
Real-Time Reporting
Unlimited Creatives
Personalized Affiliate Landing Pages
Vanity Coupon Codes
Affiliate Onboarding
Tiered Affiliate Rates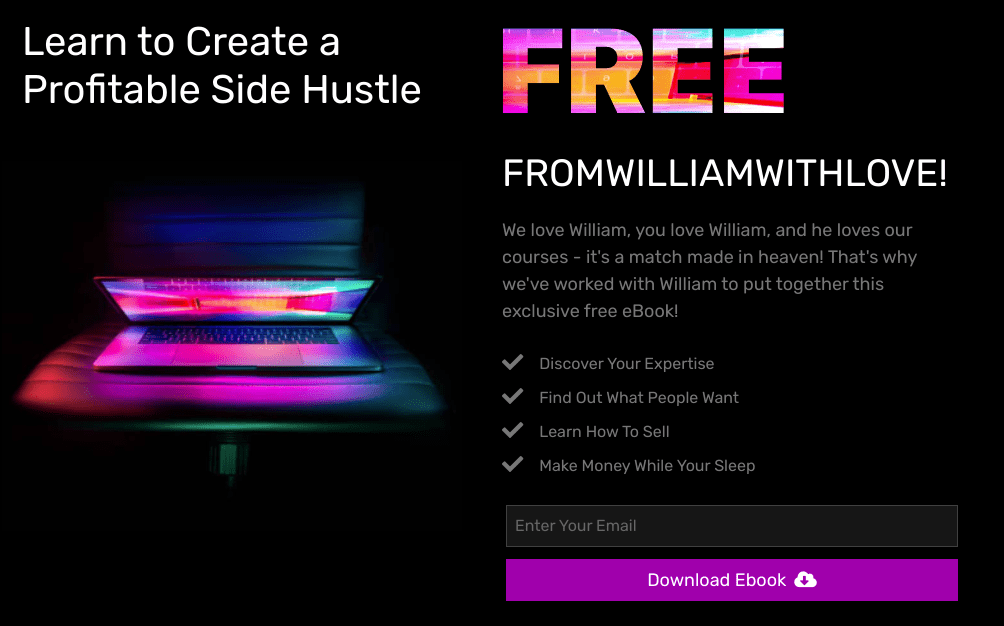 All of these things can make a difference to your e-commerce conversion rate, and that makes all the difference to affiliates.
Automation
Your time is precious. You don't want it to be consumed with basic affiliate program management tasks that add little value to your operations.
Affiliate tracking software should be easy to set up, track referrals automatically, and make payments seamless. Whether you're paying your affiliate through PayPal, Stripe, or directly into their bank accounts, you want it to be as easy as possible.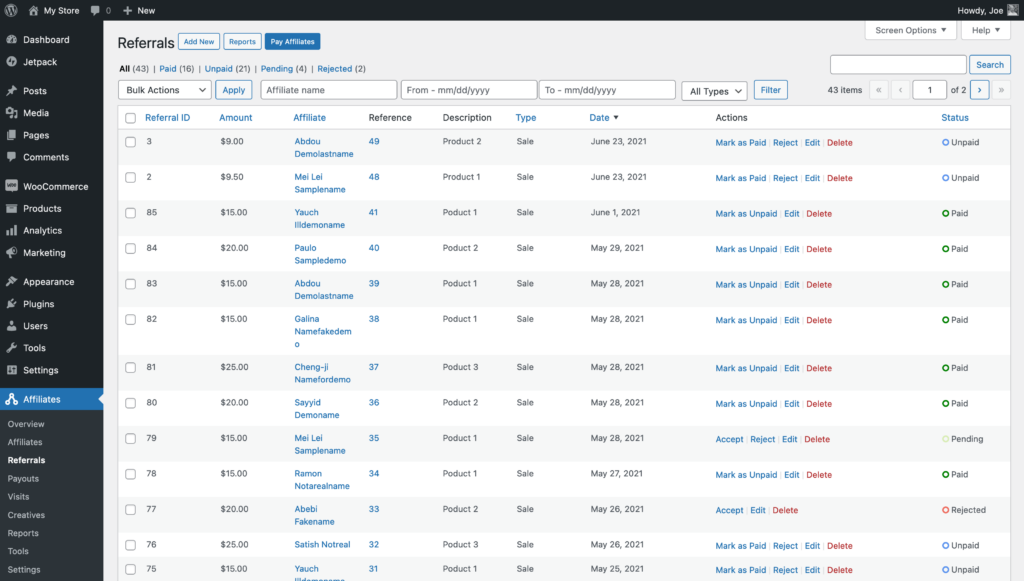 With AffiliateWP's integrated payouts service and WP Simple Pay and Paypal integrations, this is exactly what you get. 
Things to Think About When Considering Affiliate Software Pricing
When you're weighing up the benefits of free affiliate software, or cheaper alternatives, first consider the following.
How Much Do You Want to Earn from Your Affiliate Program?
This is an important question because, in the grand scheme of things, a $300 a year license fee shouldn't be a lot.
Many merchants report that affiliate marketing makes up 30% of their revenue, which means you should have big goals for your program. If you're looking to bring in tens of thousands of dollars in revenue, then you're going to need good functionality to manage these transactions.
When your affiliate program is bringing in a lot of revenue, $300 a year doesn't seem like much for a customizable platform.
Limits On the Scale of Your Affiliate Program
If you're expecting your affiliate program to be an important asset for your business, then you don't want it to be limited in any way.
With some affiliate marketing software, you're limited in the number of affiliates you can sign up and the number of affiliate clicks you get to your site. For example, on Scaleo's free link tracking package, you're allowed a maximum of 100 clicks for each link.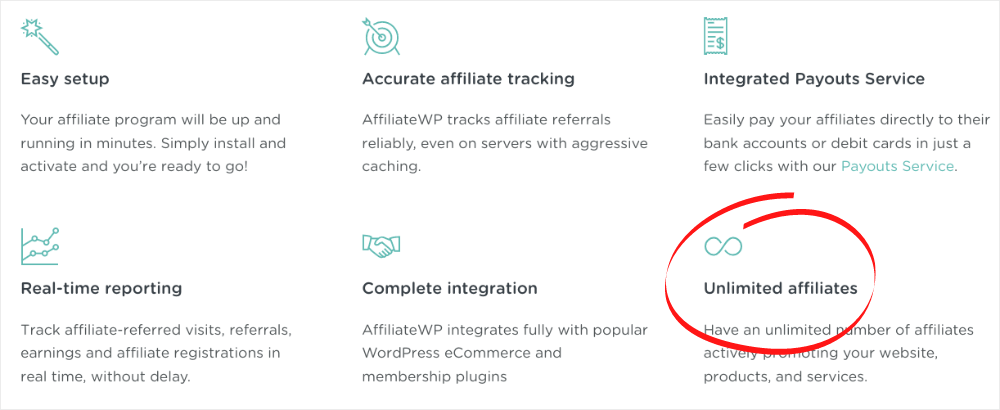 Ultimately, it's very difficult to scale with free affiliate software because of the limits you have to work within. It's better to pay a little bit more to start with software that has all the features you need and places no limits on your affiliate program.
Affiliate Fraud Protection
The internet can be a murky place at times, and it's no different in affiliate marketing.
Unfortunately, affiliate fraud does happen, so you want your affiliate software to be working in the background to protect you. Fraud detection is an important part of affiliate marketing, and you also need to have complete control over approving and rejecting transactions.
The right affiliate management tool will help protect your business and the work of legitimate affiliates.
Invest in Success from the Beginning
Free affiliate software is a tempting proposition and it does serve limited purposes. However, if your goal is to set up a valuable affiliate marketing program that brings in good revenue, you've got to invest in it.
If you've come here in the search for free software, then sure, our $299.50/ year Professional plan looks a little daunting, but that investment is well worth it. A good affiliate program needs strong features, otherwise, it's going to limit your growth and take time away from you.
When you invest in your success from the very beginning, then you'll find you experience growth much more quickly, and you'll forget all about those free affiliate software!