How to Set Up Affiliate Link Tracking in WordPress (In 2 Steps)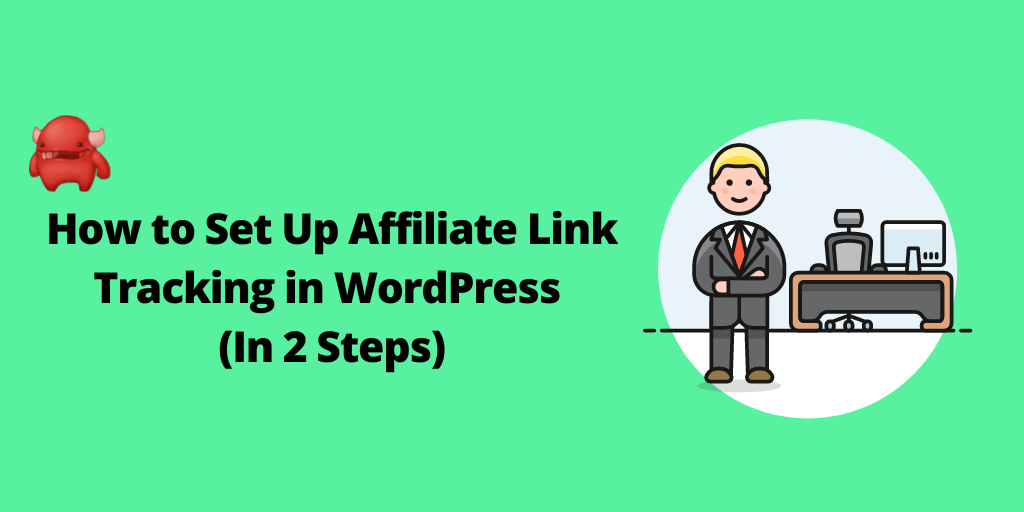 Are you looking to set up affiliate link tracking to grow your business?
You're in luck!
It couldn't be easier, and in just 2 steps, you can create an affiliate marketing program to boost sales.
Strap in, we're going to show you exactly how to set up affiliate link tracking in WordPress.
Note: Our guide is for merchants and businesses looking to set up link tracking. If you're an affiliate who wants more detailed affiliate link tracking methods check out this great guide.
What Can Affiliate Link Tracking Software Help You Achieve?
The right affiliate link tracking software solution can unlock lots of new opportunities for your business. Whether you run an e-commerce store, membership site, or are even looking to boost your lead generation, affiliate link tracking can help.
Immediately expand your reach
Gain access to expert digital marketing skills without paying upfront (experts in search engine optimization (SEO), social media, email marketing, Google Ads, and much more)
Save time on your marketing and focus on other important tasks
Grow sales in a sustainable way
Everyone can agree these are some pretty exciting benefits, and this is probably why affiliate marketing is so popular.
In fact, over 80% of brands run affiliate marketing programs, and it's the top acquisition channel for 40% of US merchants.
Your customers are out there, and skilled affiliates with the ability to reach them are waiting. All you've got to do is set up your affiliate link tracking.
How to Set Up Affiliate Link Tracking in WordPress
Here's the thing: you want more than an affiliate link tracking system – you also want affiliate management tools. This is what's going to unlock your affiliate marketing strategy and save you time.
Luckily, it's incredibly easy to set up, and we're going to show you exactly how to do it!
Let's take a quick look at the steps you need to take before going into more detail:
Install AffiliateWP – the best WordPress affiliate marketing tool
Complete the setup wizard
Amazingly, that's it!
As soon as you've completed the setup wizard you're ready to start tracking affiliate links, so let's get started.
Step 1: Install AffiliateWP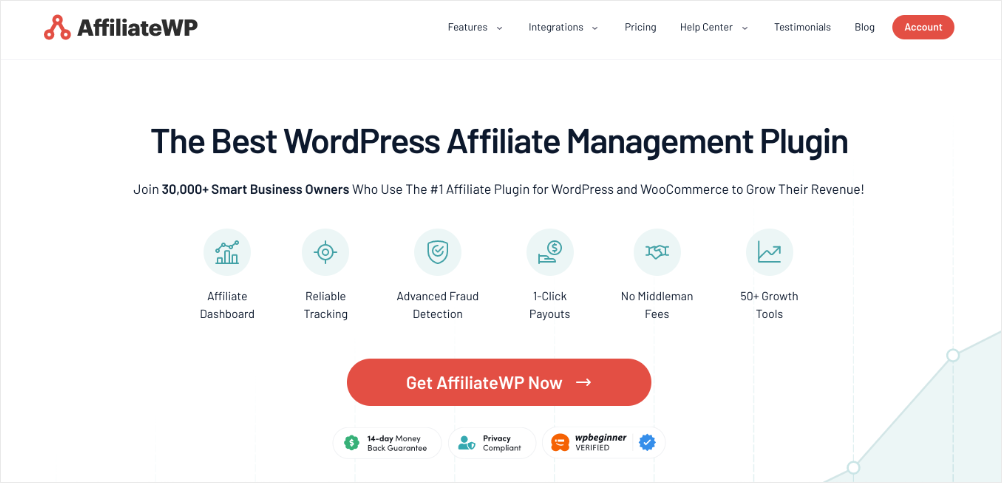 AffiliateWP is the best affiliate tracking software for WordPress. (If your store runs on Shopify, then check out this alternative guide for Affiliate SaaS products.)
Not only does it allow you to set up affiliate link tracking in minutes, but it's also got some incredibly powerful link tracking features. This will allow you to attract top affiliates, minimize your time commitment, and grow your sales.
Head over to our pricing page, and select the plan that works best for you.
Once you've completed your purchase, you can install the plugin by going to the Plugins tab in your WordPress dashboard. This step should take you just a few seconds, but if you get stuck at any point, then just follow this simple step-by-step guide.
Step 2: Complete the Setup Wizard
Next, you'll want to open the AffiliateWP setup wizard.
Hover over AffiliateWP in the left-hand sidebar of your WordPress dashboard and click Settings.
Scroll to the bottom of the page and click Launch Setup Wizard.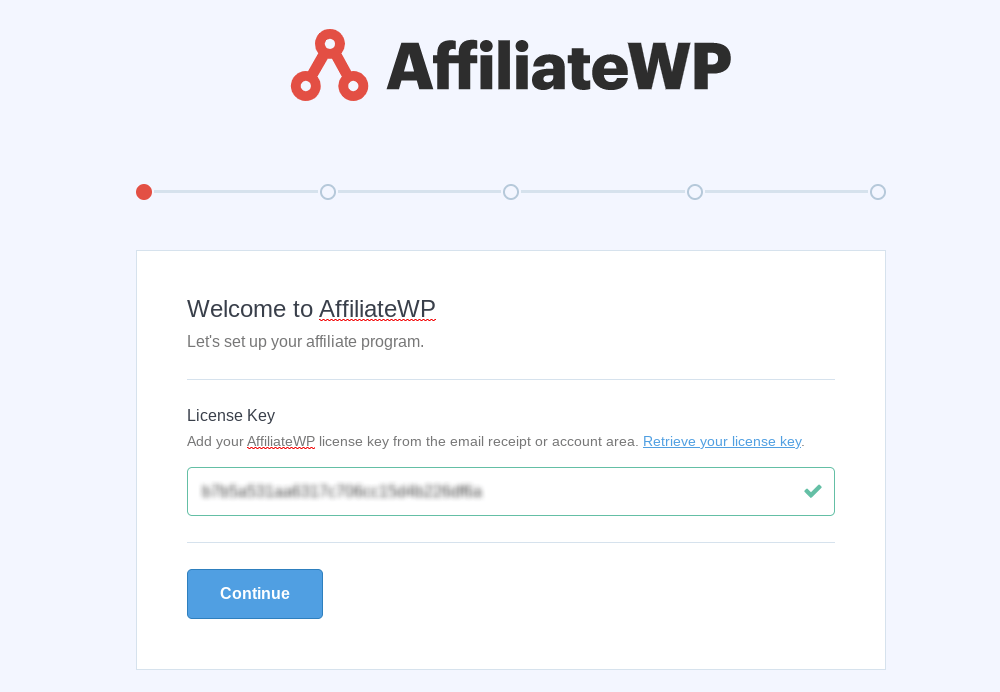 A new screen will open that asks you to enter your license key. This can be found in your confirmation email, or in your AffiliateWP account. Simply copy the license key and paste it into the box before clicking Continue.
Now you're ready for one of the best parts about AffiliateWP. It syncs with a host of WordPress plugins in just one click, enabling you to set up affiliate click tracking in seconds.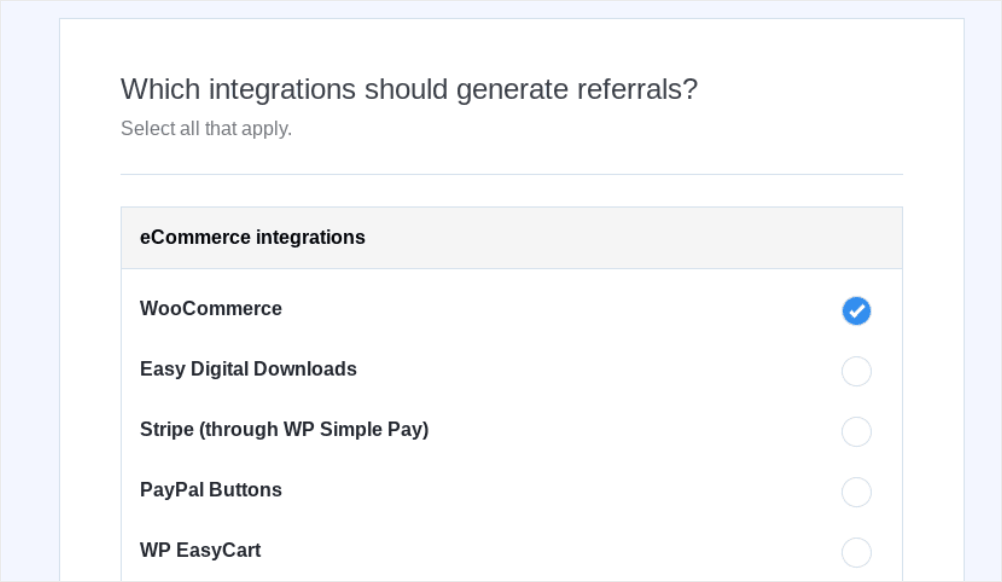 Simply mark the check box next to the integration you use on your site and click Continue.
Next, you can set your commission structure by setting your currency, referral type (flat fee or percentage of total order), and commission value. This will set a global commission rate, but don't worry you can always edit this in your AffiliateWP settings and even set commissions on a per-product or per-affiliate basis.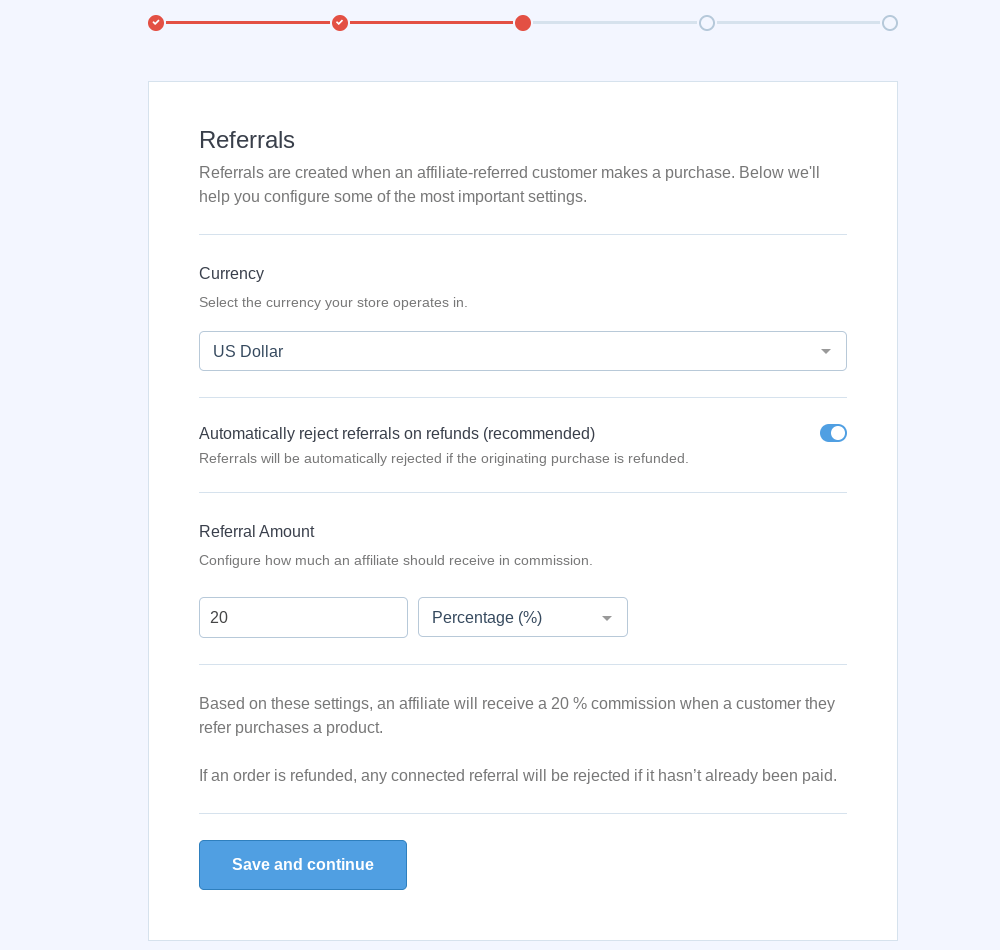 Lastly, choose an affiliate link structure, set your cookie expiration and click Save and Continue.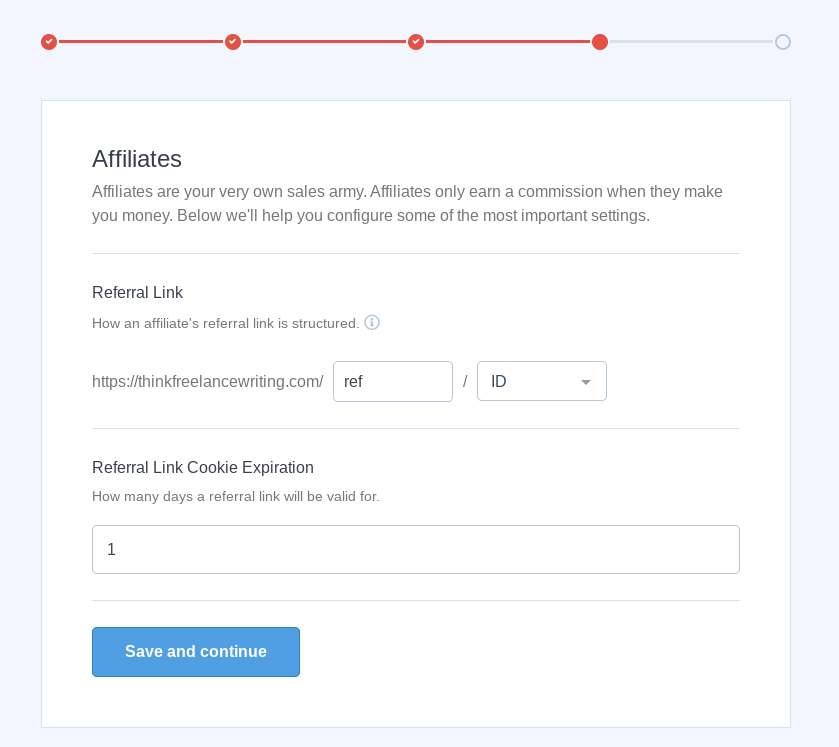 Once you're happy with everything, click Finish the setup and exit the wizard. Don't worry too much about your settings at this point, you can always change them in the AffiliateWP Settings tab at a later point if you need.
That's it, your affiliate link tracking is now set up, complete with in-depth metrics and conversion tracking (without having to worry about Google Analytics, pixels, postbacks, and other complicated tracking tools).
Now it's Time to Sign Up Innovative Affiliates
The AffiliateWP setup wizard puts in place a ton of automation for link tracking, notifications, affiliate management, and payouts. You can start running your affiliate marketing campaigns immediately, but there are some small tweaks you might want to make.
AffiliateWP's functionalities also allow you to customize your program and make it stand out from the crowd.
Once your affiliate link tracking is set up, you can make use of the customization tools to start signing innovative affiliates.
AffiliateWP will automatically create an Affiliate Area page on your website once you've finished the setup wizard, but it's highly customizable (for more tech-minded people there are even hooks and APIs). You can create and optimize your own signup page using the WordPress builder or simply use the template page.
Either way, the affiliate area is highly customizable and you can quickly edit your affiliate registration form.
If you're on a pro plan, make sure to mention all the amazing affiliate tracking features your affiliate program offers:
Your main aim is to demonstrate to affiliates that your program offers a return on their efforts, and these great features help convince them.
As soon as an affiliate signs up for your program, they will be able to create affiliate links in their Affiliate Area. AffiliateWP will automatically track these referrals, assign attribution, and show you real-time analytics and affiliate conversions in your Reports tab.
It's Time to Add Affiliate Link Tracking to Your Site
If you're not using affiliate link tracking to grow your business yet then you're missing out.
Affiliate marketing opens you up to huge growth opportunities and it's very low risk. You only pay affiliates when they make a sale, so it really is a win-win.
We've shown you how to set up your affiliate link tracking (without an affiliate network taking a chunk of your profits), but here are some extra resources you might be interested in.
That's it, you're ready to set up affiliate link tracking and grow your program!